Last updated on September 20, 2021
These are the top trends and statistics of the DIY industry of 2021 that you need to know. Read on!
Home improvement projects are a great way to refresh your living space and increase the value of your home. These projects are even better when you have the knowledge to do it on your own. This is because you're able to complete a job the way you like it, all while saving money. If you're unsure about where to start with a home improvement project, a great place is at the beginning where it all began.
Top 4 Online Stores by Net Sales
These are the top four online stores for DIY related products by net sales in 2019: [1]
Grainger
Amazon
Home Depot
Lowe's
Global Revenue of the Entire DIY Market
The global ecommerce revenue of the entire DIY market was US$413.5 billion in 2019 and it's projected to grow. [1]
What DIYers Spend Their Money On?
DIYers spend on average (annually) $1,139 on major home appliances, $1,138 on outdoor living products, and $1,131 on the HVAC system. [4]
Top Purchased DIY Products
The most popular DIY project is painting a room, so no wonder that the top purchased DIY products are interior paint, paint tools (brushes, rollers, pans), and painter's tape. [4]
Top purchased products for exterior projects are exterior paint, lumber, and roofing (shingles). [4]
Top Hired Services
These are the things DIYers won't do (due to lack of expertise): lawn services, plumbing, HVAC, pest control. [4]
DIYers by Age
The average age of 25% of DIY product buyers is 55-64 years. [1]
The Most Active DIYers
73% of millennials are DIYing, the other 27% are hiring professionals. [2]
How Many People DIY?
47% of homeowners do it themselves (that's almost every second person who owns a home). That means the other half of home improvement projects were done by hired professionals. [3]
Interior vs. Exterior DIY
DIYers prefer interior projects over exterior projects (presumably due to their complexity): 77% of projects were interior and only 23% were exterior DIY projects. [3]
The Most Popular DIY Room Renovation
The most popular is the bathroom renovation (26% of projects), followed by a kitchen upgrade (19%) and a complete kitchen renovation (9%). [3]
The Most Popular DIY Exterior Project
The most popular DIY exterior project is roof renovation (35% of projects), followed by vinyl and wood doors (24%), and vinyl siding (26%). [3]
The Top Reason for DIY
35% of people engaging in DIY home renovation projects do it for better functionality, while 19% do it for aesthetics. [3]
Design Trends
While the term DIY (do it yourself) has been around for years, it began to rise to popularity in the 1950s. Around this time is when homeowners started to take on small craft or construction projects for both recreational and cost-saving purposes.
Over the years, this widespread trend has evolved quite a bit. In the 1950s you saw pastel color schemes. Mint green and cotton candy paint, tile, bathroom fixtures, and kitchen appliances were all the rage. The 1960s saw bright pops of neon, eccentric color combinations, and vinyl flooring, while the 70s brought wood paneling and open-floor plans. The 1980s brought intricate floral wallpaper, and the 90s brought large master suites and all-white kitchens.
Here's a fun look at the evolution of trends since the 50s: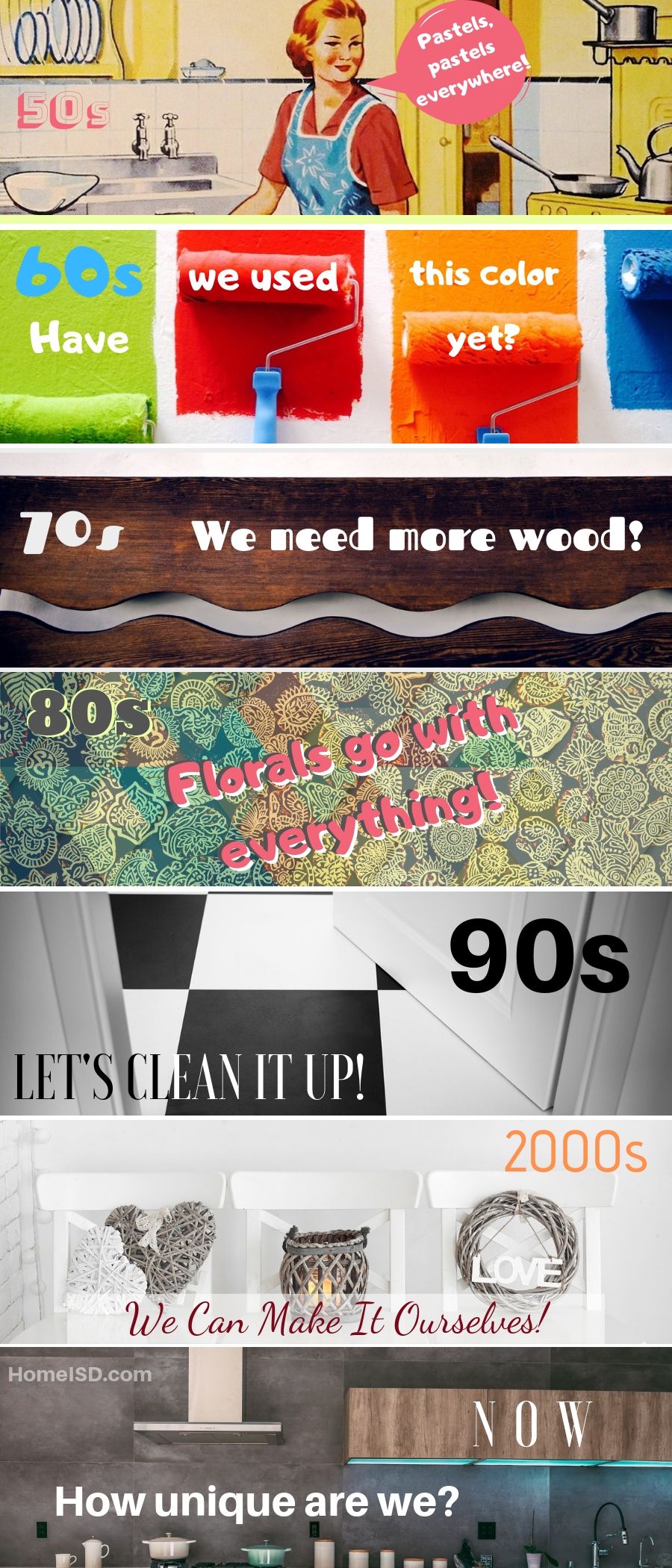 While trends are ever-changing and constantly evolving, they also have a cyclical lifestyle, and you may be asking, where are we now? Each of these trends can be found in homes today, as they each have become increasingly popular again. The direction of DIY home improvement itself is on the rise and is expected to rise by 4.2% by 2022. Research shows that homeowners who choose to complete DIY projects have higher satisfaction with the results.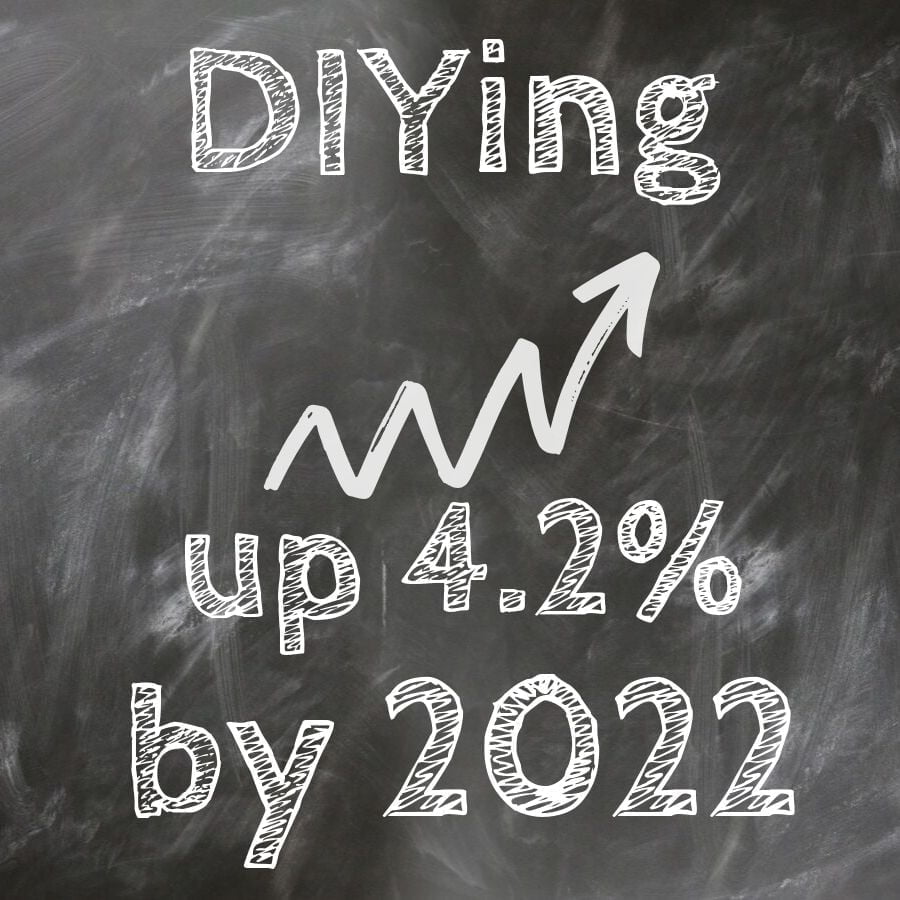 Driving Factors
Homeowners are completing DIY home improvement projects with other things in mind on top of popular decor trends. A few driving forces of the current DIY market are generational differences concerning health and wellness, functionality, aesthetics, damage, and ROI (return on investment). According to the National Association of Realtors, 50% percent of consumers in need of a home improvement project hired a professional, while the other 47% percent completed the project themselves.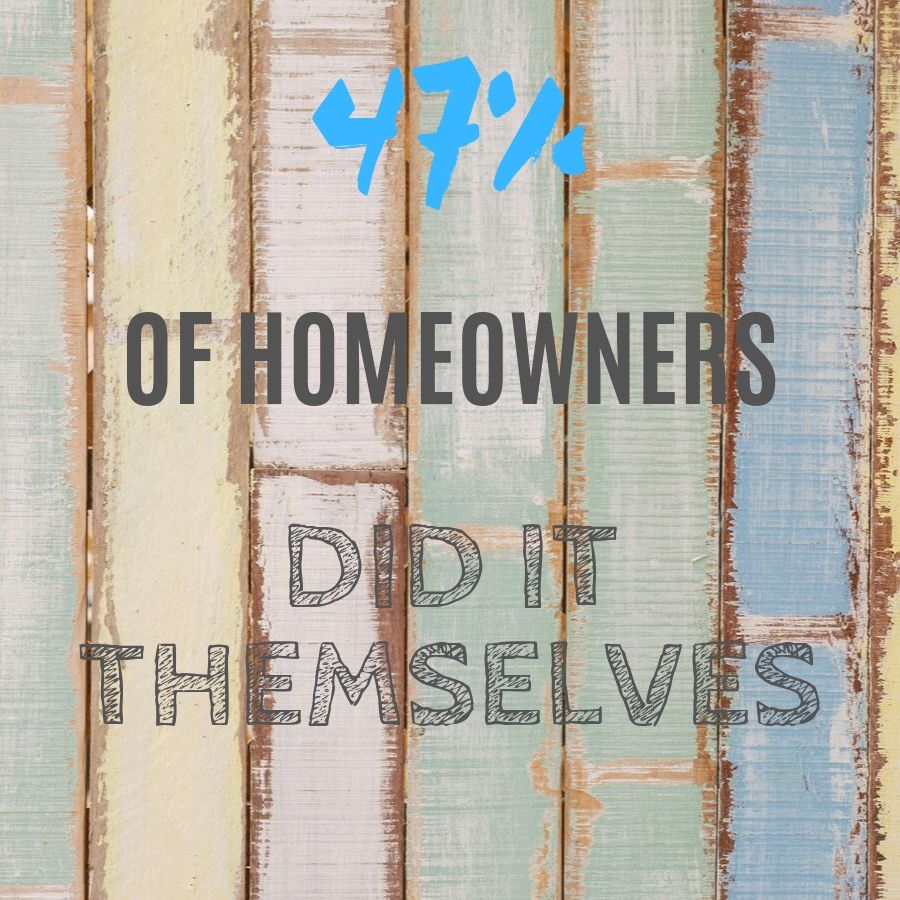 You may be thinking to yourself; only forty-seven percent of homeowners are completing DIY projects? While that may seem on the lower end of the spectrum, it's more than you might think. DIYers are much more likely to be millennials than any other age group. Specifically, 73% of millennials are DIYing, while only 27% are hiring professionals. It's because this age group of homeowners is wholly engaged in the online world of YouTube and other tutorials to complete their projects. One in four millennials states that they are very skilled at DIY projects, compared to lower percentages from Boomers and Gen-Xers.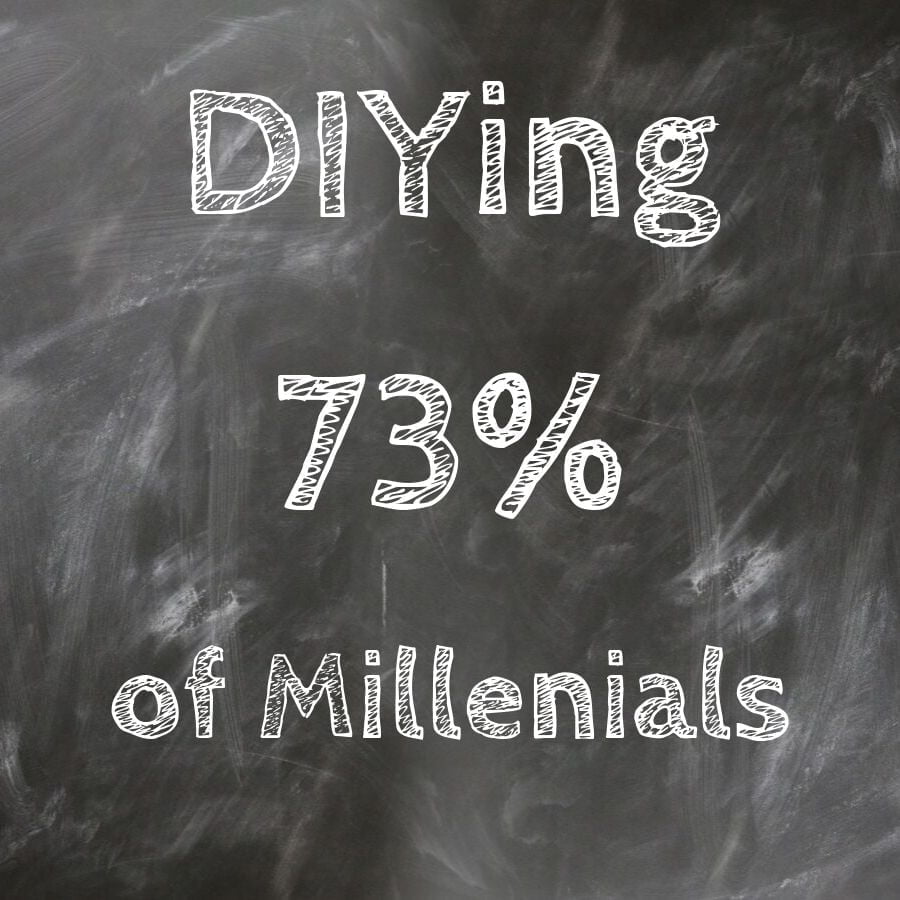 Millennials individually are driven to DIY by aesthetic and damage to their homes. While the lack of home leaves this generation with little to choose from, many are purchasing older homes and renovating themselves. They are motivated by improvement projects that will provide them with the most ROI. Additionally, this generation garners their drive to renovate from cost. Millennials will complete thorough research to ensure the job is completed correctly the first time to avoid mistakes that could cost them more in the long run. Other generations such as Baby Boomers and Generation X are motivated to "modernize" their homes and are more likely to hire professionals due to lack of knowledge but larger budgets.
Spending Habits
Another driving factor for DIY projects is money. Homeowners are now spending more on home improvement projects than ever before. For every $1 spent on home maintenance, homeowners are spending an average of $5 for home improvements. Additionally, the DIY trend is an excellent option for those that have a strict budget and cannot hire costly professionals. It's more affordable to purchase materials for a project and DIY it than seeking out professional help.
Many homeowners view their houses as an investment and are willing to make upgrades that increase their home value. If you find yourself wondering how much to spend on your home renovations, it's a good idea to research the average cost of a project. Then you're able to assess your needs and wants accordingly. Once you have a good idea of what you're looking to complete for your project, making a budget for home improvement projects will allow for a smooth renovation.
Average Cost Breakdown
Room remodels been the most popular home improvement project to date, specifically big-ticket items such as the kitchen and bathroom. In addition to these projects, homeowners are prioritizing new appliances, roof replacements, and hardwood refinishing to finish off their living spaces. With all this talk of trends, driving factors, and money, it's essential to know how much you could potentially spend on your home improvements.
It's no surprise that homeowners want to improve their kitchens; it's the center of the home where friends and family gather for quality time together. A great way to determine aspects of your project is to research the average cost of a kitchen remodel. Also, kitchen remodels can provide you with an excellent ROI based on the size and severity of the project you decide to complete.
When planning your room remodel, it's crucial to keep in mind all aspects of what will need change. If you're looking to overhaul your entire kitchen, here's a list of the average costs for each element of a remodel: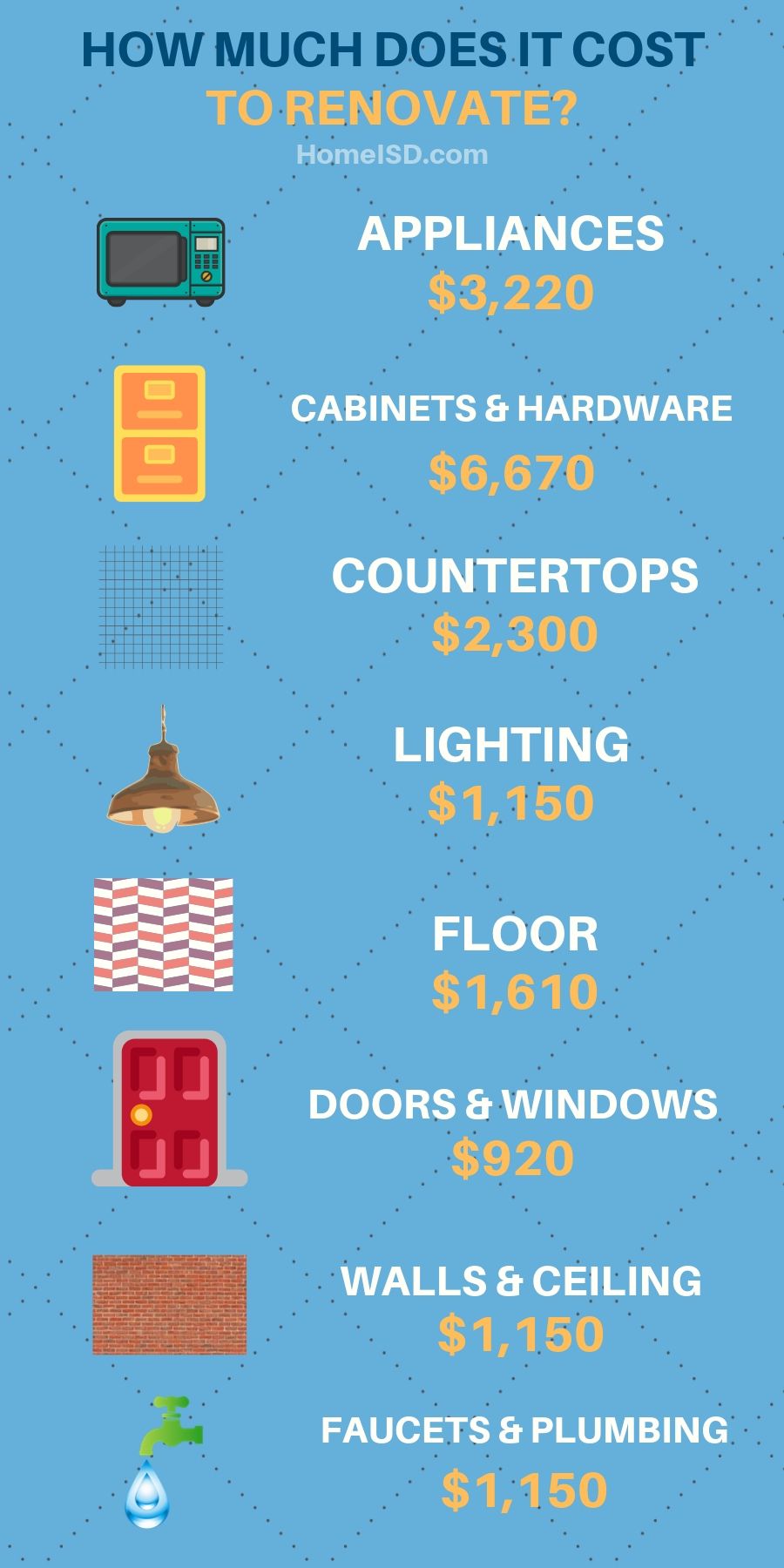 Appliances ~ $3,220
Cabinets & Hardware ~ $6,670
Countertops ~ $2,300
Lighting ~ $1,150
Flooring ~ $1,610
Doors & Windows ~ $920
Walls & Ceilings ~ $1,150
Faucets & Plumbing ~ $920
While these numbers are an average cost for elements of a kitchen remodel, it's critical to remember that they will vary based on the individual. Materials and aspects of the room you choose to renovate will play a significant factor in cost variation. Either way, these average costs are an excellent way for you to plan your room remodel. They will also allow you to establish a budget with some wiggle room that will work best for your needs.
Whether you're a new homeowner or someone looking to buy your forever home, researching the market you're looking to complete work in is extremely beneficial. Keeping up with trends in the home improvement industry will allow you to make decisions that will give you the best ROI on the projects you complete. Staying in-tune with the ever-growing DIY industry will help you learn about how much you should be spending on your projects. Ultimately, this can lead you to a successful DIY project every time.
Sources
Recap
Liked this article? Here's what you can read next: