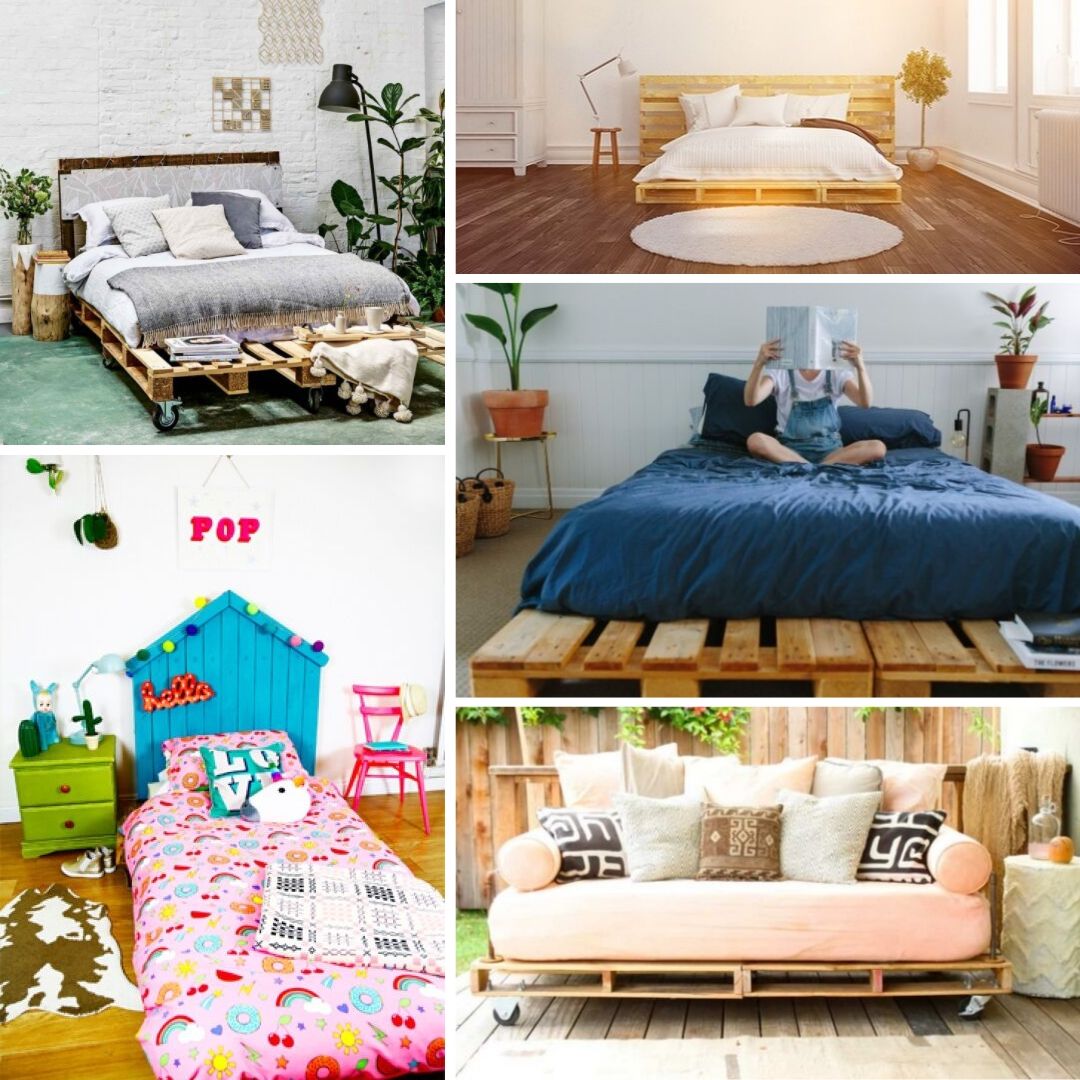 Last Updated on
Following the design trend of pallet beds? You can build one too with these DIY pallet bed ideas and tutorials.
When it comes to interior design and room decorating, many trends are heavy on your budget. And then there are the trends that are dirt cheap, and only take a few hours of work. Building a DIY bed from pallet wood is one of those projects.
If you like the look of it in your home, you can make it as simple as putting a few pallets together. But then there are bed frames made from this material that look really pretty. Some of them are on par with store-bought beds. So pick the right pallets, and check out the following list to choose your inspiration.
DIY Twin Bed from Pallet Wood
Using wood pallets to create a DIY twin bed is an affordable way to transform any bedroom. The bed is ideal for children's room and adds a unique look to the decor. The pallets ensure that the unit is sturdy. Check out the tutorial for more details on how to build it yourself.
Kid's Room
If you have toddlers and don't want bunks for them, this DIY pallet bed tutorial would be of great help. Made with pre-cut boards, it does not involve too much work, and with the IKEA mattress, the result looks pretty awesome.
Teen Room
This is another pallet bed frame project which is done on a low budget. The four pallets used for the teen bedroom bed were bought at a total of $50. You need to add the cost of white paint and some extras to that and voila. You get a white pallet bed frame that is big enough to hold a double mattress and you still have room enough on the sides that you can use for other purposes.
Boho Style
This rustic looking pallet bed frame will get right in with any bohemian décor. We love the simplicity of the idea and the fact that you can complete the project at a little cost, indeed. The real challenge seems to be to find the right wood pallets that would be repurposed for the bed. As long as you do that, you will be fine, we reckon!
Patio Daybed
If you need a place to sleep outside or chill out with your friends on your patio, this pallet daybed is the project you want. It's made from scrap pallets and you can add the wheels so you can move the bed away from the rain too. Read this website for the entire plans.
DIY Accent Headboard
If you'd like your new bed to be prettier and make a decor statement in the bedroom, include an accent headboard in your project. Check out the link to learn how it's done.
Playful Design
Building a DIY bed for your kid (even if using just pallet wood) requires more thought. You want the piece of furniture to be sturdy, but it needs to be playful too. How about this design? Read the article to get the complete plans.
Scandinavian is the style that benefits from the look of this type of bed greatly. We all know how it is about repurposing and sustainable design. Pallets enable you to bring it to the bedroom. Read the article to see how to do it.
Attached Nightstands
This project adds a lot of storage potential with attached bedside nightstands. It's proof of how flexible this material is and how well you can customize it. See the link to learn how to do it.
Glowing Lighting
What's fun about using pallets for a bed is that you get some nice open spaces beneath the bed that you can light up with LED light ropes. You could also create some drawer system too for extra storage if you'd instead go that route. Read the tutorial to learn how it's done.
Minimalist Look
What else can give such a genuinely minimalist look than pallets? This project is straightforward, and you can use it if you want to build a quick bed overnight without spending anything at all. Check out the link to get the complete details.
Pallets Make a Bed
This bed is made of simple pallets put together for a platform. Don't forget to choose your finish! Read this website to see the complete plans.
Good Reads About DIYing with Pallets