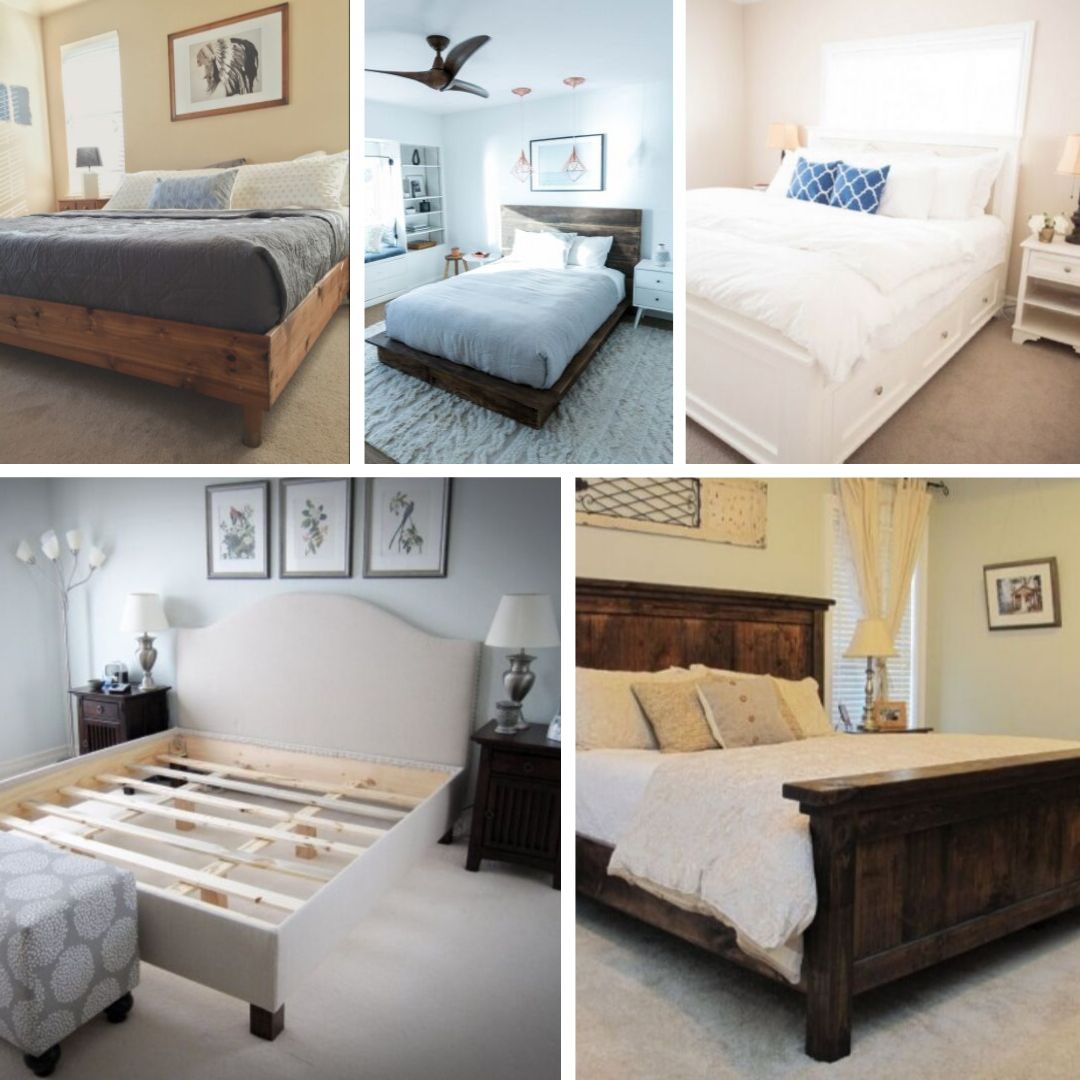 Last Updated on
Want to build a DIY bed frame in king size? These ideas will help you take on the project and complete it within days.
Building your own bed frame is a great way to save a lot of money. Lumber and other materials cost little compared to a complete bed. And you can use your creativity to come up with unique designs. Or get inspired by your favorite bed designs if you like. In any case, it's a fun project and you can do it in a matter of days.
The most popular type of bed for king sizes is the platform, so we will focus on it for the most part. Although we didn't avoid including some other beautiful designs as well. We draw a lot of inspiration from Ana White as she has tons of brilliant bed plans. But it's not limited to that! Let's dig in.
Storage Drawers
A well-designed king size bed can provide the much-needed coziness factor. The unit can be tailor-made to match the theme of your bedroom decor. It provides equal parts comfort, luxurious feel and optimal functional benefits. Follow the tutorial for the instructions.
Farmhouse Style
This tutorial again furnishes you with all the instructions (plus diagrams) you need to know when you plan the headboard and footboard of your farmhouse King Bed (other parts are covered in the complementary Queen Bed tutorial). The author has also posted a number of photos of beds that others have prepared following this tutorial. Check them out for all the motivation you need!
Rustic Frame
This bed frame is made from oak and white pine boards acquired from Home Depot. The Instructions are detailed enough – from drawing your designs on paper to get the whole job finished one step at a go. We also love the idea of the joined rustic headboard made from reclaimed pallets.
Slat Frame
Any cedar board king slat bed of similar style and dimensions to those of this bed would set you back $500 or more if you buy it in the market. Yet, the maker completed this awesome project keeping the allover budget under $150! If that is motivation enough, please check this tutorial to find out and follow the instructions.
Upholstered
This one uses pine boards and wooden legs to prepare the bed frame. We like the upholstering idea, although you may drop it if you want. Follow this part one tutorial to find how to make the bed frame itself and if you'll like to upholster, you may check the part two of the guide.
Rustic Look
Another great tutorial for anyone looking to make a bed frame which will be used without any box spring. Follow the tutorial to learn everything you want to know about choosing the right kind of ply, places to buy it and finally, how to put them all together!
Rustic Slat
King size beds with slatted bases have a variety of upsides, such as balanced support and superior comfort. You can also take advantage of those extra inches in width and length for a cozy night sleep. Slatted bases provide ventilation to any mattress. Follow the tutorial for all the details on how to build this bed yourself.
Pottery Barn Inspired Upholstered Bed
Everything that comes from Pottery Barn is inspiring but expensive. If you want to get the same look and style on the cheap, choose to build a lookalike. Here's how. Follow the link to see the full plans.
Pottery Barn Farmhouse Bed
Here's another replica of a Pottery Barn farmhouse bed. It looks just like the real thing. And it's relatively easy to build too. Read this website to learn how to do it.
Upholstered Bed with Headboard
Build your own king size upholstered bed with headboard and frame. Complete step-by-step instructions and materials list inspired by Jonathan Adler bed. Follow the link to learn how to do it.
Reclaimed Wood Platform Bed
Reclaimed wood goes a long way when building a bed frame. It adds so much style and makes the bedroom look so cozy. Want the same look at home? Follow the link for the entire guidance.
Mid-Century Modern California King Bed
A gorgeous mid century modern DIY bed that is affordable and easy-to-build. It was built for a California King bed, but could be adjusted to any size. Follow this website to find out how it's done.
Mid-Century Modern Platform Bed
Here's how to create a DIY platform bed with mid-century modern flair and a do-it-yourself faux leather headboard that'll save you hundreds. See the article to see the complete guidance and instructions.
King Size Farmhouse Bed
Building this farmhouse style king size bed takes a lot of patience, but we bet you'll love this project. Check out the tutorial to get the entire plans and instructions to build it.
Simple King Bed
This is a pretty simple design, but it's that much easier to build. Apply the wood stain of your choice to get the look you want. Read the article to find out how to do it.
Nail Trimmed
Want to make your own DIY King Size Bed Frame and Headboard? We've got a complete tutorial to show you how to do it. Grab the materials below and get started. See the article to see how to do it.
Reclaimed Look
Build this amazing reclaimed-look king size bed frame the easy way. See the article to find out how to do it.
Floating Platform Bed
This platform king size bed is designed to give the illusion that it's floating off the ground. Follow the Ugly Duckling House blog to get the complete plans.
Bed Frame and Wood Headboard
Here's how to build a beautiful DIY bed frame and wood headboard easily. Free plans and variations on the king, queen, and twin size bed, best natural wood finishes, and more. Check out the article on A Piece of Rainbow to see the entire guidance.
King Platform Bed
This DIY platform bed frame is simple and affordable. It costs less than $130 to make, and you don't need to be a woodworker to do it. Read the tutorial to get the complete guidance.