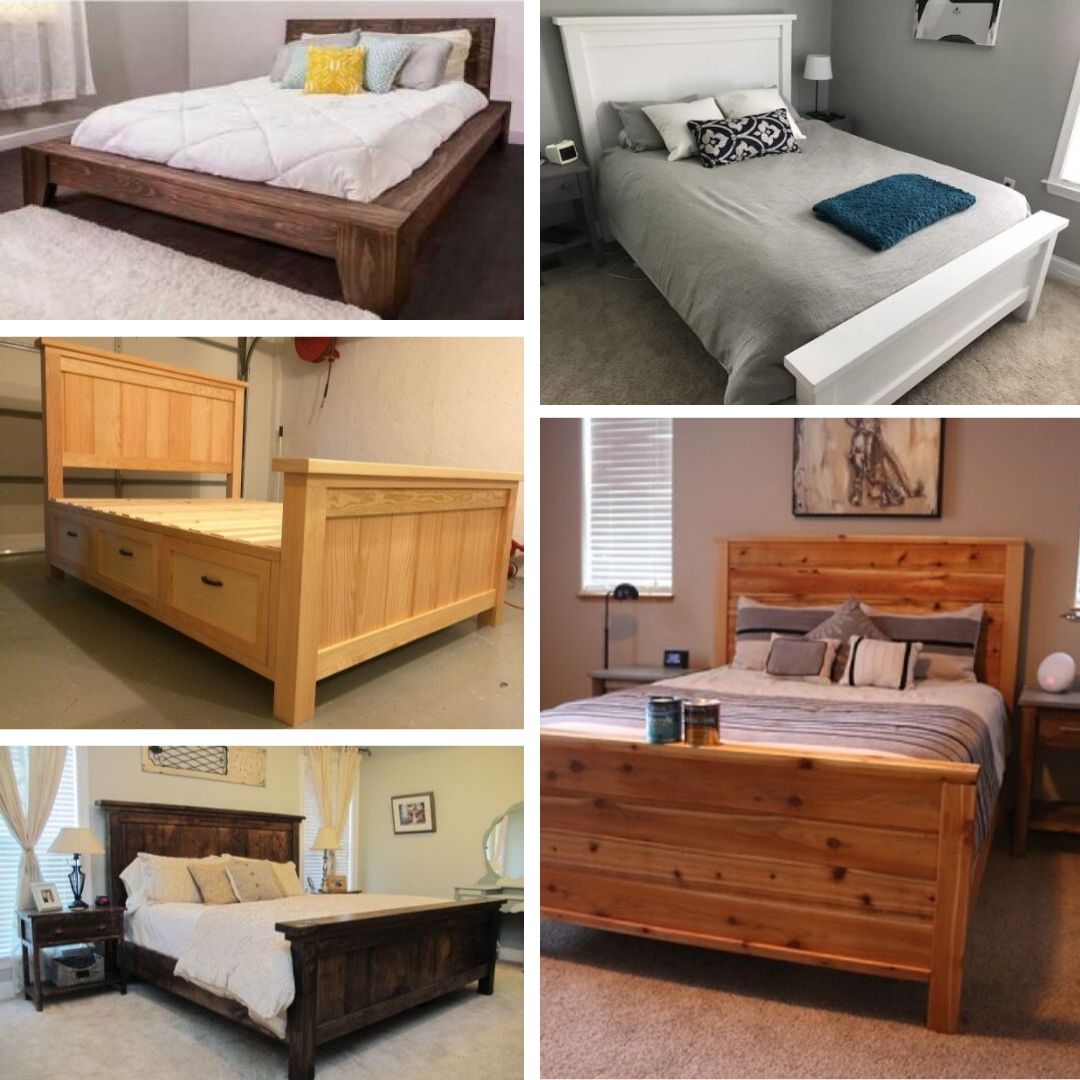 Last Updated on
Want to embrace the farmhouse style in your bedroom decor? Get your tools ready because we're about to start building with these amazing DIY farmhouse bed ideas.
Building your own bed frame doesn't seem like an easy project. And it does require some skill – you probably won't do it for your first DIY project ever. But it's not rocket science too! Some good plans and the right inspiration will get you through building this piece of furniture in no time.
Talking about the farmhouse bed style, it's all the rage these days. The rustic look of the natural wood finish works in any style of decor. It's a great way to add more coziness to a room. And while it's hard to say where this trend has started, it's safe to say that Ana White was one of the first to build the DIY farmhouse bed.
Want to tackle this project? Check out the plans we've got and the inspiring ideas from other bloggers.
Farmhouse Platform
Platform beds eliminate the need for box springs. Instead, they feature a built-in base that incorporates a solid panel or a slat support system. You can choose a light or bolder finishing for this project. Lighter finishes like sand, natural and maple infuse an interesting splash of color. Check out the tutorial to see how to build this platform bed.
Herringbone Bed
The Herringbone bed can be crafted using fine veneers and oak for a perfect finish. You can also incorporate mitered frames and close-set hardwood panels. To ensure exceptional workmanship, hand-piece the veneers. Doing so allows you to blend contrasting and complementary textures. Check out the tutorial for complete instructions and the exact steps on how to build it at home.
Storage Drawers
Some extra storage in the bedroom will never go unappreciated. Especially when its such a classy frame with beautiful drawers. Ana White has perfect plans for this project. Follow the link to learn how to do it.
Poster Bed
Also known as the bed of kings, the poster bed adds a classic touch to any bedroom. These units come with four vertical columns that are positioned on each corner. The columns support an upper panel (usually rectangular in shape) or a tester. In many cases, the panel or tester feature rails that are designed to pull curtains around the bed. Refer to this tutorial if you wish to build this bed at home.
Wood Plank Headboard
Who wouldn't love this giant wooden headboard? The tutorial however, actually shows you how to build the bed frame (for the head, you can check the second part). This one is a wood frame supported by nine metallic legs.
Painted Farmhouse Frame
You don't need to build a frame from scratch to get the Farmhouse look. All you need is some paint and the right technique. See this website to find out how it's done.
Queen Size
These are the DIY instructions on how to make a Queen size Farmhouse bed. Check out the article to learn how it's done.
Farmhouse Murphy Bed
Turn any room into a guest room with a murphy bed. This farmhouse bed design will allow you to do it in style. See the tutorial to get the full guidance.
Natural Wood Finish
DIY Pete never disappoints. And these are really great plans for your bedroom project. Follow the article to find out how it's done.
Two-Color Design
This two-color design adds a lot of decor interest in a piece of furniture. It definitely makes a great room feature. See this website to find out how to do it.
Centerpiece of the Bedroom
Another great design and it's also made from Ana White's plans. It's a beautiful centerpiece for a bedroom. Read the link to see the full details.
Pottery Barn Inspired
The Pottery Barn farmhouse bed is synonymous with quality and timeless style. With this DIY bed project, you can create a stylish retreat that features a classic-style headboard.  Check out the tutorial to see how you can build it yourself.
Headboard and Bed Frame
This headboard and bed frame project enables you to create a masterpiece using ordinary tools. The frame features solid panels for stability. The headboard presents an opportunity to showcase your creativity and eye for detail. The tutorial will give you complete instructions on how to build it.
Light Grey Farmhouse Finish
A farmhouse-style bed can be customized to suit your individual style. The unit can work well with a curved headboard for a more elegant look. This DIY bed project does not require any special tools. It is simple and affordable.
King Size
This big project is the last on the list but definitely not the least. King size frame makes the farmhouse style flourish. Read the article for the full details and instructions.