Last updated on January 15, 2022
Looking for the best room darkening curtains that block most of the light? These are your top options.
In a hurry? Pick these rod pocket room darkening curtains.
We hope that you already know the difference between room darkening curtains and blackout curtains. If you're here, you're not looking to make your room pitch dark. You only want to block most of the daylight, still leaving just enough so you can see in the dark. That's the main difference between the two. Knowing the difference will help you set the right expectations.
So what to look for in the suitable darkening curtains:
Effective room darkening curtains should be durable and versatile for a variety of needs.
They should provide thermal insulation, reduce noise
They myst come in multiple colors, styles, and sizes with an elegant look perfect for any space that needs privacy.
These types of specialty curtains make rooms not only better looking but warmer as well.
By choosing the best room darkening curtains, you're getting light blackout (within expectations), reasonable thermal insulation, and partial noise reduction. It helps that they are cheaper and lighter than the blackout panels (although you still need rods for heavy curtains.)
These are your top options that are great for different uses (as we've indicated.) Disclaimer: our site gets a commission for the below product links.
What's Inside?
Rod Pocket Darkening Curtains for Bedroom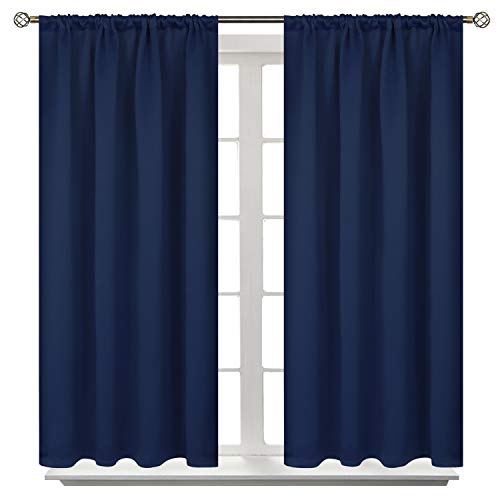 This is our best pick for room darkening curtains. They block a significant amount of light, just enough to darken the room. The fan-favorite color is navy blue.
These rod pocket darkening curtains block out 90-99% of light and are perfect for daytime sleepers. There are a variety of colors (17) and sizes (10) available. With 3-inch rod pockets, they will fit most standard rods and ensure no gap between the curtain and windows, maximizing coverage.
These energy-saving curtains insulate against summer heat or winter cold, blocking noise and reflecting comfort temperature into the room to protect the floor and furniture from color shading. They are machine washable on a gentle cycle in cold water with no bleach, making cleaning easy.
The curtains are made of triple woven fabric, making it light and soft (almost silky to touch) but blocking enough light to darken a room.
Thermal Insulated Room Darkening Curtains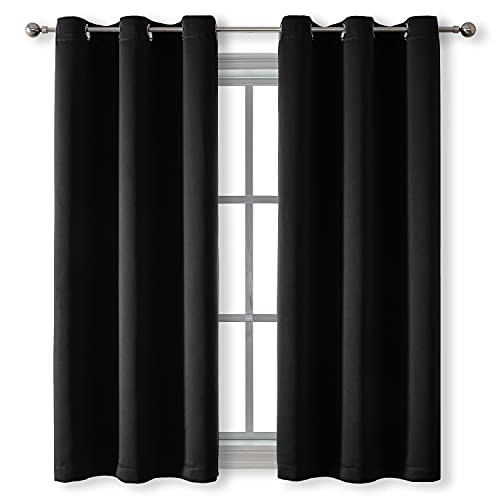 These curtains are great if you want to sleep during the day or work at night.
These thermal insulated curtains block up to 85% light. The design is a two-piece fabric with six shiny grommets fitting curtain rods. It comes in 10 sizes and 18 colors to choose from. Different colors are available, black being the most effective against outside sunlight with variance insulation and noise reduction. Blue and wisteria both have different degrees of thermal insulations properties.
These are easily machine-washed and dried. They will protect homes even with hectic everyday life, as one would typically expect from an energy-efficient and durable material.
Overall, the Rutterllow room-darkening curtain succeeds in reducing light and noise. This curtain has heavy enough insulation to insulate your home from outside thermal energy during summer or the winter cold. It is machine washable, which makes it easy to clean. The Rutterllow also offers a variety of colors, sizes, and styles for you to choose from while completing your home decor experience.
NiceTown Blackout Curtains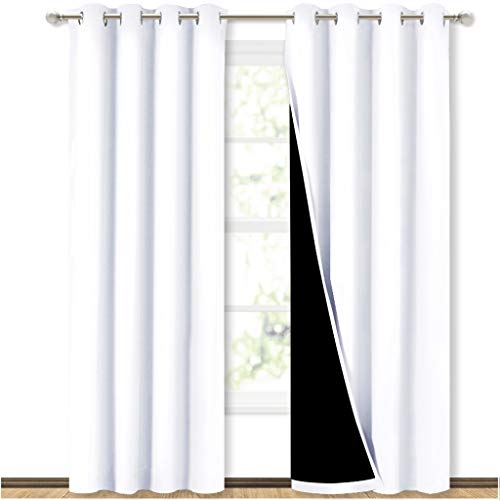 These curtains are great if you want to block the light completely.
The two curtain panels provide thermal insulation and reduce noise in the room for a good home environment. There are 19 sizes and 17 color options to choose from.
These blackout curtains are an affordable alternative to blackout blinds. They come in ready-made panels that will fit most windows. The curtain lining makes them best for light reduction; the top layer is drape-weight while the bottom is heavy-duty, making it easy to block out all-natural light with minimal electricity use.
Overall, these are full blackout curtains sewn in two layers with triple weave fabric. They provide thermal insulation and noise reduction. All you have to do is measure your windows precisely and install the curtains correctly to make full use of them.
Grey Room Darkeining Curtains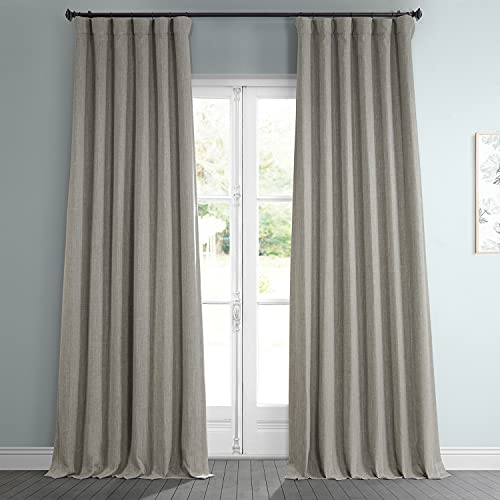 Great if you want Pottery Barn-looking curtains for a fraction of the cost. Great value for the money.
These are grey room darkening curtains with a weighted hem and don't need to be lined. They're also available in 4 length panels in room darkening textured fabric. Fourteen other color options are also available.
The energy efficiency of the product is one advantage. Being made of polyester is a drawback, but it's what makes them an affordable option.
The curtains can be hung using one of three ways — rod pocket, back tabs, and hook belt for rings (hooks not included).
Room Darkening Curtains with Grommets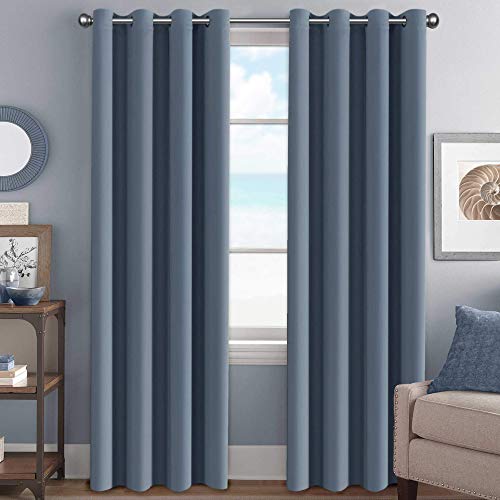 Great curtains for anyone looking for quality and visual appeal for an affordable price.
These magic solid curtain panels can block out 95 sunlight and prevent 100 UV rays. The curtains are vinyl-free and environment-friendly, safe, and used in kids' rooms and nurseries.
They come in 10 sizes and 20 colors you can choose from. The polyester blend they're made of seems to be of high quality. The yarn is durable and visually appealing.
Room Darkening Blackout Drapes for Bedroom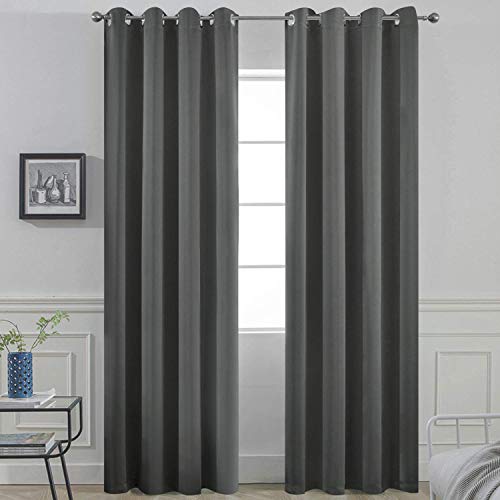 Great as wrinkle-free drapes that block most of the light.
Room darkening drapes are a necessary element to any bedroom, and studies have shown that they can provide many benefits. They can block up to 85-99% (depending on the color) of sunlight from waking those who may not want noise or light and prevent sound from waking those people.
When it comes to setting up, these drapes are very easy. All you need is the drapery rod and some essential tools. The heavy blackout fabric will reduce any outside noise interference as these feature grommet holes that keep the curtain secured in place without needing a rod pocket design. Unlike other styles, a blackout panel does not require a track system which means your window needs fewer mounting points for installation. This also makes cleaning up easier by providing washing machine convenience,
Patterned Room Darkening Curtains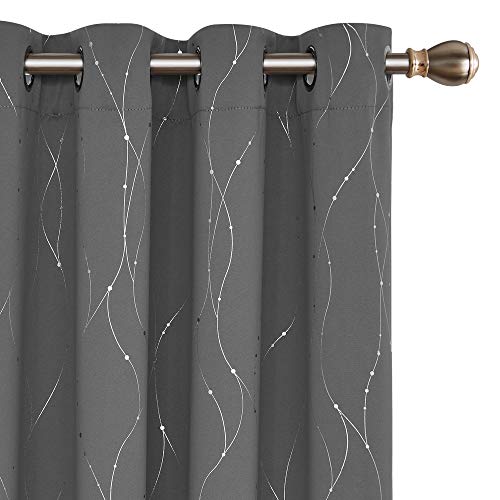 Great for their unique pattern design.
These room darkening curtains are made of 100 percent polyester fabric. They are durably constructed with steel wire reinforced grommets, comfortable backing for extra insulation.
Pros:
Room darkening curtains will reduce the amount of light coming into the room.
Will reduce some noise from busy streets or noisy neighbors.
The decorative curtains come in a set of 2 panels, and two matching solid color tiebacks.
With eight stainless silver grommets per panel measuring 1.6-inch inner diameter, these curtains are available in various colors and sizes.
There are many different colors to choose from.
Textured Room Darkening Drapes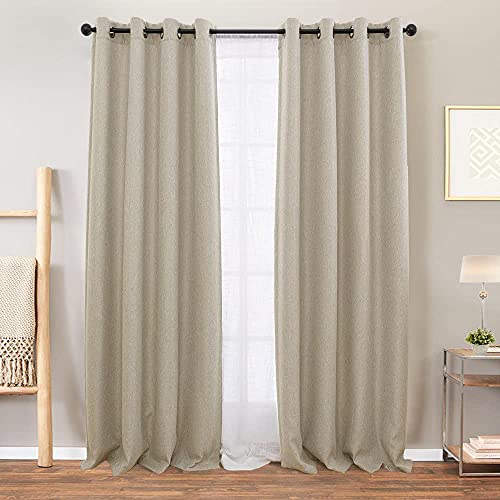 Great darkening curtains for the living room.
The features of room darkening curtains that this product has are energy efficient, light control, simple style. The pros of this product are it contributes to healthy living. The only disadvantage of these curtains worth mentioning is that they can get wrinkled quickly (they're made of linen – here's how to iron them.)
The textured room darkening draperies can balance your room temperature, insulate heat in summer and cold in winter, thus making the perfect energy-efficient curtains. These curtains can block out 50-80% of daylight. These thermally insulated sheets help protect eyesight by blocking harmful UV rays.
Burlap Effect Darkening Drapes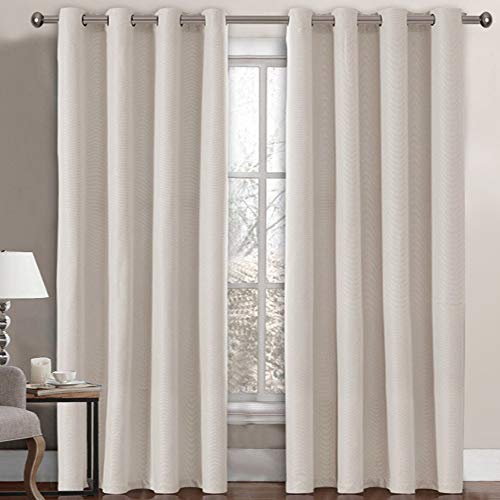 Great for sliding glass doors.
The Burlap Effect Darkening Drapes are sold per single panel in the package. The panels come in 7 size options. The curtains have eight gorgeous copper metal grommets with an inner rim of 1 5/8-inch width that fit rods up to 1 1/2 inches. This product is designed with eco-friendly fabric that blocks 85% sunlight and reduced noise, which helps you sleep on weekend mornings or during vacation days.
Short Room Darkening Curtains
Great for blackout and insulation if you don't mind the plastic look (a bit like bathroom curtains).
The Room Darkening Curtains promote better sleep. They block 90% of the light while you are sleeping, which not only helps reduce your exposure to artificial light at night but also improves daytime alertness. Research has shown that blocking out sunlight also suppresses melatonin production- research suggests this may be one reason people who get little natural light can find it more challenging to maintain a regular sleep schedule.
These curtains are effective because they filter out over 99% of ultraviolet (both UVA and UVB) rays coming through, thereby reducing eye allergies or damage due to prolonged exposure to UV light; It also keeps the atmosphere indoors warmer during cold weather situations; it does this by restricting heat loss through windows. With good insulation under them,
These are the features of room darkening curtains that it can offer:
It has Velcro ties to roll back the curtain on one side.
It is made with thick fabric on one side of its material while having grommets hanging on the other side.
This product is 100% blackout, providing total privacy during the night in any number of rooms.
When not in use, this product rolls up with elastic straps and loops at both ends for storage purposes.
The most popular colors would be Lime Lime Green which plays off a neutral color theme or Hampton White which plays off a contemporary color theme.
FAQ
What are the benefits of room darkening curtains?
Room darkening curtains block up to 95% of the light from the outside. That's enough to allow for comfortable sleeping during the day or privacy for working at night. They can also provide some thermal insulation and noise reduction. At the same time, they are cheaper and more lightweight than blackout panels.
How do room darkening curtains work?
The room darkening curtains are made of triple weave fabric dense enough to block most of the light.
Liked this article? Here's what you can read next:
---
Disclosure: As an Amazon Associate we earn from qualifying purchases.