Last Updated on
Looking for a picnic table that would meet all your outdoor dining needs? We've made it easy for you to choose by making a list of the top 10 best-rated picnic tables in 2020.
Any outdoor dining activity – whether it's a BBQ, tailgate party, or camping – needs seating and dining accommodation. No matter how crafty you can get with makeshift surfaces, a good picnic table will always be a winner. If you choose right, such a table is easy to carry with you and works as full-featured furniture.
Or perhaps you're looking for a stationary picnic table to add to your outdoor space? It should not only be practical, but it should look good too. We've picked the top 10 options that meet all these criteria, and you have something to choose from to meet your specific needs. Check out these excellent picnic tables.
What's Inside?
Folding Portable Plastic Picnic Table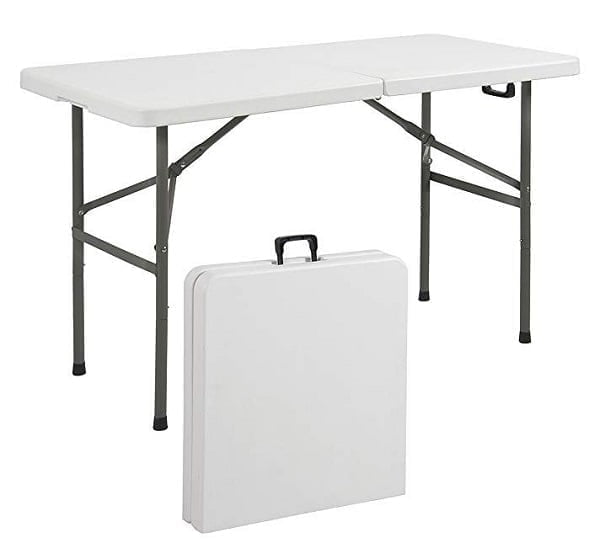 If you're entertaining guests often and do it mostly outside, you may need more table space. Or perhaps you're camping on any occasion you can get, taking a table surface with you is very welcome. This folding picnic table will meet all your needs. You don't need much space to store it either – it's perfectly foldable into a small luggage sized box with a handle.
This table is made of sturdy plastic, and it's well built. Once you put it together, you'll hardly notice the seems where it folds. Especially if you use a tablecloth. It's easy to fold and unfold, and it's light enough to carry with you.
Why it's our pick? It's one of the most popular plastic foldable and portable picnic tables. And there's a reason why – it's a quality-made product.
Collapsible Picnic Table with Benches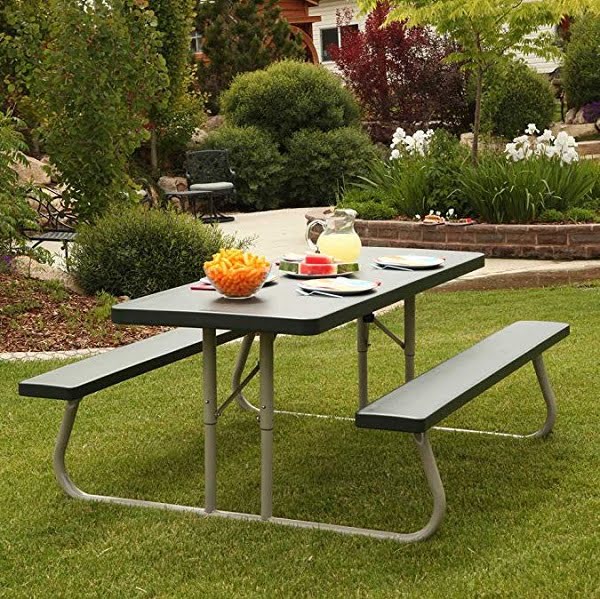 If you're looking for an affordable solution that has built-in seating, this picnic table is the right choice for you. It has a steel frame and a durable plastic tabletop and bench surface. It's a beautiful picnic table to be used for your outside BBQs and parties. And it collapses flat when you want to put it away. But you can leave this table outside at all times too. It's weather and rust resistant and fairs well under any conditions. So there's no need to collapse it and put it away every time.
The seating can accommodate six people and it strong enough to hold the weight. At the same time, the construction of this table is light enough to be moved quickly.
Why it's our choice? It's a full picnic table with seating. It's portable, lightweight and durable.
Foldable Wooden Top Picnic Table with Benches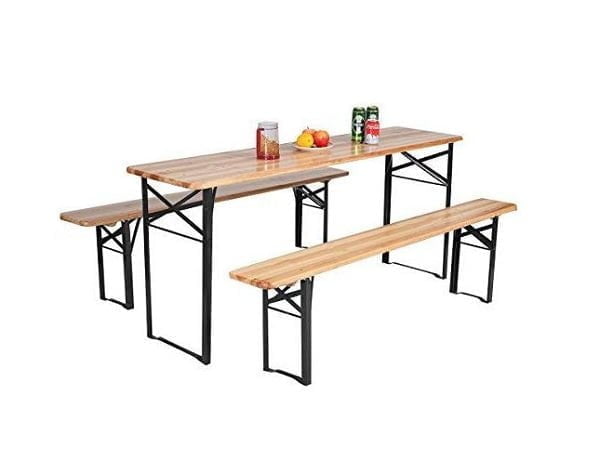 This wooden top picnic table is a replica of the traditional German beer table. At this price point, it's excellent value for the money. You get a sturdy wooden top table with benches and iron frame. The table and seats fold down flat, so you can store it in any compact space, or take it with you to a park or a camp.
The benches can seat four adults, and the table, while narrow, will accommodate your picnic needs at 18 inches wide. It's a great and good looking table for the backyard too.
Why choose this picnic table? It's a sturdy and durable wooden top table that easily folds away for storage.
Picnic Table Kit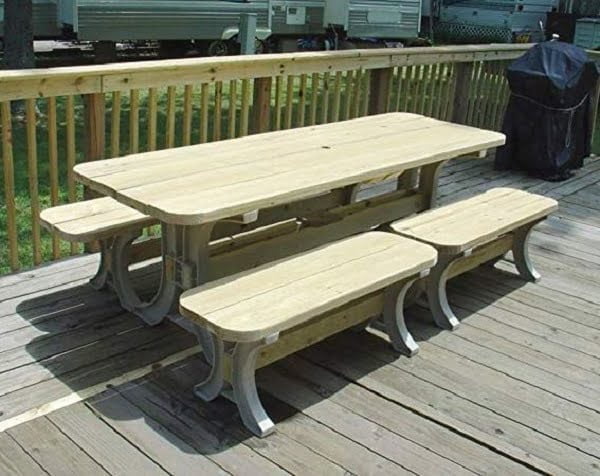 If you're one for DIY projects, but you don't want to get involved too much in crafting furniture, this picnic table kit will do the trick. The braces provided will make it easy to put together a solid table and benches from 2×4 wood. You can then stain and finish the furniture in any style you want. The braces are easy to use and sturdy enough for the table and benches to hold weight.
Why it's our pick? It's a great kit to make your own picnic table even if you're not a handcrafter.
Adjustable Height Foldable Picnic Table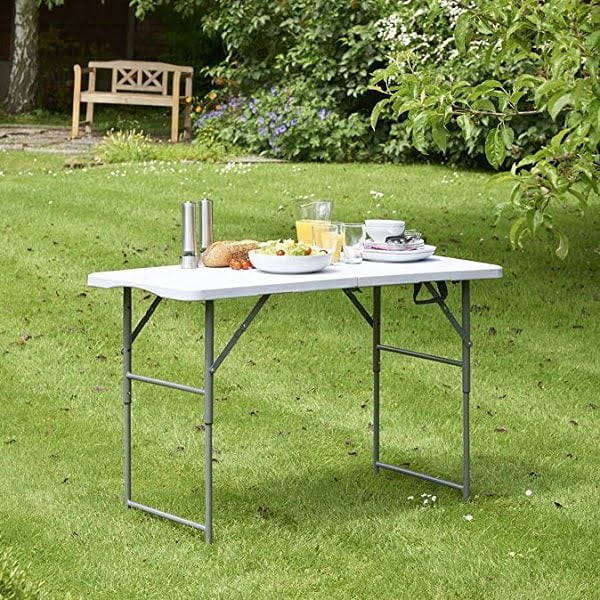 This portable picnic table has adjustable height and it folds down flat for easy carrying. The table can be used outside for picnics just as well as inside as an extra table surface. The 3-height system ensures you can set it up to meet your needs. The surface is made of durable plastic in a slight texture. It makes a nice looking style and gives a scratch free surface. The frame is made of steel tubing – light and sturdy.
Why did we choose this product? It's a great adjustable picnic table that will meet any needs outside or inside.
Portable Camping Table with Faucet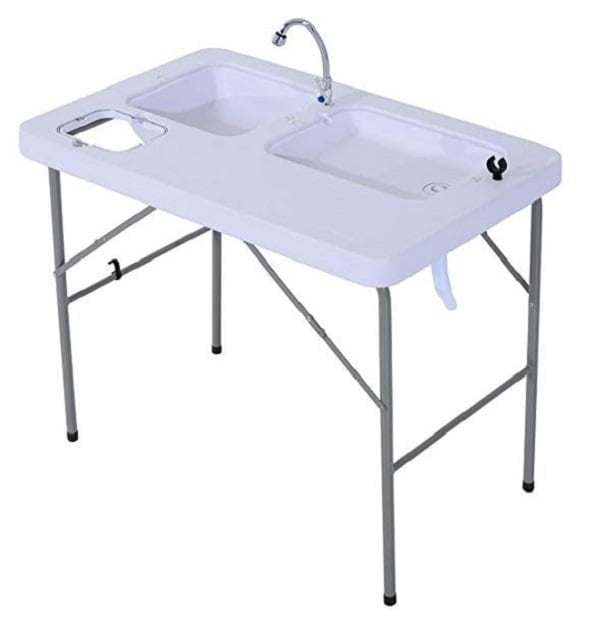 This isn't a picnic table per se, but it's such a useful table for any outside cooking activities that we must include it here. You can use it as part of your outdoor kitchen, and you can take it with you anywhere. The table is made of durable plastic and a steel frame, which is sturdy and can hold weight. The faucet connects to a hose easily and it will prove useful as a cleaning station, and more.
Why it's our pick? It's a very useful table with a faucet that you can use in your picnics and camping.
Wooden Foldable Suitcase Picnic Table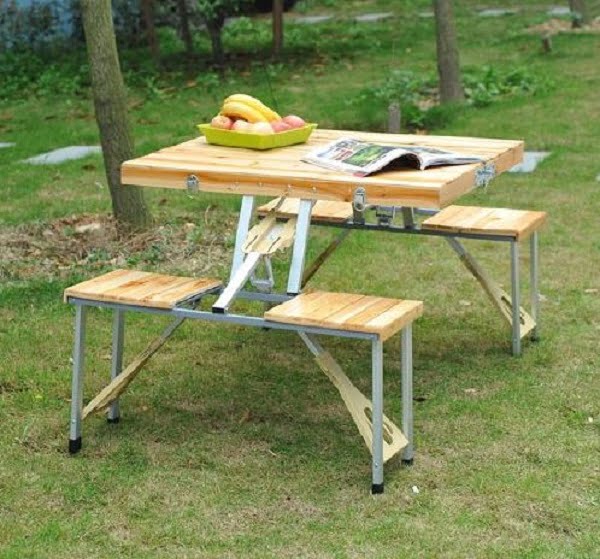 This is a nice picnic table that folds down to a suitcase. It has a wooden top in a nice finish and a lightweight aluminum alloy frame that's easy to carry. You can literally carry this table with you anywhere. Take it with you to a park, to a camp, or just take it out in your backyard, it will prove as the perfect seating for the whole family. The table is big enough to seat four adults.
Why it's our pick? It's a nice looking and easy-to-use table that you can carry around with you.
Rustic Wooden Picnic Table with Benches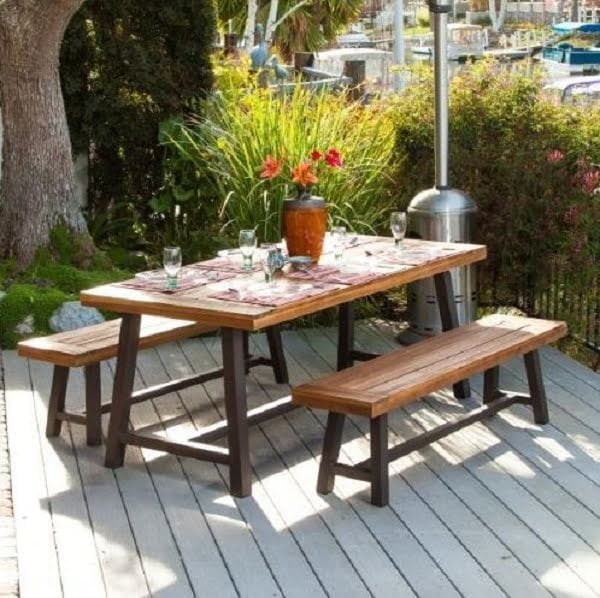 This beautiful picnic table with benches is a stylish addition to your outdoor space. Unlike portable options, this table is stationary and it's rather heavy. Which is great if you're not going to move it a lot. The metal frame does fold down should you need to store it away. The table top and bench tops are made of solid wood in a rustic finish. This gives the table a lot of decor value – it would make a nice focal point in any space.
Why it's our pick? This is a great picnic table if you're looking for stationary furniture that would add to your decor. It's available on Amazon.
Folding Picnic Table with Umbrella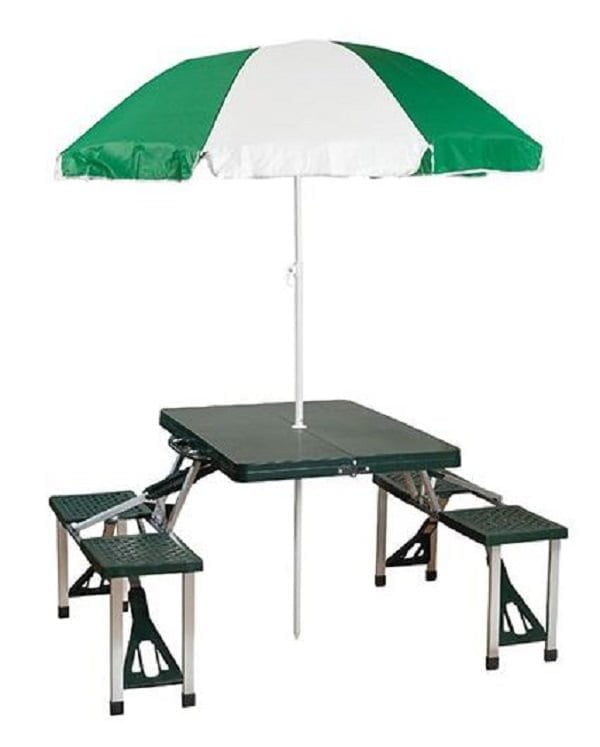 If you're looking for a small compact portable picnic table with its umbrella, this product might do the trick. It's a small table that folds down to a suitcase, so it's easy to carry it around anywhere. It's a lightweight aluminum frame, and plastic surface build that you can bring in hand when folded. The only drawback is that it might be too small to accommodate four adults.
Why did we pick this table? It's a compact option for a picnic table that you can carry with you anywhere. Available on Amazon.
Wooden Picnic Table with Attached Benches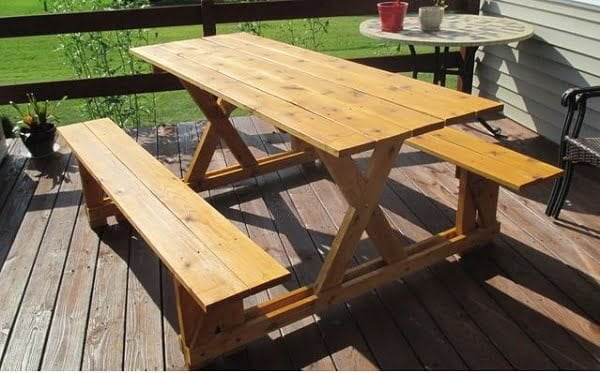 This picnic table and bench construction is an excellent addition to any outdoor space. It's not portable but an attractive option for stationary outdoor furniture. The table is made of quality rot-free cedar with stainless steel elements so that it can withstand adverse weather. It can accommodate up to eight adults comfortably.
Why it's our pick? This picnic table with attached benches is a classy piece of wooden furniture that you can comfortably use in your outdoor space.
---
Disclosure: As an Amazon Associate we earn from qualifying purchases.
We are a participant in the Houzz Inc. and Etsy Inc. affiliate advertising programs designed to provide a means for us to earn fees by linking to Houzz.com, Etsy.com, and affiliated sites.