Last updated on February 23, 2020
Looking for the best outdoor ceiling fan for your porch, patio, or other outdoor space? We know how to move the air efficiently and elegantly with these 10 best choices in 2020. Read on!
During the hot season of the year (for some of you folks it's all year round) we all want one thing from our outdoor space at home. It's to keep it chill, relaxing, and refreshing. And while the evening breeze is the most awaited guest to your place, you want to keep it breezy and move the air all day long. That's where the outdoor ceiling fans come in.
In a nutshell, they aren't that different from the indoor ceiling fans – they all hang from the ceiling. So we are going to talk about those outdoor spaces that have ceilings – patios, porches, covered decks, gazebos, pergolas, and similar. They all might need the perfect fan to move the air.
So how do you choose the best ceiling fan anyway?
Here's how:
You need to know the location – what is your outdoor space?
How high is the ceiling?
Does it get wet?
Do you get storms that would require durable products?
Does it have to be moved a lot (portable)?
How it fits your outdoor decor?
No single fan will fit all purposes. So before you make your pick, be careful to check these points.
How do we know which fans are the best?
That's a great question to ask. After all, who are we to recommend you stuff anyway? We are in an excellent position to see what our readers (you) are interested in. There are millions of you every year and we know what kind of fans you're looking for. We also work with our partners to get extensive research data. Therefore, our picks are data-based and only the best are tested. You can be sure these picks meet the right criteria.
And so, which one will you choose?
What's Inside?
Outdoor Ceiling Fan with Lights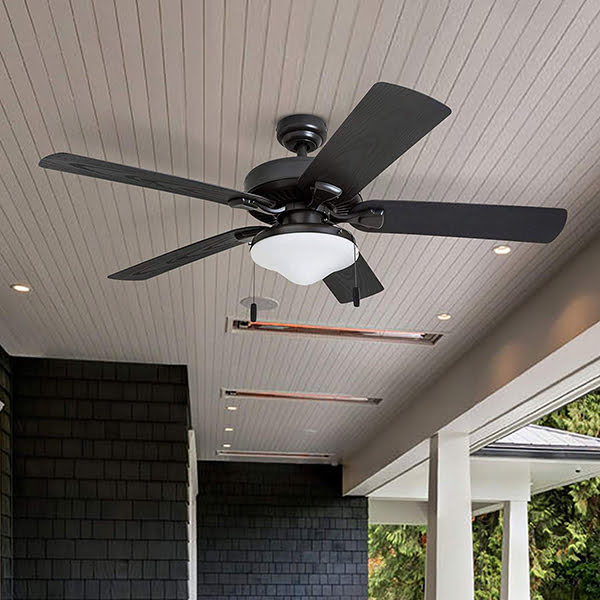 This ceiling fan is waterproof and equipped with LED light. Its warm design will complement just about any space. It will keep things cool during the summer and the motor can be reversed to warm the space during the colder months. The fan is also easy to install so you can begin to enjoy the comfort in a short space of time. It is energy-efficient and there are also 3 different mounting options.
Pros: It is quiet and provides impressive airflow; easy to install; energy efficient; looks great.
Con: Does not come with a remote.
Best Gazebo Fan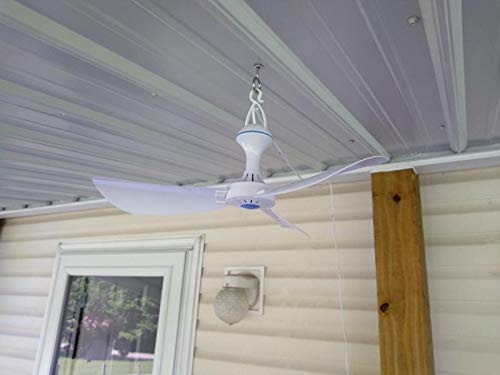 This is a portable 110-volt electric gazebo fan that is equipped with 3 blades. It has 6 watts of power and weighs under a pound. It provides a pleasurable breeze in small spaces and is equipped with a high-performance brushless motor. It is constructed with high-strength engineering plastics and comes with an additional blade. It has a built-in hanging hook, which makes installation a breeze. The power cord is roughly 157 inches (13.1 feet) in length, making it long enough to install virtually anywhere.
Pros: Effectively cool small spaces; easy to install.
Con: Not suitable for large spaces.
Hunter Outdoor Ceiling Fan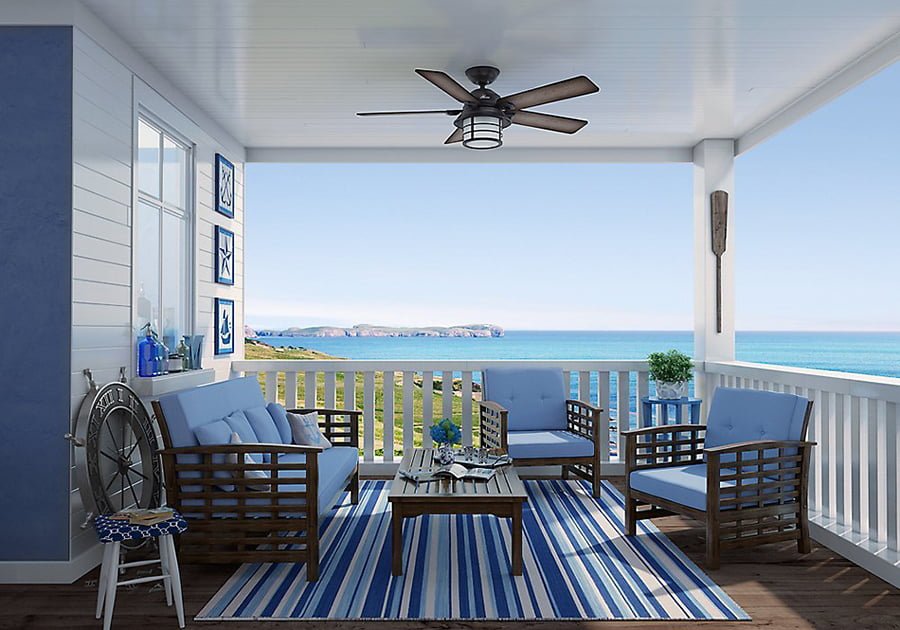 This fan has a maritime style and its clean-line design brings the Key Biscayne to life. The blades of this fan have rustic weathered finishes, a lantern-style light kit and it is reminiscent of beech wood that has been aged to perfection. The nautical design provides a casual vibe and it is damp-rated for moist conditions in sunrooms or covered porches.
Pros: Rust resistant; delivers whisper-quiet performance with impressive air movement; it has a three-position mounting system.
Con: Installation can be a bit tricky.
Best Patio Fan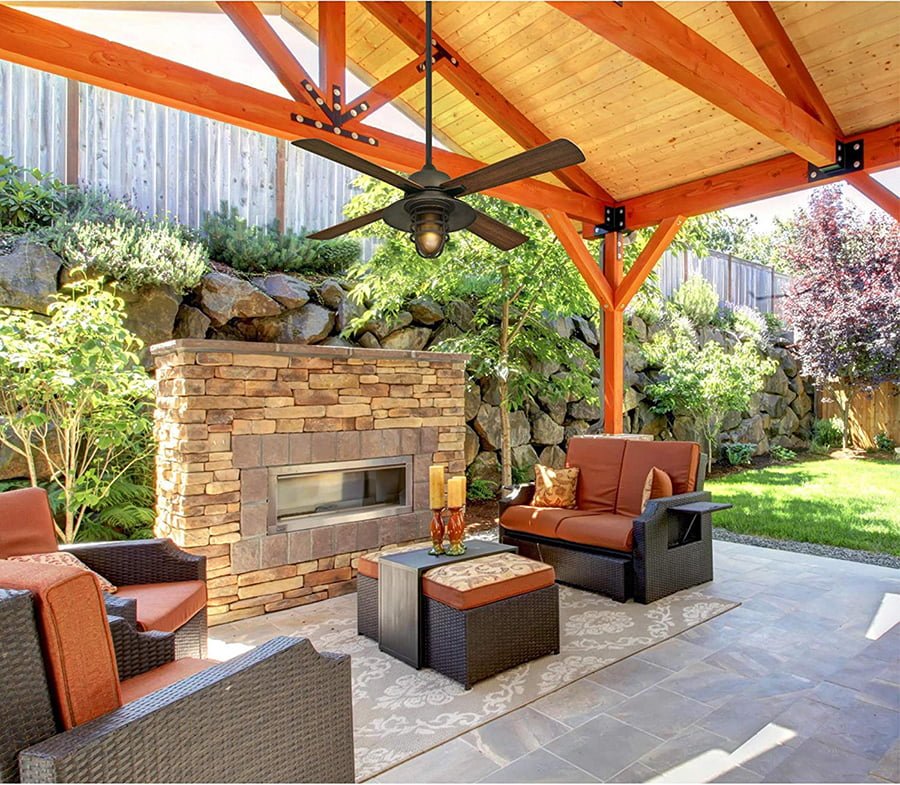 This Westinghouse Great Falls fan that is approved for wet locations. It will bring coastal flair to any space. With its dark walnut blades and a warm oil-rubbed bronze finish, this fan has a delightful rustic appeal. It is specially designed for patios, verandahs, and decks and it is as stylish as it is functional. This ceiling fan delivers quiet air circulation and it has a reversible switch to help in keeping you comfortable in cold or warm weather.
Pros: It is energy efficient; it has a lifetime motor warranty; exceptional functionality, reliability, and quality.
Con: Cannot be wired to a dimmer switch.
Flush Mount Outdoor Ceiling Fan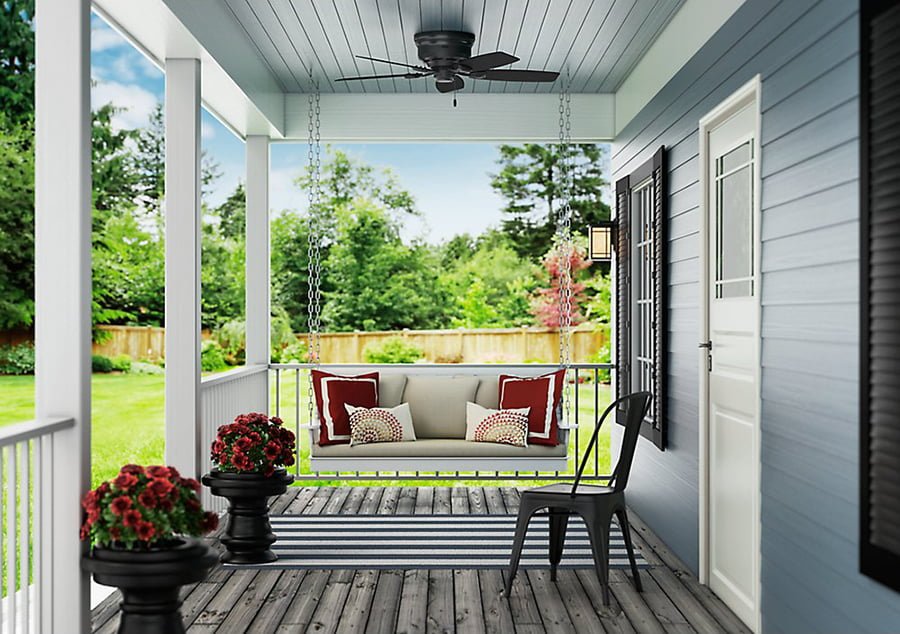 This fan is designed for small spaces with low ceilings and its casual appearance will complement just about any area in which it is placed. It has stainless steel hardware for rust resistance and it is damp rated, which makes it ideal for covered spaces like patios or sunrooms that are exposed to humidity and moisture. This low-profile outdoor fan has 48-inch blades and is powered by a three-speed, reversible WhisperWind motor that delivers ultra-powerful air movement. Its whisper-quiet performance provides cooling power without the noise.
Pros: Damp-rated for indoor or outdoor use; stainless steel hardware is rust-resistant; it is whisper quiet.
Con: Does not move a lot of air on medium settings.
72-Inch Ceiling Fan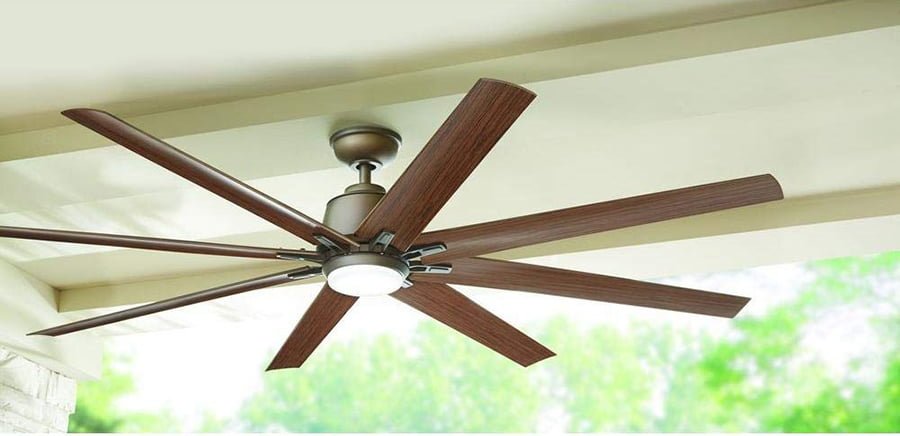 The espresso bronze Kensgrove 72-inch ceiling fan from Home Decorators Collection is ideal for lofts and large areas. To maximize cooling, its 8 blades emit 10,484 CFMs. It has a dome style light kit with a frosted opal glass which includes a set at 3000K temperature and a 14-Watt Samsung LED light source. The DC motor is energy efficient and will help you to save on energy expenses as it runs on high on just 31 watts. Additionally, the motor 9 speeds, 3 times as many as conventional ceiling fans. It also comes with remote control.
Pros: Installs easily; energy efficient; ideal for large areas.
Con: The plastic blades are a little thin.
60-Inch Ceiling Fan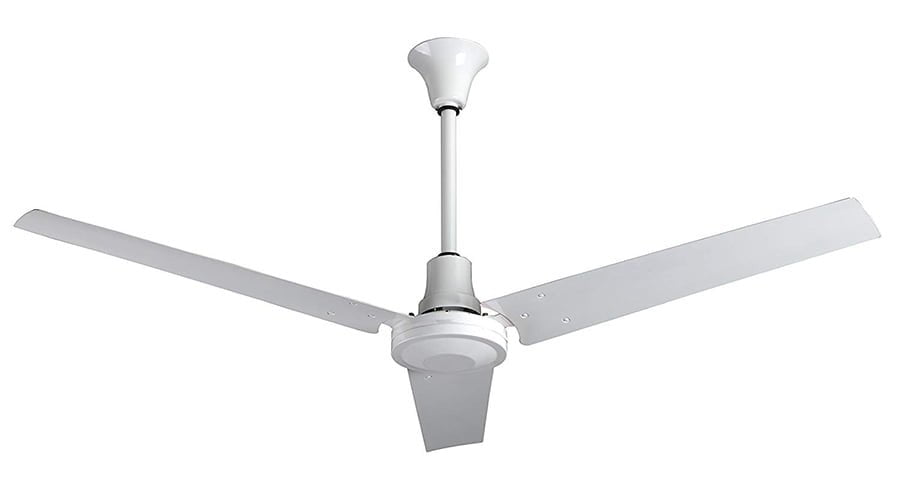 This industrial grade fan is from VES Environmental Solutions. It provides users with a cost-effective way of moving large volumes of air in high-ceiling buildings. In the wintertime, this fan gently pushes hot air down and increases the warmth of the building's floor level. This also prevents the heat from escaping through the roof and reduces the use of heaters. This saves you money and fosters a more productive environment. During the warmer months, you can turn the fan on high or medium to create a consistent building temperature.
Pros: Easy J Hook Installation; moisture-resistant motors; energy efficient.
Con: Issues with the reverse switch.
Small Outdoor Ceiling Fan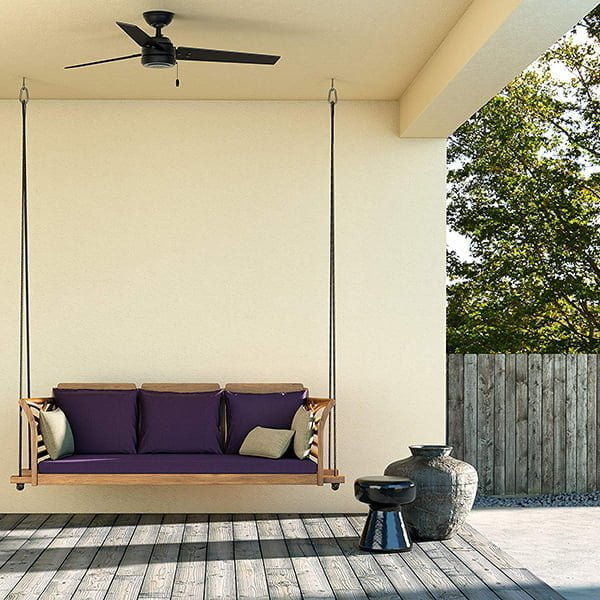 This Cassius damp-rated, 52-inch fan makes it ideal for a number of different spaces, including covered porches. It has an industrial design with reversible blades and you have two options when it comes to finishes – a metallic tone for a masculine appearance or a softwood tone for a gentler look. Its exposed motor and clean lines combine to create a minimalist look, placing focus on its impressive performance.
Pros: damp-protected; reversible blades; a choice of finishes; modern minimalist look.
Cons: Might be too slow (or too low-profile) for bigger outdoor areas.
Outdoor Oscillating Fan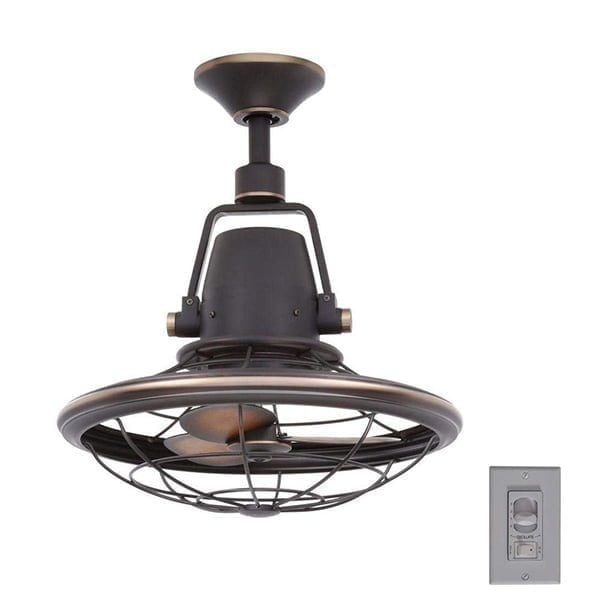 The tarnished bronze fan is a product of Hampton Bay. It is ideal for tight spaces and directed air circulation and has a remarkable caged fan design. Its oscillating feature sways back and forth, creating a pleasant breeze. Operation is extremely easy and the included wall control can be used to replace an existing wall switch. Furthermore, it is rated for damp locations and can be used in covered outdoor locations.
Pros: It is damp rated; functional and its caged design is visually appealing.
Con: Not suitable for sloped ceilings.
Waterproof Outdoor Fan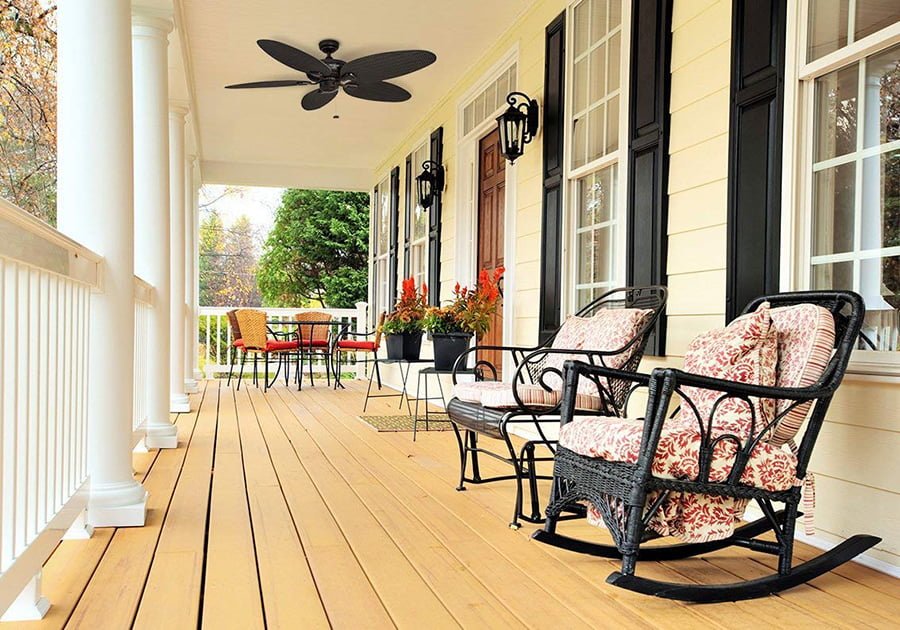 This one-of-a-kind hand-carved, oil-rubbed creation is from Honeywell Tropical Ceiling Fan. Its classic, tropical design will complement pretty much any space it is placed in. The 52-inch fan is easy to install and energy-efficient. It also comes with 3 different mounting options all designed to help you to relax and enjoy your space.
Pros: Energy efficient; easy to install.
Cons: only the blades are wet rated.
Liked this article? Here's what you can read next:
---
Disclosure: As an Amazon Associate we earn from qualifying purchases.