Last updated on March 30, 2021
Who's keeping you warm at night? If you need a little extra warmth, you need the best electric heated blanket. Choose one of these.
► Our #1 choice? This Serta heated blanket.
Say whatever you want but the old hot water bottle is just not cutting it. People have tried to heat their beds without an electric blanket (someone even used a blow dryer), but it's just not feasible. All things considered, nothing can replace a good electric blanket. If you're not too fond of plugging in, you can get a cordless heated blanket.
If you've finally decided to pull the plug (or should we rather say, plug it in?) and get an electric blanket, here are 10 of the best models to choose from. There aren't really better options than these (even if it's our subjective opinion.)
So, what is it about anyway? An electric heated blanket is a blanket that heats itself using a built-in heating element. These are a fairly cheap way to heat a room since they only require a small amount of electricity to operate.
Cozy up to a warm, toasty blanket, and you'll likely never want to experience cold sheets again. Electric blankets are warm, comfortable, and can be found in various finishes, styles, and colors. But while they're a staple of winter, they can also be beneficial in the summer, providing a boost of warmth in chilly climates (most can be used outdoors.) It's a great way to stay cool without cranking your AC—and they're easy to use.
Ready? Here are the rest of our pick. You'll find the shopping links for each product. We earn a commission from those but you don't have to pay for it.
What's Inside?
Serta Fleece Heated Electric Blanket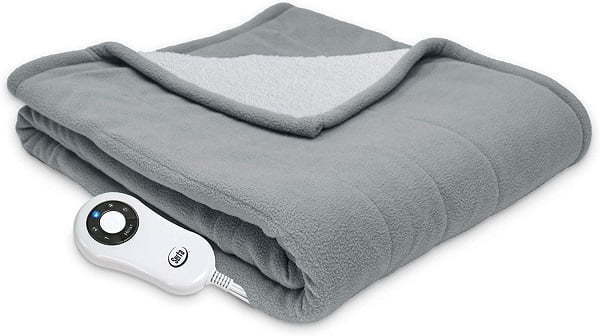 This is our editor's choice for the best electric blanket.
Serta is a reputable name in the bedding industry. They are known for their quality products and innovative designs. This heated blanket is a great example of Serta's product quality. When compared with the main competitor Sunbeam, it's a tough choice — there are fans in both camps. You'll find that both brands have raving reviews. But we've chosen Serta just because it offers more options.
This blanket is simple to use with its five heat settings and four-hour auto-off timer. The product comes with a three-year warranty for safety and assurance. It has heavy-duty construction and is made with 100% polyester brushed microplush fabric. It has a soft, sherpa fleece surface that is great for snuggling up to. The two sides of the blanket can be reversed so that you can change the blanket's look and feel. Meanwhile, you have 13 choices of colors to match your decor.
It comes with a convenient 8.5 cord with a control switch that makes it easy to operate while you are in bed. This is a great product for keeping you warm while you are in bed or snuggled up on the couch. The blanket is machine washable, so it is easy to care for.
Quick facts:
5 heating settings.
Sized 50×60 inches.
4 hour auto-shutoff safety setting.
3-year warranty.
8.5 feet power cord.
Sunbeam Electric Heated Throw Blanket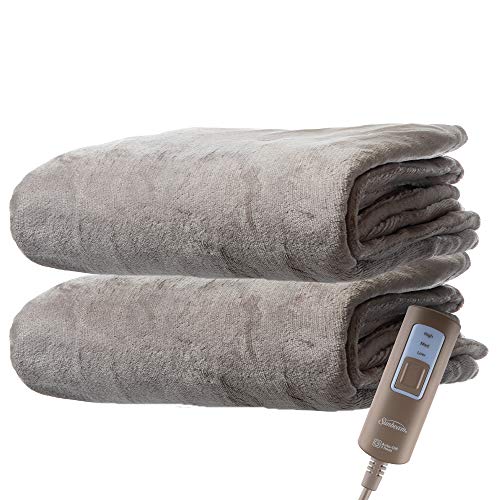 It's very soft to touch and has 3 heat levels. The high setting can get really hot. It's the right size to cover a recliner or cuddle up on the couch for one person. Though, it could be too short for you if you're tall.
The blanket auto-adjusts based on room and your body temperature so there's no overheating and no cold spots. The safety auto-shutoff turns the heat off in 3 hours of use.
Quick facts:
7 styles and designs.
3 heat levels.
Auto heat adjustment based on temperature.
Sized 50×60 inches.
5-year warranty.
Electric Heated Throw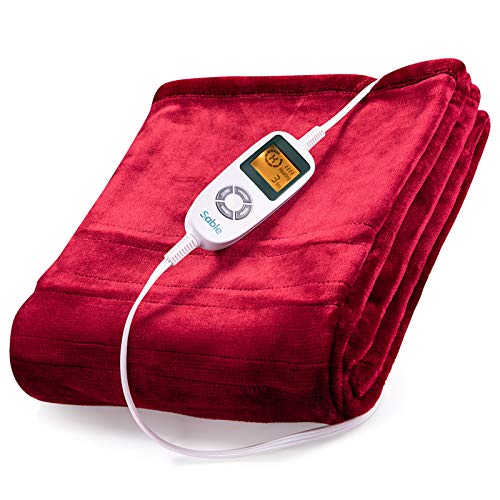 Make your TV time so much more enjoyable and fun with this heated throw blanket. It comes in a nice package that you can make as a gift. It has 10 levels of heating. Anything until 7 is warm and it gets really hot on the above settings. So you don't have to worry about getting warm when it gets really cold. It heats up quickly and is shut down in a 1, 2, or 3 hours timer setting — that's a great feature if you tend to forget to turn the electric blanket off.
The material is extremely soft. Though it's a size for one person (as a thro) which is perfecty fine if you just want to cuddle up on a sofa, or layer it over on your bed.
Quick facts:
Sized 50×60 inches.
Temperature settings from 68 to 122 degrees.
1 to 3-hour timer auto-shutoff.
Overheating protection (turns down to a low level if it's on high for over an hour.)
Portable Battery Powered Smart Heated Blanket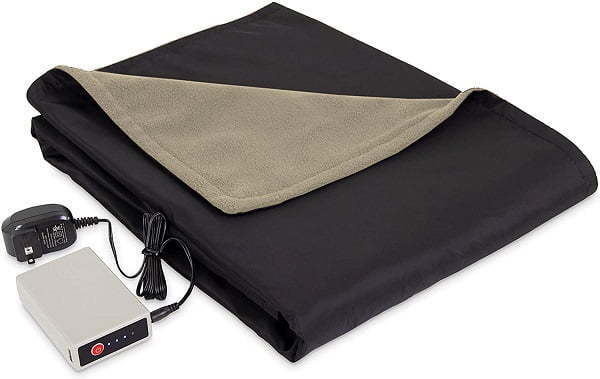 The heated throw from Eddie Bauer is a soft warming throw. This heated blanket is easy to connect to the power outlet to charge the battery and easy to use. The voice commands function (through Alexa or Google Home) is a great feature — you can trigger the heated throw, set the heat level, and set a timer by voice.
Quick facts:
Sized 40×50 inches.
Machine washable.
Manual or WiFi control.
Five heat settings.
Dual Control Electric Blanket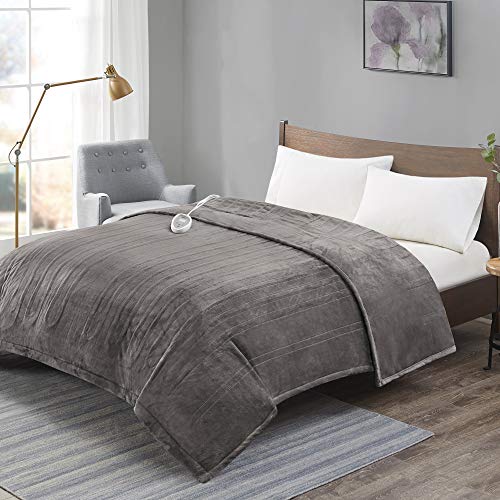 First of all, the look is really chic, and you have three colors to choose from. It's very cozy and gentle, too. Most significantly, the blanket has 20 different thermal levels with 2 easy to use LCD display controllers. We like the wire location and the cord length is right.
You can use this blanket every night and heat it before you hop on bed, and instantly feel cozy. When you turn it off, it will still stay warm for hours.
Quick facts:
UL certified and minimal electromagnetic radiation technology.
20 heating levels.
12.5 feet power cord (6 feet controller cord.)
5 year warranty.
Fast Heating Electric Heated Blanket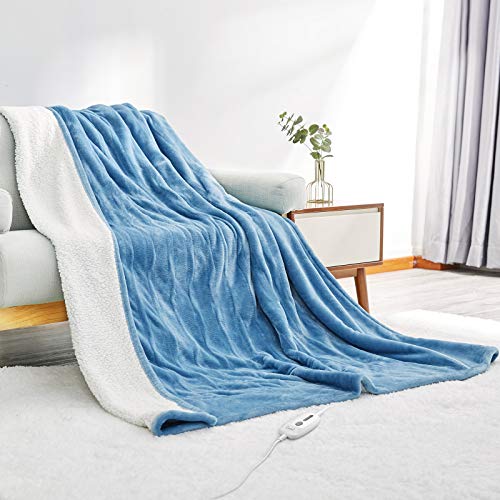 When you first take the blanket out, there is no scent and it feels so soft. You will like the fluffy side of the blanket. It is a washable blanket so you can easily clean it when you need it. It's wideenough for two individuals to use and the cords are long enough to spread it everywhere. The heat is pleasant and humid. Overall it's a very warm, soft, and plush heated blanket.
Quick facts:
Sized 62×84 inches.
4 heat settings from 95 to 113-degree temperatures (F).
10-hour automatic shutoff for safety.
Machine washable.
Tefici Electric Heated Blanket Throw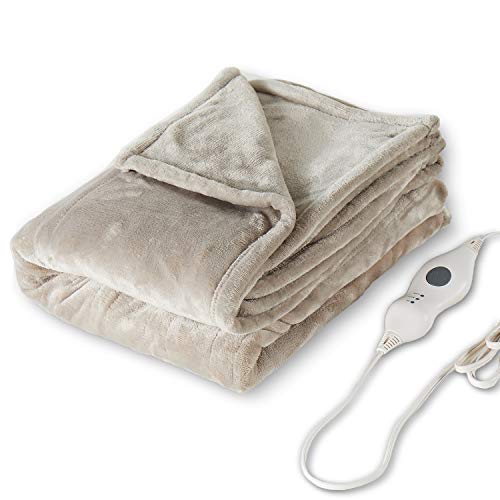 This blanket is a blessing. It's gentle and easy to cuddle on the sofa. Some electric blankets feel steep inside with tough wires. With this blanket, that's not the case. You can tell if you feel for them that there are wires, but they are not too noticeable unless you try to feel for them. The cord is long enough not to be burdensome, and you do not normally need the extension cord as long as you are near the outlet. Nor does this blanket overheat — the trip mechanism just turns the blanket off, so that you don't have to unplug it to turn it on.
The only negative we find is the button to turn on and change the temperature settings is flush and it is easy to bump it on and off. It stays on without auto shut-off for a long time.
Quick facts:
4-hour auto shut-off.
The 3 heat settings of 95 to 113-degree temperatures (F).
10 feet cable.
Machine washable.
Plush Electric Heated Throw Blanket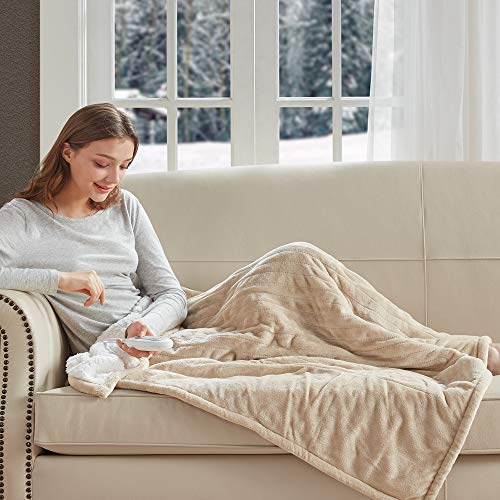 It would have been more snuggle, but a bigger size – if you want to roll up like a burrito and cover your shoulders and feet completely? The cord is long enough to plug into behind the couch and it's not upsetting or irritating. The colors are super cool and very soft and relaxing. The only thing (and not the major one) is that the heating elements are about 12 cm away from each side. It does, however, have a stpot heating control which allows it to heat evenly.
Quick facts:
Sized 50×60 inches.
Reversible thick or fluffy side fabric.
Spot sensing technology.
5 year warranty.
2-hour safety shut-off timer.
Micro Flannel Electric Blanket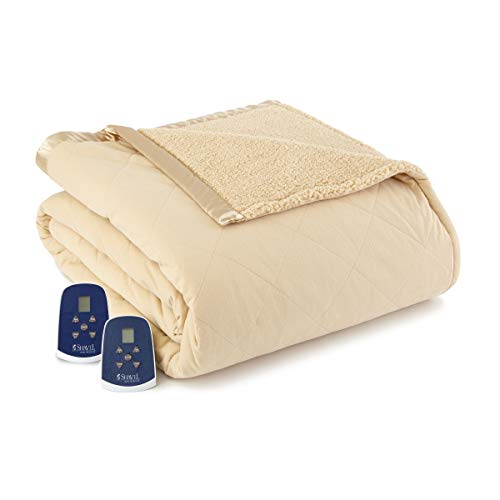 It is dense and made of microfiber fabric that will not slip. Both controllers are wired separately – a good feature. Different sizes are available too. Four colors are available. You will be pleased with the way this blanket stays on the bed and does not bunch. The controllers still default at lowest heat and 10 hour of auto turn off might be too long. It would be good to adjust the default, but the slight downside is worth the overall comfort at night.
Quick facts:
12 colors available.
Dual control.
Machine washable.
17 feet cord.
Full Size Electric Blanket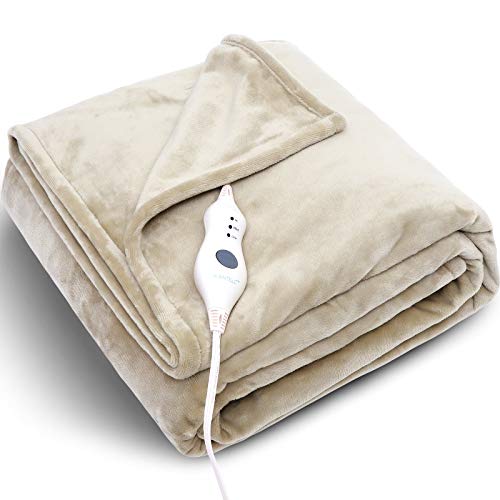 It's a really comfortable blanket. It's also a good large size. The cord is long so it's easy to plug in anywhere in your home and use this warm, cozy heated blanket. There are three heat settings — low, medium and high. Medium is usually warm enough.
The blanket works well and also heats up fast. The blanket's neutral hue is lovely. You will enjoy using it in the cold weather for some extra warmth. If I don't use it, your pets will love them! It;s super soft and great value for the price.
Quick facts:
Sized 72×84 inches.
3 heat settings.
4-hour automatic shutoff.
9.8 feet cord.
Machine washable.
FAQ
How do electric blankets work?
The basic principle of an electric blanket is the same as the heating element in your electric stove. The electric blanket is made of wires that contain copper, which is a great conductor of heat. When the electric blanket is plugged in and switched on, the wires heat up and the blanket is warm. The wires are woven into a fabric to make the blanket warm without becoming uncomfortable.
Are electric blankets safe?
Most electric blankets on the market (especially from trusted brands) are generally safe to use. Of course, you should take all precautions and follow the manufacturer's safety instructions to use the product safely.
Do electric blankets raise your heating bill?
Most electric blankets are very energy efficient and use very little electricity (think in terms of cents per day). In fact, if you sleep with a blanket and turn the heating down, using a heated blanket will lower your bill.
Is there a battery operated heated blanket?
Yes, there are several battery-operated cordless heated blankets. They are ideal if you don't want to sleep with a blanket plugged into the power network.
Can an electric blanket interfere with sleep?
It boils down to the proper use of the blanket. While electric blankets are a boon to those who like to stay warm at night, they can interfere with sleep if they get too hot. According to sleep experts, the ideal bedroom temperature is between 60 and 70 degrees F, and anything warmer may cause you to toss and turn throughout the night, which can lead to foggy brain and less-than-restful slumber.
Liked this article? Here's what you can read next:
---
Disclosure: As an Amazon Associate we earn from qualifying purchases.