Last updated on May 25, 2022
It may be small but it can be oh so beautiful. These creative apartment patio ideas will inspire you to create your remarkable little getaway even in small space. Read on!
Styling your outdoor living area can be difficult, especially if you have a limited space because you live in an apartment. Most apartments these days have a patio or outdoor area that you can use whenever you want, but a lot of people don't know how to style their outdoor living area when they have a small space. Thankfully, there are lots of great ideas out there that you can use when styling your apartment patio, and they won't change the space itself too much either.
Try Some Decking Tiles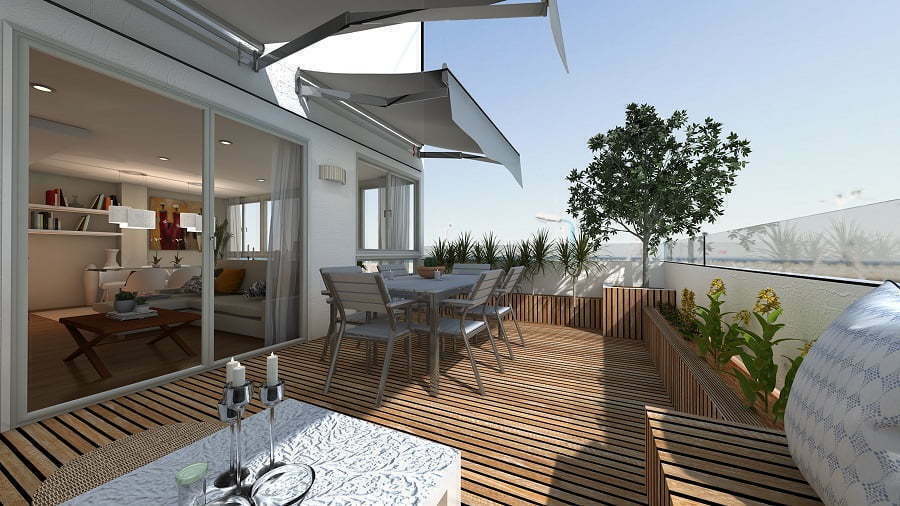 For most people who live in an apartment, the floor of your patio will be one of two things; concrete or tiles. Both of these materials can be very harsh and can look bad if they are not properly looked after. But if you want to give your space a different look without doing some renovations, you should buy some decking tiles.
Decking tiles are great for people who live in an apartment because they can be placed on top of your existing floors and they don't even have to be glued or screwed down! The wooden panels interlock with each other so they will stay securely once they are placed and then they are easy to remove once you leave.
These tiles are great for renters because you don't have to make any lasting changes to the apartment to add a bit of flair. They also look great as well, so you can liven up your space just by changing the flooring.
Try Some Potted Plants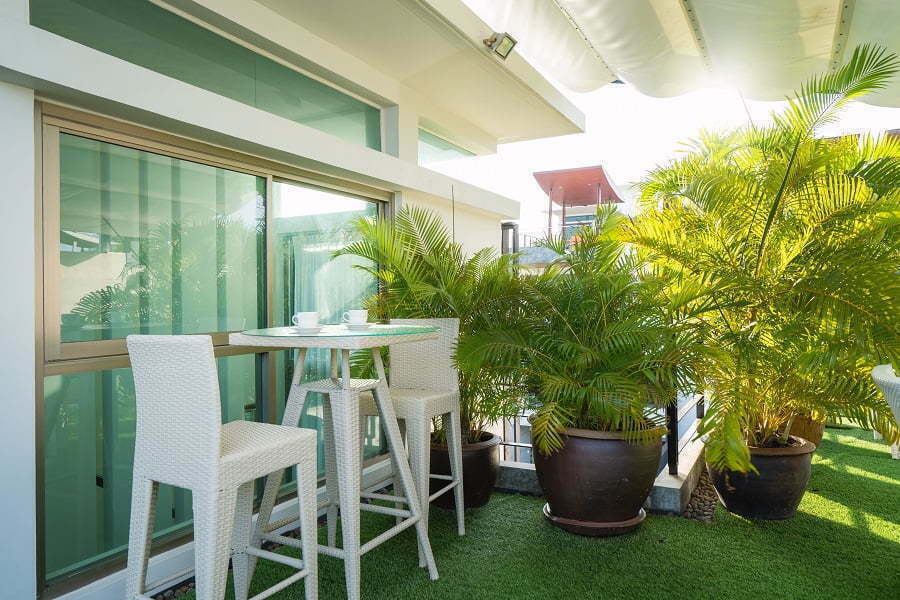 If you want to start a garden on your patio but you don't have a lot of space to work with, you need to buy some potted plants. Potted plants are great for when you are living in an apartment because they don't have to take a lot of space to be beautiful, and they are easy to move around. So you can move them around your space to give them a little sun when they need it or you can move them easily when you go to live somewhere else.
If you don't have a green thumb, just buy a few small cactus plants or some succulents, because they are easy to look after and don't require much water. Another great option for growing a garden when you live in an apartment is the humble planter box. You can find planter boxes at your local garden shop that hang over a ledge which is great for people with minimal space who still want a little bit of greenery in their home.
Buy Some Moveable Furniture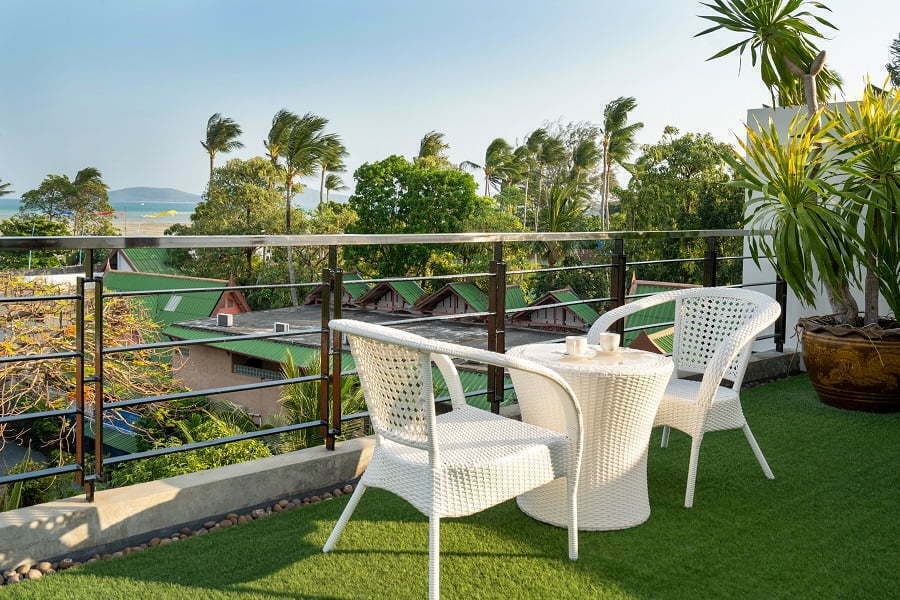 If you are trying to furnish a small outdoor space, you need to invest in furniture that is easy to move so that you can add or remove furniture when you need to. You may want to use your outdoor living space for entertaining on the weekends but you may also want to use it for doing some yoga or working out when you can't leave the house, so you will need furniture that can be moved easily.
Most outdoor furniture stores like Wayfair, Pottery Barn, Joss & Main, Remarkable Furniture, and even IKEA will have furniture that is perfect for patios or balconies so you should be able to find furniture that is functional, won't take up too much space and is easy to move. Moveable furniture is also good to invest in if you are renting because you may need to pack up and move at any time, so you want to make each transition as easy as you can.
Look for Multi-purpose Pieces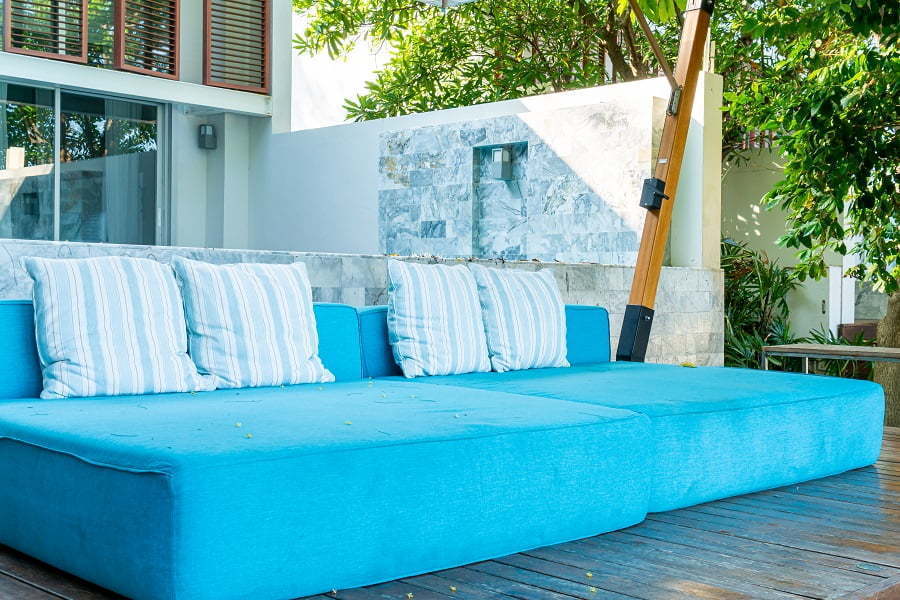 When you live in such a small space, you have to think smart about the pieces that you buy for your home so that you can make the most of what you have. Buying multi-purpose furniture is a good idea for anyone who has limited living space because you will be only buying the things that you really need while leaving yourself as much living space as possible.
These days, it is fairly easy to get your hands on pieces of furniture that can be used for different purposes. For example, you could buy a day bed that turns into a couch, or you could buy an ottoman that has a storage space in the center. But if you can't find the item that you want for your space, you should try to DIY and make something yourself that will fulfill all of your outdoor furniture needs.
Think About Textures and Materials
When you are designing your outdoor living area you should always try to play with textures and materials. This is especially important when you are living in an apartment because you will have a limited space to work with, so you need to make an impact where you can.
If you can't make a lot of permanent adjustments to your space, you should think about what you have to work with and buy things that go with your surroundings. For example, if you have a lot of concrete in your space, you should mix it up and add some softer textures like light woods, furs, and fabrics. You should also add a few different prints and colors where you can create more of a theme through your space so that it has a bit more personality and is more enjoyable to be in.
Add Some Lights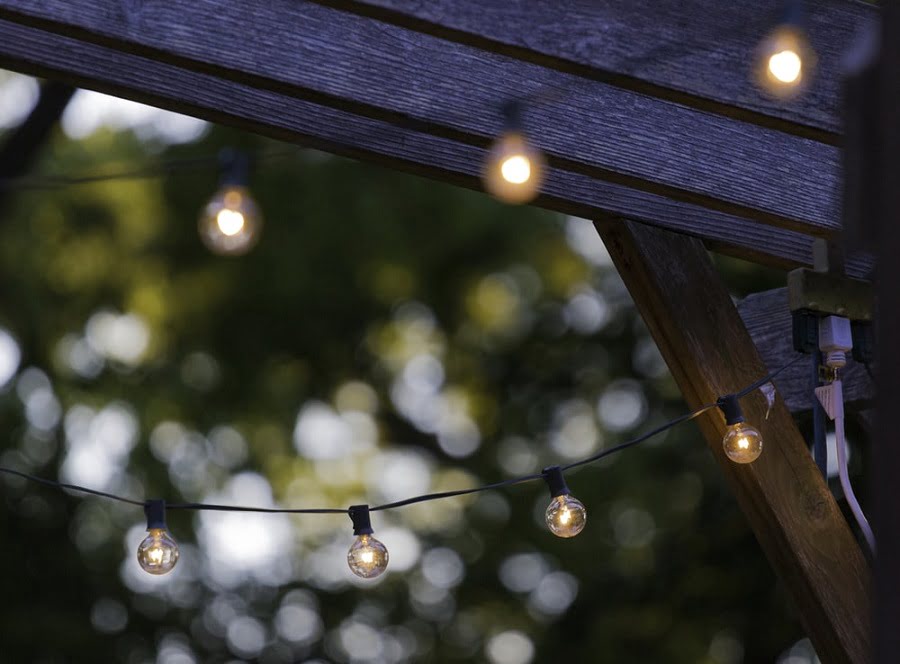 If you live in an apartment and you want to use your outdoor living space in the evening, you need to invest in some lights. You can buy a nice set of string lights and hang them from your roof to give your space a whimsical feel or you can buy some lanterns and light up your space with some candles and tea lights. Adding some lights will also make your space feel warmer and more inviting, so that when you have guests over they will feel more comfortable to spend the night out on your patio.
Styling your outdoor living area when you live in an apartment doesn't have to be hard. You just need to make a plan of what you will be using your area for and then buy things that will work in your space. Remember, if you are going to be using your space for a few different things, you will need to invest in pieces that can be stored away easily, but this does not mean that you can't have some fun and make space your own! So whatever you choose to do when styling your outdoor living space, think carefully before you buy.
Recap
Liked this article? Here's what you can read next: