Last updated on January 5, 2023
Here's how to choose the pattern to lay vinyl plank flooring. We give you a complete breakdown of things to consider. Read on!
Vinyl plank flooring patterns can have a significant impact on a room and how you want it to look. As with all elements of interior design, you need to consider how a flooring pattern will interact with the room, the furniture, and the colors already being used.
Just because you like the way a floor looks in someone else's home, doesn't mean it will fit in your home. With that in mind, there are some key points to considers when choosing a new flooring pattern. 
In this article, we are going to look at each of these points and try to make you aware of some areas you should be keeping in mind if you're thinking of a patterned floor.
What Style Are You Going for with the Room?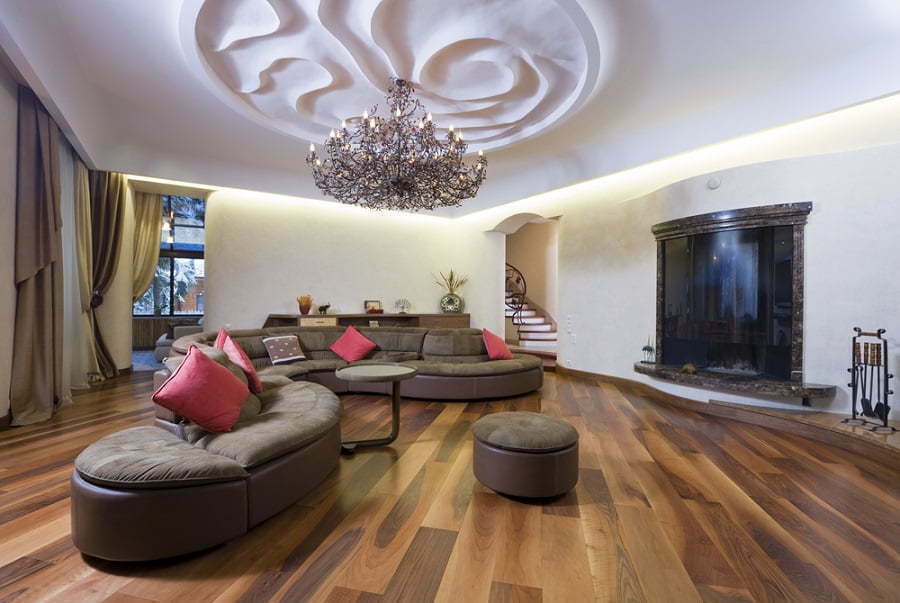 Most people have a fairly defined taste and style when it comes to interior design. In today's society, these tend to be either modern, traditional, or alternative. There are furniture and paint schemes that reflect these styles in the same way flooring and laying patterns do. So, let's look at how these three styles tend to be reflected in the flooring and patterns used. 
Modern homes tend to have a minimalist aesthetic as their most dominant style feature. This typically means a fairly neutral or toned-down color palette, clean lines, and a lack of clutter or accessories filling a room. When it comes to flooring, this style continues. Because modern homes aim to draw in lots of natural light and enhance this with the color scheme they use, mostly whites and greys, the flooring is often also light color. 
Stagger Pattern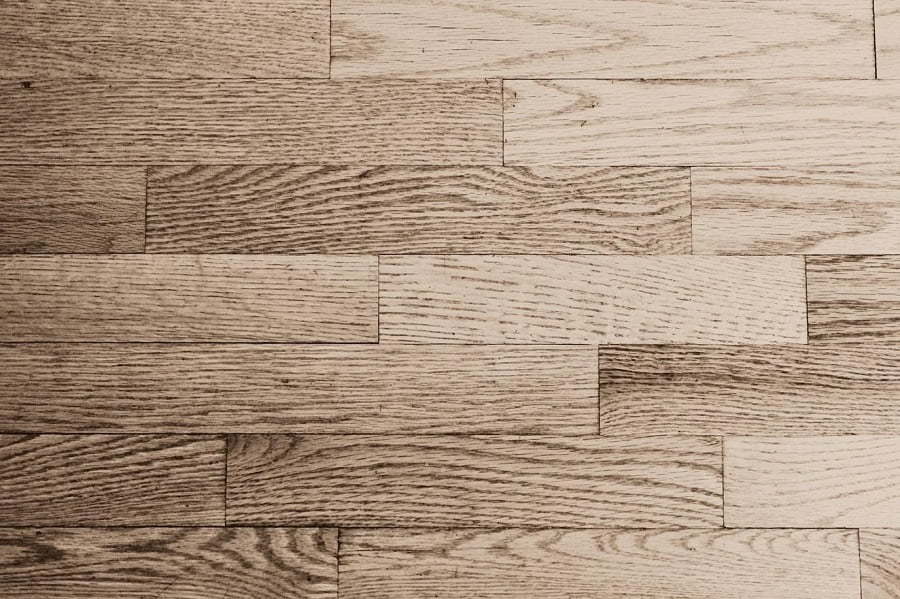 When wood or vinyl tiles which look like wood, are used they are often light wood colors. Stone is another popular style, again either using the original material or a luxury vinyl tile. One of the main things to consider with modern floors is the pattern is often very simple (stagger pattern). If there is any pattern at all, it is usually just offset tiles. The more significant thing to consider is the color and also the finish. Depending on the room, a matt finish may work better than a glossy finish. These are all things which need to be considered in modern homes. 
Herringbone and Parquet Patterns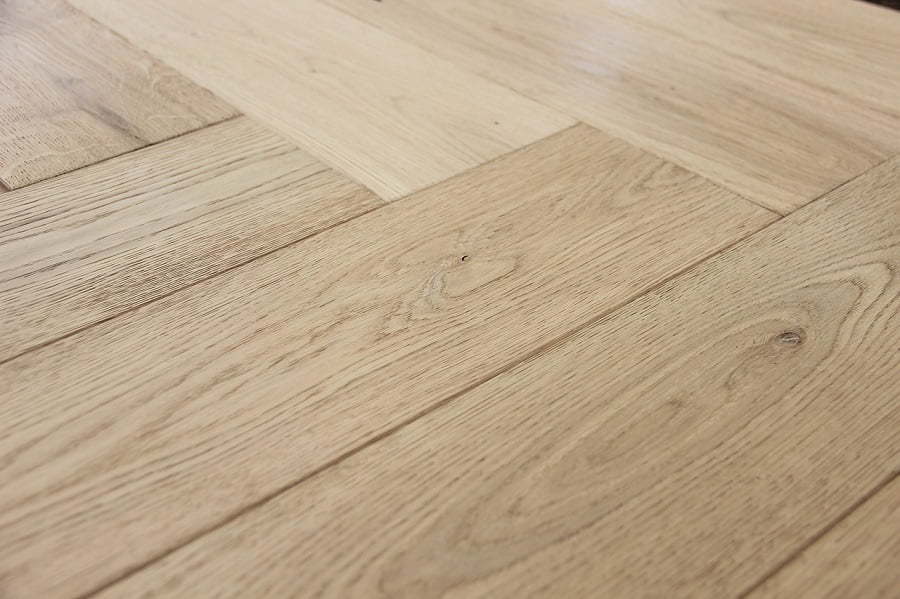 Older homes tend to have a more traditional floor. If this is the style you're trying to achieve, then considering a pattern like a parquet or a herringbone can work really well. These are both traditional patterns of laying wood panels. While you may love the traditional look of wood, there are drawbacks.
Not only can it be expensive to install, but also wood floors can be costly and difficult to maintain. You can achieve these same traditional styles with vinyl tiles, as the tiles can be arranged and fitted together in a wide variety of patterns. 
When it comes to the color of traditional floors, they tended to be darker woods, and this is still an option. However, even if you're aiming to create a more traditional aesthetic with the pattern, most people want their homes to have a sense of light. Lighter wood styles can still work well with traditional patterns, so don't let this put you off if a traditional pattern but light-colored floor is what you want. 
The big thing to remember with a traditional style like parquet is it can be quite a busy pattern. Making sure you have furniture which will fit well with a floor like this is vital, as the floor can look out of place in some homes if it doesn't fit with its surroundings.
Geometric Patterns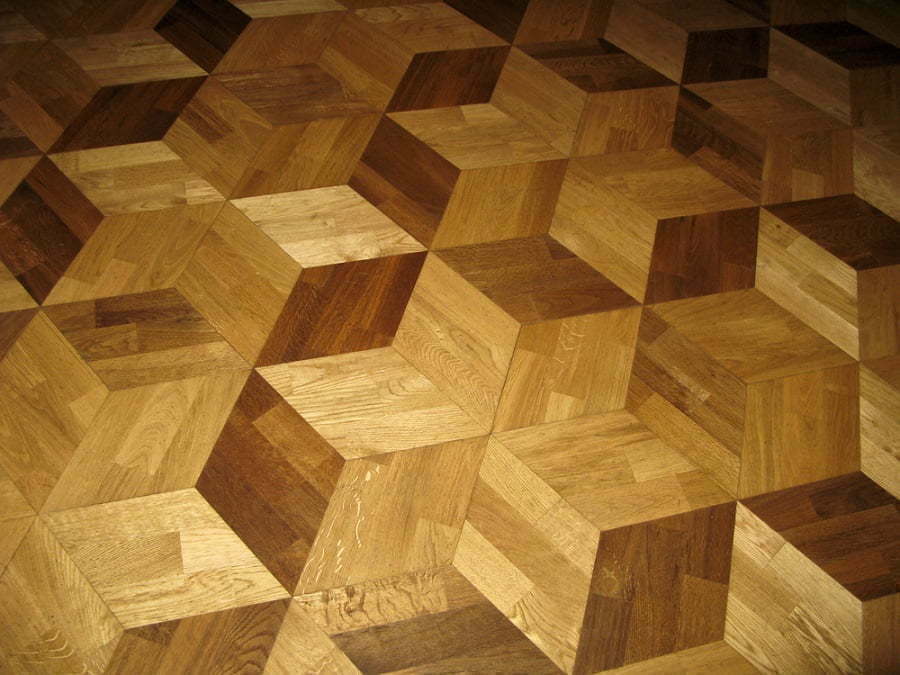 Alternative flooring patterns often draw their inspiration from traditional patterns. They can utilize geometric (such as hexagon) and traditional patterns but with different colors to create a bold and new style.
As with traditional patterns, because they are very bold, you need to be aware of the other elements of a room for them to work well. If you have a room with lots of colors already on the walls and with your furniture, and then add a bright flooring pattern it can become overwhelming. To get the most out of alternative flooring patterns, it's worth having a more minimalist room where the floor can be the star of the show. 
Color Patterns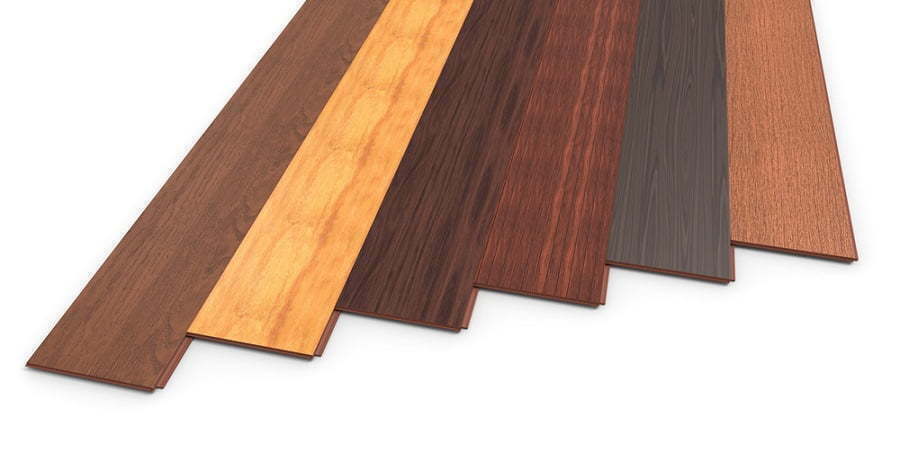 If you do have a floor containing multiple colors, it can be a good idea to try and integrate some of the colors already in the room into the floor. This way, it helps the floor feel more a part of the room and shows the design has been thought through. In kitchens, this can be done by matching some floor colors to the cabinets or tiles on the wall. 
Are You Trying to Enhance Space?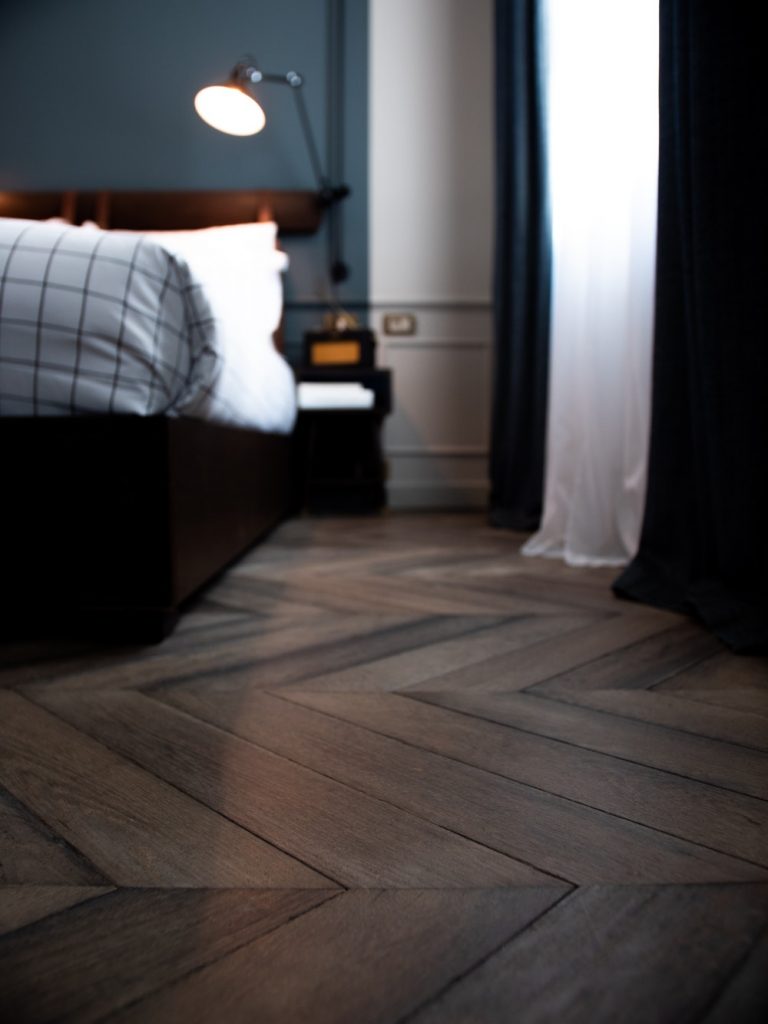 One of the great things with flooring patterns is they can really enhance a space. Not only can they add an extra design element to the room and help reflect your style, but they can also help change the way you see a room or space.
One great example of this is in a hallway. Lots of people would like to make their hallways seem bigger and longer. There are lots of design tricks that can help here, such as adding mirrors and changing the shape of any frames on the walls to the landscape rather than portrait. This helps create a longer line of sight and can help give the illusion space is longer than it is by drawing your eyesight down the hallway.
Flooring can also help here. Choosing a pattern such as a stagger, and having the lines run down the length of the hallway, rather than across, can help create a sense of length. 
Matching Different Flooring and Patterns Between Rooms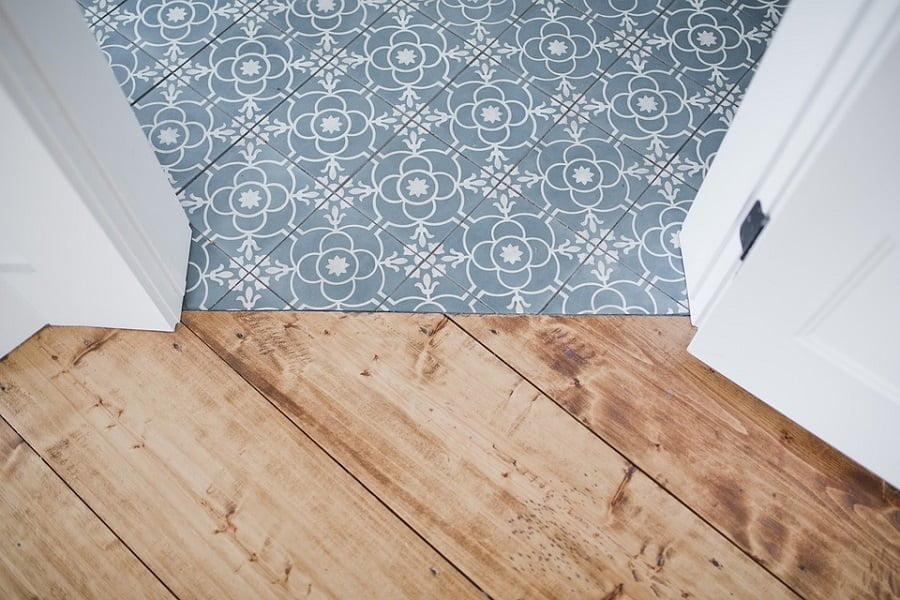 No matter which flooring material, style, or pattern you choose for your home, one thing you will have to balance is how the flooring matches up between rooms. It's not uncommon for different rooms to have completely different flooring based on the needs of the room. For example, you may have a hallway with carpet leading into a kitchen with a vinyl floor. 
This is important to keep in mind when choosing a new floor and pattern because drastically different flooring between rooms when they're right next to each other can look very odd. One way to get around this is to try and match the most prominent color in your carpet to the color of the vinyl or wood you're installing. Also, avoiding a carpet strip which is a noticeably different color in the doorway will help keep the flooring seeming to flow through between the rooms. 
The ultimate way to avoid these issues with matching different floors and patterns is to have one consistent flooring and pattern running between rooms and the hallway connecting them. This presents problems and challenges of its own, but the end result can look fantastic.
You need to keep in mind that one consistent pattern running over a large space and between rooms can sometimes look a bit overwhelming. For this reason, it's worth considering a less busy and more minimalist pattern like a stagger or a broken bond. 
Overall, there are several key things to consider when choosing a flooring pattern and a new floor in general. How the floor fits with the features of your home is crucial. Because your floor is such a big part of your home, and something you'll notice clearly every day, it needs to be right.
This is obviously a big decision, and when choosing a pattern for your floor, you need to be sure you love it and can live with it. Some flooring companies offer room visualizers to help you picture how a new floor would look in your room. This is a great tool, and if you find one available to you, it should definitely be something you consider.
Recap
Liked this article? Here's what you can read next: