Last Updated on
Looking for a ceiling fan for your home? Here's a list of the top 10 best ceiling fans in 2019.
A quality ceiling fan not only looks good aesthetically in a home, but it can also provide an excellent source of air flow that helps keep your home cool and comfortable whether spreading air conditioning or pulling in some fresh air when the windows are open in the evening.
That being said, the key is the word "quality." A good ceiling fan can do wonders for the interior of your home, while a poor one will create one headache after another. The goal is to limit your options to the best ceiling fans out there and find the one that is the right fit for you and your home.
What's Inside?
What Exactly is a Ceiling Fan?
A ceiling fan is a device with 3 to 5 blades, usually hardwired and mounted on the ceiling. Typically, the fan is used to cool the room or at least provide a breeze and circulate the air. The fan's blades are mounted to a base, which contains the motor and mechanical parts for operation. The fan blades usually rotate more slowly than those of a desk or box fan, though many come with different speeds.
What Makes a Good Ceiling Fan?
There are a variety of factors that go into the review of each of these ceiling fans. A combination of cost, durability, construction, aesthetic appeal and versatility are all taken into consideration when trying to judge which ones should make this list and which don't. Above all, they need to work well on a consistent basis. Next, are our top 10 selected ceiling fans (with their pros and cons) that you can get for your home.
Top 10 Best Ceiling Fans
Minka-Aire F844-DK Light Wave 52 Inch Ceiling Fan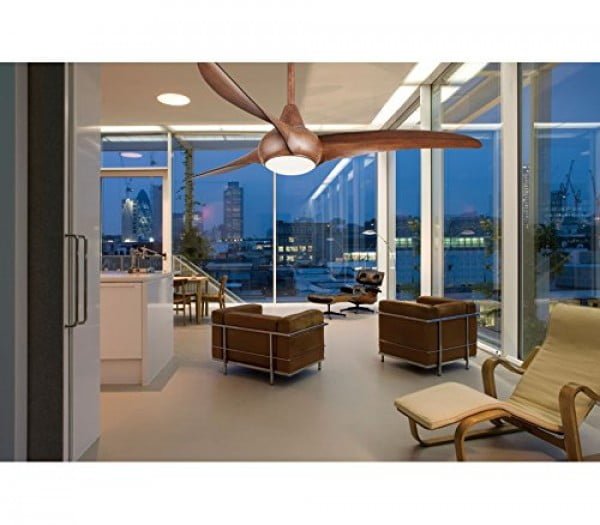 The Minka-Aire ceiling fan is an incredibly unique design that is going to find an even number of lovers and haters. Featuring a three-bladed one-piece design intricately carved comes in silver, white, or brown. The silver and white look modern and futuristic while the brown makes it appear like it is made from beautiful looking wood with a light in the middle. A very intriguing choice for the right setup.
Pros: Unique design, central light source
Cons: The unique design will be a negative for some
Hunter Builder Deluxe Ceiling Fan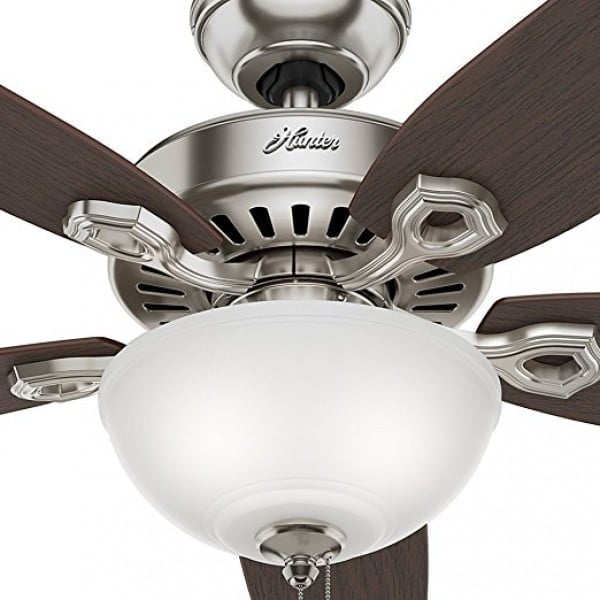 A 5-bladed fan with a central light underneath a shiny metal base, this ceiling fan looks beautiful, and the blades come in a variety of wood designs including Brazilian cherry and stained oak. Very quiet operation with a basic warranty that has warranty upgrade options available for sale.
Pros: Good looking fan, a company over 125 years of experience
Cons: Designed for residential homes, less warranty coverage than some other options on this list
Quince 24-Inch Ceiling Fan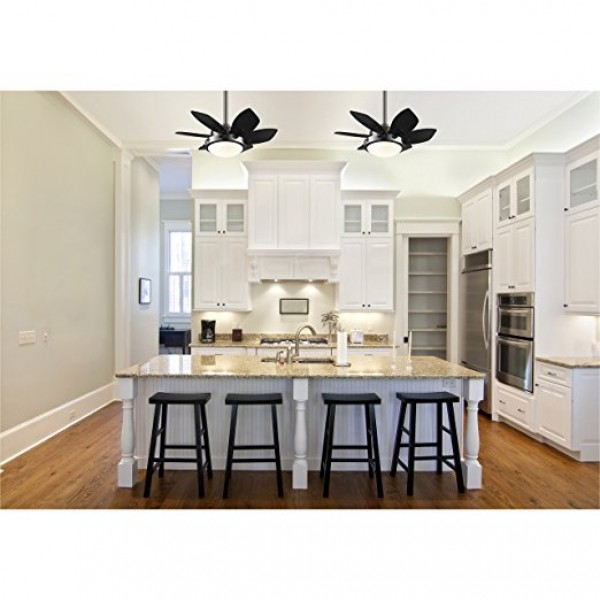 Coming in black or white, these small and versatile ceiling fans by Quince feature a lifetime warranty on the motor and have a reputation for their ability to reverse the direction of the fan to control air flow. Meant only for contained interior areas.
Pros: Small design is versatile, comes with light
Cons: Varying opinions on an aesthetic look, won't move air like a traditional 52-inch design
Westinghouse 3-Blade Industrial Fan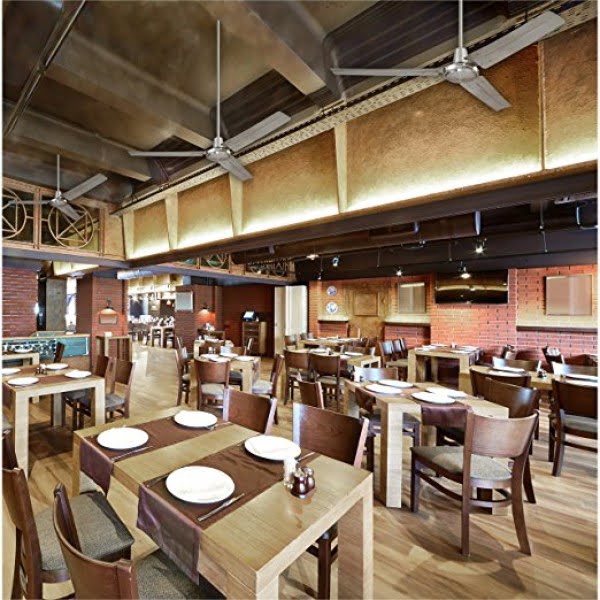 Known as a reliable brand in the world of industrial fans, this style of Westinghouse industrial fan is based on the classic design that has worked for warehouses and industrial settings for years. These fans include a 15-year limited warranty on the motor and two years full on other parts.
Pros: Exceptional warranty coverage, minimal setup, trusted brand
Cons: Best for commercial/industrial aesthetic over residential
Peregrine Industrial 4-Blade Ceiling Fan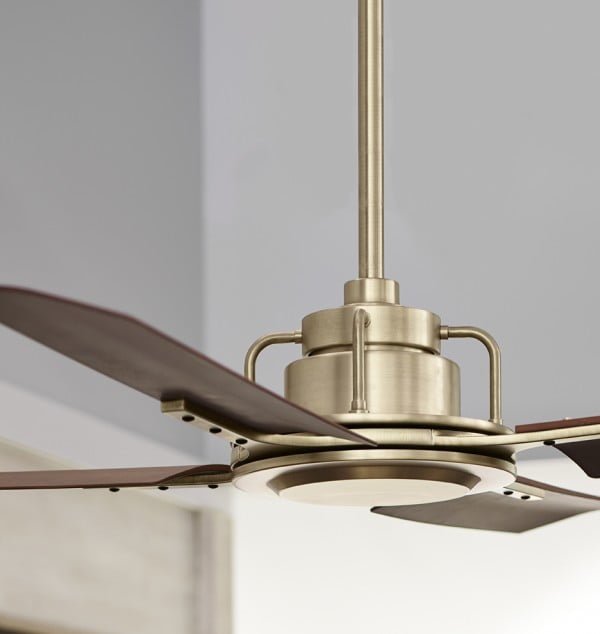 Using four steel blades and focusing on a minimal non-light design that moves air as efficiently as possible, this isn't a big pick when trying to design a room's aesthetic fully, but it is a highly rated fan that works exceptionally well and has a reputation for quality. Comes in an option of brushed nickel, brushed satin, and matte black finishes to offer some very different looks.
Pros: Extremely efficient at moving air, three different finishes give more aesthetic options
Cons: No lights, very minimalist design
Monte Carlo Discus Ceiling Fan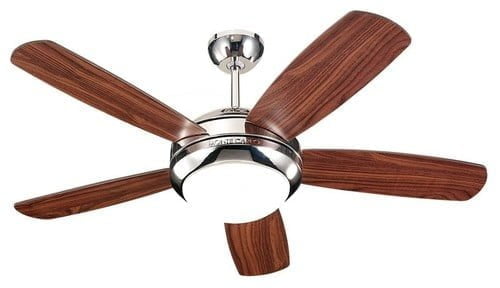 Featuring five blades and a central light, this design is inspired by the idea of quality salvage and re-purposing, and the bronze finish is perfect for nuanced designs that give off a classic aesthetic that works well with homes that have an emphasis on heavier or darker colors.
Pros: Very effective air movement, classic metal design
Cons: Won't work well aesthetically with lighter colors
Sonnet Oak Ceiling Fan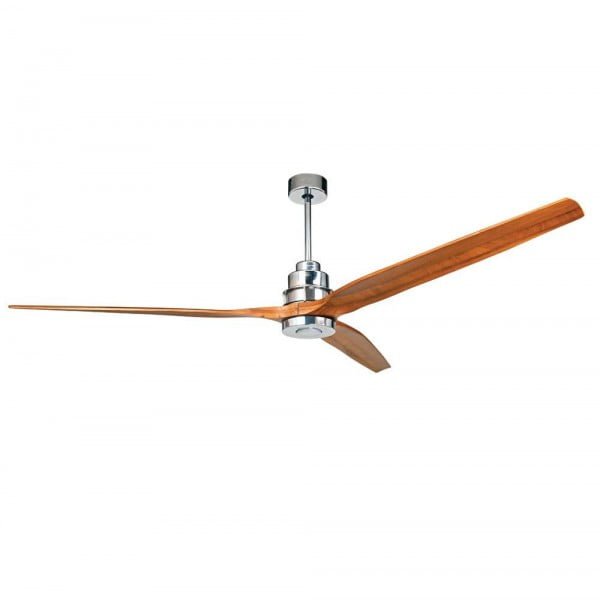 Designed with only three blades instead of four, the Sonnet Oak ceiling fan has dark oak blade design with a bright chrome base. This is a very minimalist and modern look that remains effective in moving air. Works well for offices or more modern residential designs.
Pros: Sleek design, aesthetically pleasing, excellent air movement
Cons: Minimal design can stick out like a sore thumb in the wrong home or office setup
The Uma Ceiling Fan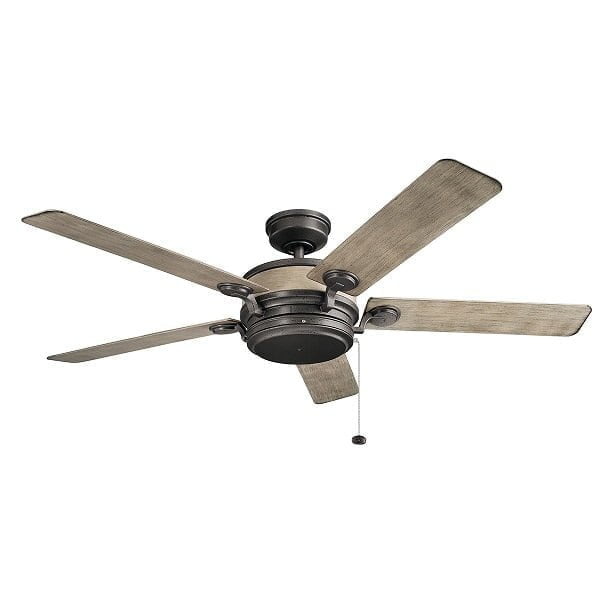 Coming 60 inches in size with a weathered zinc base and blades have an old oak appearance. This is a very classic ceiling fan look that will find plenty of fans (no pun intended) and is from a well-known and established company in Kitchler Lighting. This is an Energy Star approved the design that can fit into a variety of office and conventional home designs.
Pros: Classic design fits in with a wide array of settings, solid fan design, energy efficient.
Cons: Won't fit into the ultra-modern home or office aesthetics, not flashy if that's what you're looking for.
Mason Jar Ceiling Fan Light Kit (with vintage pints)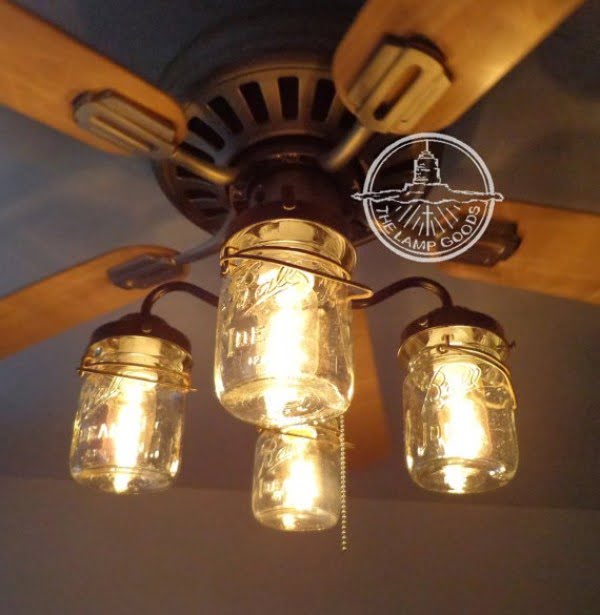 This is a unique design among the options on this list, with four vintage mason jars serving as the protective glass over each light bulb. Featuring four lights and a rubbed brass finish, this is an excellent option for a barn, workshop, farm cottage, or just an oddly eclectic house going for that old farm feel. Important note: this is just the lamp kit; it does not come with a ceiling fan.
Pros: Vintage look, unique aesthetic, made in the USA
Cons: No ceiling fan included, a particular type of aesthetic that won't fit every residence
Custom Ceiling Fan Blades from Slingshot Creative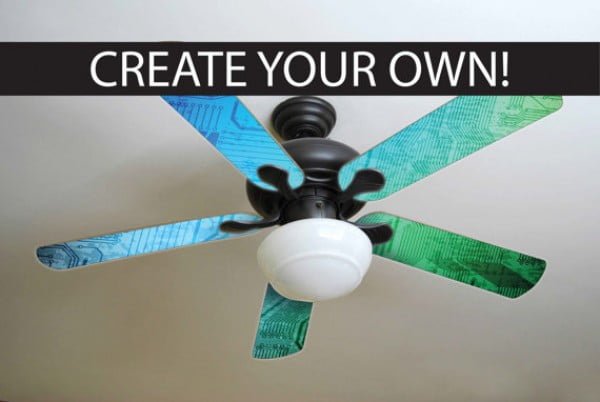 A brief look at the portfolio Slingshot Creative puts on their Etsy shop shows just how many amazingly creative ways their custom work can go. If you love unique designs and have a style in mind to go with a house that is also uniquely you, this is a great way to get actual custom craftsmanship to create the fan blades you want.
Pros: Can get your perfect ceiling fan blades, can order designs to the other parts you have
Cons: No guarantee of a perfect fit with other pieces, only the fan blades not a full fan or light
---
Decor Benefits of Using a Ceiling Fan
There are many benefits of using a ceiling fan as part of a room's decor. It can accentuate a particular style and provide a steady breeze at the same time. A ceiling fan with rich hardwood tones can coordinate with traditional furniture. A modern fan with simply designed blades can work with modern decor. A cottage look is easy to achieve by adding a ceiling fan in white, wicker, or a light wood tone and helps create the charm of a cottage.
Many people use ceiling fans when the redecorating, as they come in so many varieties. Ranch homes with a Western theme can have ceiling fans with a Western look, such as a wagon wheel or a rustic design. A lakeside or ocean cottage can be fitted with a fan with blades resembling boat oars.
A ceiling fan can add interest to a room. It can draw the eyes up to the ceiling, to accentuate wood beams or unique features of the ceiling's architecture. It can also become the focal point, in rooms that might otherwise be dull or lacking in flair. Ceiling fans are relatively inexpensive, compared to other home furnishings, new furniture, or adding design features to a room. A room can feel more cozy and comfortable or look more elegant and sophisticated, just by installing a ceiling fan. It can look good with a smooth ceiling finish or with a textured finish if the right style is chosen.
Other Types of Ceiling Fans
There are two basic types of ceiling fans. Simple fans with only blades, and fans with lights or light fixtures. The fans with lights serve a dual purpose and are designed for rooms that need more diffuse light. In most average sized rooms, lights on the fan can cover the entire room. Fans with lights can be small bulbs with tiny shades or traditional bulbs with glass shades in elegant shapes.
While there are two different types of fans, they also come with 3, 4, or five blades. The more simplistic fans tend to come with fewer blades. Fans with three blades look good in patio rooms, in cottage bedrooms, breakfast nooks, and informal family spaces. 4 or 5 blades tend to have a more elegant style and look best in rooms with the classic or formal decor. Fans with lights also tend to come with more blades.
Pros and Cons of Having a Ceiling Fan
Pros:
Ceiling fans in homes without central air conditioning can help move the air and create a cooling breeze. They are especially useful when windows are open, and a gentle breeze is blowing. However, they can also be helpful in homes with formal cooling systems, to circulate the fresh air. The blades can be reversed in colder weather, to help move warm air from heating systems. In general, they can help reduce home energy costs.
Ceiling fans are relatively easy to install, for anyone who has basic knowledge of electricity and wiring.
There are styles for every room and prices for every budget, which makes ceiling fans desirable in many different situations. Ceiling fans are easy to buy, being available from many different retailers.
Cons:
Ceiling fans may need to be installed by electricians or contractors when buyers don't have any electrical knowledge. This can significantly increase the costs of installation. They can be noisy, even when new and when the parts are properly lubricated. The quietest fans will still produce a low hum.
Ceiling fans can be tedious to clean, especially if they come with several design features, like carved wood blades and ornate glass shades.
In rooms with low or average ceilings, fans can be hazardous to taller people, who will need to duck or walk around the blades to avoid injury.
How Much Should You Spend on a Ceiling Fan?
Ceiling fans can cost as little as $30 or as much as $1,000, depending on the style and how ornate they are. The higher priced models tend to be those in high demand or those with longer blades, designed for larger rooms. However, there are plenty of attractive styles and finishes at economy prices. Buyers who want to change the look of a room or create a breeze don't have to spend a fortune, to find a functional, stylish ceiling fan for a particular place or living area.
The best way to find the right ceiling fans is to determine the budget, then look for and compare different models in that price range, that come with the desired features. It's best to compare similar features, to determine the value and desirability of different models. Ceiling fans of simplistic, simple styles can look just as good as more ornate fans priced higher, in many instances. What a buyer pays for a ceiling fan depends on the look and the reasons for buying a ceiling fan.
The perfect ceiling fan for one person isn't going to be a great fit for another. When looking through the many options for the best ceiling fans out there, it's important to remember that in each situation getting the best fit means having to match a specific fan to where it will be installed. Keep that in mind, and you'll be able to find the perfect fit.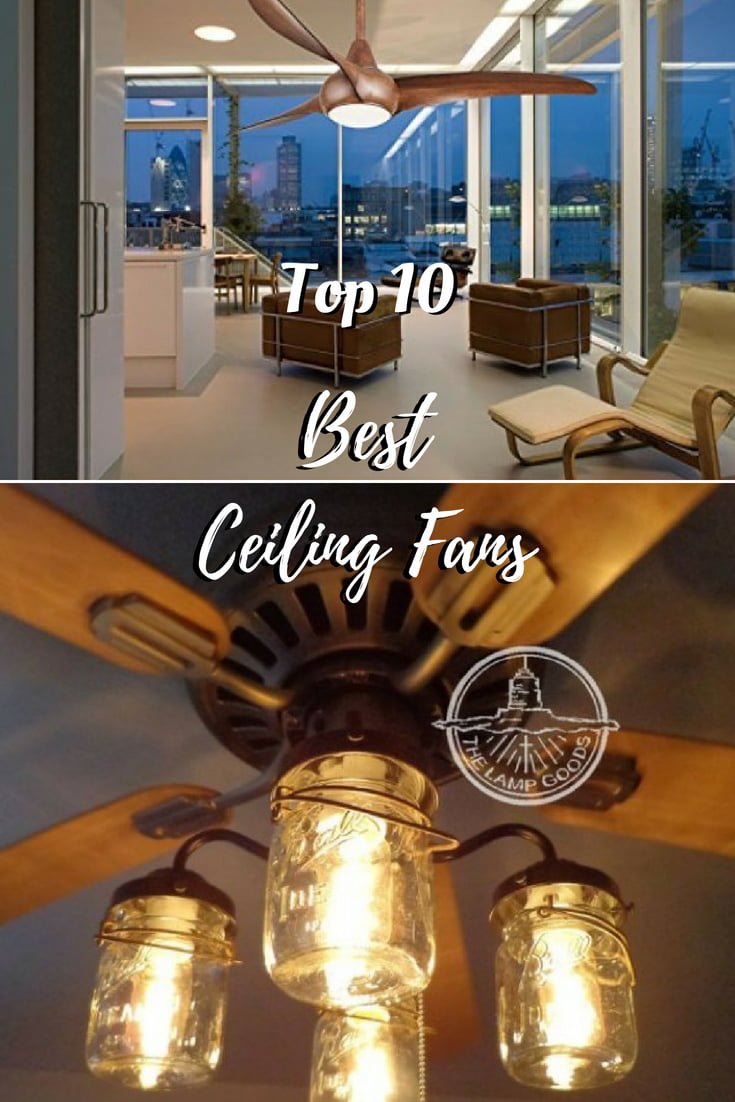 ---
Disclosure: As an Amazon Associate we earn from qualifying purchases.
We are a participant in the Houzz Inc. and Etsy Inc. affiliate advertising programs designed to provide a means for us to earn fees by linking to Houzz.com, Etsy.com, and affiliated sites.