Last updated on January 31, 2022
You should get a desk chair with wheels. It's an added convenience feature and comes in handy if you want to move around your workspace too.
Need more reason than that? We've devices a detailed comparison between the desk chairs with and without wheels so you can see why one is better than the other.
Today, most office chairs tend to have wheels simply because it's an extra feature that has little to no drawbacks. So why not get it if it does more good than harm? The only reasonable cons would have to be the price and floor wear-and-tear. So unless you're looking for something dirt cheap or you're concerned about your hardwood floor, you will choose the feature-packed option.
Let's discuss this in more detail.
Desk Chair Wheels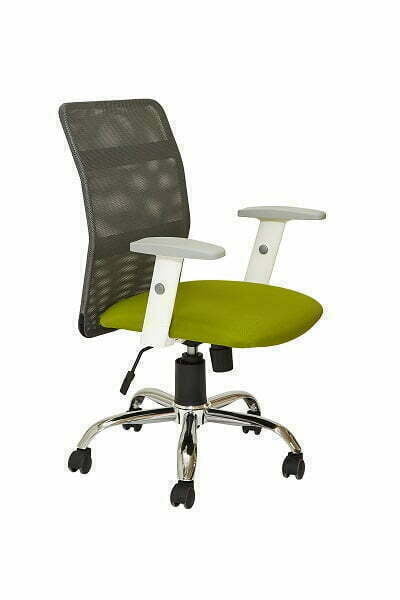 Office chairs are comfortable and make working easier. They come with many features that help people work better and allow them to sit for long hours. They adjust to the user's height, and they have a variety of designs to choose from (from task chairs to gaming chairs.)
Wheels (also knowns as casters) on a desk chair are a convenience add-on, especially in larger workspaces where you can move around while seated.
Overall Comfort
Wheels don't usually significantly impact the chair's overall comfort. They only affect the mobility in your workspace.
You should try out the chair before buying it. Comfort is essential, but you shouldn't buy something without trying it first. A desk chair that promises lumbar support might be uncomfortable. Read reviews and check the return policy before buying it. The key part of a desk chair will most likely be the padded seat together with an adjustable backrest. The adjustable seat height will let you set it up correctly for your body. Curved seats tend to provide an ergonomic design.
Weight Limit
Chair manufacturers know that people need different types of chairs depending on their size and weight. There are many different kinds of chairs available for different purposes. Most chairs have maximum weights, and the wheels significantly impact them.
Types of Wheels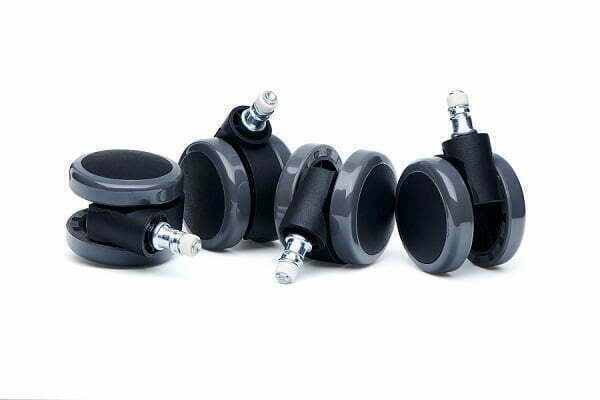 There are a few types of wheels available for your office chair. Some are made of plastic or rubber, while others are made of metal. All of them are designed for specific purposes. You should choose the right ones for your needs.
You need the wheels to be strong enough to support your weight. Steel is used to make the wheel because it is strong and won't break easily. Your office chair should also be made out of metal.
Rubber wheels are quiet and smooth. You won't hear any noises while using them. They're also very easy to clean. And if you aren't happy with them, they'll give you back your money and another 10%.
Wheels made of polyurethanes won't damage your flooring. They are strong enough to bear loads of up to 650 pounds.
Polyurethane wheels should never scratch wood floors. These wheels are made by the company that makes the original model. The weight limit is more than enough for everyday usage. The wheels are black, but they are also available in white.
Wheels on a desk chair can be single or double casters. The latter option provides a greater weight capacity.
Pros and Cons of Wheeled Office Chairs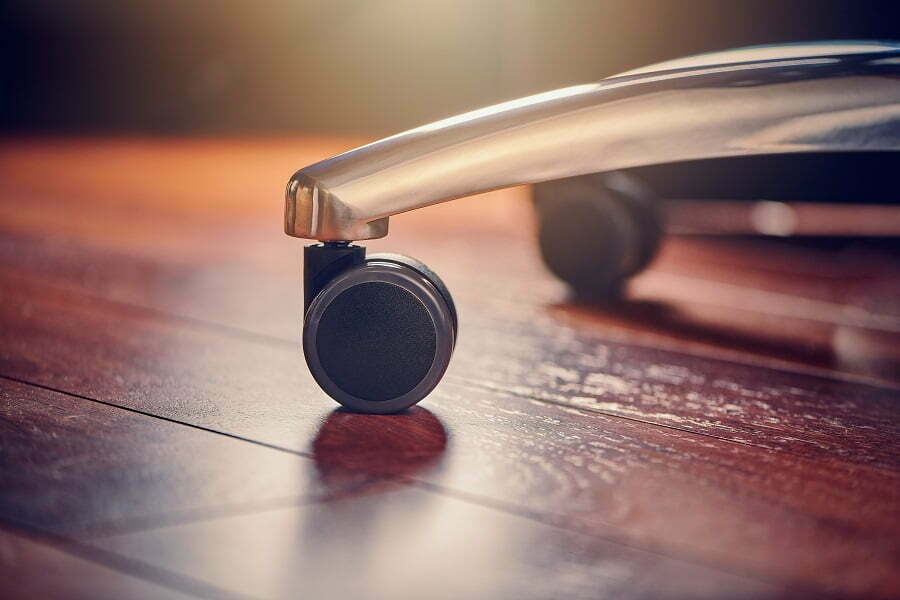 Price. Wheeled office chairs are usually more expensive than non-wheeled ones. People who buy wheeled chairs often want to make sure that they are comfortable and sturdy. Some people may not be willing to assemble these chairs because they think it will take too much time.
Flooring. Another significant drawbacks of chairs with wheels are that you cannot use them on hardwood floors, so you might need to get carpets for your home office, which is an added expense.
Since their construction is easier and does not require a lot of chair accessories and features, chairs without wheels are less expensive than others. Hence if you are planning to spend a handful amount on an office chair, Then a chair without wheels is the right choice.
These chairs don't require any assembly. They don't come with wheels. You can use them for your workstation or desk. They are made of plastic and metal. They are very comfortable and easy to assemble.
Wheel-less computer chairs are designed to be less complicated. People who buy them tend to choose those that have fewer adjustable features. These chairs are also easier to clean. Most people choose such chairs because they're looking for a comfortable place to work.
The Final Verdict
If you're going to invest in an office chair, you should consider getting a wheeled one. Wheeled chair users need to be able to move around freely. A wheeled chair user has to sit comfortably at all times. Their chair must be well-designed and ergonomic.
The best thing about a wheeled chair is that it provides mobility. If you're going to use a wheeled chair for an extended period, you need to ensure that your chair is durable. This way, you can enjoy the benefits of sitting in a chair for a long time.
You can find many options when choosing a wheeled office chair. But before buying one, you need to do some research first.
FAQ
What kind of office chair should I get?
There are so many types of office chairs. You can get a simple chair or a fully equipped chair. There are even unique chairs for working from home.
How do I know which type of chair is suitable for me?
Before buying an office chair, you need to decide whether you'll be using it for the short term or the long term. The longer you plan to use the chair, the better the quality of the chair needs to be.
What are the advantages of having a wheeled office chair?
A wheeled office chair gives you the freedom to move around. You can easily go anywhere within your house.
Recap
Liked this article? Here's what you can read next: