Last updated on October 28, 2023
Discover fresh and innovative preppy room ideas because this article unveils design concepts that can seriously transform your space.
I take immense pride in authoring this article and designing these unique, preppy room ideas, earnestly hoping you find inspiration and enjoy it as much as I relished creating them.
Dive into the world of preppy design, where classic elements meet bold color schemes and patterns. This article will guide you through a variety of preppy room ideas, from chic and sophisticated to quirky and fun, all while keeping an eye on your budget.
Discover how to mix and match textures, incorporate vintage finds, and use color to create a space that's uniquely you. Whether you're redesigning your entire room or just looking for a few fresh ideas, this article will provide you with the inspiration and practical tips you need.
Stay tuned for a deep dive into the world of preppy design, where style meets affordability.
Navy and White Striped Bedding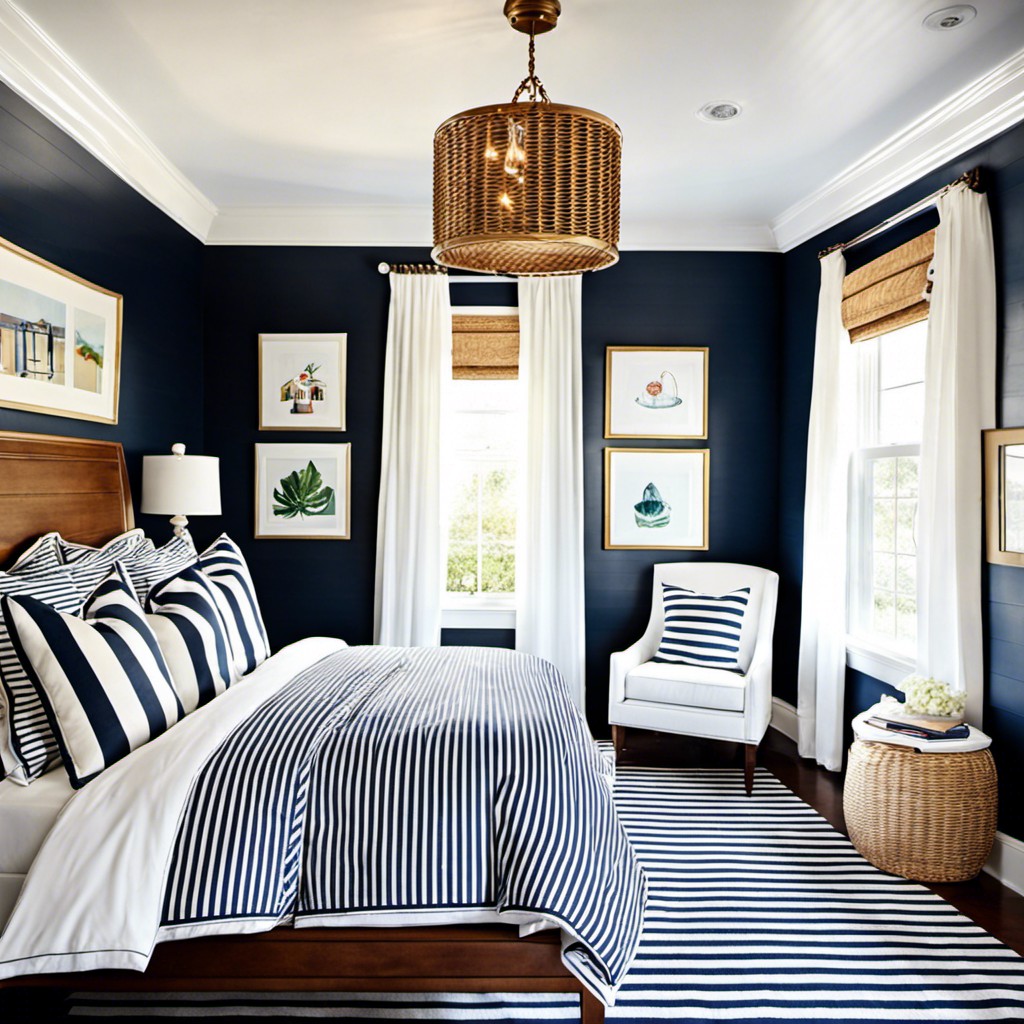 An excellent first step for this theme is, of course, establishing the right backdrop for your upgraded space. Utilizing navy and white striped bedding gives a robust, classic essence while setting the perfect preppy tone.
These color stripes deliver a crisp, fresh aura, effortlessly reminiscent of east coast collegiate style or even a maritime vibe, both classic preppy traditions.
To ensure a mature and polished look, opt for wide stripes and consider variations in stripe patterns – horizontal, vertical, or even diagonal – to keep the look unique.
High-quality cotton or linen materials will not only feel luxurious but will also enhance the elegance of the overall decor.
To level up the sophistication, pair your bedding with matching or complementary pillows in various sizes for an opulent, comfortable feel.
Throw in a navy, knitted blanket for a touch of comfort and warmth during those colder months – it's not just about aesthetics but also functionality and comfort.
Plain white sheets beneath this striped duvet cover can emphasize the clean lines and preppy feel.
Just imagine, at the end of each day, sinking into this charming bed, a serene retreat from the world.
Nautical Themed Wall Art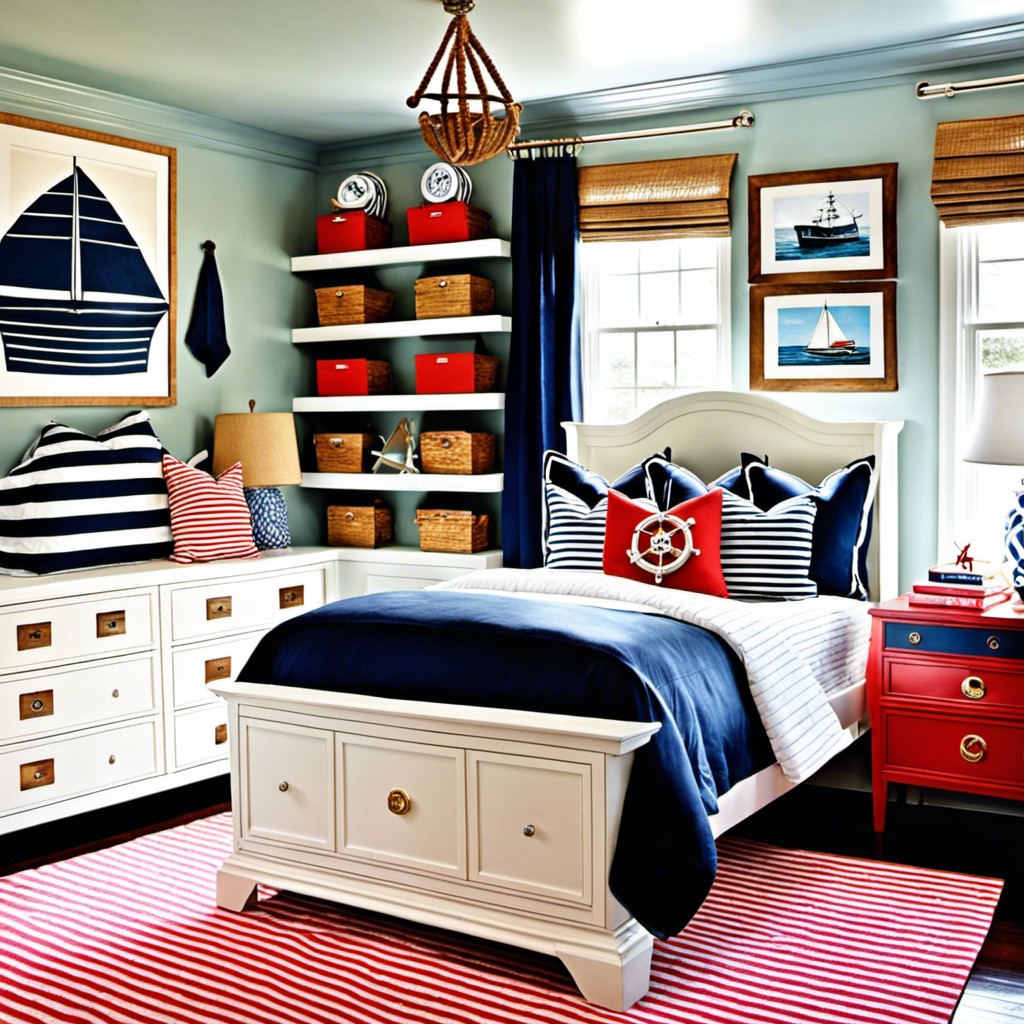 For an impactful presence, opt for large-scale pieces like an oversized anchor, sailor maps, or vintage navy signal flags. However, smaller accents, such as framed sailor's knots, seashell collages, or ship wheel clocks, can echo the theme in a restrained, tasteful way.
Create a cohesive look by sticking to one color palette – weathered white, marine blues, and warm neutrals are perfect. This type of wall art adds a touch of history and a sense of seafaring adventure, merging the story of the open ocean with your preppy aesthetic.
Matching Monogrammed Towels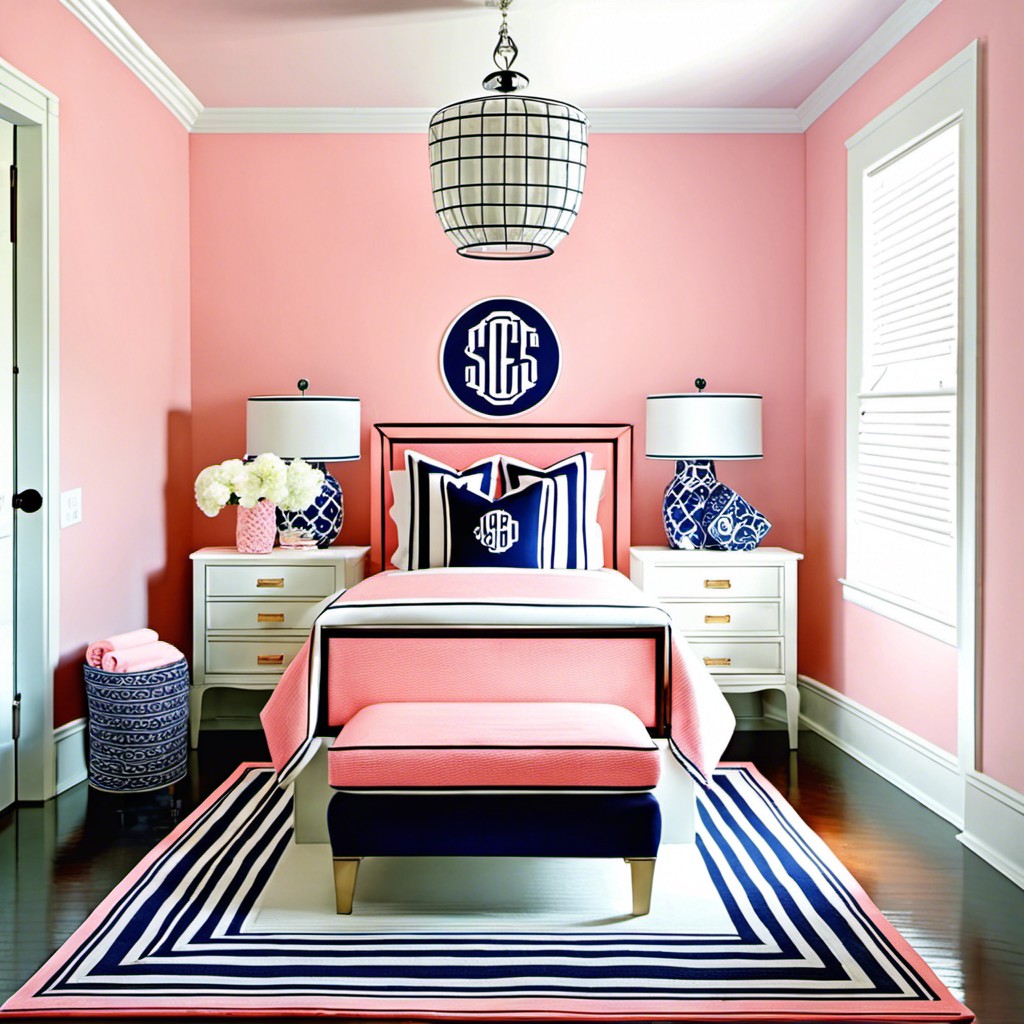 Customization adds a personal touch to your room's aesthetics; this is where monogrammed towels come into play. They can be matched with the room's color scheme and exude elegance.
By blending style and practicality, they truly enhance the preppy vibe. Choose a color that complements the room's palette and the monogram in a contrasting shade for visual balance; rich navy blue with white or pretty pastels with a chocolate-brown make great combinations.
Choose quality cotton for comfort and durability. Keep in mind, these don't just serve a decorative purpose, but they're functional too. Hang them prominently to ensure they become an integral part of your room's appeal.
Your go-to shops include Pottery Barn and Lands' End, or find online vendors for bespoke options.
Classic Wooden Bookshelves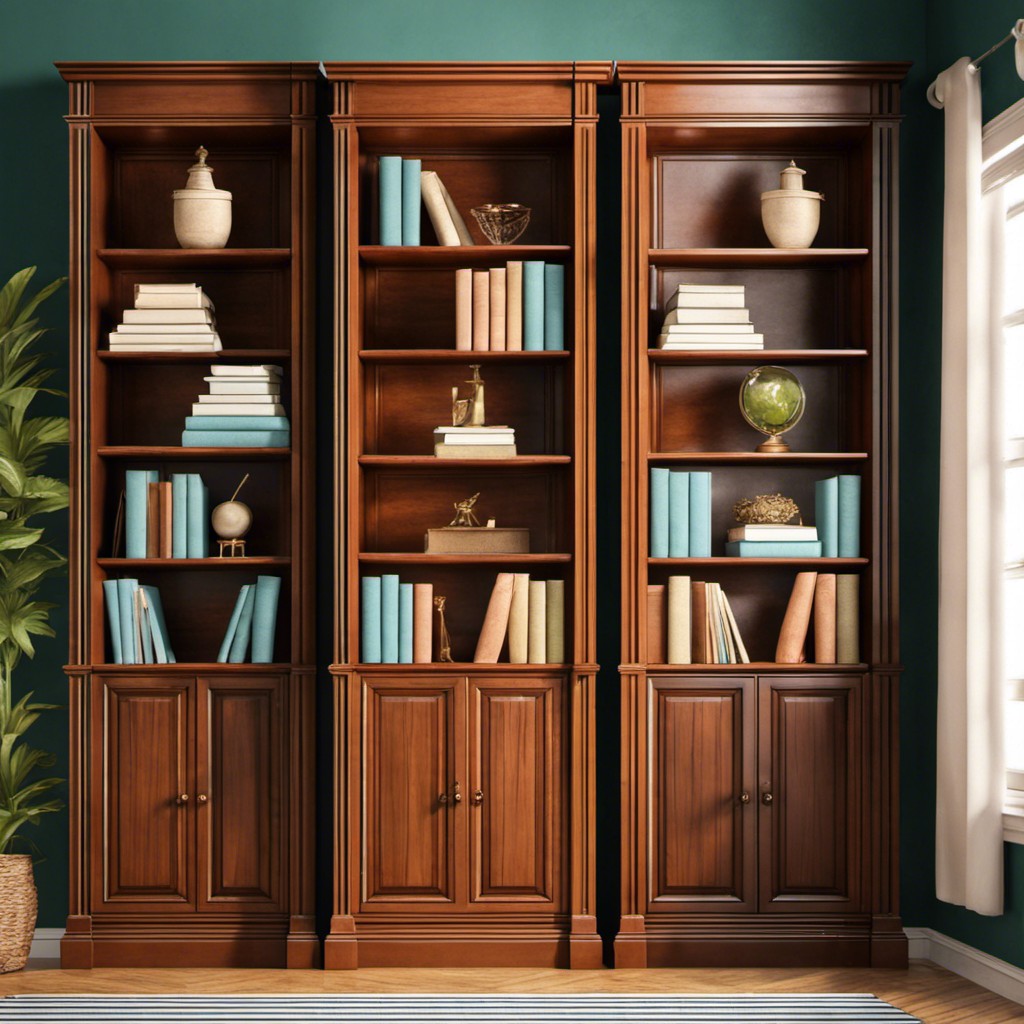 Adorning your room with these timeless pieces adds a sense of vintage charm and sophistication. Choosing a deep mahogany or walnut finish can lend to the preppy vibe and complement your other decor elements.
Be mindful not to overcrowd the shelves, instead, balance books with unique trinkets for that personal touch. Don't shy away from interspersing relevant memorabilia or engraved plaques.
Moreover, the beauty of a classic wooden bookshelf is in its versatility and durability; these are pieces that can grow with you, adapting over the years to suit your changing tastes and style.
Preppy Plaid Wallpaper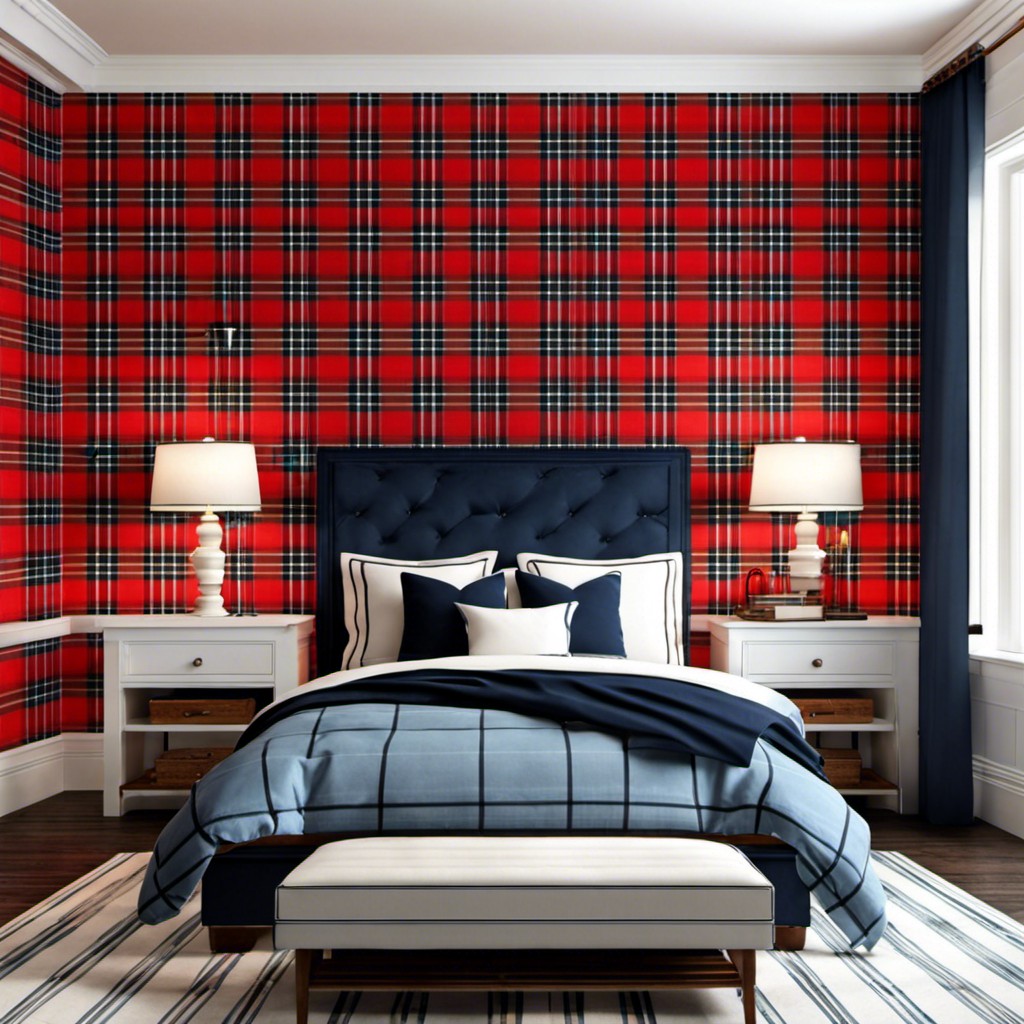 With its timeless appeal and versatility, plaid compliments many designs, making it a great choice for wallpaper. Moreover, its diversity makes it adaptable to any room in your home – from the living room to the bedroom.
Available in various color palettes, from warm reds and browns preferred for a cozy den, to subtle blues and greens for a calming bedroom.
When choosing plaid, remember it can become a statement piece, so other elements in the room should be kept simple to avoid clashing. Pair it with solid colored furniture and minimalistic decor, letting the wallpaper be the star.
If you want a less dramatic look, consider single feature wall in plaid. It adds the right amount of pattern without overwhelming the area.
To make the most out of your plaid design, ensure correct alignment during installation. Misaligned patterns can ruin the aesthetic, so it might be advantageous to hire professionals, particularly for larger spaces.
Reuse existing frames or artwork by painting them to match the dominant color in the plaid. It's an economical way to tie everything together, creating a cohesive, classic and stylish look.
Floral or Gingham Print Curtains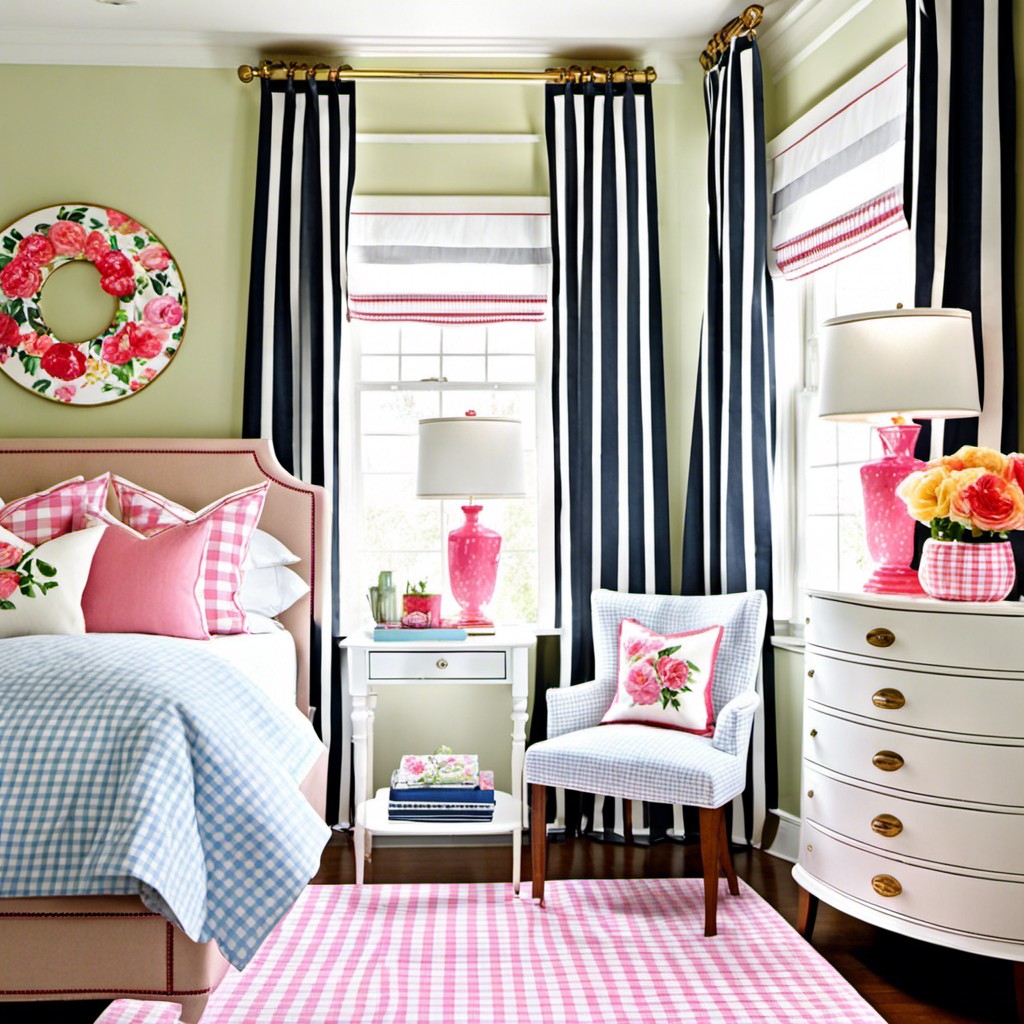 In the spirit of preppiness, always remember that bold prints can drastically improve a room's aesthetics. Embrace florals and gingham to achieve a delightful balance of sophistication and charm.
The beauty of a floral print lies in its versatility – it can lend itself to a vintage vibe, or take on a more modern graphic style. If you prefer something more subtle yet equally preppy, consider gingham. As a classic design, gingham seamlessly blends in and uplifts a room's ambiance.
Curtains can be a fantastic canvas for these designs. Whether it's a blooming cascade of roses or neat gingham checks, they're sure to provide a pop of colour, a touch of texture, and an interesting focal point.
Select a design in colours that complement your overall room scheme to create a cohesive look. Just ensure the design you choose isn't too overwhelming; you don't want your curtains to dominate the room, but to blend and contribute to a tranquil, preppy environment.
To take things up a notch, you can also match your curtains to other aspects of your room like accent pillows or upholstery. This coordinated look is thoroughly preppy and gives your room a well-thought-out, stylish finish.
Pastel Coloured Furniture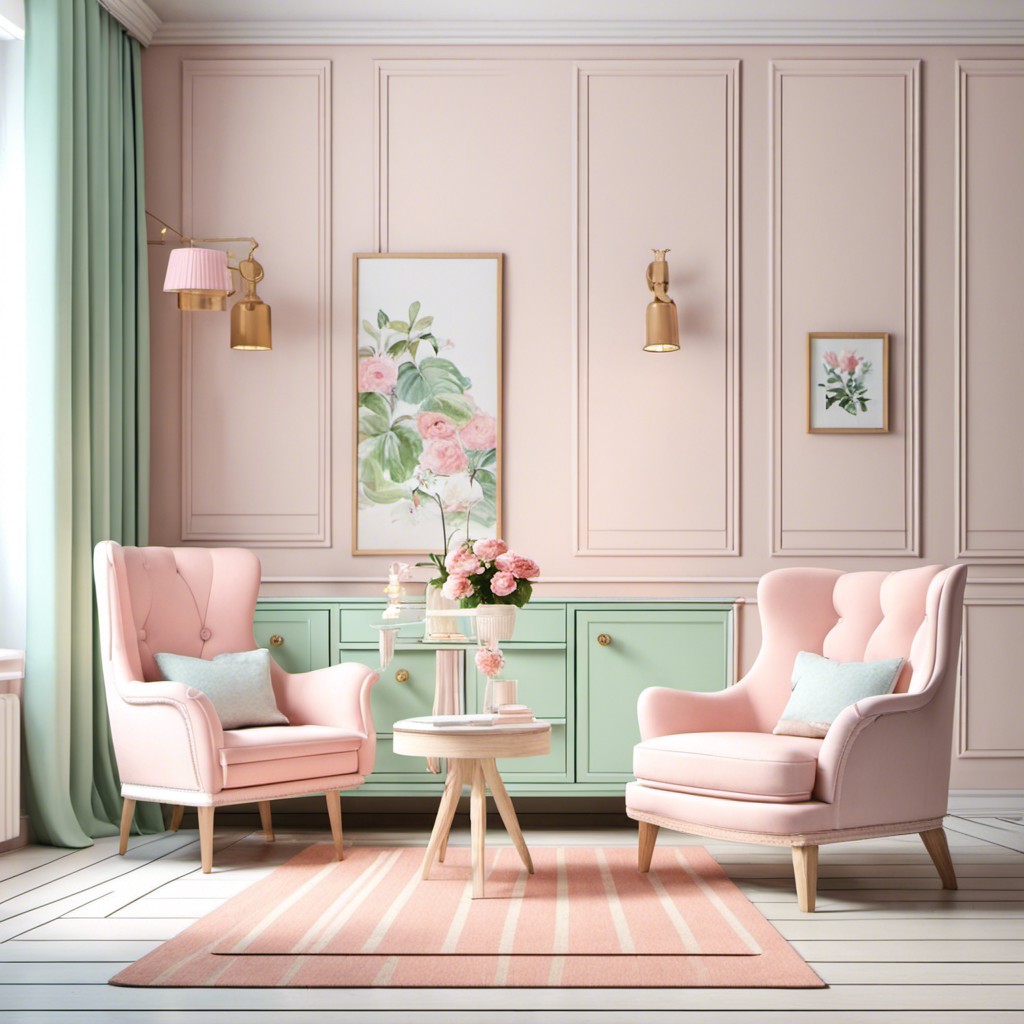 Incorporating pastel hues into your furniture selection can add a fresh, calming, and sophisticated tone to your preppy room. Opt for a soft lavender armchair, a delicate pink ottoman, or a mint-green side table. These elements bring in a dash of color without overpowering the aesthetic. With pastel furniture, your room maintains an elegant subtlety while still reflecting the happy and bubbly aspects which characterize the preppy style.
Remember that the magic lies in the balance, so use pastel pieces to break up bolder patterns or richer tones in your room.
Vintage Desk With a Golden Lamp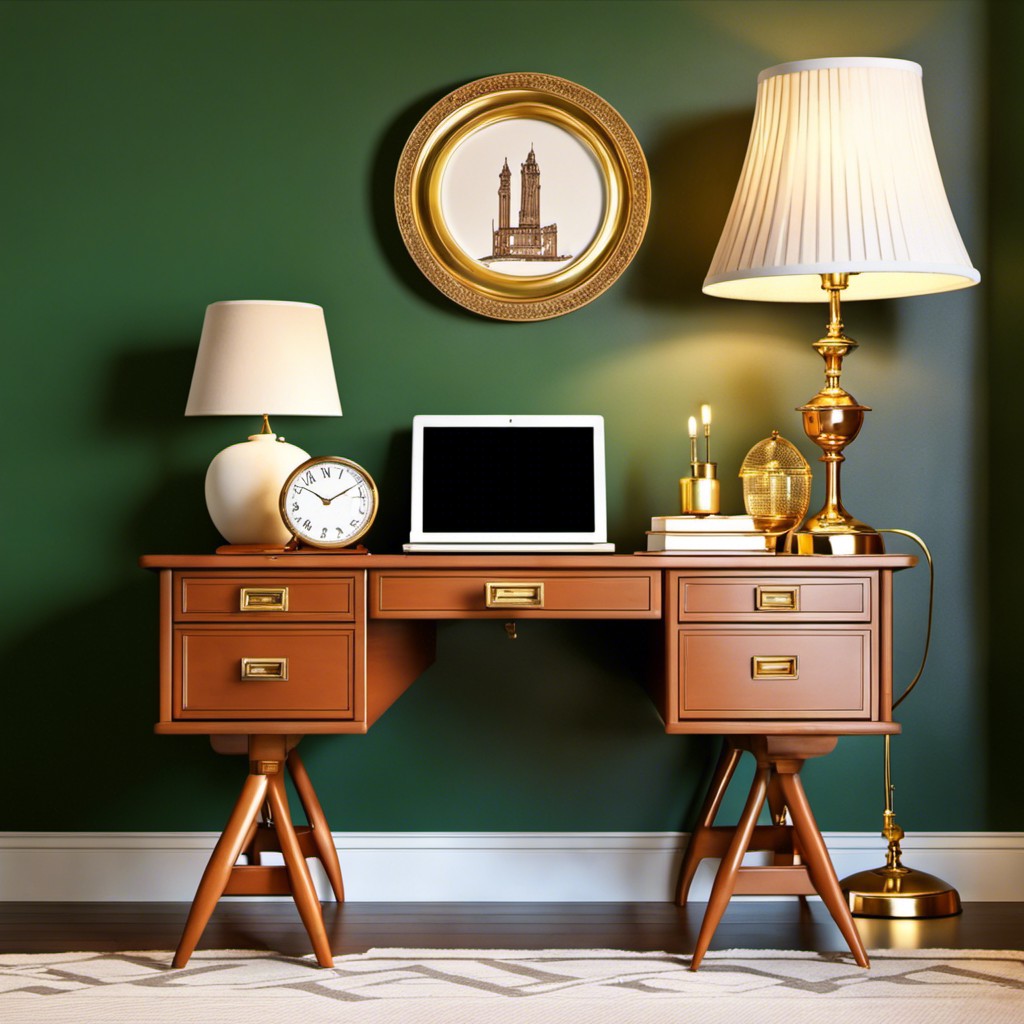 Adding a touch of gold to your workspace can beautifully elevate the room's aesthetic. Consider selecting a desk with vintage design elements such as claw-foot detailing, ornate drawer handles, or distressed wood finish. A golden lamp, whether desk style or floor standing, complements this setup perfectly. It adds that touch of preppy elegance and shines a warm, inviting light on your workspace, boosting functionality and style.
Here are a few points to consider:
When picking a golden lamp, choose a design that complements the vintage vibe. Think ornate base designs or a classic banker's lamp.
Place the lamp in a spot where it not only provides sufficient light but also accentuates the details of your vintage desk.
Try not to clutter the desk with too many items. The preppy look is about tidy elegance.
If the golden lamp is overwhelming, soften its impact with a neutral or pale-colored lampshade.
Invest in pieces that can stand the test of time and aren't just trendy. This will allow you to mix and match with different styles in the future.
Incorporating this idea will bring together a preppy decor theme, standing as a microcosm of what preppy decor strives to achieve—classic, refined, yet full of personality.
Tennis or Rowing Inspired Decor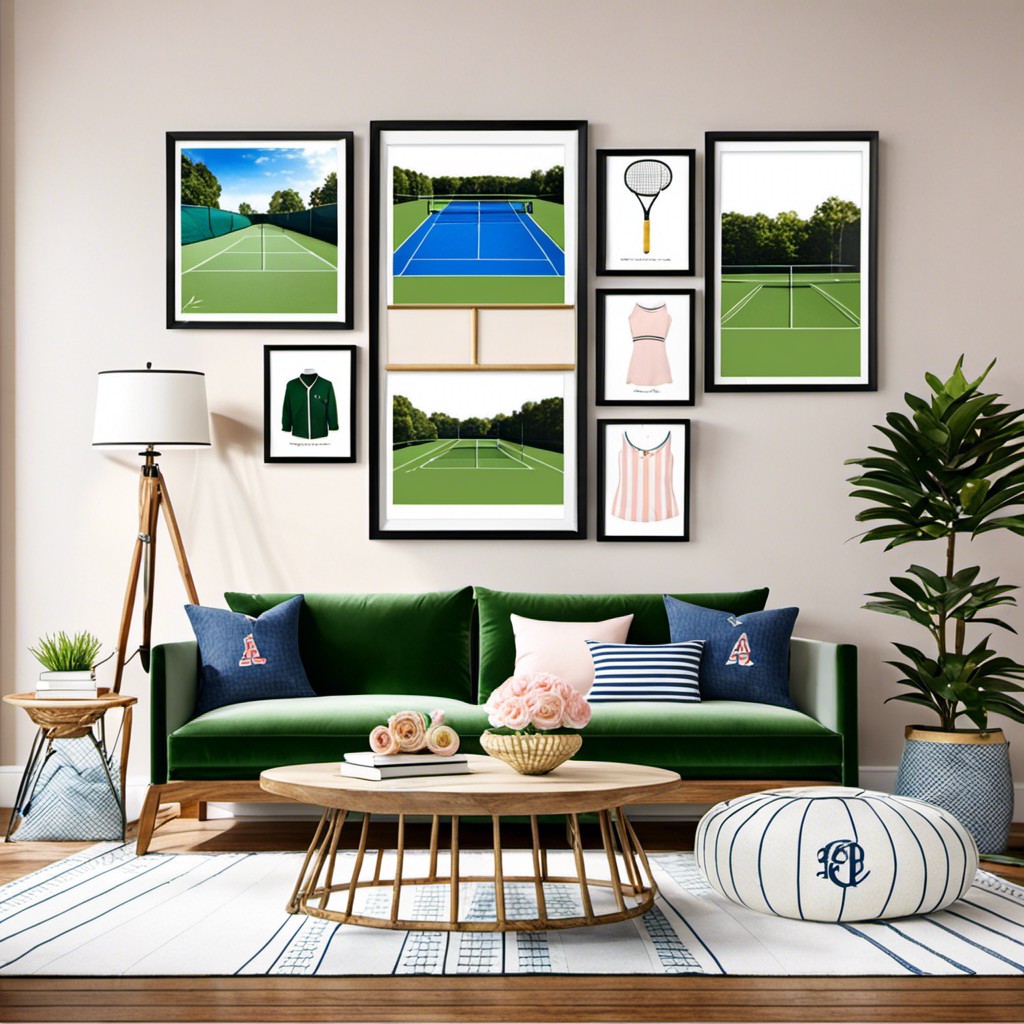 Sporting motifs can add a sense of sporty-chic to your room. With a tasteful touch, the elegance of tennis or rowing can come alive. Consider adding decor pieces like vintage tennis rackets on the wall. These create a fantastic focal point and immediately spell preppy sophistication.
Alternatively, oars make excellent wall hangings. Pair them with ocean-blue accents throughout the room for a rowing-inspired decor. Display shelves can house tennis balls signed by famous players or miniature rowing boats to pull together the look.
Remember, the secret to pulling off this look is balance. Subtle nods to these sports through accessories rather than the larger pieces of furniture will maintain the room's preppy yet mature look. Be consistent with your chosen motif and you'll have that tennis or rowing inspired room that is effortlessly chic and decidedly preppy.
Chic Photo Frames With Family Photos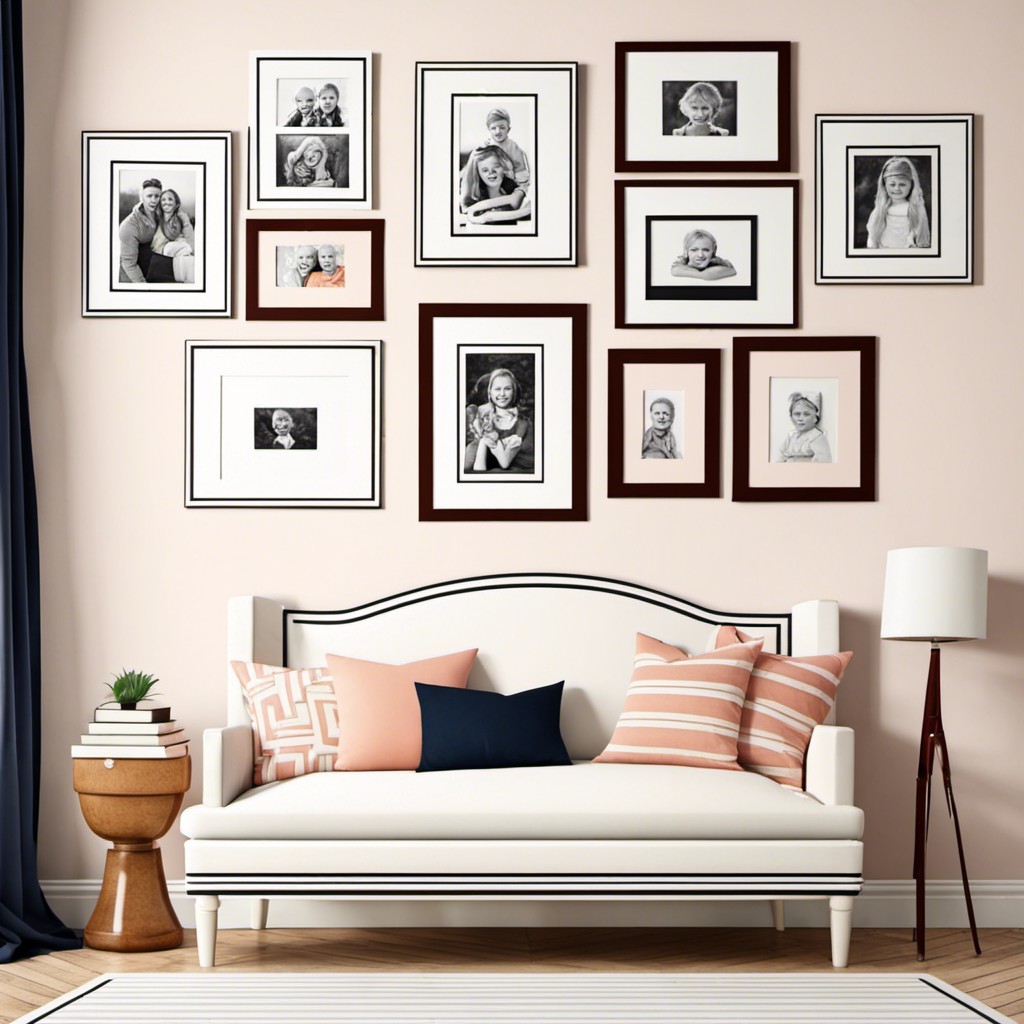 To incorporate an element of nostalgia and personal touch, utilize cherished family pictures. Choose frames that blend clean lines with metallic tones, like gold or silver for an elegant look.
Here's how to get this right:
Use mix-and-match: Don't stick to a single frame design. Combining different styles brings an eclectic feel to your space.
Create a gallery wall: Arrange the frames in a cluster or pattern on a focal wall. This anchors the space and makes your family photos a piece of art.
Add dimension: Layer frames of various sizes and orientations. This adds depth and intrigue. Some frames should be larger, others smaller, in a mix of landscape and portrait.
Theme consistency: Maintain a coordination with the overall room aesthethic. For example, if your room has brass accents, pick frames with a gold tone.
Overall, this idea enhances the sentimental values in your preppy room decor and adds a personal touch in a sophisticated manner.
Glass Display Case for Trophies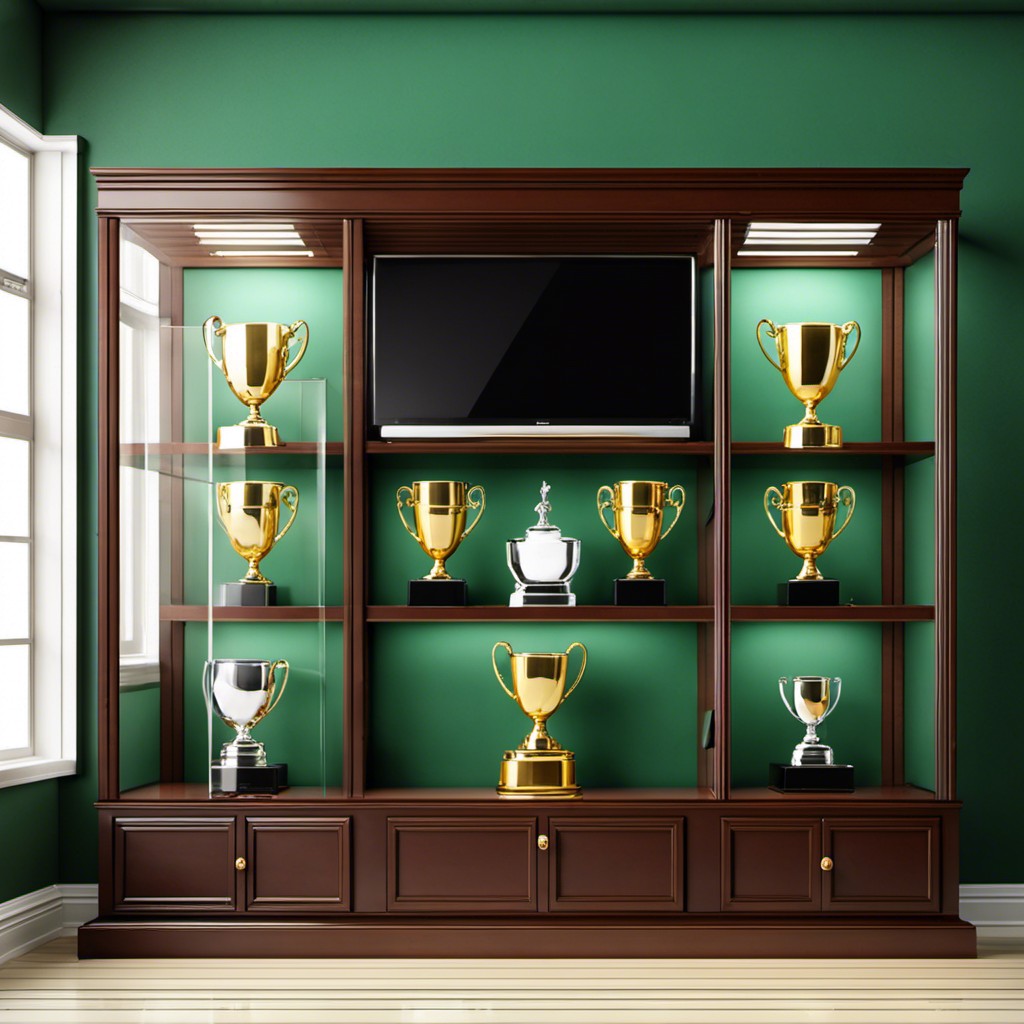 The most captivating way to showcase your trophies, heirlooms or collected trinkets is in a glass display case. It can serve as the room's focal point, drawing eyes to your most valued possessions. This decor feature adds an exquisite yet personal touch in a preppy room design.
1. Choose a case design that complements your decor style. Consider the glass's thickness, the case's shape, and the material of the frame.
2. Select the best location for your case. High-traffic areas make the most sense, so consider placing it in your room where it will command attention.
3. Arrange items with a strategy. Place the most attractive or significant objects at eye level. Mix different sizes and shapes to create visual interest.
4. Use adequate lighting. Track lighting or small LED lights can transform your display case into an enticing, radiant showcase.
Remember, the key is subtlety. It's all about showcasing, not flaunting. This way, you'll create an expertly curated collection that's not only personal but also adds a sophisticated touch to your preppy abode.
White and Gold Color Scheme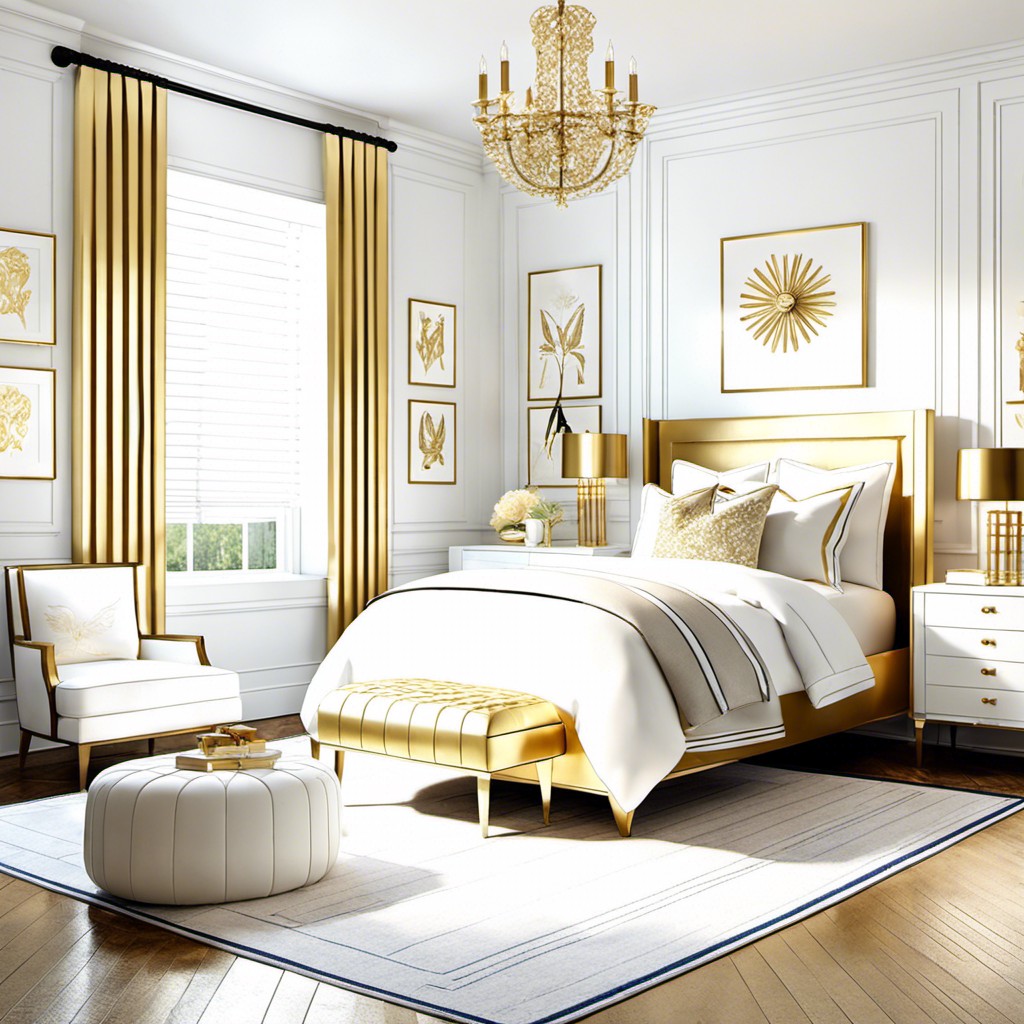 This timeless color duo brings a touch of elegance and pep to any room. Choose white as the primary color for a clean, crisp look, and infuse hits of gold as accents.
Vectoring the aesthetic can be as simple as incorporating a gold-rimmed mirror or a shiny gold lamp against a white desk. Gold handles or knobs on white drawers bestow an undeniable charm.
White curtains with subtle gold patterns can conjure a classic yet fresh atmosphere. Consider gold picture frames to showcase favorite moments, and perhaps a gold-accented clock ticking away on a pristine white wall for a perfect blend of function and flair.
This scheme is versatile, allowing for easy updates or seasonal tweaks without major disruption to the overall look. Remember, subtlety is key – the aim is not to overwhelm with gold but to use it to enhance the serene simplicity of white.
Cable-knit Throw Pillows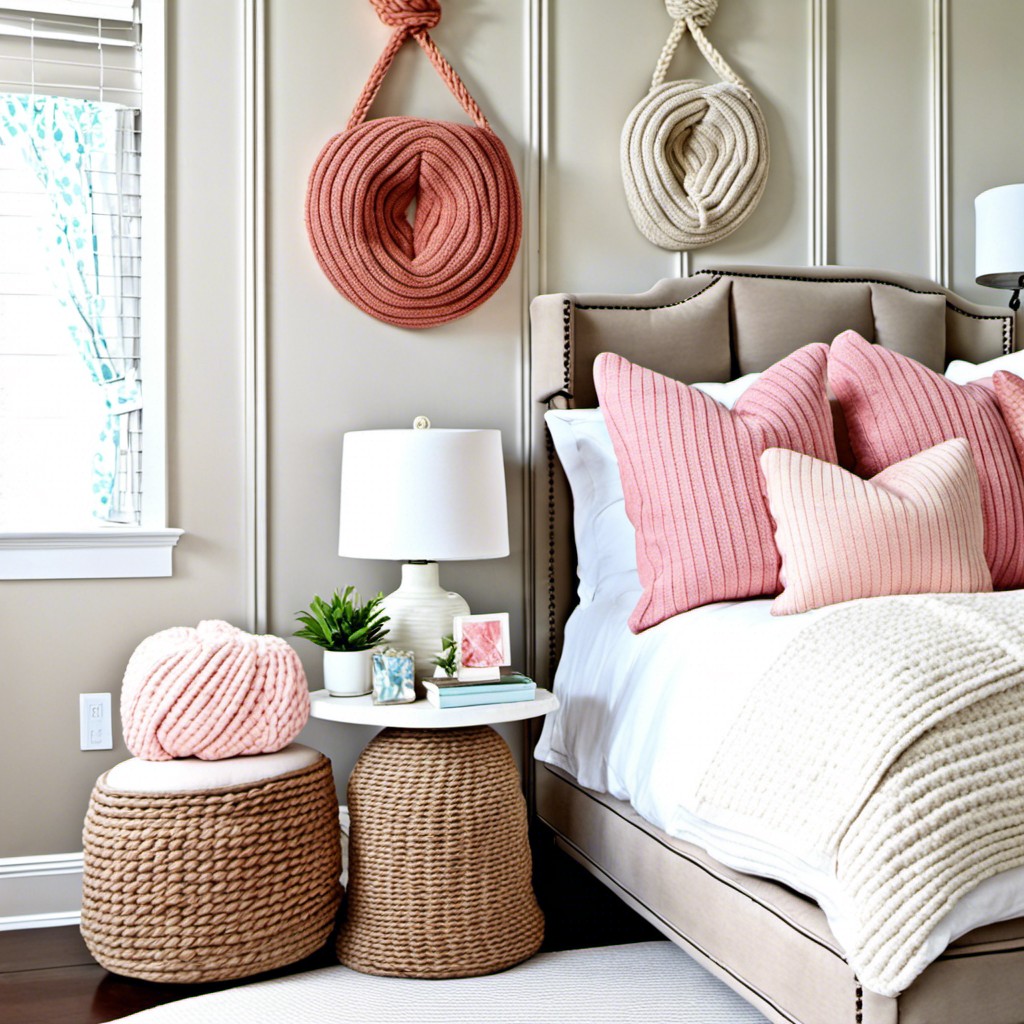 For a touch of comfort and timeless elegance, look no further than these unique accessories. Their texture is visually appealing and inviting. They can either contrast with sleek finishes or harmonize with other fluffy and warm elements of the room.
To harness the full potential of these decorative items, consider these:
1. Color Coordination: Match the pillow hues with other room accents for a cohesive look, or opt for a striking contrast to make them pop.
2. Mixing and Matching: Integrate different knit patterns for a complex, fun aesthetic without compromising the preppy vibe.
3. Sizes and Shapes: Play around with various pillow dimensions and forms. Larger ones can serve as additional seating, smaller ones offer versatile décor.
Remember, the convenience of these elements isn't overpowered by their chic effect. They are machine washable, making them a practical choice too.
Wall-mounted Oars or Sailing Decor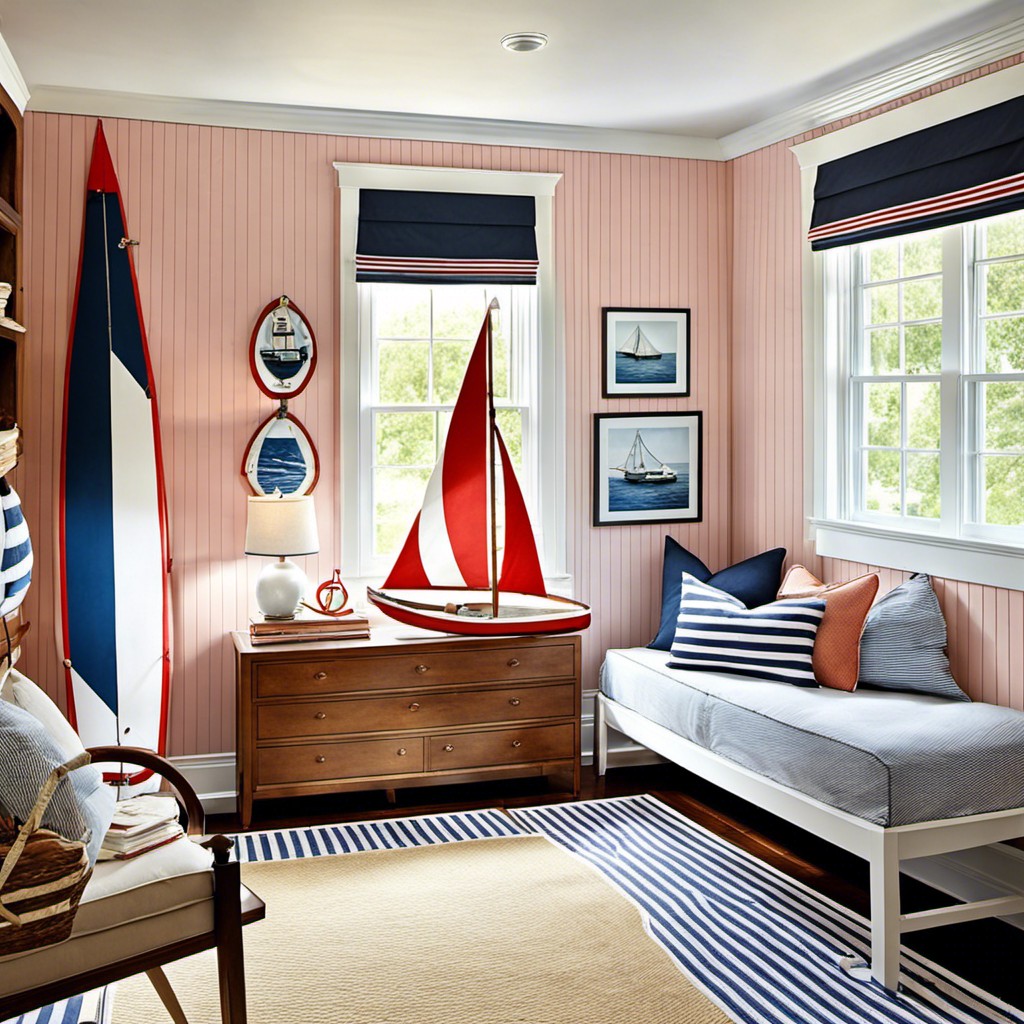 Stepping up the nautical theme is one way to hit that preppy aesthetic. Consider sourcing a pair of oars, which can easily serve as stylish wall mountings. Depending on your room's color scheme, leave them in their natural state or paint them for a bespoke touch.
An alternative is investing in sailing-related articles such as vintage navigational instruments, model yachts, or a framed vintage sailing poster. Another unique option is nautical maps, particularly antique ones. They add exclusive flair to your room and act as an exciting conversation starter.
Regardless of your choice, ensure these elements do not clutter your space but blend harmoniously with your overall decor.
Antique-style World Map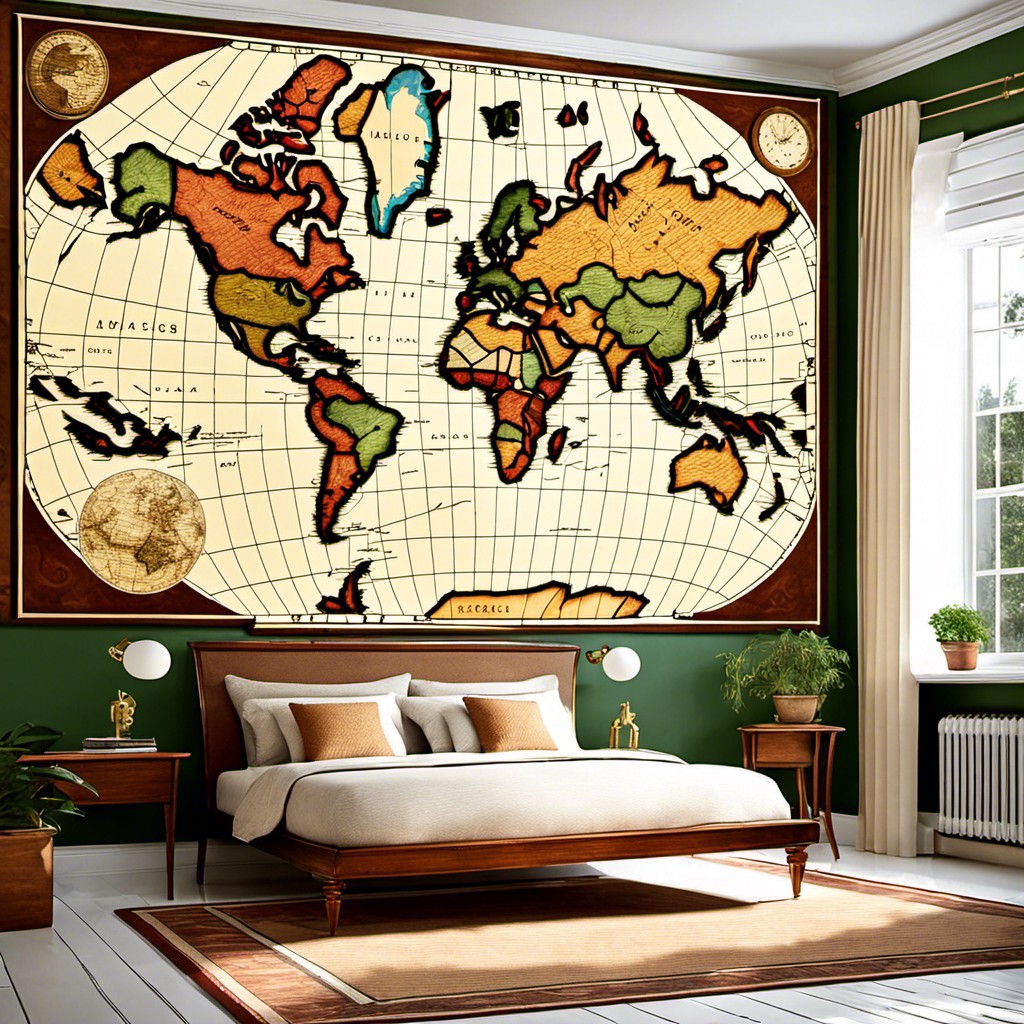 A world map with a distinctive antique design adds an air of sophistication, offering a scholarly preppy touch. It creates a focal point, drawing the viewers' attention immediately. For an added personal touch, consider maps that allow you to mark your travels or places of interest.
From muted shades of beige and brown to vibrant color schemes highlighting different territories, there's a multitude of styles to choose from, ensuring you find a map that seamlessly fits your color scheme. The options are virtually endless; some styles even come adorned with intricate sea monsters or vintage compass designs for more flair.
Select a luxurious frame that complements your room's overall design and color scheme. Dark frames often enhance the map's old-world feel, while simpler, light-colored frames can make the map's colors pop, providing an appealing contrast.
Bear in mind, the size of the map can make a significant difference. Smaller maps can serve as auxiliary decoration, while larger maps can dominate a wall, becoming an immediate conversation starter. Your map doesn't have to be solely decorative either; it can be a great reference point during global events or debates, merging function with decor.
Are you an ardent traveler? Marking places visited on the map, or perhaps those yet to explore, adds a further personal touch and might spark insightful conversations with guests.
Adding an antique-style world map isn't simply about aesthetics, but also about blending learning with style.
Shelves With Classic Literature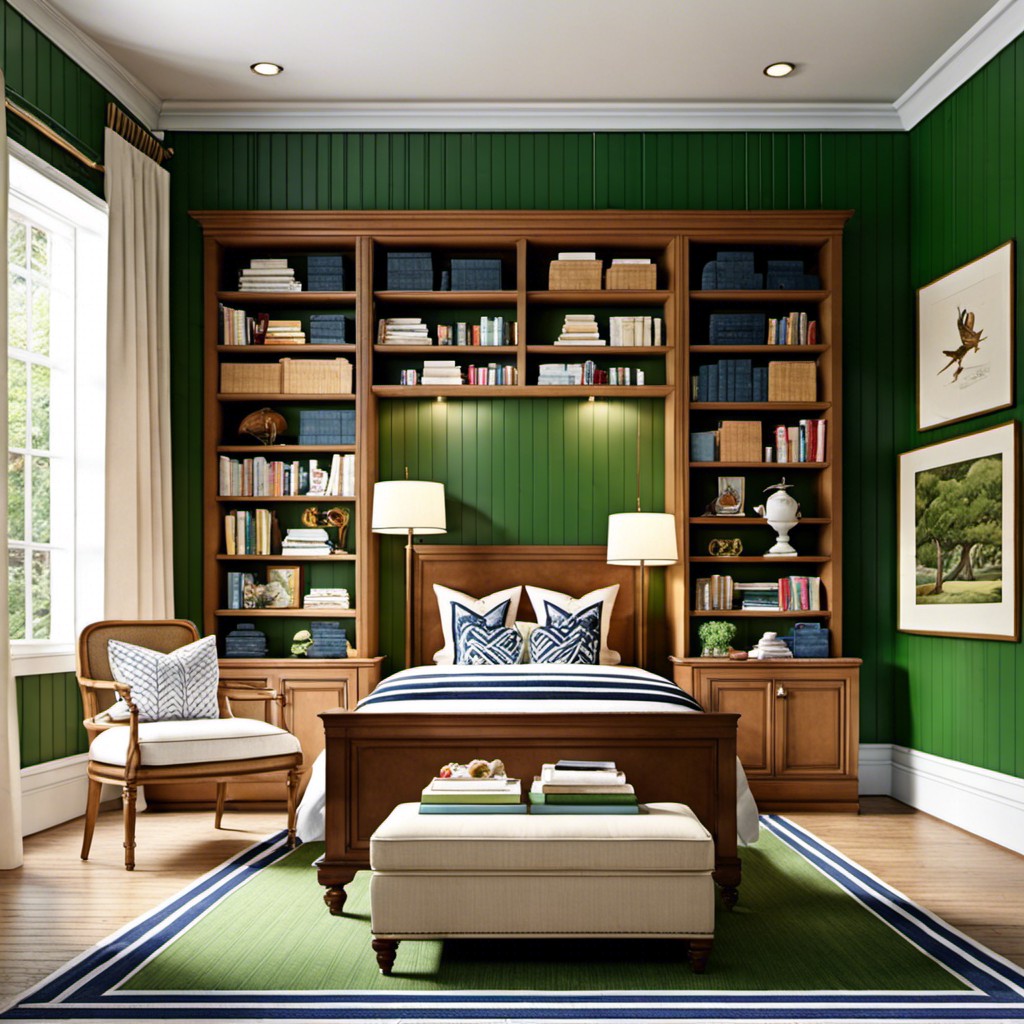 Choosing the right classic literature not only serves as an intellectual indulgence but doubles as a tasteful aesthetic statement. Stacked well on a clean wooden shelf, books become decor themselves. Emphasis on the harmonious mix of old and new works best – think Dickens alongside Fitzgerald, Bronte next to Salinger.
But it's not merely the books themselves that matter; the arrangement is vital. Consider organising volumes by color or size to deliver an organised visual impact.
Contrast hardcovers and paperbacks for textural diversity; introducing leather-bound classics adds a sophisticated flair.
Lastly, reserve a spot for a quaint bookend – maybe an antique, a sculpture, or even a knick-knack picked up from a flea market. It subtly adds personality to your preppy room.
Remember, these books are chosen to be an authentic extension of your taste and interests. It's all about striking the balance between style and function.
Ivy or Plant Wall Hangings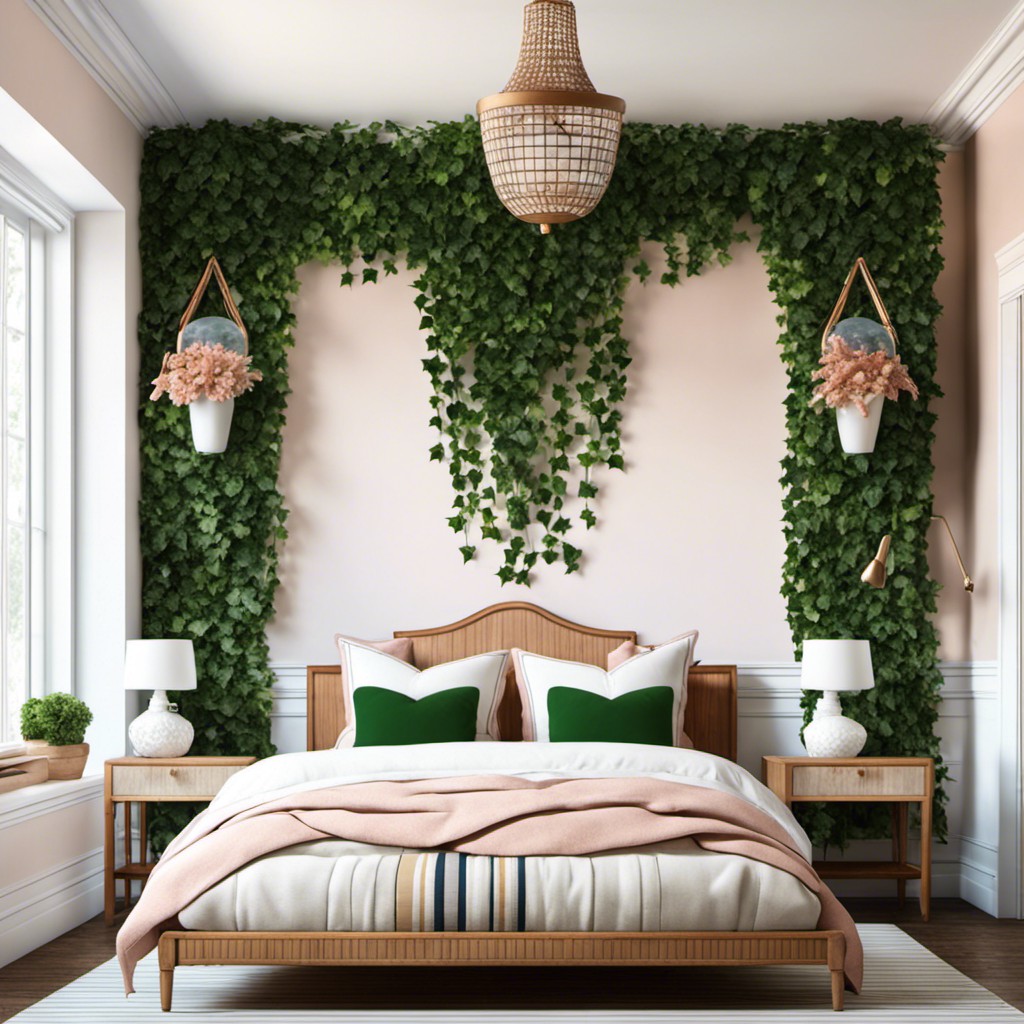 A green, live element is an instant eye-catcher and provides a fresh burst of color to any room. Consider hanging a Boston fern, an ivy vine, or even a succulent wall planter. These choices are resilient and relatively easy to maintain.
For a more preppy and refined look, upscale your greenery. Consider topiary shapes or even trained ivy creations. Also, matching the wall container to your design or color scheme helps to maintain cohesion.
For these installations, make sure to consider light requirements, watering needs, and protection of your walls from potential water damage. With a little planning, these plant frames can transform any preppy room into a vibrant and dynamic canvas.
Country Club Inspired Art Prints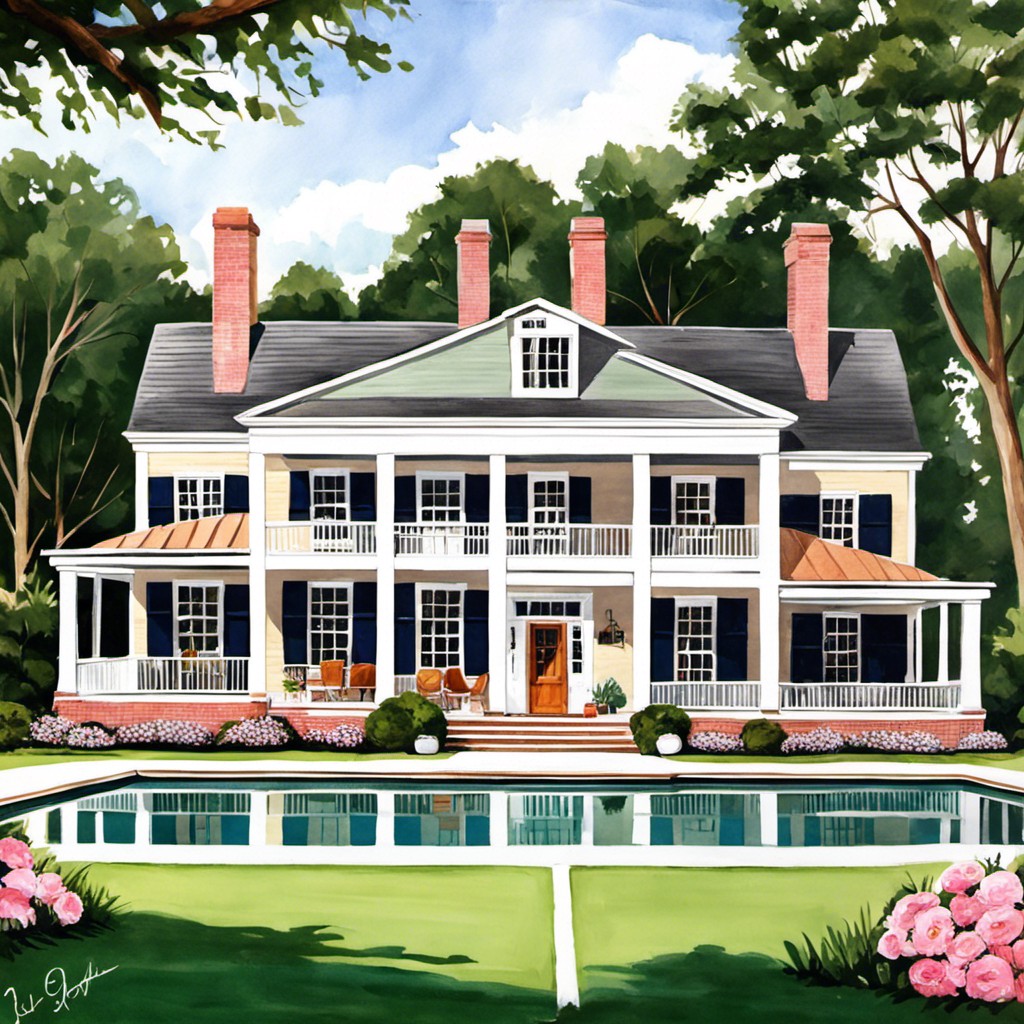 For a touch of classic elegance on your walls, opt for country club inspired art prints. Think depictions of idyllic golf courses, woven baskets holding polished tennis rackets, and ornate polo mallets. These can transport you to peaceful, sun-drenched afternoons on the greens.
You can source these prints from your local thrift store or online options like Etsy. If you're feeling crafty, create your own using photographs from magazines. The charm of these prints is not only in the nostalgic recreation of country club life but also in their soft, relaxing color schemes. They make a perfect backdrop for afternoon book-reading or a lazy Sunday coffee.
But remember not to go overboard. Select one or two large pieces or a collection of smaller ones to create a balance with the rest of your room.
Tartan or Houndstooth Rugs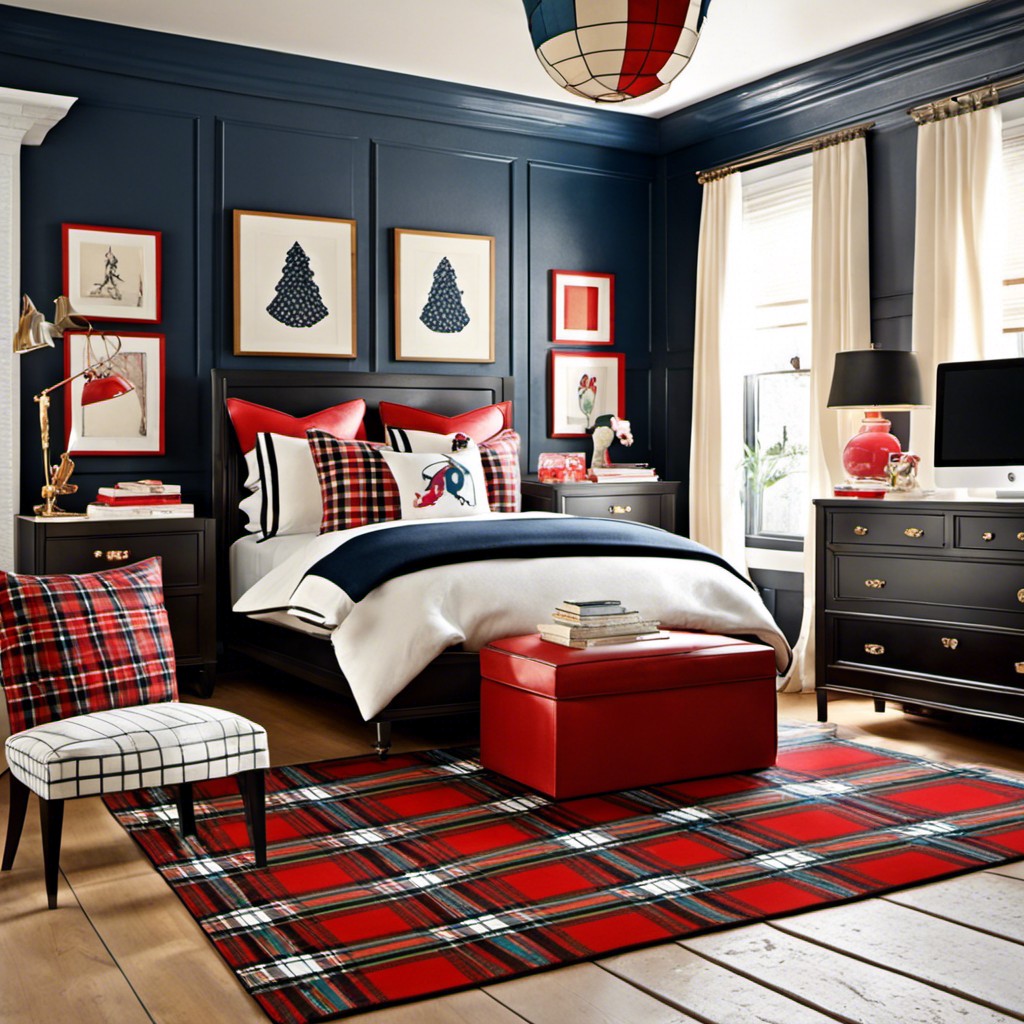 Investing in a classic Tartan or Houndstooth rug can truly anchor the preppy theme in your room. These patterns have Scottish roots, embodying an old-world charm mixed with a touch of academia, perfect for a preppy setting.
In choosing the right rug, keep in mind the existing color scheme of the room. Tartan tends to showcase rich warm tones like navy, reds, and greens, while Houndstooth mainly appears in black and white, but it can also come in multiple colors.
Cut pile or loop pile? The texture of your rug can add an interesting dynamic. Cut pile rugs tend to be softer underfoot while loop pile rugs are hardy, but both come in Tartan and Houndstooth patterns.
Also, remember the size and placement of the rug in your room. It should fit well within your seating area but doesn't necessarily need to fill the entire room.
Lastly, these rugs can be a focal point, so feel free to keep surrounding decor relatively simple. This allows the rug to shine and keeps the room from looking too busy. Allowing the Tartan or Houndstooth pattern to stand out maintains the preppy vibe without overwhelming the senses.
Classic Chandelier or Pendant Lights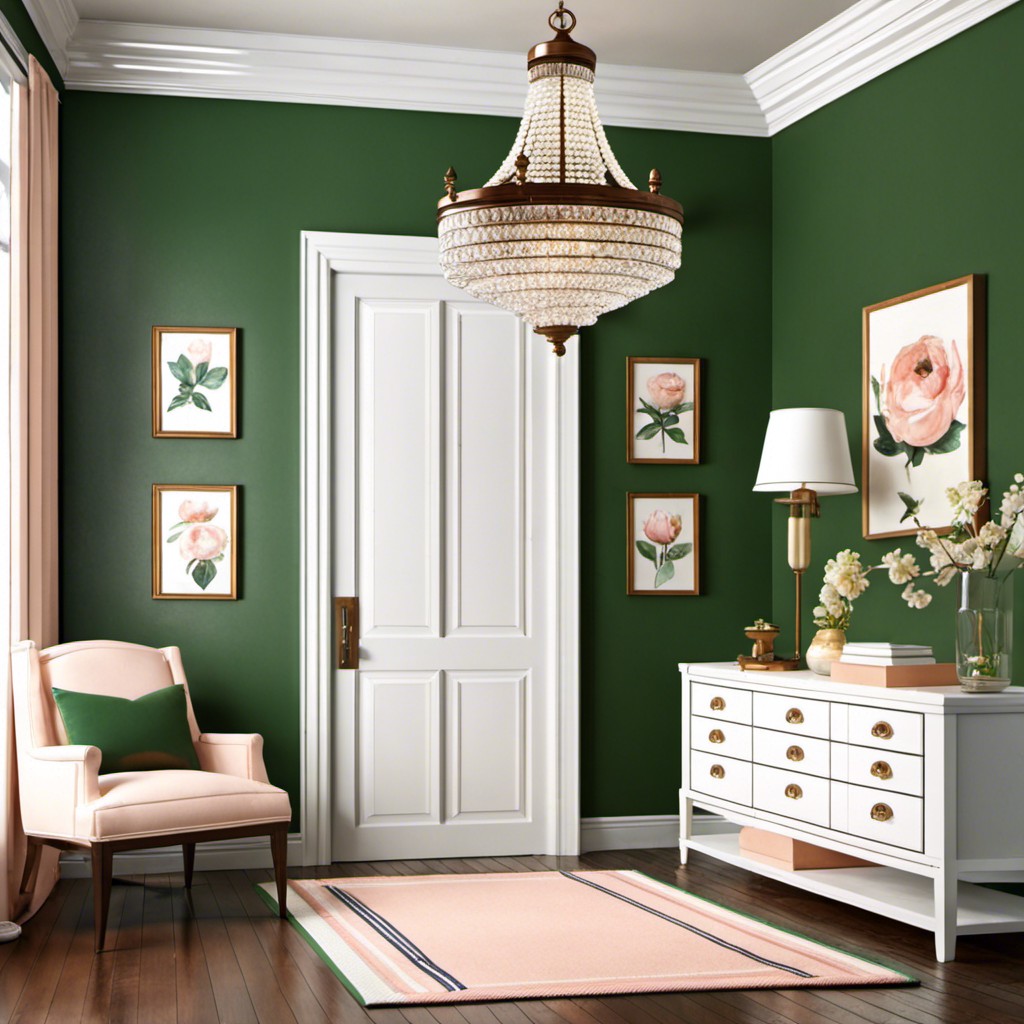 Light fixtures play an essential part in our rooms, encapsulating the theme while providing a practical purpose. Opt for classic chandeliers to captivate elegance and class. These opulent fixtures, with their intricate designs and sparkling crystals, become the focal point of the room, exuding luxe preppy vibes.
On the other hand, pendant lights offer a streamlined and modern way to maintain the classic feel while not being overly ostentatious. They hang elegantly over an area, directing light downward which is perfect over desks or reading areas. These fixtures can often be found in metallic finishes, like gold or copper, providing a warm and inviting glow.
Remember, many budget-friendly options resemble the expensive ones without compromising on the appearance. Bargains can frequently be found at thrift stores, flea markets, or online marketplaces. Repurposing vintage pieces not only saves money but adds a unique character to your decor.
Recap
Liked this article? Here's what you can read next: