Brighten your open floor plan with a colorful area rug. Check out these ideas to help you choose the perfect rug for your space.
Area rugs provide warmth and add texture to your space while defining distinct zones within the room.
The trending rug colors are neutral tones such as off-whites, grays, and whites. Add to that pattern for a unique touch, and you have the perfect accent to anchor your entire room's decor.
From bold patterns and rich textures to subtle color palettes and minimalist designs, these ideas cater to a wide range of tastes and preferences.
Neutral Textured Rug
This neutral textured rub brings an aesthetic look that will refresh any home. It makes the view inside your house a lot more beautiful.
The rug is perfect for homes with an open concept and floor plan, creating an inviting atmosphere.
The crate-style pattern adds a unique touch to the room. The rug will surely be a delicate finishing touch for any great room.
Cozy Winter Rugs
Winter rugs make any space look a lot cozier. In this design, the neutral colors, soft fibers, and classic geometric patterns offer comfort and style for any home.
The muted tones blend with various color palettes, making it ideal for creating a cozy atmosphere. The rug is also easy to clean and maintain while providing elegance to your living area.
This rug works in any place in your home. You can put it in the bedroom, dining room, mini library, and another place to bring more personality to your home.
White Layering Rug
Layering works a little too well for some homes. It may work for you too. In this design, the vibrant colors and intricate patterns add to the home's aesthetics. The soft, plush material is comfortable underfoot and provides a cozy atmosphere.
The rug is made from high-quality materials and can withstand heavy foot traffic while maintaining its shape and color. It's the perfect addition to any open floor plan, adding texture and warmth to your home.
Beautiful Beige Rug
The soft and beautiful beige rug is a timeless piece that will bring warmth and comfort to your home. It features a subtle pattern of interlocking circles in shades of gray, beige, and white. These colors add just enough visual interest without overwhelming the room.
If you're looking for a centerpiece for your living area, you should try this neutral color for your rug.
Bright and Bold Area Rug
Choosing a rug color that complements your furniture and accessories is important. Bright and bold colors are a good choice as they're pretty easy to blend, especially if you have a dark-toned couch.
The subtle pattern also adds to the visual feast of your home. The rug is a comfortable addition to the open floor plan. It relaxes the eyes, and they're lovely for sit-down activities too.
Ivory Layered Rug
The layered ivory rug is made from soft and luxurious wool. It features a modern farmhouse style that adds warmth and texture to any living space.
Ivory is a natural tone and is a versatile piece that can easily blend with existing decor. Its size makes it ideal for anchoring furniture in larger rooms or defining smaller areas within an open floor plan.
This area rug brings comfort and style to your home.
Geometric Patterned Area Rug
If it's not color, then it's the pattern. Play with patterns and look for an area rug with a classic design. For example, this rug features a modern farmhouse pattern in shades of black and white.
This is ideal for those who don't want a plain rug addition to their home. The patterned rug isn't overpowering but is a subtle addition to your open floor plan decor.
Modern Neutral Palette Area Rug
If you are looking for a more modern design, use a modern neutral palette of area rugs. These rugs have soft fibers and are ideal for creating inviting and cozy spaces.
They are perfect for any space in your house, whether in the living room, family room, or any open area that needs extra warmth and texture.
Area rugs don't only bring comfort, coziness, and warmth to your home. They also bring out your character as the homeowner.
Glam Look Antique Rug
You can never go wrong with antique pieces. A classic modern glam look includes black, silver, and gold shades. These colors instantly draw the eye and bring the room together.
The soft yet textured design offers subtle sophistication and is mixed with antique styles to get that classic and timeless look you're going for.
Whatever style you choose, it will surely provide an elegant touch to any home makeover or interior design project.
Diamond White and Gray Rugs
This diamond-patterned rug is made from soft yet durable fibers materials. This ensures that you're feet are comfortable upon stepping on the carpet. It's comfortable to look at and blends well with the white-painted walls. This is a perfect choice for entryways to dining rooms.
Faded Gray Rug
This gray rug is ideal for great rooms, living rooms, and family rooms with vaulted ceilings and built-in shelves. Fireplaces become more enjoyable when you cozy around them on this beautiful rug!
Earthly Tones Rug Floor Plan
This neutral beige hue blends with any decor style to create a timeless look.
An intricate lattice pattern adds a subtle texture and visual interest, while the low-pile design makes it ideal for high-traffic areas.
The rug's earthy tones will bring warmth and coziness to your living room, making it the perfect anchor for curating a stylishly collected home.
Muted Color Rug Floor Plan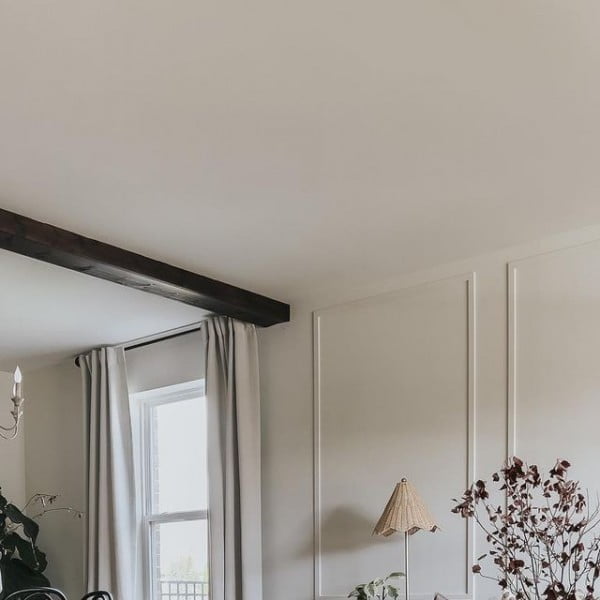 Go for muted colors if you're not too keen on pops of shades here and there.
The rug is made of durable material that can withstand heavy foot traffic and is large enough to cover a wide area. Its low-pile design makes it easy to vacuum and maintain, making it the ideal choice for busy households.
The muted colors are perfect for tying together different furniture pieces and décor elements, creating a cohesive look in your living room.
Classic Gray Rug
A classic gray rug gives you all the modern and traditional look you want. The intricate details add texture and warmth to the room. The soft fibers make it comfortable to walk on, while its durable construction ensures it can withstand everyday wear and tear.
The subtle colors of this rug will bring out the best in your furniture and accessories, creating a cozy atmosphere in your living space.
Classic Loomed Gray Rug
This classic loomed design gives you that chic boho looks for your home. It's perfect for minimalists if you want to have just the rug as your centerpiece. It's also ideal for mixing and matching if you want to throw it on the living room floor and other modern designs.
Shaded Brown Rug Floor Plan
This shaded brown and muted palette, it's sure to make a statement in any living space. It is elegant and easy to match with your chairs, potted plants, and other decor in the home.
The elegant pattern of vintage-inspired florals creates a timeless look that works well with modern and traditional furnishings.
Perfect for adding warmth to hardwood floors or giving life to a builder-grade upgrade, this area rug will help create an inviting atmosphere in any home.
Sort Gray Rug
The soft colors and subtle designs blend beautifully with trending home finds, creating an inviting atmosphere for your living room decor.
With a cozy aesthetic and transitional design, this area rug provides the perfect foundation for shelfies and home styling inspiration.
From the entryway to living room decor, it will surely be the perfect addition to your neutral home edit.
Strip Gray Rug
Keep your home modern and still festive with this strip gray area rug. It has subtle patterns and designs to match your other furniture and holiday decor. It's also in a dark color, so it's safe from spills during the Christmas season.
The soft texture creates a cozy atmosphere, making this area rug perfect for those who favor minimalistic comfort in their home.
Lagoon Rug Floor Plan
Don't fear the dark side with this lagoon rug floor. It's in soft gray, giving your home a mature vibe. It's warm, cozy, and truly fitting for a living space.
The material is strong, perfect for heavy foot traffic, and safe from everyday wear and tear. The subtle pattern adds visual interest without overpowering the room, making it an ideal choice for any modern home.
With its timeless style, this area rug will bring warmth and comfort to your living room for years.
Vibrant Look Rug
This vibrant and stylish rug features modern colors that pull together any space while providing warmth and comfort. Its plush design is perfect for that cozy look. It's even more beautiful during winter and other colder seasons!
Bohemian Wells Open Concept Floor Plan
Try out some bohemian rugs for that Scandinavian/boho-inspired living room. Combine warm pink, cream, and botanical green hues are unique and charming designs.
This stylish area rug creates a comfortable living space for relaxation or entertaining outdoors.
Ethnic Layer Rug
Keep it traditional with this ethnically designed rug. The ethnic layer rug brings a touch of elegance to your living room design. The patterned fabric brings out any room's beauty without overpowering your other accessories.
It'suniqueng interior design, adding personality and home love.
Geometric Circles Rug Floor Plan
Go for angles and add some geometry to your home. This sleek, navy blue and geometric cream pattern is eye-catching yet subtle, bringing a touch of charm to the living room and beyond.
Faded Blue Green Rug
Don't box your choices in neutral tones. Try other colors, such as this faded blue and green rug. It's made from a soft and high-quality material for durability and beauty. There are also patterns in it for a more eye-catching design.
The intricate design adds texture and dimension to the room, creating a cozy atmosphere perfect for entertaining or relaxing.
Recap
Liked this article? Here's what you can read next: