Last updated on November 11, 2023
You'll want to keep reading because this article is packed with innovative and budget-friendly modern steel stair railing design ideas that will transform your home.
This article includes my original designs. Enjoy them for your inspiration!
Get ready for a modern twist on traditional structures as we delve into the fascinating realm of steel stair railings. Think you've seen it all? Wait until you feast your eyes on our unique selection of designs that push the boundaries of conventional.
While acknowledging the contribution of existing designs, this article endeavors to present fresh, never-seen-before interpretations of steel stair railings. Stick around till the end for some resourceful references to the best of tried and true concepts.
We aim to inspire with this innovative list, catered to lend your space a distinct character. Embark on this journey towards discovering potent blends of metal and style. Buckle up for a thrilling design reinvention!
Minimalist Steel + Glass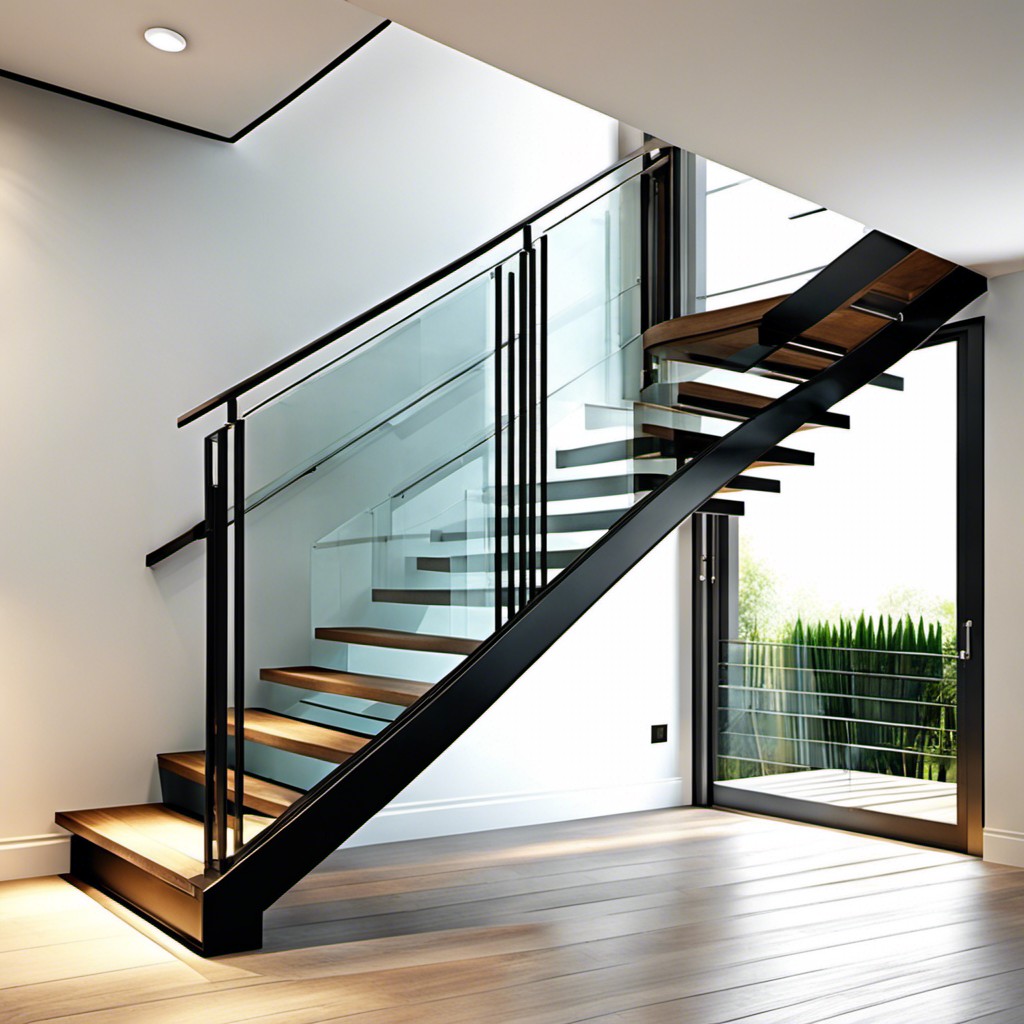 This railing design combines the raw industrial appeal of steel with the contemporary sophistication of glass. By pairing a sleek steel rail frame with clear glass panels, you maintain an open and airy feeling to the space. The beautiful thing about this design is its versatility—it fits perfectly into an urban loft, traditional home, or even a coastal cottage.
Notable concepts of this design include:
Utilizing stainless-steel finishes for a polished, refined look.
Incorporating glass panels that are either clear or frosted, depending upon your preference for privacy.
Opting for square or tubular steel railings that lend modern aesthetics.
Ensuring that glass is tempered or laminated to enhance safety; these materials are robust and resist shattering upon impact.
Opting for minimalist fixings and clamps that don't distract from the overall design.
Remember, a minimalist steel + glass railing design blends the best of two materials, marrying toughness with elegance to create a distinct modern look.
Sleek Tubular Steel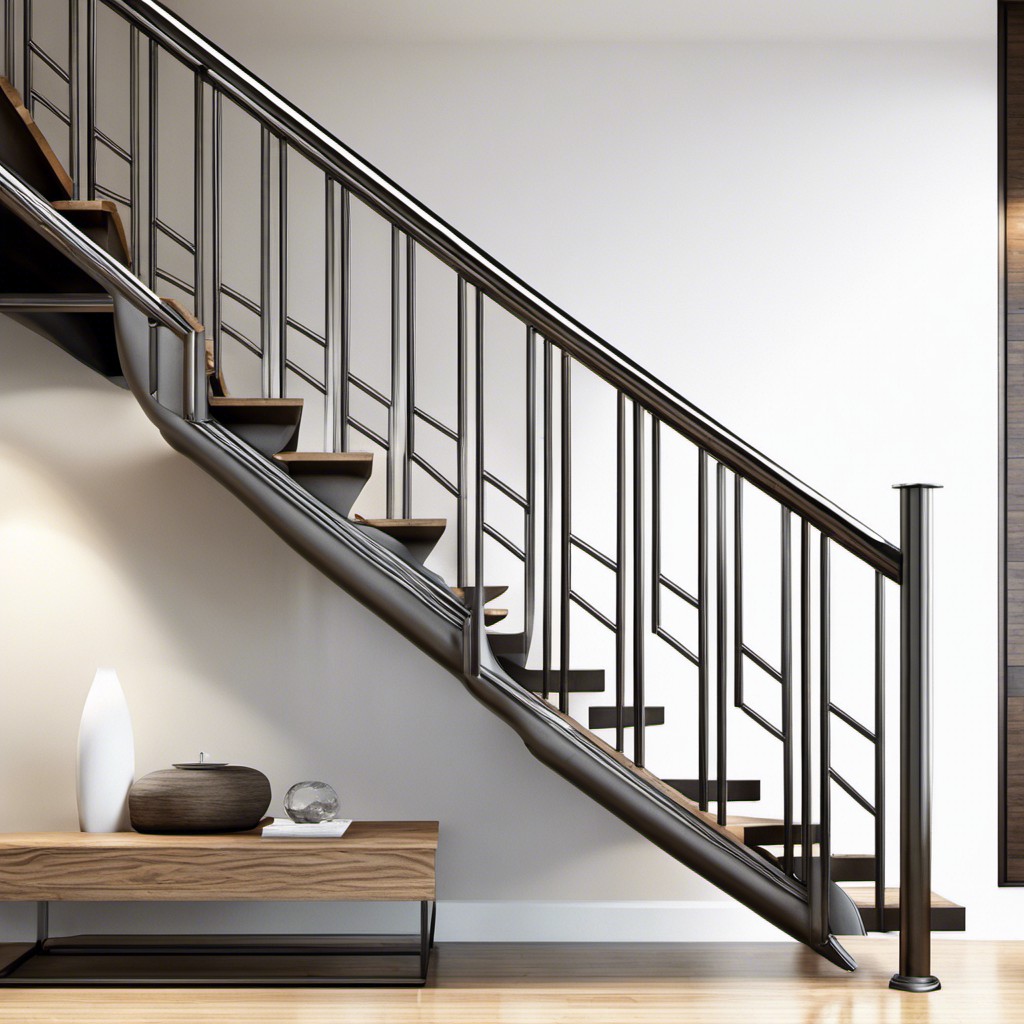 Offering a contemporary facelift to any stairwell, sleek tubular steel railings are designed with a smooth, rounded aesthetic. They aren't merely functional elements to aid ascent and descent – they are a vital component in defining your space's overall style. Their minimalistic elegance is the perfect complement to just about any modern design scheme.
Take a sine qua non approach when incorporating these into your décor. Opt for stainless steel to ensure durability and long-lasting shine. Use their cylindrical design to balance sharper lines in your home's architecture. Pair them with either wood or steel handrails depending on your preference.
Consider lighting to enhance their visual impact—LED strips under handrails highlight the gentle curves and gleaming surface. A less-is-more approach allows this design to be practical, versatile, and visually pleasing, encompassing the very ethos of modern design.
Remember, their simplistic design doesn't have to equate to dull—sleek tubular steel railings can transform your stairway into an aesthetic highlight.
Metallic Bronze Highlights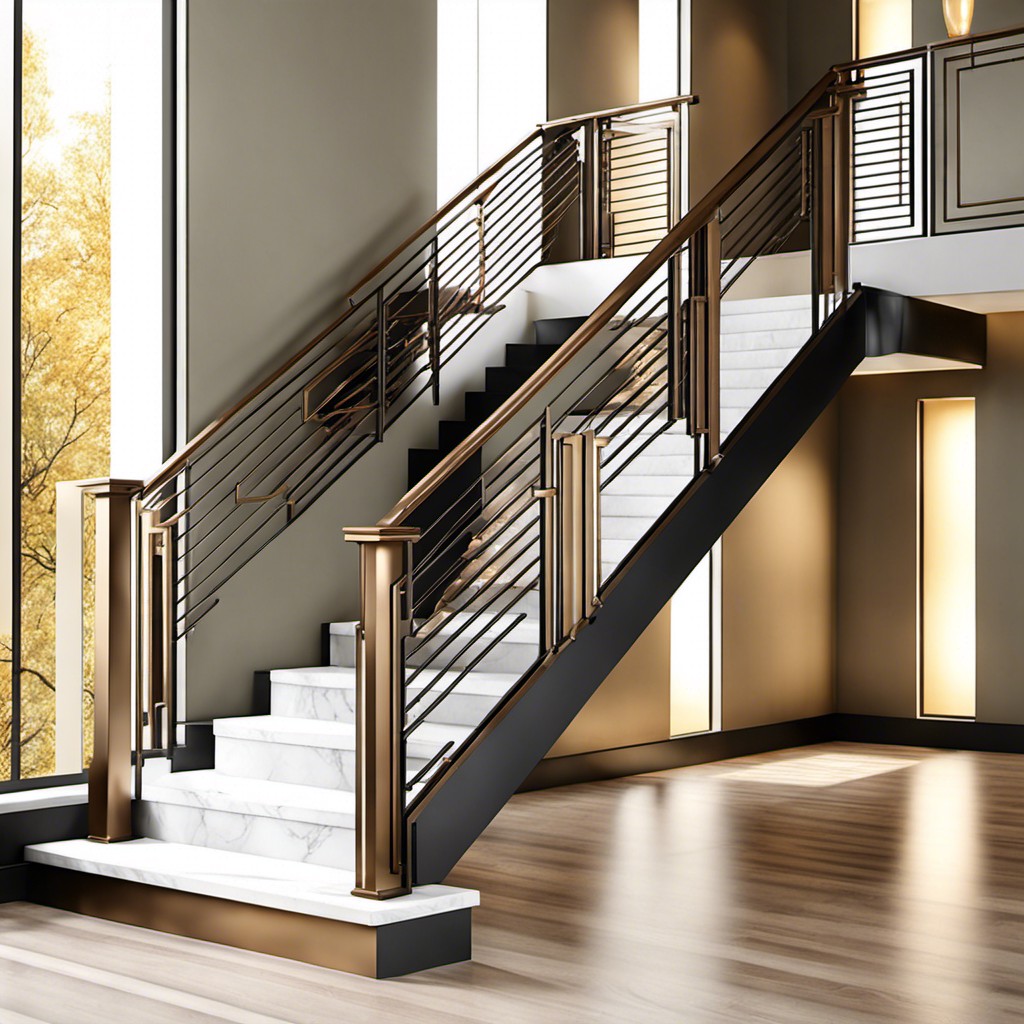 Bronze isn't just for medals and antique trinkets. This versatile material brings a warm and refined touch to a modern stair railing design. There are several ways to incorporate its luster into your project.
1. Pair with Steel: Pair bronze with stainless steel for a balanced blend of warmth and contemporary style. This makes for an aesthetically pleasing contrast that enhances your decor.
2. Inner Bronze Accents: Instead of making the entire railing bronze, use it for the inner bars against a steel outline. This subtle touch emphasizes the bronze without overwhelming the design.
3. Mix with Glass: Bronze railings can be complemented with glass barrier panels. The bronze adds a warm hue to the overall effect and works well with the sophisticated simplicity of glass.
4. Bronze Finials: These decorative elements at the top and bottom of the railing can add elegance and a touch of traditional style to your staircase.
Each alternative adds a different personality to your staircase. Make sure you choose the style that best complements your home.
Clean-Lined Steel + Cable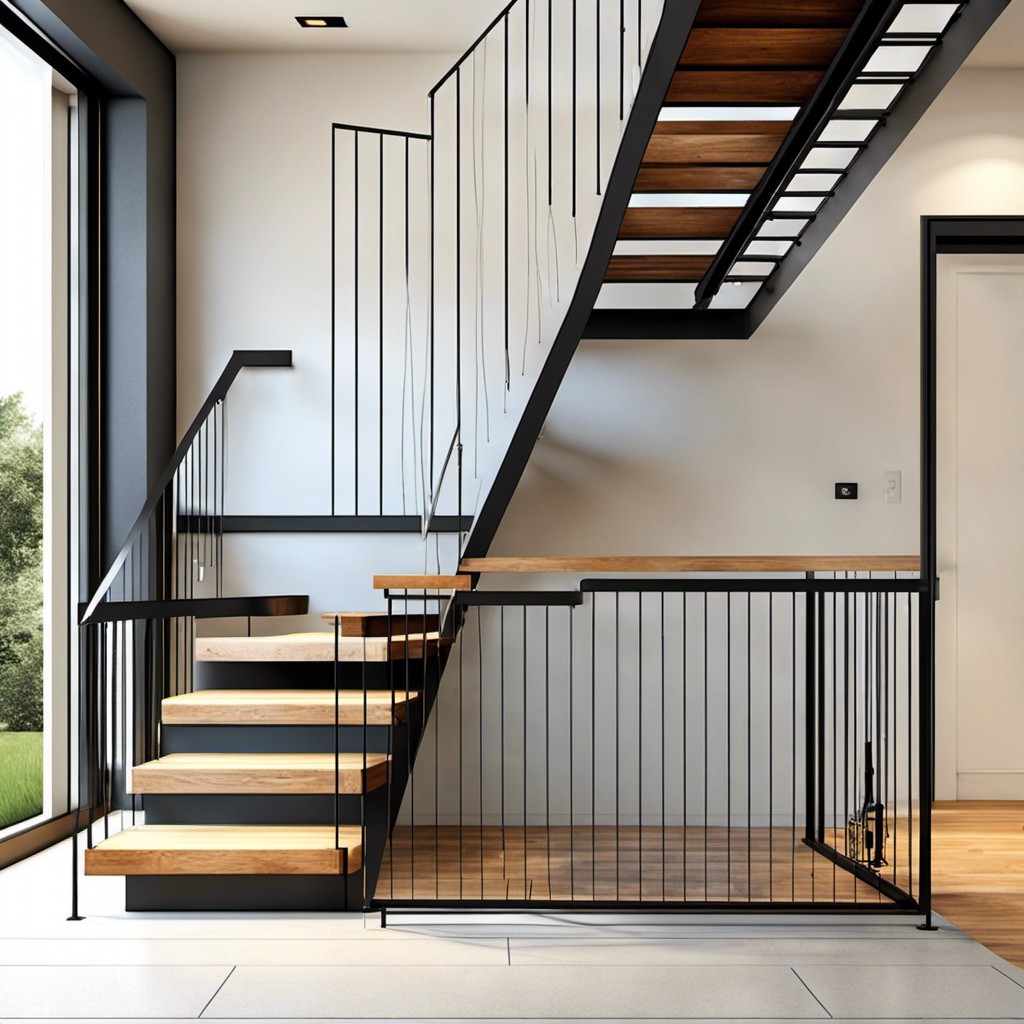 Creating an airy, open statement, this style marries the lasting strength of steel with the slender elegance of cable. These railings produce a clean, modern aesthetic, with their horizontal lines emphasizing the spaciousness of your home.
Here are some tips to perfectly nail this look.
Thin metal bars: These serve as a minimal frame that neither obstructs light nor view.
Parallel cable lines: Choose stainless steel cables for durability and a modern vibe. Ensure they run horizontally to subtly guide the eye across the living space.
Simplicity: Avoid elaborate designs. The beauty of this railing style is in its simplicity.
Pairing: This railing design pairs well with minimalistic, contemporary, and industrial interior styles.
Maintenance: Keeping cables taut and clean will maintain the sleek look.
Ultimately, a clean-lined steel and cable railing gives your staircase space a visually light, yet structurally robust element.
Zig Zag Steel Pattern
Capturing the eye with its distinctive play on lines, this design isn't just visually intriguing but also a testament to practical innovation. The repeating pattern proves to be structurally strong and adds a dynamic movement into your space.
Here are few pointers to ace this concept:
Material choice: Opt for stainless steel to retain shine and reduce maintenance. However, a matt finish can give a more organic look.
Thickness: Thicker bars will make a bold statement, while thinner ones will lend a delicate appeal.
Gap spacing: Consider safety regulations and aesthetic balance while deciding gap width.
Strong base: Ensure a robust bottom rail to provide stability to the zigzag pattern.
Creative illumination: Consider introducing indirect lighting to highlight this unique design.
Remember, the zigzag pattern can be customized to your preference. You have the freedom to make it as subtle or as dramatic as you desire. Balance is key. Think in terms of overall design harmony when choosing the details.
Mid-century Modern Style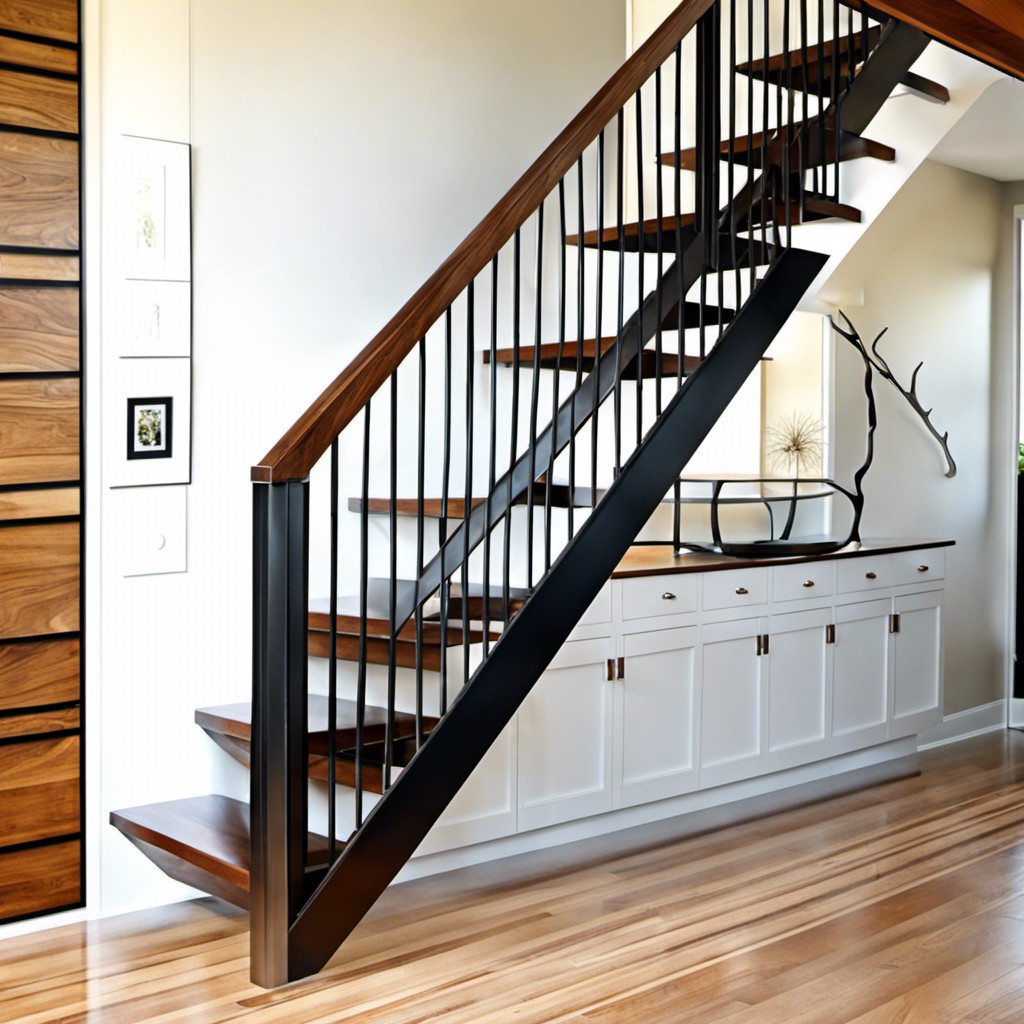 Embodying linear silhouettes, function meets simplicity. This design takes cues from the mid-20th century, employing clean lines with a stress on pure form. Welcome to a marriage of natural materials such as wood, juxtaposed with distinct steel elements. It provides a warm, inviting atmosphere while remaining chic and stylish.
A few concepts making the Mid-century Modern Style distinctive are:
1. Linear Form – Emphasizes horizontal and vertical lines, creating a sleek and clean appearance.
2. Combinations – Steel is frequently paired with other natural materials like wood to soften its industrial vibe and add warmth.
3. Simplicity – The design is stripped back to its essence, removing unnecessary details.
4. Functionality – The emphasis lies equally on aesthetics and practicality.
Incorporating these elements will lend a timeless appeal to your staircase, paying homage to classic mid-century aesthetics while blending seamlessly into modern designs.
Two-tone Steel and Wood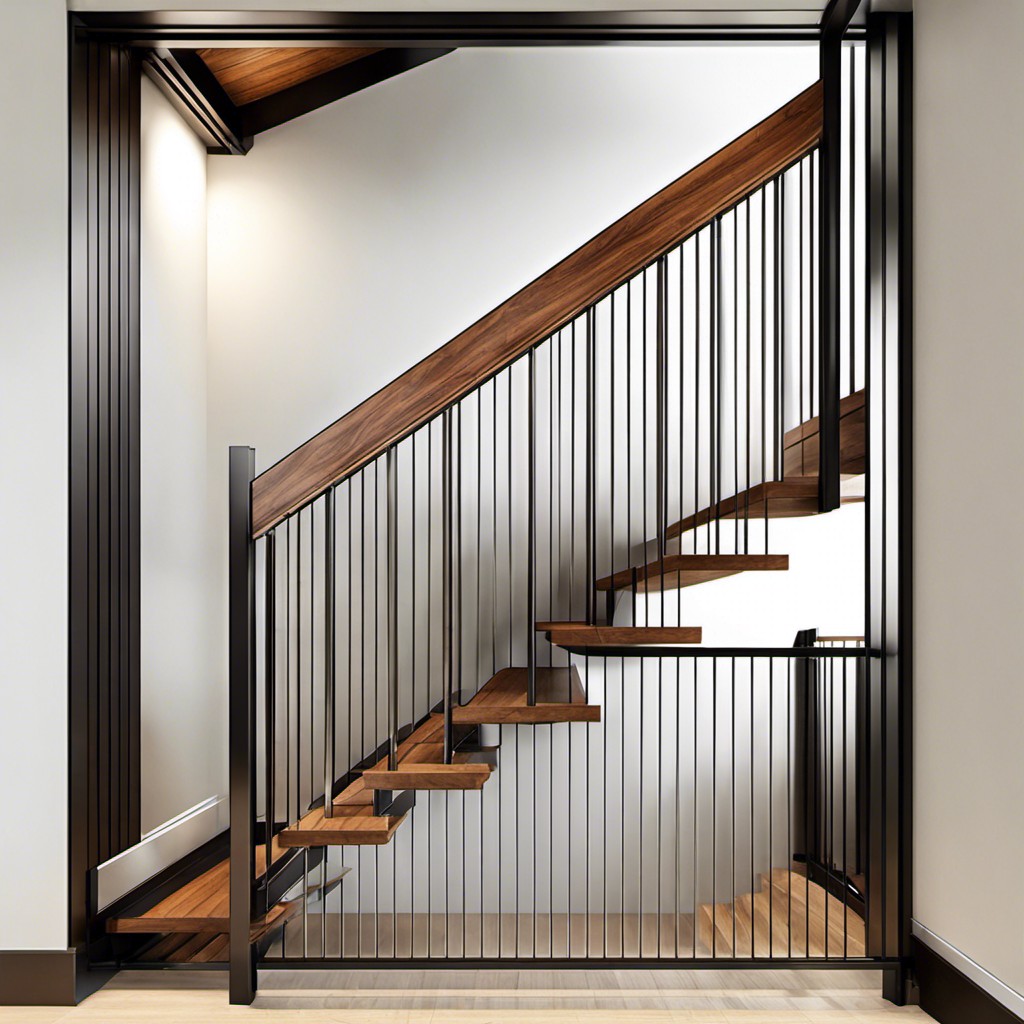 The juxtaposition of cool, sleek steel with warm, rich wood yields a striking, harmonious blend ideal for a modern home. These two contrasting materials bring out the best in each other, creating a balance between contemporary sophistication and natural charm.
1. Wood Selection: Opt for hardwoods like oak, walnut, or mahogany with a visible grain pattern for added texture and depth.
2. Steel Style: Brushed or matte finishes on the steel pair wonderfully with the wood's natural luster.
3. Combination: Go for either a steel railing with wooden handrails or vice versa, according to your design preference.
4. Imbue Personality: Vary wood stains and steel shades – darker for a stately feel, lighter for a livelier ambiance.
5. Arrangement: Arrange steel balusters in asymmetrical patterns for a small visual surprise that doesn't disrupt the overall harmony.
Consider this approach for stairs with visible grain patterns and textures for a dynamic, modern aesthetic.
Geometric Steel Mesh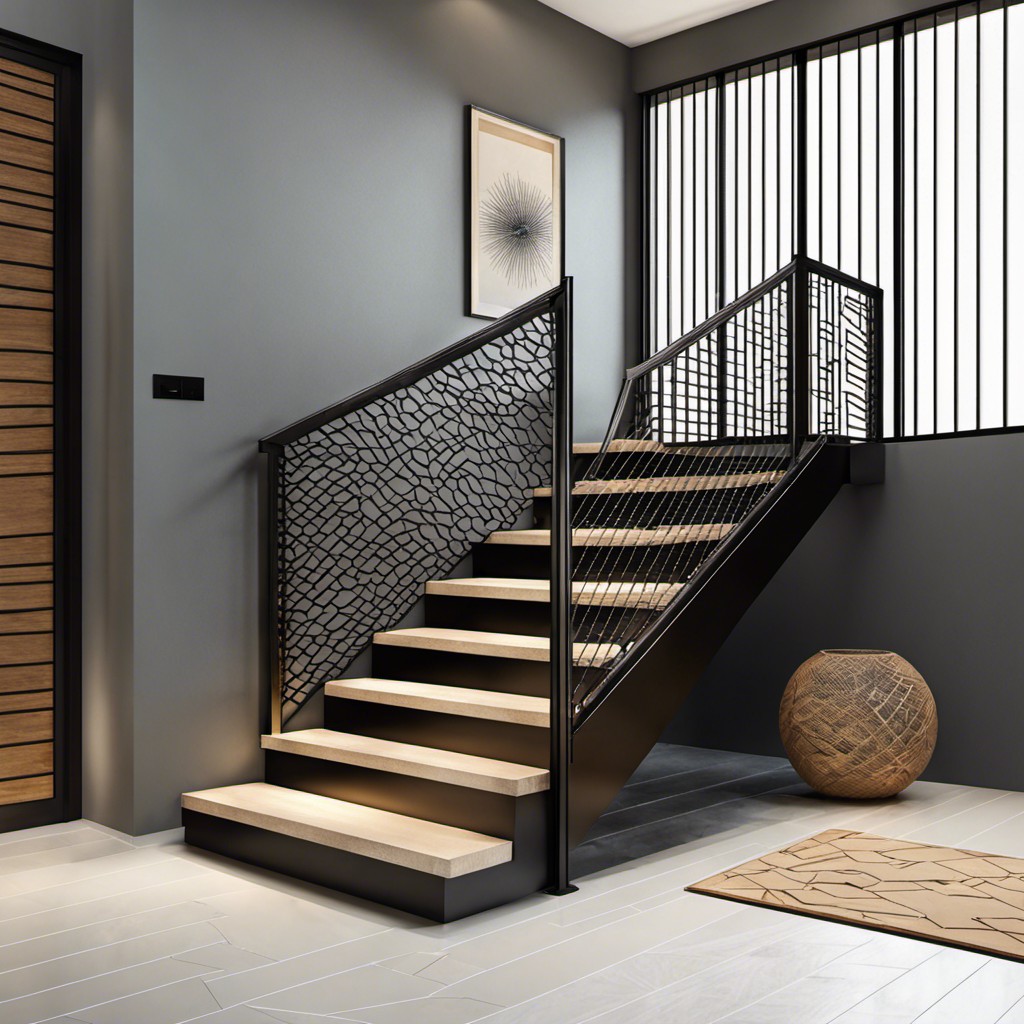 A perfect amalgamation of artistry and edginess, the hallmark of such a design is the implementation of geometric patterns to create a mesmerizing visual impact. Let's delve into the benefits and considerations associated with this unique take on stair railings:
1. Bold Statement: The use of geometry instantly draws the eye, making it a focal point of your interior design.
2. Versatility: It can be adapted to fit a variety of design aesthetics from modern to industrial.
3. Durability: Steel mesh not only looks stunning but is sturdy enough to withstand the ravages of time.
4. Variety: Shapes can range from triangles to hexagons, suiting different preferences.
5. Light Flow: The perforations in the steel mesh allow for light transmission, enhancing the ambiance of the room.
Remember, the key to a great design is balance. While geometric patterns add character, overdoing them may lead to visual chaos. It is essential to incorporate minimalistic elements for a cohesive setting. You can soften the visual impact of a steel mesh staircase with ambient lighting and softer textiles in the vicinity. The harmony between the hard and soft elements will reinforce the design principles of your space.
Vertical Steel Bars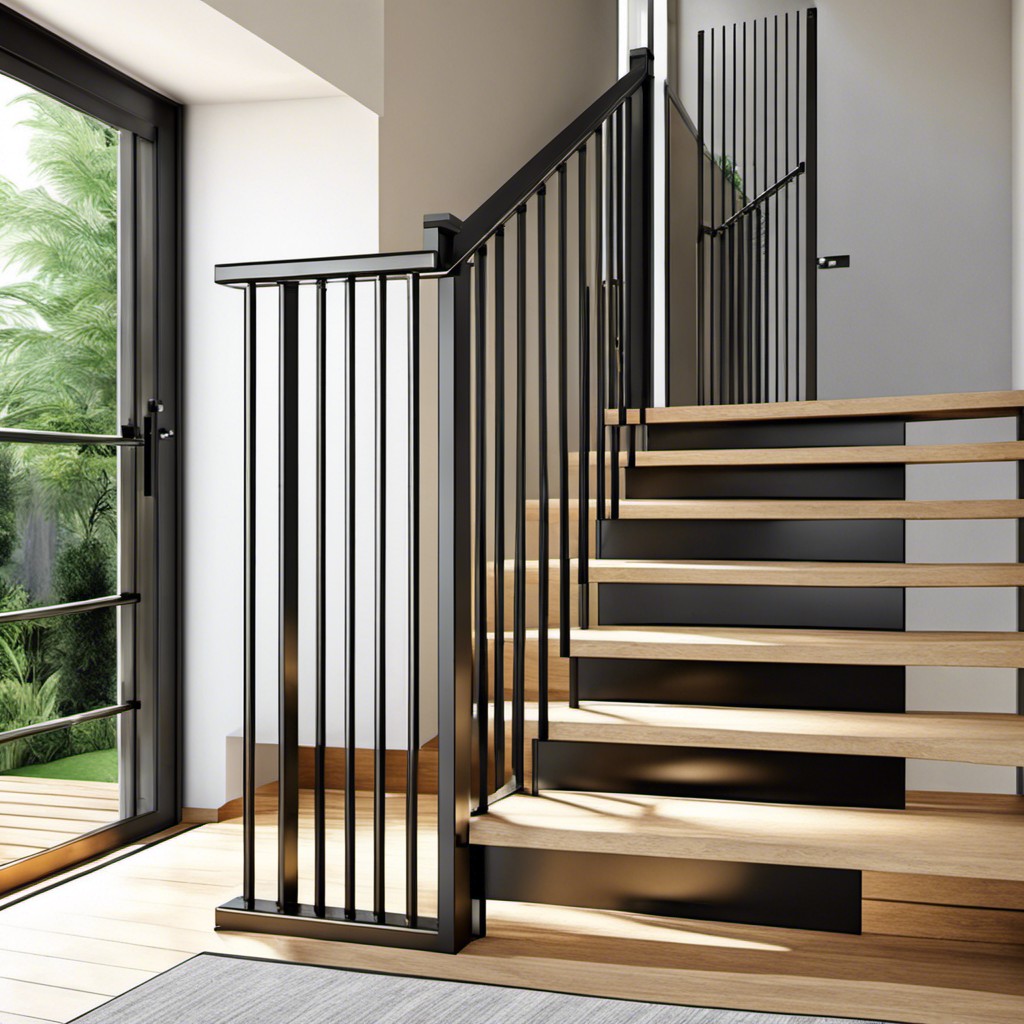 Vertical bars, in their neatness and simplicity, are perfect for emphasizing the elegance of a staircase. With many budget-friendly steel options available, these railings can be as embellished or minimal as desired. Let's dig into their versatility:
1. Varying Lengths: Alternative heights of bars create a dynamic look, guiding one's eyes upwards, adding depth and dimension.
2. Paint Choices: Customize the look with a vibrant color to turn your staircase into a feature, or opt for gentle earthy tones for a more natural feel.
3. Wrought Iron: For a traditional aesthetic, wrought iron brings sophistication. Pair with chunky wood banisters for a contrasting effect.
4. Slim Profile: The slim profile of vertical bars maintains an open space, highlighting your staircase design without overwhelming it.
5. Texture: Consider adding textured bars, such as hammered steel, for a unique effect. It creates an artisan vibe, adding more character to your space.
Remember, trends come and go, but the key is to choose a design that resonally and visually speaks to you. Ensure your choice complements your home's aura, harmonizes with other elements, and serves the purpose of safety at all times.
Combination of Steel + Concrete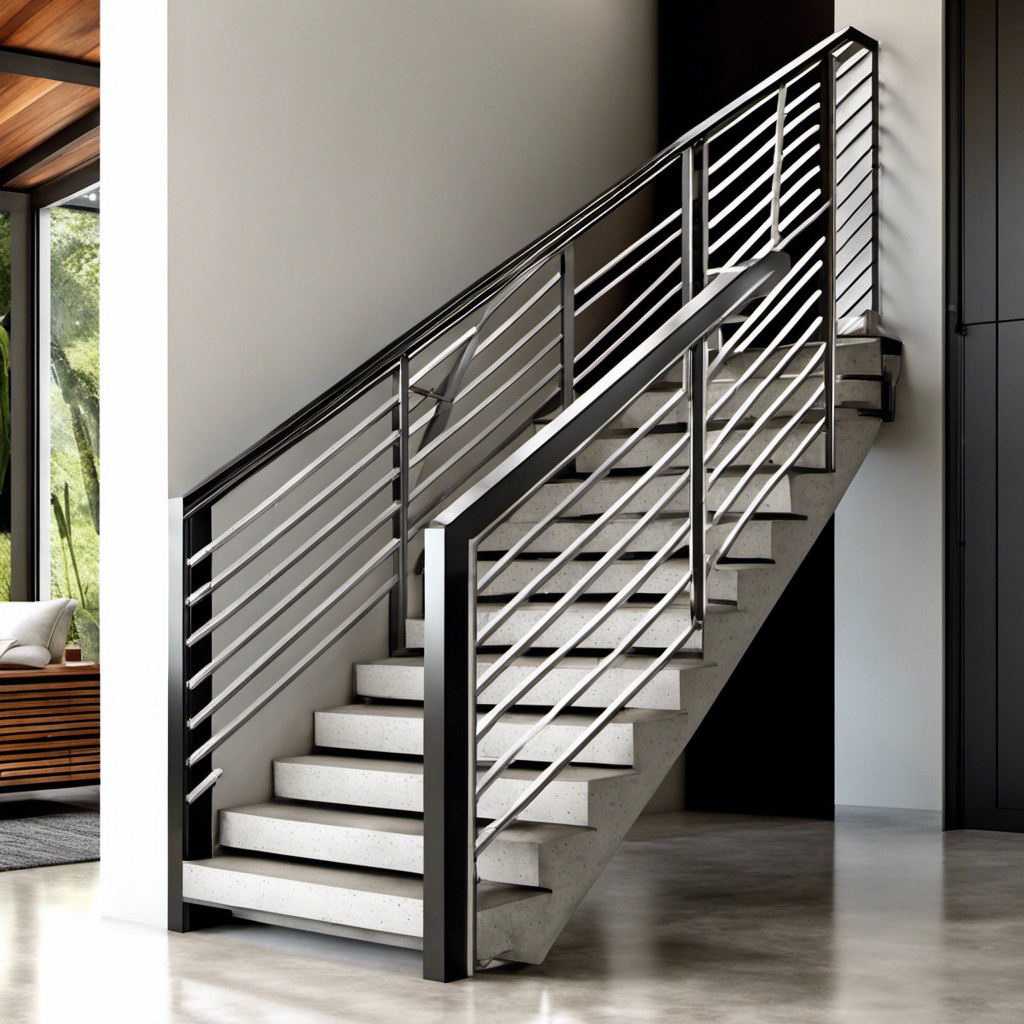 Blending the traditional with the contemporary is a bonus with steel and concrete stair railings. The raw, industrial feel of concrete paired with the chic sophistication of steel can create an intriguing visual contrast. The sturdy nature of both materials ensures durability and strength.
When you opt for concrete stair treads, consider slender steel balustrades for a balanced aesthetic. Balustrades can be customized in various styles: linear, minimalist, or ornate for more traditional homes. For a more modern look, you might want to explore glossy powder-coated steel.
Both materials are great for both indoor and outdoor staircases, resistant to various weather conditions, and temperature fluctuations.
Remember, concrete can be colored or textured to match your home's existing decor, while steel can be finished to enhance natural patina or painted to add a pop of color. This versatile combination leaves room for your creativity to flourish, offering a broad palette of opportunities for your staircase design.
Ultra-Modern Floating Stairs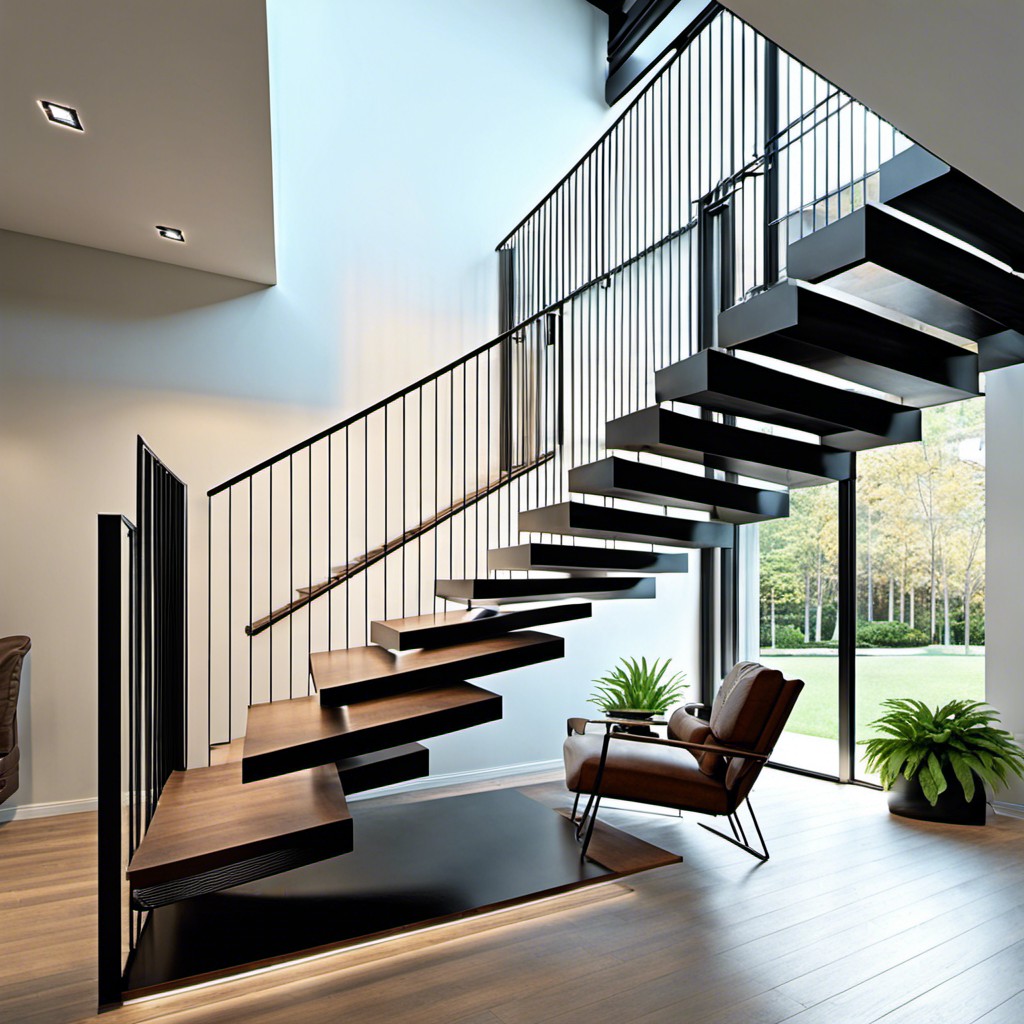 Taking a step into the realm of absolute modernity, floating staircases command attention like no other – a perfect embodiment of form meeting function. The design typically comprises of steel slabs acting as individual stairs, seemingly levitating in space.
1. Stunning Aesthetics: Their sleek, minimalist design leaves plenty of open space, creating an illusion of a larger area.
2. Design Flexibility: Whether you prefer it straight, spiral, or with twists and curves, this style offers flexibility in design to match every interior.
3. Versatility: Coupled with glass or wood, or standing alone in cool metallic, the steel in these stairs can complement any architectural style.
4. Safety: Despite their delicate appearance, the steel structure ensures they are strong and resilient.
5. Maintenance: Another advantage is their ease of cleaning and upkeep, making them a practical choice for busy homeowners.
Remember to always consult a professional when considering a floating staircase, as this design requires precise installation to ensure safety and stability.
Spiral Staircase With Polished Steel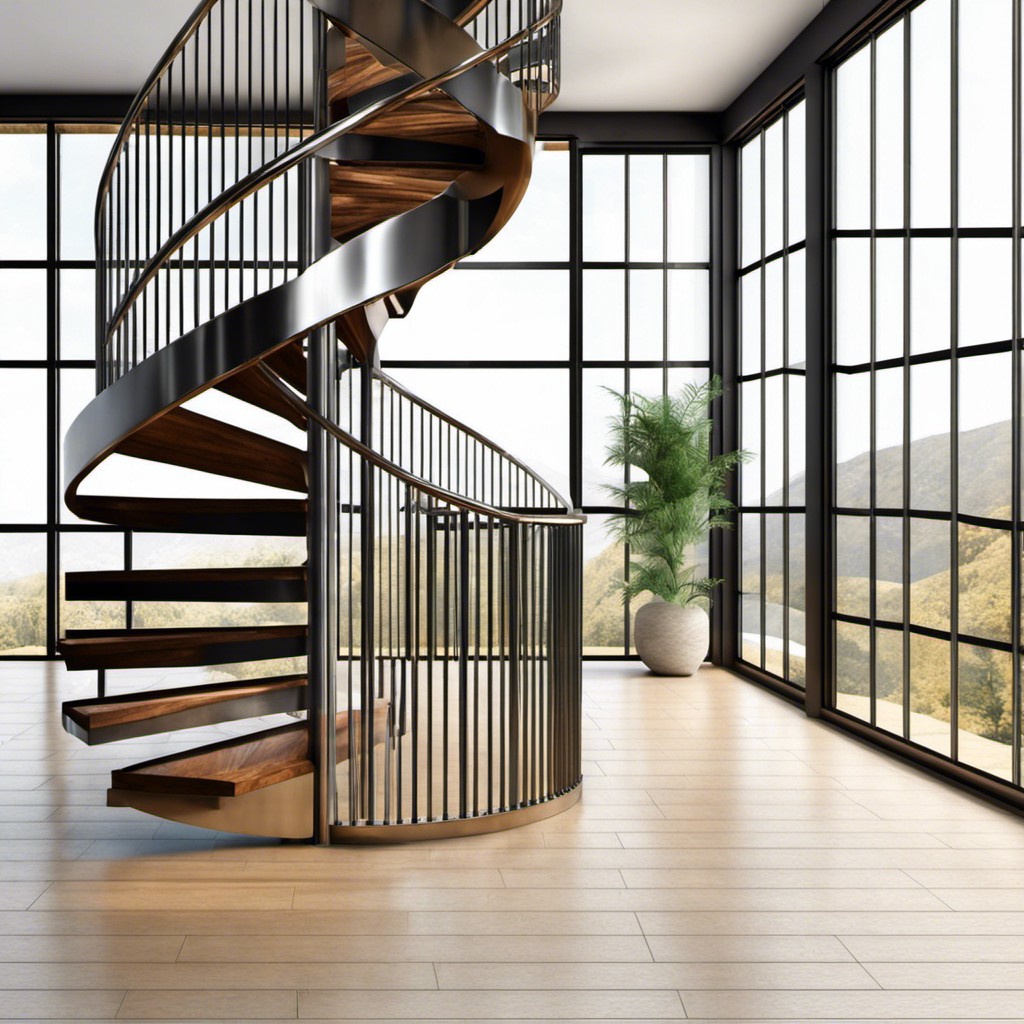 For a touch of classic elegance and a dash of contemporary chic, polished steel is your go-to material. Spiral staircases, known for their graceful flow, pair beautifully with its sleek sheen.
Here are some key pointers:
1. Material Choice: Polished steel boasts durability and style. It adds lustre without compromising on strength.
2. Space Saving: Spiral staircases are great for tight spaces, their footprint is significantly less than traditional staircase designs.
3. Design Appeal: The constant, fluid motion of a spiral staircase creates a dynamic visual element in your home. Enhanced by the reflective quality of polished steel, it becomes a stunning focal point.
4. Versatility: Polished steel complements a wide variety of design schemes – it pairs equally well with rustic wood, minimalistic glass, or vibrant tiles.
5. Maintenance: Being rust resistant and sleek, polished steel railings require little upkeep apart from occasional cleaning.
6. Customization: Aesthetics can be further tweaked by experimenting with the step material or introducing steel patterns into the railing design.
Remember, although spiral staircases can be a visual delight, they may not be the best fit for homes with mobility concerns. Consider the practicality of the design along with aesthetic appeal. Each component contributes to a cohesive, beautiful space that reflects your style and meets your needs.
Triangular Steel Features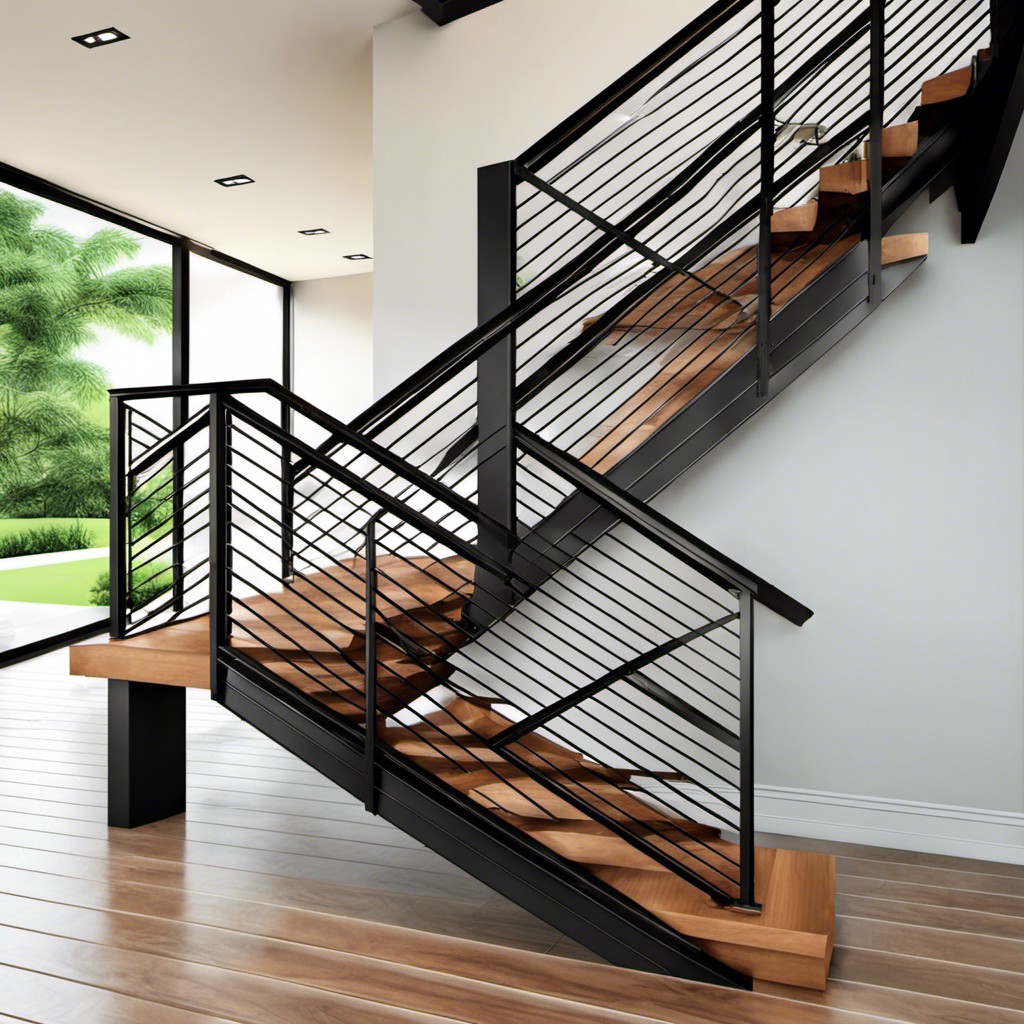 Bold lines and sharp angles are centerpieces in this approach, bringing a dynamic aesthetic to your staircase.
When paired with the sleek finish of steel, this design exudes a modern touch, bringing a distinctly architectural feel into a simple home setting.
The triangles can be arranged in a variety of ways – facing up, down, or alternating direction – providing an exciting play of shapes and forms.
The open design of these railings allows light to cascade through, enhancing the openness of the space around the staircase.
For minimalism lovers, painting the triangles in black or grey is the perfect way to underline the simplistic yet eye-catching appeal of this design.
This method fits particularly well in industrial or contemporary interiors, but can also work as a contrasting feature in more traditional homes.
Dark Steel and Bright Glass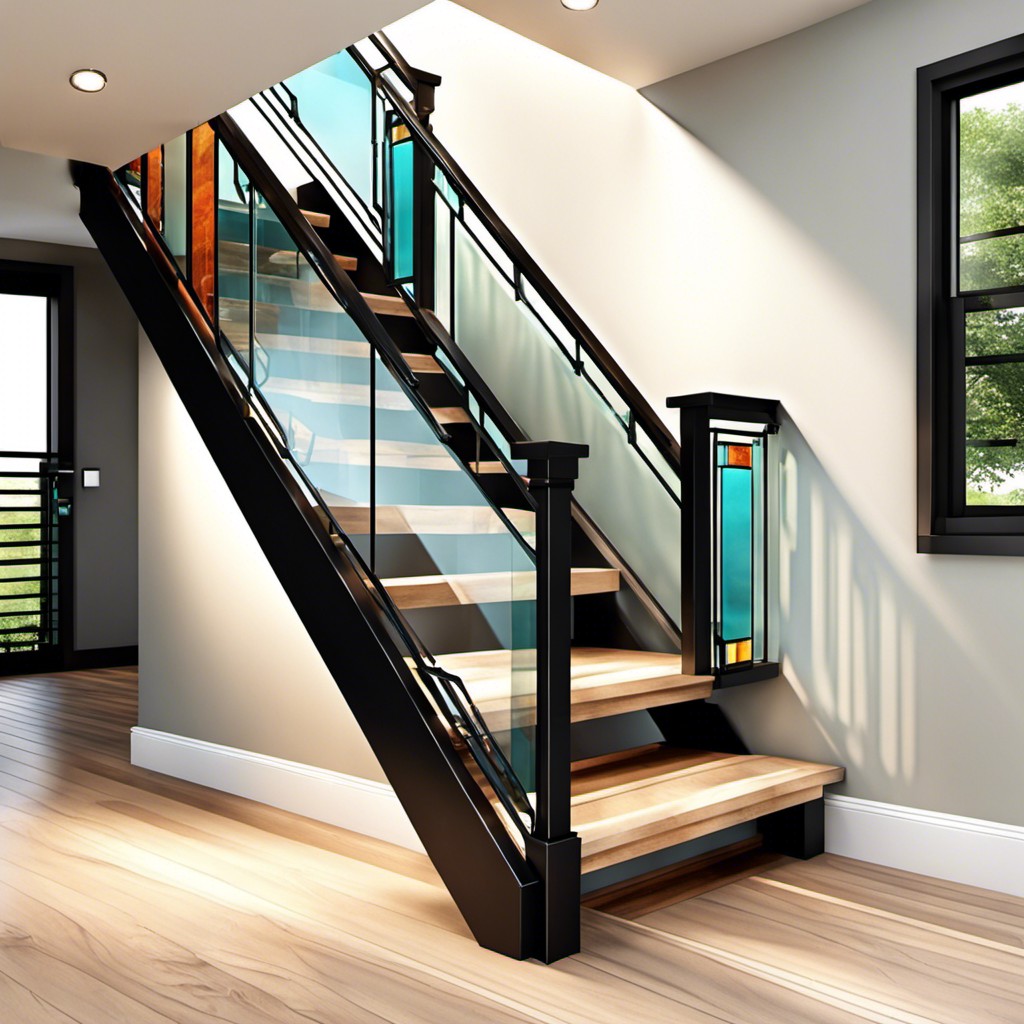 Emphasizing contrasts often elevates the aesthetic value of a design concept, and that's just what Dark Steel and Bright Glass works hard to achieve. The strength and rigidity of dark-toned steel beautifully juxtapositions the transparency and lightness of bright glass. Here are the key points to grasp this concept:
1. Appearance: The dark steel offers a bold, defining shape while the glass gives a sense of openness and brightness.
2. Installation: Opt for a professional installation as it requires precise fitting and strong anchoring to ensure safety and durability.
3. Versatility: Suitable for both the exterior and interior of a home, from the main staircase to the balcony railing.
4. Maintenance: Easy to clean and maintain. Wipe the glass panels regularly to prevent water spots and finger marks.
5. Price: Cost-effective when compared to full-metal railings, as you can leverage less-expensive glass for larger sections.
6. Customization: Offers ample opportunity to customize. Could accommodate frosted or tinted glass for varying degrees of privacy, or patterned steel for an artistic touch.
7. Safety: When combined with tempered or laminated glass, adds a robust safety element to your stairway.
Achieving both form and function, Dark Steel and Bright Glass is an excellent choice for a modern chic finish.
Wave-Inspired Steel Design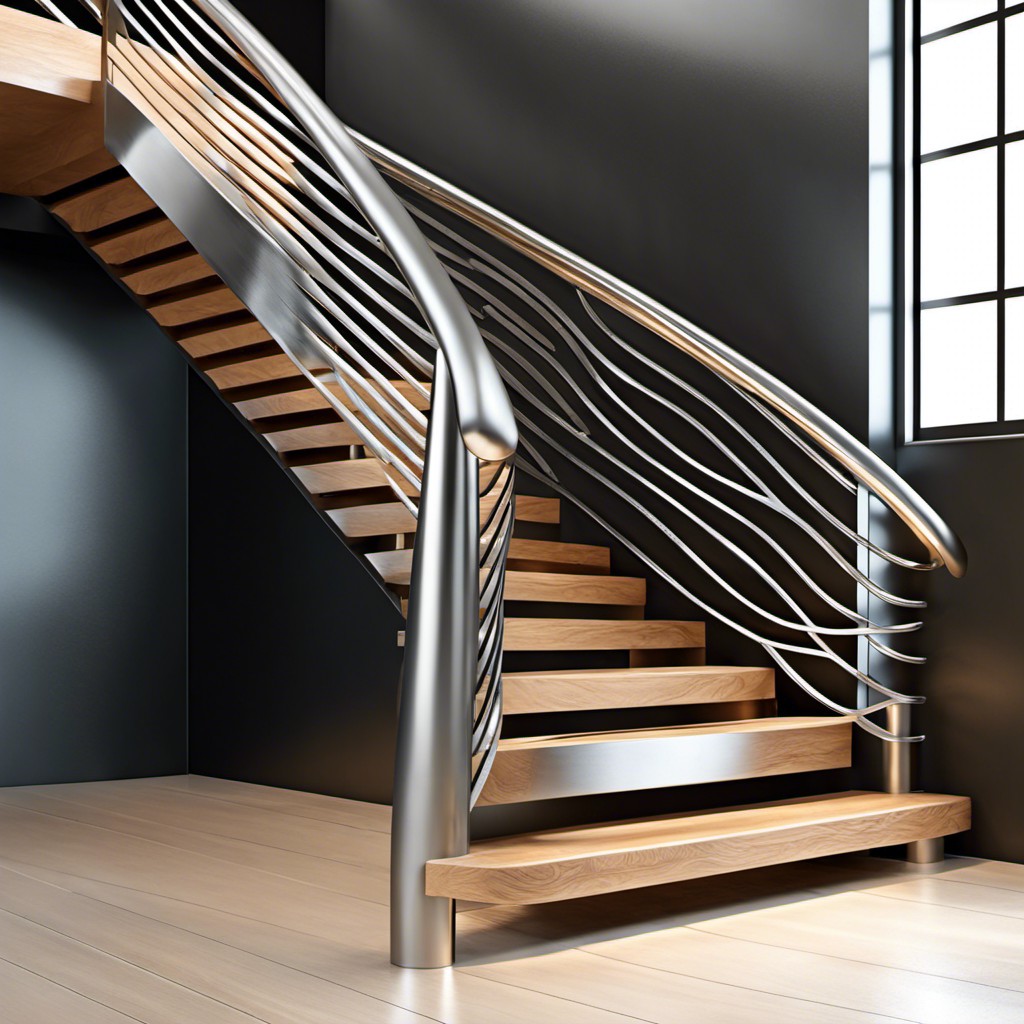 Imagining the rhythmic movement of ocean waves can indeed serve as a captivating inspiration for your stair railing. The unique attributes of this design incorporate a series of flowy lines and curve patterns mimicking the nature's subtle dance. Its organic form seamlessly blends with many modern aesthetics, resulting in a dynamic yet sophisticated appeal.
Key Points:
Consider materials: Opt for stainless or powder-coated steel to withstand high traffic while retaining the elegant look.
Curve designs: Soft, wave-like curves help create a fluid aesthetic that brings a serene, natural element into the space.
Lights: Adding subtle, warm lighting beneath the railing can accentuate the wave pattern and create mesmerizing shadows.
Statement Piece: While functional, this design can also serve as a conversation-starter due to its artistic quality.
Pairing Elements: Compliment the design with other nautical-inspired elements like shells or sea-glass color palettes for a coastal-themed vibe.
Box Frame Steel Structure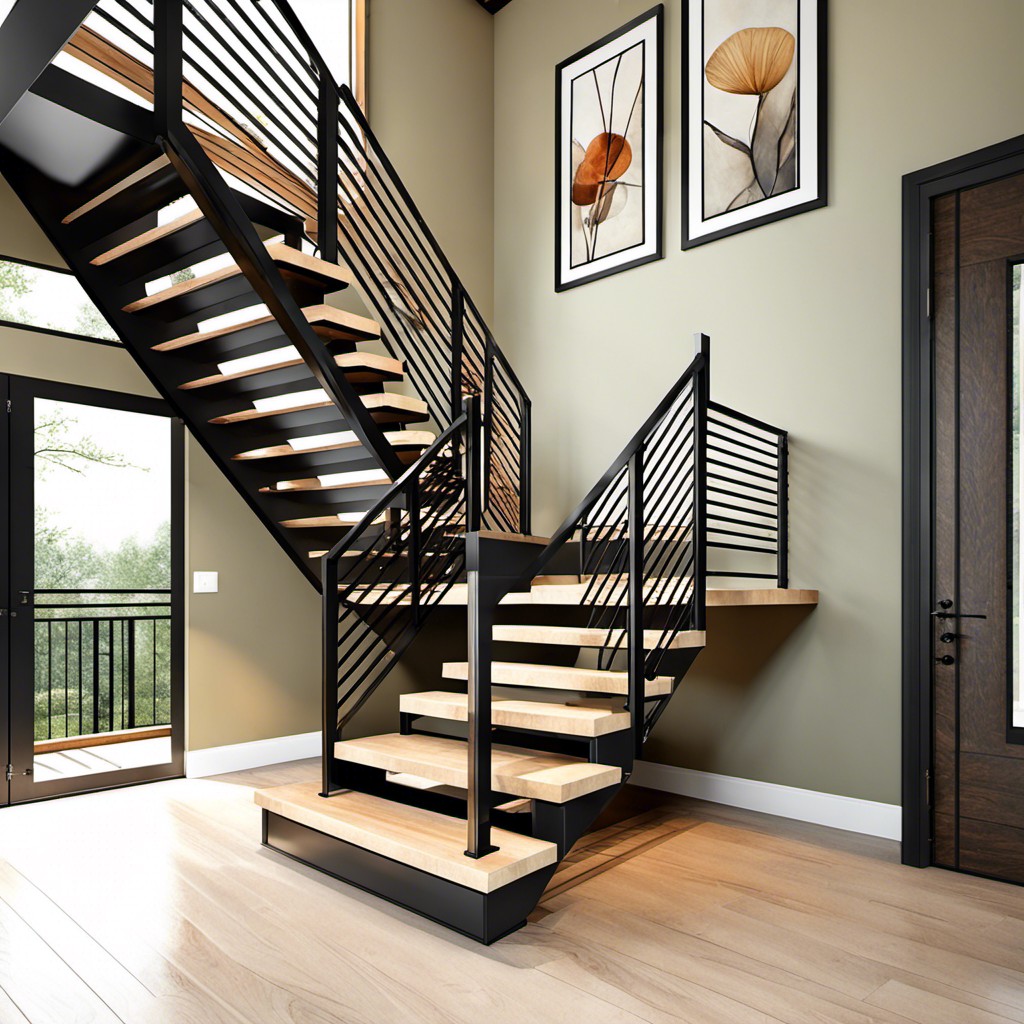 Capturing architectural balance and finesse, this design approach is a nod to modern artistry. It offers a visually appealing matrix with the use of steel structures that mimic frames, often complemented by wooden or glass infills.
Here are a few fundamental concepts built into this trend:
Structural Integrity: The box frame design greatly enhances the strength and durability of the railing. It articulates a new age structural understanding while ensuring safety.
Aesthetic Appeal: Its clean, geometric design is inherently minimalist and can be easily incorporated with various interior design themes like industrial, contemporary, and Scandinavian.
Customizability: This design allows for freedom of choice with infills, permitting you to match it to your personality and the overall aesthetic of the space.
Visual Harmony: The uniformity, balance, and simplicity of this design offer visual order and harmony, making it a pleasing element of the interior structure.
Easy Maintenance: Primarily due to its uncomplicated structure, it's easier to clean, maintain, and even upgrade if required.
Antique Bronze Steel Railing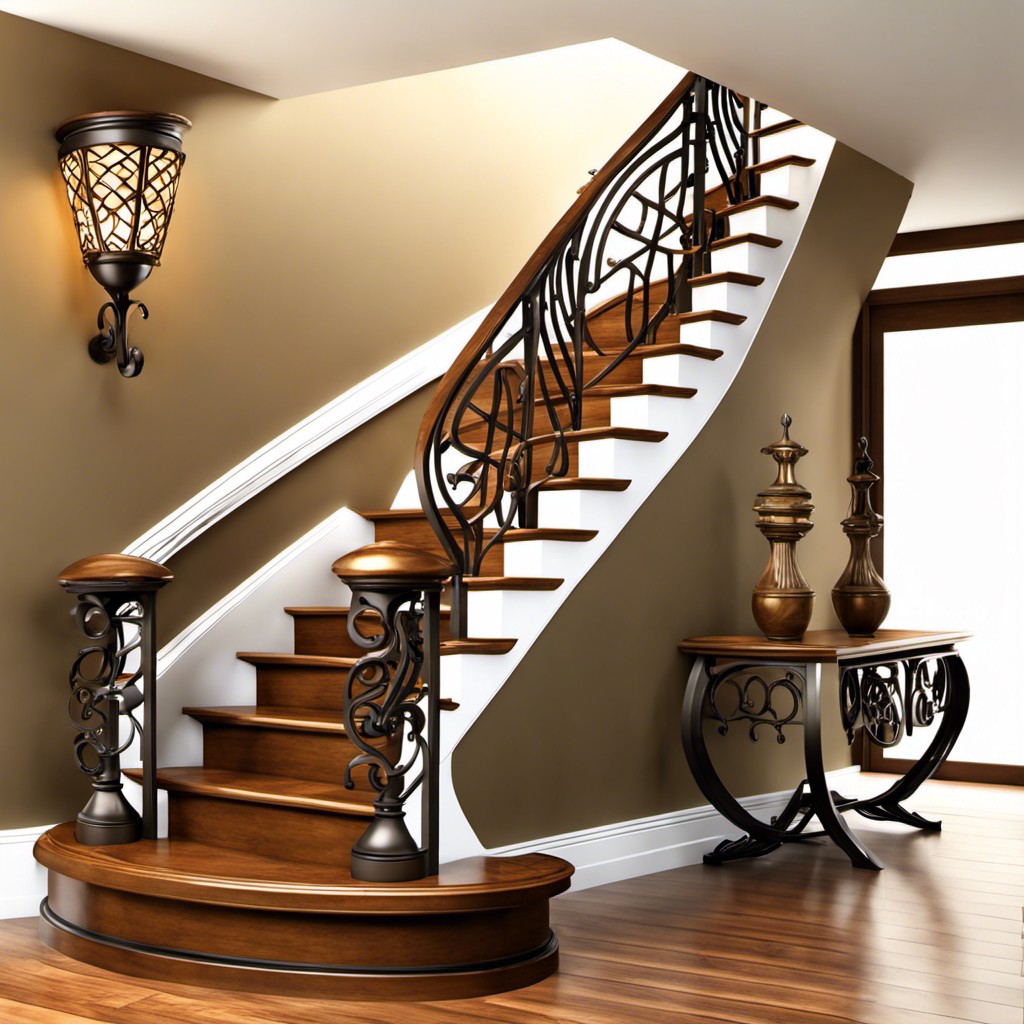 Antique bronze takes your standard steel railing and infuses it with a touch of timeless elegance. The finish emulates warmth and sophistication, making it an ideal choice for those who wish to add an Old-world charm to their staircases.
Here are the key highlights of this design:
1. Color Impact – it elevates the aesthetic appeal, making a bold statement. This patina isn't reserved for classic design; it can perfectly offset a modern environment too.
2. Versatility – it seamlessly complements materials like wood or glass, letting you play with design combinations.
3. Maintenance – its distressed finish hides minor scratches or dents, making it low maintenance compared to polished surfaces.
4. Texture – a more tactile experience compared to smoother finishes, adding a different dimension to your space.
Adopting this design is a surefire way to bring a dash of classic sophistication into any staircase configuration.
Laser-cut Steel Panels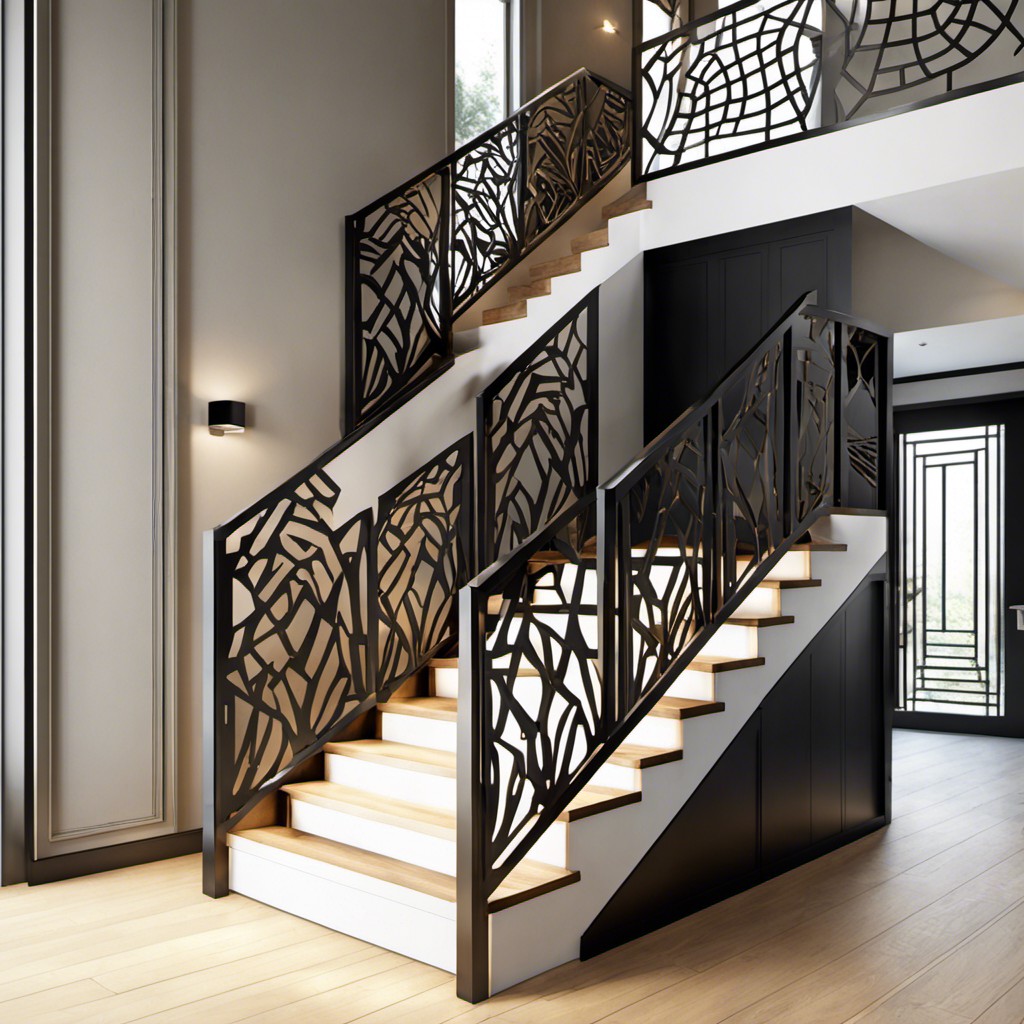 Laser-cut panels bring a unique aesthetic aspect, creating eye-catching, intricate designs that are truly one-of-a-kind. This cutting-edge technology can reproduce almost any pattern, from abstract motifs to realistic reproductions of natural elements such as leaves or flowers.
Here's what you need to know:
Versatility: Your imagination is the only limit, as laser cutting allows for customization of designs based on personal preferences. Geometric, floral, or abstract motifs – the choice is yours.
Precision: The use of lasers ensures accurate, crisp and neat cuts, creating detailed and elaborate designs with ease.
Durability: The precision-cut edges are strong, ensuring that the panels will stand up to years of wear and tear.
Functionality: Besides serving as a stylish barrier, these panels also work as a unique element in your home decor, breathing life into a once bland space.
Ease of Installation: Despite their intricate appearance, these panels are remarkably easy to install, often designed with mounting points built right in.
Remember, this option requires a slightly higher budget due to the cost of laser cutting, but the impact on your decor is truly unparalleled.
So, play around with designs and pick something that suits not just your space, but also reveals a bit of your personality!
Futuristic Steel + LED Rails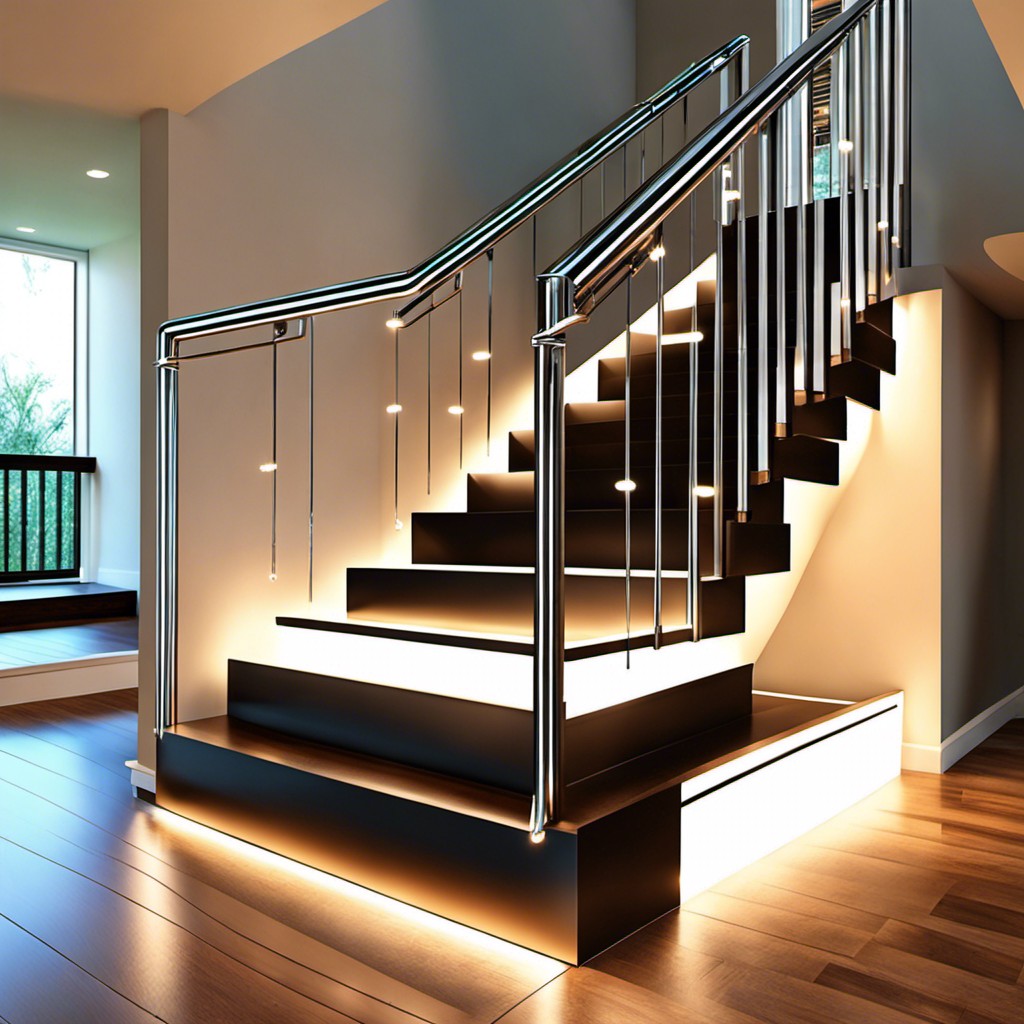 This design marries the durability of steel with the tech-savvy appeal of LED lighting. The LED lights can be embedded into the railing or the under-side of a handrail, offering not only a stylish look but also practical illumination at night.
Opt for color-changing lights to match any mood or event. Beyond aesthetics, this energy-efficient lighting can reduce your electricity consumption, putting a modern twist on budget-friendly design.
This is perfect for anyone looking to add a bit of 21st-century flair to their home. Coating the steel with a high-gloss or metallic finish can amplify the lighting effect for a truly futuristic vibe.
Experiment with asymmetric, geometric designs for the rail structure to further emphasize the modern feel.
Asymmetrical Steel Rails Design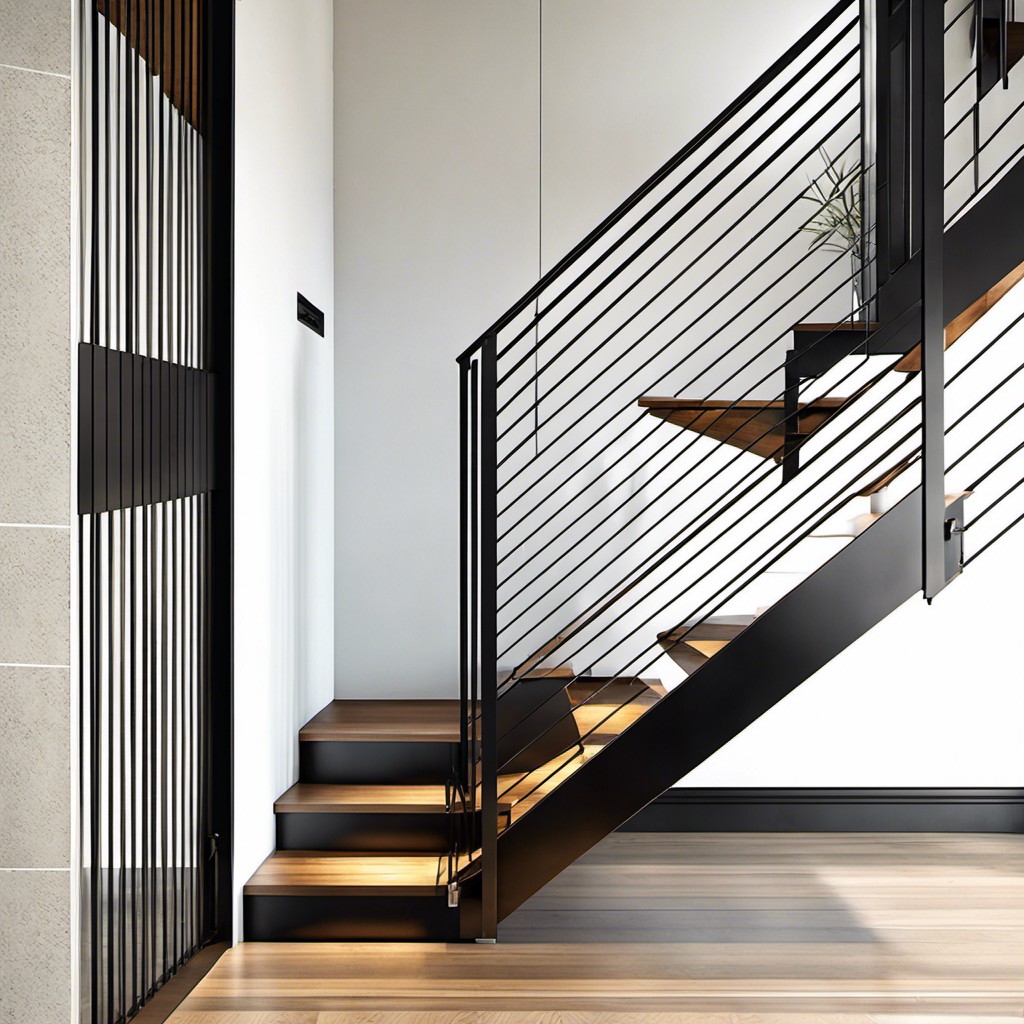 Harnessing the power of irregularity, the Asymmetrical Steel Rails Design lends an unexpected, artistic touch to your stairs. This design entails differing lengths and angles of steel tube railings, helping to capture and reflect natural light in intriguing ways. Besides the striking visual appeal, each rail provides a solid grasp for safe ascending and descending.
From creating waves to abstract forms, the possibilities are limitless. Each layout can be tailored to your personal tastes, adding a unique spin to your interior decor. The use of steel ensures durability without compromise on style. A high-gloss finish can further emphasize the design's modern aesthetic.
Should you decide to implement asymmetry in your staircase design, it's encouraged to consult with a specialist. This ensures the design's functionality isn't sacrificed at the expense of aesthetics. Stick to the basics such as height and spacing of your railings before exploring various art-forward shapes.
Whether simple or complex, an Asymmetrical Steel Rails Design can transform your staircase into a compelling piece of minimalist, yet expressive art.
Ideas Elsewhere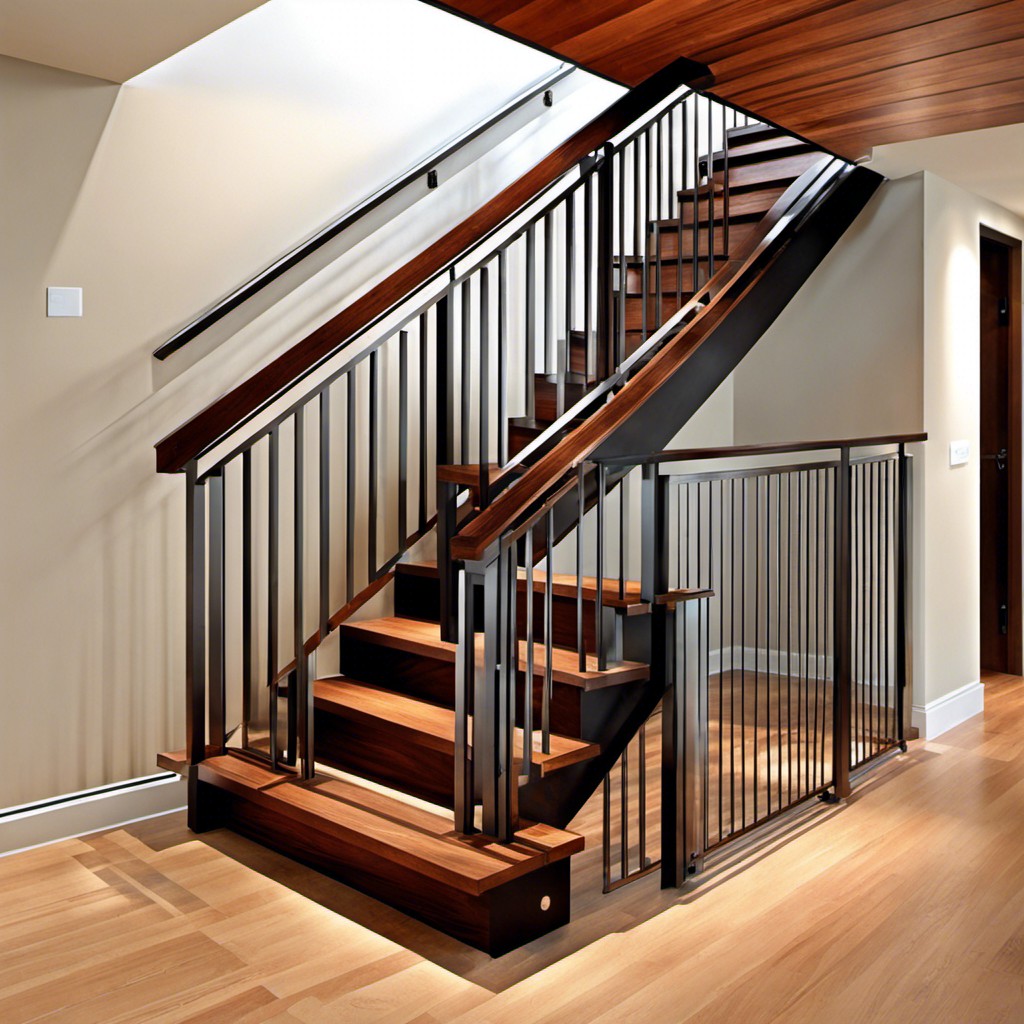 Recap
Liked this article? Here's what you can read next: