Last updated on May 18, 2022
We'll give you 6 options on how you can place a rug under a sectional sofa. We'll also delve deeper into choosing the right rug for it. Read on!
Decorating your living room can involve several aspects and one of them is how a rug should fit everything.
Your living room's main center of attraction is usually the sofa. And for rooms with sectional sofas, choosing the right rug size can be daunting. Moreover, rug placement is also a dilemma most homeowners are faced with.
What's Inside?
Rug Placement Options
The look of your home interior design should be aesthetically pleasing. And if you're wondering how to master excellent rug placement, try these tips:
Center the Rug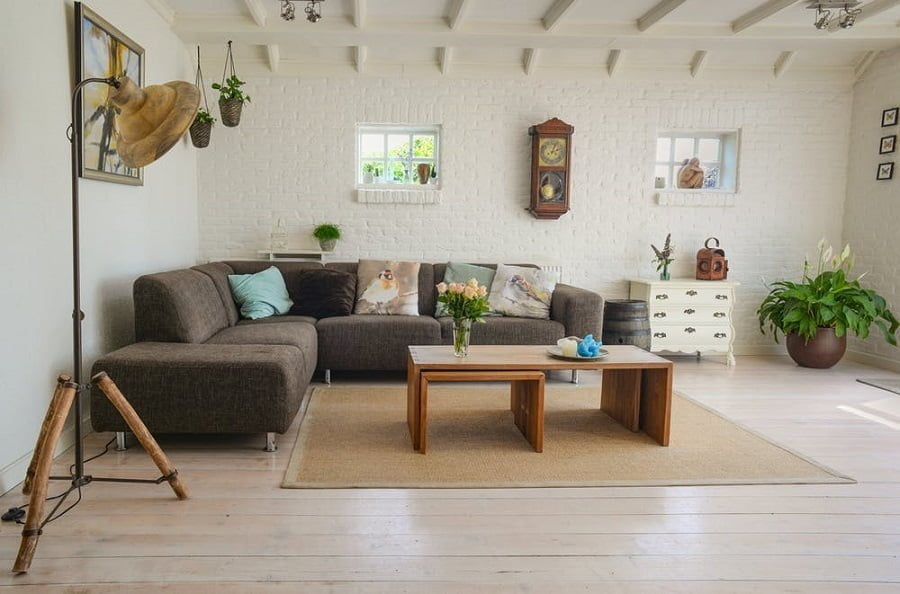 You can have the option of keeping off all legs of your sectional from the rug. Keep it centered with its shorter edge parallel to the sectional's shorter end as well. This creates the illusion of a rectangle that will create a balanced look.
Large Rug for All Furniture Pieces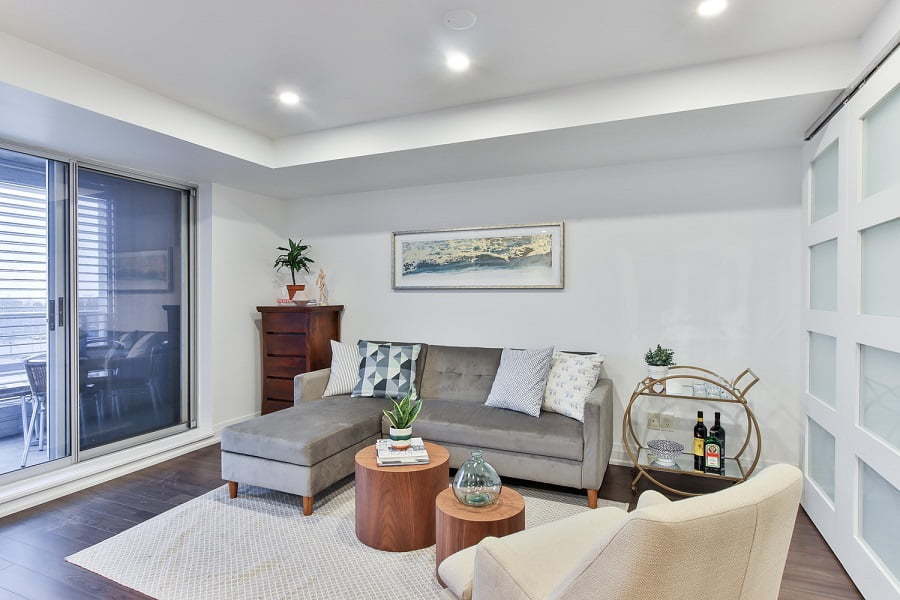 You can also create a cozy lounging area by opting for a large rug, one that is larger than your sectional sofa. Place it under with all legs on the rug, including your coffee table. It provides ample space for children and an additional floor seating area for guests.
Establish Asymmetry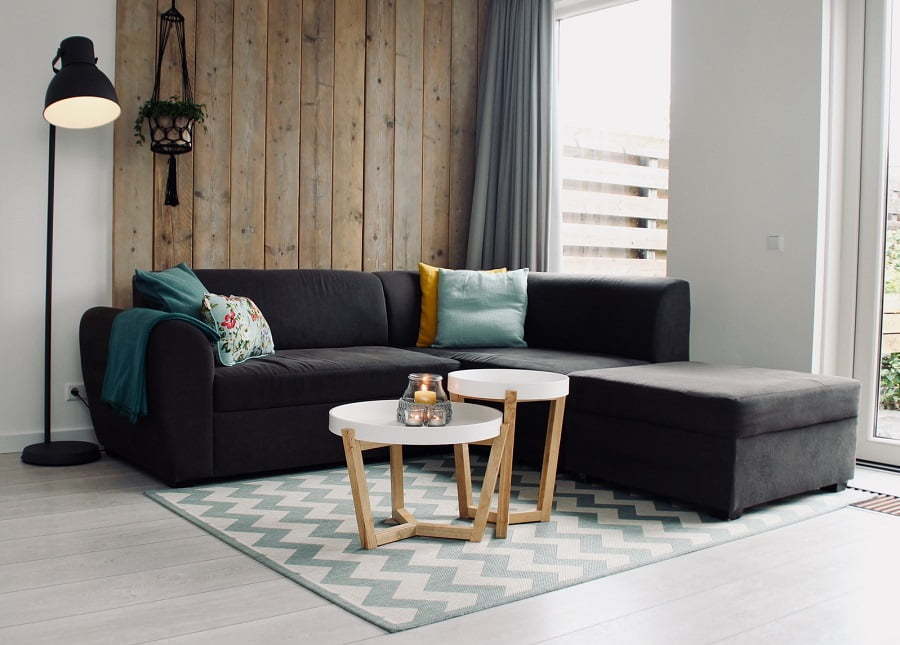 If you have small furniture pieces like a petite sectional sofa or coffee table, then make them appear bigger by creating design asymmetry. This placement will lure the eye to the entire sitting area as well. Consider what the right pattern can do to this placement, such as this Novogratz by Momeni area rug.
Front Legs On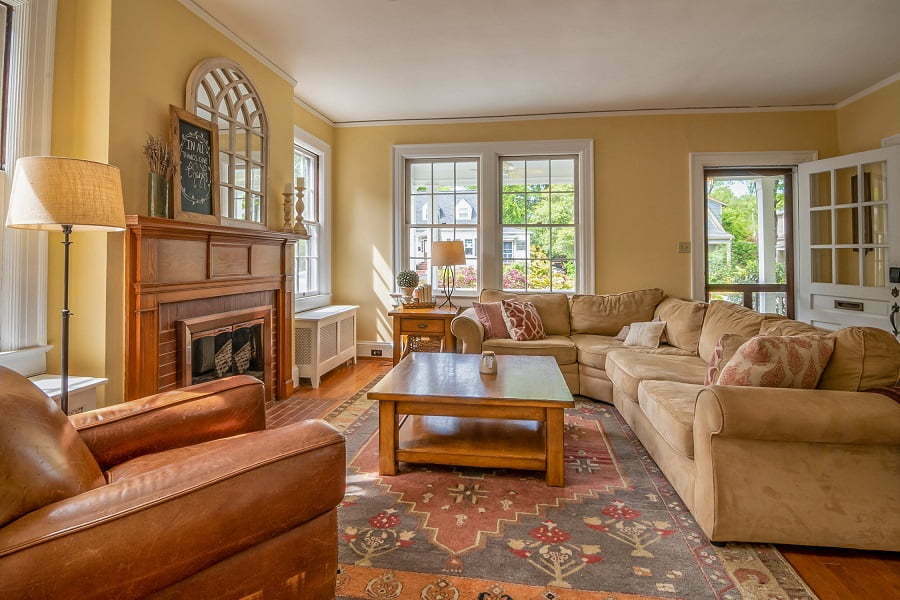 If your area rug size isn't too big for all your furniture pieces, don't worry. You can always put the front legs of your sectional on it and the area will still look unified.
Round Rugs to Break the Monotony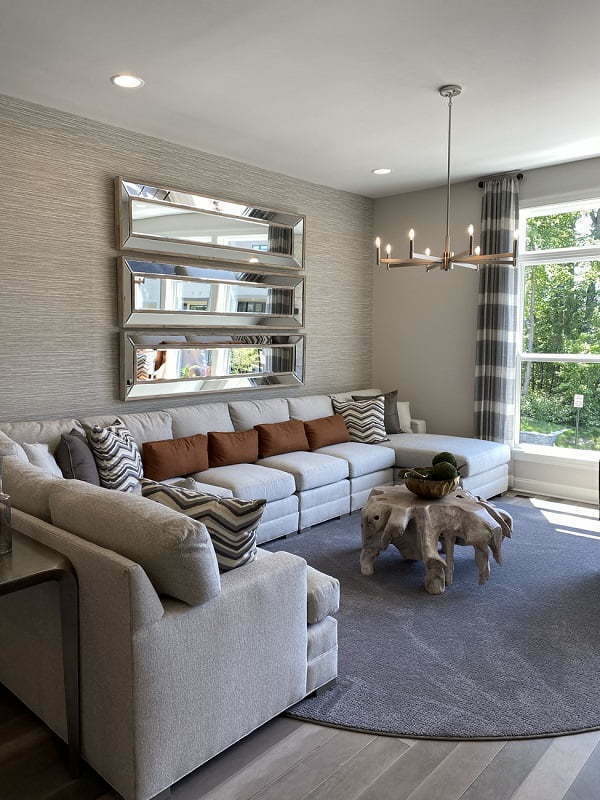 If your interior design and furniture pieces have a majority of lines and rigid shapes, then around one will break this monotony. Place a round rug in the middle of your sectional sofa to balance out the vertical and horizontal lines in your room.
Diagonal Mischief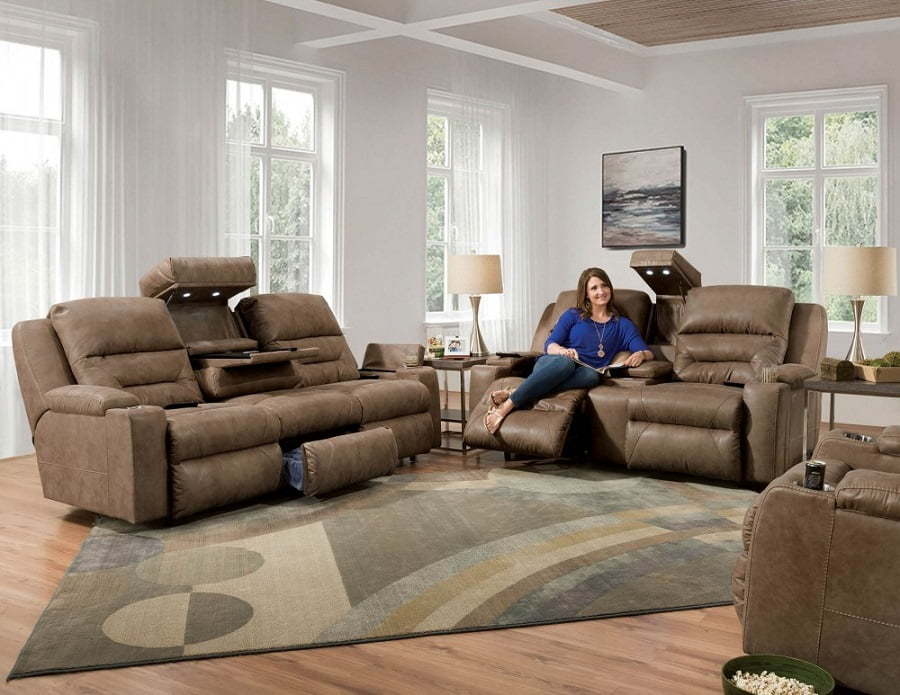 This one might not be a popular choice but this works for those homeowners who like to break the rules on home interior design. Place a diagonal rug across the middle of the sectional so it points to another corner. If you want a creative and playful placement, this is your best bet.
Your living room sofa should be the most comfortable furniture in your home, and an area rug should be that second element that will enhance the comfort, function, and aesthetics in your space.
Benefits of Placing a Rug in Your Living Room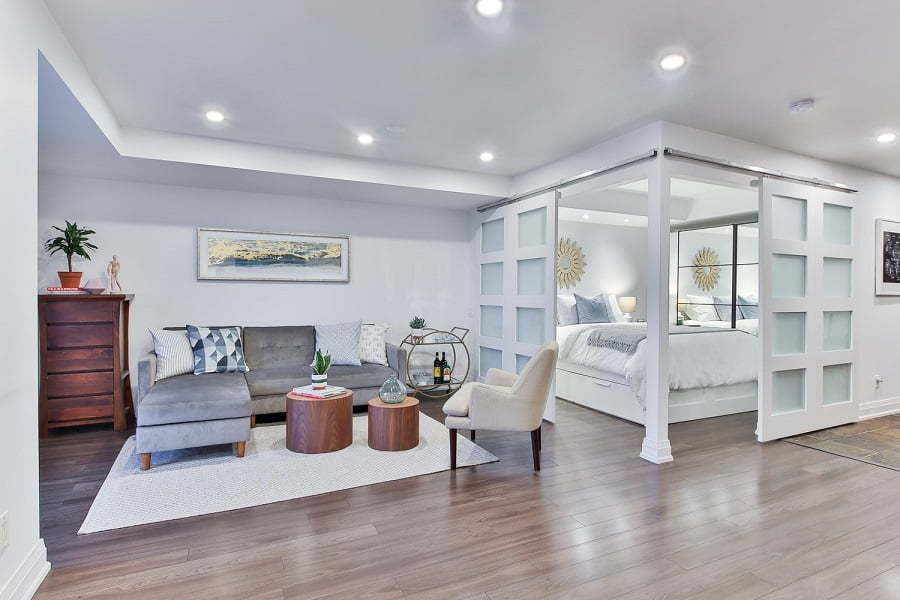 Some homeowners deliberate whether or not a living room with rug decoration is their cup of tea. While the topmost priority of a rug in living room spaces is for aesthetics, most homeowners fail to assess the benefits of rugs, in general. Whether you're decorating a rug for a bedroom or home office, an area rug brings these 5 benefits:
Provides Comfort
Your home flooring could either have laminate, tiles, or hardwood. Let's admit. Sometimes, it can be hard walking on these rigid surfaces. Although these materials don't scar your feet, walking around your home the entire day will take its toll on the soles of your feet.
The first benefit that rugs offer is comfort. It braces the impact of your footsteps. It carries all the weight and absorbs the pressure of stepping on hard surfaces.
Reduces Creaking Sounds
Whether you're placing a rug in bedroom or dining room areas, it reduces the creaking sounds the floor makes. Moreover, an area rug also absorbs the sounds from the atmosphere. Compare the difference between echos in an area with and without an area rug.
Absorbs Allergens
Rugs are great for people with allergies? Not a lot of people might find this true as we've always been advised that rugs absorb allergens, which might be bad for people's allergies as they're exposed to the rug's surface. However, people on the other side of the spectrum also believe that rugs prevent triggering your allergies. And it's all because of the same reason — it absorbs the allergens and prevents it from the air where you can inhale it!
Offers Insulation
In areas where the weather is always cold, it can be quite uncomfortable walking on cold floors. A big-size rug can cover and insulate. Placing a pad under the rug can also help increase insulation and provide warmth during cold seasons.
Creates a Cozy Space
It's no surprise that sectional sofas with rugs underneath create a cozy atmosphere. And this feeling all boils down to how a rug creates overall cohesion in the entire area. This can evoke a particular grounding emotion that impacts our energy.
How to Choose the Perfect Rug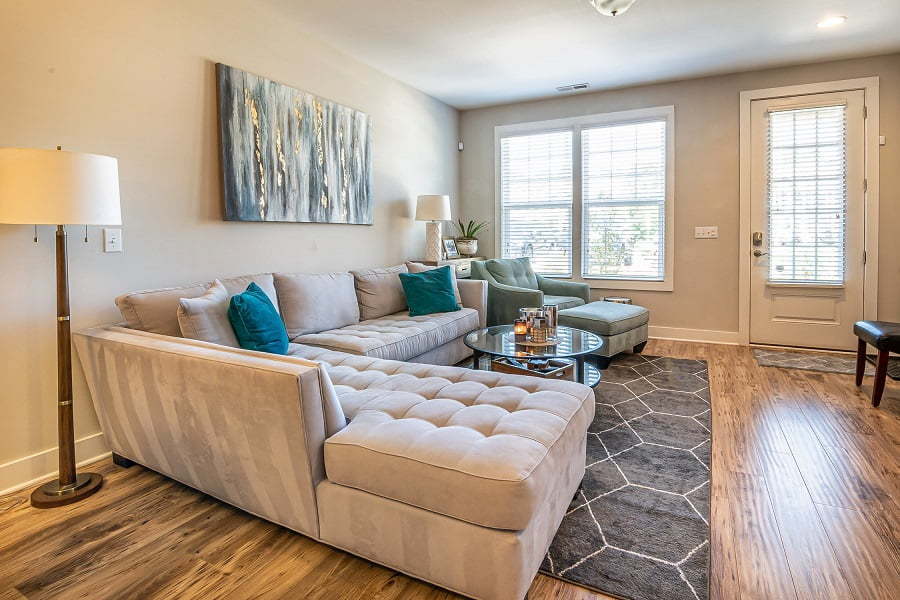 To create visual balance in your home, ensure that you select the perfect rugs. All living rooms' rugs must be an eye-candy instead of an eye-sore. And in this section, we'll tell you how to choose the perfect size, pattern, and style of rugs that will match your room furniture:
Material
First is to think about what kind of material you want for your rug. If you're putting it under your sectional sofa, maybe opting for a dark-colored one can hide stains, especially that your living room is a high foot traffic area.
Other factors to consider are pets and children. Do you have any? Do they frequently hang out in your sectional sofa? You might want to go for a rug that is easy to clean as pets and children can bring in dirt and all those nasty stuff. Stains and spills could be your major problem, so decide if you want wool, cotton, silk, nylon, jute, or polyester rugs.
Patterns
The style and pattern of your rug will solely depend on your preference and of course, the entire look of your place. Moreover, choosing a rug for your sectional sofa will also depend on the color and sofa design.
Remember two things when thinking of rug design ideas:
If your sofa has a solid color, select a patterned rug.
If your sofa has patterned upholstery, select a solid-colored rug.
Size
The rug sizes for your room will also depend on how you place it under your sectional sofa. Although there is no rule of thumb when it comes to the right size rug, here are recommended sizes:
Room (5×7 feet) — Rug (3×5 feet)
Room (7×10 feet) — Rug (5×8 feet)
Room (10×12 feet) — Rug (8×10 feet)
Room (11×14 feet) — Rug (9×12 feet)
Room (14×17 feet) — Rug (12×15 feet)
Liked this article? Here's what you can read next: