Last updated on November 17, 2021
Wondering what type of kitchen countertops are the easiest to maintain? Several factors contribute to it. And we lay them down to answer the question in this post.
Revamping a kitchen is not an easy task because there are many things to purchase, such as cabinetry, decor, and appliances. That's why, if you don't know where to get started, it is a good idea to start with kitchen countertops.
In this regard, one thing that worries many homeowners is which countertop is the easiest to maintain. To help you make an informed decision, you will find a list of all the low-maintenance kitchen surfaces in this article. 
Which Countertop is the Easiest to Maintain?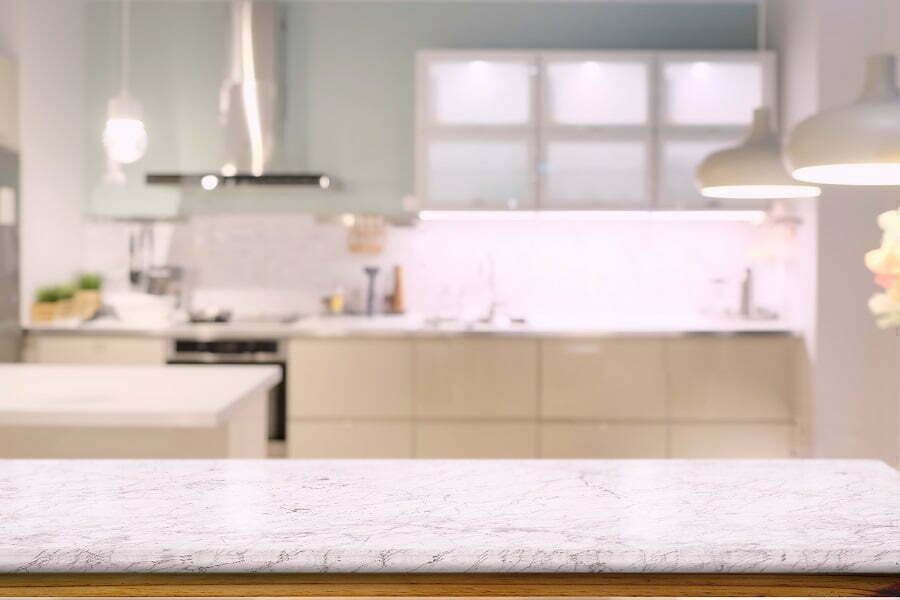 Now that we have explained how to choose the ideal countertop for any kitchen, we will discuss the easiest surfaces to maintain. In this list, you will find several options, and for each one, we will tell you how to do the maintenance.
Quartz
Even though many people like the look of natural stone in their kitchen, these options come with several downsides. Also, all of these surfaces are difficult to maintain since homeowners need to observe more precautions. That's why sometimes it is better to look for an engineered stone, in this case, quartz.
The great advantage of this material is that it is low-maintenance, but at the same time, it resembles the look of natural stone. Caesarstone is one of the top manufacturers of quartz countertops in the market, and the best part is that they have a unique catalog of options for your kitchen.
Laminate
When people start thinking about getting a kitchen countertop, they consider expensive and luxurious options such as marble. However, it is possible to find affordable alternatives that create a great look and are easy to maintain. One of these options is a laminate countertop.
Laminate surfaces come in a great variety of tones and finishes to match different kitchen designs. What makes these countertops low-maintenance is their nonporous feature. This means it won't absorb any liquid. To clean it, only use some water and a soft cloth. The price per square foot costs $20-$50.
Recycled Glass
One great thing about our modern society is that every day more people show concern about the environment. People now want to purchase only green products that won't damage the earth. For all those eco-friendly homeowners, a recycled glass countertop is the best option. The product is fairly new in the market, but it does offer a very attractive look.
To maintain a recycled glass countertop, homeowners won't need to apply a seal every year. There are various options when it comes to cleaning. Either use a sponge and some water, or just the common method; all-purpose cleaner and paper towels.
Stainless Steel
A stainless steel countertop is a perfect choice for all those homeowners who have always dreamed about having a chef's kitchen at home. Plus, from the list in this article, this is the easiest surface to maintain. To clean stainless steel countertops, the only tools needed are some water, a sponge, and soap.
A unique feature that a stainless steel countertop offers is that the material can withstand heat. That means you can place hot pans over it, and it won't crack or get stained. As a result of this feature, some homeowners decide to install the countertop in the bathroom.
Soapstone
If you are wondering what stone countertop is easiest to maintain, the answer is soapstone. This material is becoming popular in the last few years, not only for its affordable price but also because of its durability. This surface is also antibacterial and stain-resistant. These characteristics make it perfect for every regular household. Even though soapstone doesn't need any sealing, some people apply mineral oil to even the tone.
A soapstone countertop is ideal for kitchens with a rustic style. Plus, soapstone is part of the few materials that can withstand thermal shock. That means it's safe to place hot pans on the surface.
How to Choose the Perfect Countertop?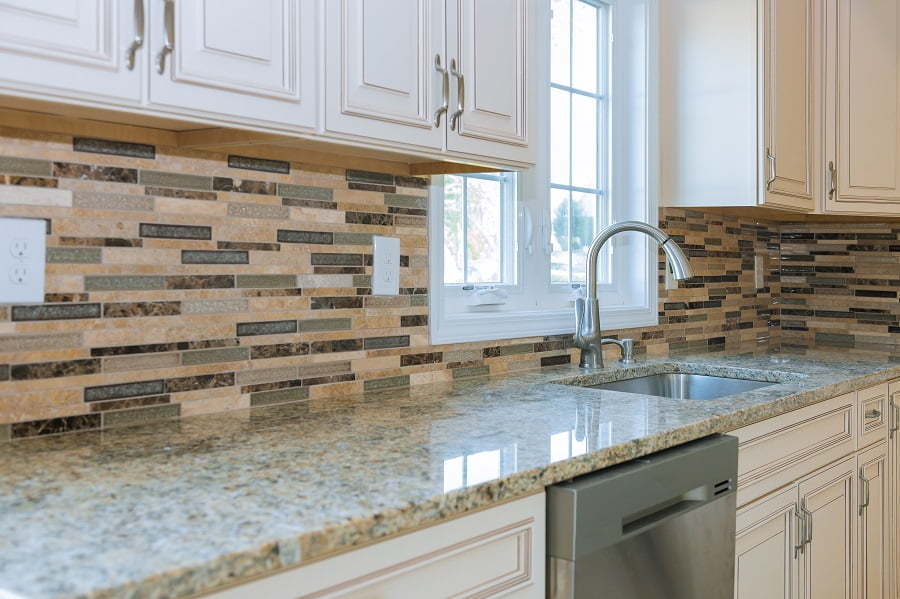 While it is crucial to find out which countertop is the easiest to maintain, there are other things to consider. We know that this can become an overwhelming decision, but don't worry. Here, we will talk about some key factors that can help narrow down the options.
Kitchen Design
This is a key element all homeowners need to consider when choosing the ideal countertop for their kitchen. The desired design will help determine which countertop would be perfect. In case several options work, just take some samples home and try them out. This way, you will have an idea of how the surface will look.
Durability
Even if the countertop homeowners' purchase is easy to maintain, that won't matter if it is not durable. That's why it is crucial to ask if the surface is heat, scratch, and stain-resistant. Further, make sure to investigate if the countertop can chip or crack easily. In this regard, the best countertops are engineered ones because natural stones are likely to have more imperfections.
Daily Activities
Many homeowners prefer to eat outside or order food, while others like cooking every meal and experimenting in the kitchen. It is important to get a countertop that can withstand your lifestyle. To confirm this, talk to your manufacturer and tell them your concerns.
Cost
This is especially crucial for all homeowners that have a tight budget for their kitchen renovation. Some popular options, such as granite, are affordable. However, there are others like marble that are expensive. Keep in mind that if you like the look of natural stone, but there is not enough money to purchase it, there are some cheaper materials that look like it.
The Takeaway
Now you are aware of the countertop materials that offer the lowest maintenance for everyday use. Depending on your budget, aesthetic, and preference of color and pattern, there is a low-maintenance countertop option to suit any household. 
Refer back to this list to decide the option that works best for your needs.
Recap
Liked this article? Here's what you can read next: