Last updated on May 8, 2023
Here's how to arrange the perfect rustic centerpiece for your home decor. Read on!
As the weather (finally) heats up and you're looking forward to spring and summer hosting events, it is time to spruce up your home decor accordingly. In the past, you might have bought fresh flowers on a weekly basis to keep your home looking bright and beautiful.
However, this isn't exactly budget-friendly. Instead, try making a gorgeous floral centerpiece with sood flowers that will never die or wilt away. Here are a few of our favorite tips and tricks for creating rustic home decor centerpieces that will look stunning and last forever. 
Find Rustic Flowers and Supplies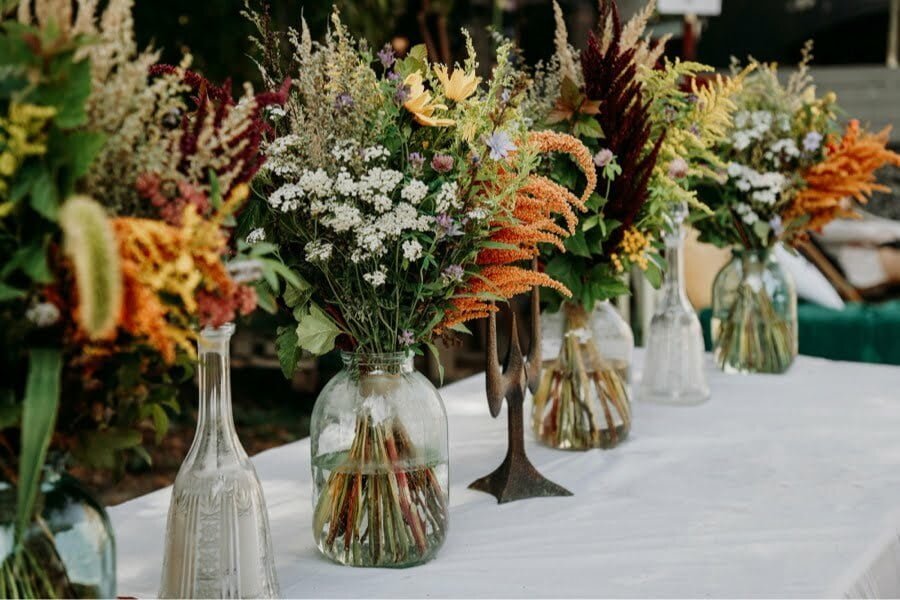 First off, you'll want to gather some rustic flowers and supplies to help you create the perfect centerpiece. Sola Wood Flowers will be your best option for long-lasting, rustic flowers. These faux flowers are made from natural tapioca root and are beautifully paired with preserved floral filler and faux greenery.
Wood flowers can also be custom dyed to any color imaginable. No matter how unique your decor color scheme may be, you'll be able to find wood flowers that match. So, to prepare yourself to put together your centerpiece, gather together a bunch of wood flowers, filler, greenery, floral foam, and some other rustic decorations. If you're looking for more rustic decorative elements, check out our suggestions for finishing touches below!
Start With Large Flowers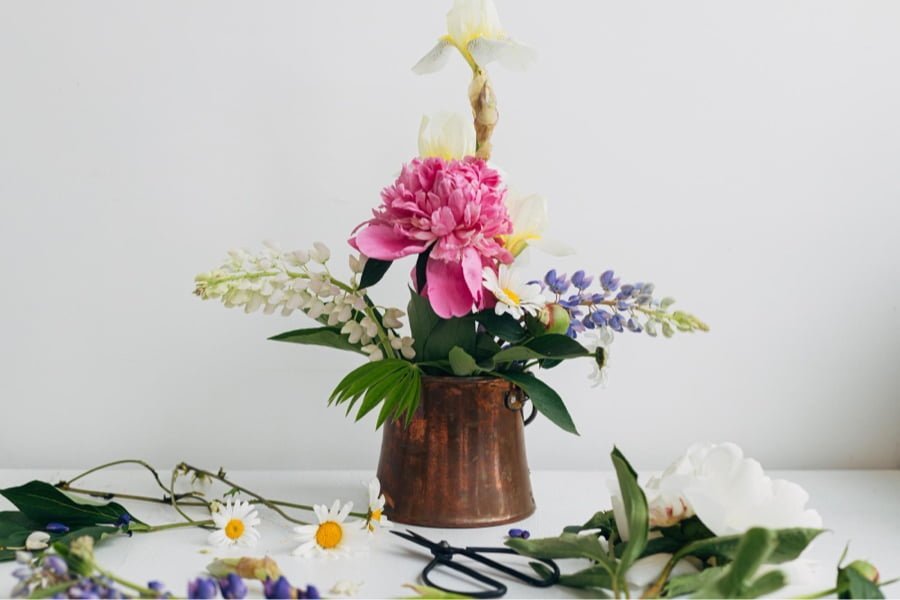 When you're creating your centerpiece, you'll want to start with your largest "focal" flowers. These flowers usually showcase some of your favorite colors and textures that you want to be the main focal point of your centerpiece.
Sunflowers, peonies, daisies, and garden roses are common examples of popular focal flowers. Insert your flowers into the floral foam in your centerpiece vase and you'll be ready to continue your arranging!
Add Smaller Flowers and Filler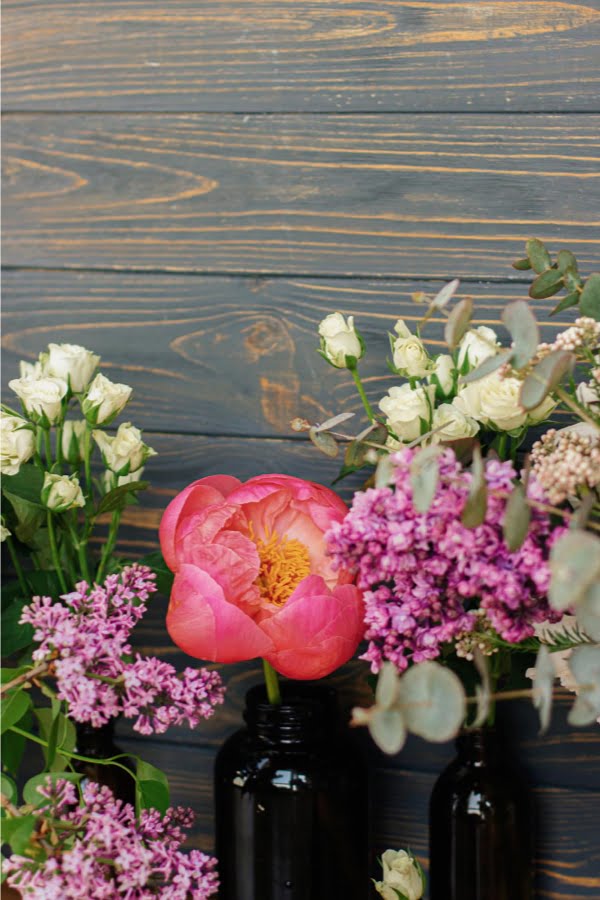 Next, you'll add medium-sized and small-sized flowers to your rustic centerpiece. These flowers should be mixed in to add a diversity of color, style, and texture to your arrangement.
You can also add in small, delicate floral filler, such as lavender or baby's breath. Floral filler will be perfect to fill in any gaps in your arrangement and add a detailed, professional look to your centerpiece. 
Fill the Gaps with Greenery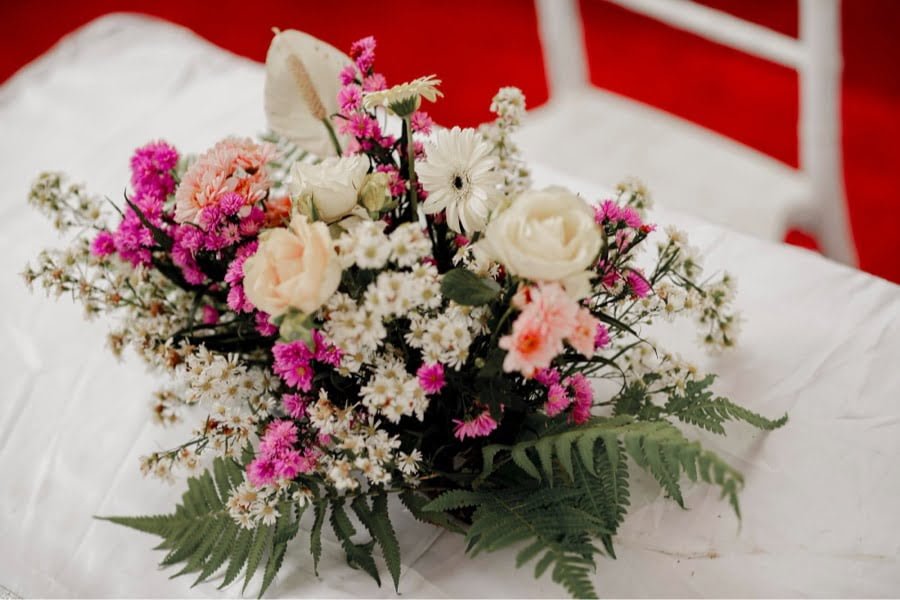 Finally, you'll fill in any remaining gaps with small sprigs of greenery. You can also frame your centerpiece with larger pieces of greenery if you wish.
Remember to use the type of greenery that will best showcase the rustic style of your centerpiece, whether that is Eucalyptus or Pampas grass. 
Finish with Rustic Decor Touches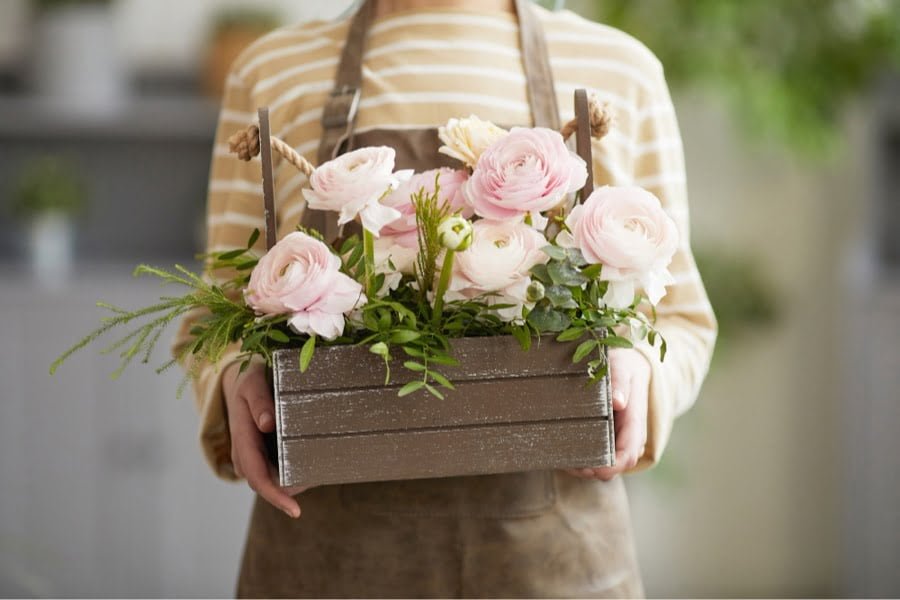 Once all your flowers are in place, you'll be ready to finish up your centerpiece arrangement with some fun rustic decor touches. Here are a few of our favorite suggestions that can truly take your centerpiece to the next level.
Wood Slices
Thin wood slices are one of the best rustic elements that you can add to a tablescape. If you've made a large, bouquet-sized floral centerpiece, a large wood slice can act as the perfect coaster for your centerpiece. Even if you've made bud vase-sized centerpieces, you can find smaller wood slices that will dress up the look of your centerpiece and table.
Boho Frayed Ribbon
Adding a large bow of ribbon is another great way to decorate your rustic centerpiece. Frayed silk ribbon can add a trendy, bohemian touch to your arrangement, especially when you leave long streamers hanging down from your flowers. If your ribbon is thin, try tying in a strand of lace as well for an extra-country feel. 
Table Runners
Remember, your centerpiece doesn't only have to do with the flowers and greenery that you've arranged. It also has to do with the tablescape beneath your centerpiece. You can embody the perfect rustic vibe by placing your centerpiece on top of a gorgeous rustic table runner.
Linen table runners with frayed edges, burlap table runners, cheesecloth table runners, striped farmhouse table runners, and even lace table runners are all great examples of pretty, rustic table runners that can instantly upgrade your centerpiece. 
Lanterns
If a full, large bouquet isn't quite your style, try decorating a rustic wooden lantern instead. You can create a stunning centerpiece from a structured wooden lantern.
Simply add a circle of flowers around the base with the help of a ring of floral foam. You can also place some wood flowers inside the lantern if you aren't planning on putting a candle inside. This is an easy and simple way to elevate your rustic style without overwhelming your centerpiece with flowers.
Rustic Vases
When you're trying to give your centerpiece an especially rustic touch, you need to find the perfect vase. Antique ceramic or enamel pitchers can instantly upgrade your centerpiece to the perfect rustic chic decor piece.
Round tin vases can imitate farmhouse silos in an adorably rustic style. You can also use wooden or tin buckets for a similar effect. If you love gardening and flower planting, using terracotta pots to hold your arrangements would be a great nod to your hobby. If you want a daintier centerpiece, you can collect a bunch of vintage glassware or bottles to use as bud vases.
The more intricate and colored, the better. You can then gather your bud vases together in a shape or spread them out along a long tablescape. Finding the perfect rustic vase will endlessly elevate your rustic floral arrangement. 
So, if you're trying to create a rustic centerpiece, remember the tips in this article! Your gorgeous rustic centerpiece will work perfectly as a home decor piece, but you can also repurpose your rustic arrangement as a wedding centerpiece.
When you create your decor pieces with long-lasting wood flowers, you'll be able to reuse and repurpose your arrangements for years to come. Do you want to make a rustic centerpiece but still aren't sure how to get started? You can also check out this blog on rustic wedding centerpieces from Martha Stewart for additional inspiration!
Recap
Liked this article? Here's what you can read next: