Last updated on January 27, 2021
Looking for ideas to add some cozy charm to your farmhouse bathroom? Here's an epic list of 100 brilliant ideas for your inspiration.
While bathrooms are often the smallest spaces in a home, you can still make a big splash regarding your farmhouse bathroom style. Wall choices like color, paneling, wainscoting or tiles can significantly enhance the small room and turn it into a space everyone will enjoy visiting. Accessories like wall hooks, towels, bathmats, mirrors, vanities, flooring, shelves, and tubs all synergize to communicate your style.
When it comes to cultivating a farmhouse decor style, it can be as simple as adding some vintage-style accessories and weathered-wood pieces. Textures are another great way to add some panache to space, regardless of how small. If you are looking to elevate your bathroom decor style, check out the following 100 farmhouse bathroom decor ideas for inspiration.
Rustic Furniture
Who says there is no place for furniture in a bathroom? Using a rustic refinished side table as a double farmhouse sink vanity is the ultimate way to bring that vintage rustic vibe into space. Holes can easily be cut out for the sinks, and the unit's inside is perfect for housing plumbing and storage beneath.
Farmhouse-Style Sink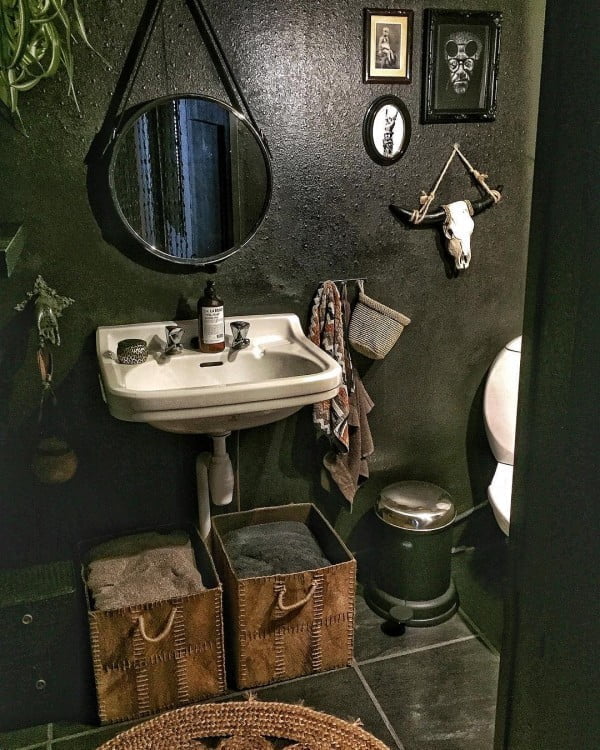 Adding a farmhouse style sink is the ideal way to add some rustic charm, as with a mirror above, it becomes the main focal point wall in the space.
Wire-Basket Shelving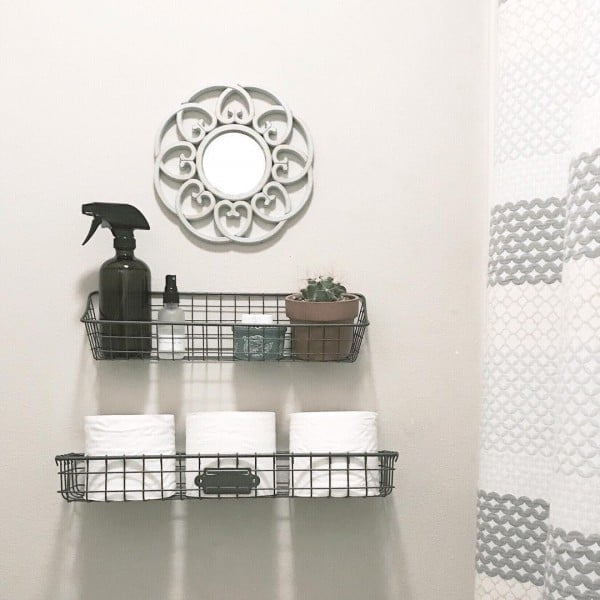 Wire-basket shelving is vintage, farmhouse, and rustic bathroom decor all at the same time. They also make practical additions by providing storage for decor or bathroom items like toiletries, washcloths, and toilet paper.
Wooden Bath Caddy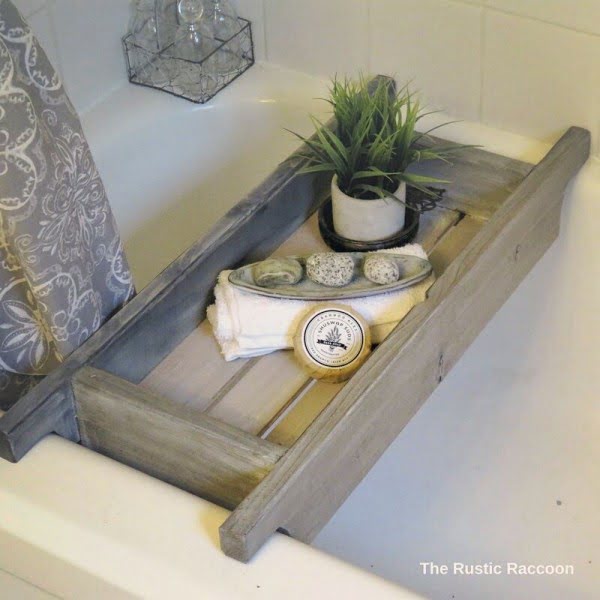 Bath caddies are the ultimate in bath-time luxury. Bathers can enjoy the dry surface space provided while the wooden look charms up space.
Farmhouse Bathroom Wall Sign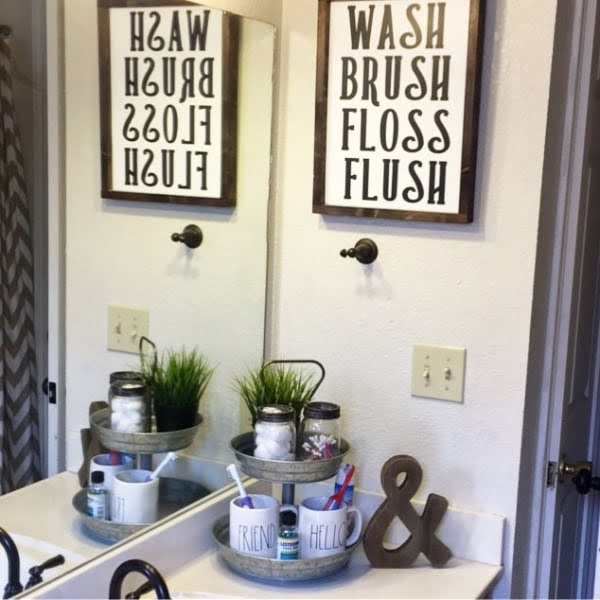 Adding a wall sign to a bathroom adds a splash of graphic fun to space, and the rustic wood frame is warm and charming to behold.
Farmhouse Bathroom Open Shelving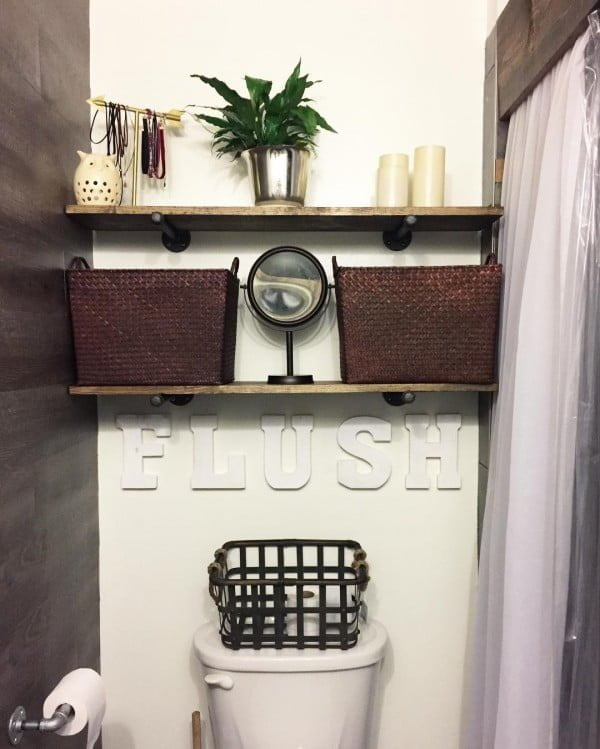 Open shelving made from stained wood planks represents the perfect union of form and function.
Rustic Wood Framed Mirror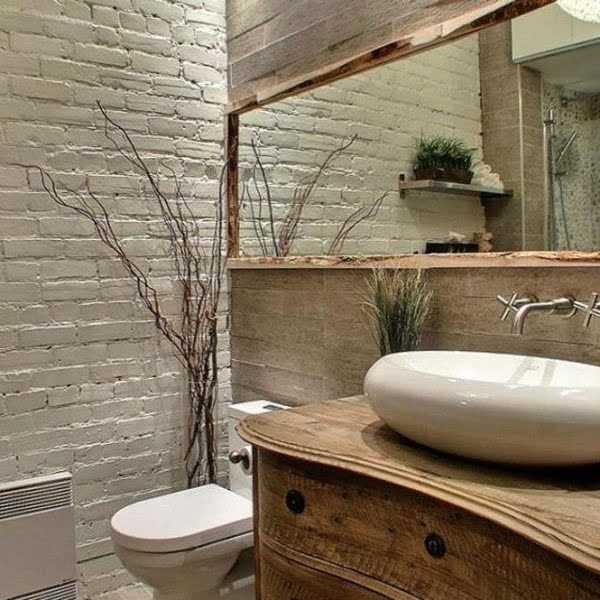 As the wall boasting the sink and mirror is generally the focal point wall of a bathroom, making a big pop with a large-scale mirror framed in rustic wood lends that highly sought-after country feel.
Natural-Stone Sink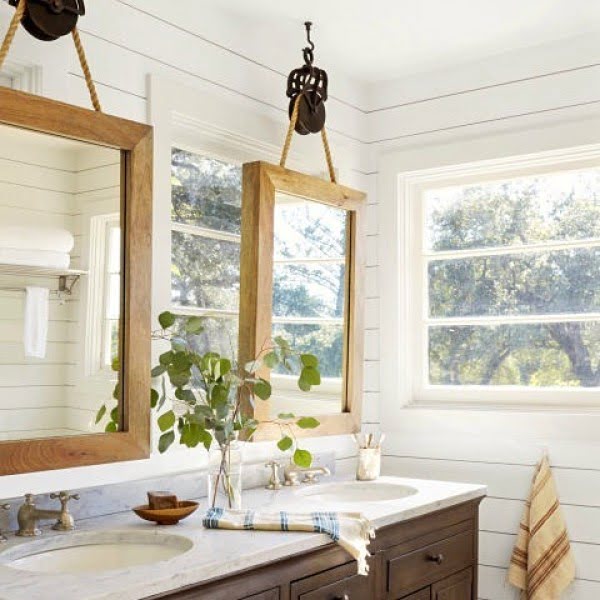 Installing a natural-stone sink is the perfect ode to the outdoors and brings with it that natural and calming mood.
Pulley-and-Rope Hanging Mirrors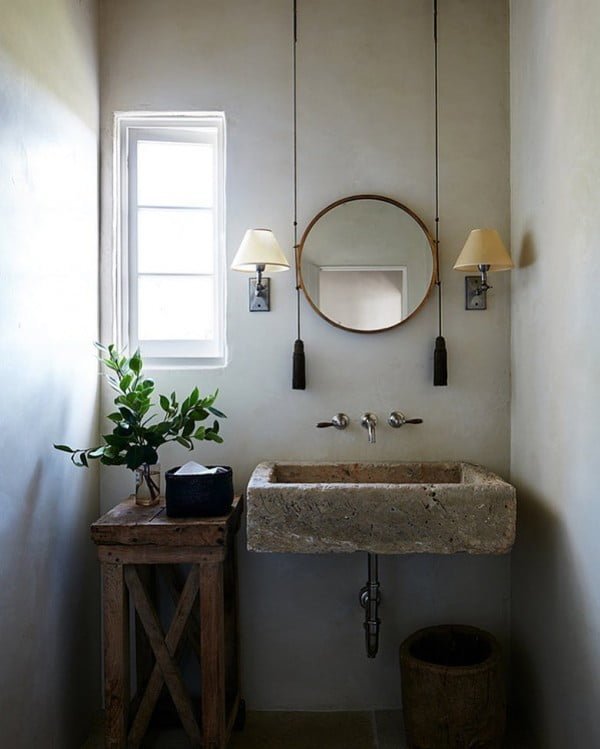 Rather than hanging your mirrors on the bathroom wall in a traditional fashion, why not hang them from pulleys and rope to bring to mind barn-style hardware for the farmhouse feel.
Touches of Wood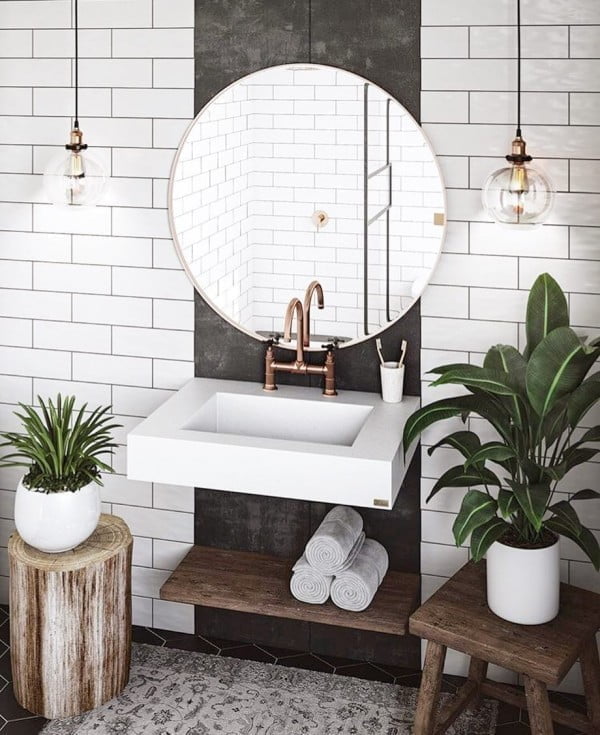 Bringing in some touches of wood, like with a wood stump plant stand and stool, instantly warms up a bathroom by bringing in earthy elements from nature.
Wood Shelf Brackets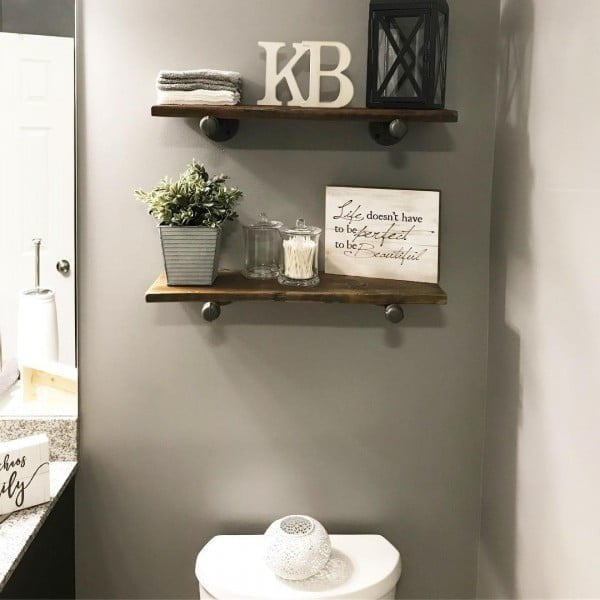 Using basic piping or industrial-style brackets to support wood shelves are simplistic, fun, and functional.
Farmhouse Bathroom Shiplap Walls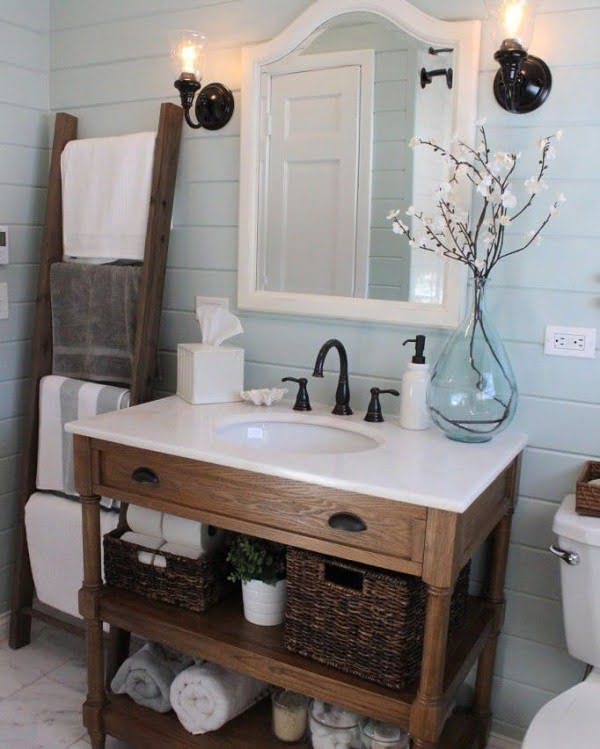 What is cozier and leaves a better impression than shiplap walls? They provide architectural interest and in a bathroom seem the ultimate in cozy cottagey style.
Touches of Galvanized Metal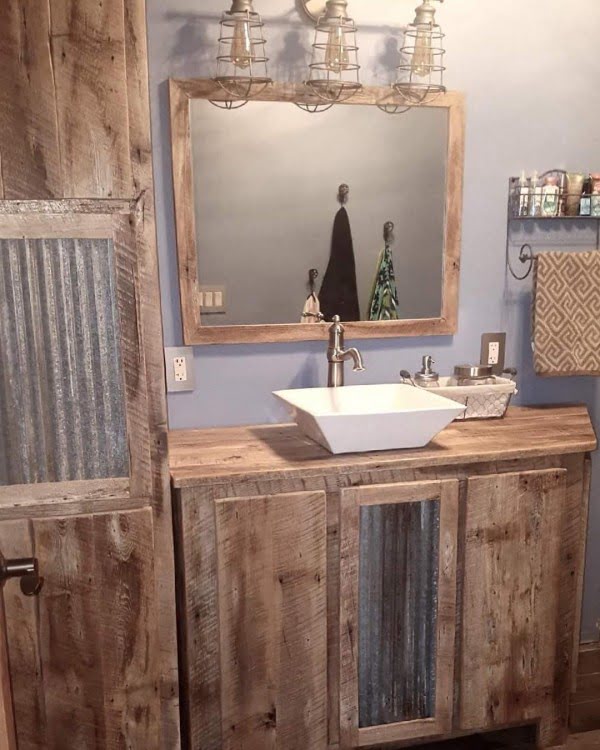 Adding elements of galvanized metal to a vanity and storage unit instantly adds the rustic farmhouse element so many strive for.
Farmhouse Bathroom Basket Storage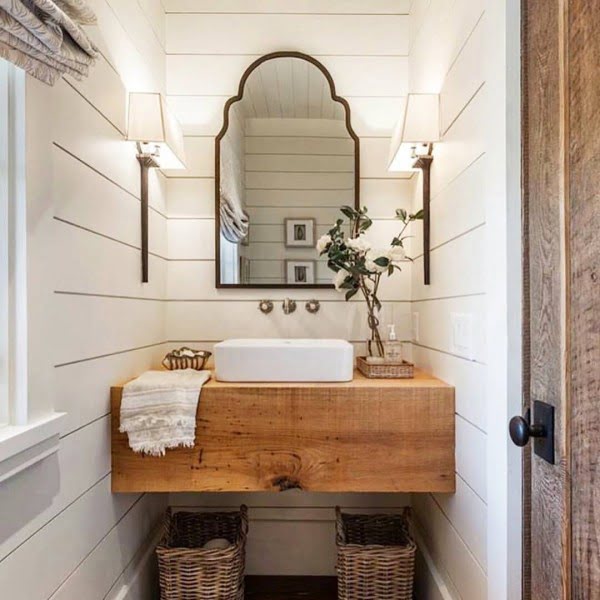 The great thing about pedestal sinks is that you can add unique storage solutions underneath. Adding baskets looks as lovely as they are practical and make perfect holders for extra towels or toilet paper rolls.
Sink Curtain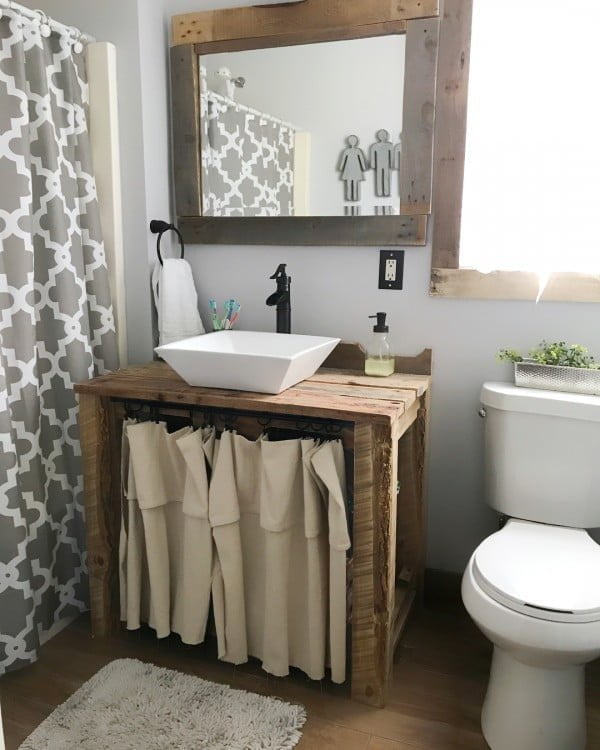 Adding a curtain below a pedestal sink adds a substantial farmhouse-style splash while practically concealing the storage area beneath.
Wood Plank Tiles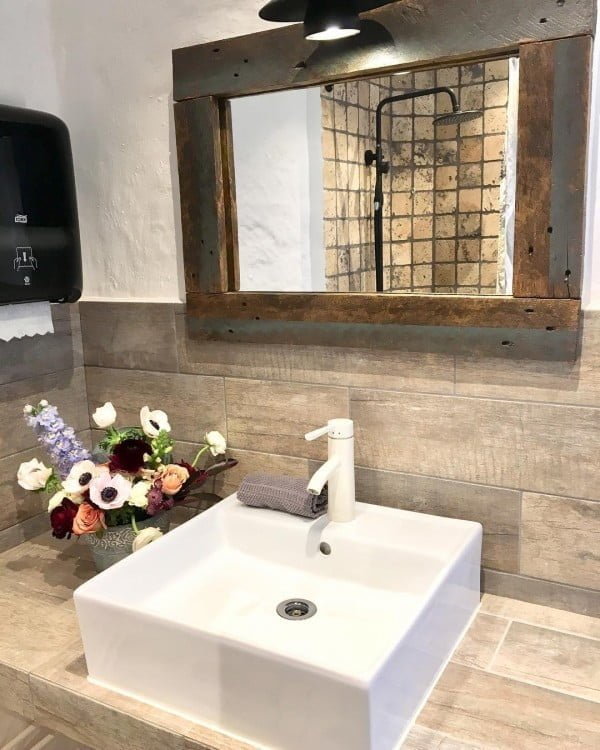 Combining tiles in a bathroom that have textural elements and wood plank tiles adds depth and visual interest to a bathroom.
Farmhouse Bathroom Wreath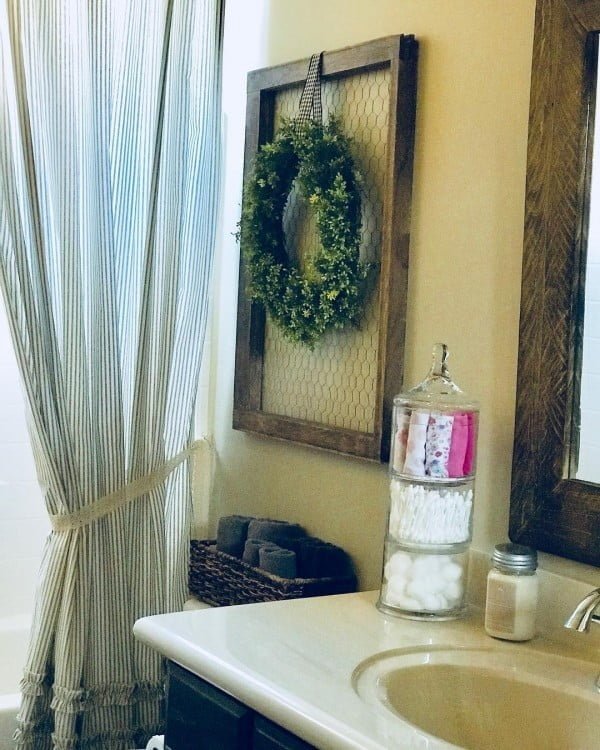 Wreaths are fabulous when it comes to adding a homey, welcoming vibe, and in a bathroom, this is no exception.
Mixing Wood and Stone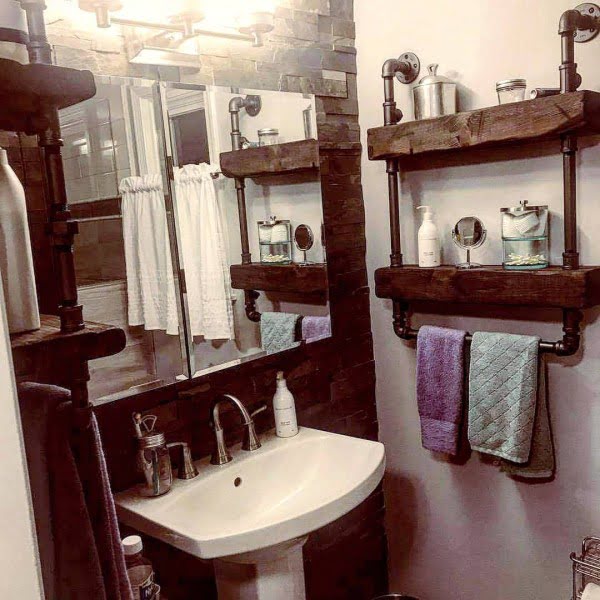 Juxtaposing wood shelves with stone tiles is as rustic as it gets, bringing to mind the natural elements that we find outdoors.
Claw Foot Tub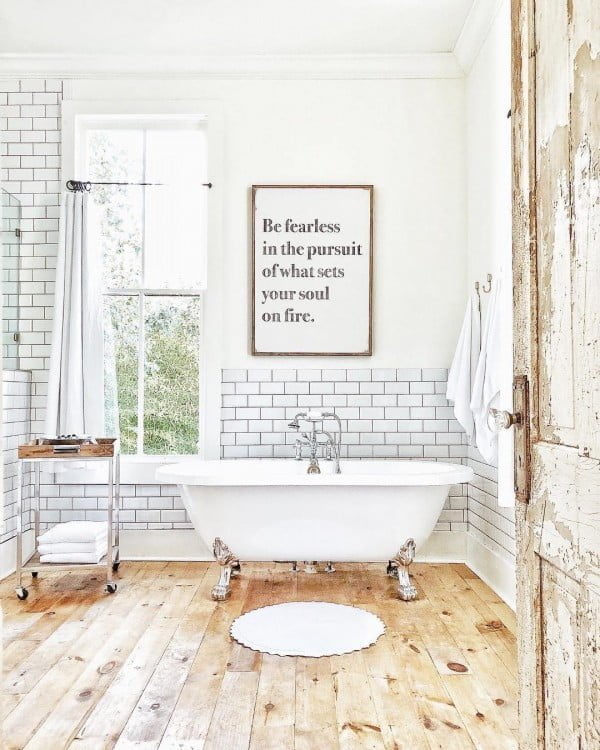 For those wanting to add that vintage bathroom style, a claw foot tub will get you there in a New York minute. For bathrooms that have the space for a claw foot, users will enjoy the luxury of a larger tub, plus the big aesthetic splash it makes in the area.
Rustic Wood Sink Vanity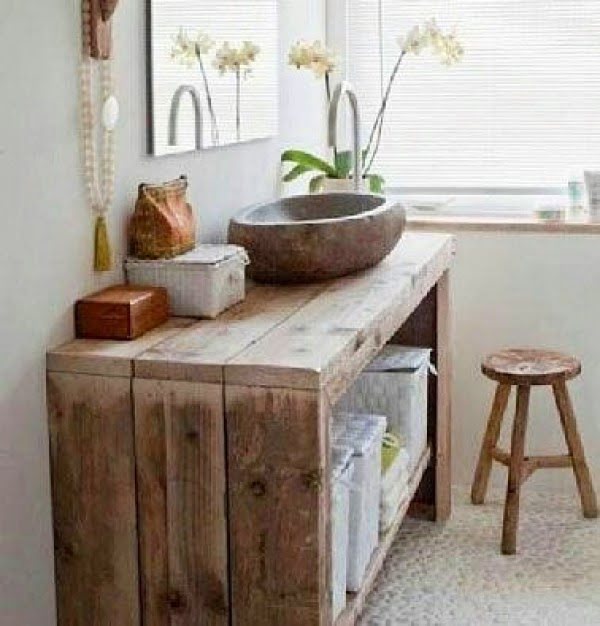 Rustic wood sink vanities are functional and practical. With leaving the front open, storage is easily accessible, while the basket containers beneath add more touches of rustic ambiance.
Admirable and Elegant Farmhouse Bathroom
This adorable bathroom is a comfortable blend of neutral shades, boosted with an oriental carpet and lively blooms. Simple, yet divine!
Extraordinary and Captivating Farmhouse Bathroom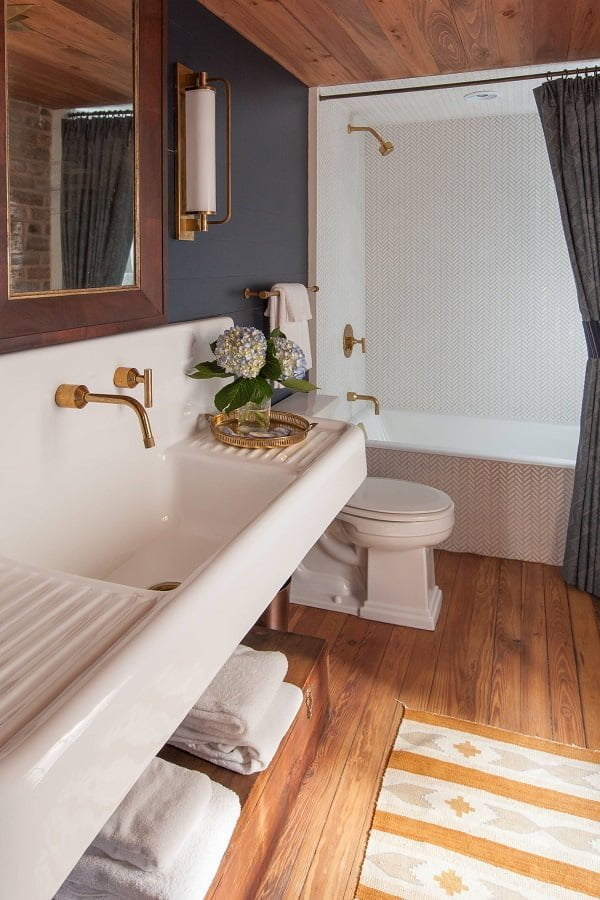 The dark plank ceiling plays well with the navy blue wall, the simplified basin while providing plenty of storage room, too!
Cozy and Inviting Farmhouse Bathroom
The warm, mellow furnishing tones allow the tile walls to get all attention. And, the castle-y mirror is pretty swag as well.
Navy and Pleasant Farmhouse Bathroom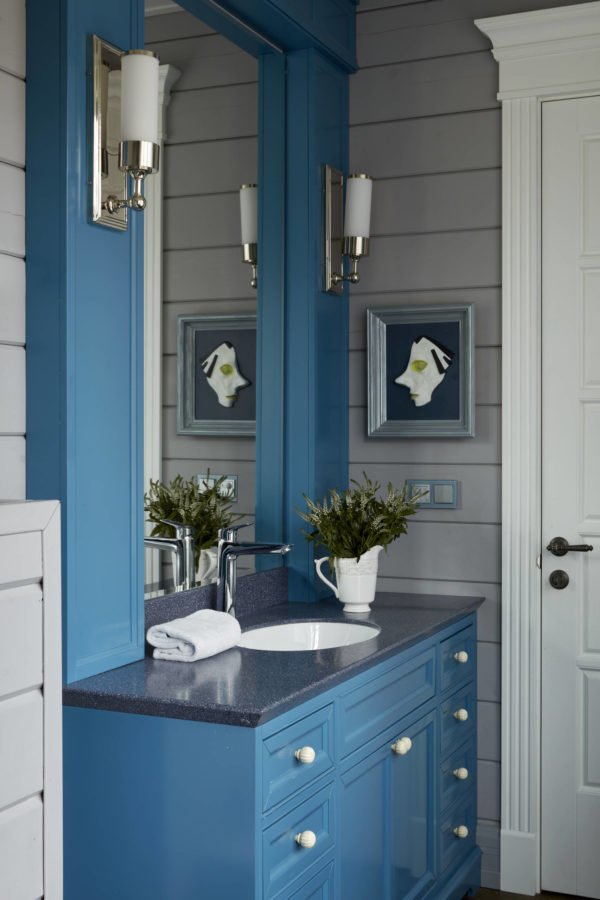 This bathroom uses modern blue decor details and cabinets with marvelously incorporated basin and adorable statement mirror.
Tasteful and Spacious Farmhouse Bathroom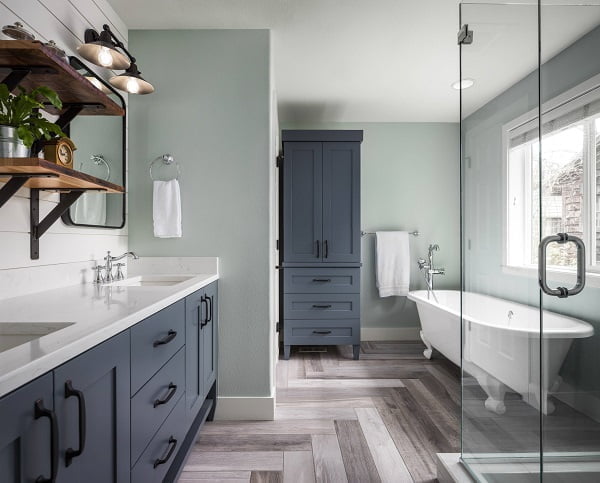 The bathroom cleverly combines dark-shaded cabinets which accentuate the glass shower and comfortable bathtub, giving the room a feel-good vibe.
Vivacious and Playful Farmhouse Bathroom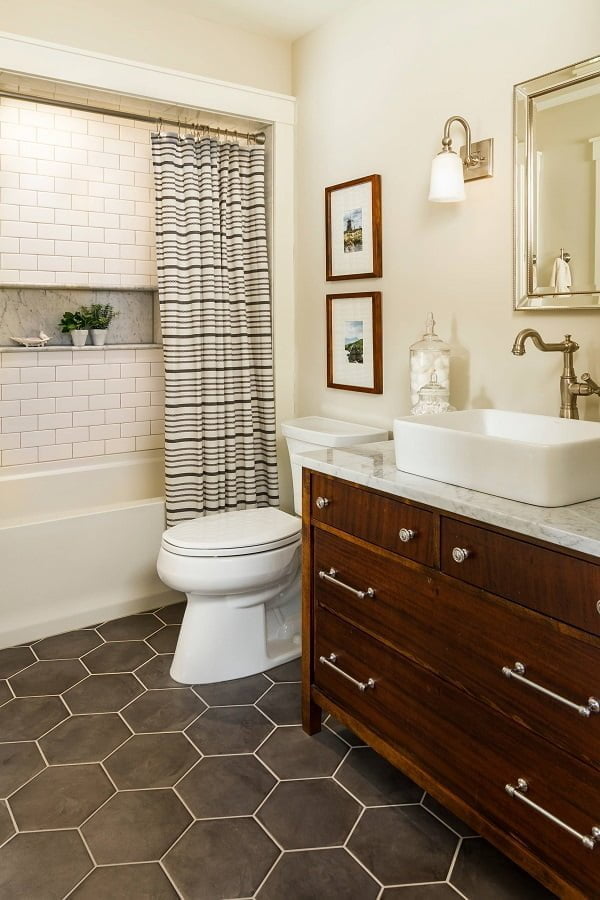 A bathroom which uncovers a very particular sense of taste, matching gray tile flooring, brick walls and black and white patterned showr curtains.
Artistic and Roomy Farmhouse Bathroom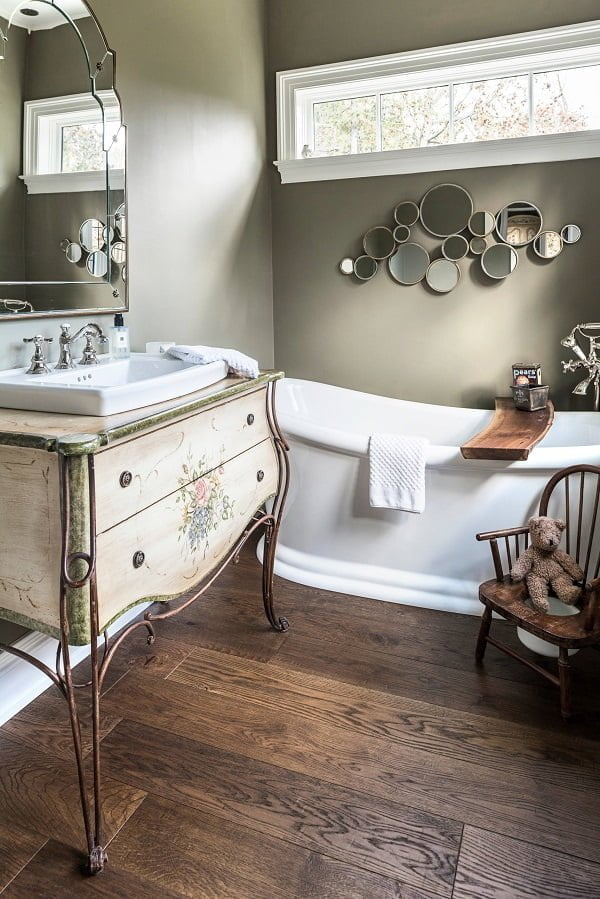 The bathroom offers a living-room-like vibe and concentrates on fashionable decor details, such as a collage wall mirror and retro rocking chair.
Minimalistic, Yet Sophisticated Farmhouse Bathroom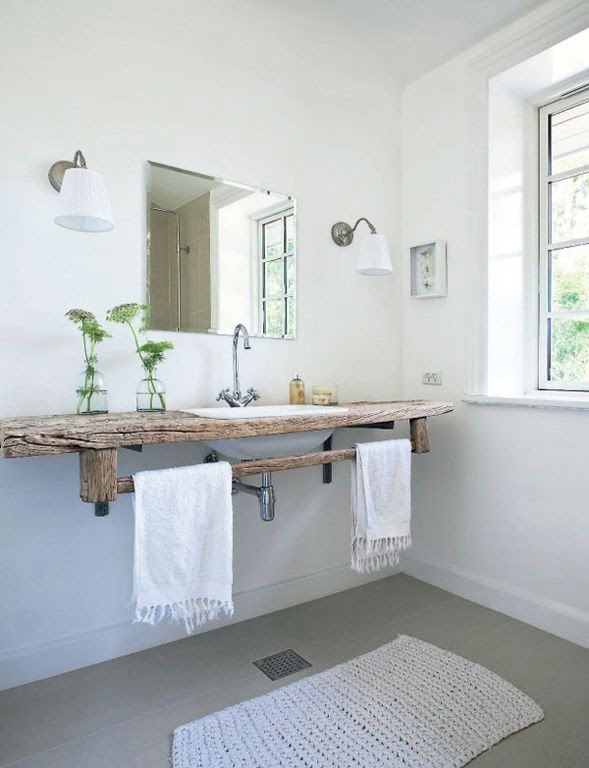 A white open bathroom space, which focuses on the statement wooden sink shelf and sizeable frameless mirror, enriched by nightstand wall lamps.
Fantastic Master Bathroom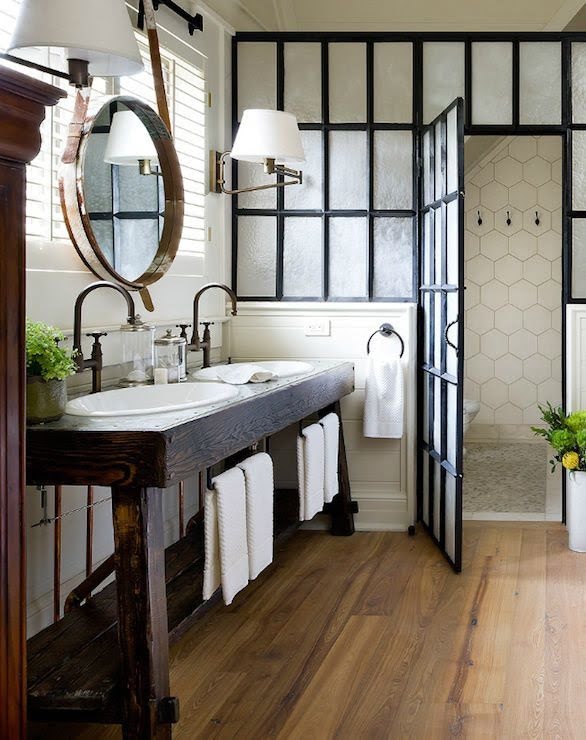 With dark wood flooring and a Japanese-styled paravan shower walls, the bathroom oozes luxury and practicality at the same time.
Double Farmhouse Bathroom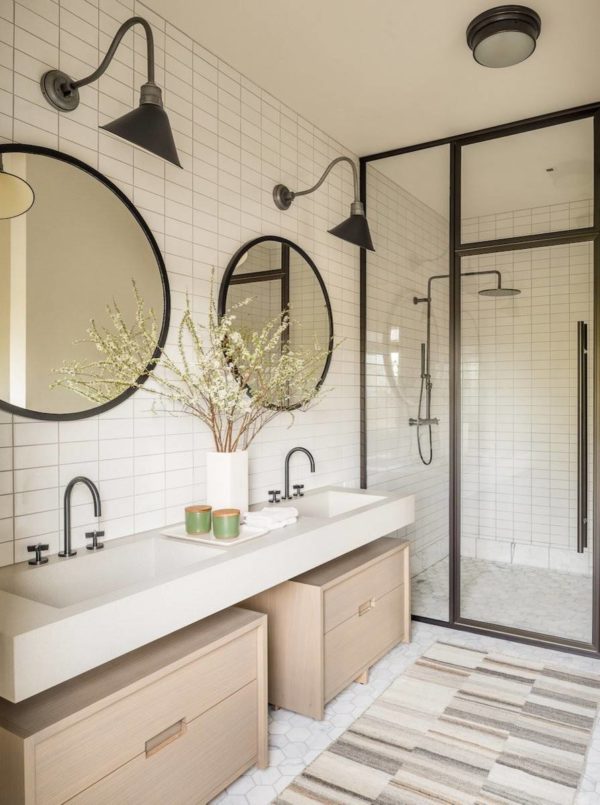 An almost hotel-like bathroom with double mirroring, hanging lights and broad glass shower, depicting comfort and usability all at once.
Fancy and Vertical Farmhouse Bathroom
Although narrow, the bathroom uses warm wooden sink counter and sizeable central window, thus introducing spaciousness and commodity.
Pleasant and Soothing Farmhouse Bathroom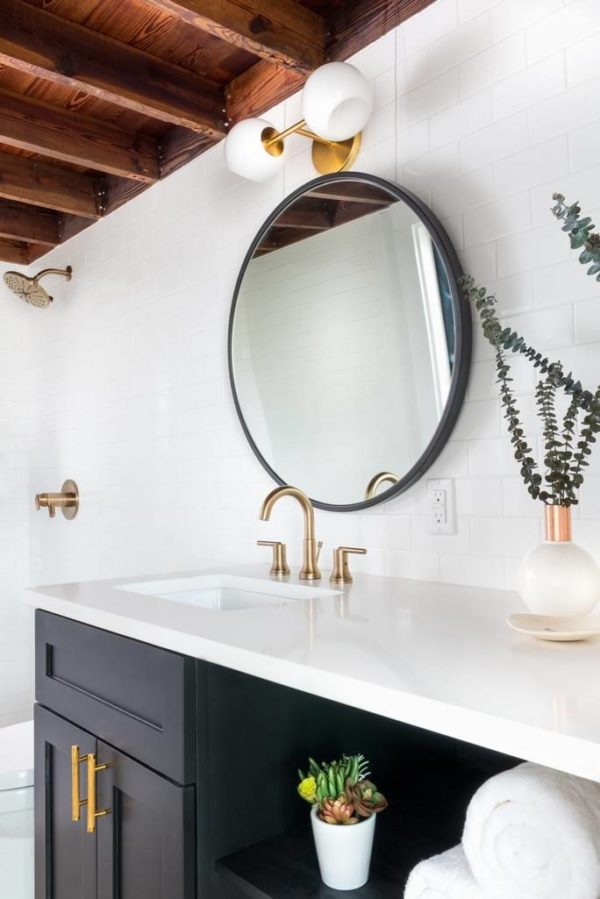 An excellent approach to a modern-day bathroom which uses a focal retro mirror, strategically reflecting the green and golden elements of the room.
Exceptional and Vivid Farmhouse Bathroom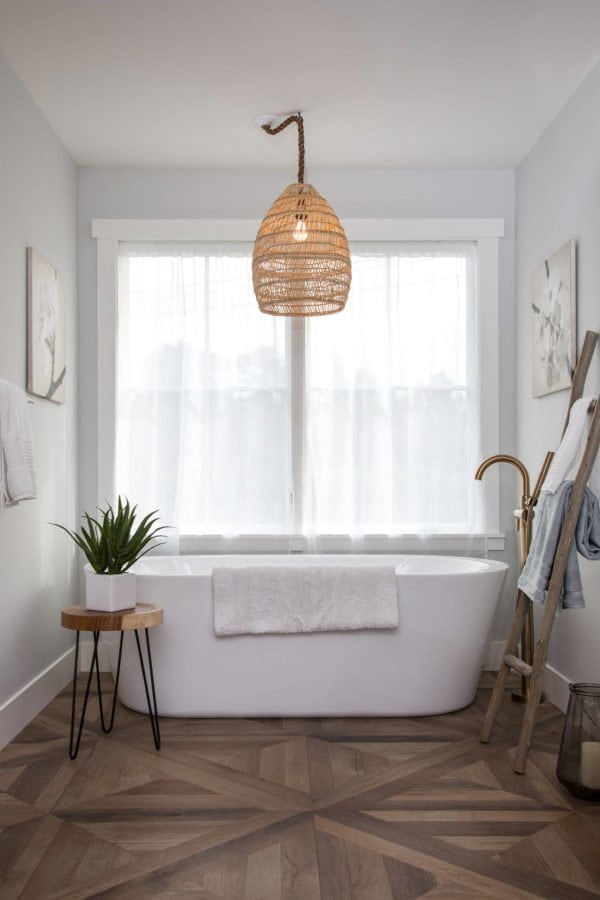 The vintage bathtub emphasizes the handmade wooden lamp and shifts attention to the rustic ladder flooring details.
Neutral White Farmhouse Bathroom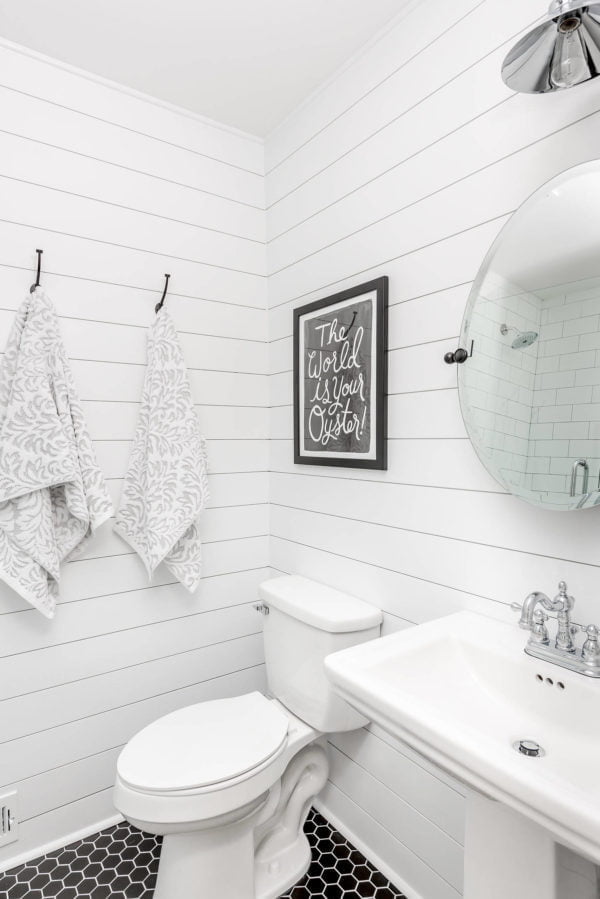 A thoughtful combination of white wooden walls and unadorned metallic details, complementing the non-traditional rearview-like mirror.
Attic-Inspired and Lovely Farmhouse Bathroom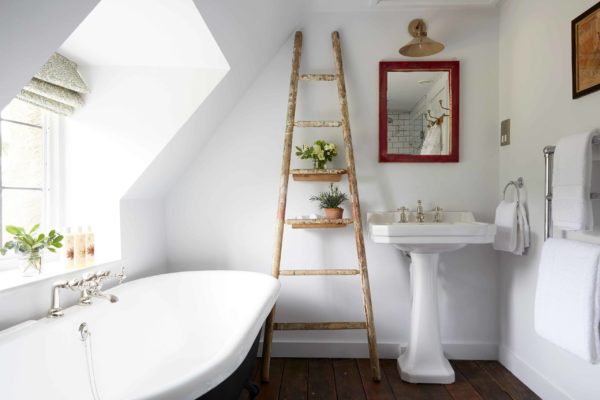 The diagonal wall offers plenty of light, while the wooden details of the bathroom scream tastefulness and a knack for design.
Private and Picturesque Farmhouse Bathroom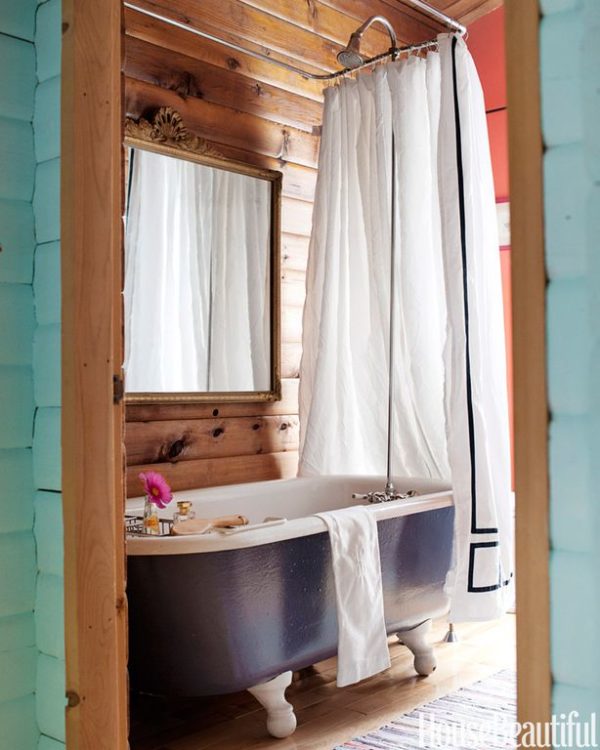 A fairy-tale approach to bathroom design, composed of a central, dark bathtub, and a reflecting renaissance wall mirror.
Rustic and Radiant Farmhouse Bathroom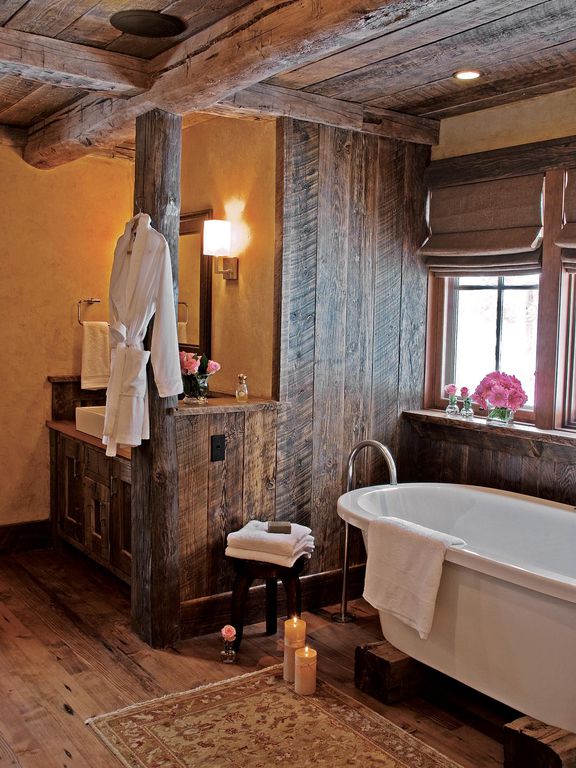 This is a correctly contemplated bathroom, using a wooden plank wall to separate the bathtub and incorporated sink.
Conceptual and Elegant Farmhouse Bathroom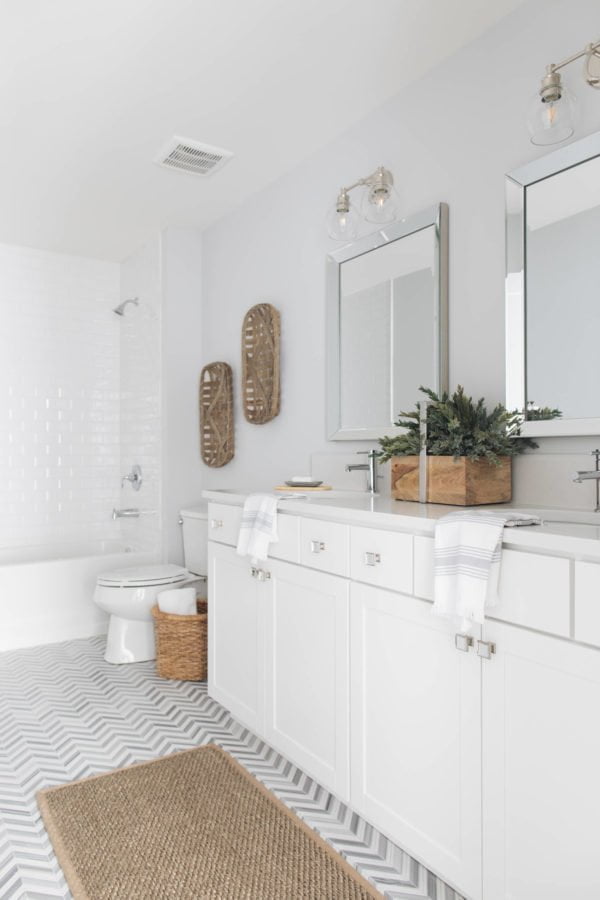 The patterned white-grey floor is a perfect match for the double-metal mirrors and extraordinary white cabinets.
Lively and Flamboyant Farmhouse Bathroom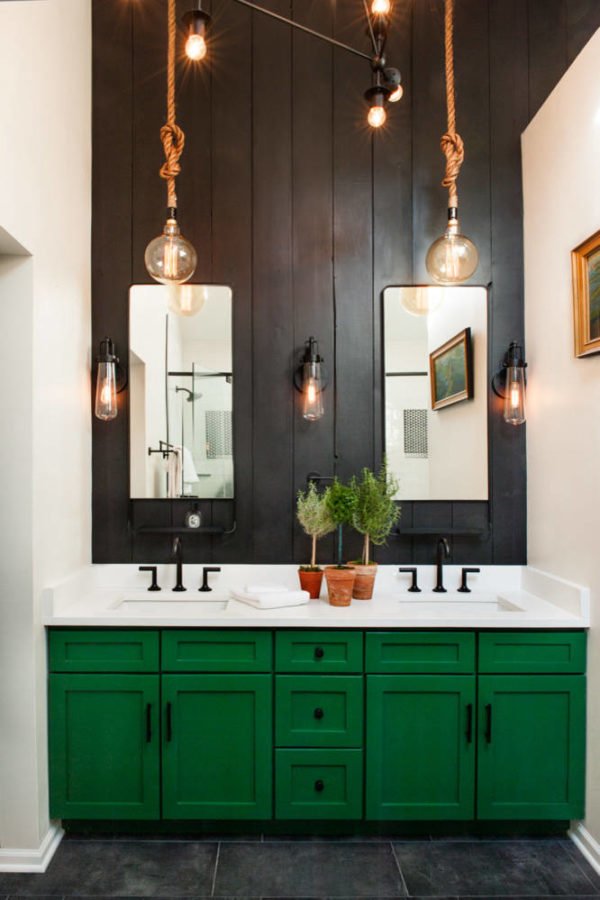 The bathroom introduces deep green cabinets and dark walls, which are ideally intertwined with the rustic, rope-inspired lighting set.
Baroque Meets Brilliance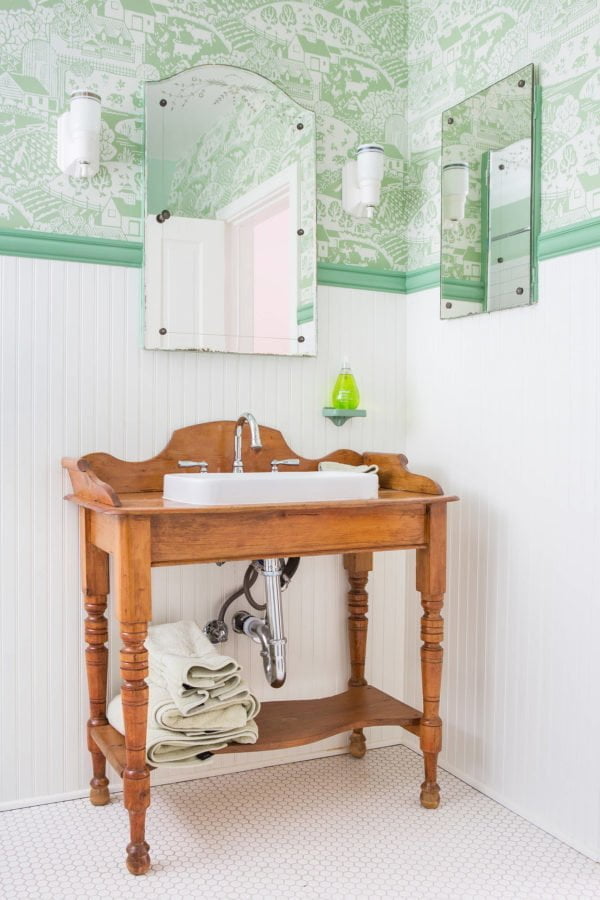 A smart bathroom tactic which uses opposite med cabinet mirrors which introduce light and space into the room, while focusing on the patterned, green wall and wooden nightstand.
Intriguing and Vast Farmhouse Bathroom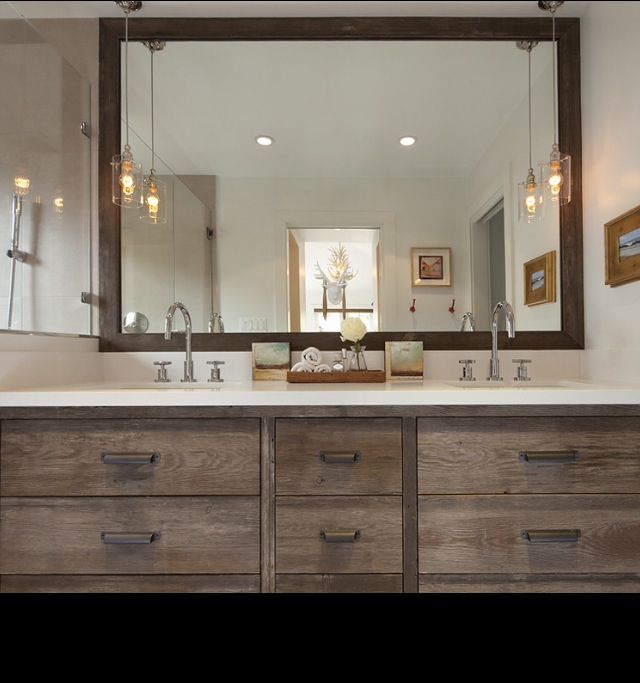 The attention-grabbing mirror offers an insight into this wooden cabinet bathroom with pale walls and phenomenal side lights.
Opulent and Organized Farmhouse Bathroom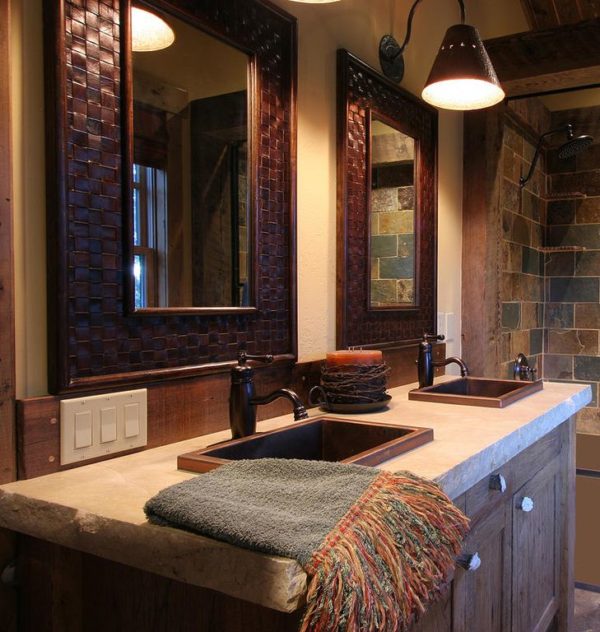 A darker take on a bathroom idea, using patterned wooden mirrors and country cabinet and tile-wall elements.
Lavishing and Welcoming Farmhouse Bathroom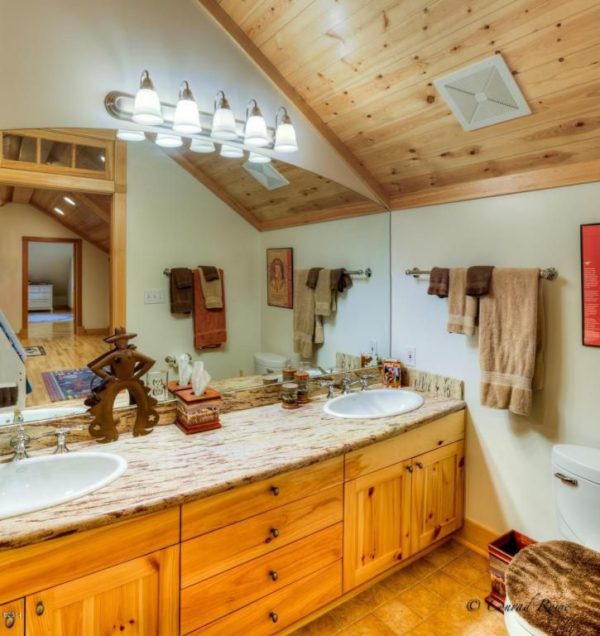 This second-story bathroom uses a diagonal wall to introduce light, and a majestic wooden cabinet set to offer storage space.
Effortless Charm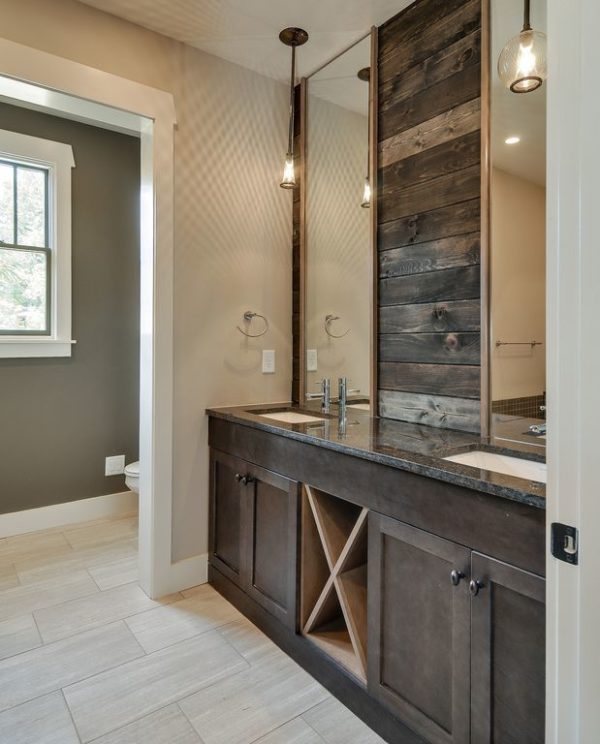 This bathroom uses a half-wall to separate the space in two while delivering plenty of light and dark-wood planks as a contrast.
Stylish and Intricate Farmhouse Bathroom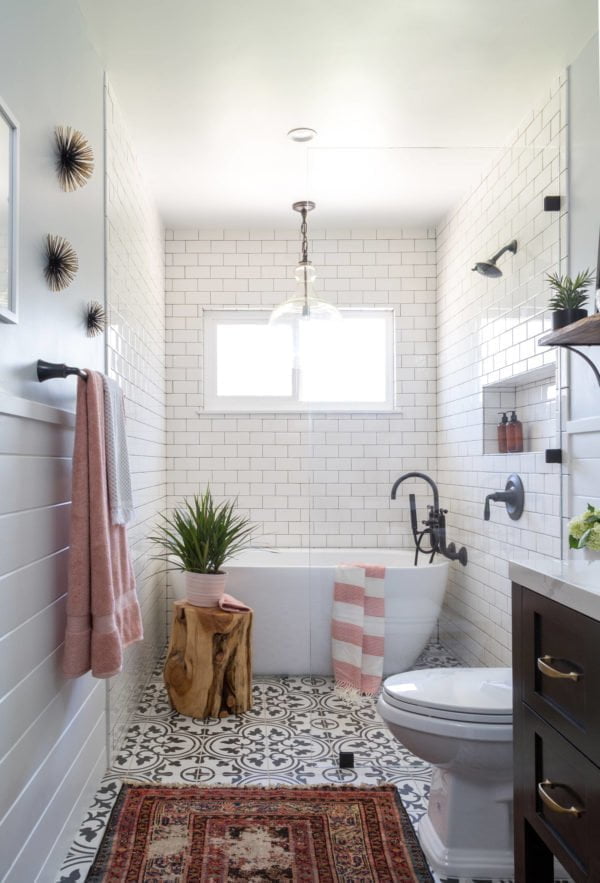 A great mix of patterns and materials, such as Turkish bath flooring and fancy white brick wall, accentuating the stand-alone bathtub.
Bathroom Chic at Its Finest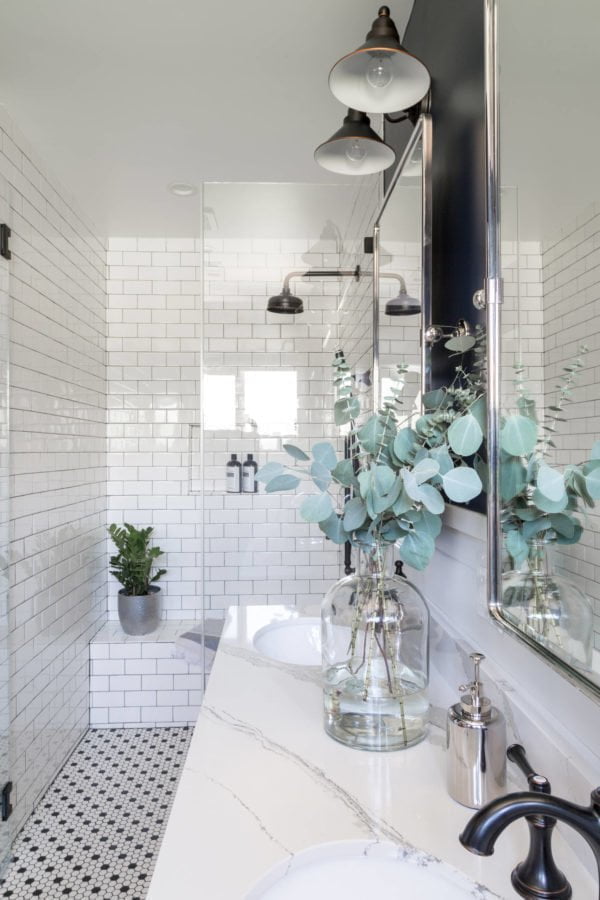 A beautiful bathroom with a dominant double mirror set and a hinged shower door, which combines the glass elements of the room to perfection.
Practical and Peaceful Farmhouse Bathroom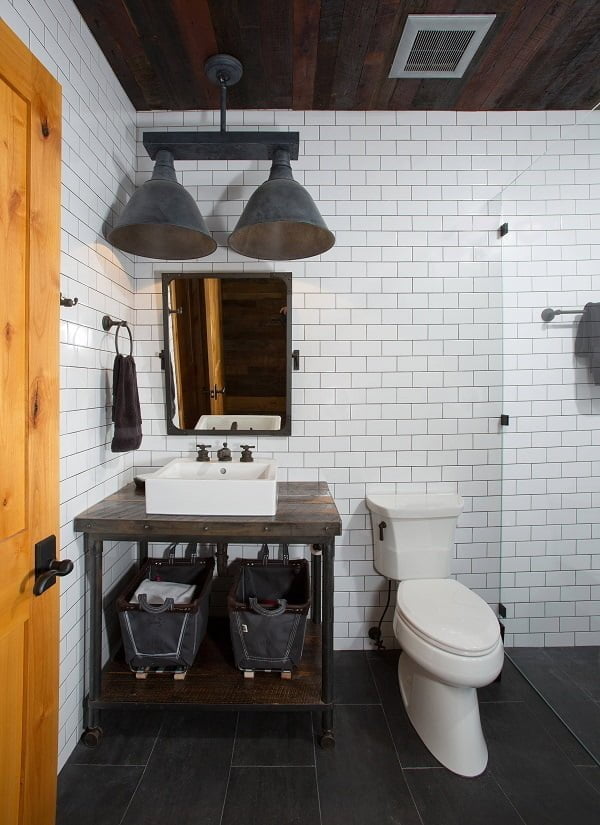 Simplicity is achieved through the white brick walls, double metal lamps and bright table-sink combination with extra storage space beneath it.
Crimson and Heavenly Farmhouse Bathroom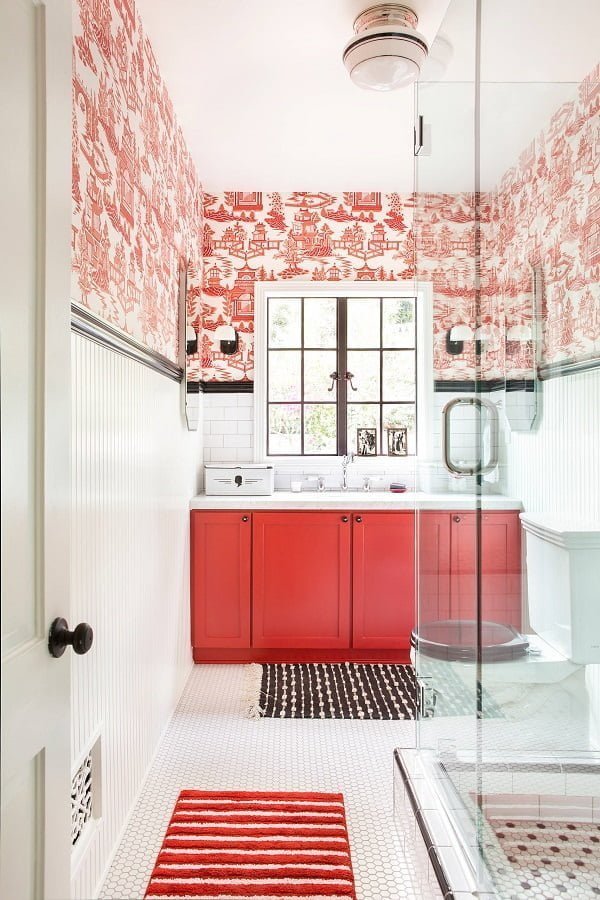 The red patterned wall stickers offer a Chinese vibe to the bathroom, balanced out with the central window placement and square, glass shower.
Orange is the New White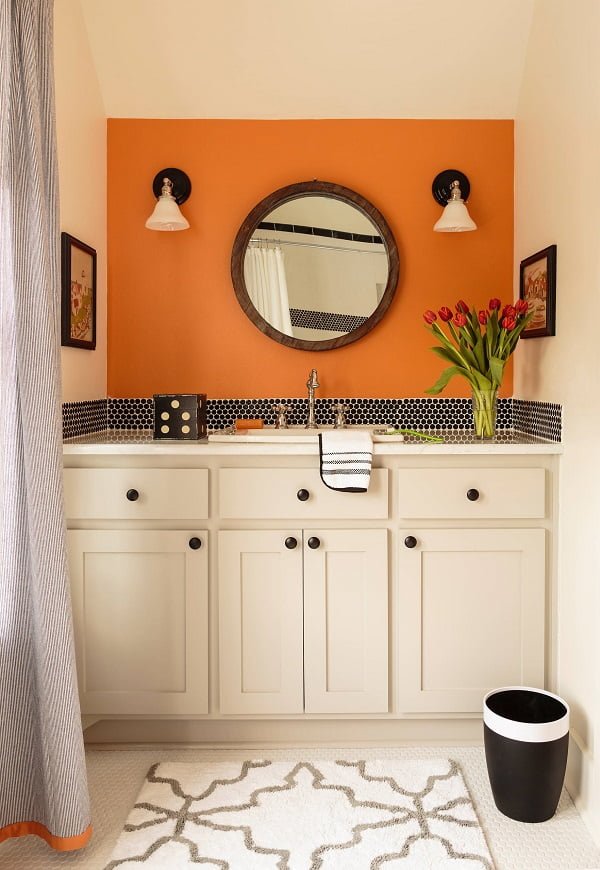 Instead of traditional white walls, this bathroom uses a vivid orange statement wall, an original lighting set and an extraordinary play of colors.
White Bathroom Paradise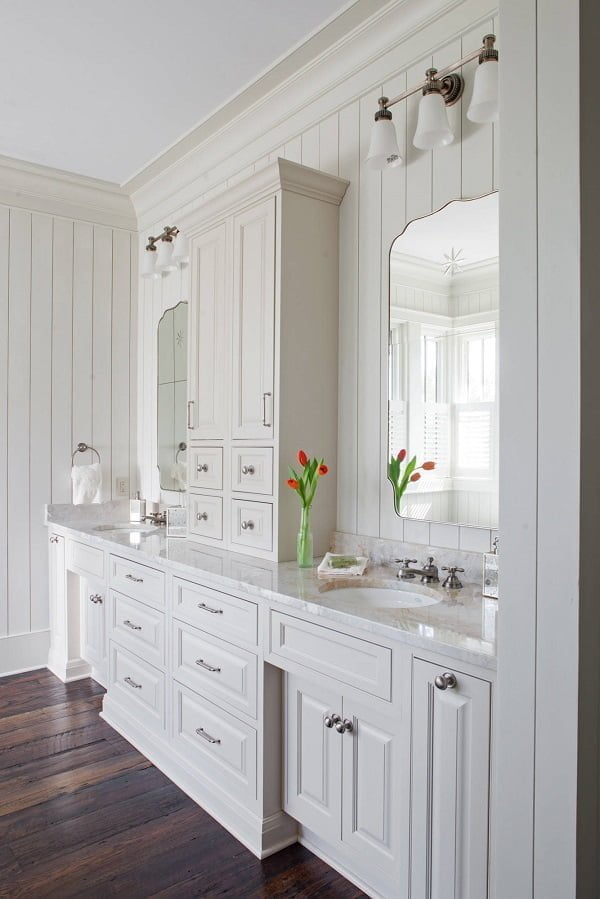 The bathroom is focused on wall-to-wall cabinets as well as a smart take on white-tile wall segments and hardwood flooring.
Trendy and Tremendous Farmhouse Bathroom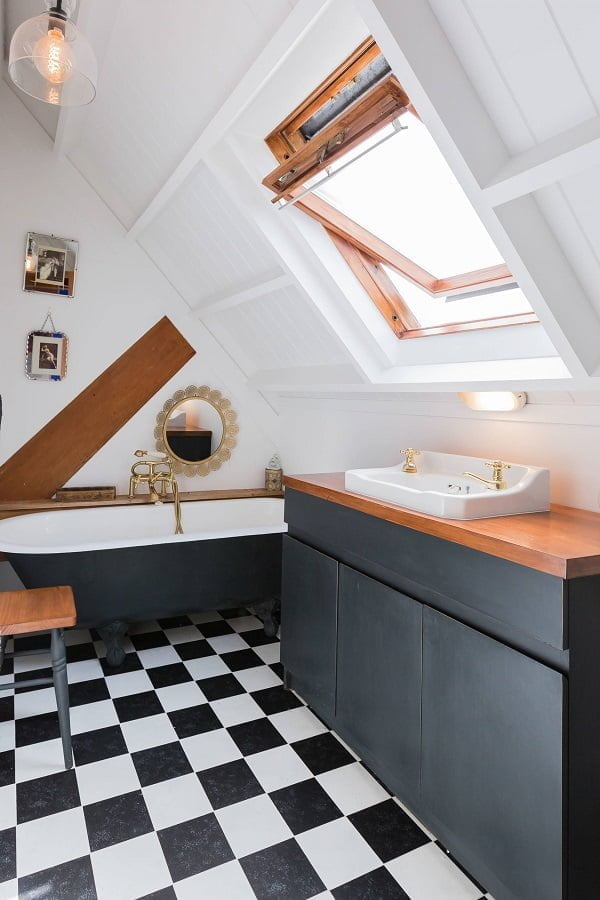 An Alice in Wonderland approach on a bathroom, using chess-inspired flooring, a sideway window, and original mirror placement.
Warm and Detail-Oriented Farmhouse Bathroom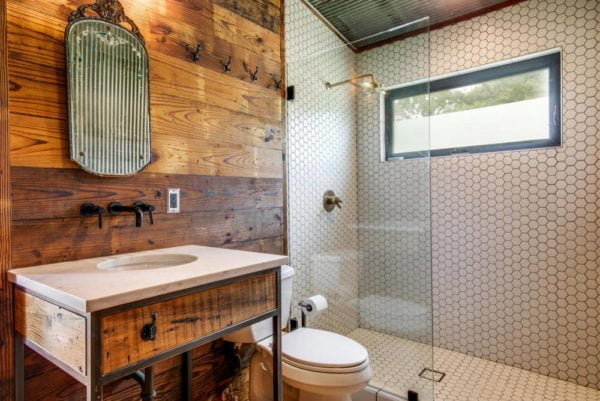 This majestic bathroom combines wooden walls and small tile shower walls while using original mirror replacement and a storage-friendly wooden sink stand.
Idyllic and Delightful Farmhouse Bathroom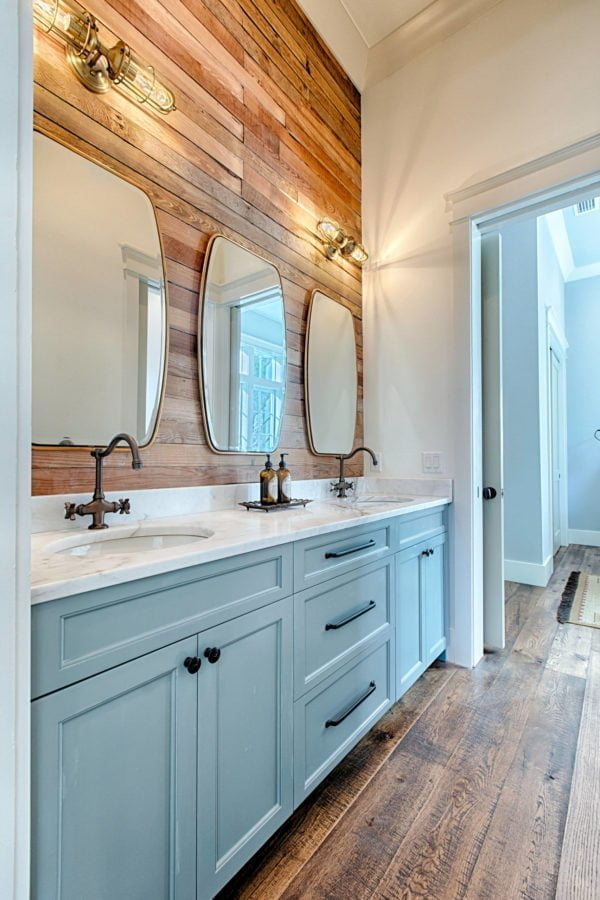 The bathroom has a vertical and luminous concept but provides excellent cabinet storage space, high wooden ceilings and a direct link to the rest of the house.
Homespun with a Twist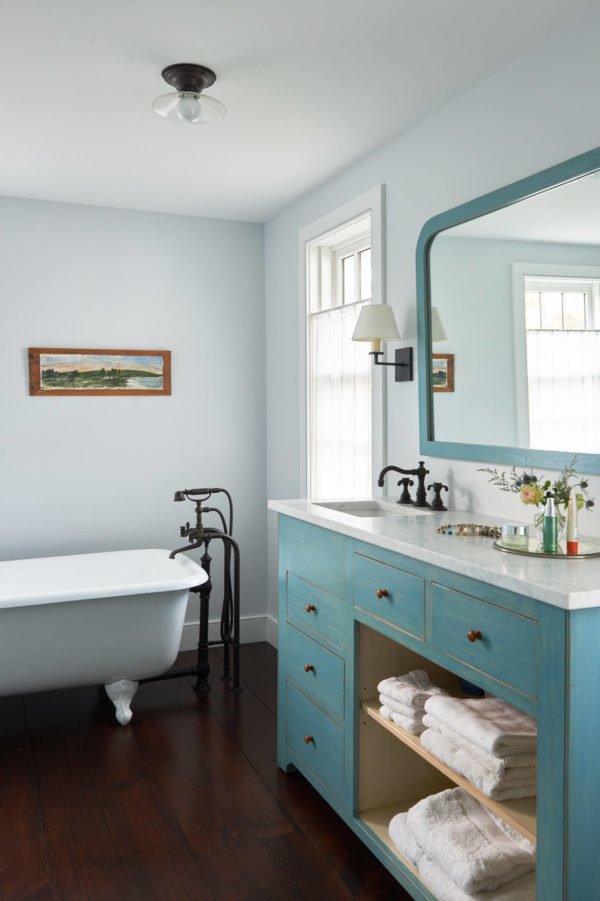 This master bathroom incorporates white walls and soft blue cabinet tones, which go hand in hand with the exposed metal bathtub tap and the focal mirror.
Classic Countryside Bathroom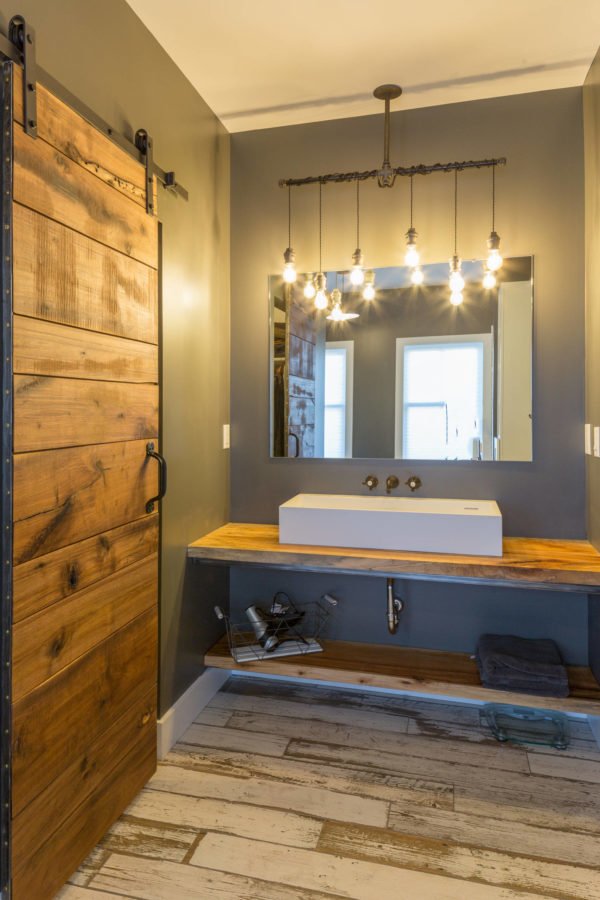 A divine blend of textures, materials, and colors, with a particular emphasis on the sliding barn door and wooden floor.
Hardwood Bathroom Scenery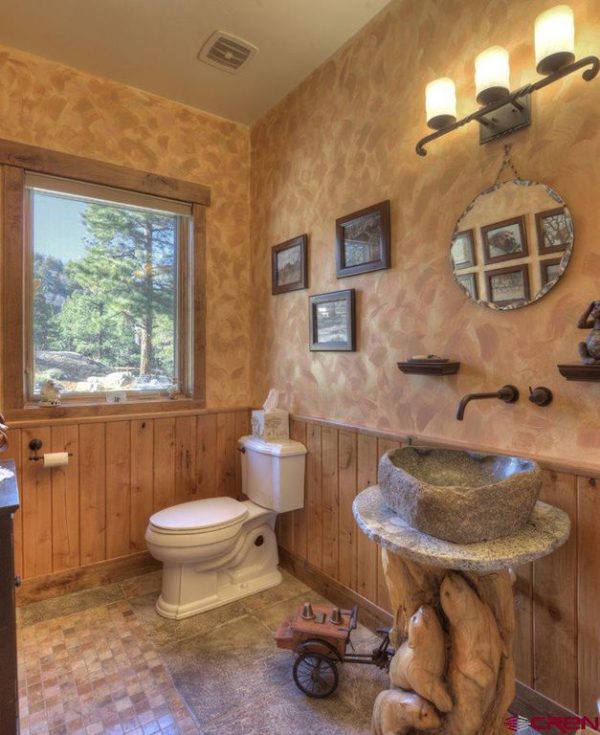 A great mix of timber-inspired wallpaper as well as mellow brown flooring and almost hobit-like sink.
Ranch Bathroom Elegance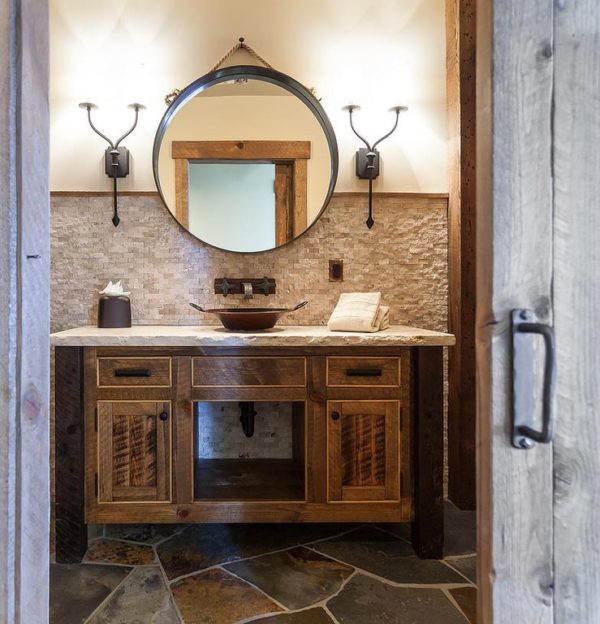 The bathroom uses modern-day lighting elements and blends them perfectly with the brown collage tile floor.
Pretty in Pink Farmhouse Bathroom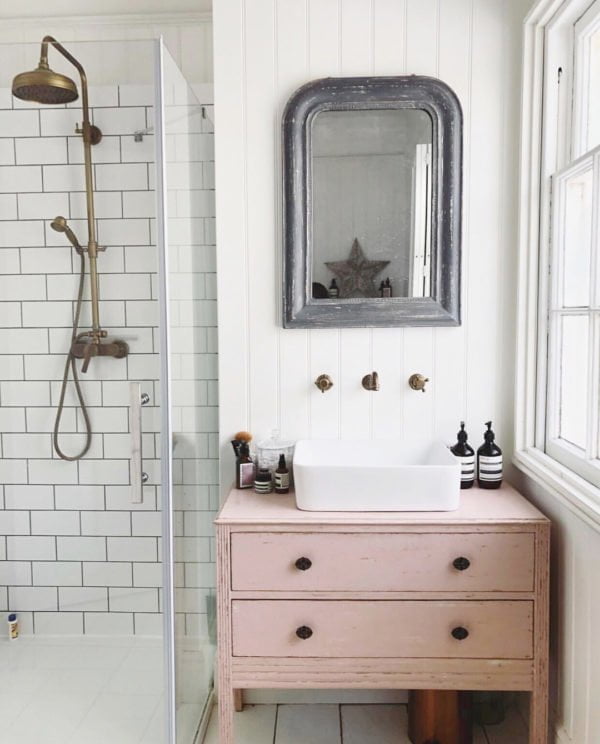 The bathroom introduces hints of baby pink shades in the shape of a rustic cabinet, complemented by a retro mirror and white tile walls.
Perfectly Unique Bathroom Setting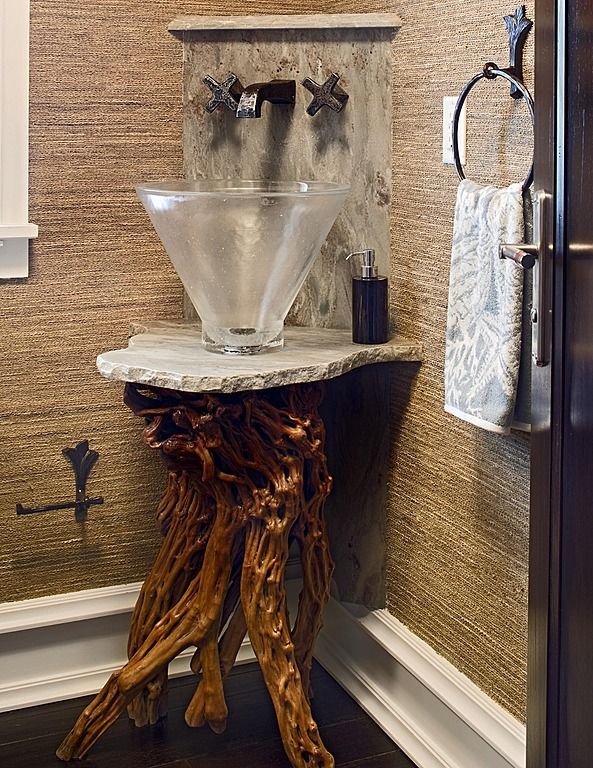 The stretching root wooden sink design combines marble and glass, creating a lovely synchronization with the metal table holder hook.
Vast and Appealing Farmhouse Bathroom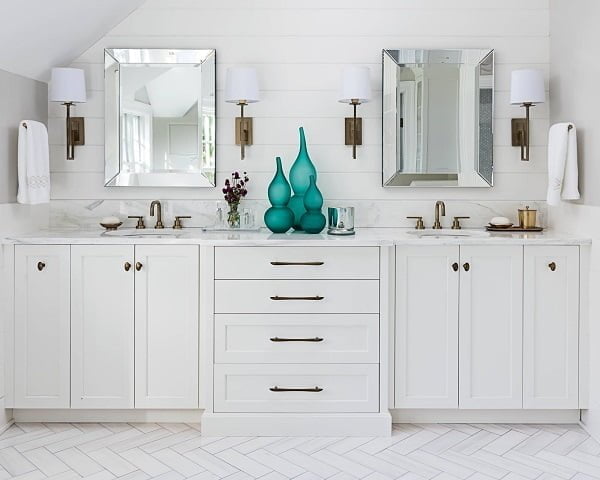 White-on-white bathroom designs never looked so good, from the multiple mirrors and sink elements to the zig-zag marble flooring.
Fitting and Fabulous Farmhouse Bathroom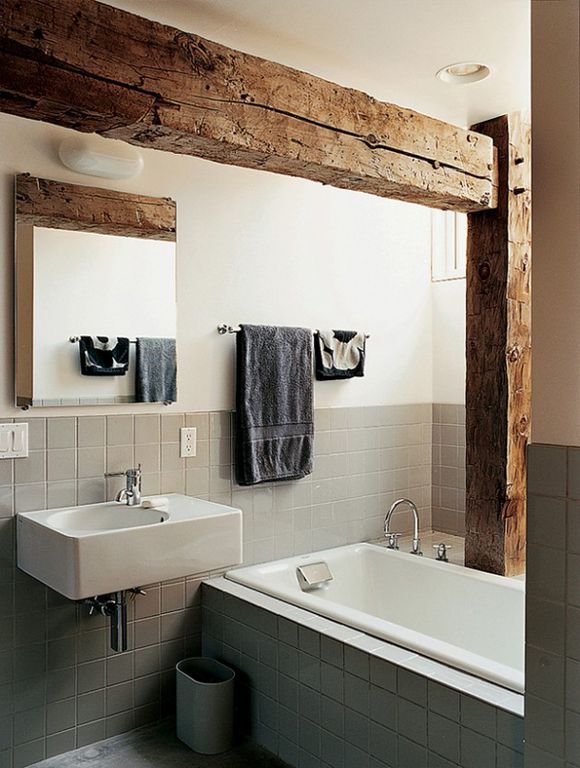 The wooden under-ceiling bar separates the bathroom, giving the practical bathtub and classic mirror set a chance to shine.
Shimmering and Romantic Farmhouse Bathroom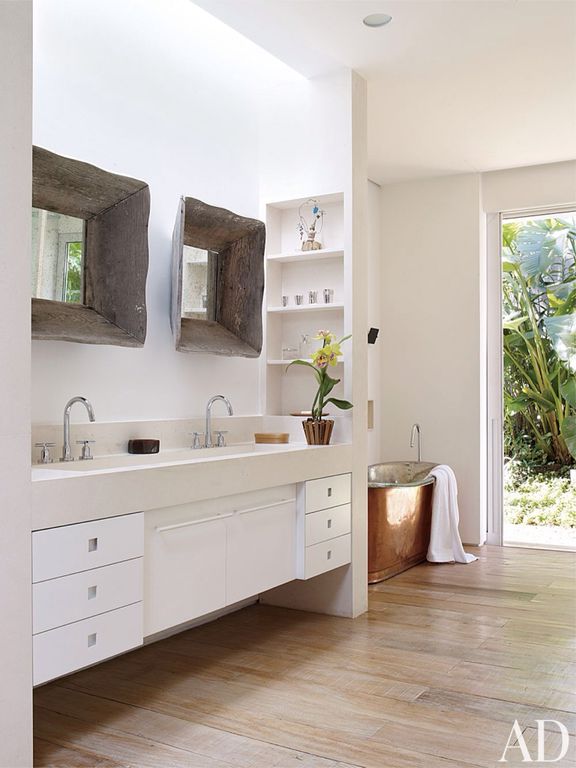 The bathroom uses both custom-made doors and internal wooden windows to create extra space and accentuate the retro brass bathtub.
Old-Fashioned and Striking Farmhouse Bathroom
The setting consists of grey walls, mirror cabinets combo, a tub-like stone sink, and essential wooden decor.
Smashing and Empirical Farmhouse Bathroom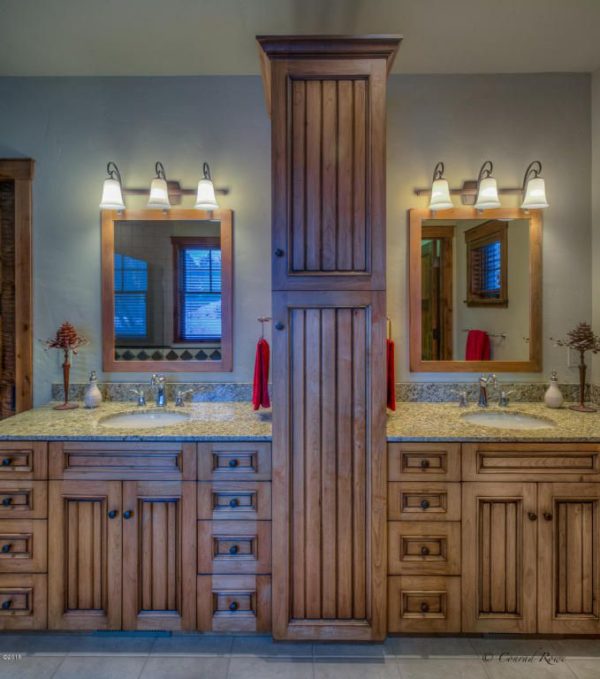 The bathroom is cleverly divided into two segments, using a floor-to-ceiling wooden cabinet and adorable marble details.
Incredible and Intelligent Decor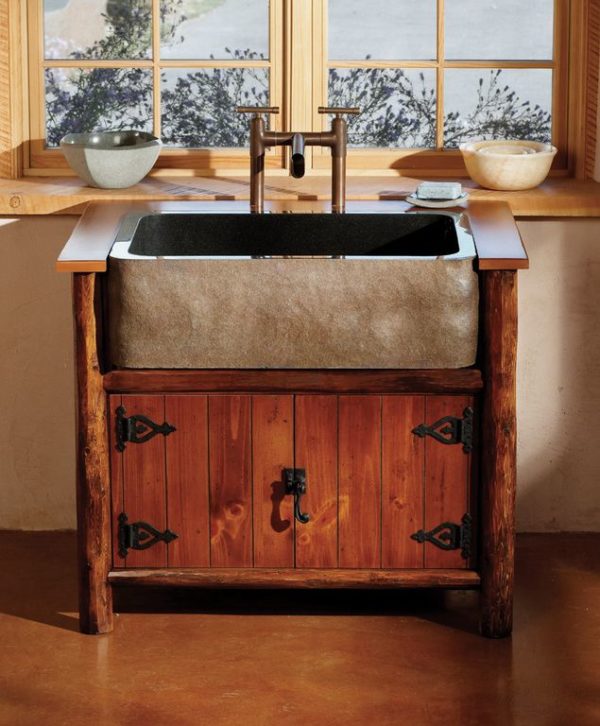 The bathroom setting revolves around the statement stone basin, incorporated into a custom-made hardwood cabinet overlooking the countryside.
Serene and Cavernous Farmhouse Bathroom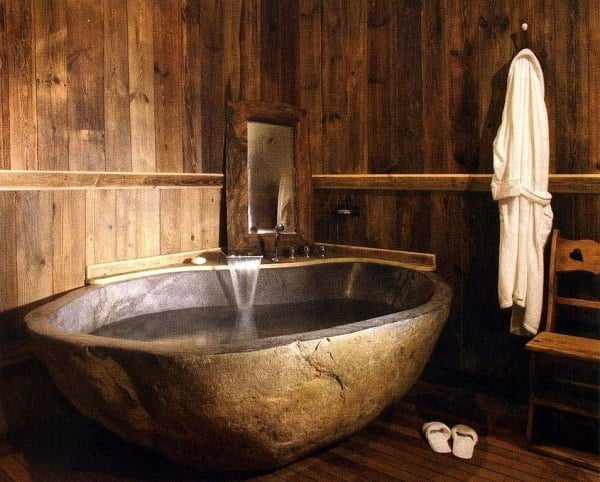 The bathroom introduces a sauna-inspired design, with a dominant stone bathtub and wood plank walls and ornaments.
Aesthetic and Alluring Farmhouse Bathroom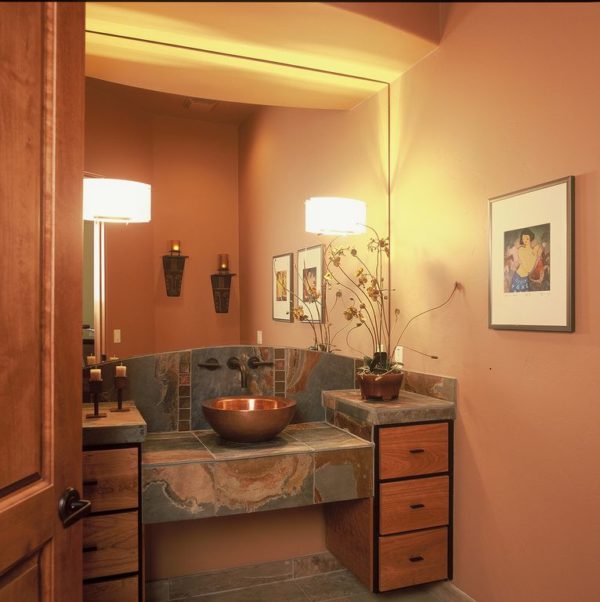 The warm combination of brown shades and stone countertop reveals the effective brass sink and asymmetrical V-walls.
Cottage Bathroom Paradise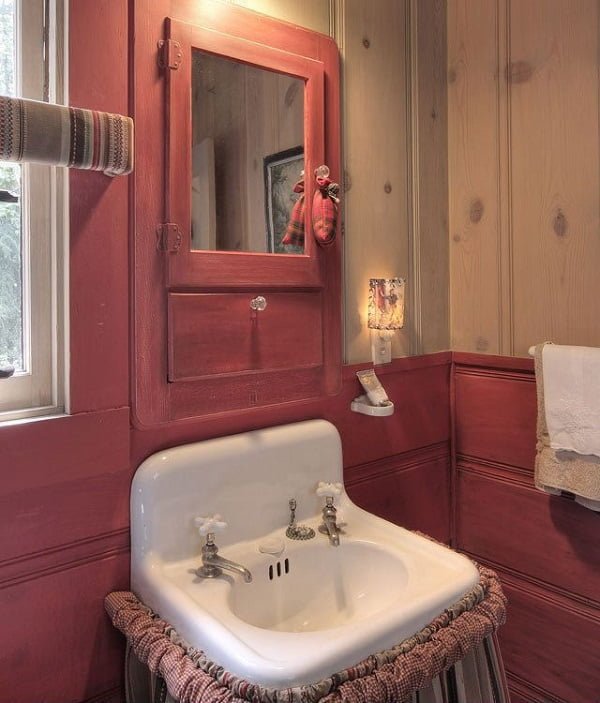 A room designed with grandma-inspired bathroom vibes, decorated with pink half-walls and traditional sink and curtains.
A Romantic Tale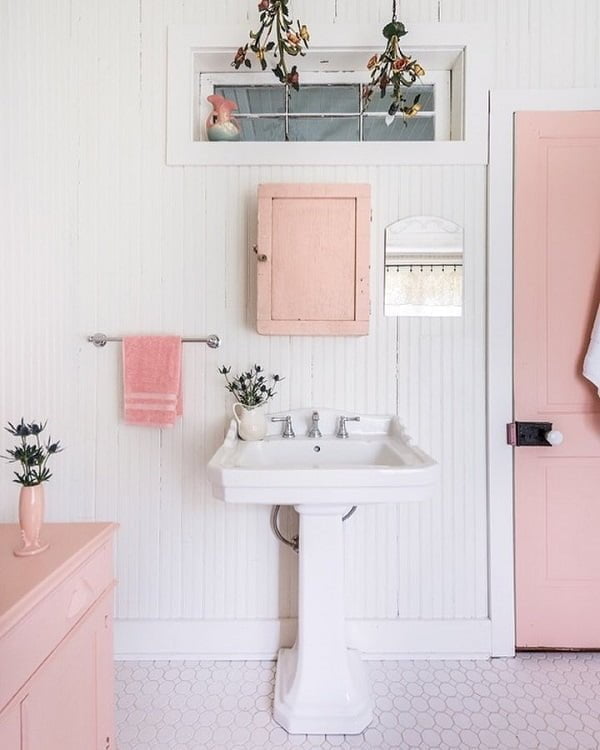 Precious bathroom using white wood planks walls and a classic middle-height sink, boosted by plenty of embellishing rose bits.
Delightful and Stylish Farmhouse Bathroom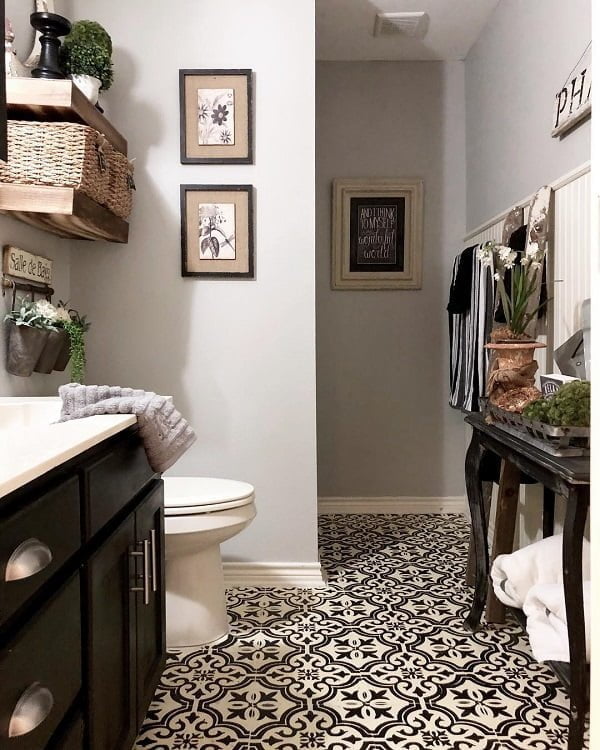 The white walls are broken up by cleverly positioned lights which throw shadows over the rustic nightstand-inspired table and white wooden hanger.
Thoughtful and Ivory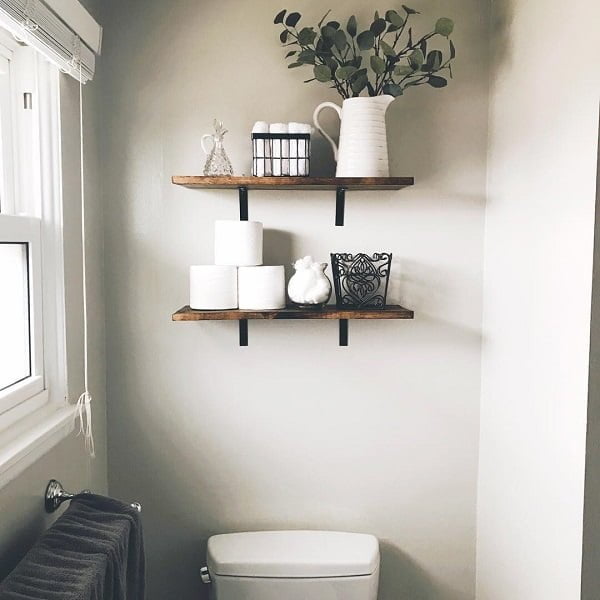 A great balance between the modern outer window and tiny wood shelves, creating an expertly designed space that works.
Specific and Harmonious Farmhouse Bathroom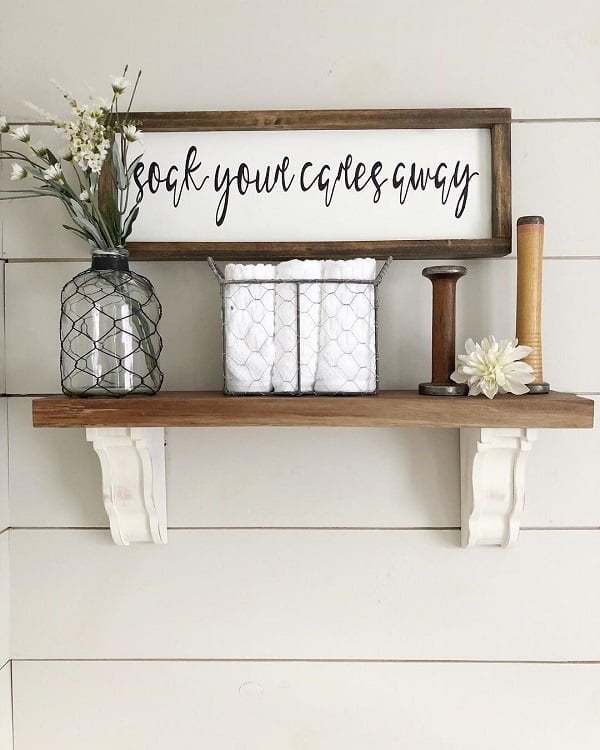 The wired glass bottle goes hand in hand with the remaining bathroom shelf detail, including the floral setting and white plank walls.
Easy and Breezy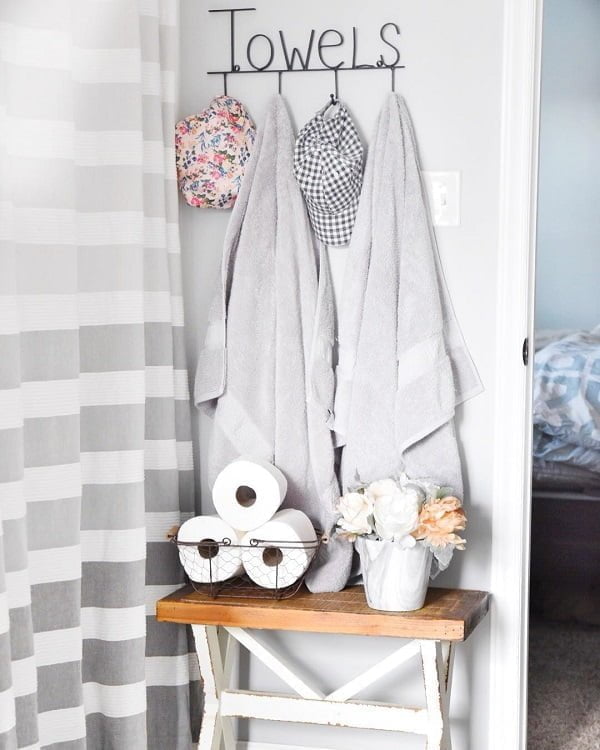 Have a look at the brilliant wired 'Towel' hanger! This bathroom incorporates zesty details such as the stool stand and matte ivory curtains!
Convenient and Creative Farmhouse Bathroom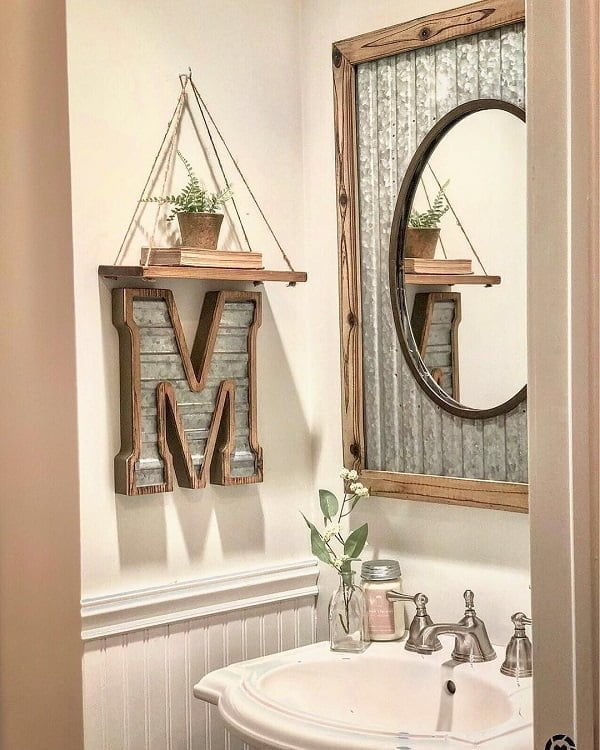 The creamy and cappuccino wall paint is elevated with tin-decorated mirror and precious bookshelf.
Contemporary and Ravishing Farmhouse Bathroom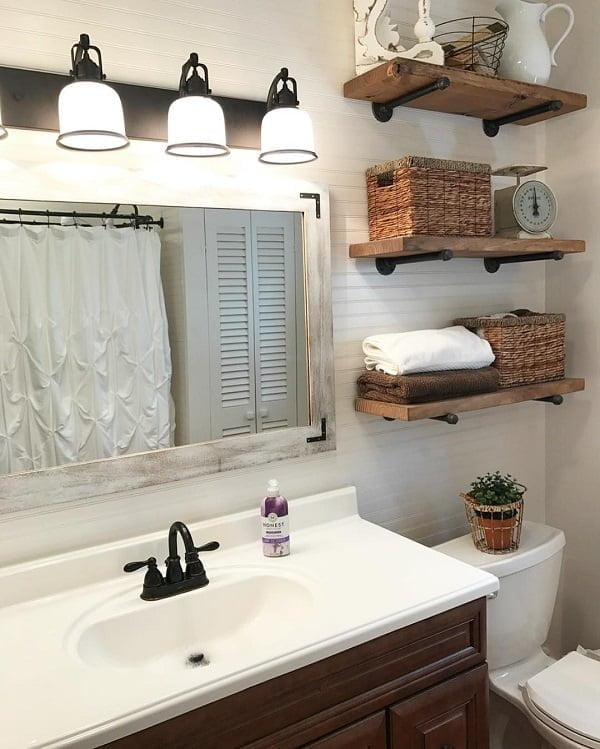 The bathroom lights deliver almost dressing room vibes, while the framed rustic mirror reflects the private bathtub and cabinet.
Retro and Well Put-Together Farmhouse Bathroom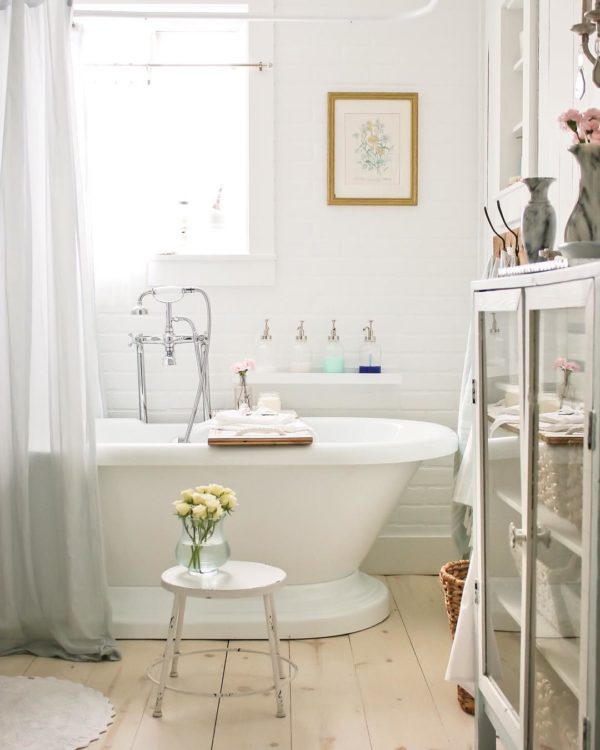 The bathroom echoes a rustic feel due to the freestanding tub, refreshing glass cabinet and fancy inbuilt shelves.
Let the Sunshine In!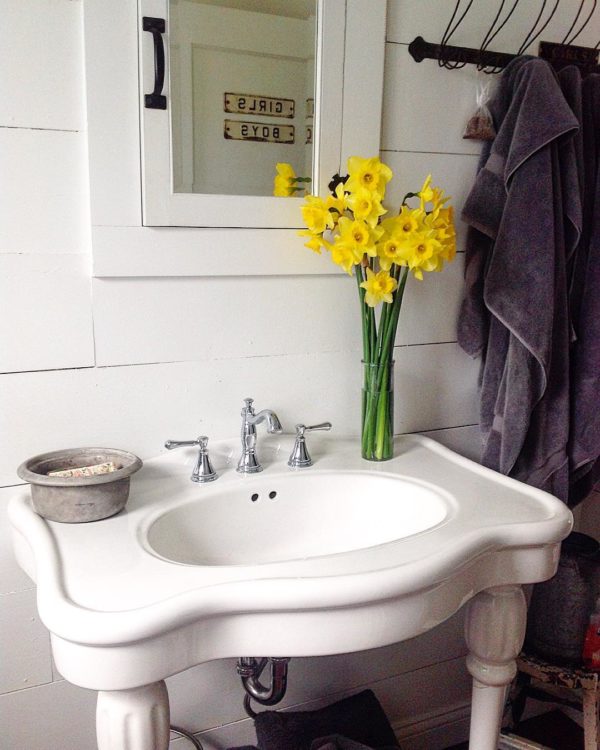 An epic take on bright yellow daffodils vase which breaks the neutral walls and medical cabinet mirror color patterns.
Editorial and Fabulous Farmhouse Bathroom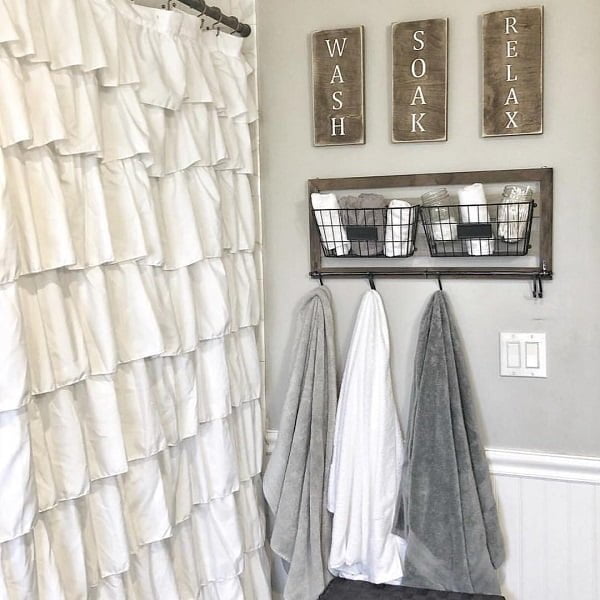 The beautiful ruffle-layered curtains give the bathroom a flirty feel, alongside the wood-engraved signs and framed hanger.
Fashionable and Bubbly Farmhouse Bathroom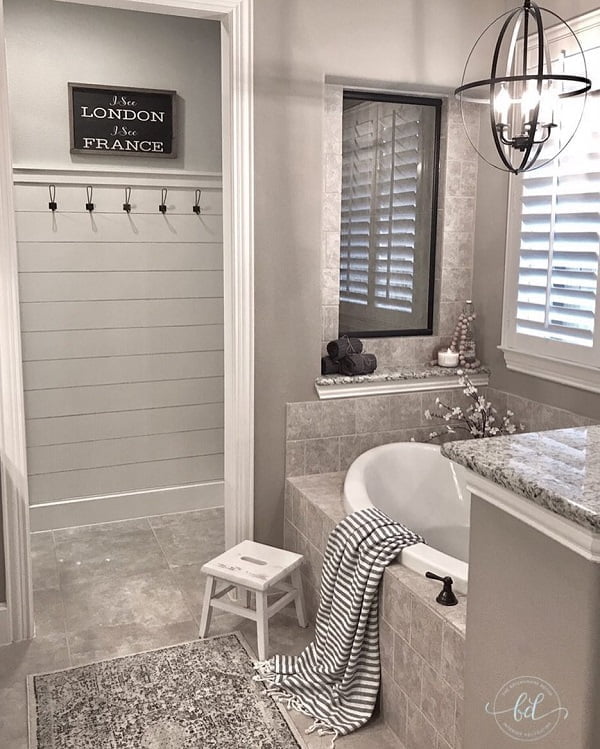 The in-built bathtub steals all the attention, while the grey tile and marble play of the room give it an elegant feel.
Gorgeous and Functional Farmhouse Bathroom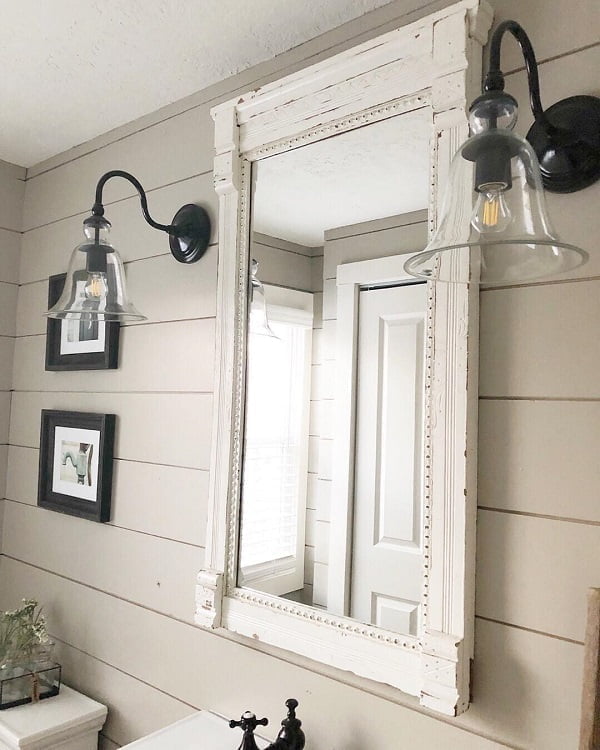 The statement piece of this set is the rustic white wood mirror, enlightened by trendy glass lamps hanged on the white plank wall.
Spotless Bathroom Vision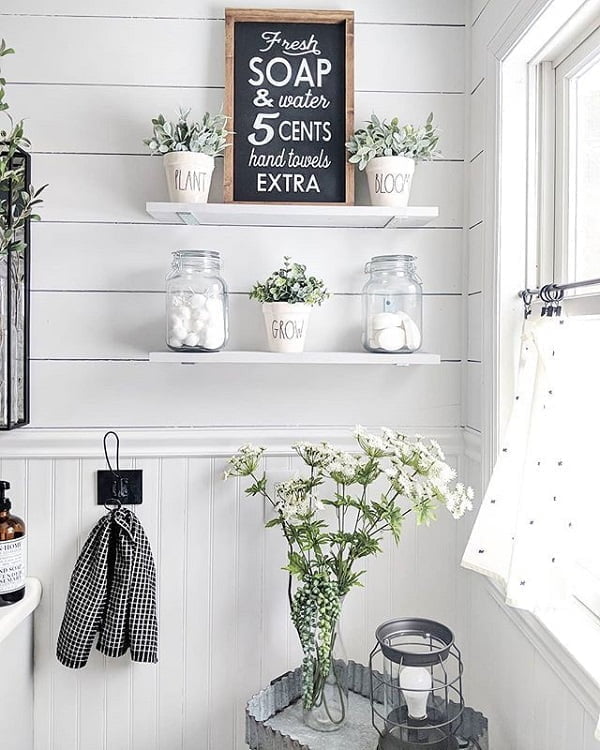 Clean, captivating and cozy, the bathroom uses smart details such as retro quote frames, wooden shelves, and glass storage jars, depicting a rustic utopia.
Exquisite Eye for Details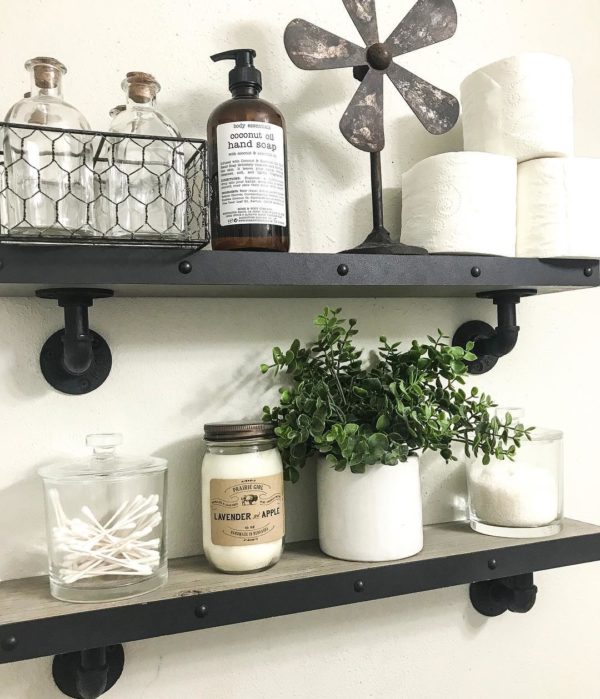 Darker shelves shades give this bathroom an elegant vibe, softened by simple, yet effective decor elements, such as the aromatic candles and old-time fan.
Funky and Chic Farmhouse Bathroom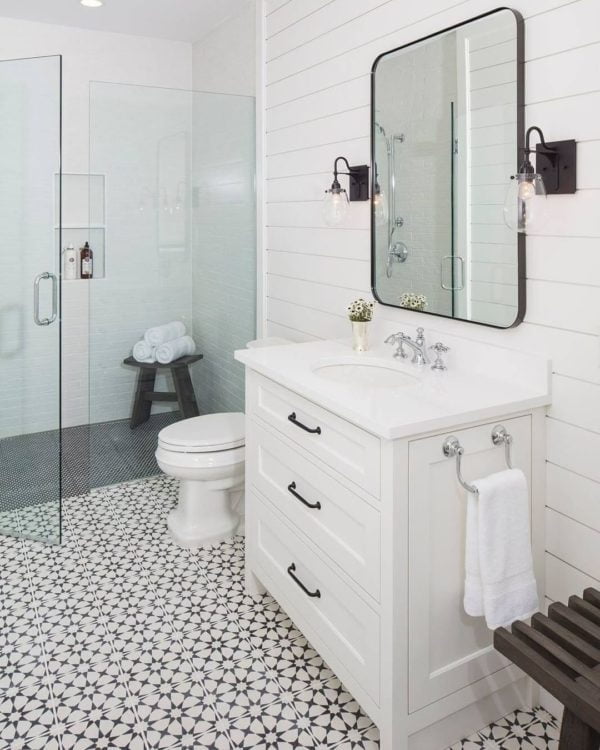 A precious bathroom setting focused on combining oriental tile flooring, a wood park bench and hinged shower door, which helps open up space even further.
Reinvented and Effective Farmhouse Bathroom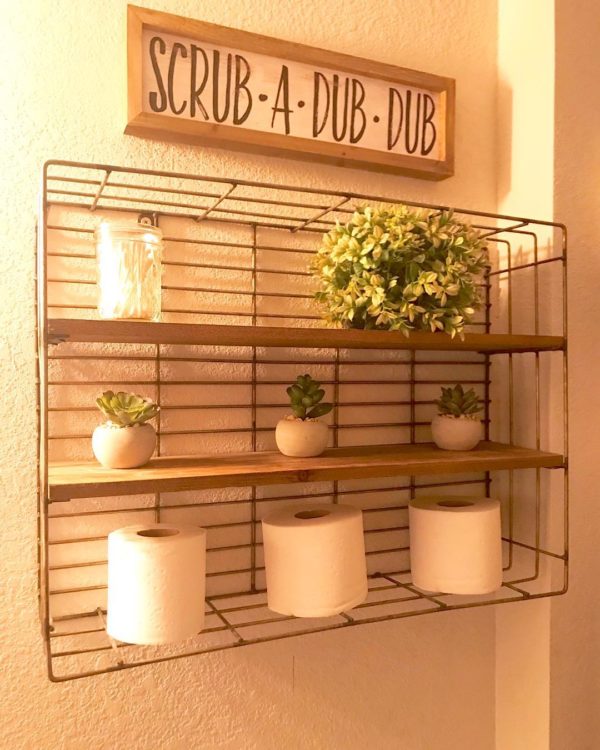 The wired storage wall rack incorporates wooden shelves which are a great addition to the retro custom-made quote sign.
Simplicity Rennaisance Farmhouse Bathroom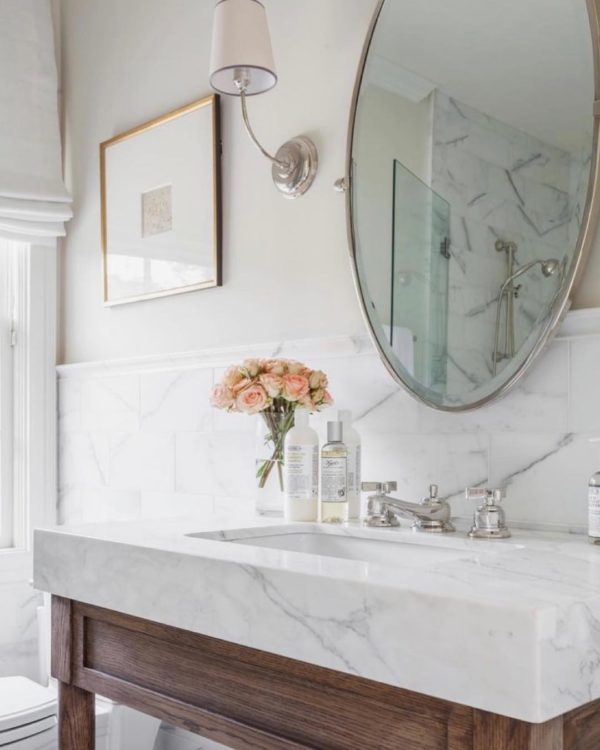 Combining a vintage marble sink countertop, and frameless mirror, the bathroom offers plenty of light and cheerful elements of hardwood.
Black and White Nirvana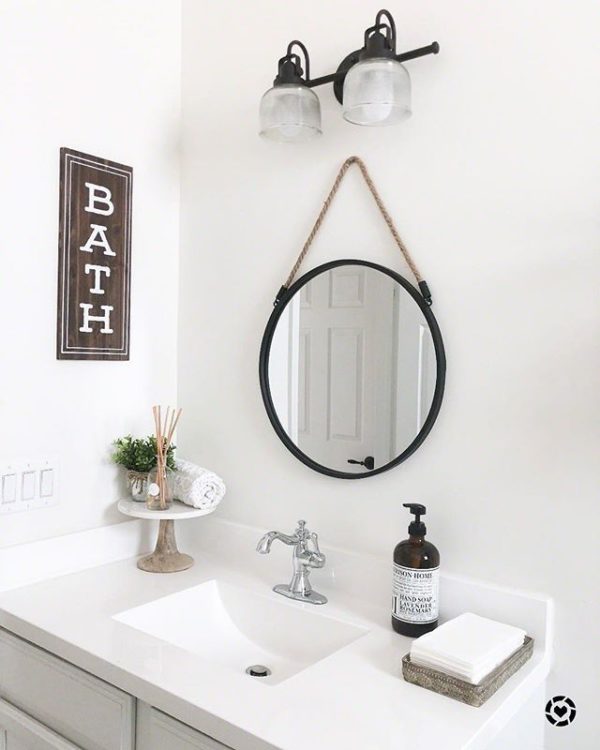 The rearview-like mirror hanging on a rope gives the bathroom a rustic essence while playing around with the crisp white sink and walls of the room.
Thoughtful and Presentable Farmhouse Bathroom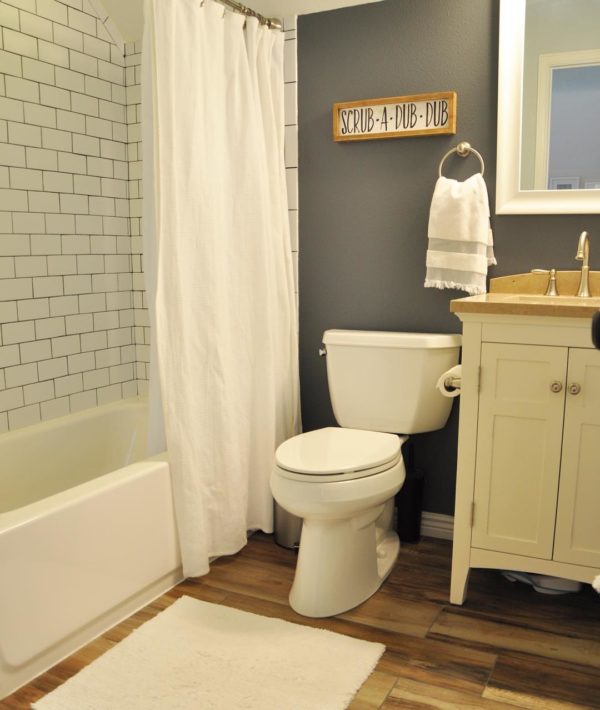 The wood-imitating tile floor is an ideal addition to the rustic wooden cabinet, brick tile wall, and retro bath sign.
Elevated Coherence of Space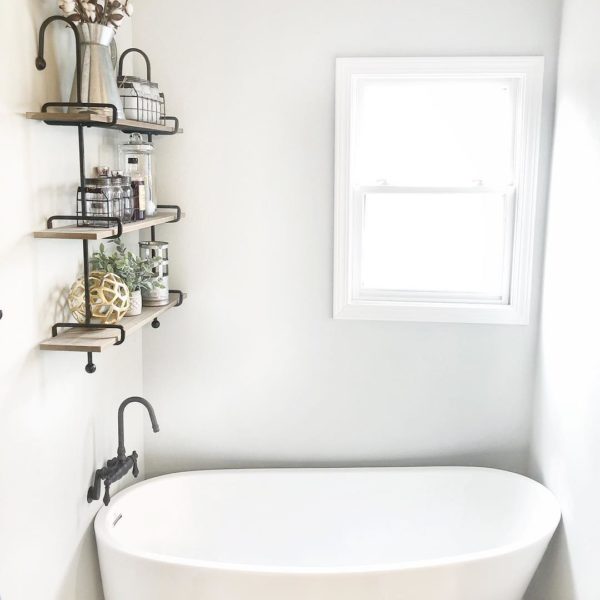 The deep, porcelain tub is strategically placed beneath a full window, illuminating the wood-metal shelf set.
 Phenomenally Blended Farmhouse Bathroom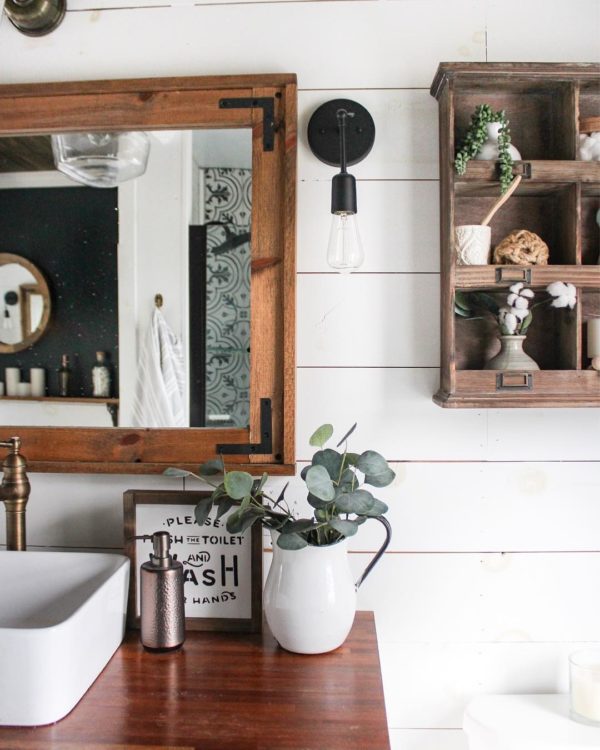 A clever combination of wooden decorative shelf box and retro mirror, emphasized by simple lighting elements and exposed porcelain basin.
Clean and Commodius Farmhouse Bathroom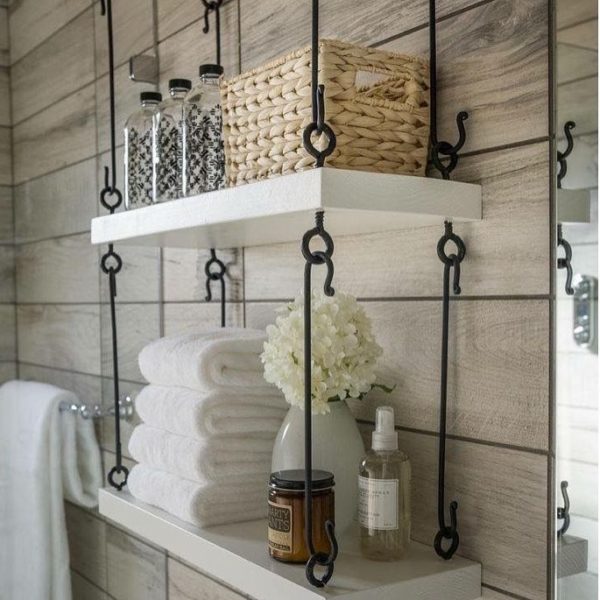 The bathroom setting is enhanced by the ivory tile walls, and Victorian hook-connected, spacious wooden shelves.
 Ligneous and Spa-Inspired Bathroom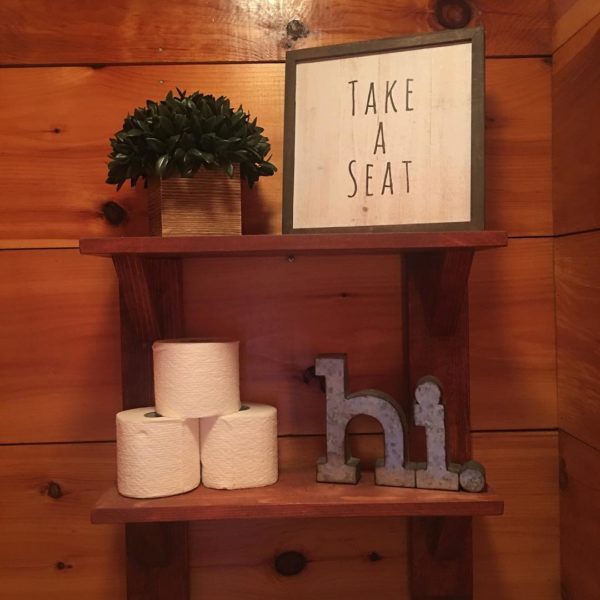 This bathroom offers plenty of comfort through its hardwood walls, and built-in wooden shelf set. Functional and adorable!
Breezy and Functional Farmhouse Bathroom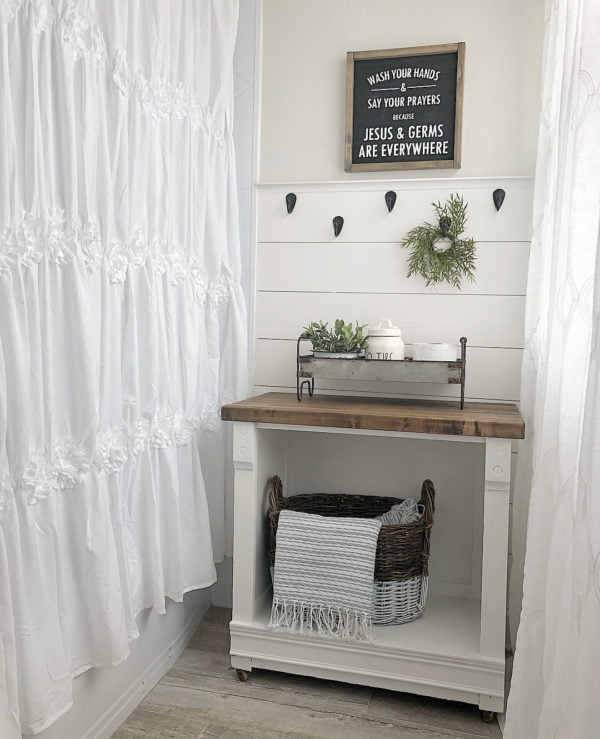 The white ruffled shower curtains introduce light into the room, supported through the wooden and doorless bath cabinet as well as plank wood flooring.
Intimate and Adaptable Farmhouse Bathroom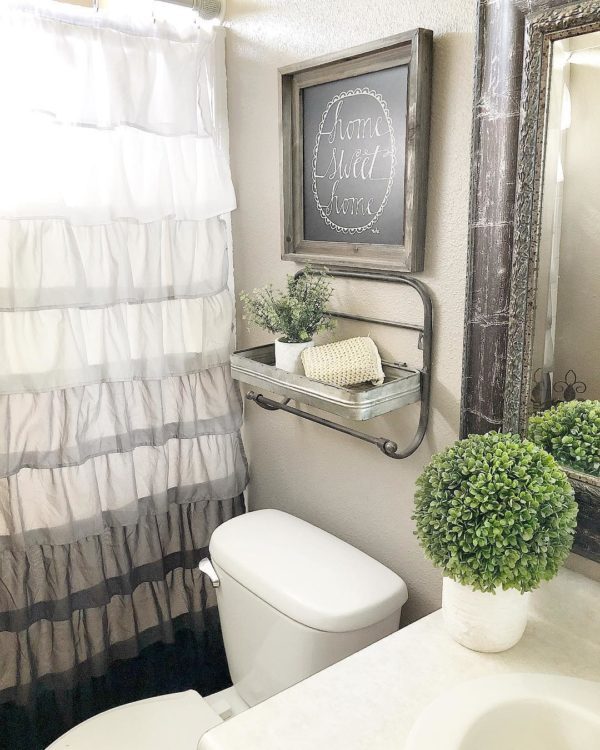 The bathroom intertwines ruffled shower curtains which match well with the old-school tin shelf and exciting wood bath sign.
Comfortable and Elbow Bathroom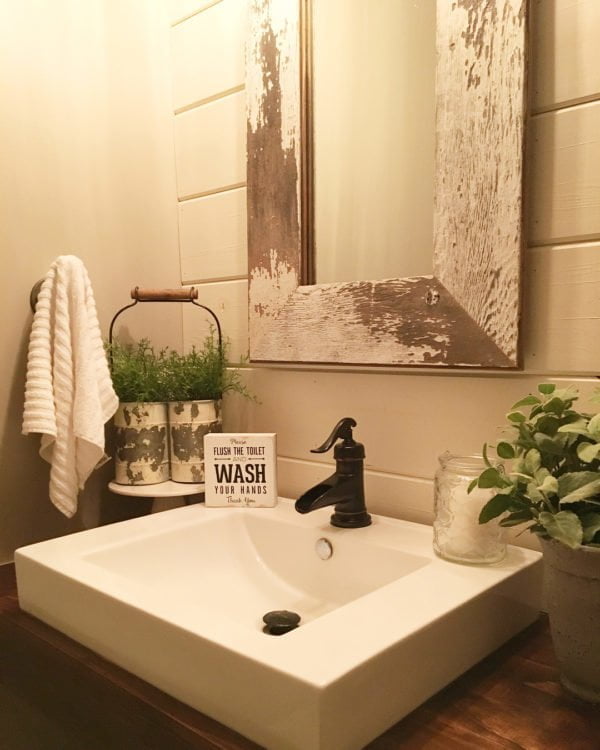 A smart approach on small bathrooms, using the rustic framed mirror to introduce light and simplified porcelain sink with single metal faucet.
Vivid and Polished Farmhouse Bathroom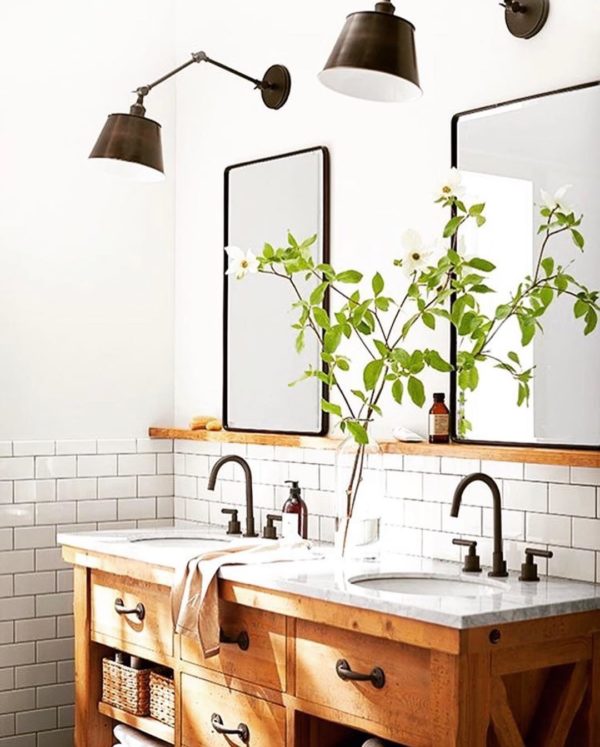 The double-mirror and sink setting enable practicality and comfort, enhanced by a non-traditional bathroom cabinet.
Endearing and Fancy Farmhouse Bathroom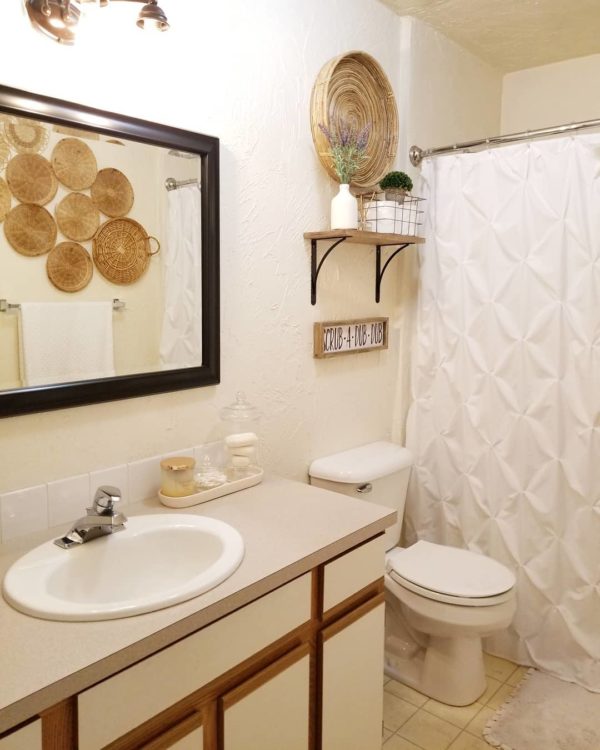 A typical countryside bathroom setting, playing with ornamental baskets and miniature wooden decor shelves as well as vibrant bathroom signs.
Old-School Bathroom Appeal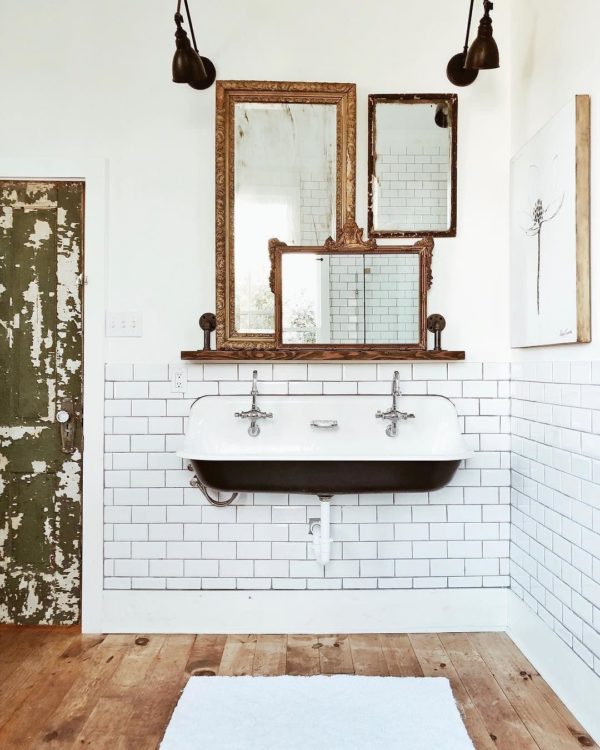 The bathroom design brilliantly focuses on the three-mirror wall collage, deep double faucet sink, and wooden bathroom shelf, thus providing plenty of room and light.
Impeccable and Minimalistic Farmhouse Bathroom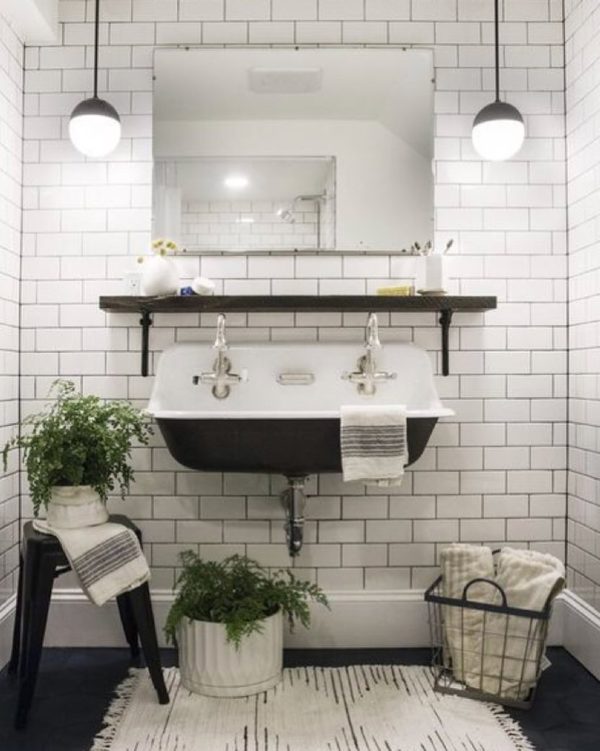 The stylish hanging lamps emphasize the rustic double-tap basin, minimalistic mirror, and tile brick walls.
Delightful and Strategic Farmhouse Bathroom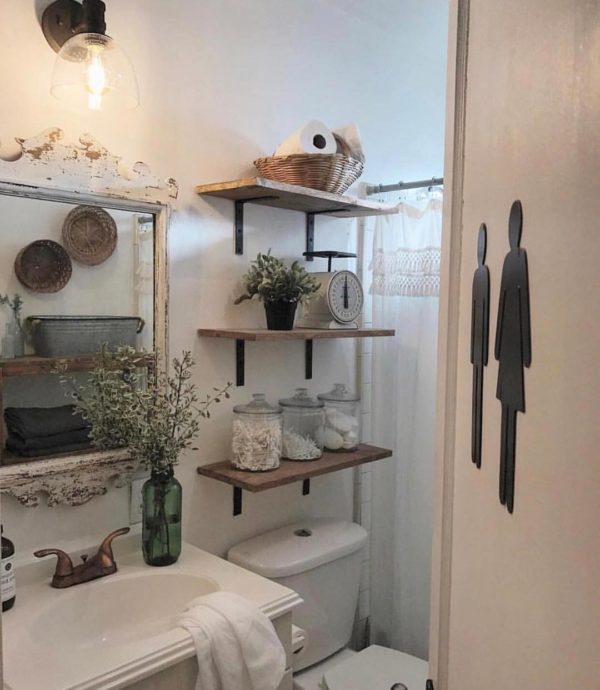 A great example of how to create a small-sized bathroom nook, enhanced with over-the-toilet wooden shelves and photo-frame rustic mirror.
Narrow, Yet Impressive Farmhouse Bathroom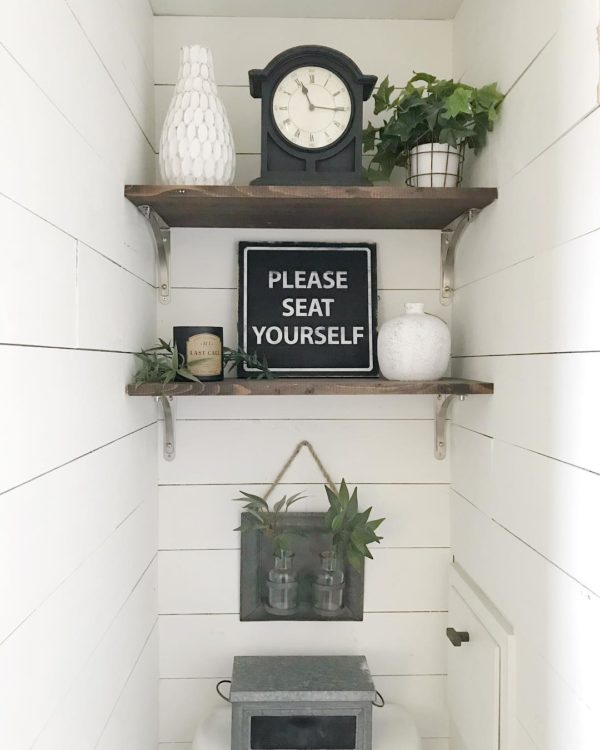 A tiny-spaced setting is focusing on a practical toilet, surrounded by all-white walls and bathroom sign decor.
Recap
Liked this article? Here's what you can read next: