Last Updated on
Looking for the perfect farmhouse sink for your kitchen or a bathroom? Here is a massive list of 100 stunning ideas with pictures for your inspiration.
Farmhouse decor is the latest and most significant trend, and it seems that everyone wants it in their home. The appeal is obvious – the style is sentimental and brings back the cozy memories of a loving home. That's all we want our houses to be. Choosing the right pieces of decor to create a farmhouse home is a challenge, though, especially when it comes to farmhouse sinks.
Sinks aren't always the focus of decor, but today it is. You can create an excellent farmhouse appeal by the simple choice of a sink in your farmhouse kitchen or farmhouse bathroom. And here are 100 stunning ideas with pictures for your inspiration on the lookout for that perfect farmhouse sink.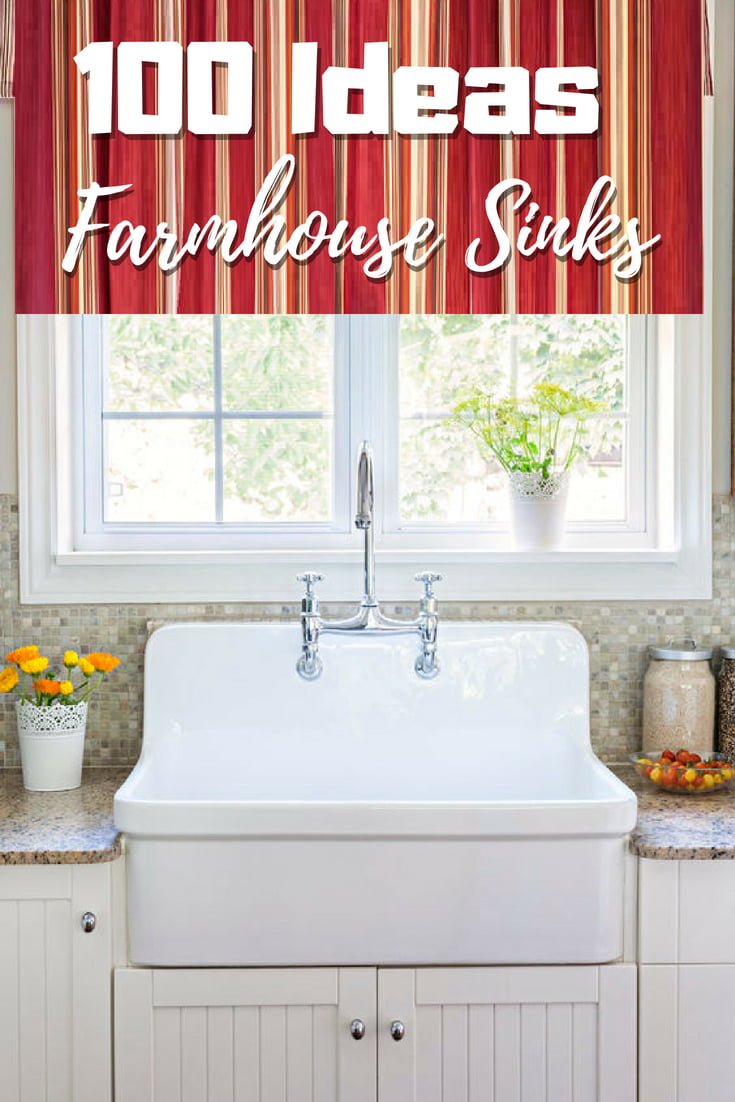 What's Inside?
Sensational and Spacious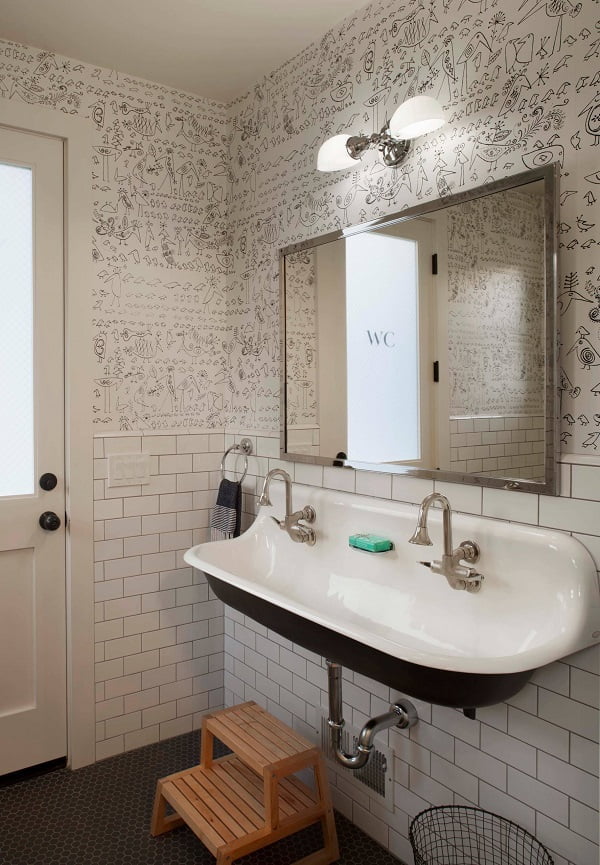 The central and double-faucet sink perfectly matches the patterned and hand-drawn wall, as well as the adorable wood two-step ladder.
Fashionably Practical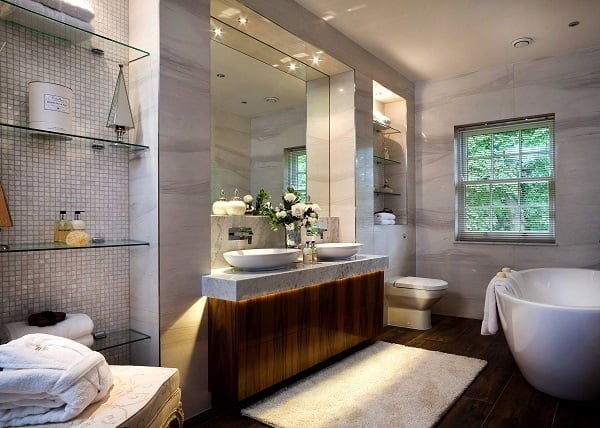 The bathroom brings the statement modern bathtub closer to the double porcelain sink bathroom cabinet, made of a marble countertop and in-built perfect mirror. A bathtub tray would add a spa-like feature to this decor.
Bathroom Sink Perfection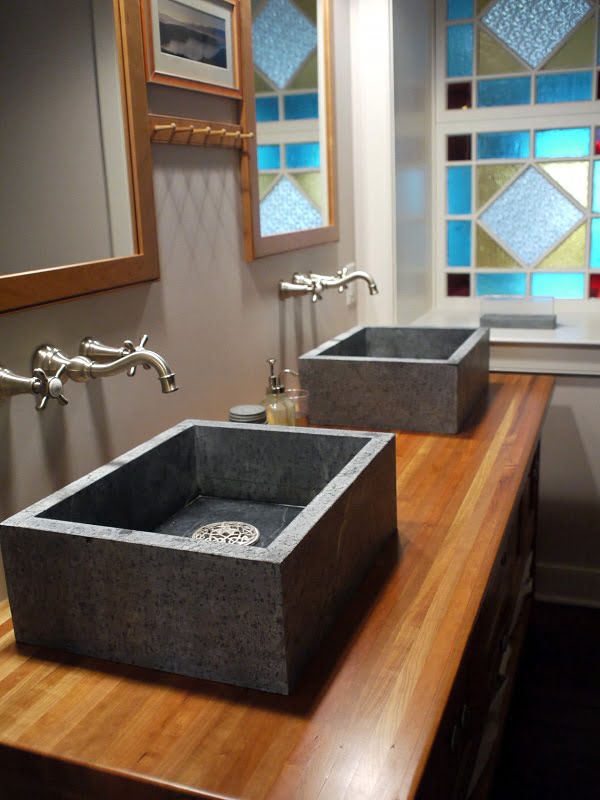 Have a look at this victorious soapstone sink set which adds originality to the bathroom by introducing plenty of space and cabinet countertop usability,
Porcelain Bliss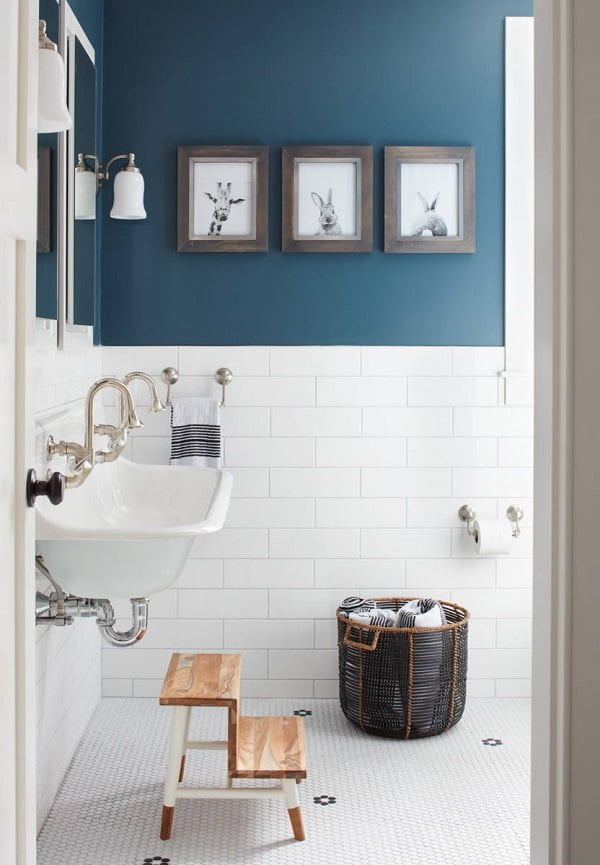 This bathroom sink is simple, made of the shiniest porcelain, and allows the tall and vertical double golden faucet to add chicness to the sink itself!
Ultra-Modern Sink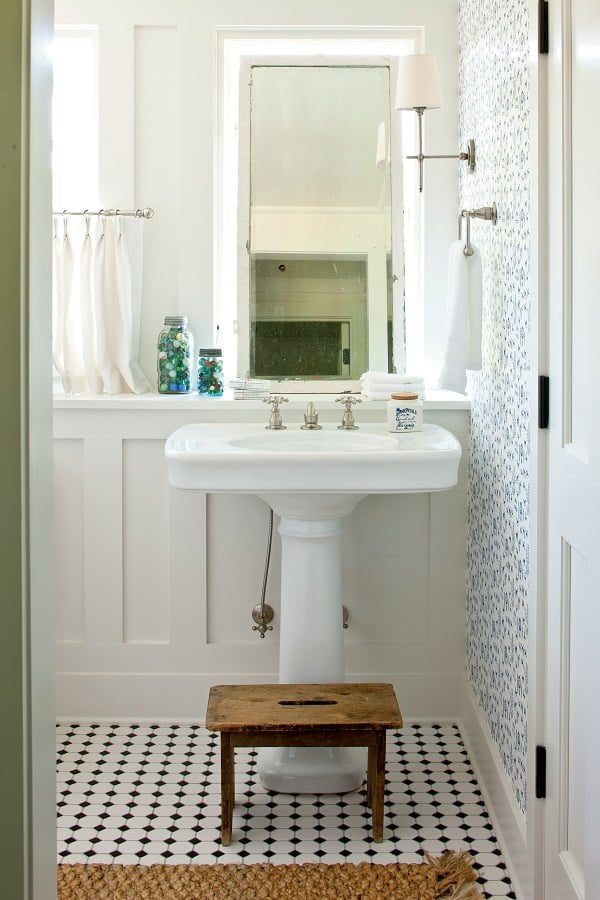 To create the space and introduce light to your bathroom, we recommend using a freestanding porcelain sink with soap holder and toothbrush set space.
Contemporary and Adorable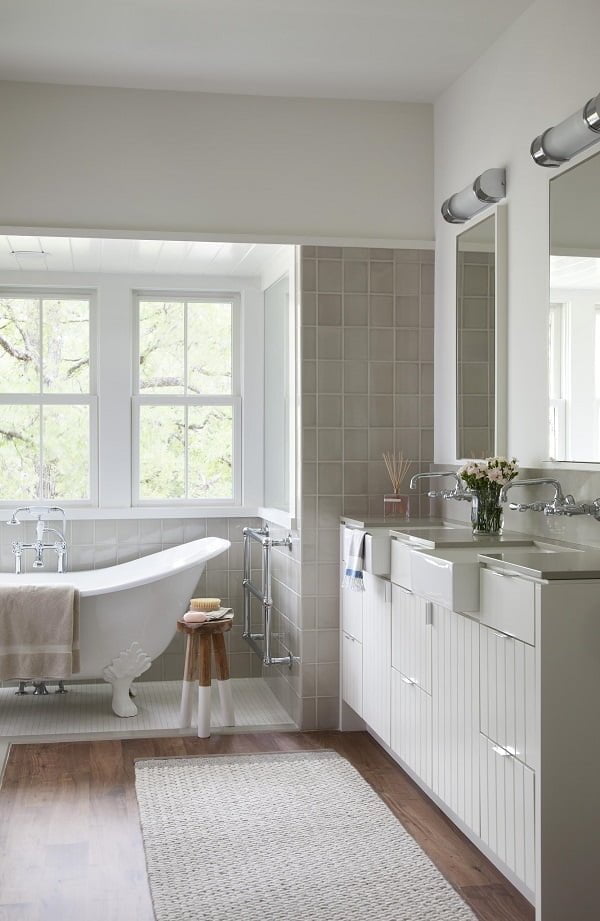 The double-sink system uses drawer-like porcelain sinks and horizontal silver faucets which introduce glamour to the all-white room.
Oriental, Yet Fashionable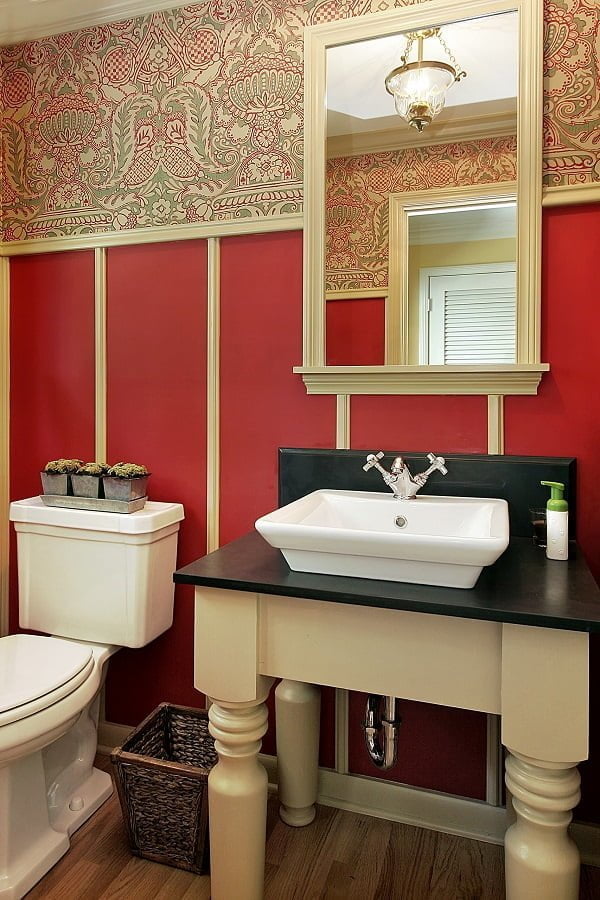 The shallow above-counter vessel sink is designed to match the black bathroom cabinet countertop ideally, creating both space and elegance in the room.
Old-School Charm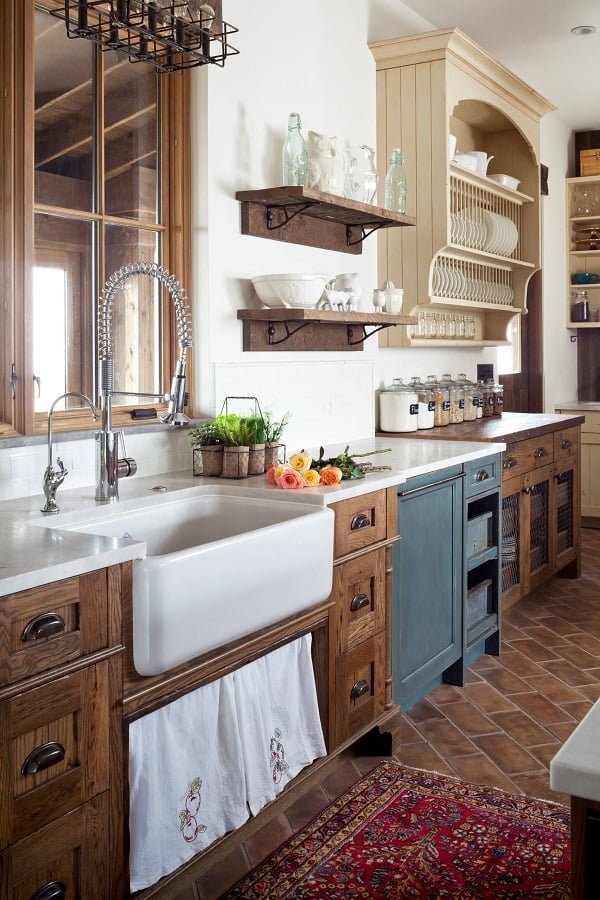 This front porcelain kitchen sink proves that using wood cabinet elements and an innovative vertical faucet works miracles regarding practicality and aesthetics.
Wood Sink Paradise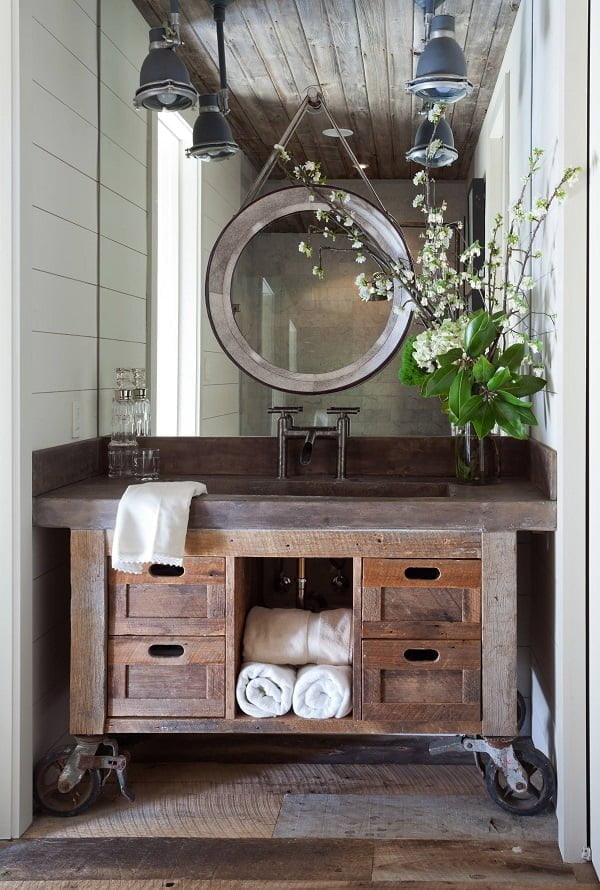 This bathroom sink goes back to the basics regarding smart design, utility, and capacity, while still magnificently capturing vintage vibes.
NYC Bathroom Sink Vibes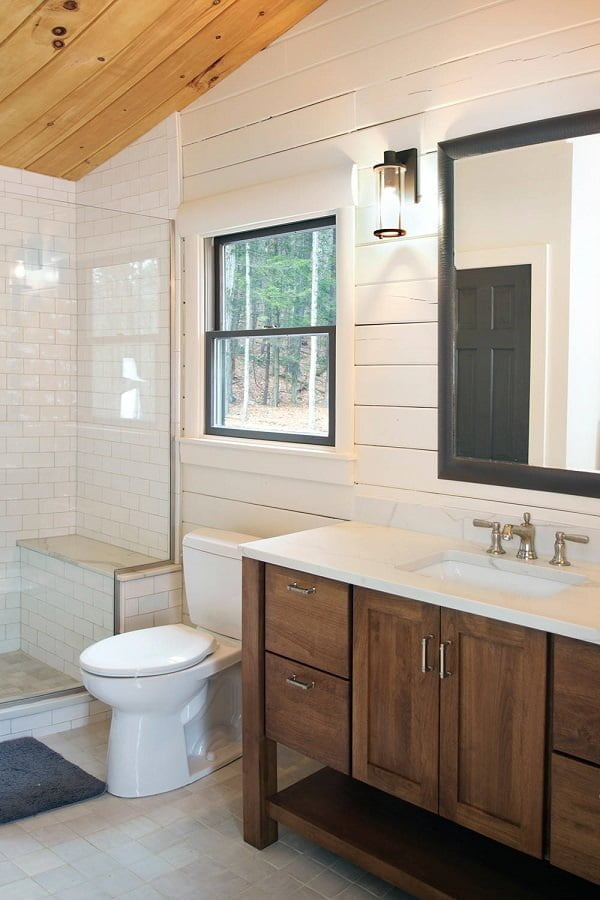 The under mount and all-white sink greatly complement the white quartz countertop and double-handle half-rotating faucet!
Super Sophisticated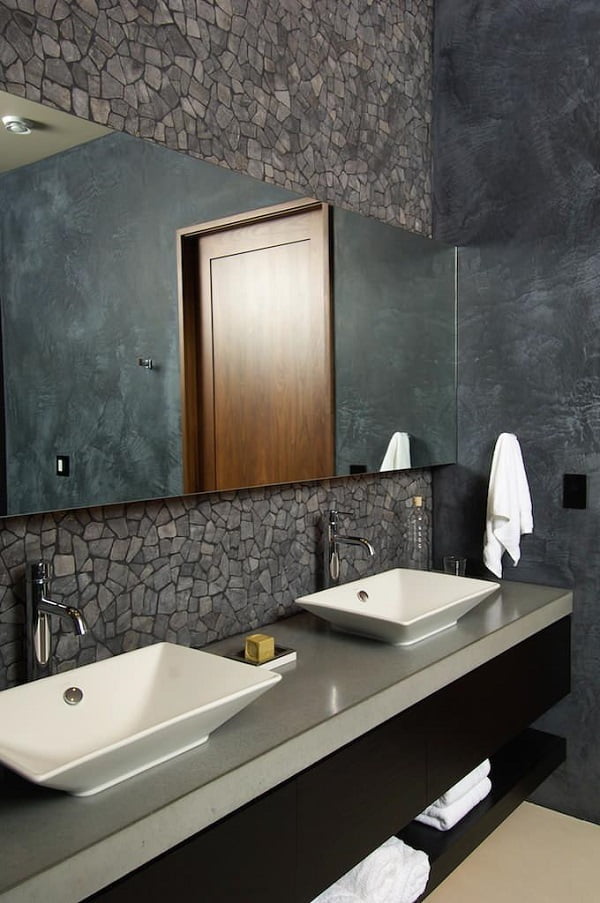 The two all-white vessel sinks are square and bowl-like, which fits the black countertops and single soap holder perfectly!
Lady-Like Sink Design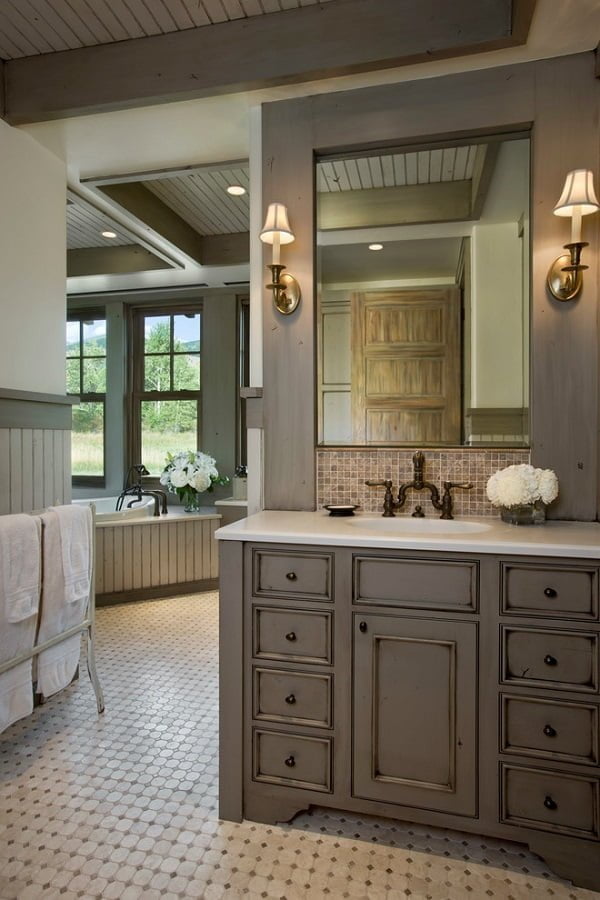 The sink is integrated into the all-wood and retro bathroom cabinet. Focusing on a single faucet outlook, the sink allows plenty of room for both storage and countertop essentials.
Kitchen Sink Utopia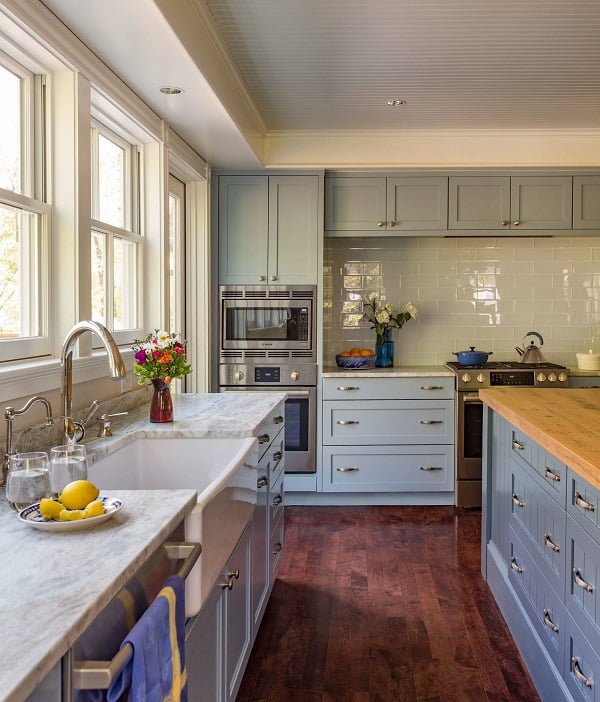 The frontal and exposed porcelain kitchen sink uses two faucets, one of which filters tap water in minutes! Add the tall golden main faucet to the equation, and you have yourselves a jackpot!
Clean and Delightful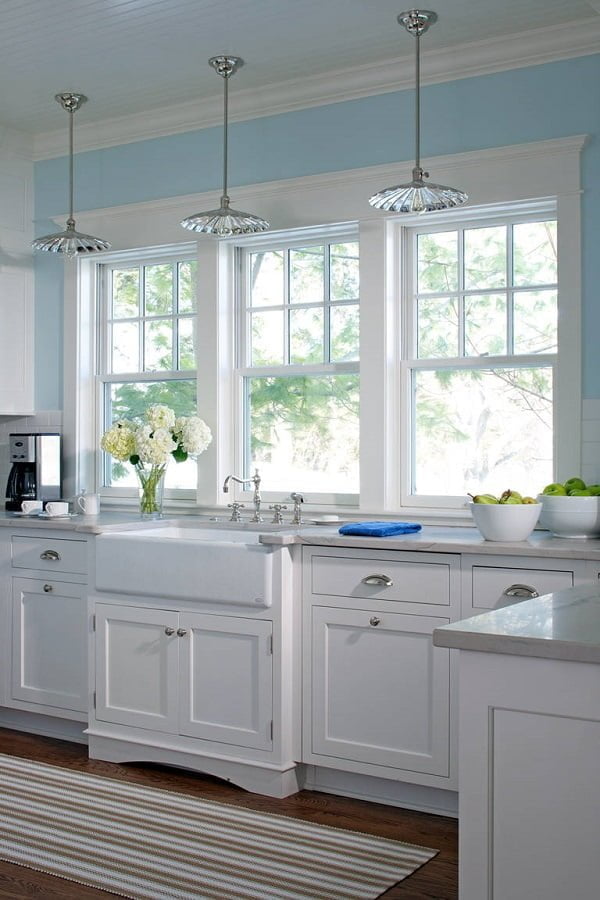 A simple white sink can be exposed just as in this picture. The inbuilt cabinet sink allows stability and offers plenty of side storage space.
Heavenly Sink Inspiration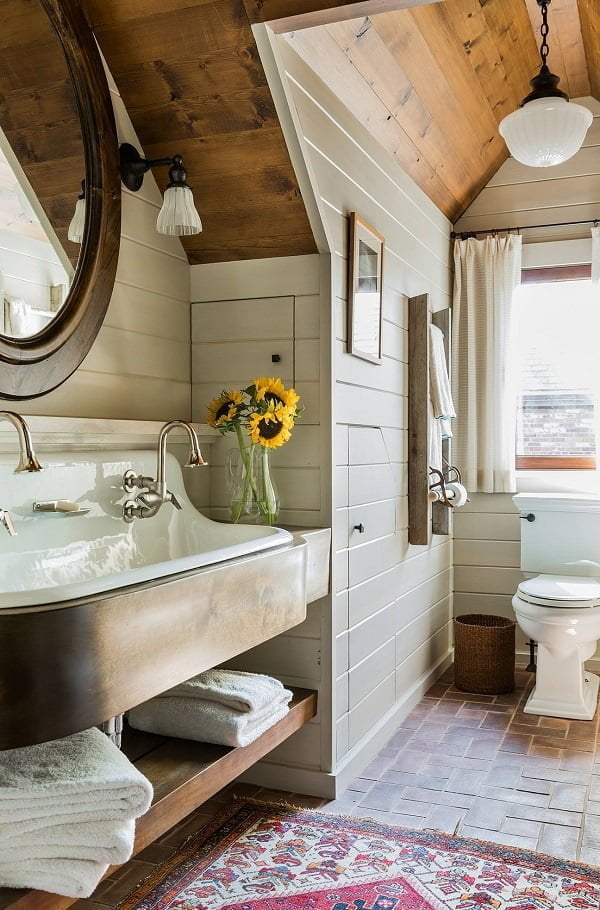 Regarding space and room, this tub-like sink uses a double-faucet system and is protected by the custom-made hardwood cabinet.
Blue Is the Warmest Color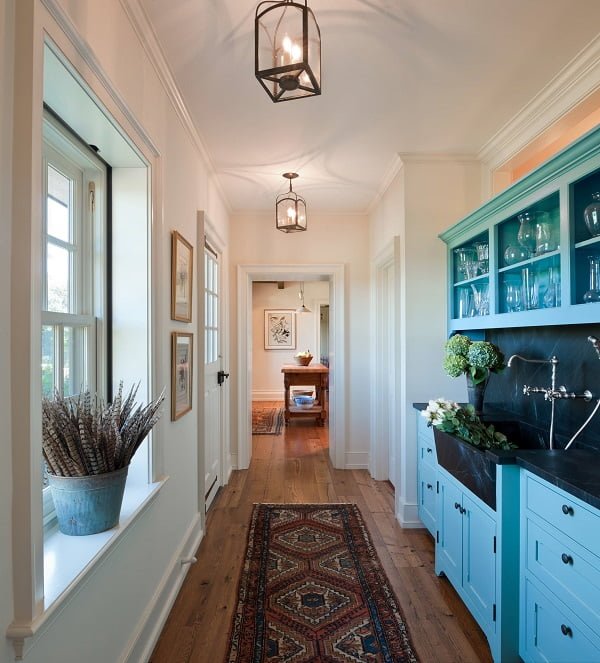 This aquamarine kitchen sink area uses a deep-blue soapstone sink with exposed front, matching the common wall and hose-connected faucet.
Good Ole' Sophistication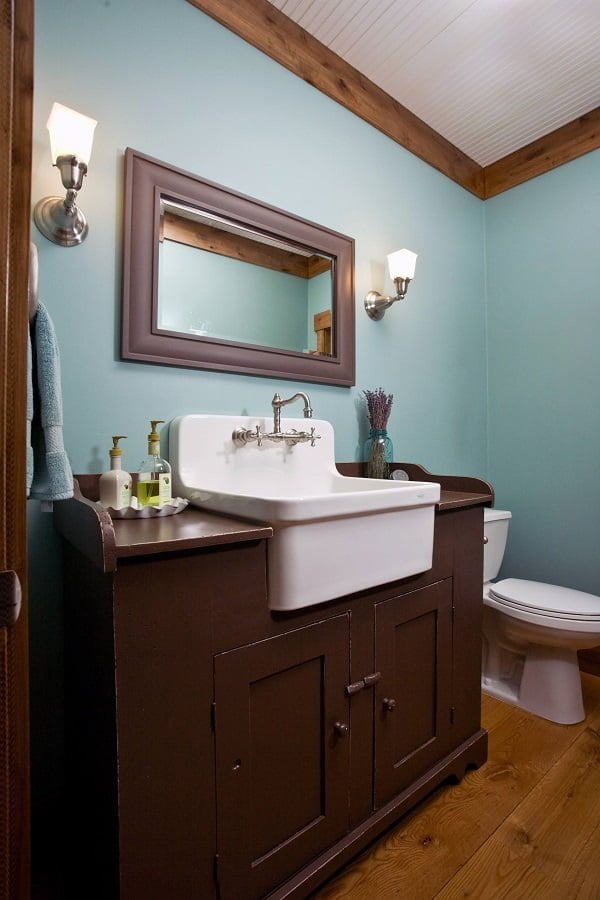 The drop-in sink is made of semi-matte eggshell porcelain and has a tiny but practical double spinning handle faucet.
Farmhouse Sink Knockout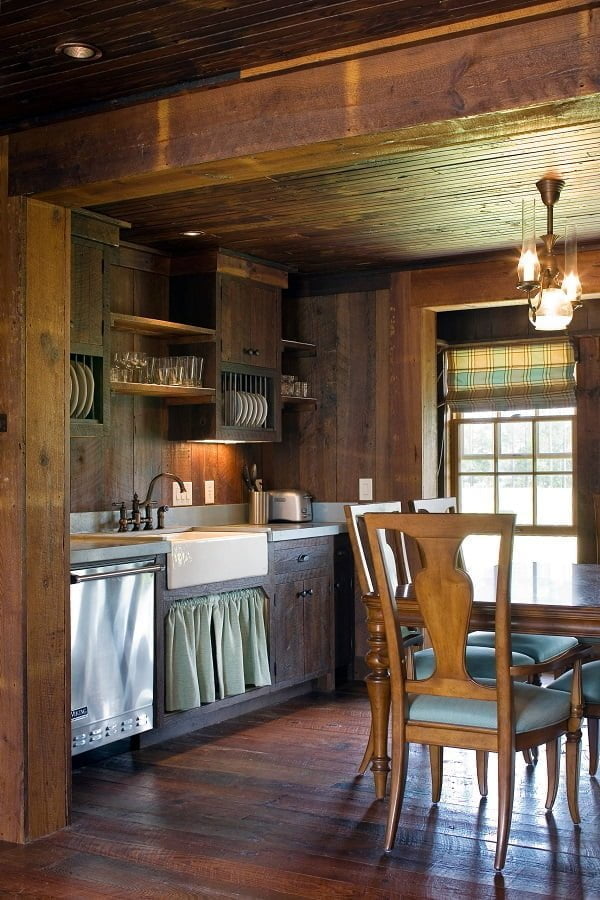 The all-white porcelain sink has its front exposed and cleverly breaking the all-wood cabinet space. Detached from other elements, the retro sink introduces lightness to the room.
Cream Kitchen Sink Delight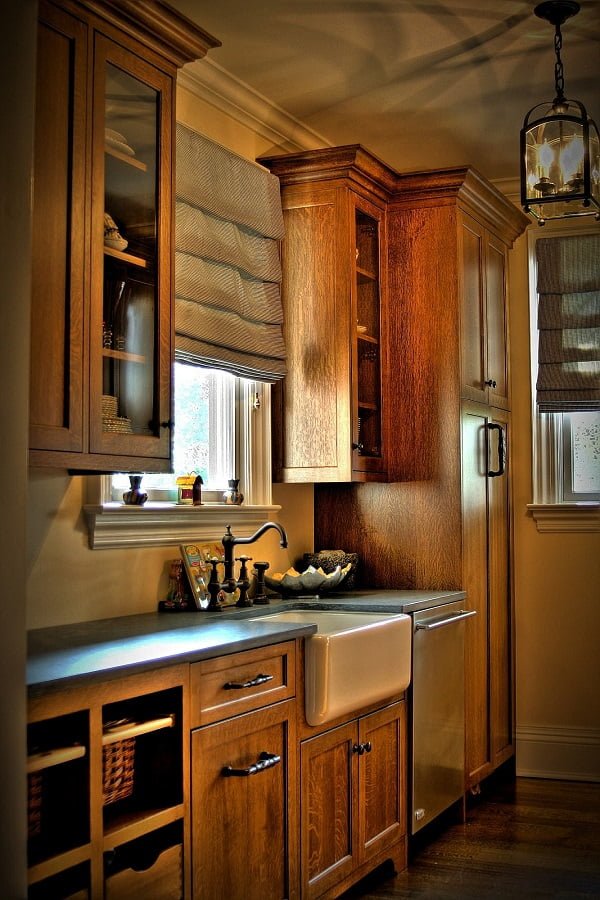 The caramel porcelain sink is a true show-stopping element in the kitchen. Smartly incorporated into the all-wood cabinet, the asymmetrical drop-in sink is just a joy to observe.
Arabic Sink Paradise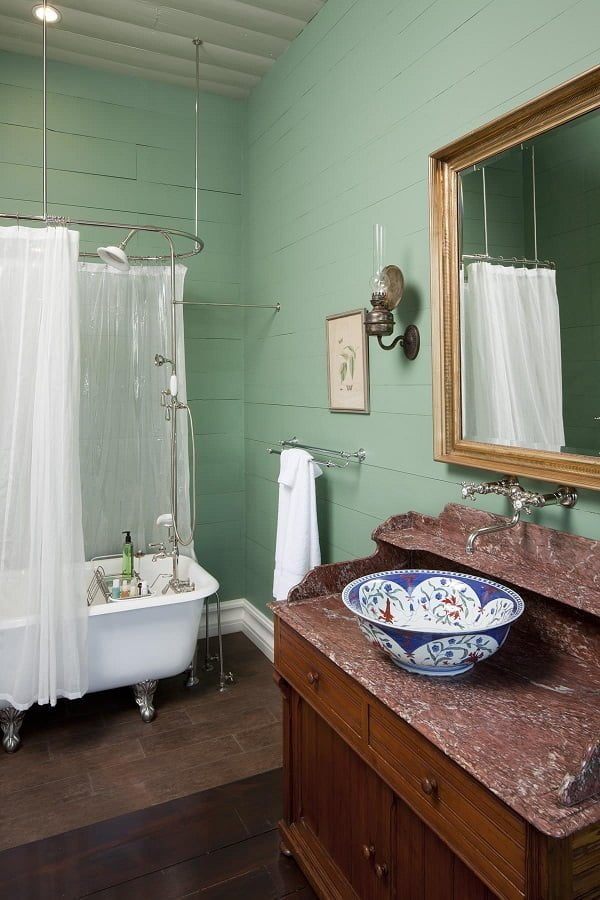 If you are a lover of unusual but practical sinks, have a look at this vibrant bowl transformed into a functional sink. Beyond effective!
Fantastic and Catchy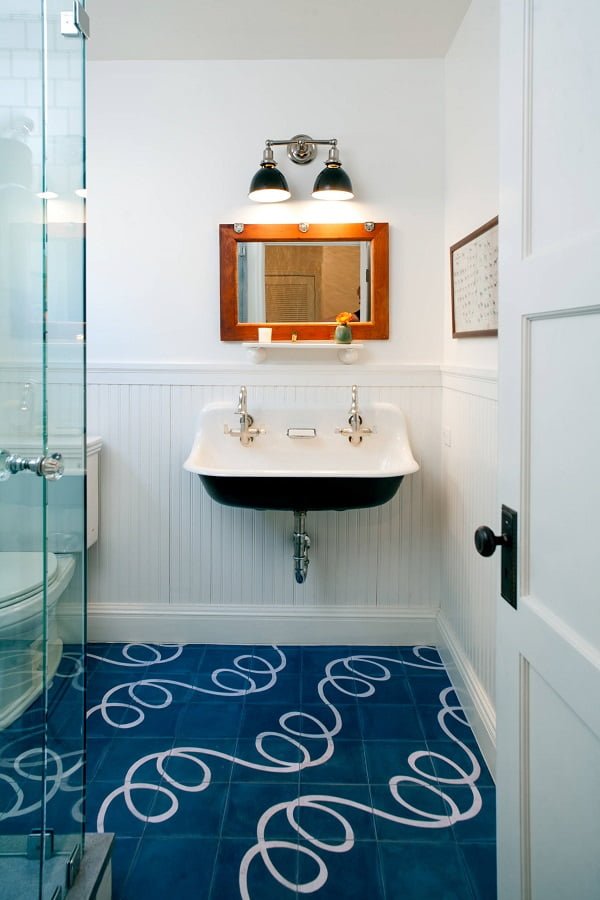 This captivating and practical idea uses a white interior trough sink with black exterior and a contemporary metallic drain. Simplicity achieved!
Masterfully Composed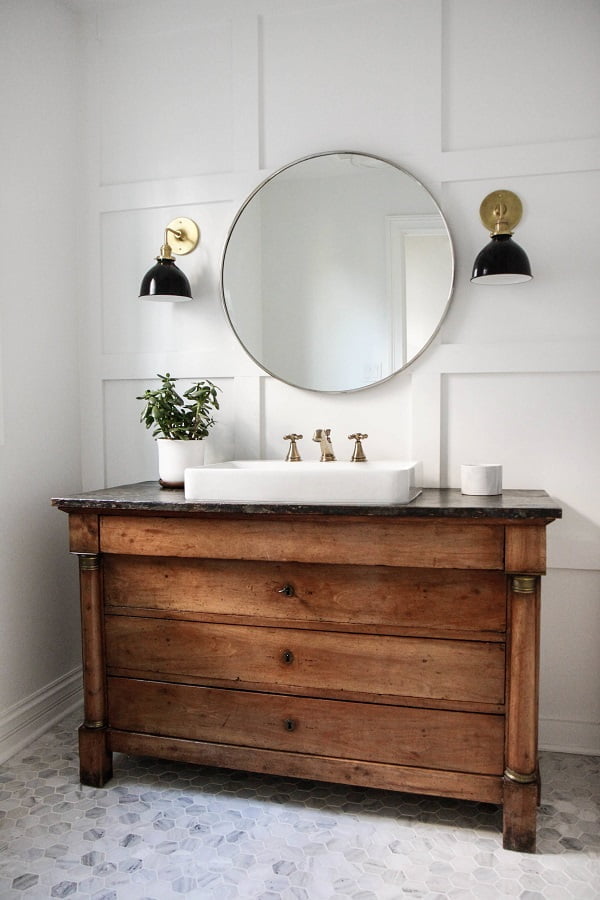 The sink in this bathroom is a vessel all-white model, which magnificently matches the all-wood cabinet and black countertops.
Fantastic and Creative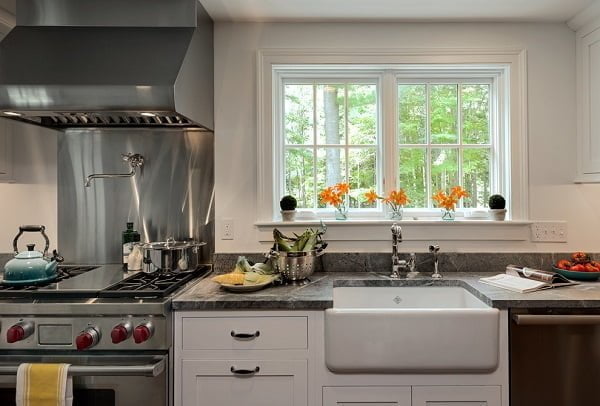 Where best to place an all-white exposed sink with an exposed front than under the open horizontal window? A genius concept that works!
Compact and Pleasant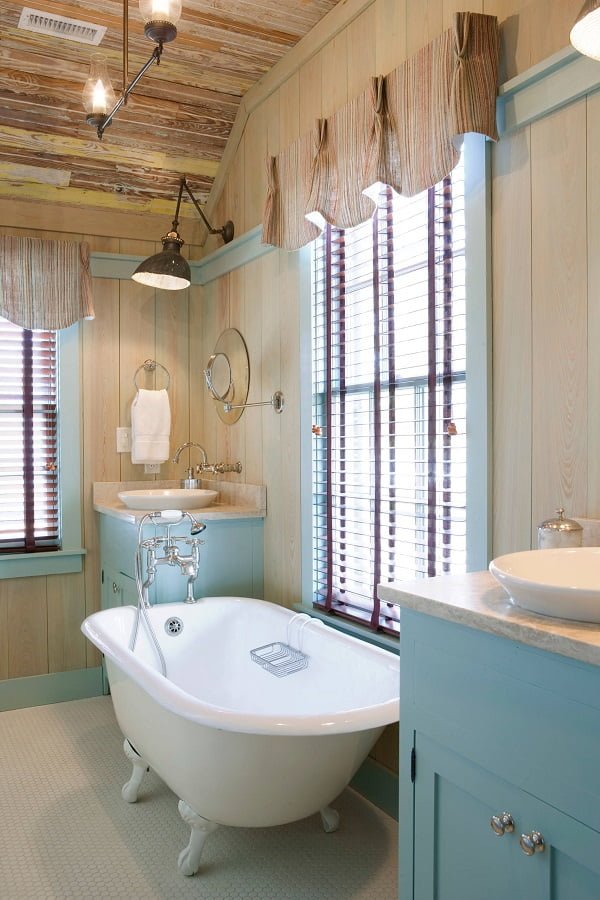 This bathroom uses two vessel all-white porcelain sinks which are complementary to the baby blue cabinets and beige countertops!
Strategic and Nostalgic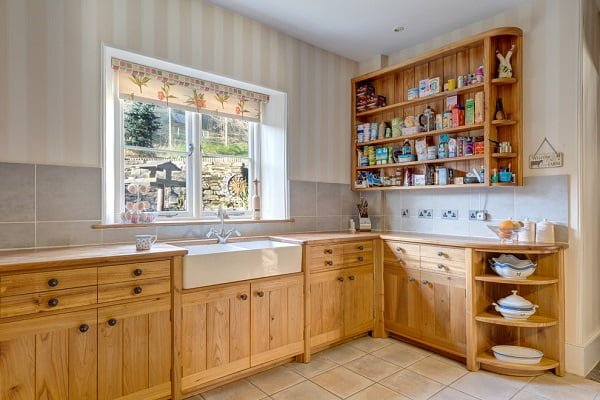 The retro feel of this kitchen is mainly due to the all-wood cabinets and staggering and white porcelain butler sink located just beneath the central window.
Intriguing and Effective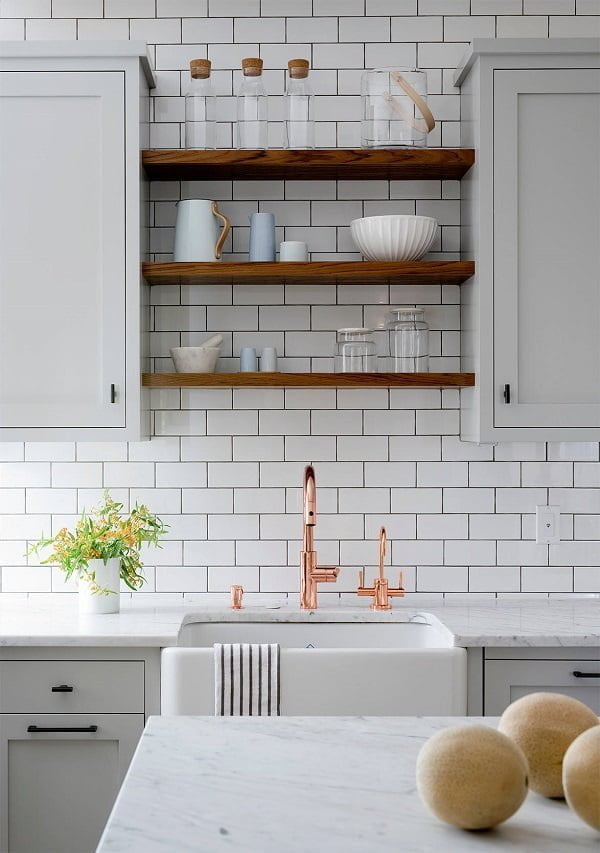 This farmhouse kitchen sink is speaking of yesteryear memories and is cleverly intertwined with the plain white countertops, thus creating an idyllic atmosphere.
Magnetizing and Appealing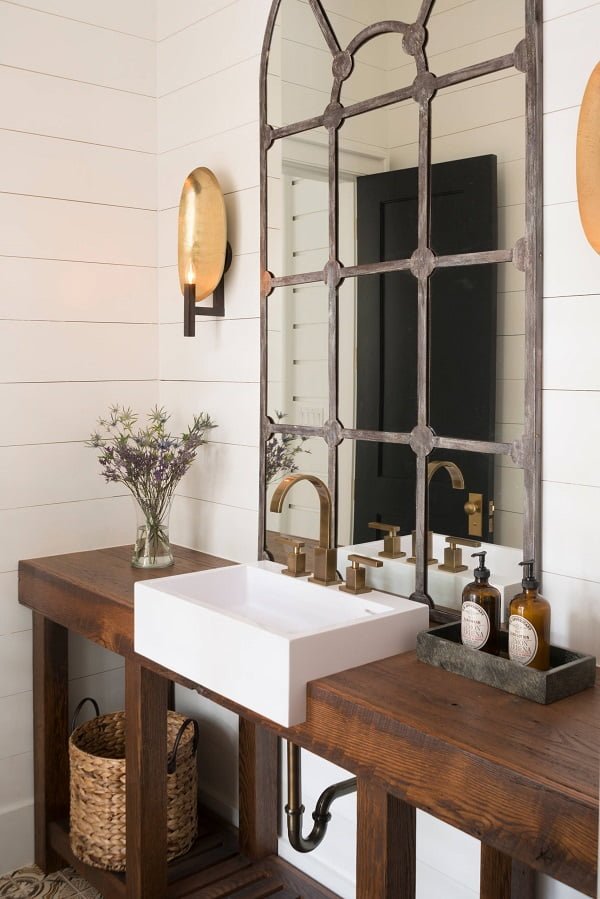 Take a look at this beautiful white drop-in sink which cuts through all wood cabinets and pairs amazingly with the brown countertops! Gorgeous!
Let There Be Light!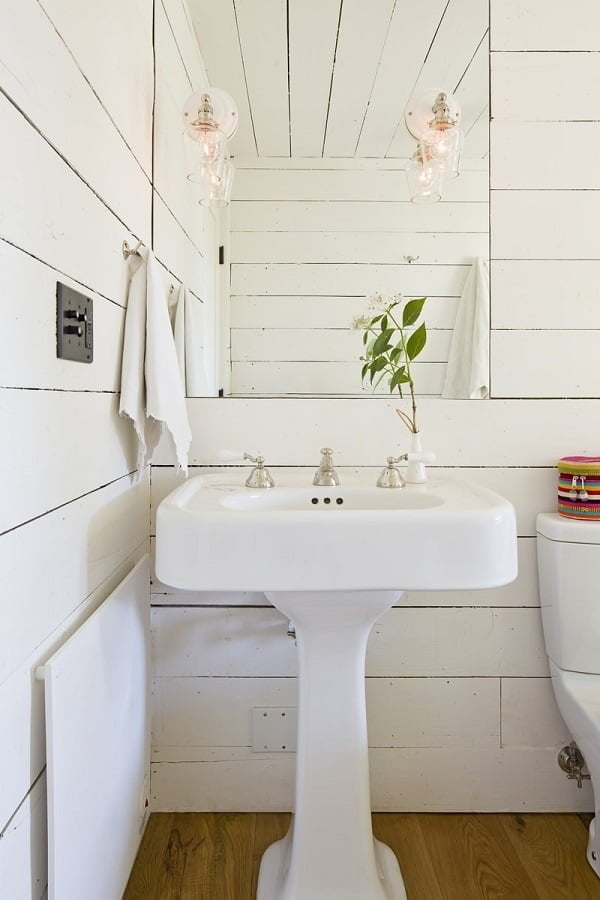 The white-on-white bathroom introduces simplicity through the pedestal porcelain sink with playful and silver double-handle faucet.
Bubbly and Upbeat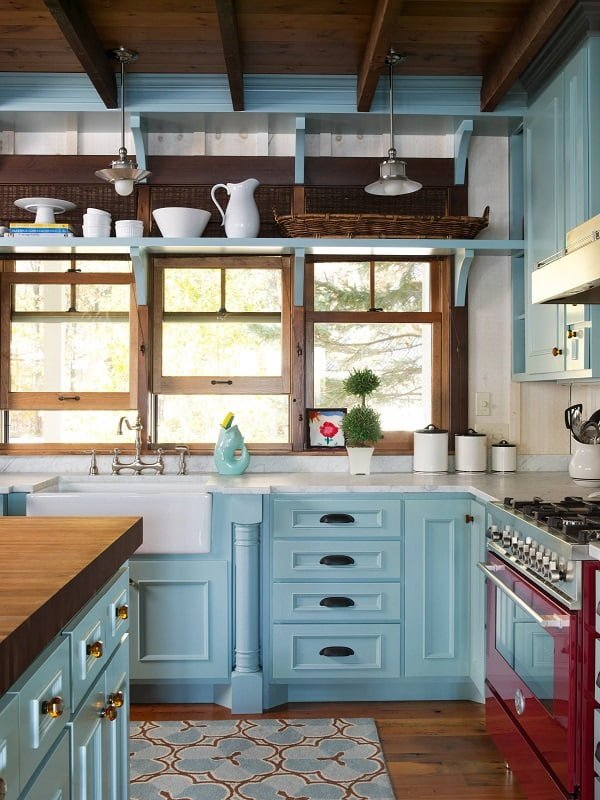 This kitchen explodes with colors, but the neutrally white porcelain sink introduces serenity and balance to the sky blue cabinets.
Kitchen Sink Elegance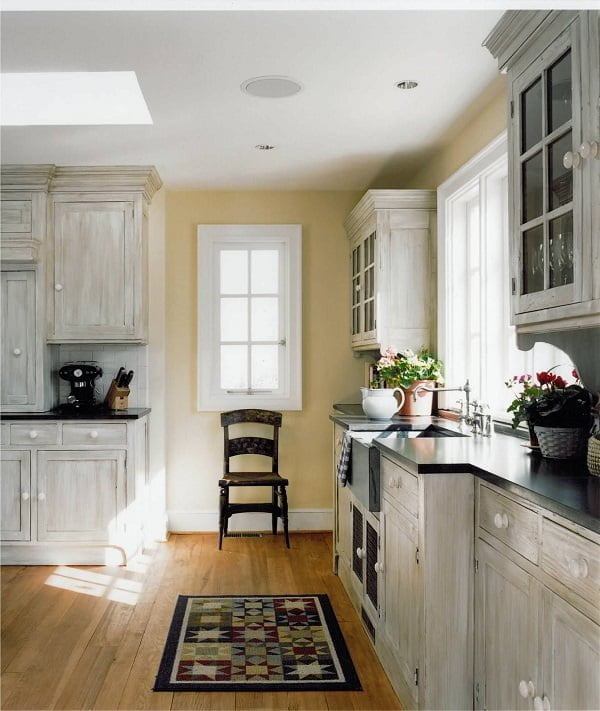 Although atypical, dark sink colors make the perfect choice for a bright kitchen, and this exposed tub-like sink is nothing short of impressive!
Thinking Outside the Box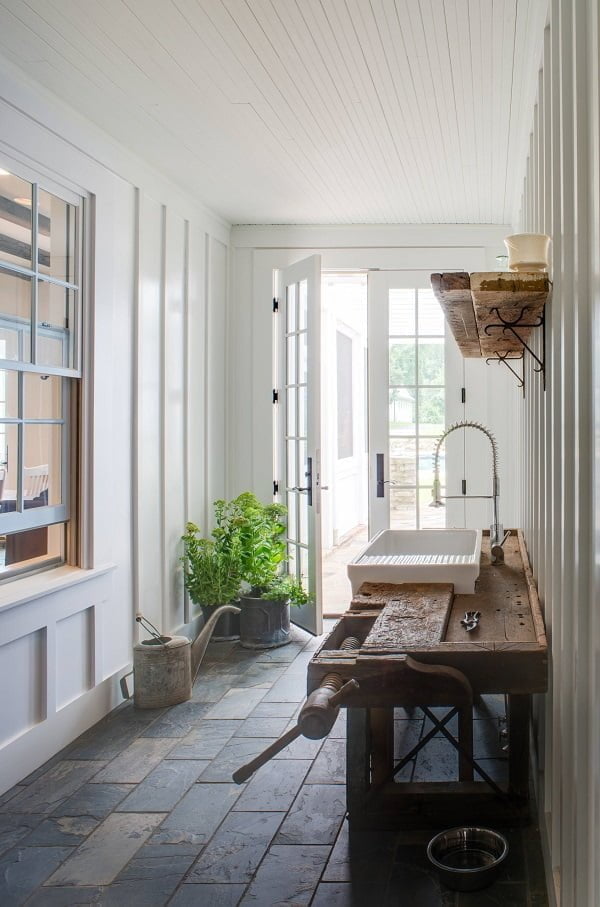 This traditional sink attached to brown cabinet countertops makes everyday life and work, practical! Installed in a workroom, this sink speaks of multi-functionality and a job well done!
5 Star Hotel Vibes
A excellent bathroom design using joint, yet individual white porcelain sinks with fancy silver faucets and mirrors above each sink!
Cheerful and Stylish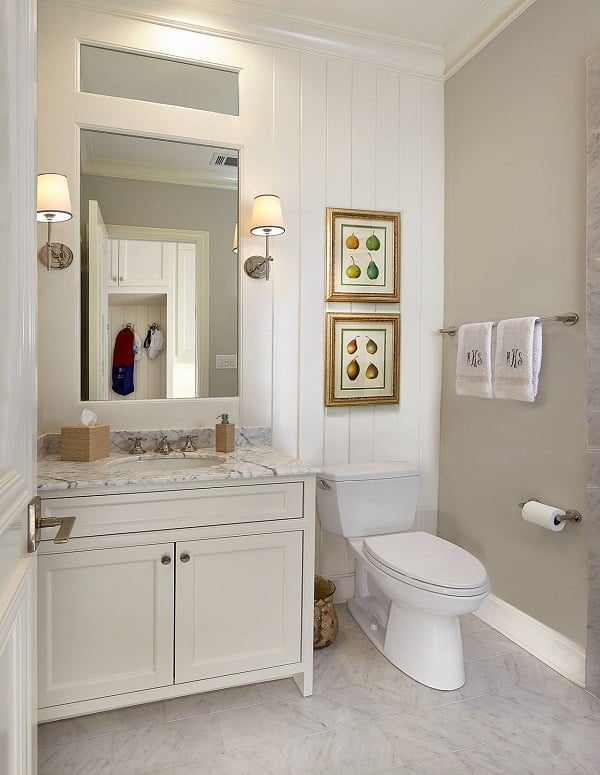 If you are simple, yet want a hint of class, combine a white under mount sink, placed over beige marble countertops and just beneath a framed mirror.
Residential and Witty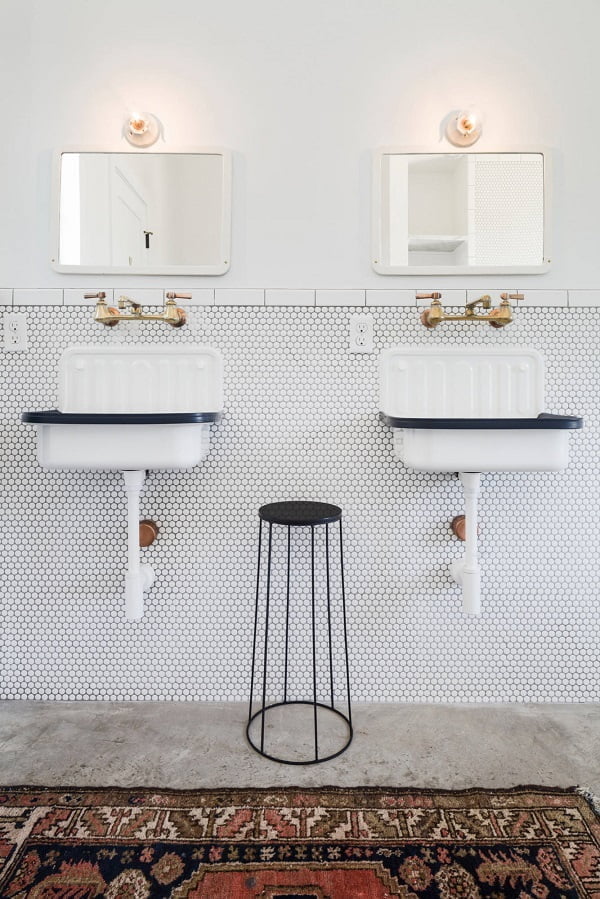 The double wall-mount sink set is as appealing as its decorative features,  such as the bar-inspired pedestal stool and detached gold faucet. Groundbreaking!
Refined and Thoughtful
This magnificent kitchen focuses dark-grey decor elements except for the all-white and exposed kitchen sink, placed just beneath an open window.
Incredible Bathroom Sink Design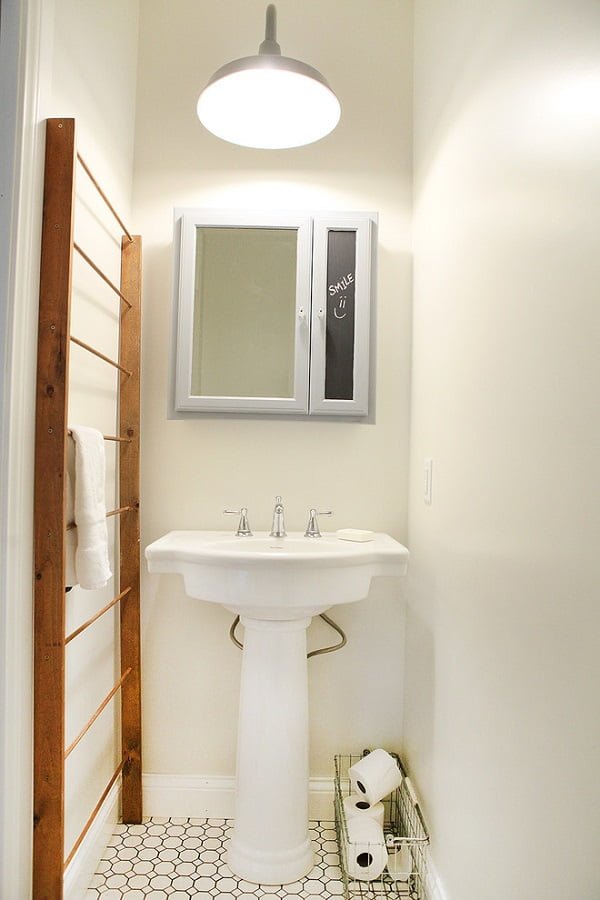 The white porcelain pedestal sink gives the narrow bathroom both light and space, using a simple gold faucet and providing extra storage room for a soap holder.
Sophisticated and Mindful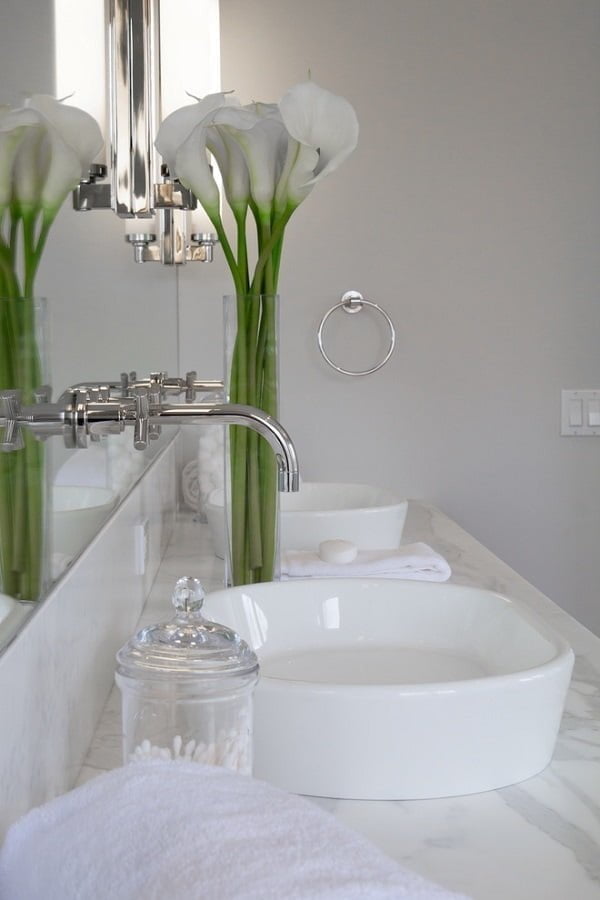 The white marble countertops and white walls give the two-vessel sink the chance to shine and be exposed just enough to create solid dynamics in the bathroom.
Familiar, Yet Unordinary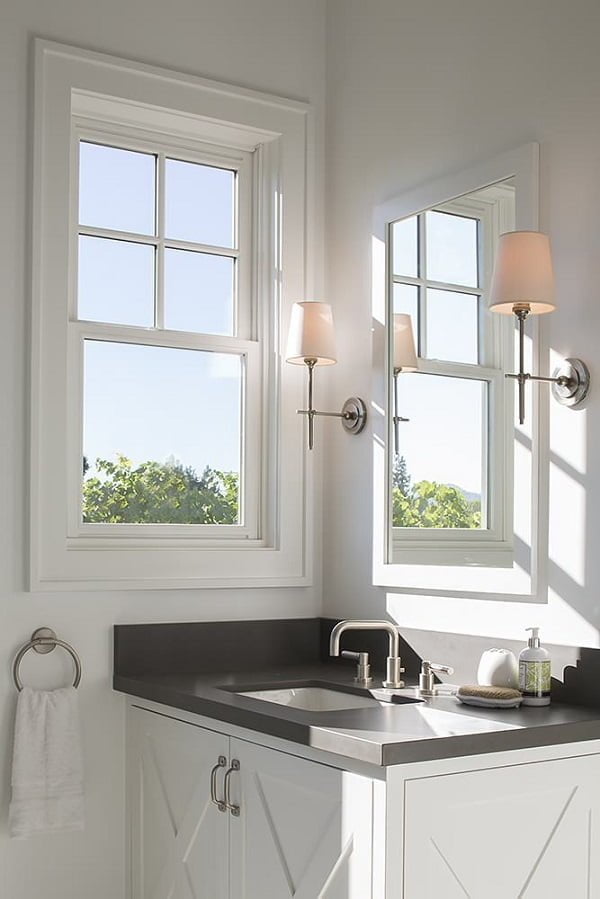 The black countertop bathroom cabinet offers just enough space to incorporate the under mount and concave white sink, thus creating a high contrast of colors and designs.
Rustic Bathroom Sink Fairytale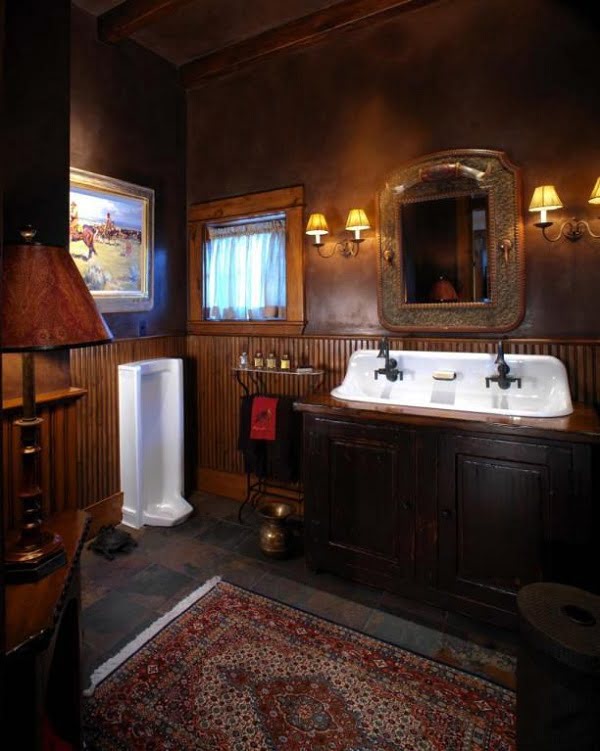 The dimmed and soft lighting in the room emphasizes the large built-in sink, which introduces elements of porcelain and all-white palette to create vibrancy in the space itself.
Voguish and Romantic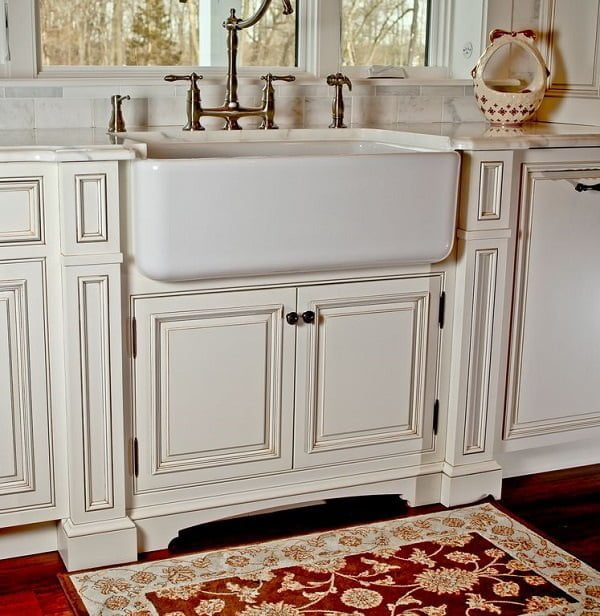 This porcelain sink has its front exposed to create dynamics in the all-wood beige kitchen cabinet set, and is perfectly matched to the soft, marble countertops!
Exceptionally Beautiful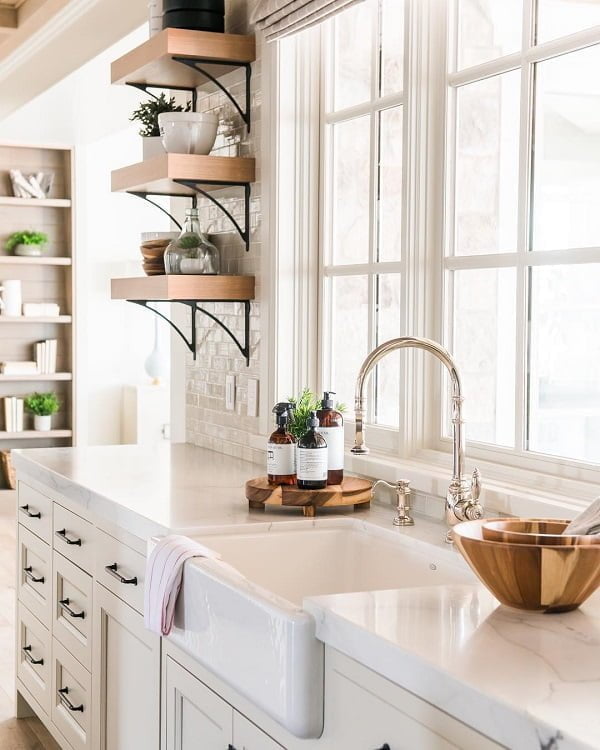 The all-white sink is made of porcelain and fits amazingly in the natural light kitchen setting. The sink provides a play in textures through the delicate and silver U-shaped faucet.
Spectacular Eye for Details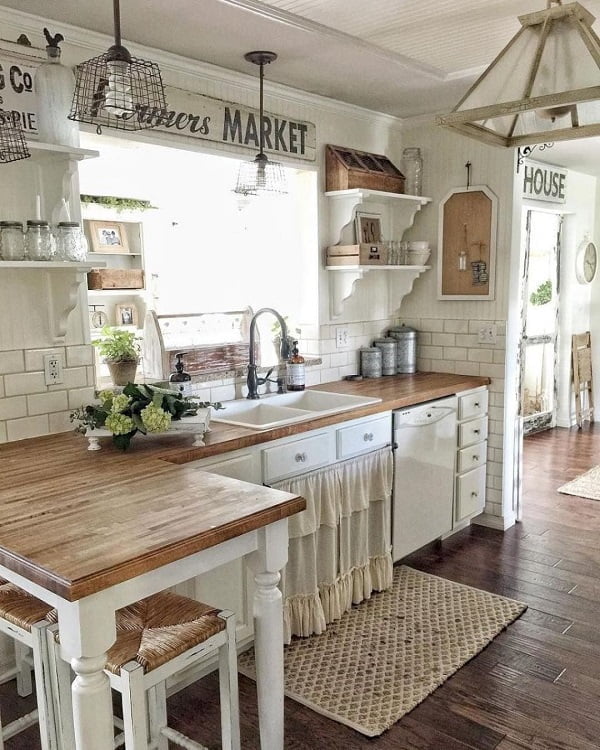 What better way to create both space and playfulness than introducing a double kitchen sink which is simple yet clean and practica?! Fabulous!
Innovative Sink Decor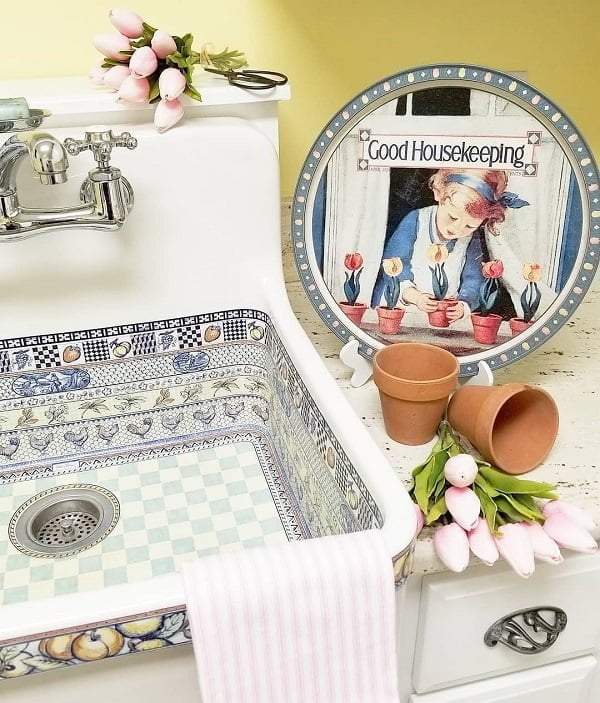 An incredible take on a sink, designed with hand-painted Arabic prints and using a silver faucet and matching tray to deliver a hint of modernism.
Ranch Inspired Kitchen Sink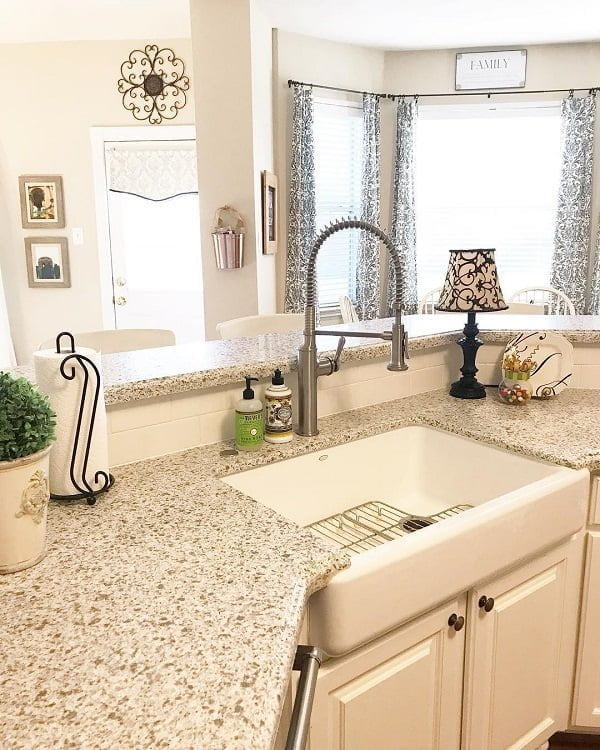 The delicate all-white kitchen sink is part of a well-designed kitchen cabinet and uses a single-handle silver faucet perfectly matching the dotted marble countertops!
Glamorous Kitchen Sink Corner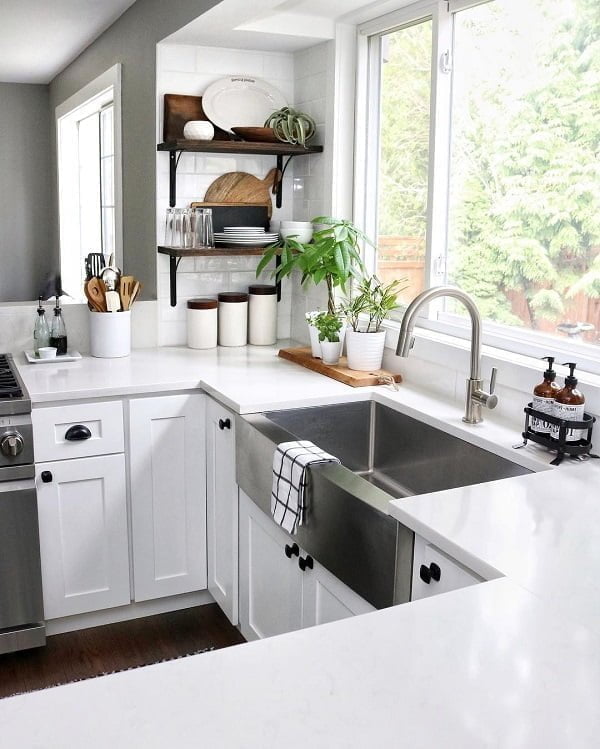 The silver kitchen sink has an exposed metallic front which adds a contemporary feel to the room, enhanced by white countertops and a strategic towel holder.
Out of the Ordinary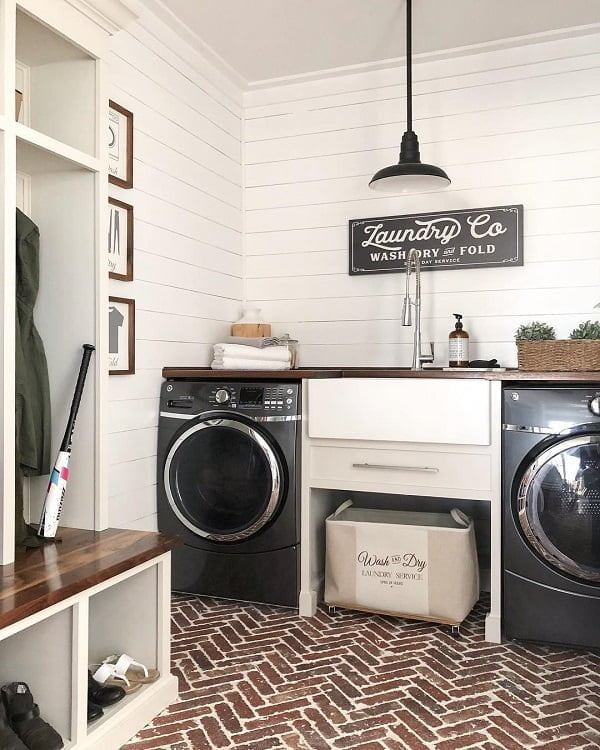 Create a multi-functional laundry room setting by introducing an exposed-front porcelain sink with a storage drawer beneath it! Busy life simplified!
Gold is the New Black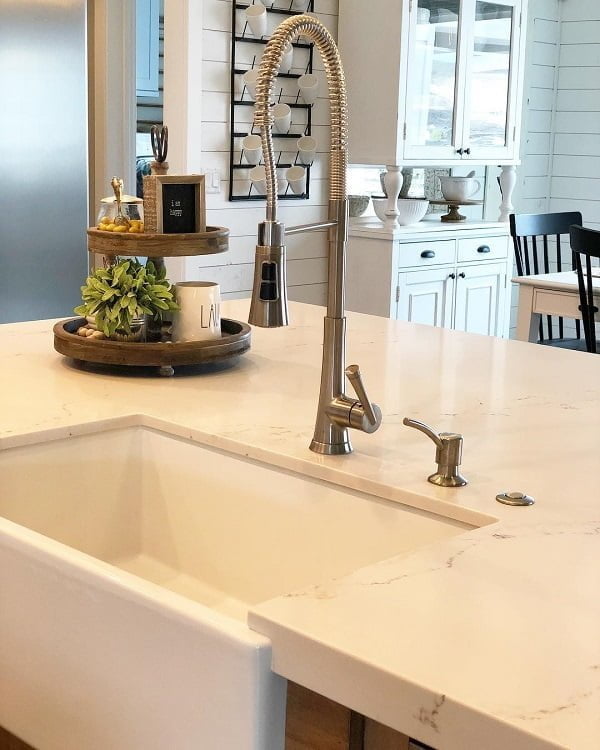 Just have a look at this stunning and practical U-shaped gold faucet which accentuates the drop-in sink magnificently, opening an additional countertop space.
Refreshing and Stylish
This farmhouse sink creates a pleasant kitchen atmosphere, using an exposed silver front and a below-the-window and tall single-hole faucet.
Hacienda Inspired and Practical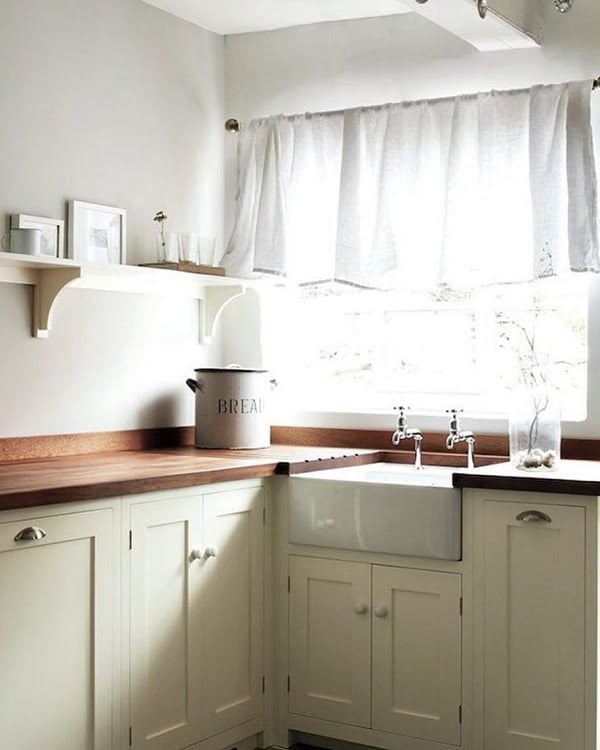 The sophisticated white butler sink has an exposed front and a narrow white cabinet just beneath it, creating extra storage space if necessary.
Desirable and Cosmopolitan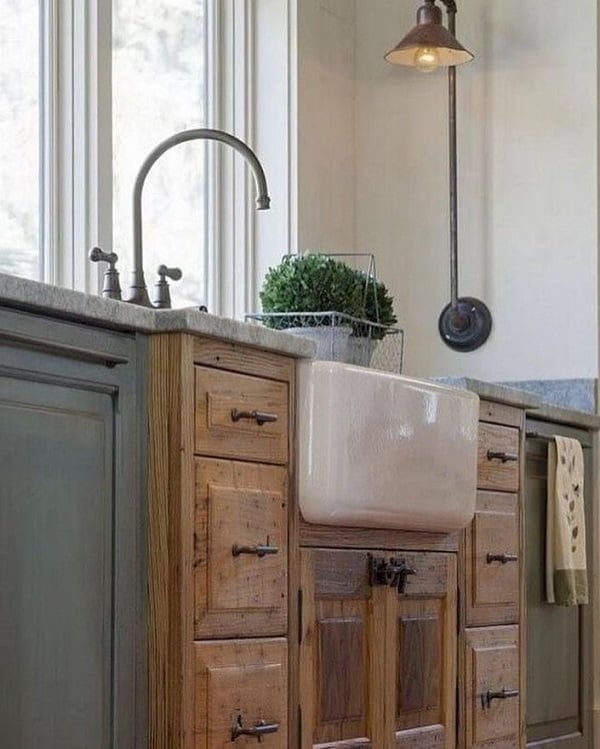 A plain, white butler sink with a visible front makes a great addition to the vintage kitchen cabinet, creating a light and breezy feel in the room!
Triple the Charm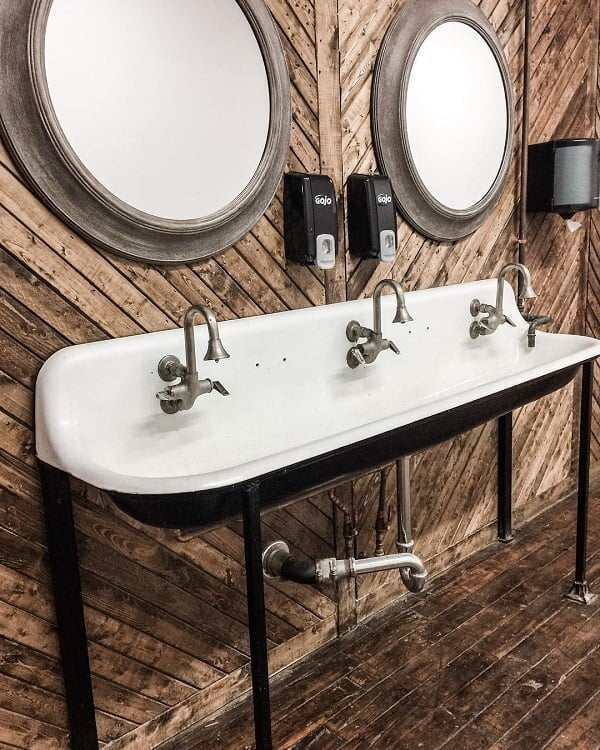 The antique tub-inspired bathroom sink is a statement decor piece, using three double-handle pull-down faucets and a standing iron sink frame.
Extraordinary and Tasteful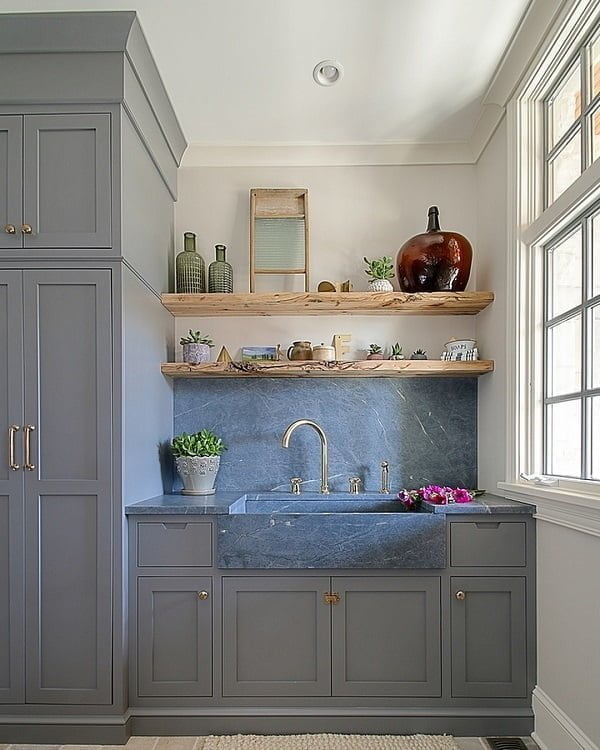 Combining grey and blue sink elements has allowed the space to remain flawless, with the gold faucet set giving a necessary pop of color!
Fancy and Spacious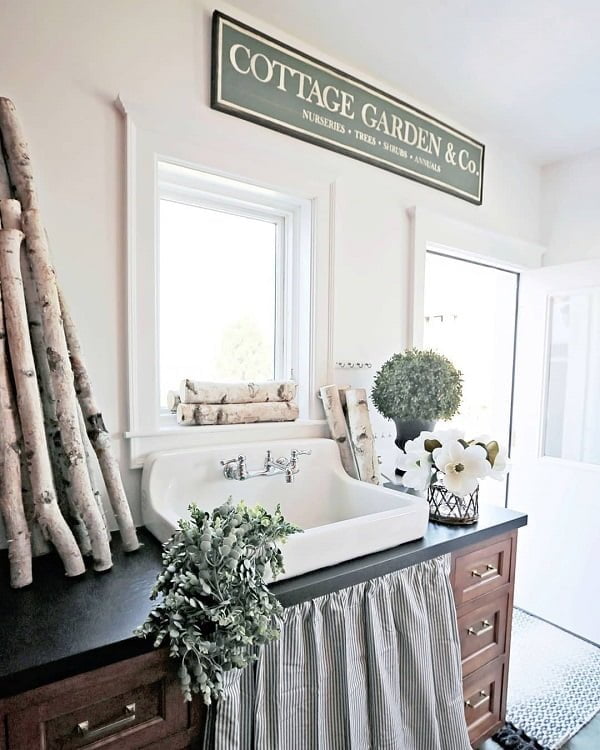 Place a porcelain vessel sink just beneath a central kitchen window to create a light and bright space, with decorative logs which enhance both the sink and the rest of the kitchen.
Elevated Kids Bathroom Sink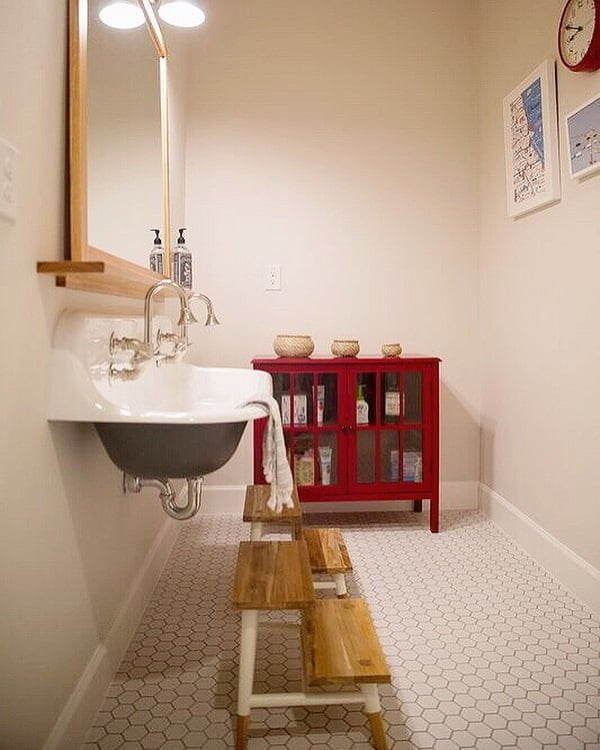 The retro tub-like bathroom sink is tall and spacious, using two separated faucets and additional wood pedestals which allow practicality and more accessible to reach.
Trendsetting Splash of Colors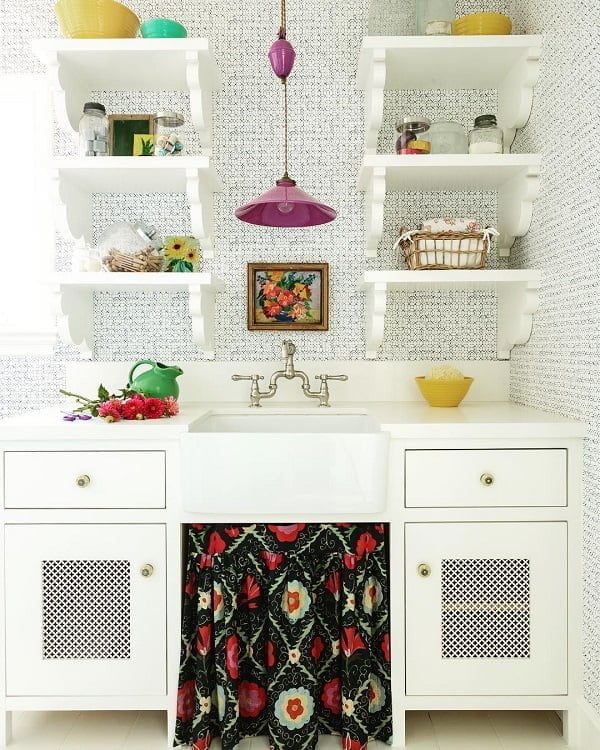 Using a neutral and white porcelain drop-in sink can be enhanced with colorful decor details, such as the purple over-the-sink lamp and light sink storage elements.
Groundbreaking Dish Washing Space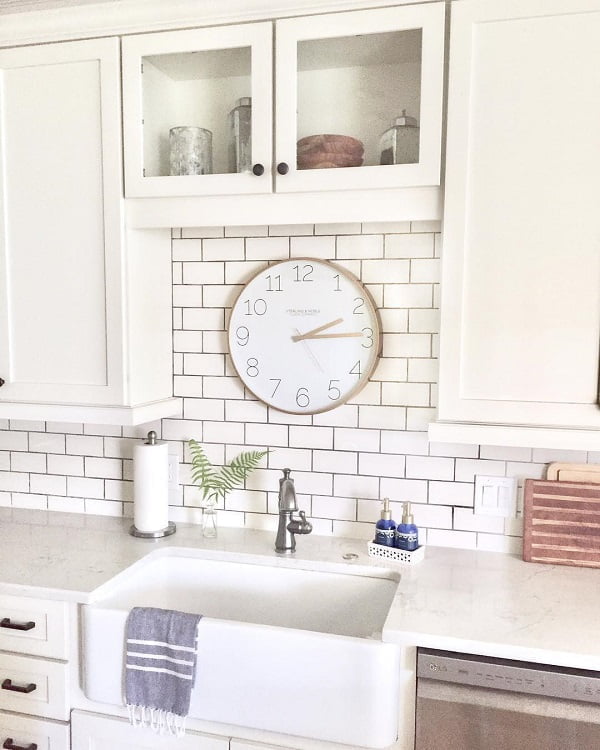 Get to love everyday kitchen chores and enjoy this marvelous white butler sink with an exposed front and a metallic pull-down faucet. Excellence achieved!
Attention Grabbing and Busy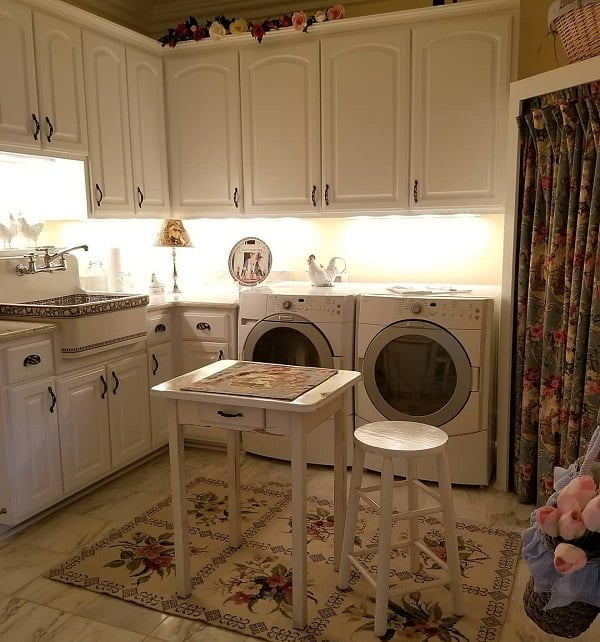 Install a rustic porcelain sink in your laundry room and allow practicality and effectiveness to take over! This vessel-butler combo sink is a pure delight intended to help you multitask with ease!
Romantic and Enjoyable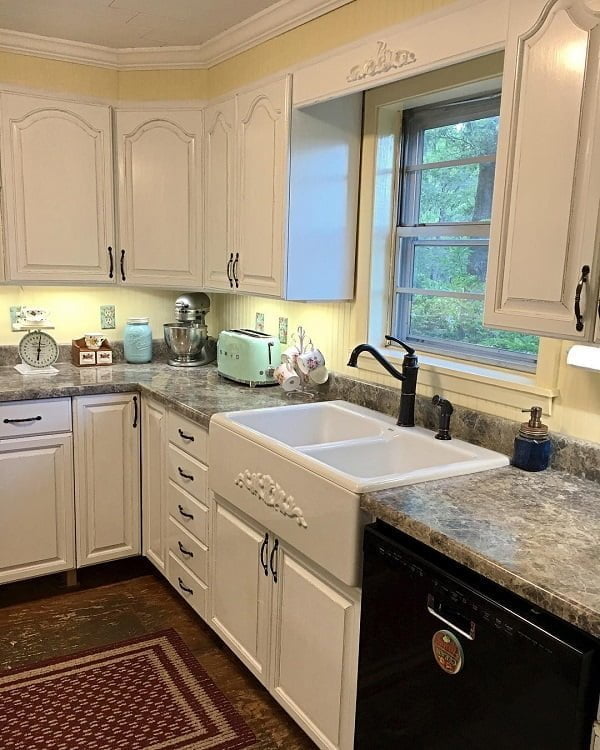 Instead of the pricier ceramic kitchen sink, this room uses acrylic and double butler sink with a statement front design and an all-white cabinet space just beneath it.
Outstanding and Original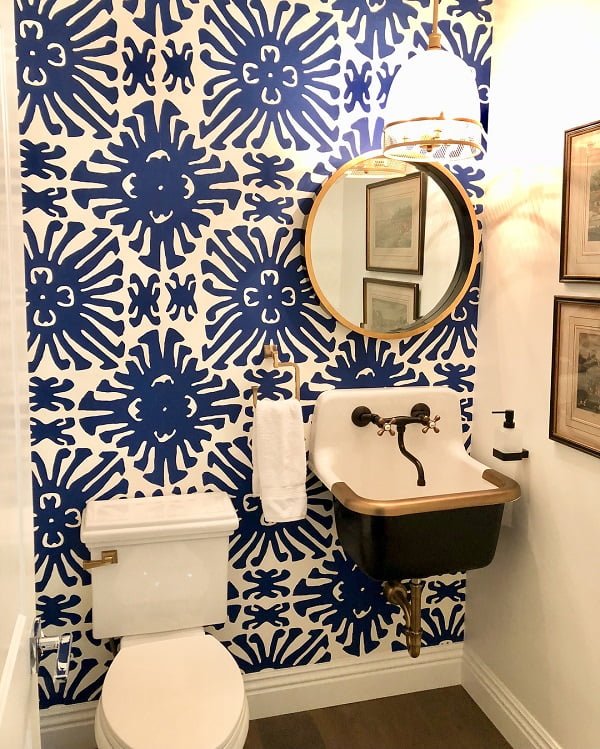 Printed blue bathroom wallpapers go hand in hand with the black and white single wall mounted sink with gold frame and strategic and space-friendly faucet!
Contemplated Perfection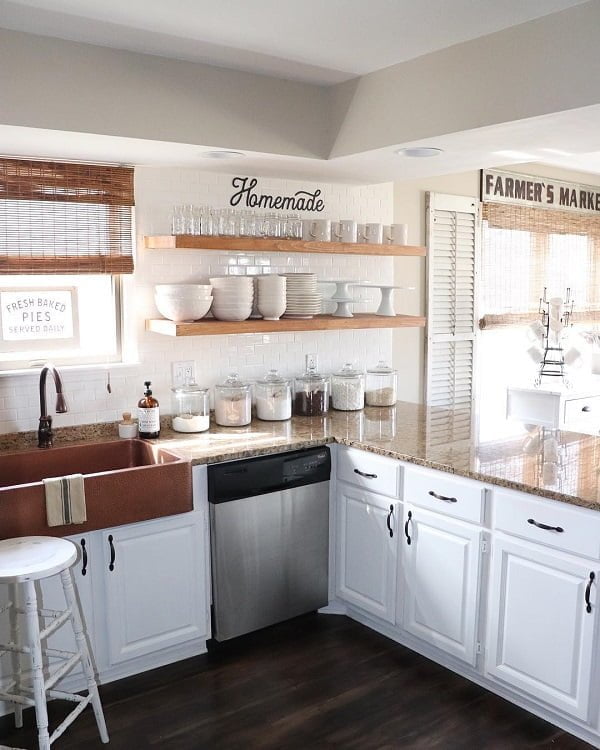 The brown ceramic butler sink stands as a centerpiece in this kitchen setting, introducing a bar-like stool to enable more access and usability.
Visually Stunning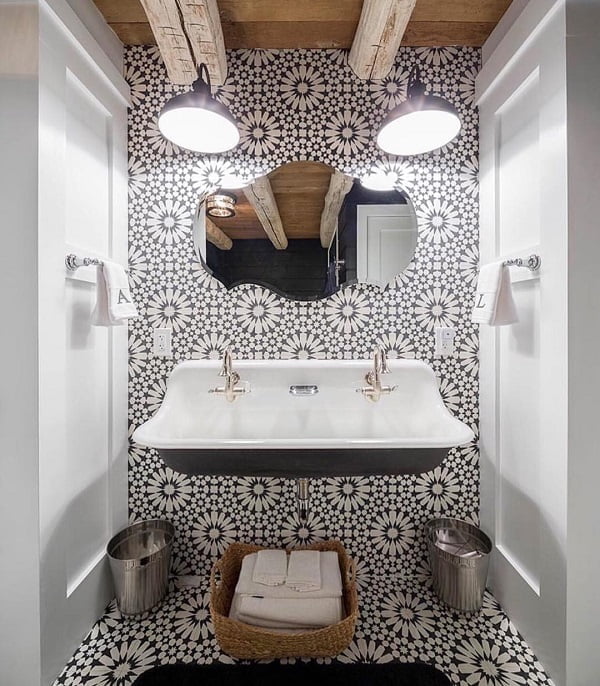 Using mosaical floors and walls in your bathroom can be toned down regarding prints by merely installing a rustic tub-inspired sink with two separate faucets.
Timeless Beauty
The vast marble butler sink incorporates both retro and contemporary elements in perfect harmony, with the copper center set faucet!
Energizing and Fun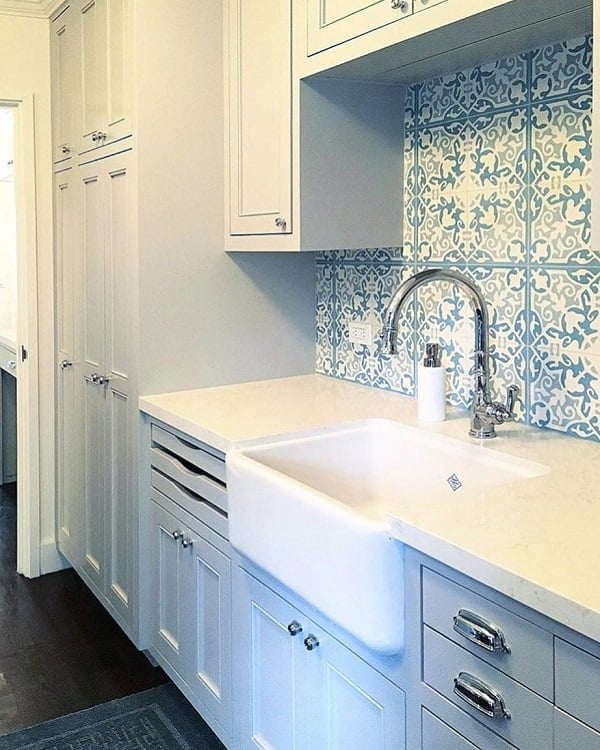 Mix a blue-printed oriental wall and an all-white ceramic butler sink to create and vivid and practical laundry room!
Fabulous Use of Bathroom Sink Space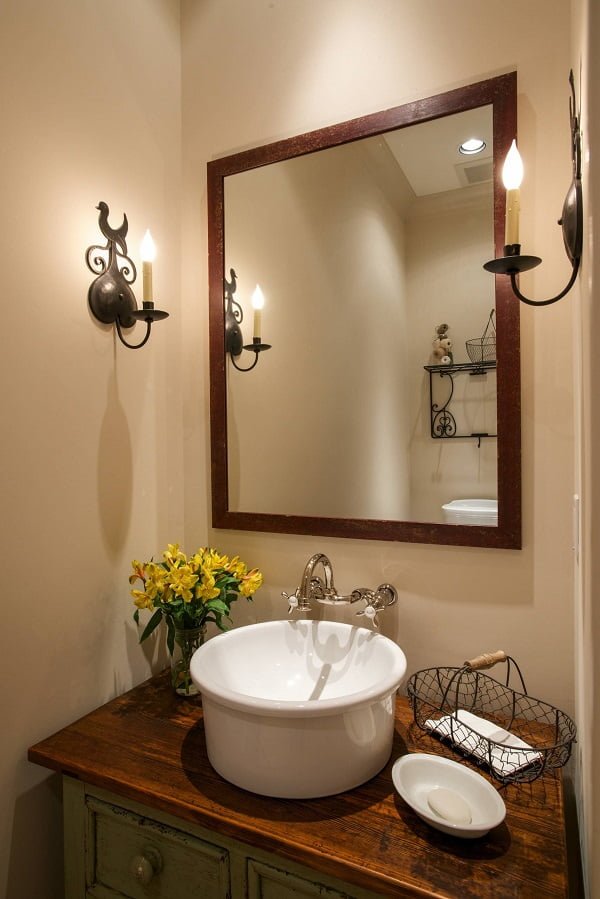 If you are working with small-spaced bathrooms, incorporate a genius white vessel sink placed on hardwood countertops and introducing both light and functionality.
Authentic and Enlightening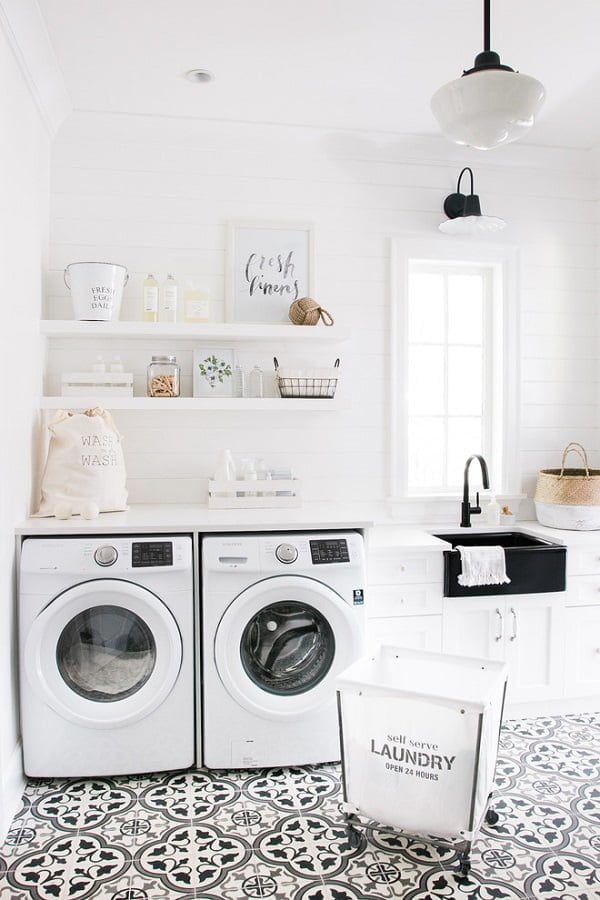 Enrich your all-white laundry room by introducing an atypical black butler sink with a storage cabinet beneath it, intended to create more space and comfort.
Vintage Sink Glee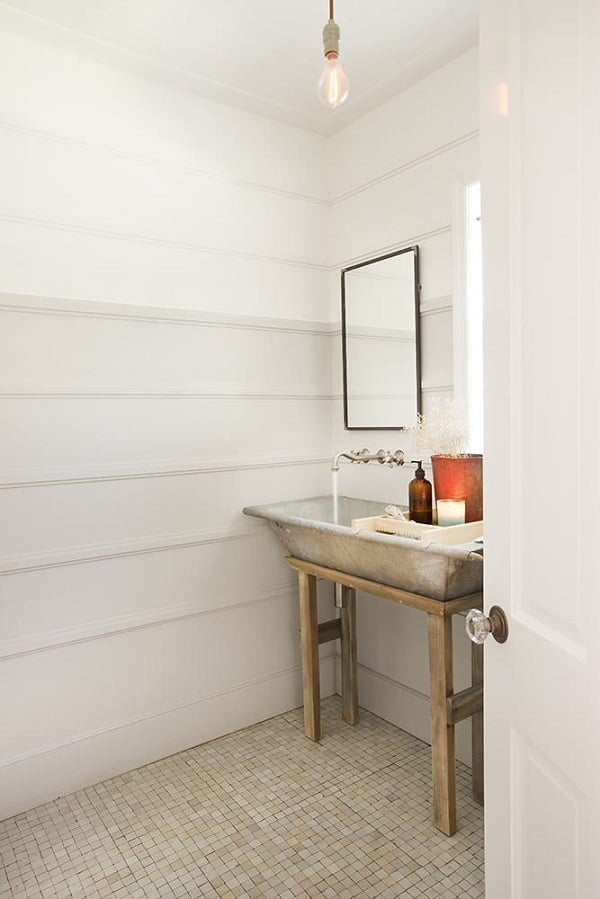 The rustic trough sink leaves room for both regular bathroom choosers and a side storage space to arrange bathroom essentials.
40's Sink Vibes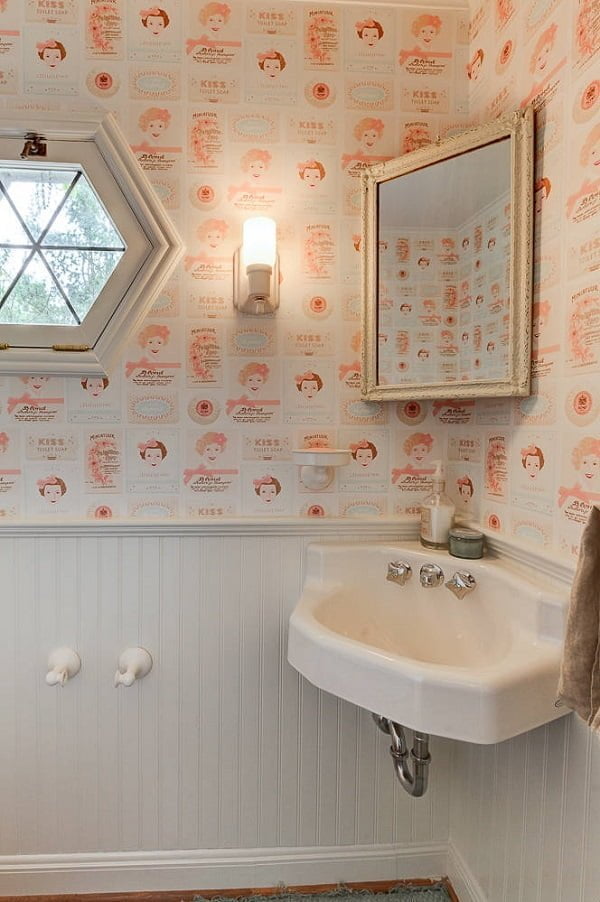 The perfect white wall mount sink is strategically placed in a rarely used bathroom corner, thus offering space, practicality, and effectiveness.
Statement Sink Sensation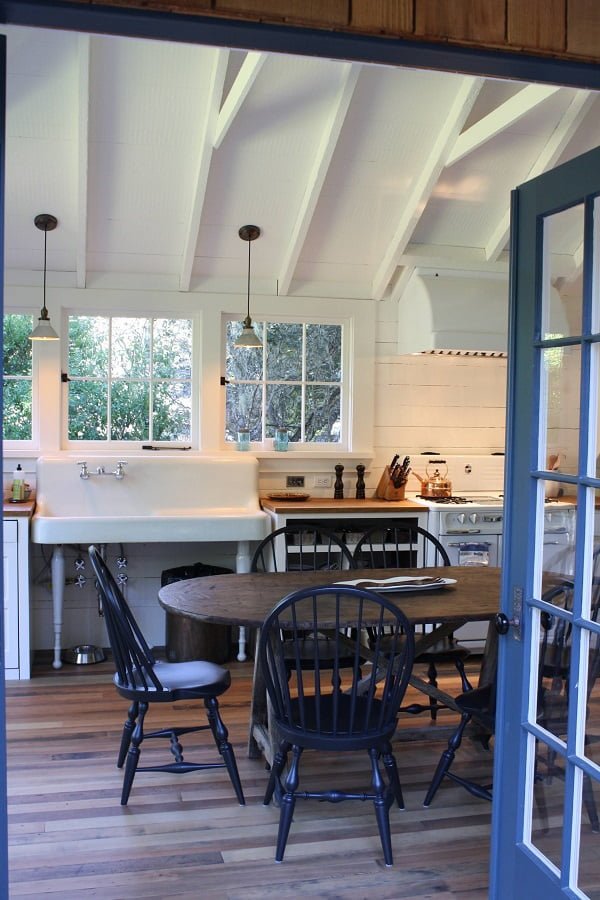 The large vessel ceramic sink steals the entire attention in this spacious kitchen, offering plenty of space and a practical washing corner.
Open and Inviting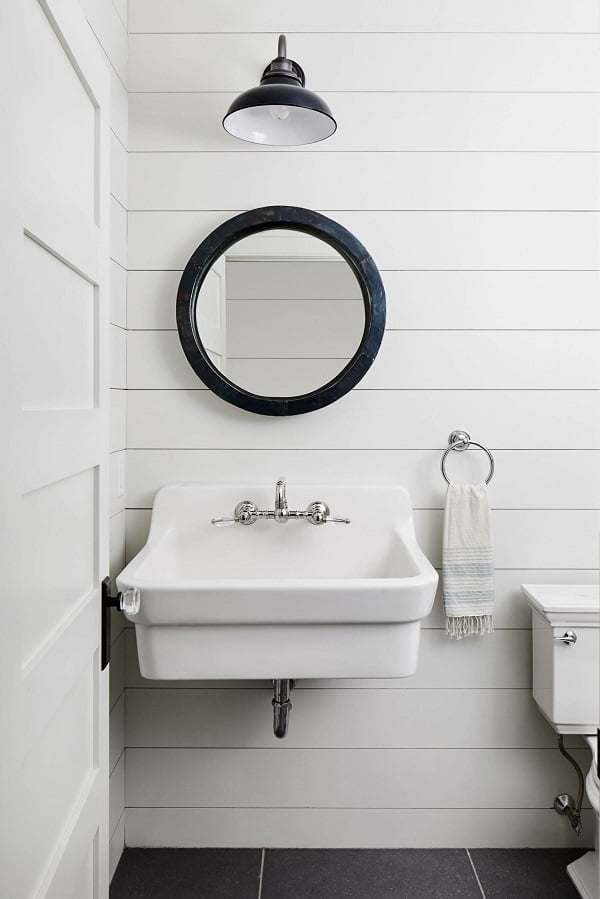 The accessible all-white wall-mount sink is spacious and uses a simple double-handle silver faucet, allowing the room to have both mobility and chicness.
Victorian and Uber-Stylish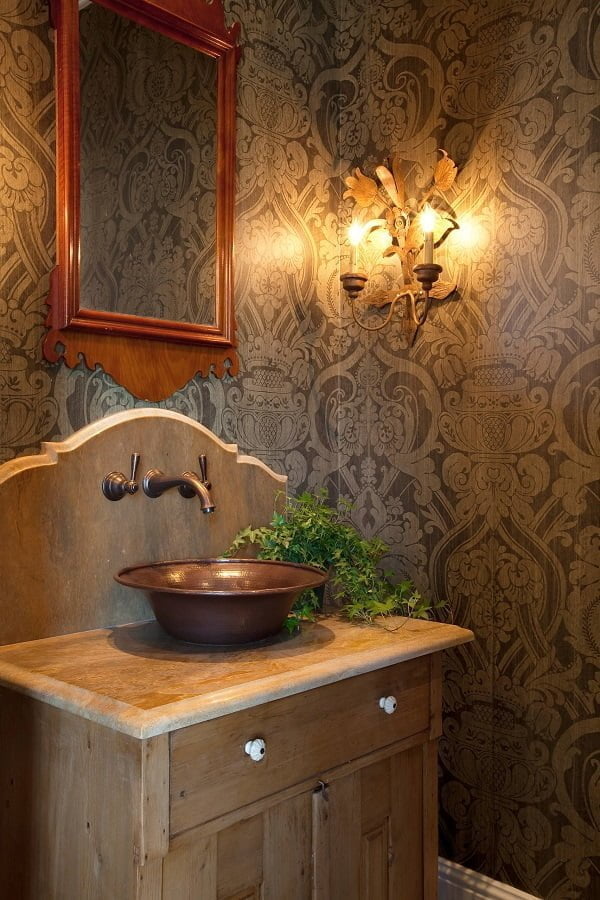 Enjoy this custom made copper vessel sink, placed above a hardwood bathroom cabinet, and decorated with a cabinet-mount brass faucet.
Bathroom Wall Efficiency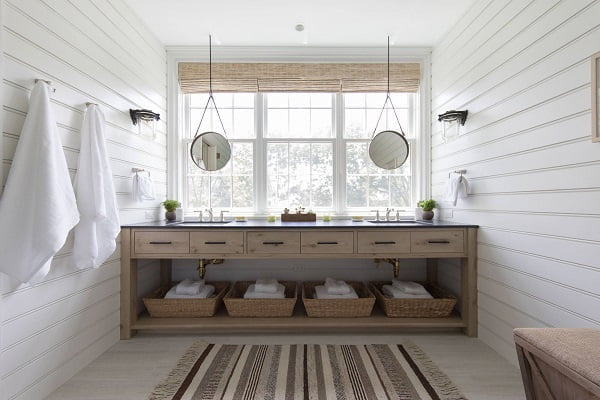 The wall-to-wall sink space can provide not just plenty of storage room, but also create a two-person sink area connected with light wood countertops.
Striking Bathroom Sink Design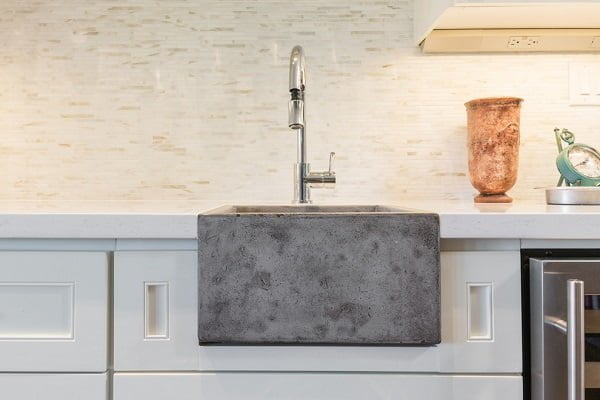 Simple is always the way to go, and this stone butler sink and neutral walls and countertops prove precisely that!
Impactful and Alluring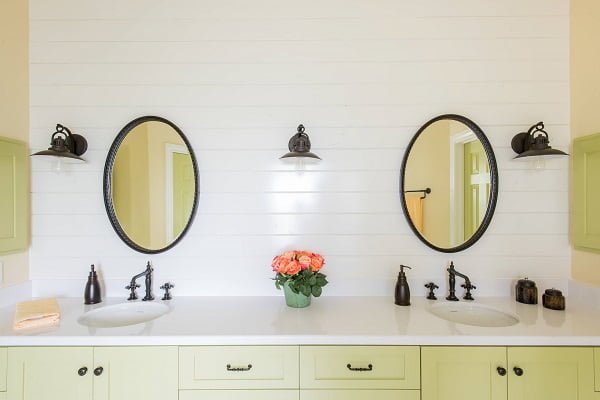 The double undermount and oval-shaped sink set introduces a hotel-inspired bathroom vibe and is empowered by plain white countertops and brass elements.
Fashionable and On Fleek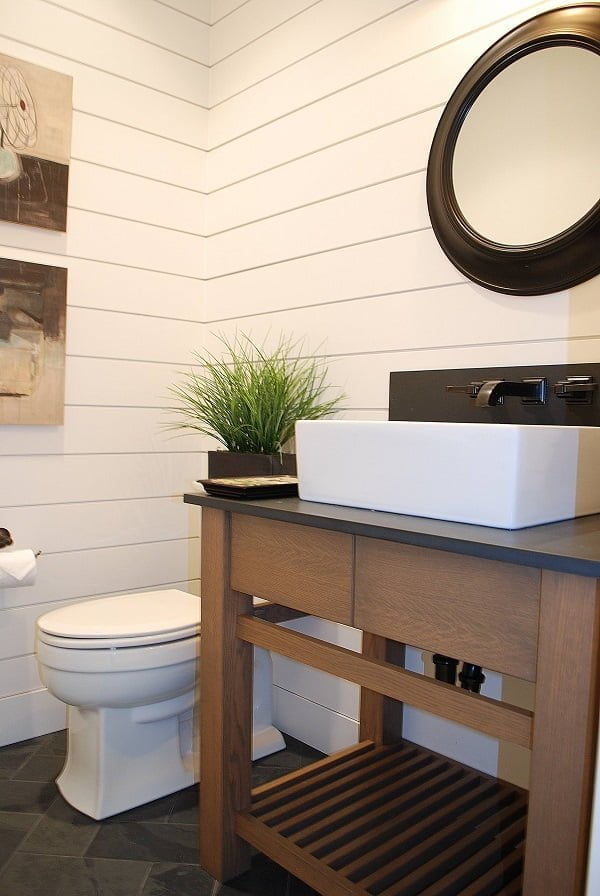 A standard square vessel sink introduces white tones to the mellow brown bathroom setting and is fortified by modern-day wall mount faucets.
Majestic and Regal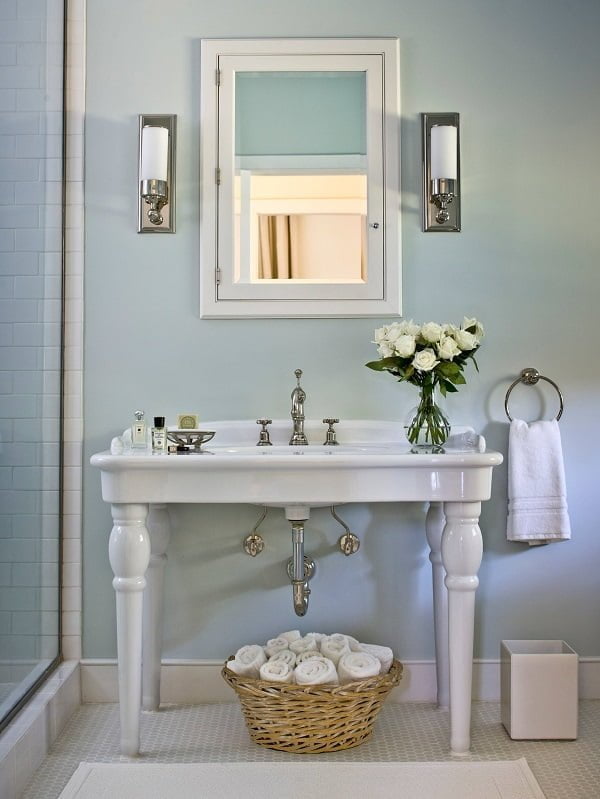 Emphasize your bathroom atmosphere by incorporating an old-age ceramic console sink that also serves as a bathroom counter.
Unique and Pretty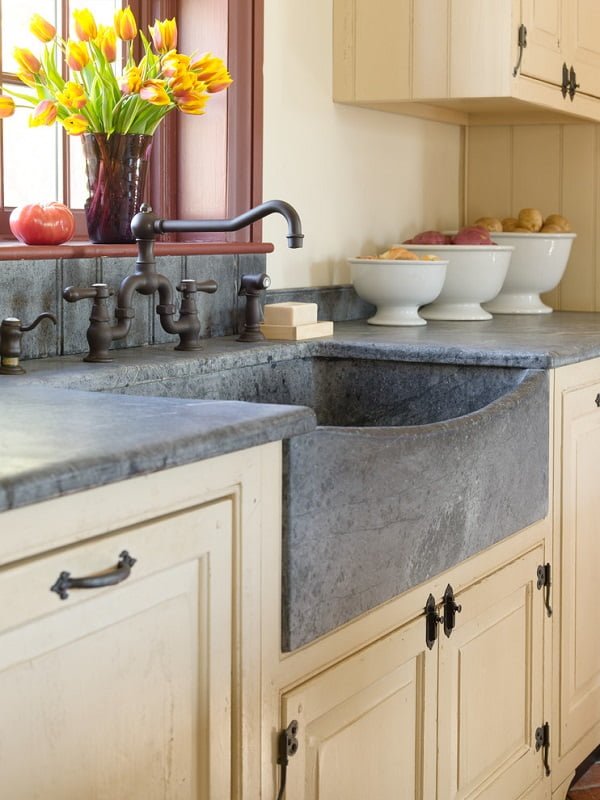 The soapstone concave butler sink has an exposed front that cleverly breaks up the neutral cabinets and blends perfectly into the matching soapstone countertops.
Designed to Impress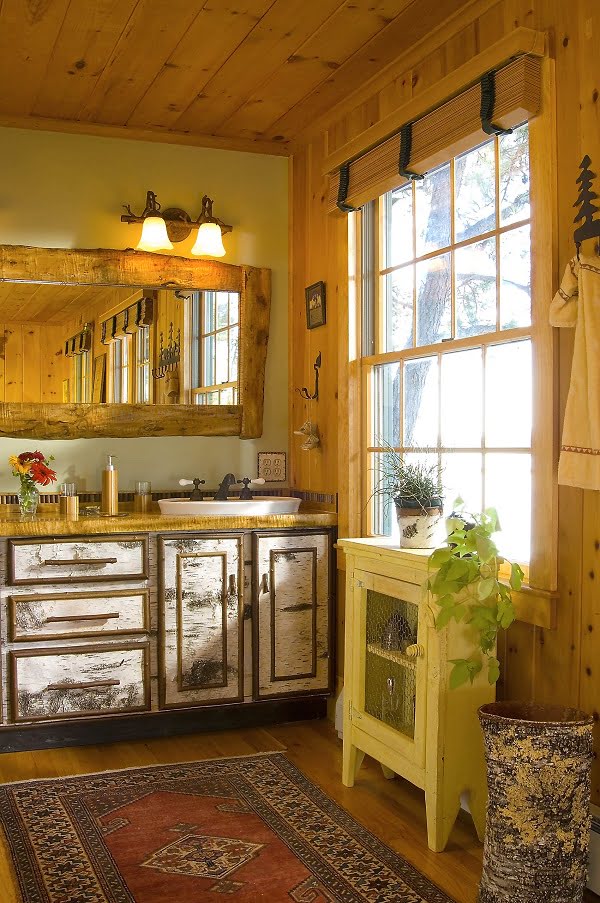 The white vessel kitchen sink is tactically placed just beside a large and light window and matches the rustic and lively cabinets just right.
Powder Room Sink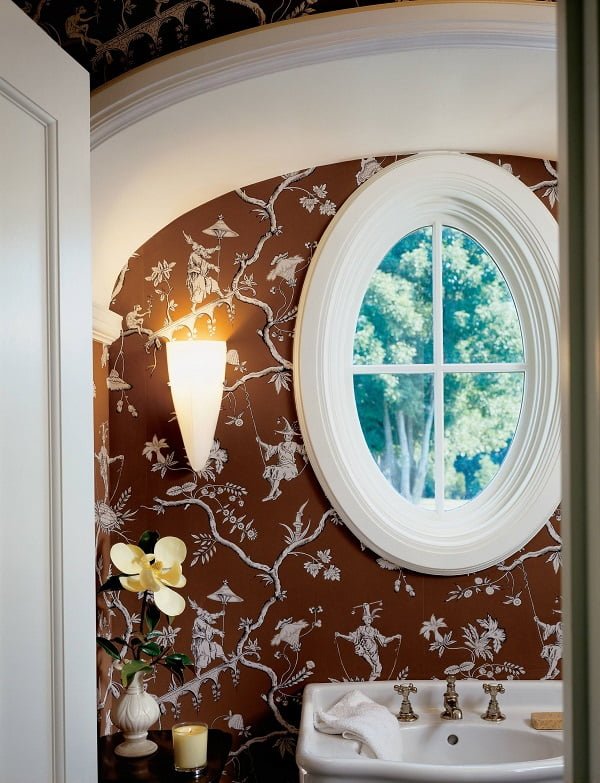 The white ceramic pedestal bathroom sink is tastefully placed beneath the submarine-like window and creates a high contrast to the brown floral wallpaper.
Back to the Old-Time Age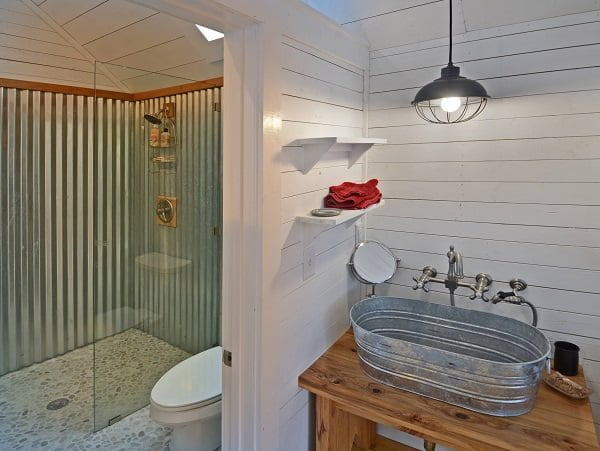 Intertwining a tin vessel sink which resembles a retro washing bucket along with a hardwood bathroom table can create an intimate and efficient room which screams nothing but elegance!
Deliciously Attractive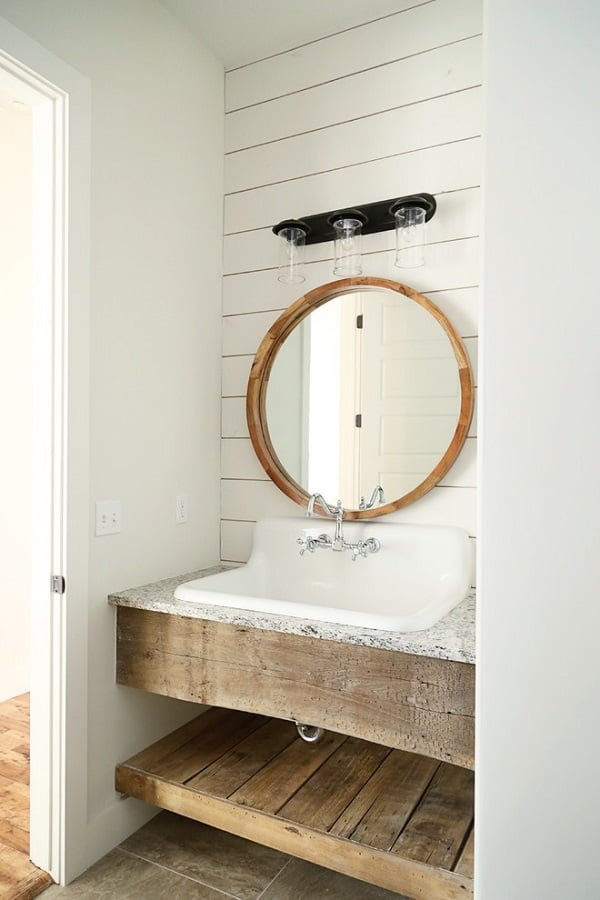 Use a large white porcelain wall-mount sink with a marble countertop, incorporated wall mirror, and below-sink storage shelf.
Inclusive and Traditional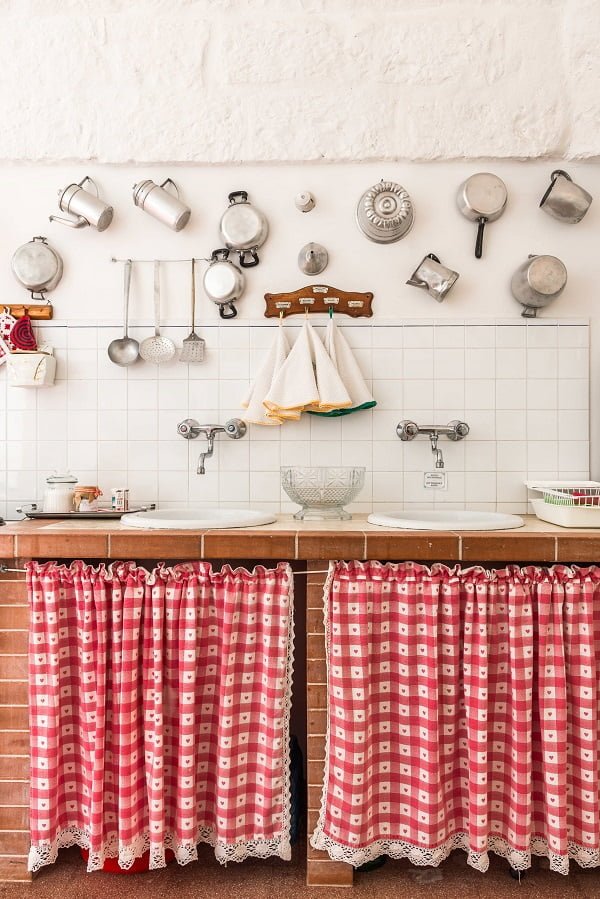 Two round drop-in sinks can be wisely installed in the wood countertop kitchen cabinets, to create an editorial, yet efficient feel.
Intimate and Welcoming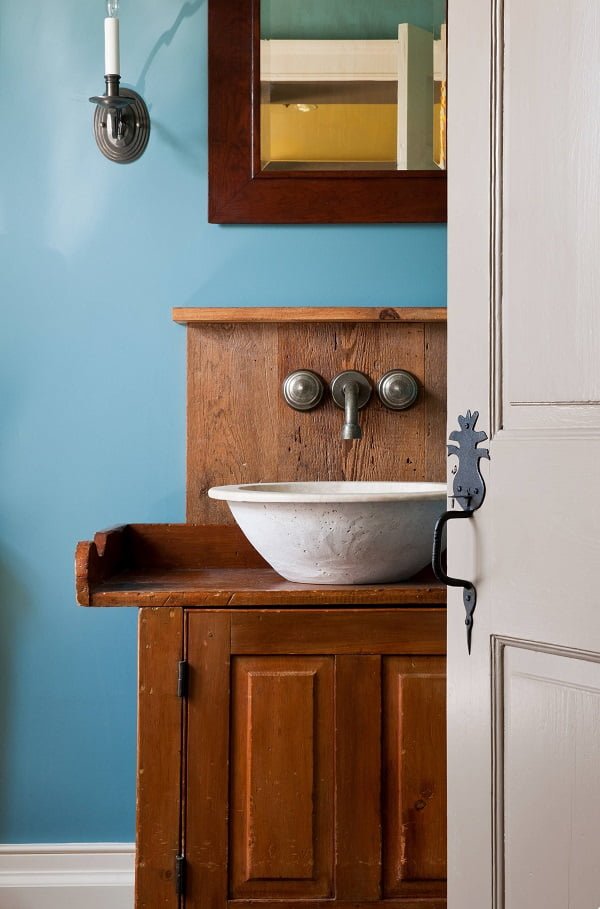 The simplified vessel sink makes an excellent match for the hardwood countertops and bathroom cabinet while introducing an unusual and brass faucet elements.
Energetic and Frisky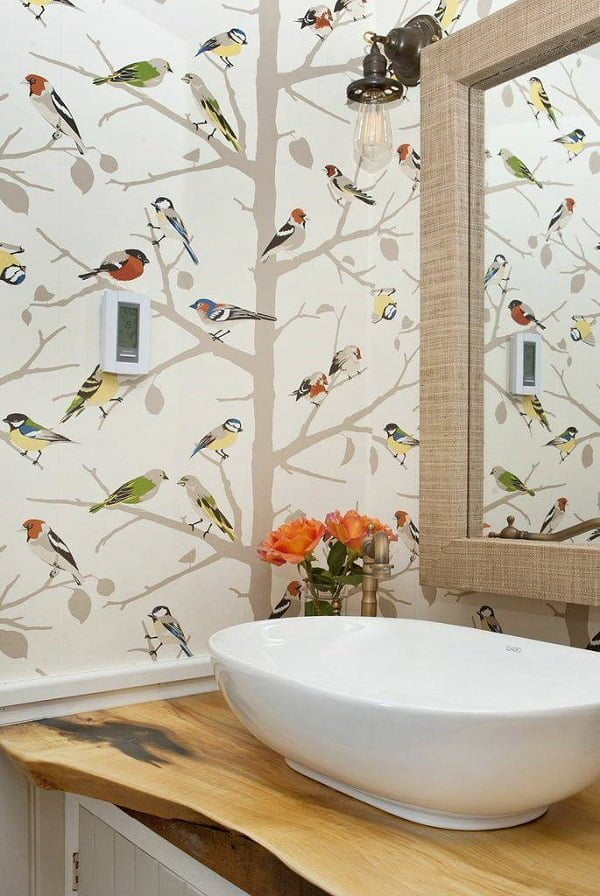 The horizontal white, ceramic vessel sink contributes plenty to the playful and lively nature-inspired walls while leaving out plenty of room for bathroom essentials placement.
Unconventional Sink Design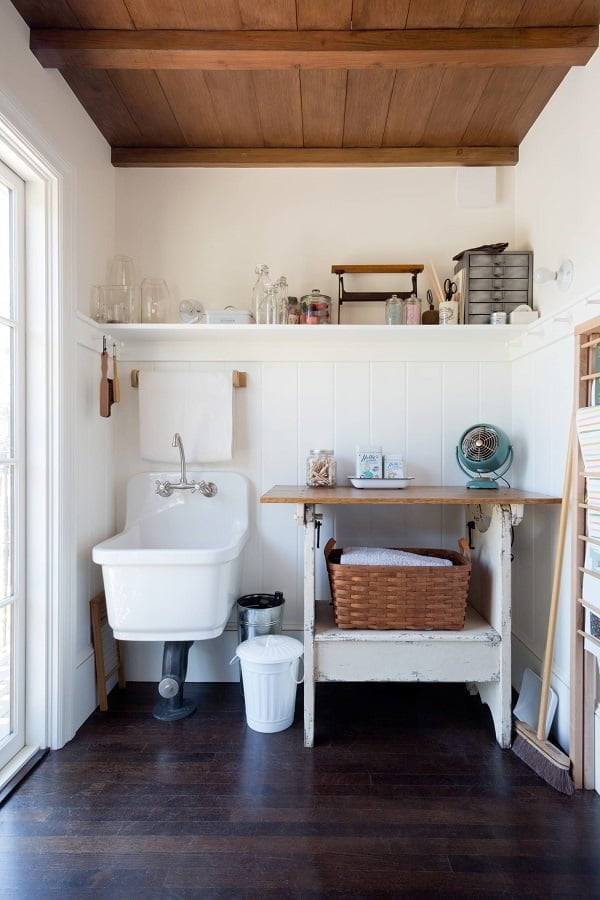 The single-bowl sink of the room is a freestanding and detached from the wood countertop, to enforce spaciousness and practicality into the bathroom itself.
Newfangled and Synchronized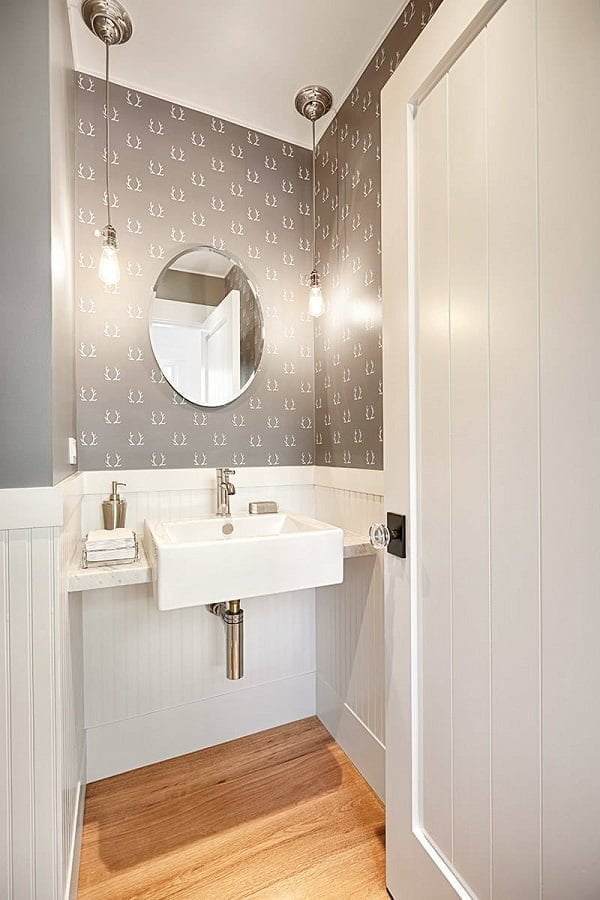 The wall-mount white sink is embellished with useful single-hole faucet and suitable metallic containers. Due to the sink layout, the room oozes spaciousness and glamour at the same time.
Spotless and Sophisticated
The rectangular white vessel sink matches its marble countertops well and allows plenty of cabinet storage space due to its clever placement.
Two-In-One Sink Design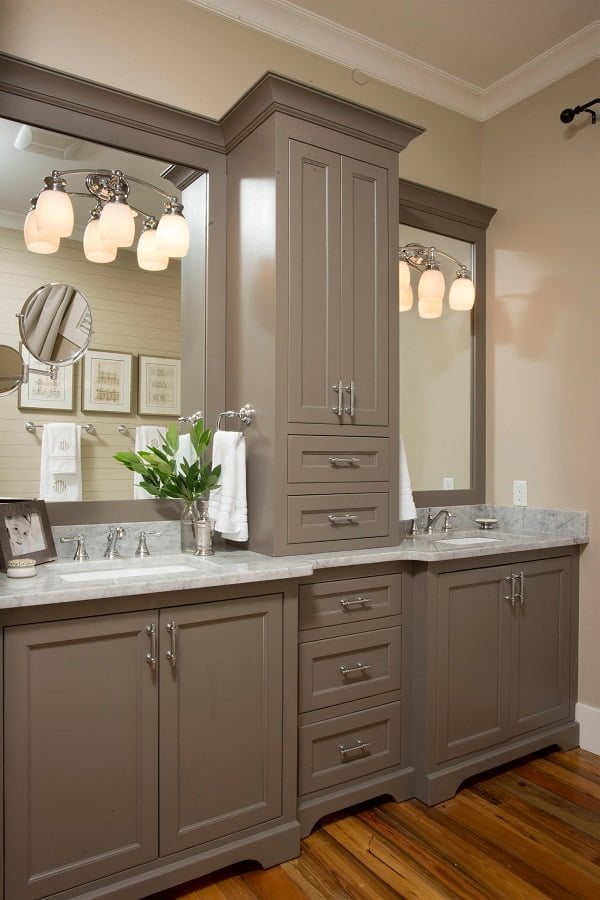 If you want intimacy in a shared bathroom, try incorporating two detached under-mount sinks installed into fancy marble countertops!
Advanced Sink Design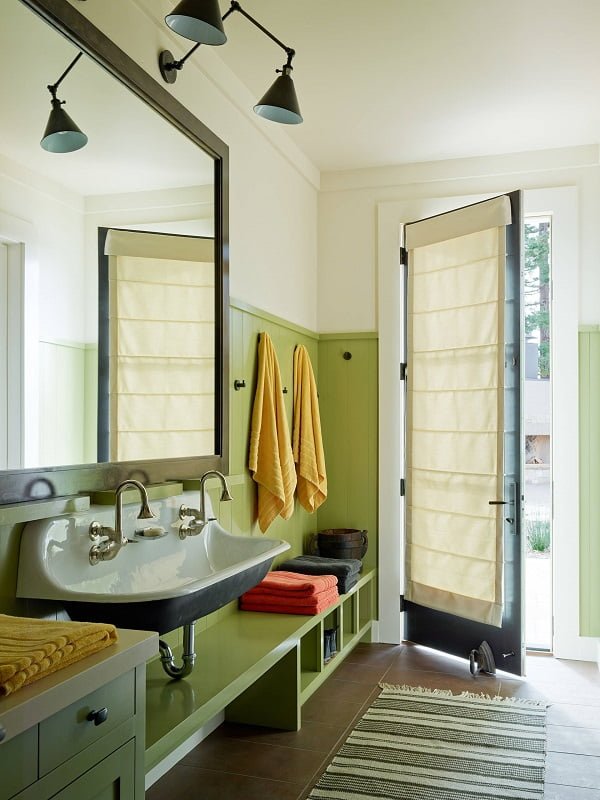 The intriguing trough sink uses black and white colors to deliver vibrancy to the bathroom and still enable enough room and storage space.
Central and Comfortable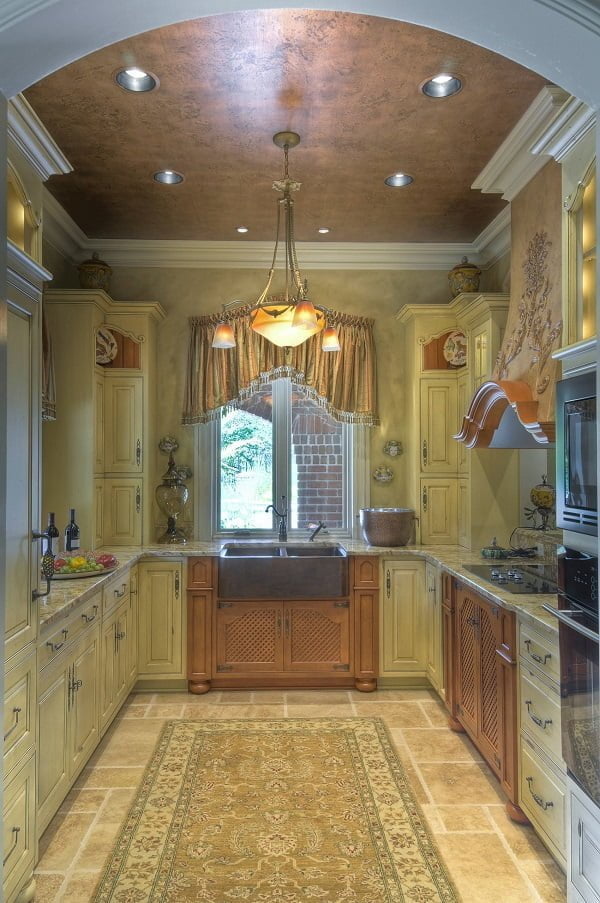 The kitchen hallway immediately reveals the double soapstone butler sink using a mobile single-hole faucet to allow practicality and utility.
Harmonious and Refined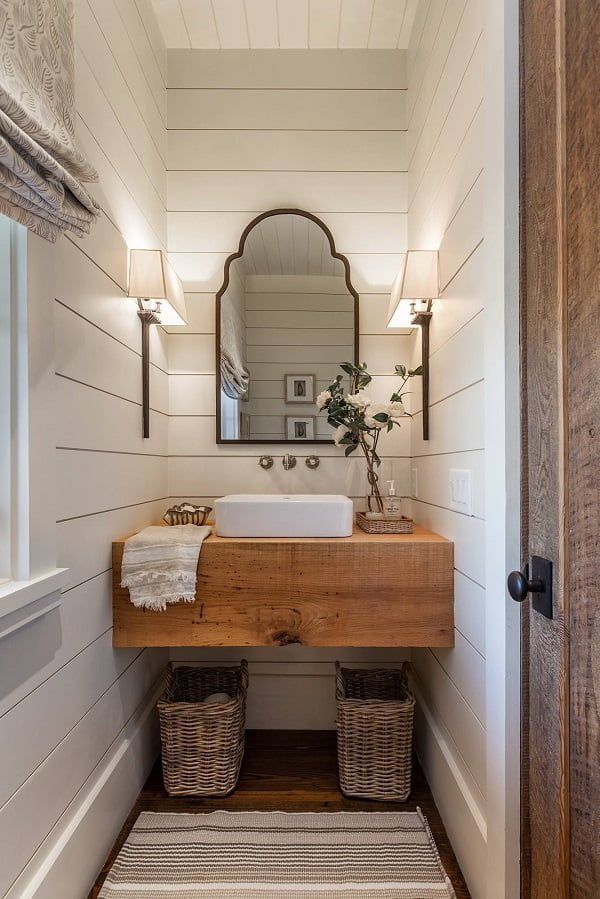 The framed bathroom mirror reveals the gorgeous and practical white vessel sink, placed on all-wood thick shelf countertop, offering plenty of room for bathroom essentials.
Aesthetic and Artistic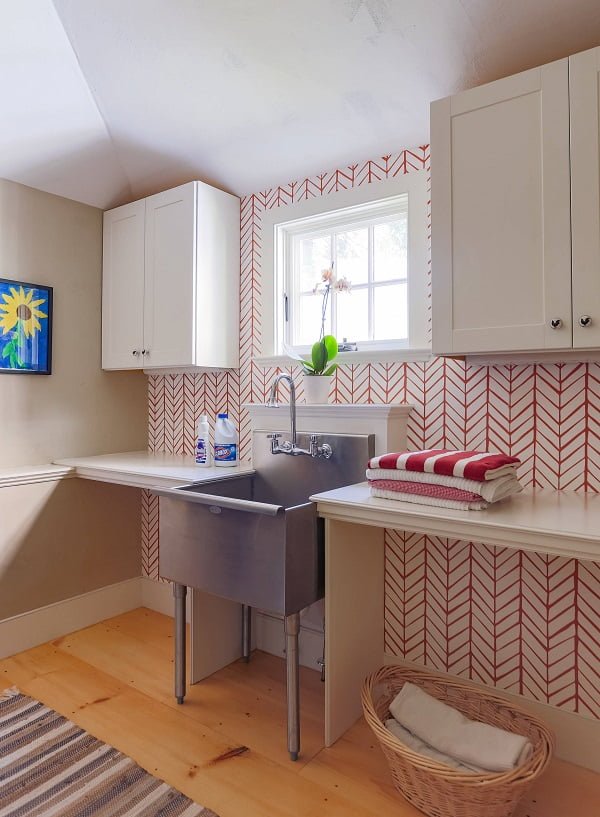 The red laundry room walls expose the fabulous and multi-purposeful metal sink which uses a retro tub-deep space and wall-mount faucet.
Celebrating Simple Sink Design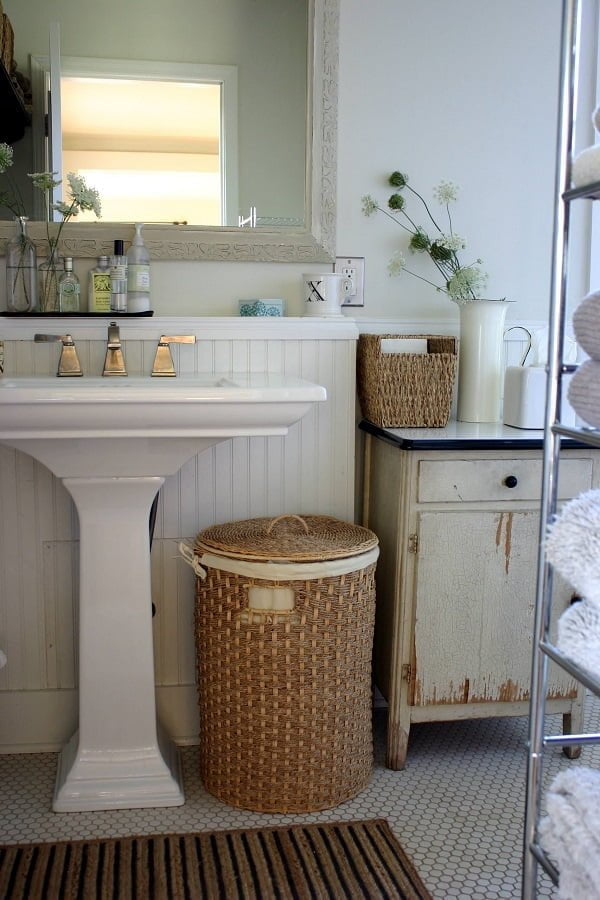 This seemingly ordinary white pedestal sink is quite useful for creating more room in the bathroom and uses incorporated widespread brass faucet to add a bit of color.
Graceful Sink Layout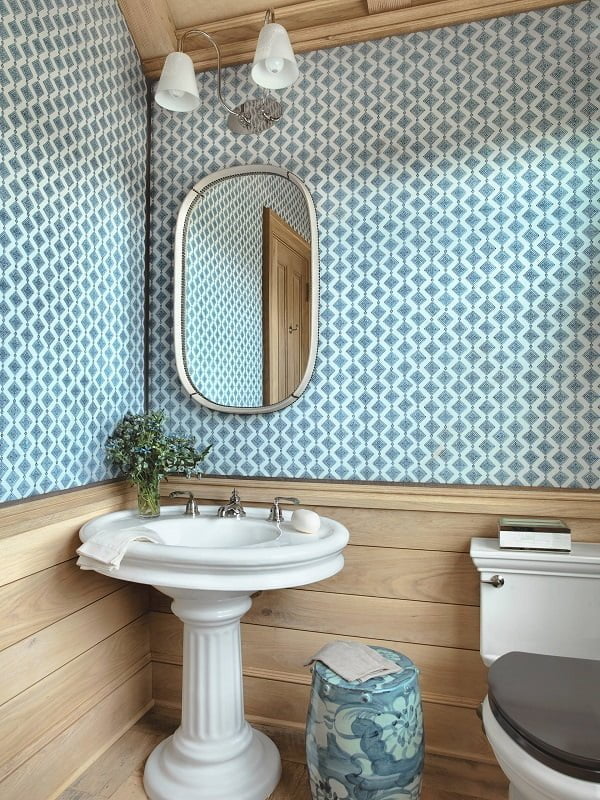 The romantic and timely pedestal sink brings charm to the bathroom while offering enough room for soap and towel placement.
Imposingly Intelligent Design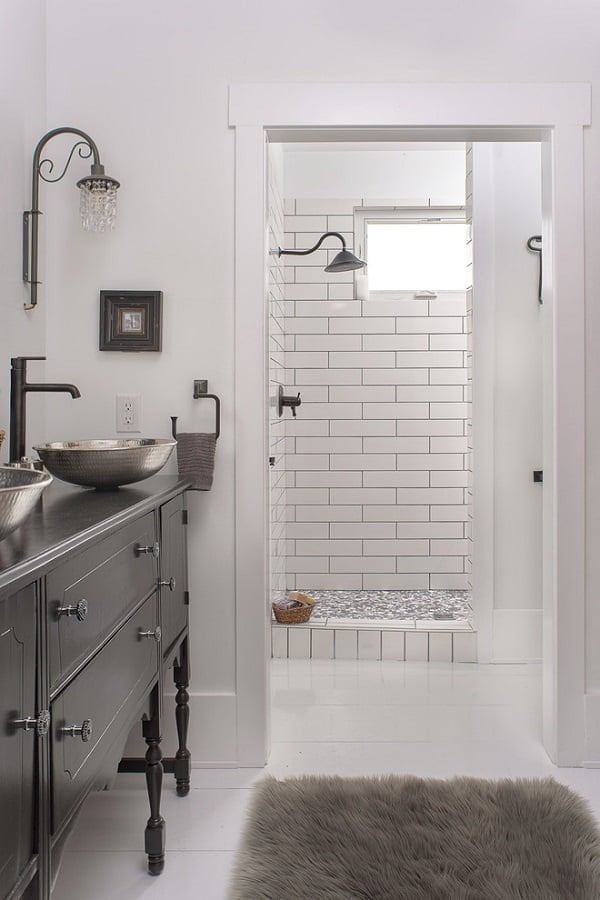 The two stainless steel vessel sinks introduce a Japanese designing bit to the room, while the single-hole faucet enables minimalistic expression of significant proportions.
Awe-Worthy Bathroom Sink Idea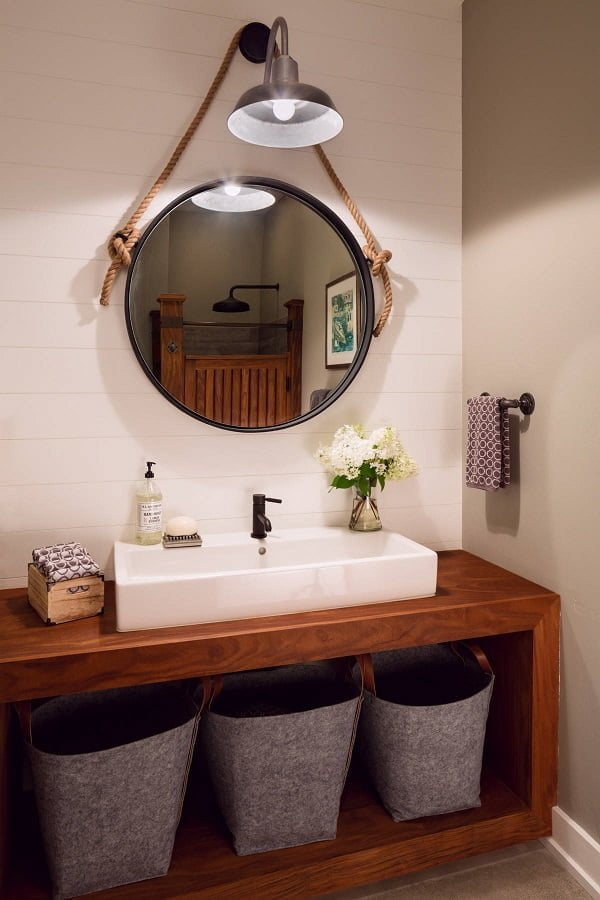 From the white rectangular vessel sink to the wood sink countertops and single-hole faucet, the bathroom exudes class and sass at the same time!
Smashing and Focal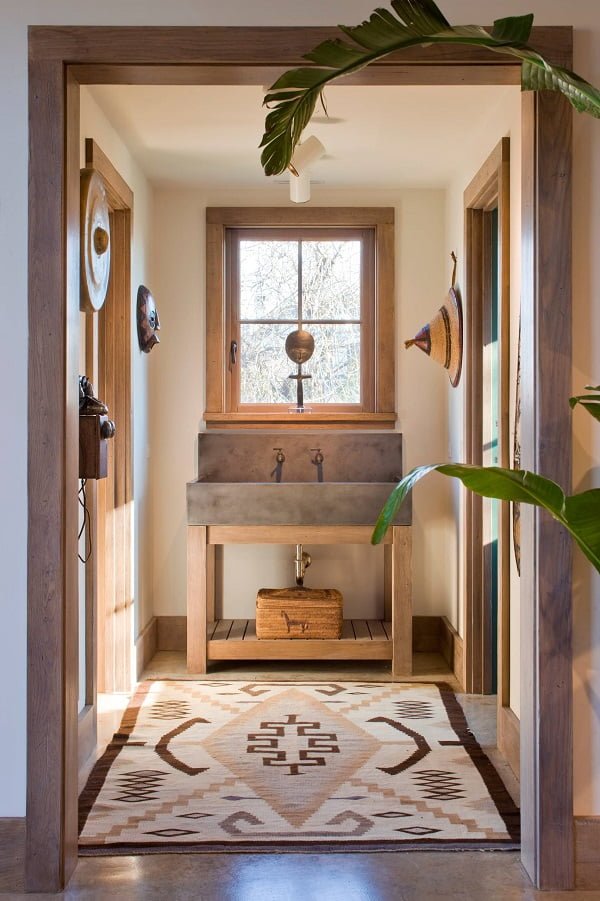 The bathroom hallway leads straight to the large and fashionable vessel sink, pressed against the all-wood wall while using a lower storage cabinet shelf!
Grandiose and Exclusive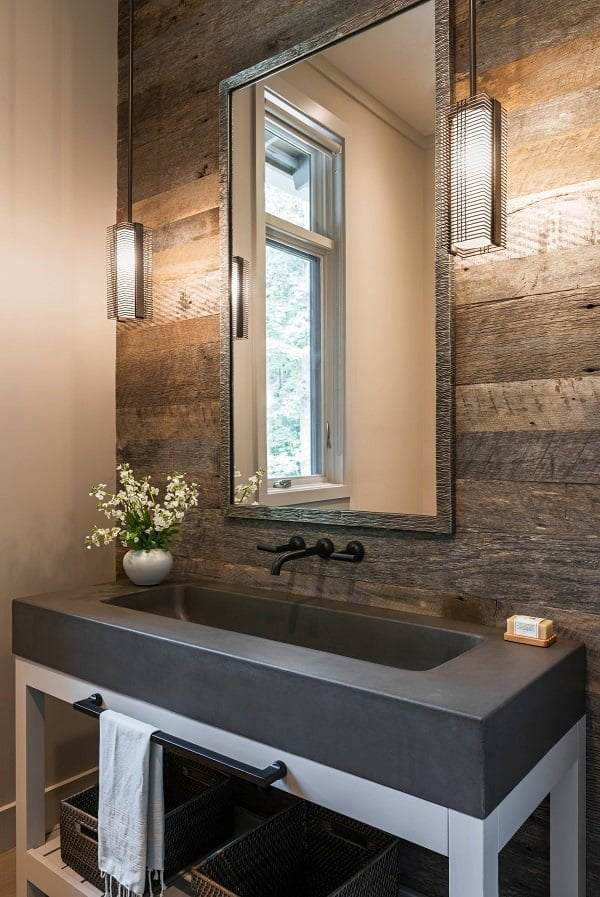 The integrated dark-grey bathroom sink is wisely pressed against the hardwood bathroom wall and uses smart elements to create space, such as the statement towel holding handle.
Second to None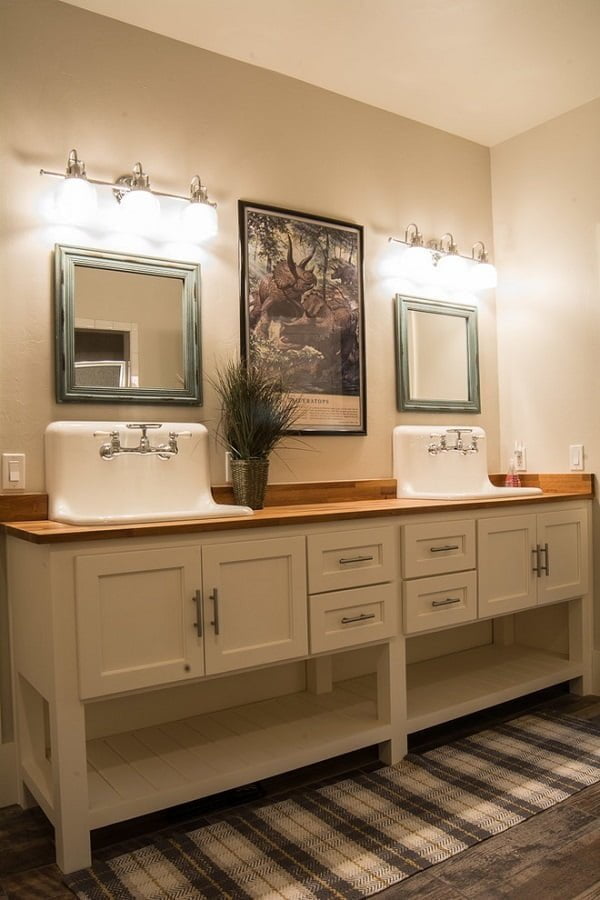 This compact and beautiful bathroom layout focuses on the double drop-in ceramic sinks with shiny wall-mount faucets, creating a utopic atmosphere in the room.
Urban Chic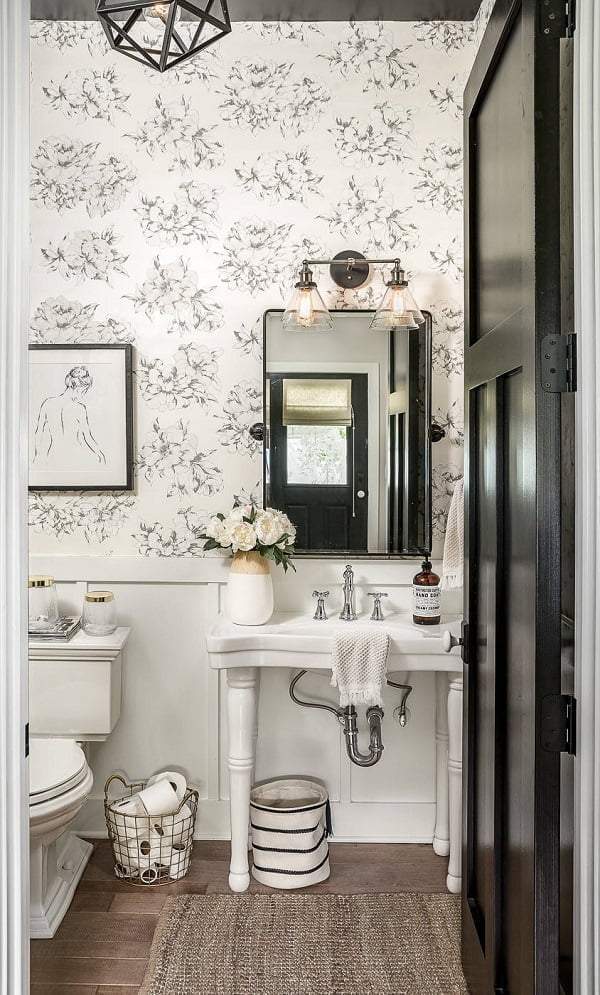 The gentle white pedestal sink delivers light and spaciousness into this bathroom, by using enough below-sink storage space and bathroom decor room.
Precious and Luxurious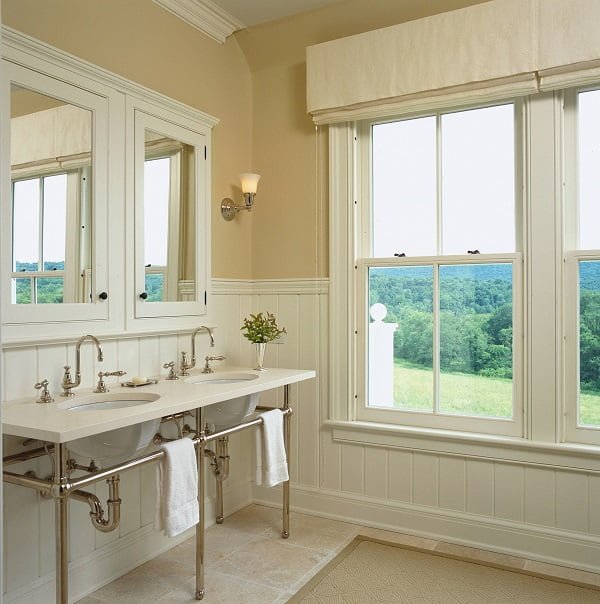 The two great console sinks use a gold metal frame to deliver a glamorous outlook while using practical sink mirror cabinets to make up for lost space and light.
Related reading: