Last updated on January 21, 2023
These DIY patio cover ideas will enable you to reasonably quickly and cheaply design and build your own outdoor shade. Check them out.
You need to make several considerations if you want to build a patio cover for your outdoor space. What material to use? What kind of plans to follow? And it all depends on your patio and backyard setup.
No case is the same, so it's up to you to choose the right options. We aim to guide you through.
How to Build a Patio Cover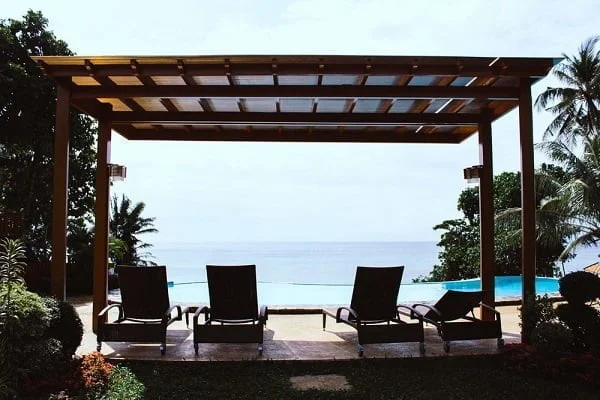 Building a patio cover is a process that takes some above beginner skill, but it's totally doable if you put your mind to it.
Start with assessing your home and backyard. Where is your patio or terrace located (by the house or separated)? Is this supposed to be a permanent structure or a temporary one? What is your budget?
Next, choose the material. The most popular choices are wood (pergola), metal (roof), vinyl, or aluminum (awning). However, in some cases, you might opt for an oversize umbrella too.
Then, find the right plans for your setup. They will help you create the patio design you want. A good draft will make it so much easier to build it. We have several design ideas below.
Any of these will work as patio umbrella alternatives. Ready to start? Let's begin!
Patio Roof
Douglas pine pillars were used as beams, and pine boards became the perfect cladding for this DIY patio cover. OSB sheets were screwed in for a cheap, quick, and easy roofing solution. Read the article to get the full plans and instructions.
Covered Patio
A modified trellis was chosen to cover the patio for protection from sun and rain. Cheap fir looked prettier after a teak cedar stain. A clear corrugated roof allows light in while keeping the space dry. You'll be able to enjoy your backyard while protecting yourself from the sun when you learn how to build a DIY covered patio in this detailed tutorial. See the article for the full guidance.
Corrugated Metal Roof
The patio cover was necessary to protect the nearby door and window from rain. Corrugated metal sheets were picked due to lightness and resistance to high winds. One side is directly anchored on the wall, so only three posts were needed. See this website to see the complete guidance and instructions.
Awning
This guide provides options on creating shade for an outdoor living space including canopy patio awning, backyard pergola, retractable awnings, portable shade canopy, and even trees.
Keep your deck cooler and screen out harmful ultraviolet rays. Build this great awning for a deck or patio the easy way. Check out the tutorial to learn how to do it.
Take the Indoors Outside
A stylish covered patio built on a concrete surface. Post brackets kept columns in place while the roof was covered with tar paper and shingles. Skylights let the light in while stunning outdoor furniture complete the look. Check out the article for the entire details and instructions.
Cover with a Kit
This project uses a kit with pre-cut pieces and dovetail joints. The result is a stable timber frame that is a breeze to assemble. It's suitable for those who want to build like a pro in a snap. If you can get your hands on a kit like this (not necessarily this particular one), it might be the ideal middle ground between DIY and buying. (P.S. we're not compensated for this mention.)
Recap
Liked this article? Here's what you can read next: