Last updated on September 29, 2023
Build an easy DIY bunk bed on a tight budget (some cost as little as $50!) to accommodate extra sleeping space for your kids or guests.
A bunk bed may not look pretty in bedroom decor (more on that later), but they are very practical. They are irreplaceable when your family is growing, but you have limited room space.
This type of DIY bed frame works wonders in small guest rooms as well to accommodate crowded sleepovers.
The following DIY bunk bed plans make it easy to build one on a budget. And in some cases, they even look nice enough to keep your decor tidy. Check these out!
How to Make a Bunk Bed from Scratch
This is something for your guest room if you just need to stack some twin beds. It's very straightforward and does the job by minimalist means. At the same time, it's pretty attractive too in a nice rustic wood finish.
So here's how you can build a bed frame to stack those mattresses up. Instructables have some nice plans for this. Just make sure you use a thick and durable sheet of plywood.
For how cheap can you build a unit? Price is indeed a big consideration when it comes to DIY projects. Here's how you can keep it under $100.
DIY Bunk Bed with Ladder
You can stack two simple beds up and add a ladder for the top bunk bed. The best part of this project is that the beds are very attractive. Unlike most pieces of furniture of this type, these beds will not ruin the decor of the bedroom.
The project is made from Ana White's simple bed plans and adjusted to make the bunk structure. Add a ladder to get on top and you have a brilliant set of twin beds.
Solid wood furniture is always appealing in room decor. It has a timeless look and it's very durable. This is especially important in the case of a bunk bed because they need to take the abuse. This project is solid and beautiful.
Follow along with the bunk bed plans to make this unit from typical lumber you may stock up on. To keep things simple the project uses mainly 2×4 wood.
Want to make your DIY design look modern? It's rather simple. It's all about in the choice of keeping clean lines and the right light gray wood paint for the furniture. Such is this project. It makes use of narrow room wall-to-wall space to create two twin-over-twin beds.
Use some 2×4 wood and plywood to create the bed frames. Any IKEA mattress will do to make these comfortable. This idea can be used in a guest house or a kids' bedroom.
It's all about making it fun for kids. This design idea is to make a fort out of it. You can turn any bunk bed plans into a fort with simple fabric and some creativity. It's a very imaginative idea.
This project doesn't include the plans for beds but you can easily use one of the above or below in our list. It's all about tweaking the design. Use these bunk bed plans.
Making a unique bunk bed design is all about making it fun for your kids. This house-shaped design will actually be appealing in a guest room as well. The farmhouse-style bed frames look sleek and the beds seem natural to the rest of the bedroom's decor.
You will need 2×4, 2×6, 2×2, and 1×2 wood for this project. The cut list of these plans is rather simple for such an interesting design. Check out the plans to see if you can do this project.
If you have two little princesses at home you need to build something special for them. How about a Princess Castle?
It's a beautiful custom design cut of plywood to resemble an actual castle. Of course, such a unit takes a lot more room, but it isn't about saving space anymore. It's about making it fun for your girls. They will actually want to sleep in this.
Get some good lumber for this project as the construction needs to be durable. The construction of this is solid. As these are plans for the frame, you'll be able to adjust the dimensions for your needs. So whether you're building a twin bunk, twin XL, or extra long beds for adults, you'll be able to do that.
A bunk bed doesn't have to go way up to the ceiling. You can keep it low. Even though you still need a ladder, by keeping the lower bed close to the floor, your design remains rather low.
This project is great for small kids and toddlers who don't have to climb high to get to their beds. The plans use your lumber of 2x4s and a one-legged simplified unit that makes use of walls for support.
These twin XL mattresses share a built-in frame for a bunk bed. The look is achieved by making use of a narrow wall-to-wall space in a room. Use the walls for support to add suspended platforms. Top it off with crown molding and you get the seamless look.
The best part of this project is that it uses fewer materials. The bottom bunk twin bed is built straight on the floor, and you don't need any special construction to suspend the top bed as its mount on the walls.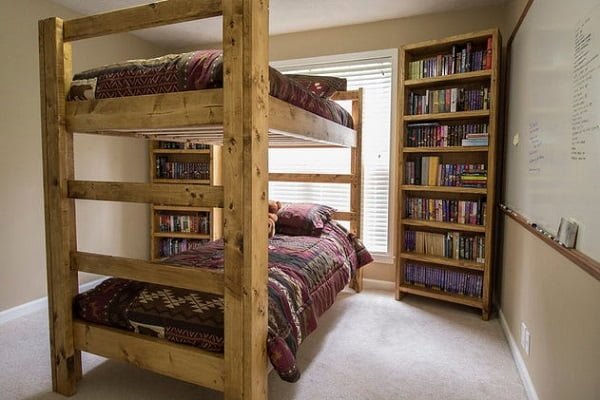 Build a freestanding unit form 2×4 and 2×6 lumber. It's a sturdy construction that can be placed anywhere in the bedroom (even in the middle of it). There's no built-in look and no support of walls or the ceiling. Just your standalone unit that looks (and is) reliable.
Triple Bunk Beds
Triple bunk bed for kids is a brilliant project if you have three kids in a room. The rustic design is interesting and appealing. But it's simple at the same time so you can build this piece of furniture easily.
The unit is comprised of 2×4, 2×3, and 2×6 lumber. You can stain and paint in the style you want. The picture above shows a rustic natural wood finish.
This is a brilliant concept for an IKEA hack. So IKEA has this TUFFING bunk and loft beds. And you can combine the two to make triple stackable bunk beds. It's as if they have thought about this right from the start.
A gorgeous triple bunk for toddlers room. The white paint finish keeps it modern. We love the addition of three small shelves for books or toys. It's all about making it cozy and fun for the kids.
Jen Woodhouse has excellent plans for this unit. You will use typical 2×4 lumber to make this happen. It is a huge space-saver.
DIY Murphy Bunk Bed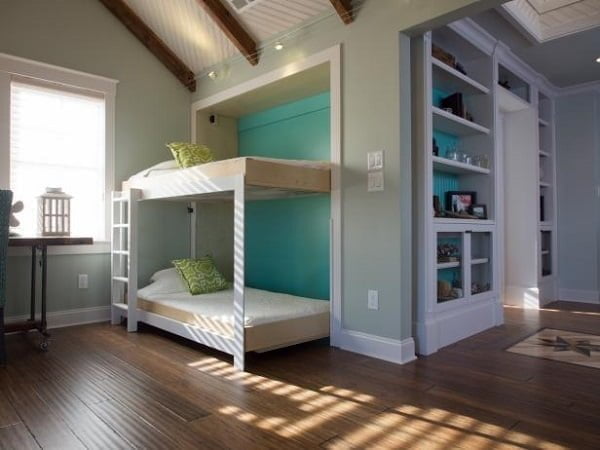 These Murphy DIY bunk bed plans take space-saving idea to a whole new level. The folding design makes it possible for the beds to fold up to a closet and be hidden during the day. Such a piece of furniture is a lot more involved and takes advanced skill, of course.
But if you're up for it, here are the plans for you. Check it out on the DIY Network. You will need a niche space or a closet in your house to build this bunk as well.
Floating Bunk Bed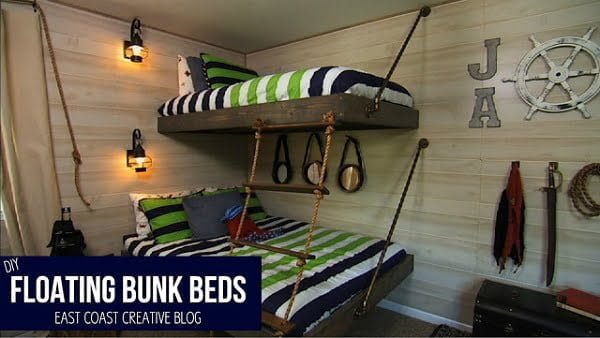 These floating bunk bed plans are made in nautical style but you can change it up anytime. The idea for suspending platform beds on a room wall is quite interesting. For one, you're definitely saving on materials as this is a greatly simplified structure. Secondly, it's a visually appealing design.
So to make this, you will need 2×8 lumber for the frame and 1×3 slats. Next, you'll just have to find a way to suspend these on the wall using a sturdy industrial pipe for support.
DIY Bunk Bed with Stairs
So we have two main styles of a bunk bed. One is the classic ladder option, and the other is the implementation of the stairs. Both have their pros and cons, of course.
If compared side by side, the stairs do take a lot more space but they provide extra shelf space for storage. On the other hand, bunk is all about saving space so a ladder always does that for you.
You can use such clever design in a kids' room where the beds are short. As you can see, a perpendicular positioning of the bed frames works to make bedroom for the stairs that lead up to the top bunk. Consider making this at home.
DIY Loft Bed
This piece of furniture comes in a bold and striking fire finish. Recycling wood doesn't get any cheaper (or any more rustic.)
It is actually, a loft bed but you can indeed put an extra mattress underneath it for an additional bed and the bunk solution. Instructables once again deliver great plans.
Bunk Bed with Storage
There's no reason why a bunk bed shouldn't have extra storage space. That bottom platform needs to be elevated anyway, so why not add a few drawers or shelves. We are saving space here after all.
This project also comes with a built-in look as the unit is added floor to ceiling. This way you're saving on construction time and materials as you're using the ceiling and walls for support.
Stackable Bunk Beds
This is a very clever idea to build a bunk bed without any screws. The design simply stacks up from pre-cut plywood sheets.
And it makes an interesting contraption for the kids. Safety comes first, though, and you need to make some serious consideration on how to make this structure sturdy.
Check out the great plans on Instructables for this design if you want to try your hand at doing this. It's unconventional and fun.
Recap
Liked this article? Here's what you can read next: