Last updated on February 10, 2022
Looking for the best triple bunk bed for your kids' bedroom, vacation house, or guest room? We've got you covered with these top 10 best triple bunk beds in 2022.
Choosing a piece of furniture can be quite a task, especially when it comes to untraditional furniture like bunk beds. How do you pick one that is sturdy enough yet doesn't become an eyesore in the room's decor? You have to think about its multi-purpose as well.
These are precisely the criteria we've used to find the best beds. We've gone ahead and examined a lot of triple bunk beds available to buy online to come down to the list of top 10. And here it is for your convenience. While the list is not ranked, each of these beds can be considered the best in their category.
There are 2 main types of triple bunk beds — the floor bunk bed (three bunks over one another) and the L-shaped bunk bed (the upper bunk forms an L-shape). Variations include a trundle and a U-shape. They may additionally include storage drawers, a desk, or a nightstand.
When choosing the type of triple bunk bed, make sure you have enough ceiling height and ceiling clearance. It might come as an unpleasant surprise when you try to assemble it!
As far as safety, all of the picks below have safety guardrails and secure ladders. The only thing to mind is the weight capacity of each frame.
Finally, note that our recommendations earn our site a commission but do not influence our opinion.
Dorel Living Triple Bunk Bed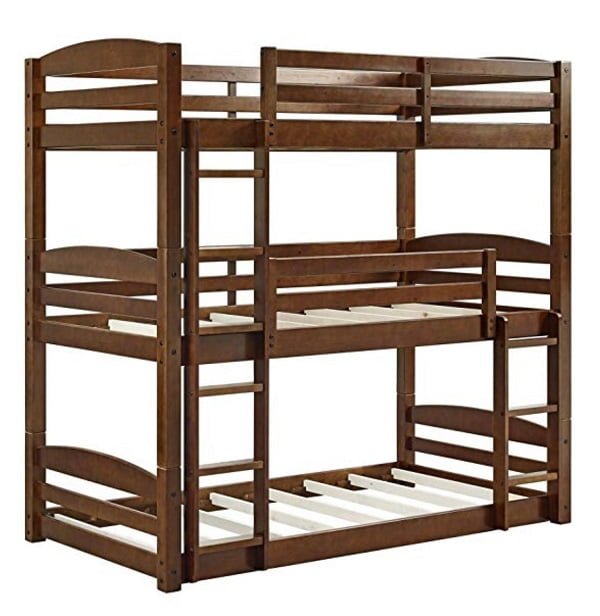 A bunk bed has to be comfortable and safe for kids. That's especially true when we're talking about a triple bunk bed. This Dorel Living triple bunk bed is precisely that. It will accommodate any big family home or a vacation house as a well-made product. Your kids will have their own private space in this bed even if they have to share a room.
The bed comes with two built-in ladders. The design allows you to separate the beds into single beds, thus allowing you to create the usual bedroom setup. When needed, you can stack them up again. Or use a double bunk bed and a twin bed simultaneously.
Why it's our pick? It's an all-in-all perfect multi-functional bunk bed. You get way more than you pay for. It's a well-rated product for a great price that you and your kids will love.
Coaster Home Furnishings Triple Bunk Bed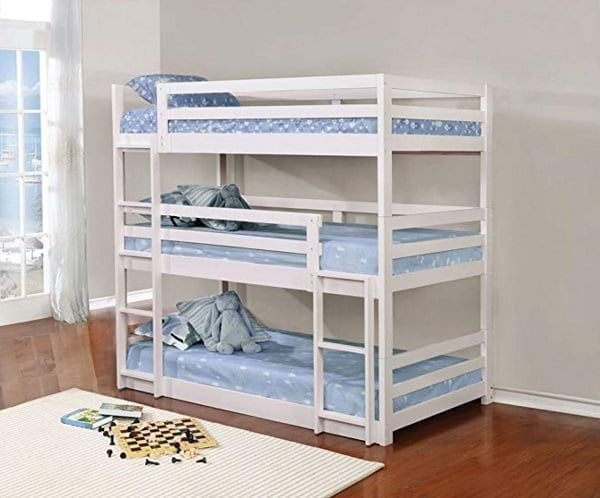 Sometimes you need an extra sturdy piece of furniture, especially when accommodating kids. This triple bunk bed is made of solid pine wood and is sure to hold up to 200 lbs. That's a lot for kids!
The design allows you to configure the bed in any way you need to. Use it as a bunk bed and reassemble it as single beds as your kids grow. When in full bunk mode, you have two separate ladders to access the bunks.
The bed is good-looking in classic style. Your kids will get excited about it.
Why it's our pick? It's a sturdy and durable choice. Nothing can beat solid wood. The bed works for its purpose and solid pine looks good in decor.
Furniture of America Triple Bunk Bed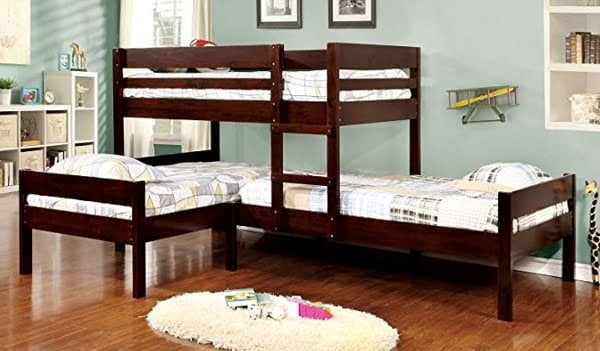 L-shaped triple bunk bed design comes in helpful when you need to save vertical space. This Furniture of America bed is a twin over twin double layer bed. It provides only one configuration, but it's perfect for corners in a small bedroom in a sturdy build.
The bed is made of solid wood with veneer detail. It's durable and looks good in the traditional style. The built-in ladder provides access to the top bunk. You'll place it in just about any decor style without a clash.
Why it's our pick? It's a great L-shaped triple bunk bed for small spaces. It's sturdy and durable. The reviews of people who already bought it are stellar.
Triple Bunk Bed with Trundle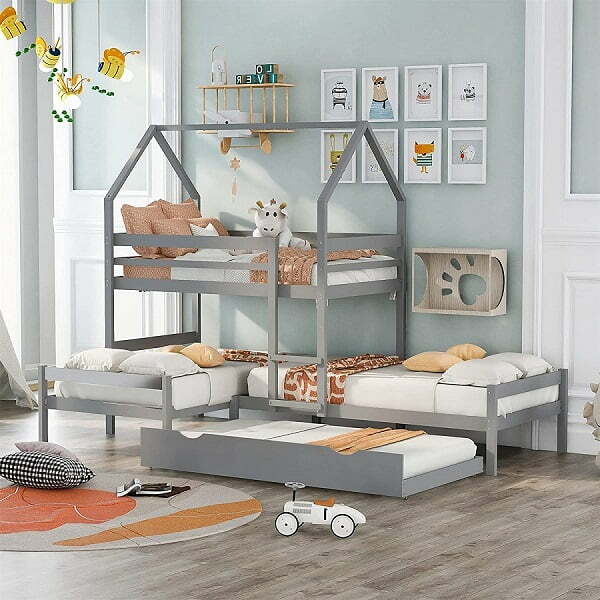 So you're looking to accommodate as many kids as possible. Perhaps in a vacation house or at a kids' party. You need something sturdy and stable. And you need room for more than three kids. This triple bunk bed with trundle will have room for 4! The trundle pulls out from underneath, and there's a ladder to access the top bunk.
The bed is made of wood, and while it's not configurable, it will hold up to 275 lbs! The design is sleek, and kids love it. What more do you need?
Why it's our pick? It's a great choice for any vacation home or a big family. This bunk bed is absolutely sturdiest on the list.
Coaster Home Furnishings Metal Twin Triple Bunk Bed
Metal has that attractive industrial style that fancies up the bedroom decor. It especially works well if you have boys. The design is sturdy as well by its nature. So this triple bunk bed is for those looking for something sturdy and stylish. It includes a shorter ladder for one bunk and a longer one for the other.
The bed is configurable, too, so you can easily separate it into three single beds. This will work well once your kids grow older and have separate rooms. The product gives excellent value for the money.
Why it's our pick? We love the combination of multi-functional and stylish design. It's sturdy and flexible at the same time. Maybe the best bunk bed for boys.
Chelsea Home Rustic Twin Triple Bunk Bed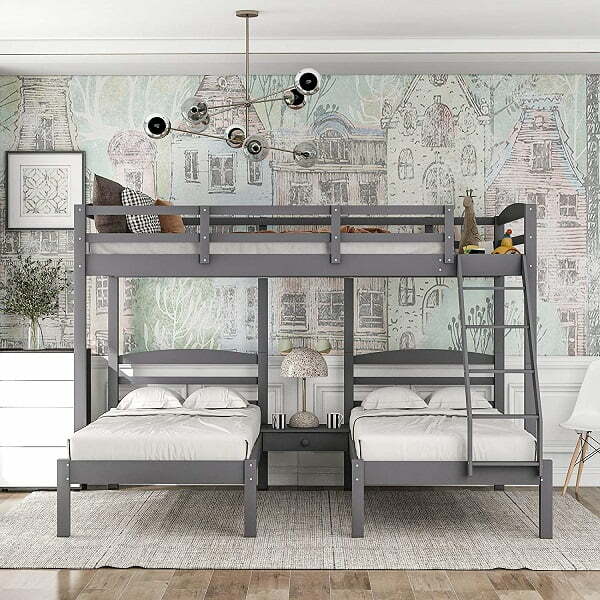 Yes, you've read that right. It's rustic, and we love it. The wooden design will fit any rustic farmhouse decor, and you'll like it too. It's perfect for that grandparents' house whenever the kids visit them overnight.
The solid wood build provides excellent durability and flexibility. It will hold its weight. The weight capacity is 350 lbs for lower beds and 300 lbs for upper beds. An angled ladder is over one of the bunks.
The addition of a nightstand is a nice detail that makes the lower bunks feel like real beds and it provides some storage.
Why it's our pick? It's the designer's choice. This triple bunk bed gives you the rustic accent that you need. Who says bunk beds don't work in decor?
L-Shaped Triple Twin Bunk Bed with a Desk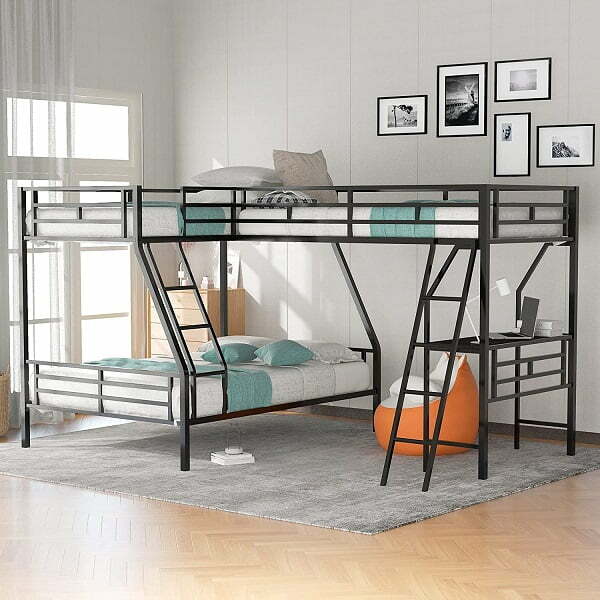 Taking functional design to the next level. Do you think your new triple bunk bed can do more than accommodate sleeping? This bed sure can! Here comes a triple L-shaped bed with a built-in desk. Your kids will be able to sleep and do homework in it. It's a real space saver!
The full metal construction makes a very sturdy piece of furniture and gives it a modern look. The two integrated ladders provide access to the L-shaped bunk from both sides. And while it's not configurable, it will fit in any corner of a small room. Your kids will love it and enjoy sharing a room!
Why it's our top pick? The built-in desk is a winner. The metal construction makes it a high-quality product worth its price.
Floor Triple Bunk Bed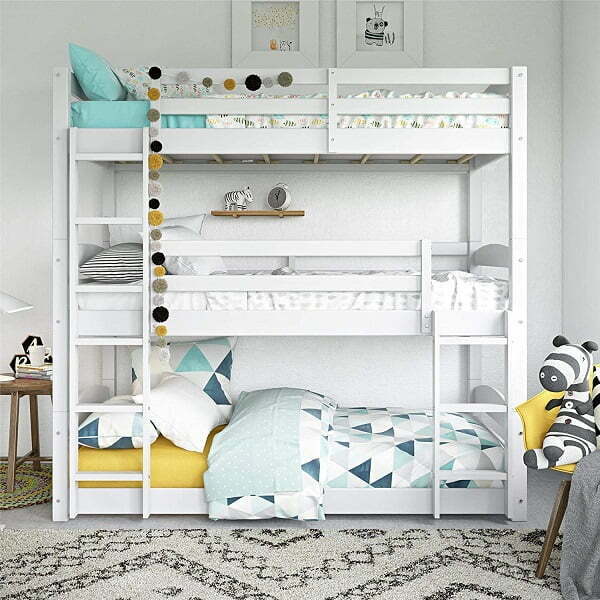 This floor triple bunk bed is a decor-neutral addition to your kids' bedroom or vacation house. The white finish will not stand out and keep your ongoing decor theme intact. So if you want to play safe, choose this bed.
The construction is solid wood, and you can also choose a black and grey finish. The weight capacity is 225 lbs. The two ladders are on the sides to access the upper bunk and middle bunk without getting in the way.
Why it's our pick? This triple bunk bed is a great classic choice if you're looking for space optimization and neutral style.
Metal Triple Bunk Bed
Vintage style comes back with this triple bunk bed. And it's so attractive! The industrial piping-like bed in a dark finish takes us back decades with some retro look. It's a sturdy and unique piece to add to your kids' bedroom decor. You can bet they will love it!
Of course, the metal frame is very sturdy and can hold a lot of weight. You can separate the beds into singles, but that's not what you'd expect from this design anyway. It looks best when it's put together!
Why it's our pick? You get everything you expect from a triple bunk bed. And you get an attractive vintage industrial design for your exceptional decor.
Twin Over Full Over Queen Triple Bunk Bed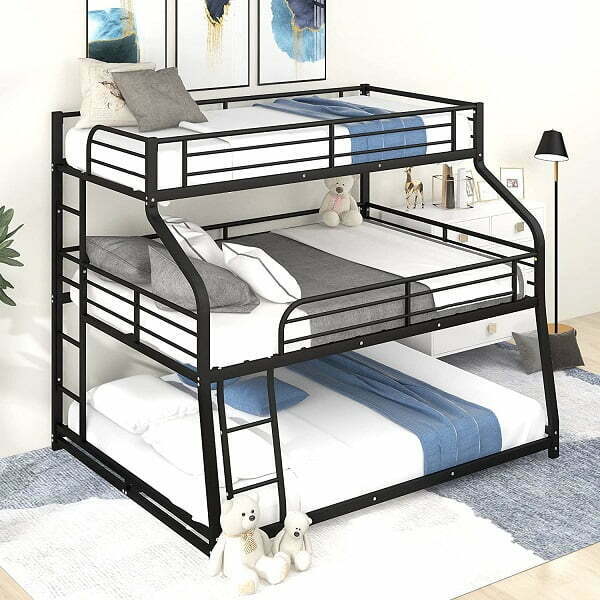 While all other triple bunk beds on this list are for kids, this twin over full over queen bed can also fit adults. So it can be an excellent multi-purpose addition to any guest room. It will save you a lot of space and accommodate any guests you have staying over – kids and adults alike.
The modern design will also fit in any contemporary home decor. You don't have to worry about the piece of furniture becoming an eyesore with this bed.
Why it's our pick? If you need a triple bunk bed that can accommodate kids and adults alike, this is your best choice.
Recap
---
Disclosure: As an Amazon Associate we earn from qualifying purchases.
Liked this article? Here's what you can read next: