Last updated on February 8, 2022
Looking for the best luxury throw blanket of your dreams? How about choosing from these ten remarkable throws?
What we think is the best of them all: this amber fox fur throw — it's really that good and popular, too.
Few things in life feel as luxurious as the softest, most comfortable throw you can find. Whether you want something big and fluffy or small and elegant, there are many options out there. We've done the research, so you don't have to! In this article, we've reviewed the best luxury throws on the market so that you can easily find what you're looking for.
Luxury isn't necessarily defined by the price tag too. It can look luxurious but still be affordable. That is the goal of our list — not to boast about the most expensive blankets we could find, but rather give you affordable options that look and feel really great.
So here's the list with our favorite at the top. There are links included which earn us a commission, but that doesn't cost you nor influence our criteria of including them.
What's Inside?
Best Home Fashion Amber Fox Faux Fur Throw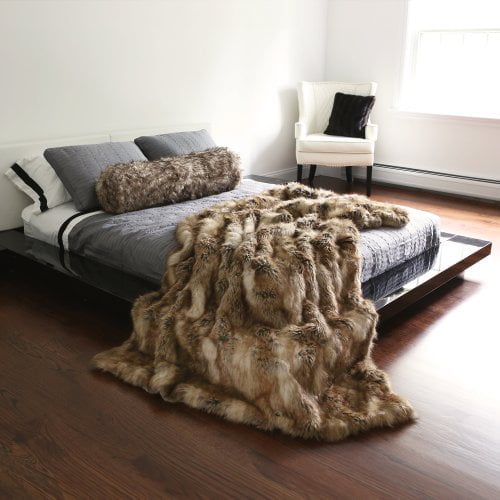 This is our editor's choice.
Amber Fox Fur would make a great gift or accent to a room. It also makes you feel warm when under it on the couch or in your bed. It is faux fur and made of high-quality materials.
This luxury throw blanket is the perfect gift idea for family and loved ones. It impresses upon them how much you care about them. You want to make them feel pampered. It also makes a terrific home decor piece as it really brings in the coziness in any space, whether it's a living room or bedroom. Lastly, this material keeps extra warm during the winter months, so having those colder months coming up makes this a must-have!
This beautiful faux fur throw is lined with faux rabbit fur to make it even cozier and plush for cold nights. Although it's a luxury item to purchase, this Amber Fox faux fur throw would make a great housewarming gift and give the recipient an item that will last a long time and add some warmth during the winter months without taking up much space.
Quick facts:
Sizes: 58″x36″, 58″x60″, and 58″x84″.
Faux rabbit fur.
Luxury Cable Knit Throw With Faux Fur Reverse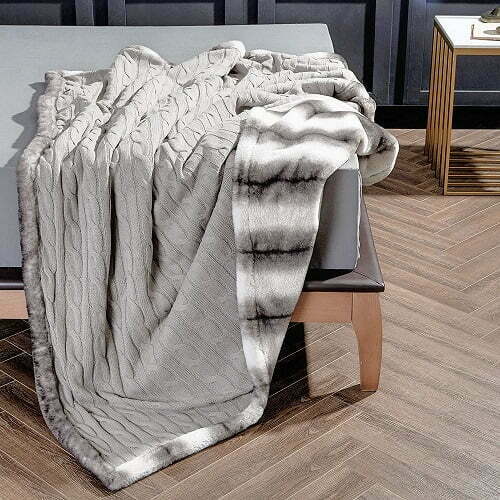 If you are looking for a luxury and comfy blanket to add to your bedroom, living room, or anywhere else in the house, this is perfect! It is lightweight and can be used in any season. This blanket makes you feel luxuriously cozy without weighing you down. We love the material. It is made of so much because it feels warm when used, but cold air does not come through too much. The fur on the back felt really luxurious.
This luxury throw is great for snuggling in a comfy armchair while reading or as a bedspread while sleeping. The luxurious blend of cotton and acrylic is soft to the touch invites you to wrap yourself up with this premium quality blanket. This one-of-a-kind accessory will make your decor stand out. Selecting from different colored throws (like mine) can be the perfect gift idea for your friends and family this holiday season, or even purchasing one for yourself!
The luxury throw by Eikei Home is a double-layered, braided fabric with modern gray threads and accenting gray faux fur that makes this extra soft and thick. It measures 60 x 70 inches making this a perfect-sized throw over a sofa or snuggled under as it is made of cotton acrylic (another good review). Finally, the luxury blanket goes great as an accent to any living room's décor but can be used for warm nights when you're lying beneath.
Quick facts:
Size 70"x55".
Made of cotton acrylic blend.
Battilo Home Home Decorative Sofa Throw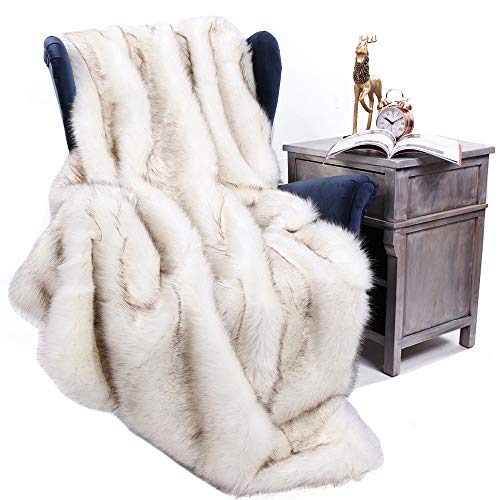 We love that this blanket is made out of high-quality materials, and it feels like real fur. Whenever friends come over, they always say, "keep me warm," so you can give them this throw. When you relax at night on the couch or in the living room with it draped around you watching tv, the heaviness stops you from shivering off into outer space!
This faux fur throw blanket is made of high-quality, soft material and would make a great gift! We also love that this luxurious home blanket is lightweight and soft yet can provide warmth to keep me cozy while you lounge. It's perfect for living room, bed, or dorm room (or any other place) as it adds texture and accents the décor! You'll enjoy how well this machine washable throw matches any decor or color scheme you have going on in your home.
This product is a unique blend of faux fur lined with fleece material. The faux fur side of this blanket keeps you warm and comfortable, while the fleece side feels like a high-end hotel mattress. As the name suggests, this luxury throw feels premium which you could use in any season. Whether curling up with it to read a book or placing it on your couch or bed for extra warmth in colder months, this blanket will keep you feeling warm and cozy all day and night.
Quick facts:
Size 60"x80".
Made of microfiber fleece.
Double-sided.
Double Sided Faux Fur Throw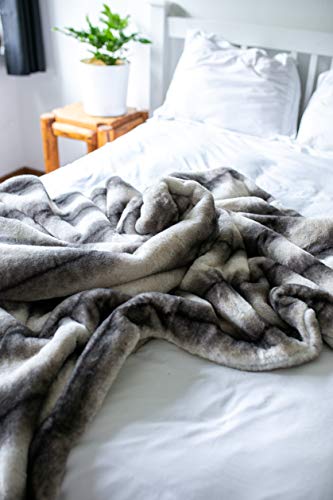 It is so soft that everyone loves it and begs for more. Use this blanket in the wintertime for extra warmth because of its lightweight but fluffy appearance. The fur is so smooth and flowing that you can throw the blanket around you like a wrap or everyone in need of extra warmth because it feels like an ocean of comfort around you.
The blanket is elaborately and beautifully decorated with a furry grey fox on one side and a blonde chinchilla stripe on the other that provides a soft, invisible cuddle barrier. The short, dense pile faux fur feels irresistibly soft; hidden polyester fiber ensures durability. It has decorative and practical uses, keeping you warm for hours of cuddling or simply enhancing your living space with its modern design.
Overall, it looks nice, feels great, and has many wonderful features. Shadow colors change on both sides of the blanket, which is unique and a quality we love because every time you look at it, it will be different. If one side is dirty or looks worn out, flip over to the other side! We recommend turning around and seeing what these blankets can do.
Quick facts:
Size 69"x88".
Grey fox and chinchilla faux fur.
Silver Fern Premium Double-sided Faux Fur Throw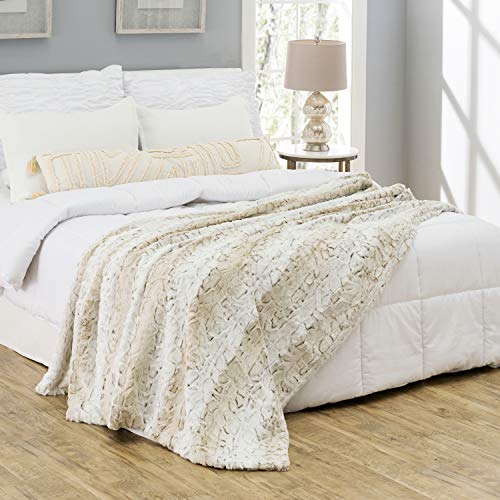 This fake fur throw blanket is a great gift for the recipient or to be able to show on your couch and snuggle up under. It is a double side, high quality, and feels amazing against your skin. This fake fur throw blanket holds people warm on cold nights makes great photography props for those that love taking pictures or being in front of the camera, most likely used for camping, warming up their bed on cold nights. It's machine washable.
This is one of the best blankets you have ever felt. It's so soft and cuddly that when you're feeling a little under the weather, it makes me feel better. Plus, if you have kids playing outside in the snow this winter, it will keep them warm enough to stop moaning about going inside! The Asian theme makes it a great accent to Buddhist decor at night or whenever you want your place to smell like non-GMO soy candles.
The gorgeous white faux fur mink blanket is perfect for an elegant single woman. Soft, thick, and luxurious, this item is machine washable and never sheds, leaving you free to cuddle yourself with it by the fire or on a rainy day. This beautiful throw can also be used as a chic accent in your home or as an extra warmth to keep you cozy on cold nights.
Quick facts:
Size 60"x80".
Faux minky fur.
Machine washable.
Thxsilk 100% Silk Inside and Out Luxury Throw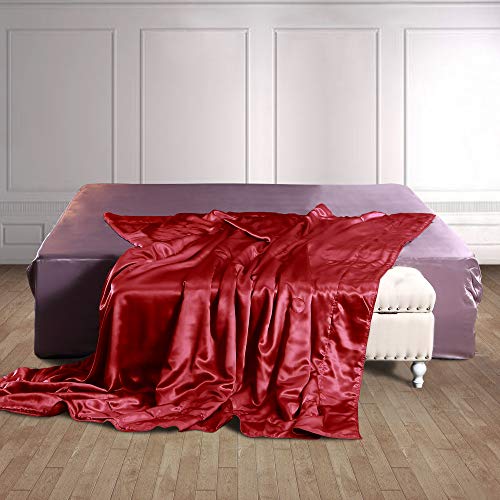 Obviously, this isn't just an ordinary throw blanket. This is a luxurious and elegant silk weave, so of course, it's deserving of a "ten out of ten." The rich, saturated colors that reflect light make aesthetically pleasing aesthetics placed in the house's room. Beautifully draped across the end of your bed as an accent coverlet and decorative pillow. Obviously, this blanket is great for keeping you warm on chilly winter nights with a bit more design flair.
Generally, most people rely on an item's ability to do one of the following: evoke a memory, make a situation better, or make them feel like they can conquer anything life throws at them. To some, these throw blankets symbolize all three. This blanket is soft, and warm-feature previously mentioned that it does well-but. It also represents emotion and helps fill in empty spaces.
The silk blanket is made of high-quality, all-natural, shiny silk that cannot be found in other, lesser blankets. It's not too heavy, and because it spreads out on any surface you spill it on so easily (such as a couch), it really improves the look of your room or makes a great decorative accent for someone who enjoys putting cultures together.
Quick facts:
Size 53"x70".
Made of 100% natural silk.
YnM Fuzzy Faux Fur Weighted Blanket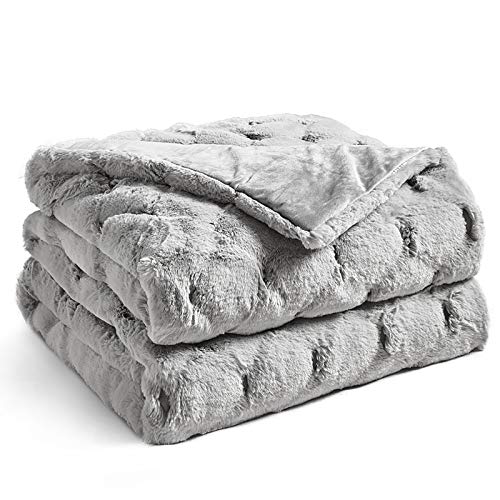 The new faux fur blanket is made out of a luxurious fabric that is unbelievably soft and comfortable. For its weight, it works as a weighted blanket. You will find yourself snug in cozy when using this luxurious throw blanket for sleeping, couch, bedroom, cold room, or whenever you want to snuggle up with a fuzzy and warm animal. It's perfect as a gift for any time of the year and can make decorating your home with luxe style easier than ever before- it provides warm personal comfort like no other!
You're going to love snuggling up to this exceptionally soft and fluffy blanket. This handmade plush faux-fur weighted blanket helps with insomnia, sleep pattern disruption, and grumpy moods. Great for adults and kids alike, this versatile gift will be the perfect personal item for any occasion! The original YnM weighted blanket is made with multiple layers of material and small compartments about 4×4 inches wide for maximum comfort that contours to the shape of your body.
The company YnM Products, Inc. makes these blankets absolutely amazing. So soft and so snuggly, this throw blanket will keep you warm all night while dreaming happy dreams. I loved my gift of the small blanket, and it has become such a daily use item for me that I'll need to invest in another large size.
Quick facts:
Size 60"x80".
Weighs 20lbs.
Pearth Blanket Authentic Baby Alpaca Wool Throw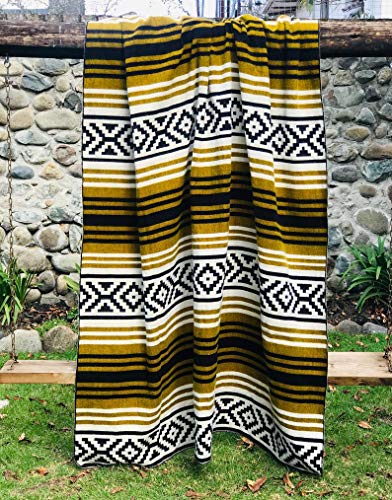 The luxurious throw blanket is a beautiful accent to any room around the home. The everyday use can come in handy due to its functional design and beautiful aesthetic, which will compliment any interior effortlessly. The inclusion of long-haired organic material will provide utilization while being cuddled up watching a movie or dealing with concerns at work event offers comfort in extra warmth.
This blanket is great for keeping you warm while reading a book or relaxing with family or friends. I also use it in front of the fire. It makes a good gift because it is unique and eco-friendly, and people who are picky about their blankets usually like this one because it does not have lanolin in it, which can make people allergic to wool-based fibers. The Suri alpaca fiber is lighter, softer, warmer, soft to the touch than sheep's wool.
Quick facts:
Size 75"x90".
Made of authentic baby alpaca wool.
Irish Throw Blanket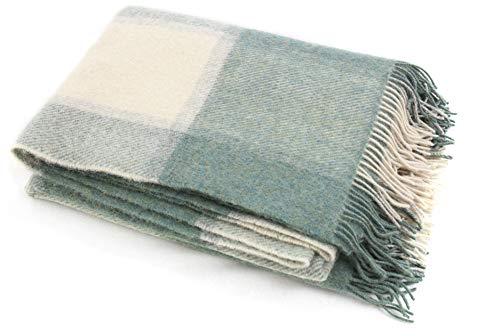 This luxurious Irish throw blanket is the perfect gift for friends, family, co-workers, or colleagues looking for something with a little piece of Ireland in their lives. This modern Irish blanket features all-natural 100% wool for durability and an easy spot to curl up on the couch. The classic neutral colors make it perfect for any style, and it also makes a stylish accent down your stairway or in your living room!
The luxurious Irish Throw Blanket makes a perfect accent to any piece of furniture in your home. It is also the perfect blanket for curling up on the couch and reading your favorite book or watching a show. This beautiful accessory is crafted from 100% wool, making it an artistic masterpiece and very functional. It has been said that nothing is warmer than wool, and this throw blanket quickly proves that true statement to be accurate.
Overall, this would make a perfect accessory to any home décor. Handmade from materials that have been handed down through multiple generations of the Hanly family, this marmalade and cream red is premium and durable, which will last for many years to come. It is the perfect size for a little one yet still capable of providing warmth for someone who doesn't get out in the sun very often. This hefty investment will no doubt last for
Quick facts:
Size 54"x72".
Made of 100% wool.
Kashwere Heavenly Soft Throw Blanket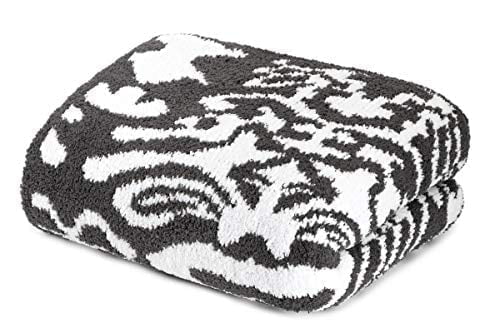 For a luxury blanket, this is a great bang for your buck. This large blanket made from 100% Chenille has a luxurious feel and is perfect for a housewarming, wedding, or holiday gift. It will make any home feel warm and cozy with its softness.
This customer is giving you options. This blanket feels like cashmere but is not — it's actually made from a soft yarn called Chenille. Kashwere throw blankets work great as decor accents only if their placement complements your color scheme.
Quick facts:
Size 52"x70".
Made of chenille yarn.
Liked this article? Here's what you can read next:
---
Disclosure: As an Amazon Associate we earn from qualifying purchases.