Last updated on March 5, 2020
Want to turn your bed into a fluffy piece of a cloud? You need to get the best down comforter. These are the top picks for 2020.
Who doesn't want to wrap themselves in a fluffy and comfy comforter for a good night's sleep? After all, it is a comforter, so it has to make you comfortable. Goose down filling is known to give that effect for comforters and duvet inserts. On top of that, we keep our minds open and suggest you venture into down-alternatives to try something more eco-friendly and sustainable as well (where no geese are harmed.)
What makes down great anyway? It's used for the same benefit geese receive from their feather – to maintain body temperature. In other words, it will keep you warm during the night, but it won't overheat you when it's hot outside either. These are the same qualities we see in silk or wool. As a filler down is quite fluffy and lightweight as well.
So how do you choose the best down comforter?
Here's what you need to consider:
What size of the comforter do you need for your bed?
Are you going to use it as a duvet insert?
Lightweight or heavy?
How fluffy do you want it to be?
Care to try down alternatives?
Now that you know what to look for use this flashcard to make the choice from our pre-picked best rated down comforters. Our process of top picks is simple but effective. We use all data we can get from our site and our partners to make the most relevant choices. Indeed, these happen to be the best choices available. Finally, we have to disclose that we get compensated for qualifying purchases on Amazon (tagged #ad). This is a common industry practice that helps us do our job and it doesn't cost you extra.
Enjoy our today's picks!
What's Inside?
Best Down Comforter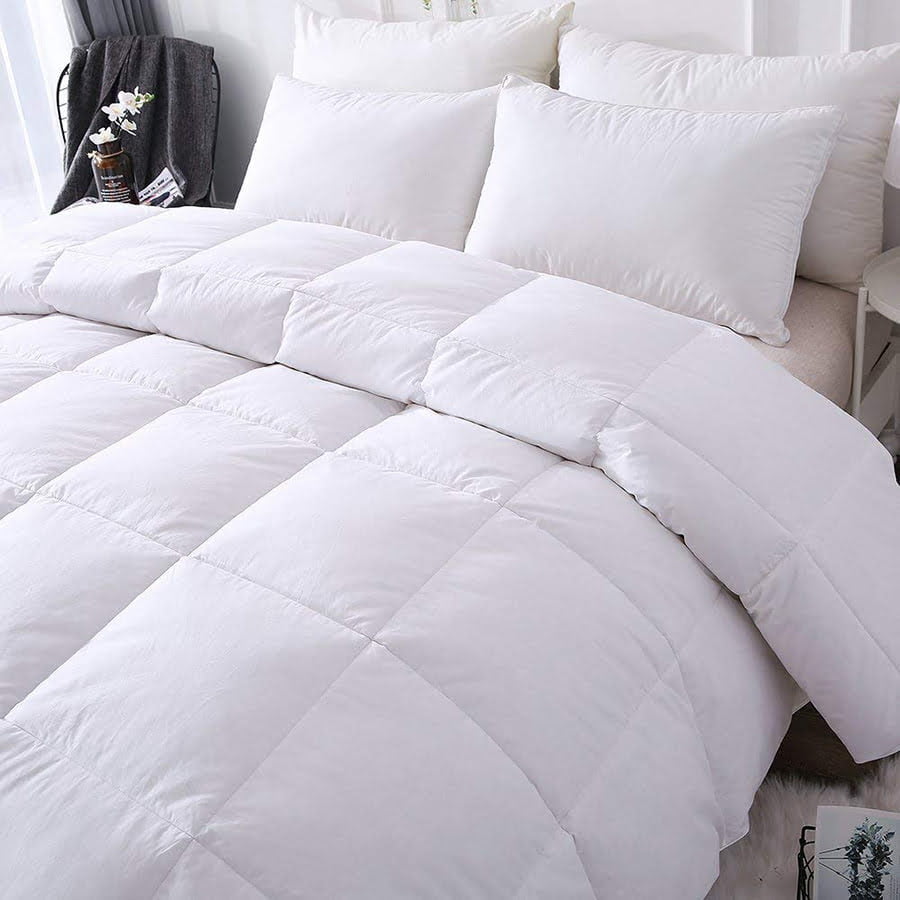 This comforter lets you enjoy a good night's sleep. During the cold season, people who are afraid of getting cold can go for this low-profile down comforter. It is designed with 100 percent cotton cover and breathable feathers, so you don't feel extra heat no matter how long you use it.
The box-stitch quilting design offers an elegant look and appeal. This stitching is made to keep both feathers and down filling from shifting during your sleep. So, you won't feel disturbed due to clumping.
As far as cleaning of this comforter is concerned, the manufacturer said that you need to dry clean it. However, the fact is that its feathers won't tear down when you machine wash and dry it.
Pros: chic design; easy to clean; light-weight; takes less storage space.
Cons: makes an annoying crunchy noise.
Duvet Insert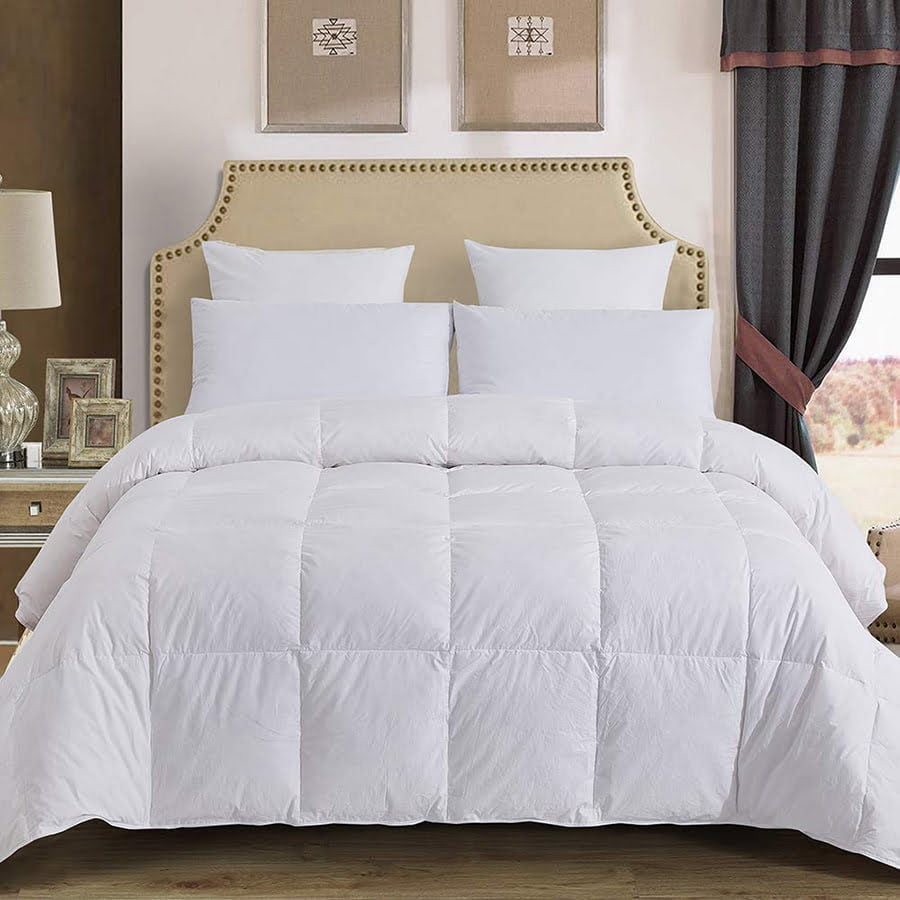 Sometimes, you want a comforter that you can use year-round without doing much, in that scenario, you can opt for Decroom quilted duvet insert. It's soft, fluffy, and large enough to cover a queen-size bed. The 233 Thread count cotton is used to create its cover, which is breathable and plush.
Inside this cover, you will find a natural goose down filling. The purpose of box-stitches on the cover is not only to bring an element of style but also to make sure that filling and covering doesn't shift anywhere. It's warm enough to use in winter and cool enough to stay on your bed in Spring.
Pros: cozy and warm; feel smooth on the skin; fluffy; suitable for all-season use; affordable.
Cons: make light crinkle sound; not completely odorless.
Oversized King Comforter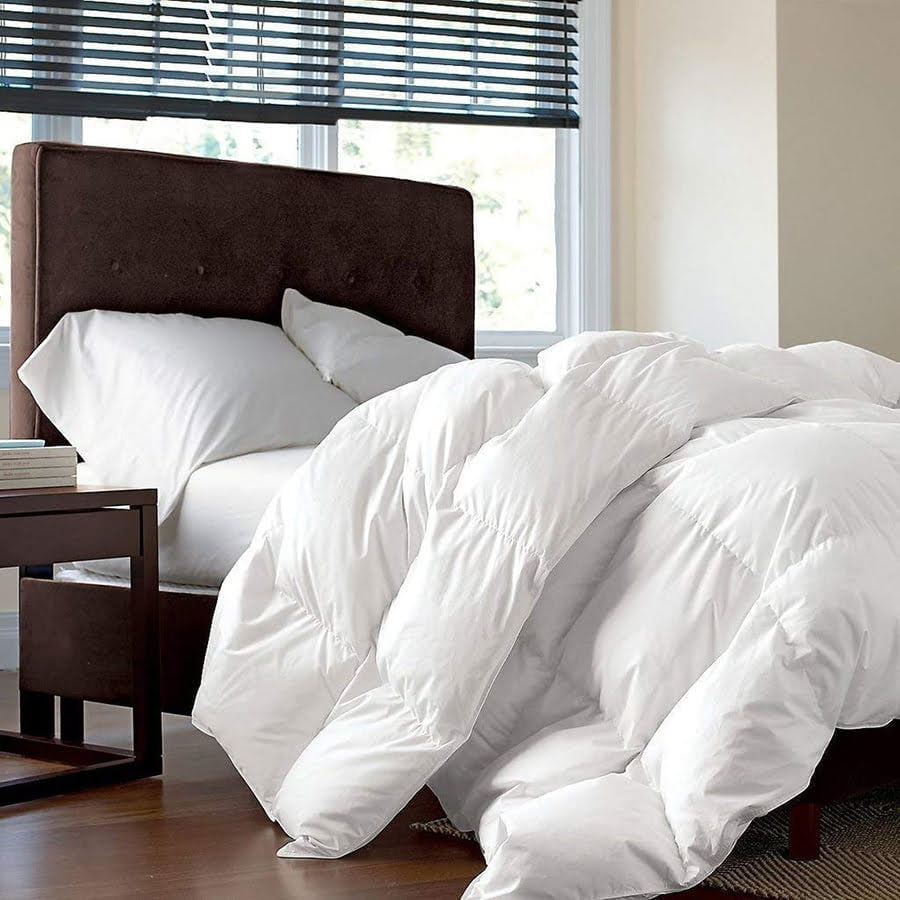 You can make a luxurious addition to your bed with this oversized king comforter. Manufacturer filled its 1200 thread count Egyptian cover with 100 percent natural goose down filling, which keeps you warm with a medium level of temperature i.e., neither too hot nor too cold.
When you put it inside a duvet, then you will be surprised to see the excellent design detail of the comforter because it brings a loop that fits perfectly to a duvet button. You are going to thank the manufacturer later for this little yet useful feature as it will hold the duvet to slip from one side. When you use it, you feel like sleeping inside the warmest cloud.
Pros: comfortable to use; optimal quality material; high quality and responsive customer service.
Cons: not lightweight; not very soft; a bit noisy.
Queen Comforter
As soon as you think of replacing your down duvet comforter, then the best replacement comes in the form of a Luxurious Sebrian comforter. However, at this point, you shouldn't fall for marketing gimmick Siberian goose down filling, which is simply untrue. The manufacturer used goose down filler and feathers inside a cotton cover.
If you don't like cold spots in your old down comforter, then you will feel great with Siberian bedding as it offers premium baffle box stitching – a design that doesn't leave any cold spots behind. The stitching is beautiful and its Egyptian offer silky feel and appeal. Once you remove it from the package, it takes a few hours to fluff up. It's lightweight enough not to weigh you down and cool enough to doesn't make you switch during sleep.
Pros: good quality stitching and material; warm and comfortable; offers deep sleep experience; hypoallergenic, allergy-free.
Cons: feathers start poking out and leaks after 7-8 month use; not lightweight; always require dry-cleaning; outer-cover is not as soft as you want it to be.
Down Blanket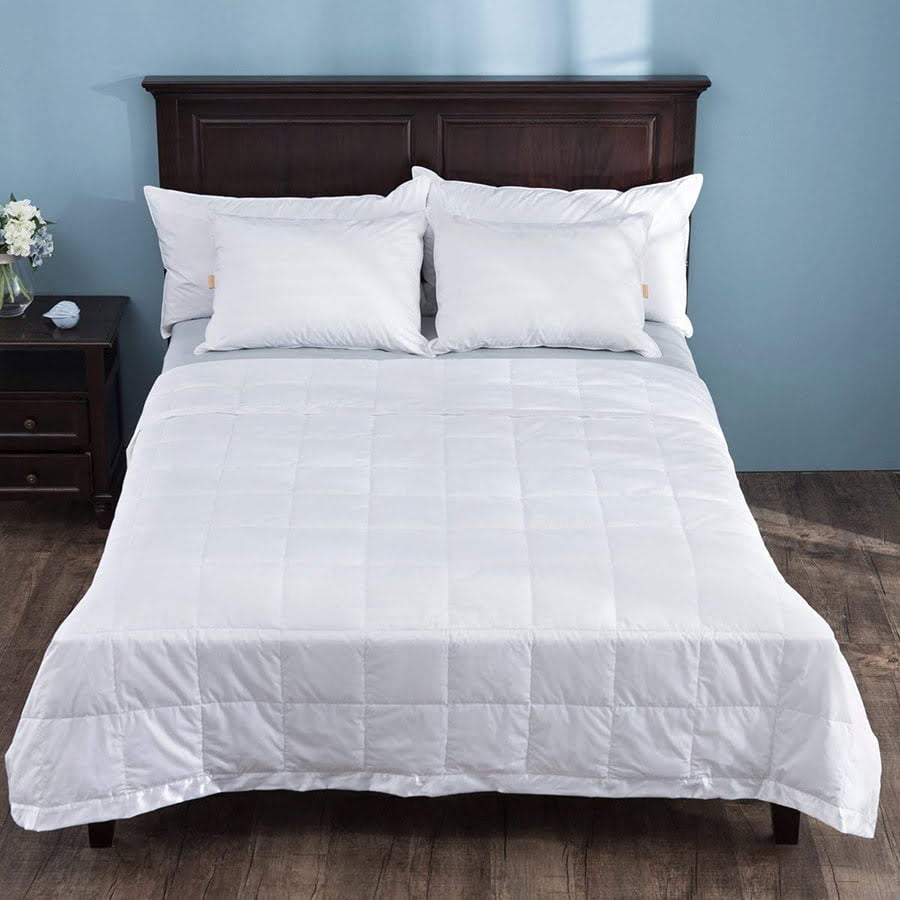 The environment-conscious people always search for a down comforter whose filling is natural and can be recycled. Indeed, this product matches their search queries perfectly. It's a lightweight down blanket made with 75 percent high-quality white down and 25 percent feather, so it's 100 percent natural and recyclable product. As filling has a satin weave shell, therefore when you move the blanket you won't hear any annoying creaky sound.
One big problem that people experience with down comforters is their weird odor. However, you won't experience the same issue with Puredown lightweight comfort as it is made with an odor-less filling that has been cleaned and disinfected. So, wrap it over and enjoy a peaceful night's sleep.
Pros: nice quality look and feel; premium filling of a natural and odorless feat; weave designs offer a charming look; box stitching prevents cold spots; noiseless.
Cons: it's tricky to keep it flat with duvet cover as it has no ties on the corners; it's not a factory sealed blanket; after a year of use, feather starts coming out of the cover.
Buffy Comforter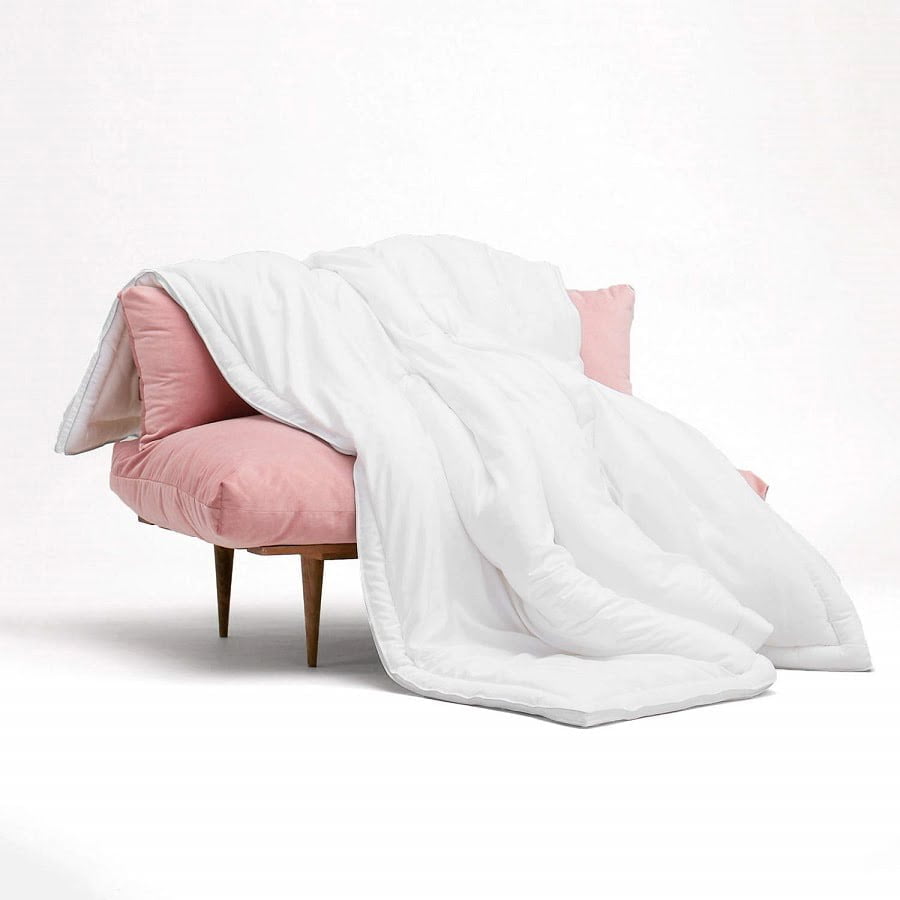 If you are a supporter of environment-friendly manufacturing practice, then you won't mind spending a bit extra for this alternative down comforter. Unlike traditional quilts that usually have smelly and synthetic feathers and filling, this buffy comforter is filled with gossamer fiber that feels so light and gentle on your skin.
To make its elegant shape and look, you need to spend a bit of money on professional dry-cleaning service. By getting this buffy down comforter, you are protecting 12-geese. This extra-lofty comforter is hypoallergenic, as it shows excellent resistance to microbes, mites, and allergens; it offers you healthy and comfy sleep.
Pros: exceptionally soft and comfortable; environment-friendly.
Cons: not machine-washable, require dry-cleaning service; expensive; heavier and warmer than a traditional comforter; it gets wrinkles easily.
Lightweight Comforter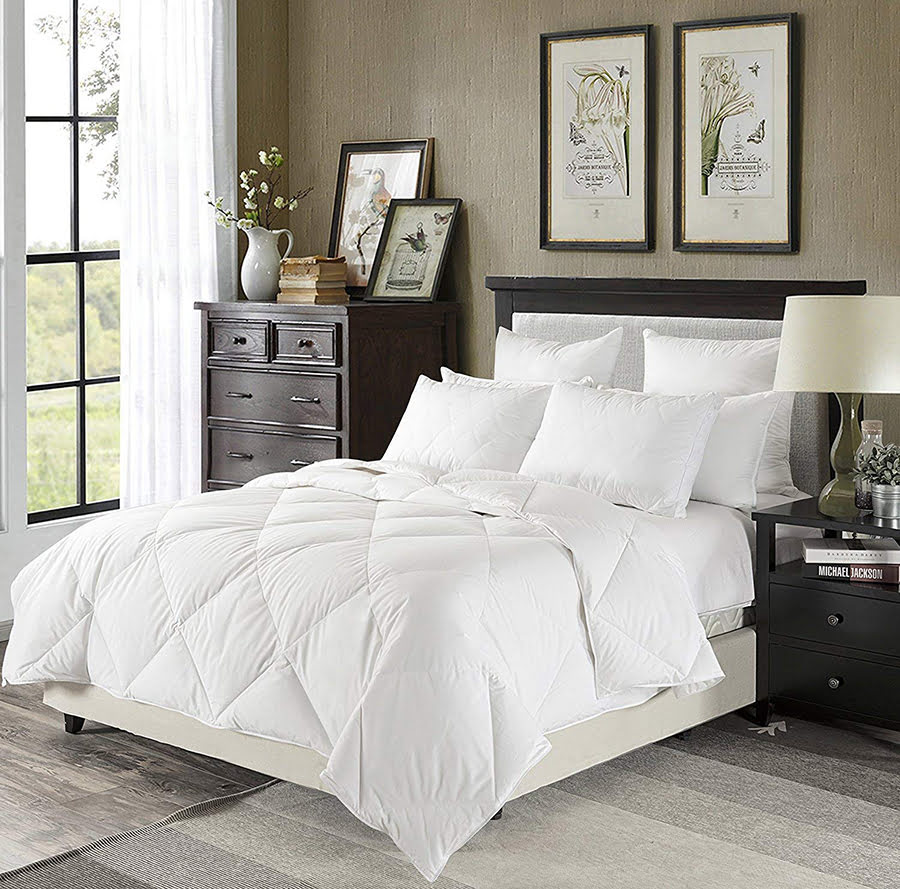 Exquisite year-round comfort is possible with this lightweight comforter that is warm enough to keep cold away from you in the cold night but not too warm to make you sweat. Its cover is made of 100 percent cotton that keeps proper ventilation and brings a strong and breathable good night experience.
It's a diagonal end to end box stitch design. It is different yet complements every room style and interior gracefully. When you cover yourself with Downluxe, you literally feel that you are sleeping under a cloud. Its microcirculation doesn't allow outside cold air to move inside, so your body remains warm no matter how severe the temperature is.
Pros: 4 easy to use duvet loops; end-to-end stitching balance warmth and weight; luxurious white down fill is light and warm; best value for money; the cover is soft and breathable.
Cons: machine wash is not recommended, it might affect the overall quality; lower-quality material starts shedding after a year.
Heavy Comforter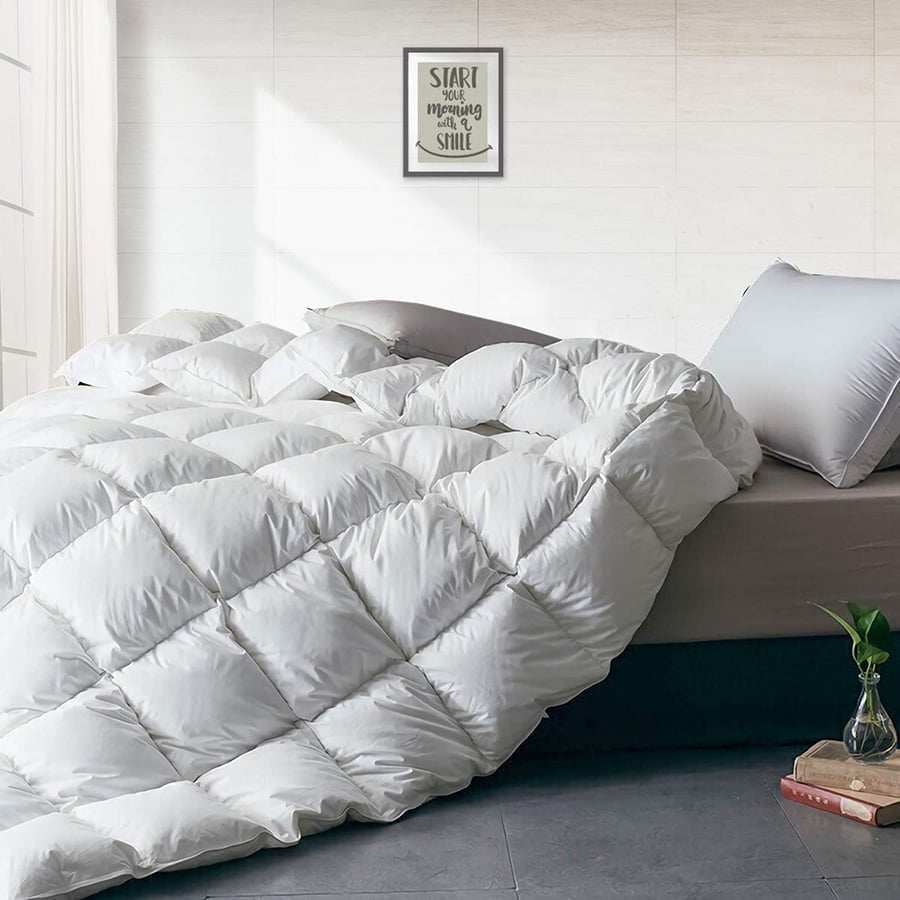 When you want to snuggle under your comforter in cold weather, then APSMILE offers you a heavy comforter. Although it's weight is a bit more than average. Still, it doesn't compromise on ventilation. Premium Egyptian cotton has 400 thread count per square inch, so this comforter is fully breathable.
If you are a person who sweats even in cold weather, then you can switch to its lightweight version. Its premium goose down filling is purified through ECO soap, so you don't have to face any allergic reaction. This soft to touch down comforter is nature-friendly and safe.
Pros: 8-corner tabs for quick duvet attachment; skin-friendly; heavy and warm; natural safety certification by OEKO-TEX Standard 100 and Downpass; hypoallergenic.
Cons: not a fluffy comforter; it's not a baffle box construction.
Cooling Comforter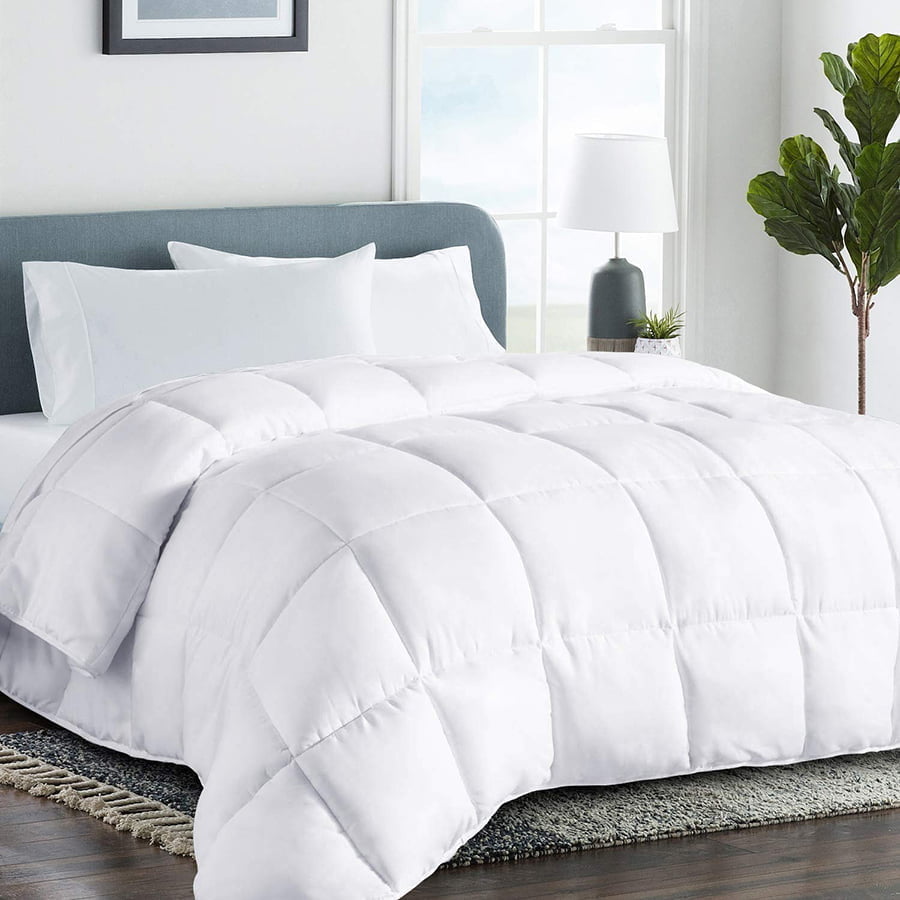 When you need a luxurious appeal in your down comforter at a price, you can afford that COHOME comforter serves your needs in the best manner available. Good quality box stitching is used to secure the filling and keep the cover at its place all the time. This lightweight comforter keeps you warm during a winter night. As soon as it gets dirty, you can get it a quick wash in your machine.
Pros: luxurious look and appeal; machine washable; reversible style, flip it and try a new look; lightweight; breathable cover.
Cons: too warm to use in spring or summer; the real color of comforter doesn't match precisely with picture color.
Down Alternative Comforter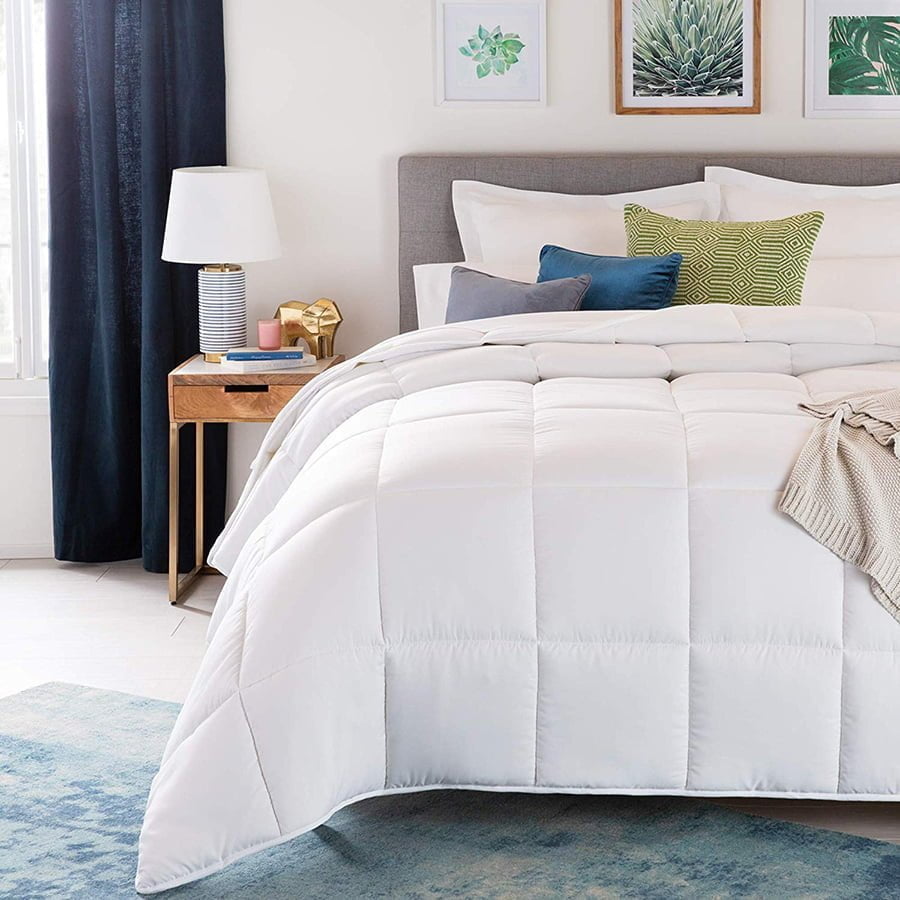 If you are a person who is sensitive to allergens found in traditional down comforters, then you can opt for this lightweight, fluffy comforter that has microfiber filling. This hypoallergenic product comes with good weight, perfect to use for both summer and winter seasons.
If your body temperature is high, then you may get hot quickly inside it, so in that case, you should consider a lighter option in the market. It's among the best down comforters because it doesn't require much maintenance. If it feels dirty, there is no need to seek professional cleaning help. Just put it inside the machine and pass it through a cleaning cycle with cold water. Later, dry it under the sun, and you are ready to use it again.
Pros: hypoallergenic; affordable; machine-washable, no need for professional-cleaning; quick care and maintenance; 7 beautiful color options; 8-Duvet loops offer smart addition of duvet.
Cons: lower-quality stitching.
Liked this article? Here's what you can read next:
---
Disclosure: As an Amazon Associate we earn from qualifying purchases.