Last updated on November 22, 2021
Here are the best cooling weighted blankets for comfortable sleeping. These will embrace you in their cozy weight and maintain the body temperature while you sleep.
The best? This YnM Weighted Blanket. Read on to learn why, and other interesting picks.
Think about a cooling weighted blanket as the pillow's cooler side, except that it always remains cool. Isn't the great? On top of that, the weight embraces you for extra comfort. It's great for turn-and-toss sleepers. The way it works is by having several layers of breathable fabric and glass beads for the weight. This prevents the blanket from trapping heat which is the problem with regular blankets.
So if you're tired of waking up in the dreaded sweat in the middle of the night, these types of blankets are for you.
Choosing one is easy. Most of them have a choice for size, weight, and even color and pattern. Most sizes vary from 63"x48" to 80"87" (there are larger sizes if you need them). As a rule of thumb, you want to choose the blanket's weight at about 10% of your body weight (so a 150lbs person would choose a 15lbs blanket).
Now check it out, we have made a list of the top 10 best cooling weighted blankets. Our list contains links (that earn us a commission at no expense to you.)
Let's begin!
What's Inside?
YnM Weighted Blanket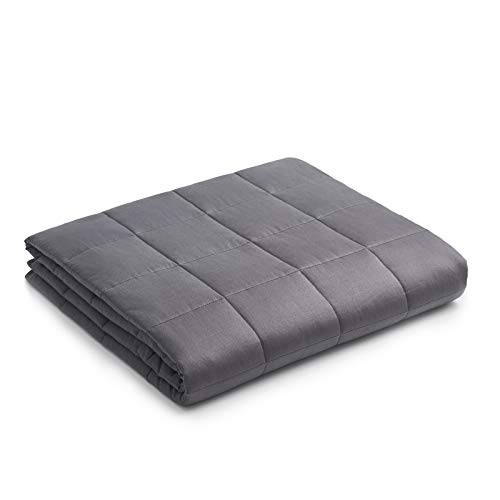 This is our editor's choice.
The YnM Cooling Weighted Blanket is made with cotton. It's filled with glass beads for even distribution of weight and has seven layers that contour to your body's shape. This allows for extreme comfortability with good temperature control to help you sleep at night.
The original YnM weighted blanket offers a natural way to help calm your body for a restful night of sleep; a great calming sensory blanket for adults and children to help decompress and provide comfort. YnM owns the unique 7-layer weighted blankets. All the materials are made from a breathable cotton-linen duvet cover, cooling bamboo duvet cover, or cozy Minky duvet cover. It provides temperature reduction and maintains more evenly with a high-quality design.
Quick facts:
Weighs 5 to 30 lbs.
Sizes from 63"x48" to 80"87".
Made of 100% Oeko-Tex certified cotton.
37 colors and patterns.
7 layers.
Glass beads.
Zonli Cooling Weighted Blanket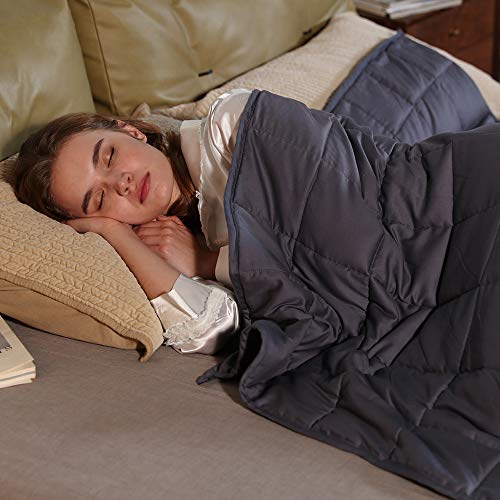 This cooling weighted blanket is made of the following parts: a non-piling woven fabric for the outside, a top layer of small sewn squares where plastic beads are added, middle squares with tiny rows of sewn beads at even distances. This weighted blanket is finished with loops to secure the duvet cover and could be reused until it has some wear. It can help maintain temperature and discourages overheating while promoting sleep.
A weighted blanket made of a cooling material such as bamboo is good for those hot sleepers. The Bamboo in this quality weighted blanket is made from bamboo fabric which is breathable and allows air to flow. Additional quilting frames recommend the perfect weight t maintain warm without feeling too much heat. It helps with sleeping more restfully by helping the body control its temperature, which leads to sleep better at night or during naps.
Quick facts:
Weights 5 to 30 lbs.
Size 36"x48" to 80"x87".
Made of bamboo.
Smart Queen Cooling Weighted Blanket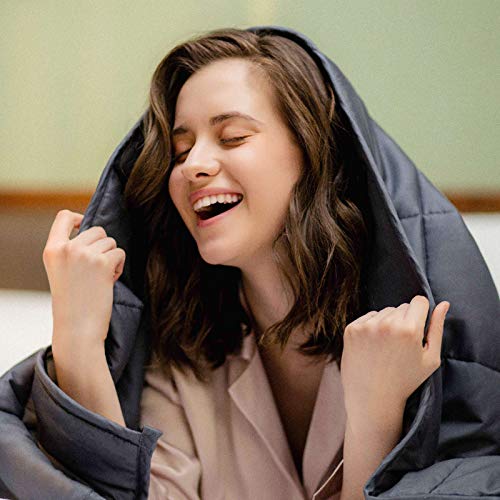 A cooling weighted blanket made from polyester helps increase comfort and maintain temperature. The blanket reduces heat through the weight and hug-shape. This blanket is machine washable in cold water by gentle cycle, machine dryable with low-heat, and also able to be hung out to air dry or placed flat in the sun for its exterior material protection.
This weighted blanket simulates a gentle hug and thereby reduces tossing and turning to improve sleep. The 15 lbs blanket is intended for individuals weighing about 130-170 lbs. It also has a unique seven-layer structure to prevent the beads from spilling out causing some difficulties with cleaning the duvet cover later on in life.
Quick facts:
Weighs 3 to 30 lbs.
Size 36"x48" to 80"x87".
Made of breathable cotton and glass pellets.
AN Cooling Weighted Blanket
The blanket helps maintain a cool temperature by holding fillers in place with an elastic band that encompasses the person the blanket covers. This technology helps people from being exposed to too much heat. It provides feelings of security and makes it easier to fall asleep quicker at night, and sleep more soundly through the night, for some people who need extra assistance in calming their senses.
A cooling weighted blanket made of cotton helps the person sleep with natural use of reducing the body's thermal conductivity, temperature, and wears. The product is made of glass beads that can eliminate bacteria in a way to feel cooler during hot days.
Quick facts:
Weighs 3 to 30 lbs.
Sizes 36"x48" to 88"x104".
Made of Oeko-Tex certified cotton.
Hypnoser Adult Weighted Blanket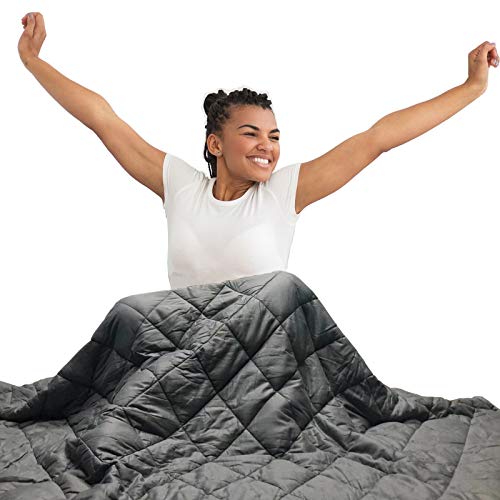 This cool-weighted blanket is made of cotton fabric, and it has glass beads for the filler, which helps maintain body temperature by reducing heat and controlling blood flow. This blanket also helps you sleep by hugging your body and making you feel warm.
This heavy-weighted blanket is made with fabric from a company called Hypnosers. Hypnosers creates various kinds of premium quality bedding brand standards while also being environmentally-friendly. This organic cooling weighted blanket provides the warmth and comfort of a gentle hug and helps regulate body temperature by preventing people from overheating. This cooling blanket helps people sleep better by reducing stress, which in turn aids more sound sleep.
Quick facts:
Weighs 10 to 17 lbs.
Sizes 41"x60" to 78"x85".
Made of microfiber.
Weighted Idea Cooling Blanket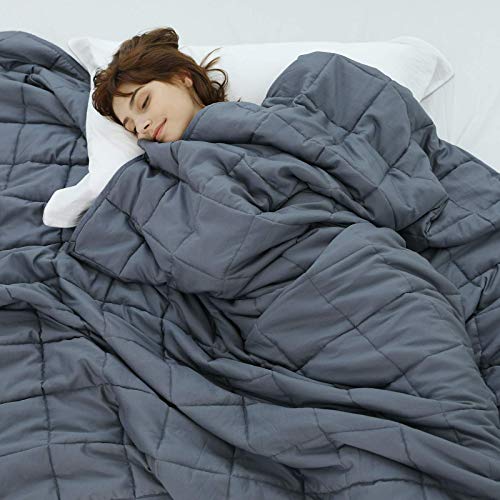 This cooling weighted blanket is made of a soft, breathable fabric and can be machine-washed. These blankets reduce one's body temperature so you can sleep at night without having to deal with overheating. The weighted blanket also has a variety of color options in case you would like to match your sheets or other hues for your bed.
Quick facts:
Weighs 5 to 30 lbs.
Sizes 36"x48" to 80"x87".
Syrinx Cooling Weighted Blanket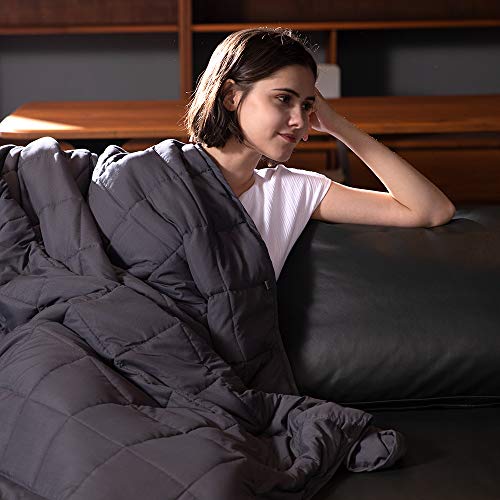 Feel the difference: it helps you rest easier and improves your sleep. The quilting has been updated to make this blanket more relaxing and optimal, providing adequate breathability and a cool tactile sensation. The weight is distributed evenly using six-layered fabric for maximum benefits. The glass beads in the product help enhance your experience with deep breathability and a pleasant sensation due to their being consistent throughout the blanket, instead of just in certain places.
This Syring weighted blanket is made of breathable materials that will not allow any sensations of being too hot or too cold; perfect for anyone who has trouble staying cool or hot at night.
Quick facts:
Weighs 5 to 30 lbs.
Sizes 36"x48" to 80"x87".
Available in 3 colors.
Luna Adult Weighted Blanket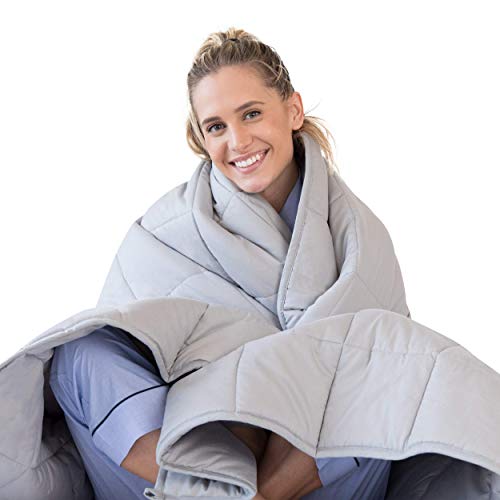 It has 7 layers in it, with a fluffy center. Luna is made of cotton material and fabric that fill your body's weight evenly. The best way to take care of your weighted blanket is by washing cold or on a gentle setting, and tumble dry on low-heat if not possible.
It has a streamlined design, cotton, and Oeko-Tex glass beads, helps maintain the body temperature and reduce heat, helps one sleep. The Luna Innovative design weights evenly distribute weight to your body. It is filled with cotton fabric, cotton, and glass inside to help maintain one's temperature and reduce heat. This product will not only help you sleep but will be breathable.
Quick facts:
Weighs 5 to 30 lbs.
Sizes 36"x48" to 80"x87".
Made of 100% cotton.
A choice of 23 colors and patterns.
Ubbcare Bamboo Weighted Blanket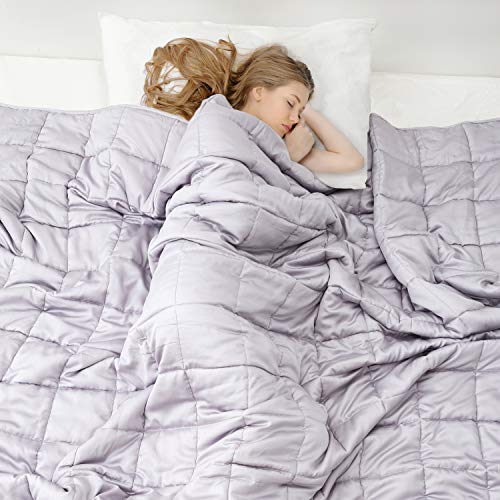 This is a bamboo and polyfill weighted blanket. The bamboo helps me stay dry and cooler. It is breathable so it spreads moisture quickly. It has an "unique seven-layer design inside" which helps distribute the filler, This relaxes the muscles to reduce heat It can be used in different places other than the bedroom (catch some rest on the couch, with weight therapeutic benefits).
An ideal cooling weighted blanket can be made with a mix of fabric like bamboo viscose. Its blanket typically has a fillers poly, making the person insulated. The blanket performs to keep cool owing with the cushioning effect from the glass beads which weigh it down. It also minimizes sleep interruption owing to heat and instead promotes deep and restful sleep. I would suggest choosing this product because it is easily maintainable in all seasons without changing any type of fabric or weights.
This 100% bamboo viscose cooling blanket is made with 300 count, has inner filling of polyfill and premium glass beads, has 7 layers designed to distribute beads evenly over the cooler. This cooling weighted blanket helps regulate the temperature and reduces heat from the perfect sleep environment.
Quick facts:
Weighs 20 to 25 lbs.
Sizes 60"x80" to 88"x104".
Made of bamboo viscose.
Luxome Luxury Adult Weighted Blanket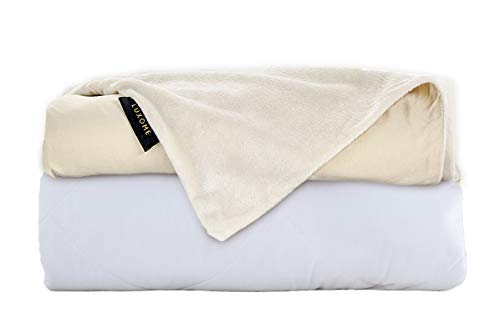 The Minky Bamboo Cooling weighted blanket comes with a reversible cotton-based material cover, while the filler is made of viscoelastic rubber beads. It helps maintain body temperature and reduce heat through gentle pressure by utilizing beads that bear a lightweight on your body. This blanket makes it easier to sleep because their are no rat bites, smell, or noise caused by dragging fabric over the floor, which also produces better airflow for nighttime cooling.
Stylish and cozy (might be considered a luxury blanket), the cooling weighted blanket is a great way to devour up to 200% more warmth specially designed to maximize airflow circulation while reducing body heat. It's available with two alternating styles of Minky fabric and cool bamboo. Both are engineered with soothing fabrics (195 GSM) with a gauge of 233TC.
Quick facts:
Weighs 15 lbs to 20 lbs.
Sizes 54"x72" to 85"x100".
Made of bamboo and Minky fabric.
FAQ
How do weighted blankets stay cool?
Weighted blankets stay cool by letting the air go through their layers. The glass beads used for weight also do not absorb heat and help dissipate it. The best way to think about it is like the cooler side of a pillow.
Are all weighted blankets cooling?
It depends on their quality, but most high-quality products are designed to be breathable and maintaining the body temperature.
Can you wash a weighted blanket?
The answer depends on the weight of the blanket. You can wash blankets under 10 lbs in most home washing machines. Some machines may be able to handle up to 20 lbs. Anything over that should be taken to a commercial washer.
Liked this article? Here's what you can read next:
---
Disclosure: As an Amazon Associate we earn from qualifying purchases.