Last updated on April 17, 2020
Looking for the best chandelier that will make the statement in your room's decor? This is what you choose one from – our top-rated and most decor-worthy picks. Read on!
Chandeliers can show the owner's personality, it can be luxurious, simple or even different. And with all the beautiful pieces out there, it might be confusing to choose especially to first-time buyers. So here are the best chandeliers to choose from to show off your inner self.
Chandeliers are light fixtures created to be installed on ceilings. These can use light bulbs, fluorescent lamps, and now even LEDs.
The chandeliers that we're featuring are among the most beautiful out there. One of these can be the perfect pick for our room.
So how do you pick the right chandelier?
These are some of the questions you might want to ask yourself:
Is it my style? This is the most important question – do you like a modern looking one, old school, out of this world? There are so many to choose from.
Is it adjustable? Another important feature as your ceiling might be too high or too low.
Is it dimmable? You don't want a chandelier that's too bright and then you can't dim it.
What material it's made of and what it does to your decor?
How much are you willing to invest in it?
While making our picks we've noticed some common caveats too, so we're going to report them to you as well.
Here are some of the things to look out for just to be on the safe side:
Some fixtures can't be installed by just one person so extra hands (or installation expenses) might be needed.
Extra cash might be needed too for extra bulbs.
Ready to choose your ideal chandelier? The following are the best picks we've found available online at the moment. These are some brilliant fixtures. Do note as well that we may be compensated for some of the purchases as an affiliate site (this is indicated by #ad). It comes at no extra cost to you.
Which one are you going to swing from? (Sorry, we had to include the reference.)
What's Inside?
Best Dining Room Chandelier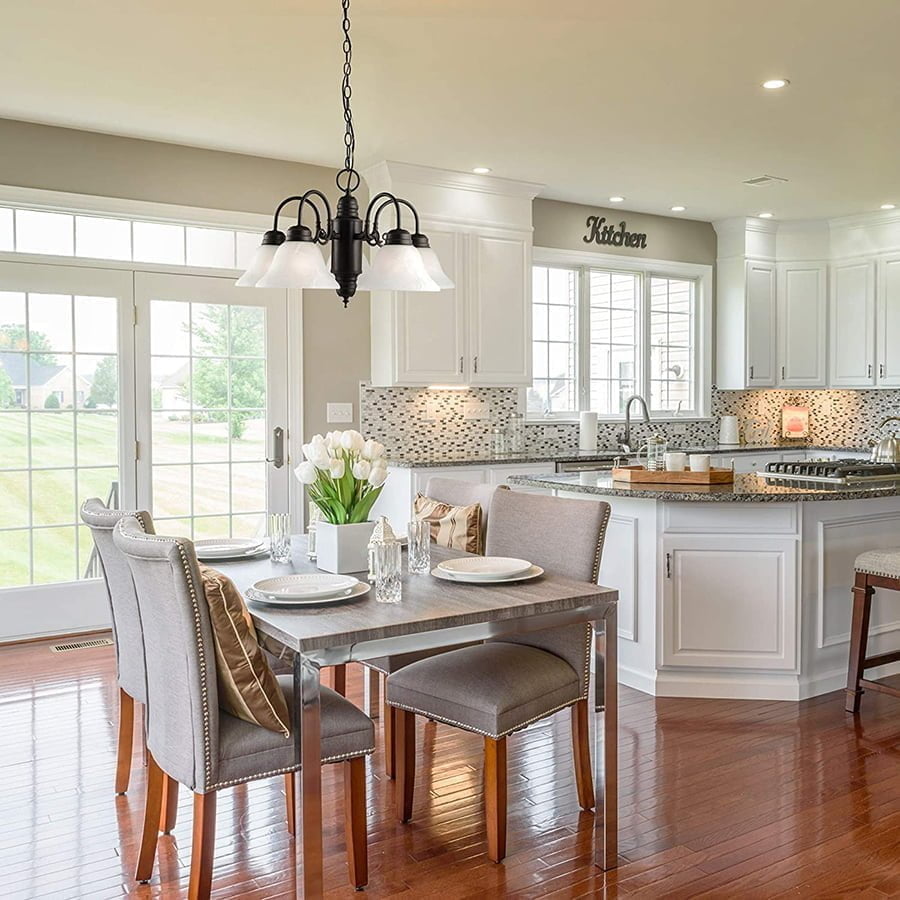 Even though the cord is very thick wrapped around the chain, this baby is built with Alabaster glass polished by oil rubbed bronze. Hanging length can be adjusted to suit your needs and is made of durable materials.
Pros: the beautiful design is made of formed steel, crisp alabaster glass, and finished in oil rubbed bronze; adjustable hanging length to accommodate the unique needs of your space; durable steel construction.
Cons: the chain wrapped around the cord is very thick.
Large Chandelier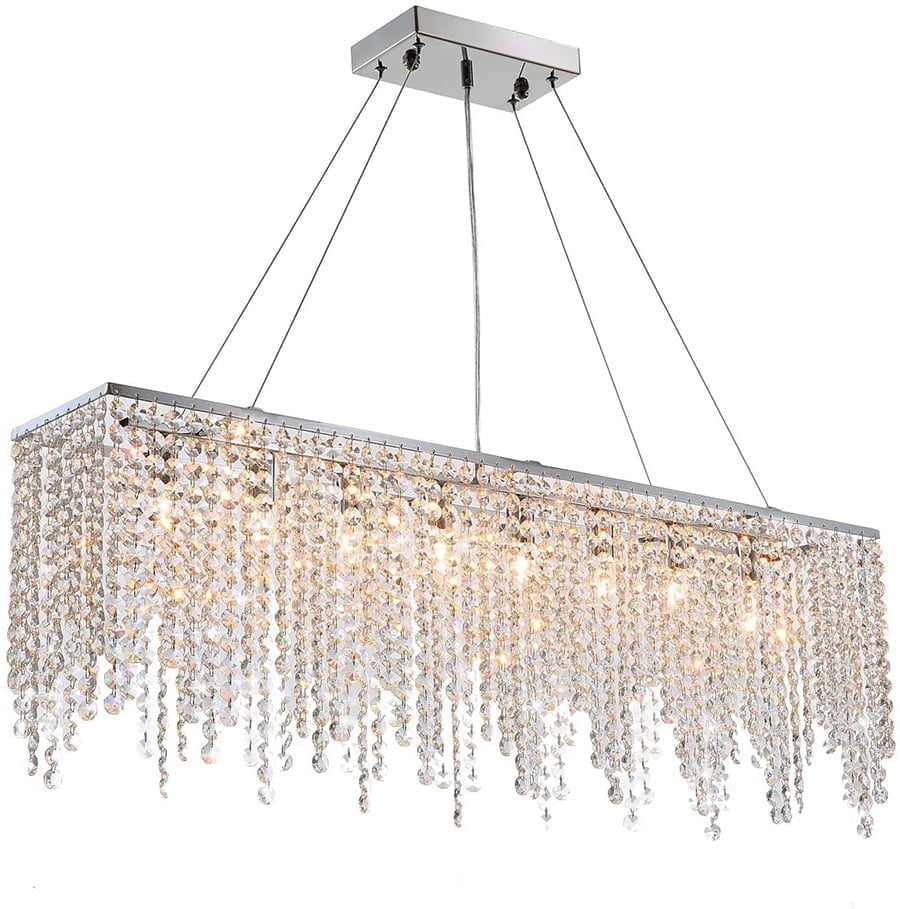 This chandelier might be just what you're looking for in terms of beauty and style. It might be difficult to build but the work pays off because as soon as it's hanging, those who'll see it will be mesmerized. It has polished chrome stainless steel with sparkles of raindrop effect.
Pros: compatible with dimmable bulbs and a dimmer switch (not included); simple yet elegant and classy to your room decor; absolutely stunning for its price.
Cons: hard to assemble; screws and other fixtures for installation not included.
Modern Chandelier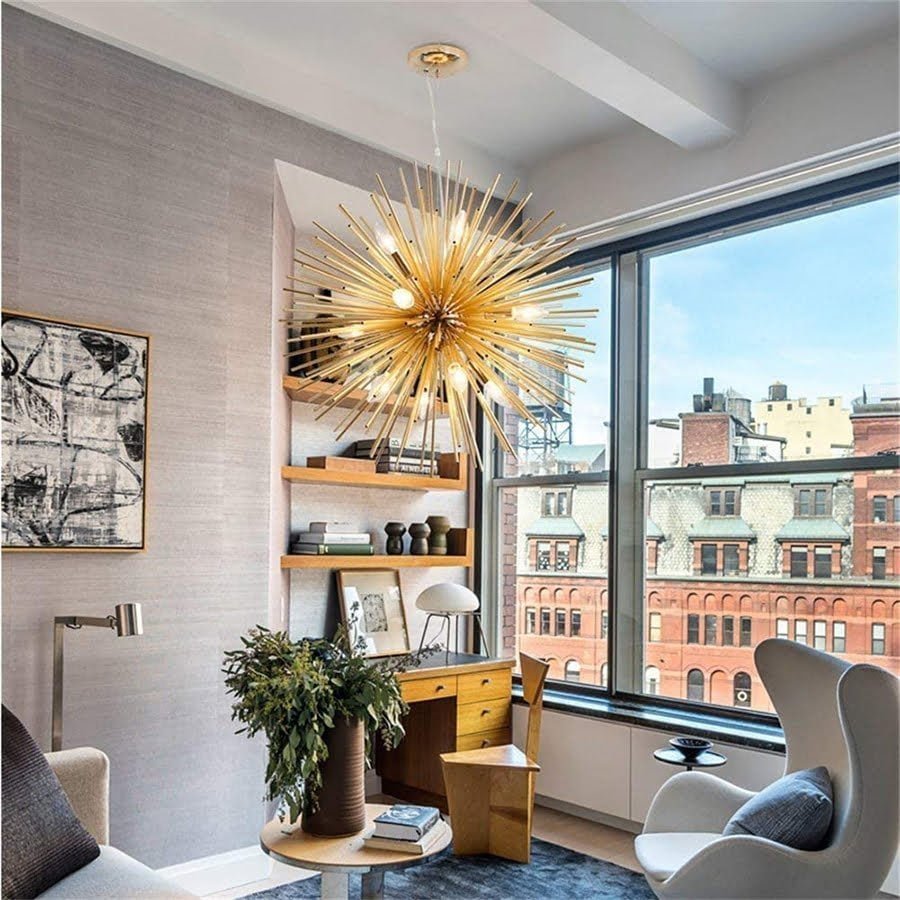 A modern, one of a kind chandelier perfect for the minimalists out there. Just need a little effort to assemble however it is energy-saving, has an adjustable cord and can fit in almost any type of room.
Pros: bulb is included; it can be dimmable; the length of the cord is also adjustable; it has a bright light; very modern-looking; good quality for its price.
Cons: it comes in several pieces and takes some time to assemble; there are no directions, so assembly can be tricky.
Unique Chandelier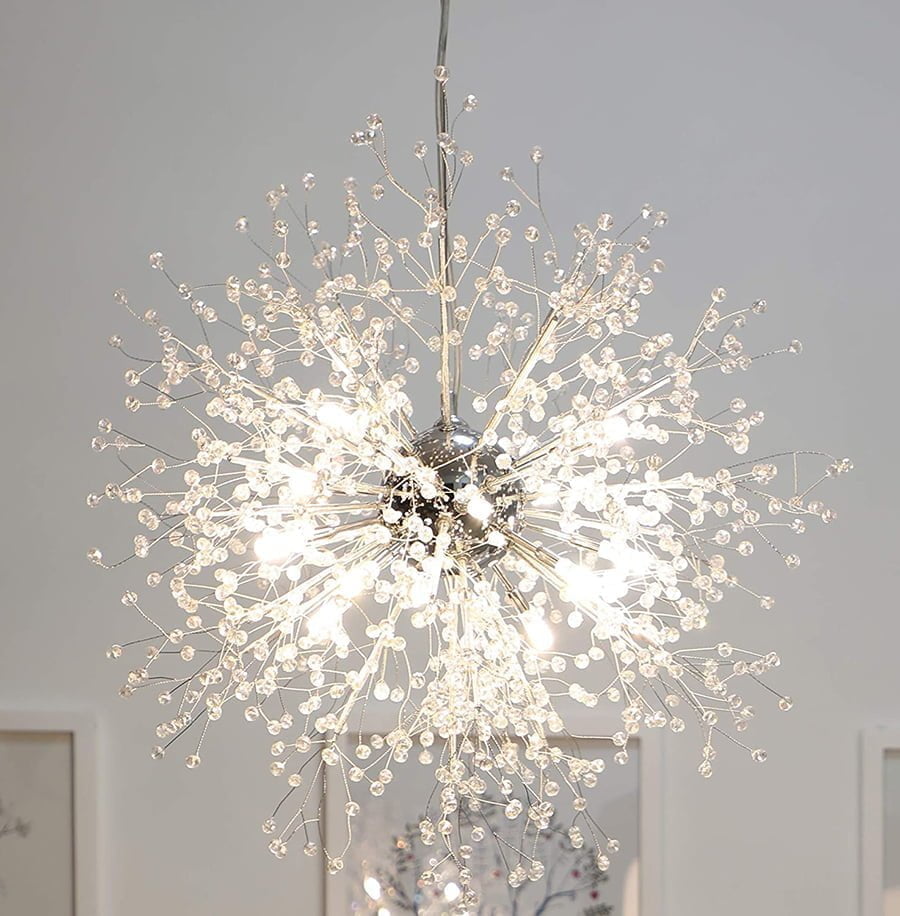 The appearance might be uncommon but this simple and elegant chandelier is built for home accessories. It's easy to install and hanging it is like lighting up fireworks in your room.
Pros: modern and elegant design that makes a great statement; great lighting; it makes a unique look with the shadows it casts.
Cons: the chandelier comes with lightbulbs that are pretty cold on the light warmness spectrum.
Best Living Room Chandelier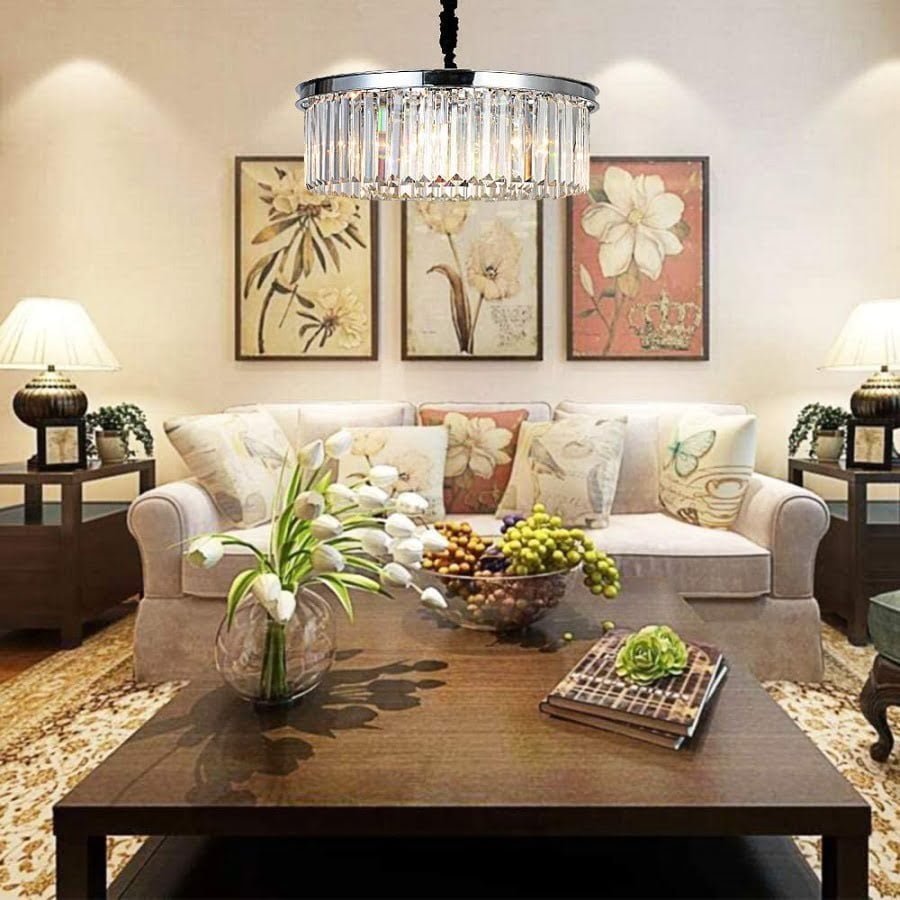 This chandelier seems like it's made of high-quality crystals. Perfect for dining room, living room, and bedroom, this extremely attractive piece gives a wonderful ambiance due to its modern and yet classic look.
Pros: it comes with halogen bulbs that are dimmable; high quality and stunning design; the crystals distribute the light so it's not too bright; a classic and modern design that fits any room decor.
Cons: quite hard to install.
Large Foyer Chandelier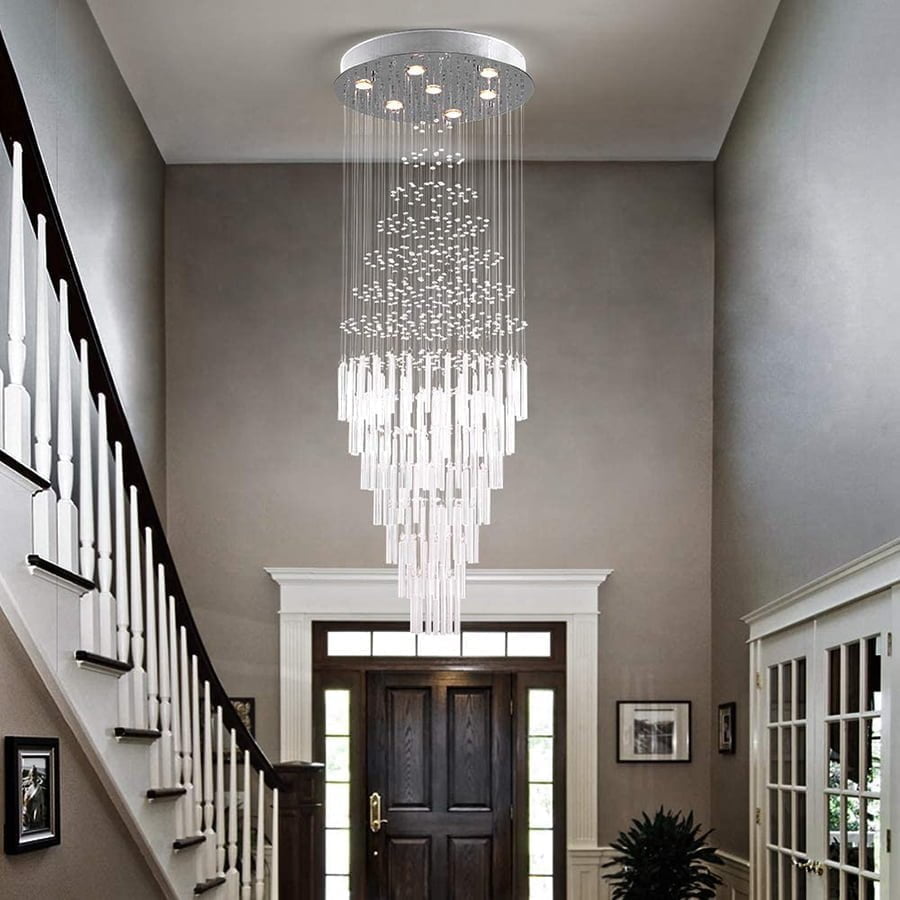 Bulbs aren't included in this chandelier but it's totally worth it because it lasts long. It has a raindrop lighting fixture and it brightens the whole space. Built by professional craftsmen with outstanding quality.
Pros: the lights aren't too bright and the balls have very nice sheen; they can match dimmable bulbs and dimmers; high-quality metal; no fading, no rust, and long service life.
Cons: bulbs are not included in the package.
Rustic Chandelier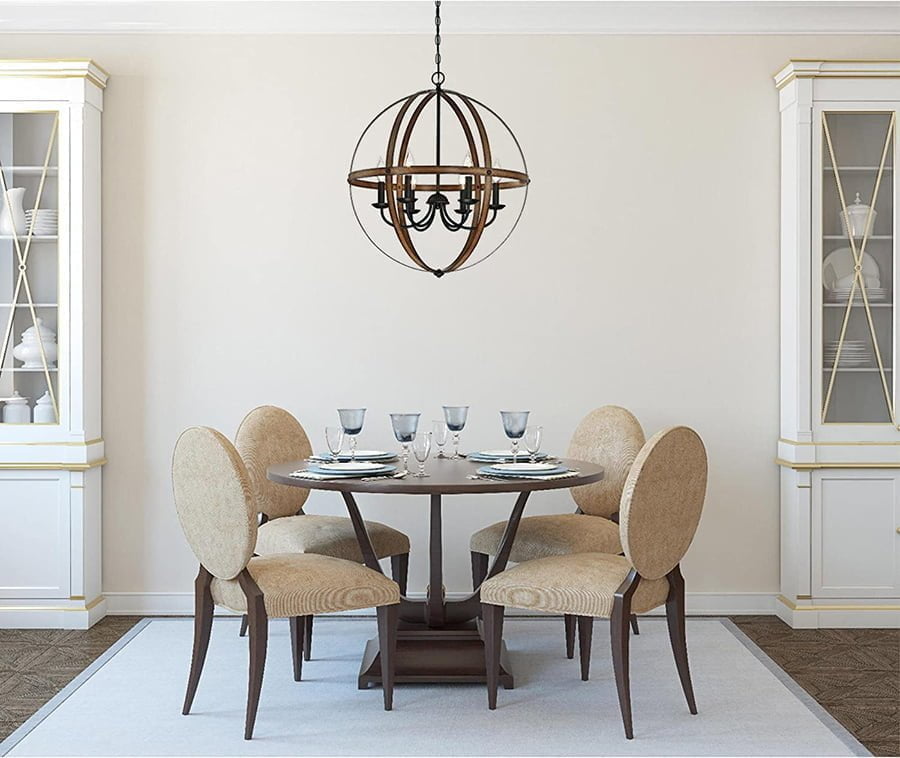 If a vintage style looking chandelier is what you want, then go no further as this one is perfect. Very classical, the length can be adjusted to accommodate your inner perfectionist. It's made of two-tone Barnwood and oil rubbed bronze finishes.
Pros: adjustable length for the ideal positioning; great if you are looking for something farmhouse or rustic; it has the modern feel but rustic charm; it can be dimmable.
Cons: the arms and candle bases are hard to get perfectly straight.
Colorful Chandelier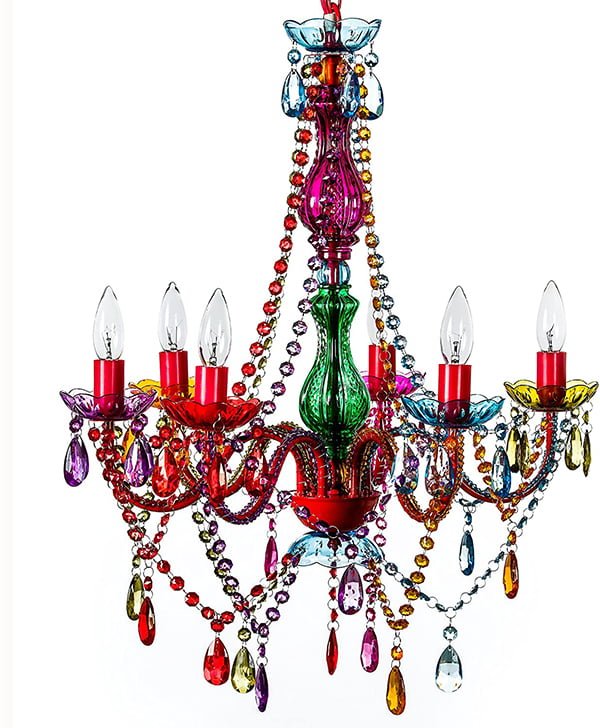 A Gypsy styled chandelier is what you call this masterpiece. It's easy to install and can convert into a swag light. It's like looking at rainbow crystals when installed. Metal frames and arms are durable with multiple sizes and colors to choose from.
Pros: made from high-quality acrylic crystals and beads; has a glass stem with solid metal frame and arms; has multiple sizes and colors to choose from; easy to assemble.
Cons: the wiring is difficult to match; getting it flush to the ceiling is a bit challenging.
Bubble Light Fixture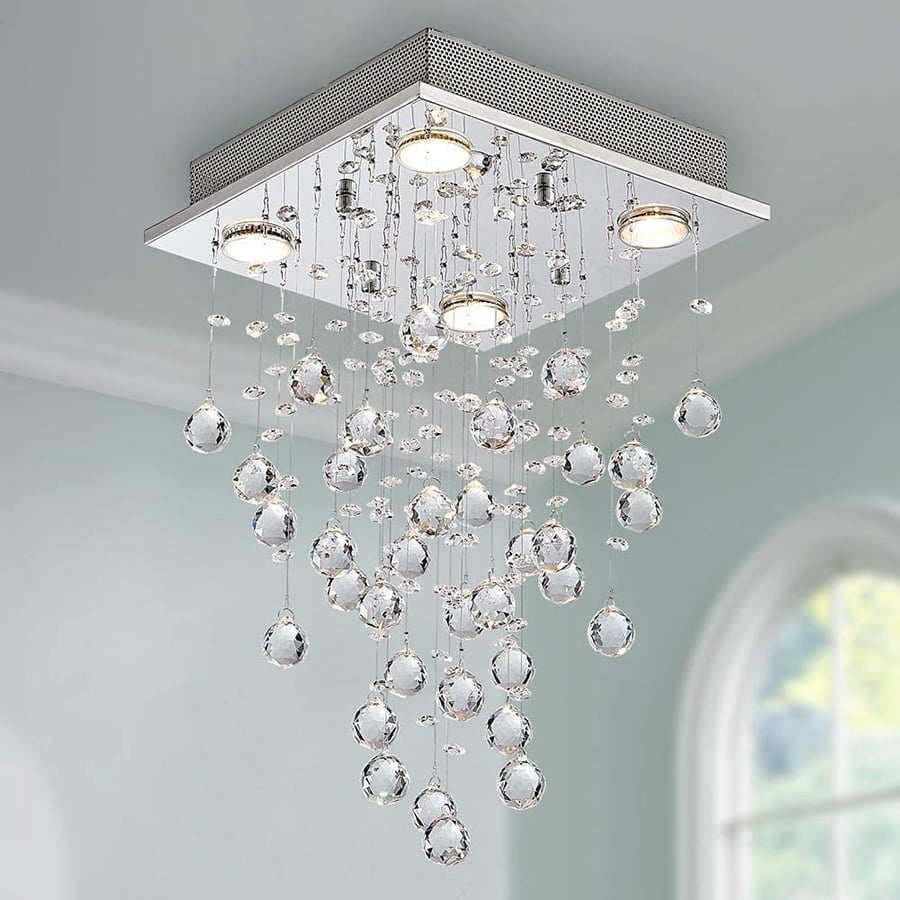 It would only take a few minutes and you can light up your room fabulously. It's made of acrylic crystals which makes it really durable and has a rainfall effect for your room.
Pros: the light is made of high-quality materials; it is dimmable with compatible dimmers and bulbs; it comes with a spare crystal; a gorgeous light fixture to add to your room.
Cons: some of the risers are not welded straight.
Expensive Chandelier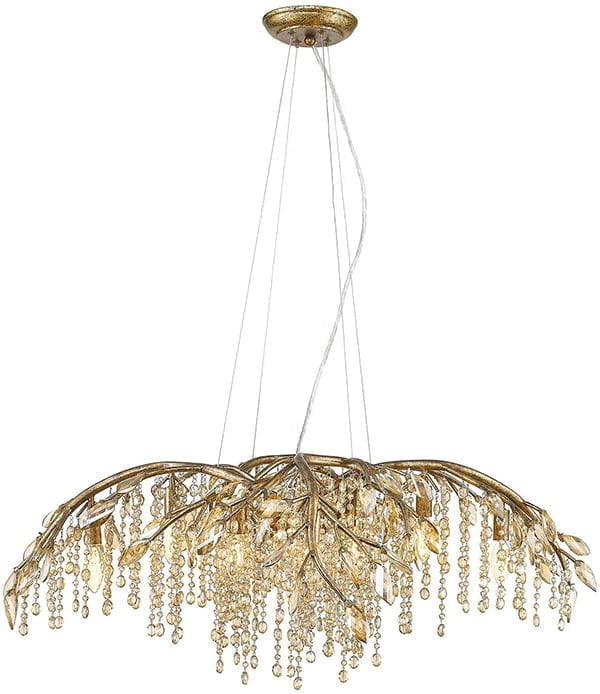 This chandelier may look brown in real life than the picture (where it looks golden) because it's made up of organic branches combined with steel and cascading crystals to create an illusion of a forest canopy. The bulbs provide an inner source of illumination.
Pros: it is a unique luxury chandelier, makes a soft yellow light; it is good for places where you don't need to have very bright light; made of steel and combined with cascading crystals; nice statement piece with a unique touch.
Cons: the color looks a lot more gold in the picture and it's brown in real life.
Liked this article? Here's what you can read next:
---
Disclosure: As an Amazon Associate we earn from qualifying purchases.