Last updated on September 20, 2023
A home improvement project that includes kitchens will look at countertops and here is where wood butcher block countertops are the perfect fit for any decor. They also have a high degree of utility and they make the right choice to install, once you have chosen the correct wood.
What more is there to wood butcher-block countertops that you need to know? Read on to find out.
What is a Wood Butcher-block Countertop Exactly?
A true butcher block countertop is made out of strips of wood that will serve as a work surface after they have been bonded with each other. It is a countertop in kitchens that is ideal for the chopping and slicing that is required as part of the preparation of food in kitchens. These countertops can be made from wood like teak, walnut, cherry, and oak, though maple is often the one that is most used. Bamboo is eco-friendly, and though it is a grass and not a wood, it is gaining in popularity for its use in butcher block countertops.
What is the Best Wood for Countertops?
The choice of the ideal wood for your countertop will depend on your needs and your budget as well. If you're aware of eco-friendliness, then your best choice would be Bamboo or reclaimed wood as the material. However, other types of wood, such as walnut or oak, can be a lot more appealing as far as home decor goes. Maple is considered as one of the most price-effective options.
Types of Wood Butcher-block Countertops
Wood countertops can be three-quarters of an inch thick, though you will find butcher blocks that can be anywhere between two and twelve inches. Grain options will depend on the function that is desired.
Face Grain
Face grains have wide surfaces positioned upright and are decorative, as they show the beauty of the grain.
Edge Grain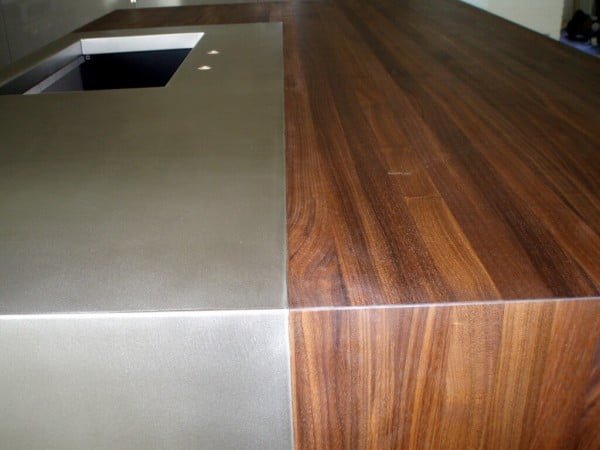 Edge grain countertops have the edges of the board assembled in an upright position and form a work surface ideal for light work.
End Grain
End grain countertops are positioned upwards and form a distinct checkerboard pattern that is ideal for heavy-duty work. These are considered the ideal butcher block countertops and can withstand chopping.
Reclaimed Wood
You can always use wood from old homes and barns and make a statement of your concern for the environment. Wood from managed forests can also be considered a green option.
How to Seal and Treat Wood Countertops
Wood is a material that is vulnerable to dampness and that is why wooden countertops should not be near dishwashers or sinks. Butcher block wooden countertops are less expensive than countertops made from granite or stainless steel.
Natural wood requires more care and maintenance than other materials that are traditionally used for countertops. It is not too difficult to maintain them, but with proper care, they can last for a number of years.
Wooden countertops are best protected with the use of sealants that can help to reduce the maintenance requirements. Mineral oil and butcher block wax are the best sealers. The wax contains mineral oil, mineral spirits that must be food based and beeswax.
These sealers can keep the wood on the countertop healthy but do not really seal the wood, that will remain vulnerable to water. Standard sealers used on butcher block countertops are polyurethane that has a satin finish. This sealer will make the wood waterproof and also be resistant to any other household liquids like bleach.
A sealed surface is always much easier to clean. Sealers need to be scratch resistant, waterproof and must be resistant to stains. They must be safe for use where food preparation is envisaged.
Can You Cut on a Wood Butcher-block Countertop?
When butcher block wax is used the countertop can be used for cutting as well. It preserves the natural oils in the wood and will have to be reapplied two or three times a year. Polyurethane sealers do not require such constant reapplication.The use of mineral oil must be specially applied to end grain areas, as this is the area that absorbs humidity.
How to Care of Wood Butcher Block Countertops
Woden countertops must be always kept clean and periodically the food residues must be scraped or brushed away. Surfaces must be washed with warm soapy water and then dried out thoroughly. They must also be kept away from heat sources like stoves. The use of detergents is best avoided, as they can harm the wood and its grain.
The Pros
Wooden countertops complement any other material that is used in kitchen cabinets. They go well with hardwood flooring and can add balance to a kitchen space. Surfaces of these butcher block wood countertops can be renewed by sanding to remove scratches. A wooden countertop that is properly installed can last a lifetime. They are also able to withstand rough treatment and shocks. Wood surfaces also can resist the multiplication of bacteria better than other smoother surfaces. Another advantage of wooden countertops made of strips of wood is that knives are preserved better when they slip between wood fibers.
The Cons
The main disadvantage of wooden countertops is their vulnerability to moisture, and this requires constant attention to their sealing.
What is the Cost of Wood Butcher Block Countertops?
Butcher block countertops will cost more than laminates but will be cheaper than countertops made from granite, tiles or steel. The choice of wood can also have an effect on its price, and you may find many bargains when you go in for wood from old barns and homes. Reclaimed wood is well seasoned and will have a higher resistance to humidity and any damage from bacteria.
You can buy wooden countertops or butcher blocks online and can avail of the many discounts that some dealers offer. Make sure that size of the countertop is well suited to the space available in your kitchen and is also appropriate for the work that you need to be done in the regular preparation of food.
Butcher blocks go well with islands, and this can help to increase the working area in a kitchen. The wood needs to be of the right quality.
Final Word
Butcher block countertops are popular choices for a kitchen, as natural wood has a timeless quality and unfailing elegance. It can be cost-effective in any kitchen improvement project. They are ideal for use in islands and can help to redefine the working space in a kitchen. These countertops require a fair amount of maintenance if the look and durability are to be maintained. Protect them with the right sealants and you can be assured of many years of service. Costs can vary depending on the type of wood that is selected. With the right DIY skills, installation costs can be avoided. They will, however, require more care in their use, as they can be scratched or nicked. Sanding can help to restore their surface to the original, though this operation may need the reapplication of sealants.
Recap
Liked this article? Here's what you can read next: