Last updated on October 30, 2023
One of the essential spaces in your house is the kitchen. It's where families gather for meals, it's where you enjoy coffee with friends, and it's the heart of the home. There's no room for mistakes or half-measures when it comes to planning your ideal kitchen.
Traditional kitchens are classic and easy to maintain because their layouts often include plenty of storage space and classic finishes like shaker cabinets, butcher block countertops, and white appliances. They also typically have a clean slate without any unnecessary decorative details that can quickly date a kitchen with changing trends.
Traditional kitchen designs are timeless, elegant, and range from modern to rustic. And they can never go out of style. The older the outlook is, the more aesthetic vintage vibe it will provide to your kitchen. If you want to find the perfect quartz countertop to fit in with this style, check out this page.
Read on to learn about the best traditional kitchen designs.
What Defines Traditional Kitchen Designs?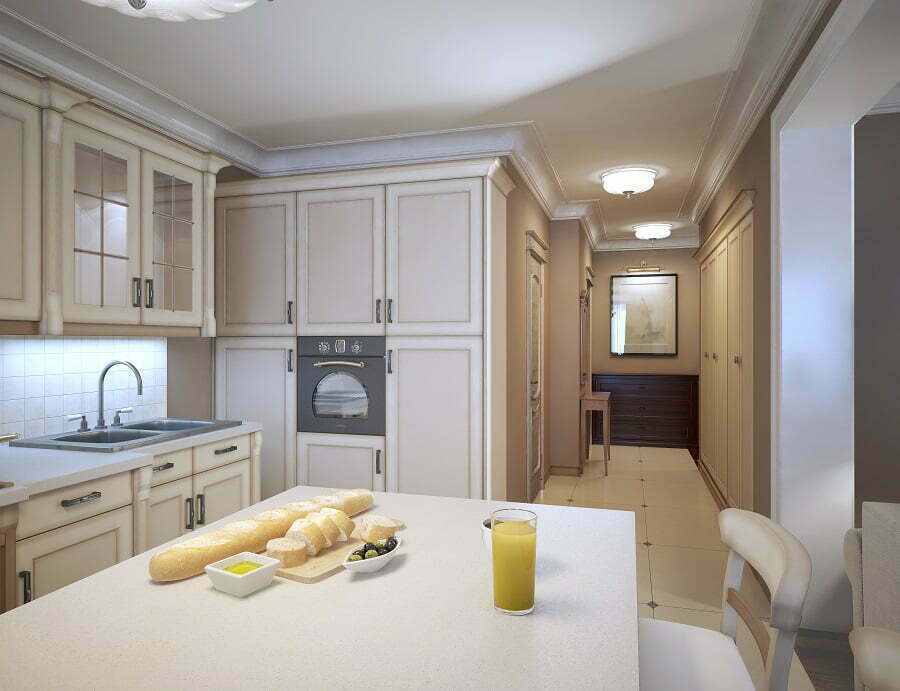 The traditional kitchen style is characterized by elements that have a long-lasting appeal. Their architectural characteristics are reflective of 20th-century European and American styles. They are elegant and opulent because of their attention to detail. A traditional kitchen is amiable, despite its elegance.
Wood cabinets, even without glass panels, granite or other stone counters, and hardwood floors are standard features of traditional kitchens. Architectural characteristics such as plank ceilings or curved entrances enhance the charm and make the room a focal point in the house.
The kitchen finishes that are chosen are very significant, especially if they are made of wood. In the kitchen, dining areas vary, although there is usually anywhere other than the island to dine. The wooden dining chairs, or a galley kitchen, are the most common options. This contributes to the room's inviting atmosphere.
What Makes a Traditional Kitchen so Aesthetically Pleasing?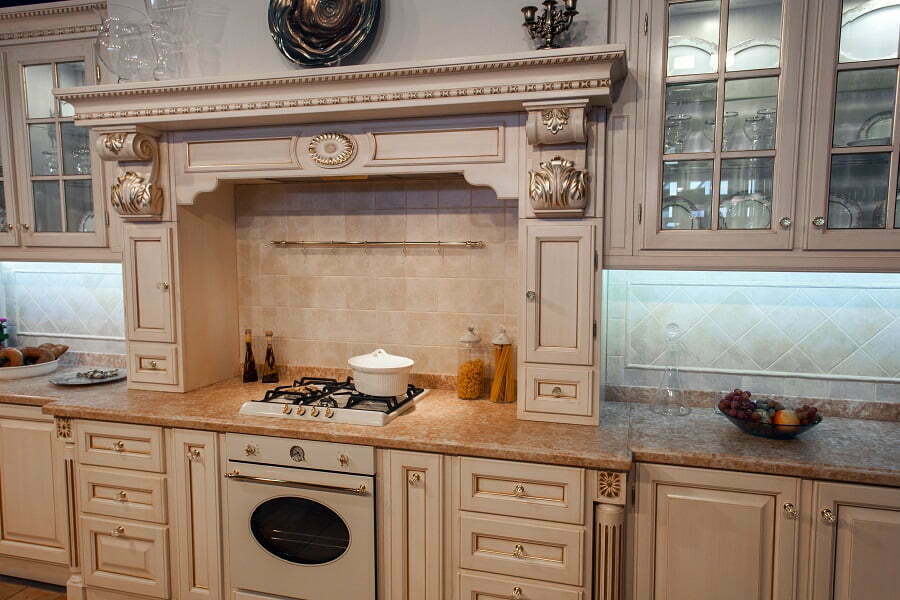 The elements of the traditional kitchen are what make it stunning. Some of the key elements are:
Cabinetry
The kind of cabinets a kitchen has affects how it looks. Many patterns and textures, such as raised or recessed panels with intricate contours, are available. Curved lines, which are a hallmark feature of traditional kitchens, may appear on raised panels. An antique marble steel and glass doors are the perfect settings for a traditional kitchen.
Cabinet finishes can be glossed or distressed to resemble old or worn. Glazing can lend instant age to a home on the island. There may even be various materials in the kitchen, giving the impression that it has been worked on throughout time. With the cabinets, the room plan is centered on symmetry and balance.
Countertops
Traditional kitchen counters are made of natural stone rather than concrete, which is more austere. Granite or quartz countertops are selected in colors that provide warmth and a touch of elegance to a classic kitchen. The stone's edging, such as bevel, ogee, or bullnose, is also specified. The shape of the countertops could be arched or layered.
For traditional kitchens, butcher block or marble countertops are other options. While marble requires more upkeep, it gives the kitchen an old-world character. Neutral-colored countertops, regardless of the material, will complement a neutral color scheme.
Colors
This kitchen style's color scheme is often muted; however, it can be chilly or warm. Warm yellows, greens, greys, and creams come to mind. Fabrics or artwork with brightly colored embellishments may be used. The subtle hues bring the natural element together while also creating a lovely atmosphere. Orange, ochre, or terracotta can be utilized in kitchens with an old-world feel.
Homeowners have started veering from the traditional color pallet in recent years, opting for some creative alternatives. A royal blue and white color scheme is a good option. As well, a traditional white kitchen design is very popular.
Sinks
Although apron-front sinks are often associated with farmhouse kitchens, they can also be seen in traditional kitchens. They're single-basin sinks with a front wall that serves as both the sink's and the counter's front.
Many homeowners like the elegance of the sink, which is very popular in country and vintage kitchens. They're a long-lasting design alternative that comes in a range of shapes and sizes.
A separate, simple drop-in sink can be found in certain classic kitchens. This is ideal for individuals who use large cookware or specialty cooking facilities as it gives ample workspace.
Flooring
The flooring can be used to bring your furniture and cabinets together if they have a lot of contrast. A neutral floor can help a tiny kitchen feel more spacious.
In a classic kitchen, wood or ceramic tiles is prevalent. The flooring must be as classic and welcoming as the rest of the space.
Hoods Made To Order
A bespoke range hood is another feature that has grown popular in traditional kitchens. Carved stone, elaborate metal, or wood are all possibilities. Moldings and corbels may be used to adorn the hood. While maintaining the classic aesthetic, these focus points provide interest to the kitchen.
Copper range hoods have a classic appearance that complements the decor of a traditional kitchen. Brass hoods are also appreciated because of their durability. Hoods come in a broad range of forms, dimensions, textiles, and styles.
The Takeaway
Before making your final decision take a look at the necessities of kitchen cabinetry, countertops, flooring, and fixtures. Look for roots in a traditional design that speak to timelessness if you're trying to build a look that will stand the test of time.
Accessories and furniture can be used to achieve a timeless, classic appearance. If you become creative within those parameters, the finished effect will be basic but beautiful, eternal, and contemporary and give your kitchen the look you have always wanted with an aesthetic appeal.
Talk to a design expert if you are confused about your choices. They will help you design the perfect traditional kitchen.
Recap
Liked this article? Here's what you can read next: