Last updated on November 23, 2021
Here are the top eight items you need to have in your kitchen to pull off the perfect farmhouse-style kitchen look. Read on!
The old-fashioned contentment that comes with living on a farm isn't always easy to find when you don't have livestock roaming around your front lawn (not recommended).
But though it might be hard to achieve this desired look, there are some elements—in addition to structural changes like adding an extra pantry or outdoor storage shed—that can help you recreate the classic image of the farmhouse kitchen.
Here are some aspects to consider when designing the perfect farmhouse kitchen.
Don't Place Heavy Appliances Too Close to Cupboards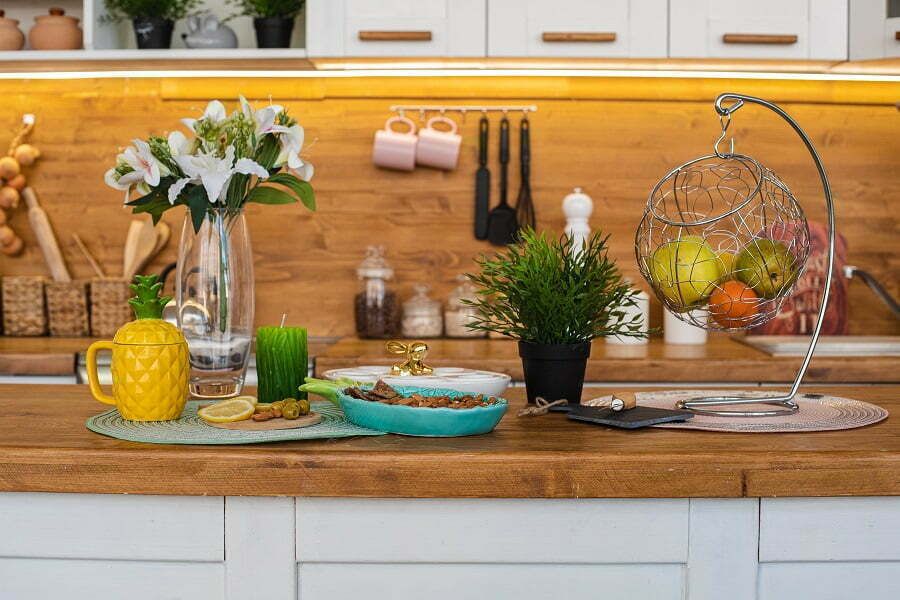 The old-fashioned farmhouse kitchen is loaded with a variety of appliances and utensils, but most notably, it's stuffed with a lot of cupboards. As you can probably guess from looking at pictures of classic farms, the cupboard-loaded farm kitchen is a popular design choice for many reasons. The first is that they provide extra storage space to house all the tools needed for day-to-day farming operations.
However, just because these rustic kitchens have become iconic doesn't mean that their seemingly inefficient layout isn't problematic in modern households. No one wants to move around an oven just so they can put their breakfast cereal away. If your cupboards are built above or around your appliances, make sure there's at least an arm's length of space between them to avoid unnecessary movement.
Don't Skimp on Counter Space
Having ample counter space is crucial to any kitchen, but it might be even more important in the farmhouse-style design. A normal cupboard's inside height is about 33 inches—an optimal height for placing plates and maybe a cutting board or two.
But if you're looking to replicate some classic farmhouse kitchen scenes, chances are your ovens, sinks, and other appliances will be taller than that standard measurement.
You'll need counter space for stacking dirty dishes, preparing meals, setting down groceries, and whatever else needs to go on top of your counters before it gets put away.
Don't Forget to Include a Mix of Functional and Decorative Elements
The appliances from traditional farmhouse kitchens were a bit barer. However, modern appliances are something most of us do not want to live without. If you have upgraded to the modern appliances you need to make, ensure they match and will last as long as possible.
For example, if your Kenmore water softener needs replacing, go with a more modern version that will also help your other kitchen appliances last by keeping rust and minerals out of therm.
Having basic appliances alone will not make your space look classic. Modern kitchens are filled with high-tech accessories that help them meet their practical demands—but you don't necessarily have to recreate those gadgets to create an efficient farmhouse design.
Combining functional elements with decoration is a great way to create timeless farmhouse designs without investing in high-tech appliances—just make sure you put your money toward quality pieces that are built to last.
Don't Ignore the Backsplash
Farmhouses are frequently outfitted with country-style kitchens, which not only recreate classic scenes but also provide functional benefits. Country styles typically include open shelving, meaning that cupboard doors aren't present. If you want extra storage space while keeping things open and airy, this might be an ideal option for you. And though those open cabinets can definitely benefit your kitchen, you still need to keep their backs clean and well-organized. Instead of ticking off the cleaning task on your never-ending to-do list, try adding a well-designed backsplash for an especially charming farmhouse design.
Whether it's made from stone, tile or even metal sheeting, your backsplash doesn't have to be complicated. There are endless possibilities for materials and designs that will work perfectly with your kitchen space. For example, stay minimal by using plain ceramic tiles as a backdrop for hanging jars of spices along the countertops; alternatively, you could make any surface look interesting by creating an eye-catching tiled pattern across the entirety of the wall behind your stove.
Don't Ignore the Light Fixtures
The farmhouse style is a perfect example of how one design element can build off another to create a complete look. For instance, if you make the decision to add rustic lighting in your kitchen, it's important not to stop at just that one style—iterate your lighting with other farmhouse-decor elements. If you add rustic sconces or chandeliers throughout your home, try using matching hanging lights in your kitchen. They're simple enough to place over counters while still sending the message that this room was designed by a dedicated designer.
Don't Miss Out on Flooring Options
Farmhouse kitchens don't necessarily need to be created with a country feel. That's because, just as there are many simple tricks you can use to create the illusion of that specific style, there are also plenty of ways to create a farmhouse design without using rustic colors or textures. In fact, today's farmhouse designs encompass any number of flooring options—including materials like concrete and marble! You can even introduce boardwalks or shallow pools of water to mimic the piers from an old-fashioned pier-and-beam cabin.
Don't Forget About Lighting
Don't forget about wall lights when working on your farmhouse decorating. Rather than simply duplicating overhead lights over counters, try creating unique sconces or table lamps that bring this classic design to life. You'll enhance the look and feel of any room—not just your kitchen.
Don't Ignore Wall Decor
Whether you're creating a modern version of a classic setting or going for the full effect with rustic decor, don't neglect your walls. Adding farmhouse wall decor can be done in a variety of ways, but the simplest method is to display either your personal photos or vintage art pieces in spaces where they won't be disturbed. For example, if you have an open kitchen shelving unit, hang one single piece on the opposite side from where all of your items are stored.
Liked this article? Here's what you can read next: