Last updated on November 16, 2023
Elevate your bathroom aesthetics using fluted glass for your shower, because its texture, versatility, and light-bending qualities are the secrets behind a luxurious, budget-friendly makeover.
I take pride in presenting these unique 20 Modern Fluted Glass Shower Ideas, all conceived and illustrated by me; I sincerely hope you find them inspiring and enjoy exploring them as much as I did creating.
Fluted glass, with its unique ribbed texture, brings a touch of elegance and sophistication to any bathroom. This article dives into the world of fluted glass shower designs, showcasing how this trending material can transform your bathroom into a luxurious spa-like sanctuary.
Whether you're after a minimalist design or a more opulent look, fluted glass can be tailored to suit your style and budget. Keep reading to discover the versatility of fluted glass, from full-panel showers to accent pieces, and learn how to incorporate this stylish element into your own bathroom.
You'll also find practical tips on maintenance and cleaning to keep your fluted glass shower looking its best.
Frameless Fluted Glass Shower Door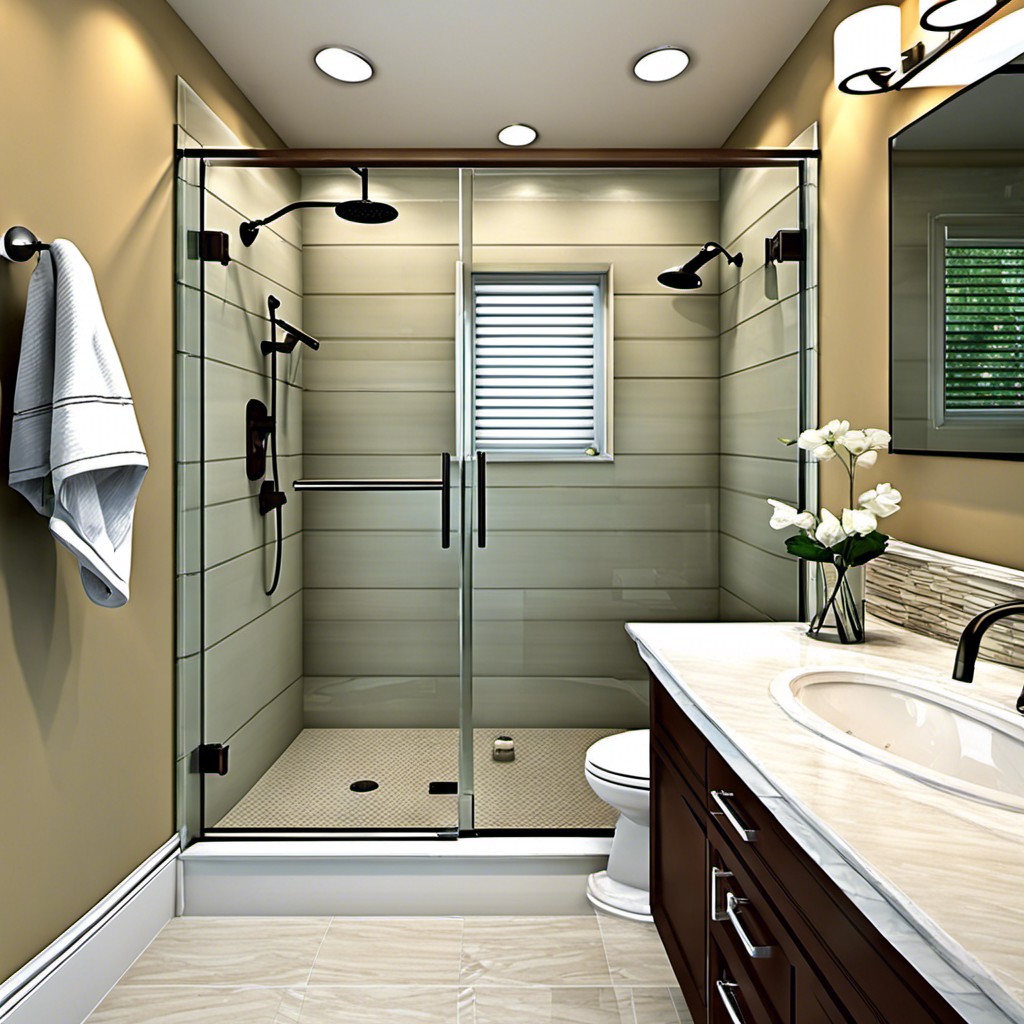 To infuse a modern touch in a bathroom, going frameless is an excellent option. Highlighting the distinctive vertical pattern intrinsic to fluted glass, the absence of a frame brings forth a cleaner and sleeker aesthetic. It allows light to flow smoothly and enhances the perceived size of the room.
Its minimalist design seamlessly complements interiors spanning from mid-century classic to contemporary chic. This glass type also does an exceptional job in obscuring and diffusing light, adding a charming spread of privacy without sacrificing style.
The frameless fluted glass door requires sturdy hardware; hinges and handles need to support its full weight, bearing in mind easy maintenance for a constantly damp bathroom environment.
Full-height Fluted Glass Shower Enclosure
Having floor-to-ceiling coverage is the key appeal of this unique design. Not only does it equip your showering space with a high-end aesthetic, but it also yields an increased sense of roominess by visually extending the vertical reach of your area.
This style is advantageous as it also reduces water splashes outside, maintaining a dry and safe bathroom floor. The rippled effect of fluted glass adds a visual barrier without compromising light diffusion, safeguarding your privacy while casting interesting shadows and reflections.
A full height enclosure can up the sophistication quotient when paired with matching metallic fixtures or contrasting matte black elements for a sleek, modern feel. This design offers both function and fashion, making it well worth considering for your next bathroom revamp.
Just remember, the execution of this style requires perfect measurements and professional installation to eliminate any chance of water leakage. Budget-wise, while the initial costs can be a bit higher, the longevity and style it adds to your bathroom can make it a worthy investment.
Half-wall Fluted Glass Shower Screen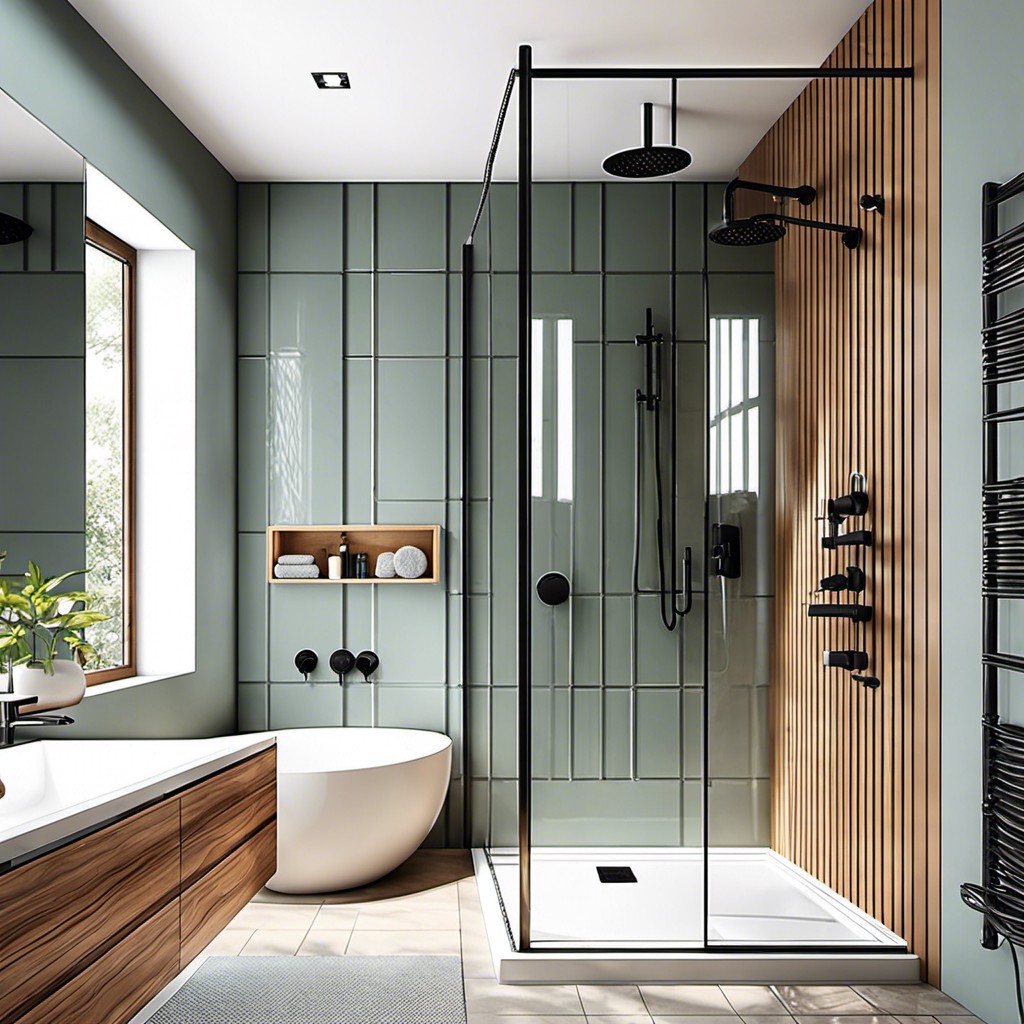 The half-wall fluted glass shower screen is a perfect blend of open and closed shower design. With the lower half as a tiled or solid material, this style offers stability and splash protection. Meanwhile, the upper fluted glass section allows for a light, airy feel, keeping your space feeling unrestricted. Unlike traditional full enclosures, it makes the bathroom appear larger, more inviting.
Few tips to perfect this style:
1. Use complementary materials for the lower half, such as subway or Moroccan tiles, creating a beautiful aesthetic contrast.
2. For maximum illumination, pair with overhead or wall-mounted lighting fixtures to let the light dance off the fluted texture.
3. Appropriate for wet-rooms as it can help contain the water while providing the illusion of more space.
4. Customizing the size of the fluted glass screen can cater to your privacy preferences, opting for taller screens if desired.
5. Pair it with a detachable, handheld shower attachment to make cleaning easier and add practicality.
6. Match hardware finishes to other elements in your bathroom for a cohesive look.
Black-framed Fluted Glass Shower Partition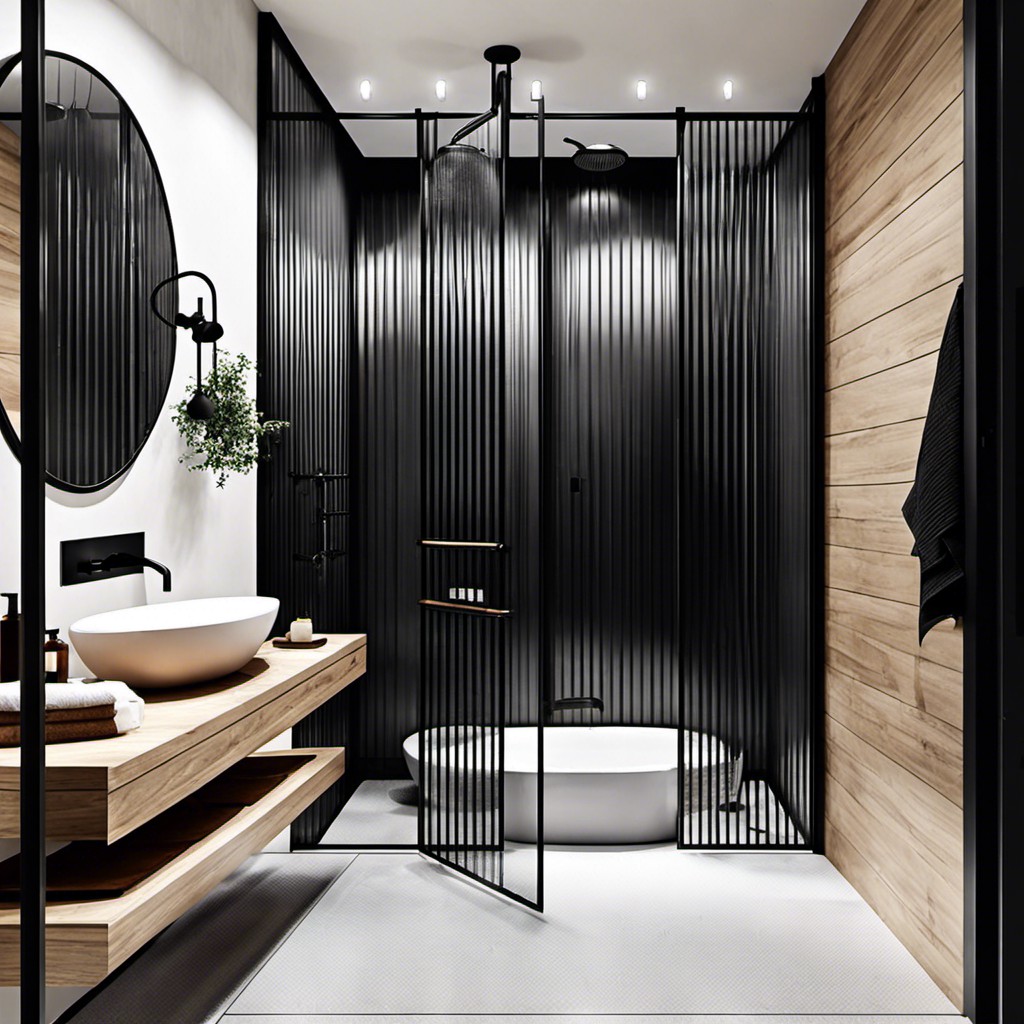 A black-framed fluted glass partition evokes a modern yet classy aesthetic that blends well with various interior styles. The bold contrast of the dark frame against the delicately textured surface makes a strong design statement in any bathroom. Ideal for a crisp, clean look, the partition manages to be both stunning and functional.
Here are a few notable aspects to keep in mind:
Design Versatility: Matches well with different color schemes and decor styles, from minimalist to industrial.
Visual Impact: Creates a dramatic look, emphasizing the glass texture.
Durability: Black frames are usually made of sturdy materials like aluminum or steel, ensuring longevity.
Easy Maintenance: Stains and water spots are less noticeable on the dark frame, easing clean-up.
Privacy: Provides an element of seclusion without compromising on style.
Remember, the decor choice should always reflect personal style while catering to the functional needs of the space.
Fluted Glass Sliding Shower Door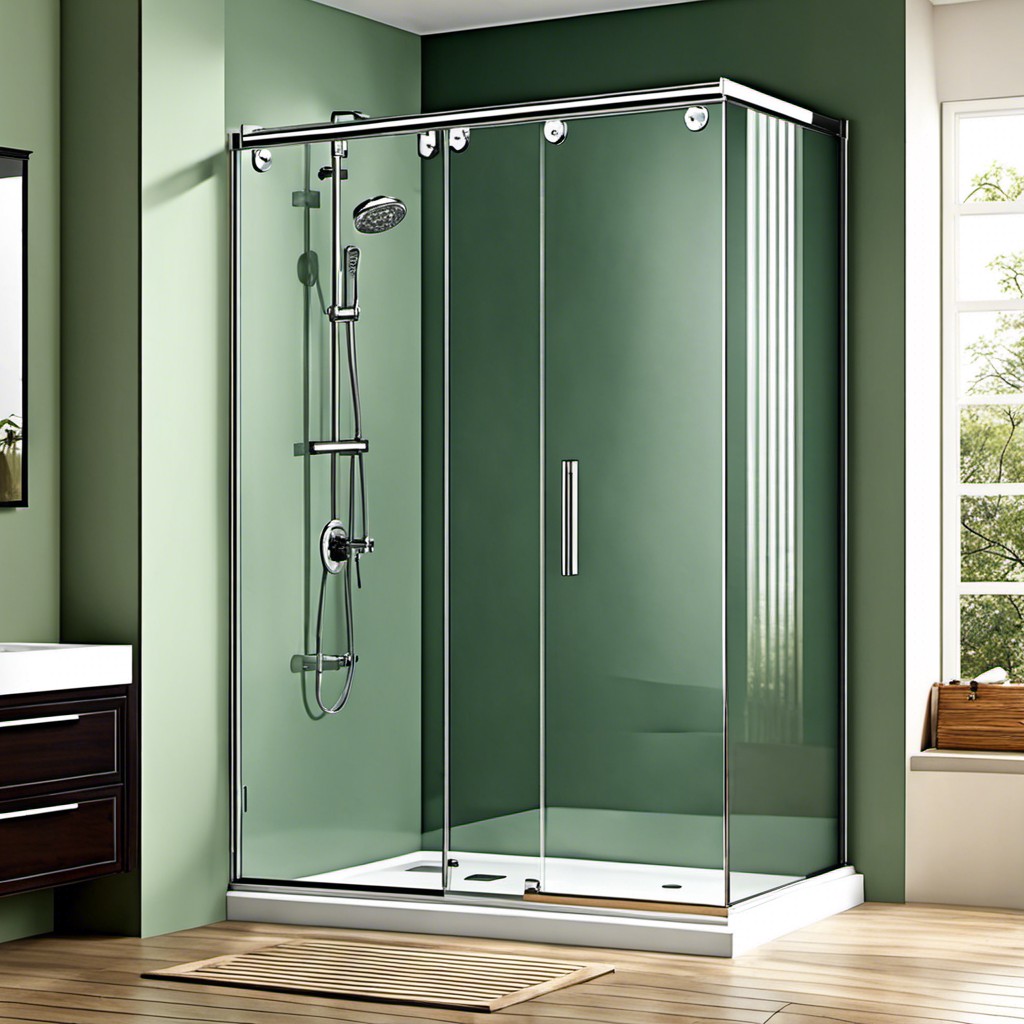 A fluted glass sliding door is both a functional and stylish choice, especially for smaller spaces where a swing-out door is impractical. Its design promotes a seamless blend of privacy and light that dramatically transforms your shower space.
1. Space Efficiency: This sliding door variety saves you from the hassle of accommodating a pivot door, making it ideal for compact bathrooms.
2. Light Diffusion: The fluted pattern diffuses light, creating a beautiful ambience without sacrificing the luxury of natural illumination.
3. Privacy: While letting in plenty of light, the ridges in the fluted glass pattern limit the direct view into the shower.
4. Versatility: It harmoniously blends with any bathroom style – whether you're going for contemporary, boho, or minimalistic.
5. Reduced Cleaning: The textured glass surface is excellent at hiding streaks and water spots, easing the burden of constant cleaning.
Finally, don't forget to accessorize by pairing this sliding door with complementing hardware finishes for a polished look. Brass and matte black are particularly stunning with fluted glass!
Circular Fluted Glass Shower Enclosure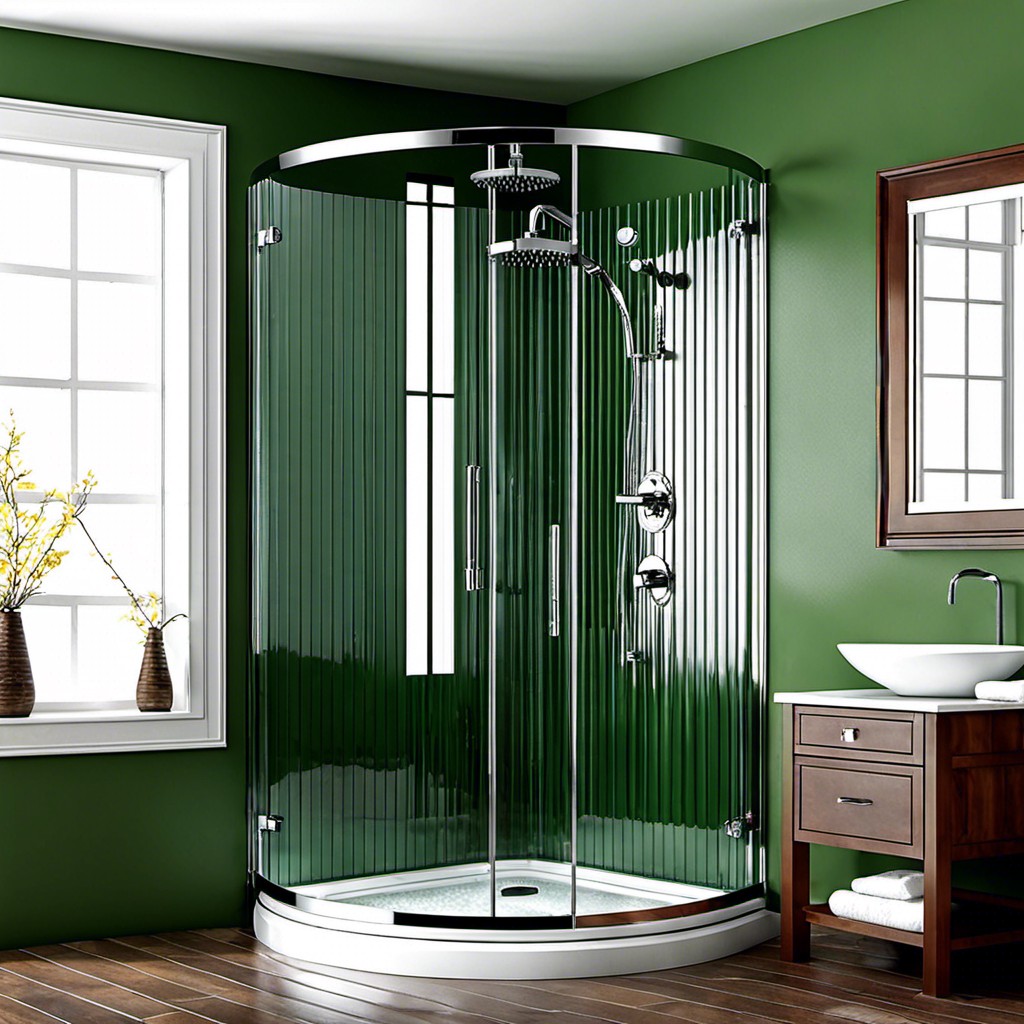 Creating a truly unique and sophisticated statement in your bathroom design, circular fluted glass shower enclosures blend functionality and visual appeal. The round form lends an elegant, soft edge to the bathroom, breaking up traditional straight lines and angles.
The radius of the enclosure can readily be adjusted to fit into variously sized bathrooms, making it highly versatile. When located centrally, the circular design proves efficient in utilizing space by offering 360-degree access.
Further enhancing the aesthetic, an accompanying circular shower tray can be added. Opting for fluted glass provides an element of privacy, obscuring direct sight while allowing light to filter through. For a luxury touch, consider brass or black finished fixtures and fittings to contrast beautifully with the fluted glass.
When opting for this design remember to consider accessibility, with hinge door options offering ease of entry. Keep in mind water escape issues – a proper drainage system and a water tight seal are crucial.
In addition, maintenance is typically effortless – the flutes in the glass help to hide water stains and smudges, making it easier to keep your shower looking its best.
Remember, it's all about creating an experience – a circular fluted glass shower enclosure can serve as a stunning, sculpture-like centerpiece providing a daily retreat amidst a busy life.
Fluted Glass Shower With Brass Finish Touch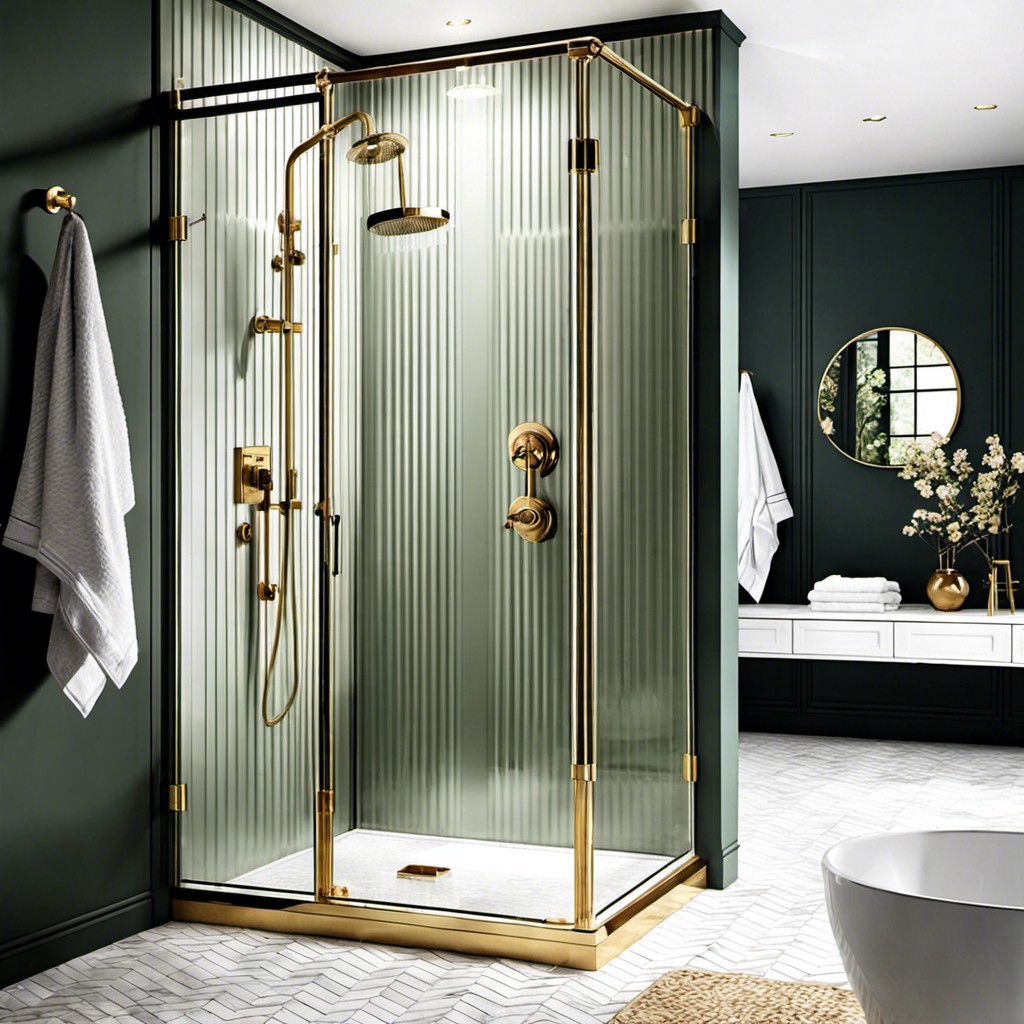 A brass finish adds a touch of luxury and vintage appeal to your fluted glass shower enclosure. With this type of finish, even the simplest of designs seem plush and old-worldly. Whether it's subtly incorporated in the hinges, handles, or frames, it accentuates the ribbed detail of fluted glass splendidly. Brass complements all color schemes and adds warmth to the bathroom's aesthetics. Another advantage is its durability, ensuring your shower continues to look chic for years to come. Remember, brass fixtures require regular polishing to maintain their shine. Consider this stylish option for a bathroom upgrade that blends functionality and opulence.
Corner Shower Enclosure With Fluted Glass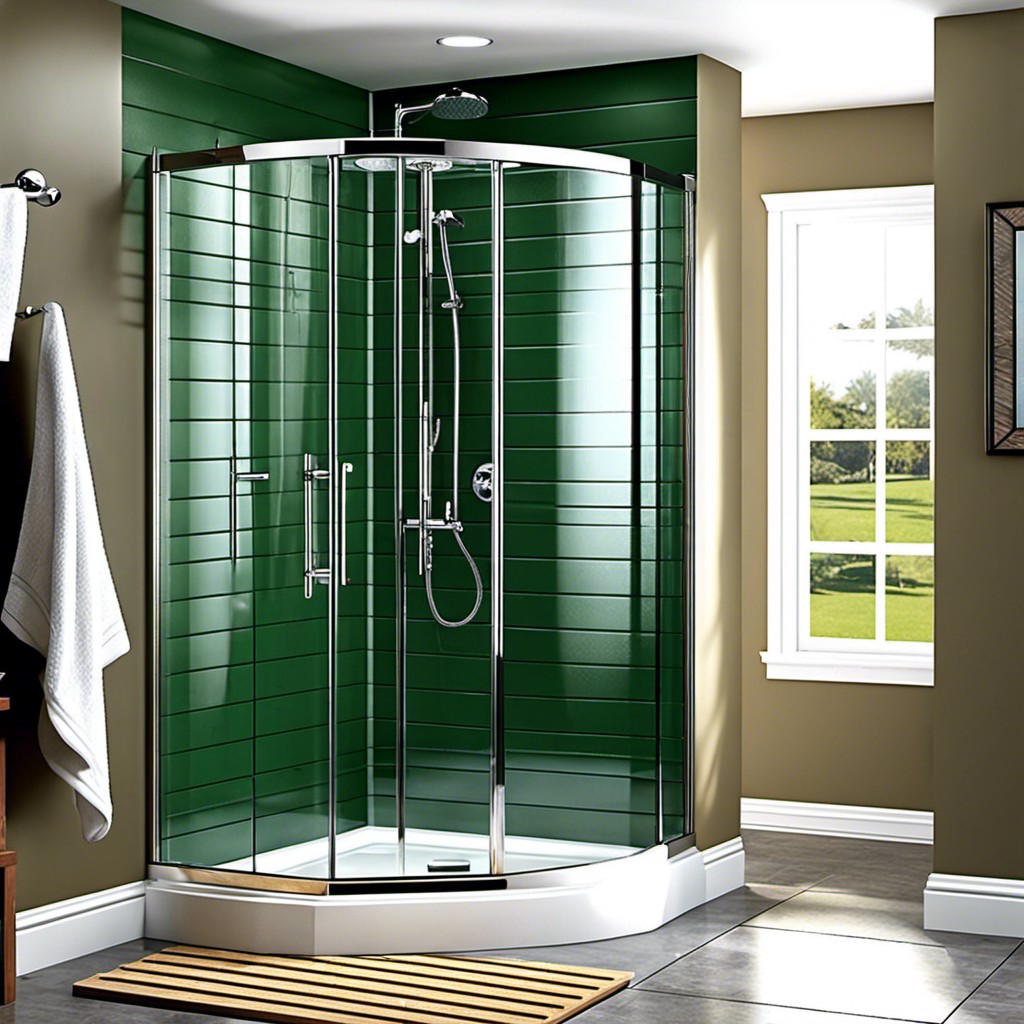 Simply put, this type of enclosure is a perfect fit for smaller bathrooms or en-suite setups. The fluted glass, with its vertical grooves, adds texture and depth to the space, creating an aesthetic appeal.
Here are some highlights to consider with this design:
1. Space-Efficient: These enclosures sit comfortably in any corner, maximizing the room's floor area.
2. Decorative: The patterned nature of fluted glass adds an ornamental touch, enhancing the sophistication of the space.
3. Light Diffusion: It allows light to pass through while ensuring privacy, lending a bright yet intimate feel to the showering experience.
4. Versatility: Complements a wide range of decor styles, be it modern minimalistic or vintage chic.
5. Easy Maintenance: The fluted pattern helps to obscure water spots and fingerprints, making cleaning less frequent and easier.
Freestanding Fluted Glass Shower Structure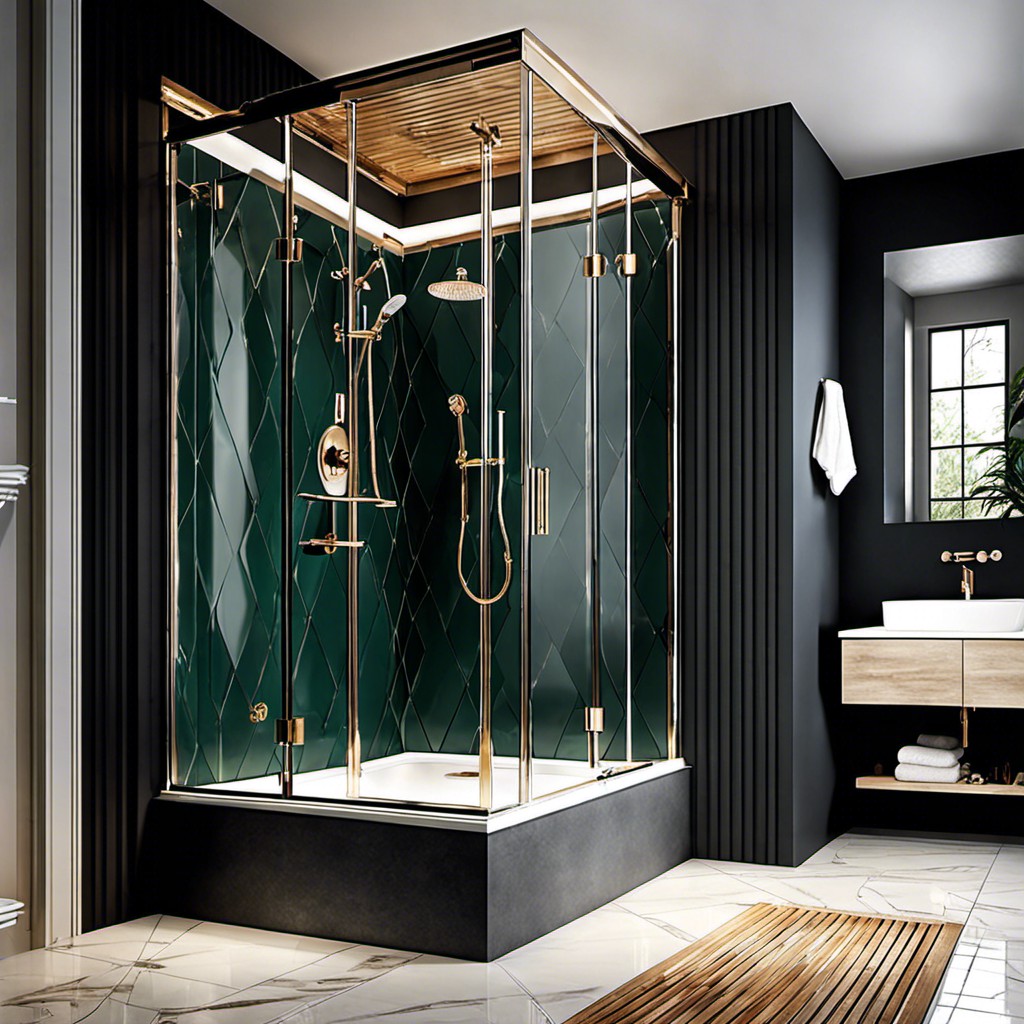 Standing alone, this stylish structure brings retro vibes to modern bathrooms. Here's why it's increasingly popular:
Functional and chic, it's a centerpiece of the bathroom adding instant sophistication.
It's an excellent option for wider spaces, presenting an alternative to the traditional cubicle.
The fluted pattern on the glass promotes light reflection, contributing to creating a brighter atmosphere.
The space between the structure and the wall accommodates extra storage for towels and bathrobes.
Its assembly is typically less complex, without the need to attach to the surrounding walls, making it a cost-effective choice.
Enhances the bathroom's architectural look, providing a sense of luxury and elegance.
Maintains bathroom openness and contributes to the illusion of a larger space.
Simultaneously offers some privacy, limiting direct views into the shower, due to the unique texture of the glass.
Keep in mind to partner with a professional installer to ensure a sturdy setup, as stability is essential for the freestanding design.
Fluted Glass Shower With Integrated Bench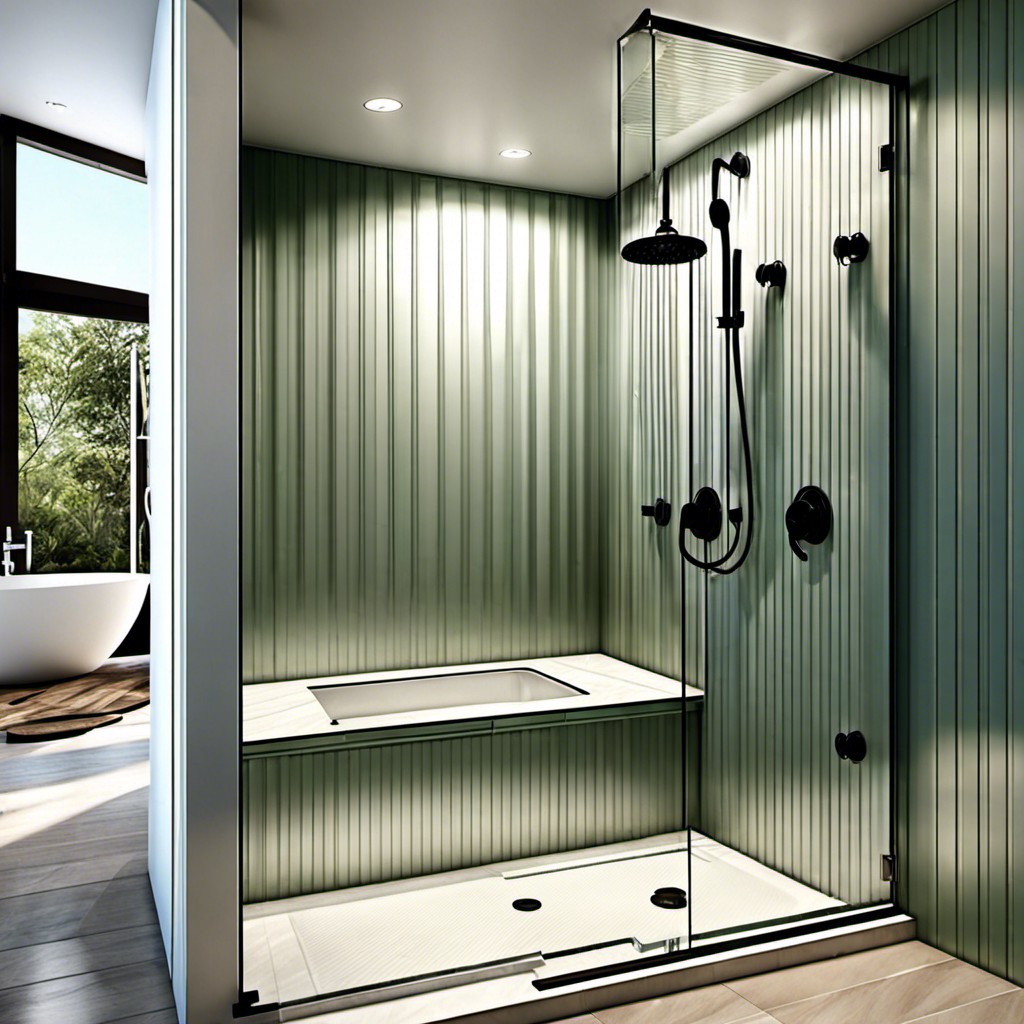 Integrated benches in fluted glass showers not only elevate the aesthetics but also significantly enhance functionality. This design allows a convenience factor, especially for those with mobility challenges or simply who indulge in long, relaxing showers. It also provides a spot for containers, keeping them within reach yet off the floor for a clutter-free look.
Choosing a bolder or contrasting hue for the bench can inject personality into the bathroom. Naturally water-resistant materials like teak or composite decking can be ideal choices. Alternatively, a continuous design seamlessly extending from the enclosure is great for a minimalist aesthetic.
Remember to design the bench with a slight slope to prevent water pooling. Pairing the fluted glass with a well-designed drainage system, such as a linear drain beside the bench, can ensure optimal water flow and prevent slipping hazards.
Lastly, consider under-bench lighting for a luxurious spa-like feel. The light shining through the fluted glass can create a visually pleasing illusion, transforming ordinary showers into a transcendental experience.
Keep these considerations in mind to make the most of this innovative and practical fluted glass shower design addition.
Fluted Glass Shower With Hinged Door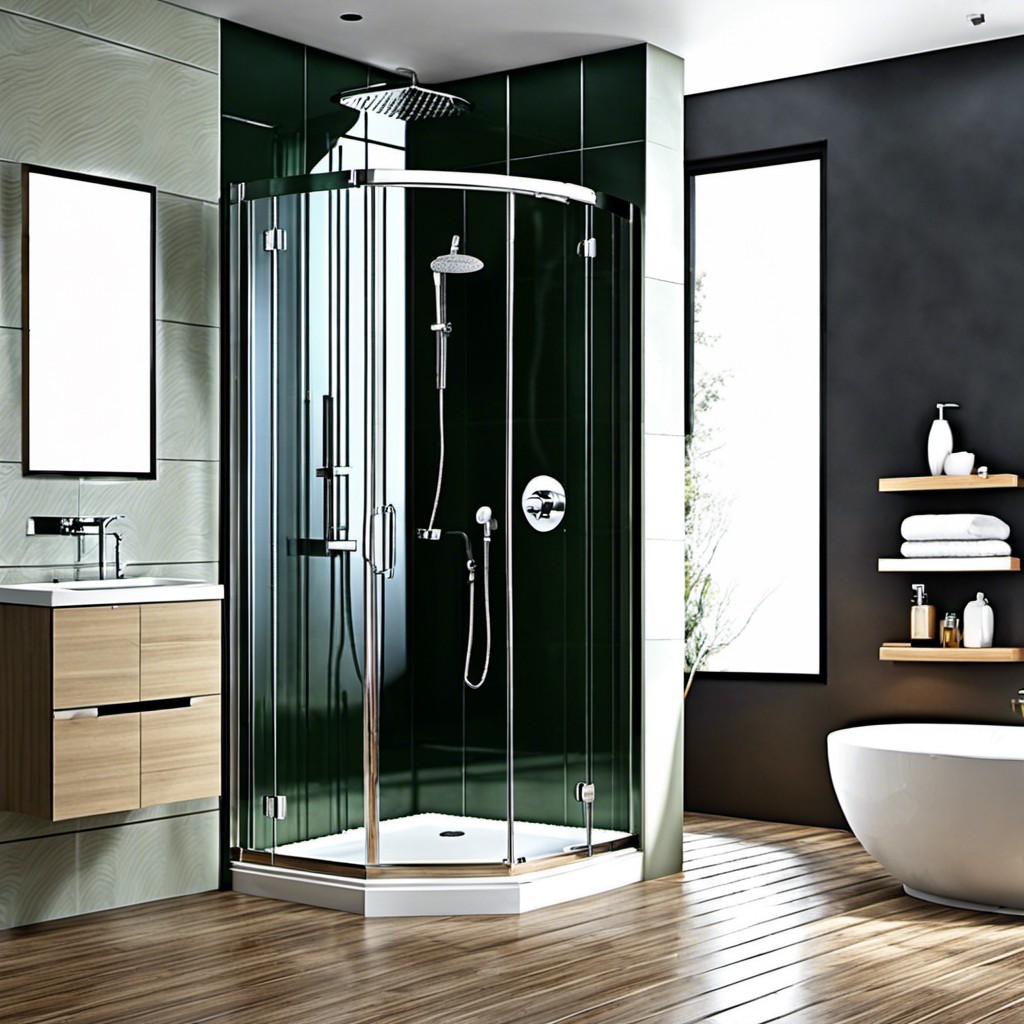 Integrating hinged doors into your fluted glass shower design adds an element of versatility to your bathroom. Hinged doors, akin to the ones typical of traditional rooms, bring a certain spaciousness, making even the smallest bathroom feel oddly larger. A perfect way to control water spillage, these doors open outwards, making your post-shower clean-up routine cleaner, and simpler.
An array of design options complements these doors. Silver, black, or brass finishes can define the door's aesthetic, matching your bathroom's decor effortlessly. Certainly, the fluted glass adds a fascinating texture, ultimately contributing to privacy without sacrificing natural light penetration.
Installation is usually straightforward, with the hinge system accommodating both left and right-hand configurations. Durability shouldn't be a concern either. High-quality fluted glass, combined with sturdy metal hinges, guarantees a long-lasting shower enclosure.
Remember, maintenance is painless. The textured patterns intrinsic to fluted glass conceal water spots and minor stains, reducing regular wipe-downs and keeping your shower looking pristine longer.
Finally, safety is paramount. Most hinged fluted glass showers implement tempered glass, a safety precaution that ensures the glass, if broken, shatters into small, less dangerous pieces.
Multi-panel Fluted Glass Shower Design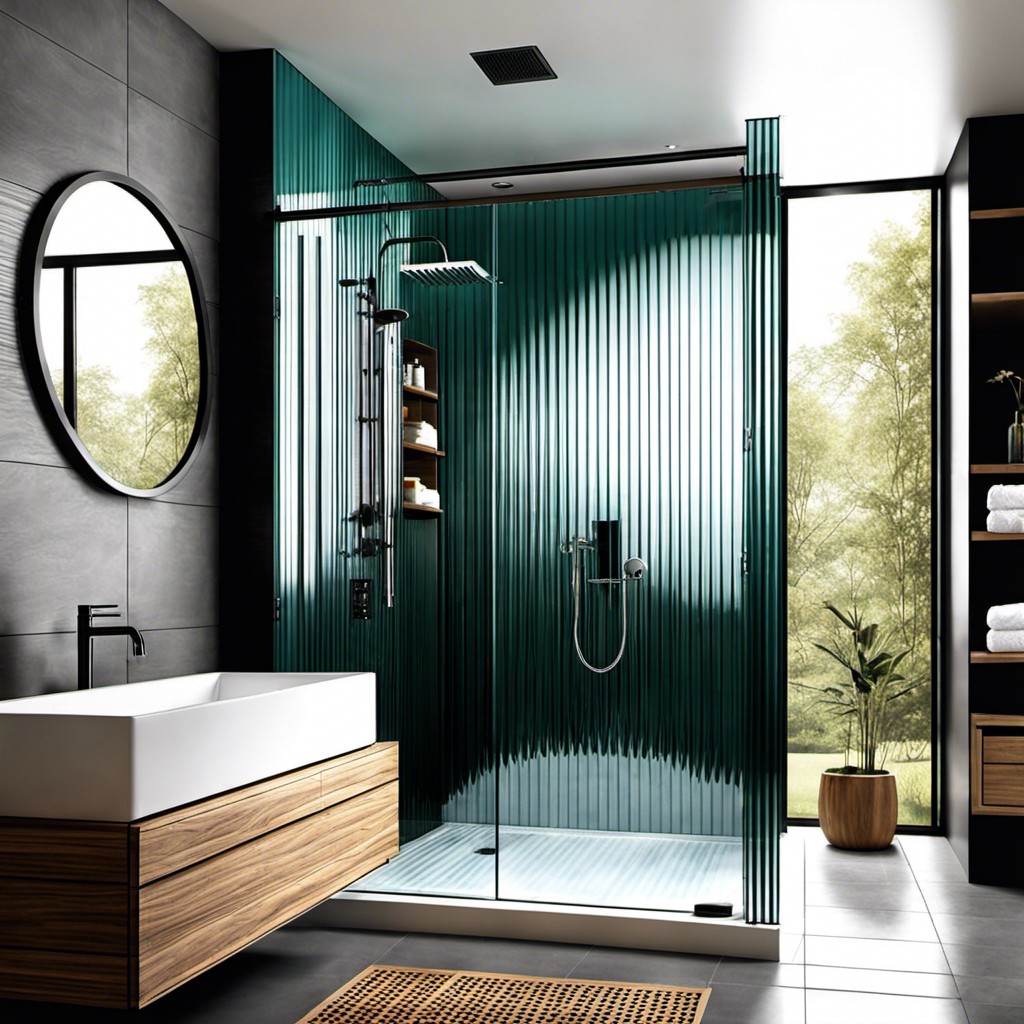 A multi-panel fluted glass shower design offers a level of sophistication that's hard to match. It's a modern take that commands attention, while adding spaciousness to the smallest bathrooms.
Here are a few key points to understand why this design is a success:
1. With multiple panels, the pattern gets amplified and creates an enthralling effect that's both striking and subtle.
2. The design provides structural integrity and durability. The panels, secured in place by metal frames, reduce the risk of cracks or breaks.
3. As every panel reflects light differently, it creates a unique ambience that's both inviting and mysterious.
4. The design is versatile. It can fit into different bathroom styles, be it contemporary, rustic, or industrial.
5. It offers customization. You can decide on the number of panels based on your bathroom size and personal taste.
Very few design solutions can match the aesthetic and functional benefits of this gem. The multi-panel fluted glass becomes more than a shower enclosure – it evolves into a centerpiece that transforms your bathroom into a tranquil sanctuary.
Industrial Style Fluted Glass Shower Partition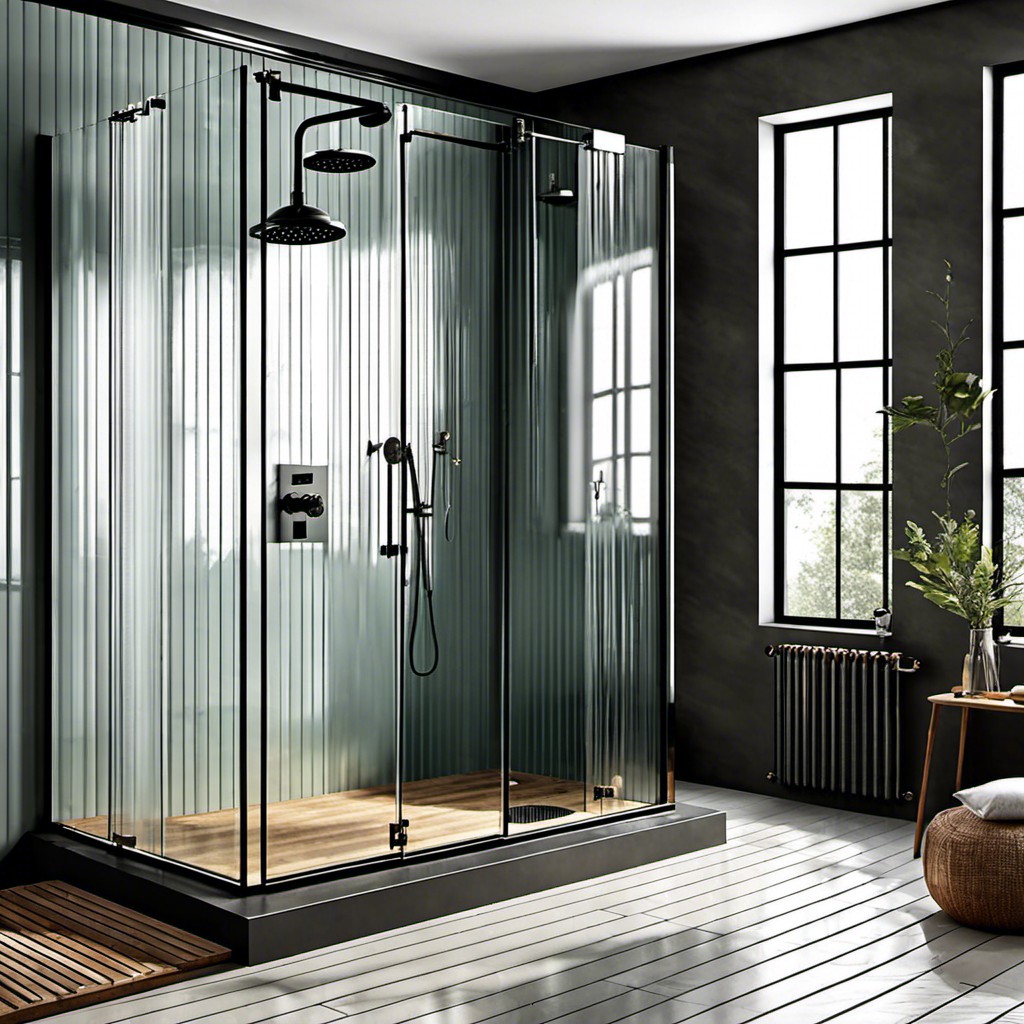 In the realm of fluted glass showers, the industrial style plays up both function and style. Its retro-chic aesthetic prides itself on exposed hardware, visible metal frameworks, and a minimalist approach.
Here are the essential points to keep in mind:
Material Choice: These partitions often feature a combination of fluted glass and black or dark grey metal, giving off a loft-style look.
Exposed Framework: Highlighting the construction is part of the charm. Unlike other styles, the framework is explicitly not concealed, making it part of the design.
Simple Silhouettes: The design stays away from unnecessary embellishments. Sharp clean lines and geometric figures are favored.
Functional Design: It's not all about looks; practical use is prioritized. A well-placed towel rack or integrated handle can often be found.
With these key aspects, an industrial style partition can set a powerful, streamlined tone to any bathroom while maintaining its practical benefits.
Fluted Glass Bath Screen for Bathtubs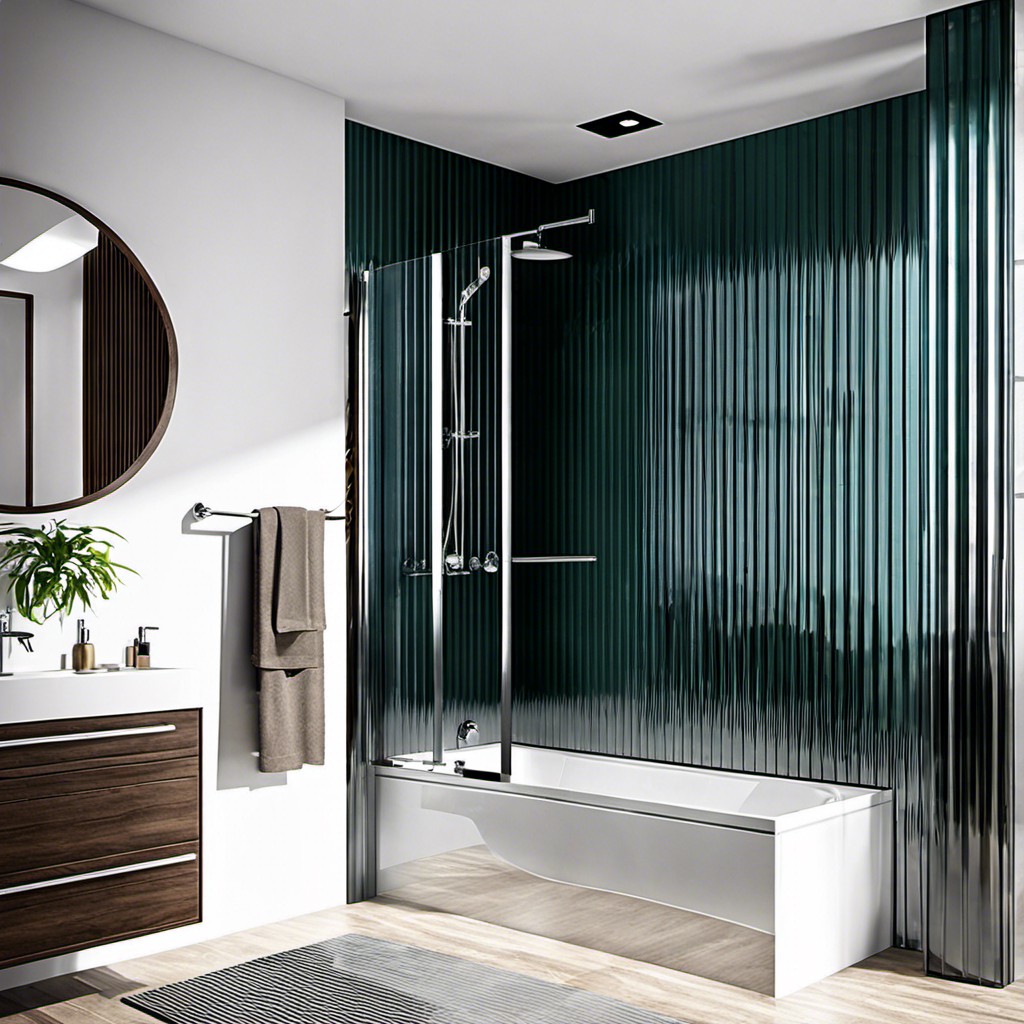 Consider a bath screen as a fashionable protective shield. When made of fluted glass, it not only prevents water splashes from reaching your bathroom floor but also adds a contemporary aesthetic touch.
Perfect for maintaining an open feel while affording some privacy, these screens are a great alternative to traditional shower curtains. They are easy to clean, durable, and sit comfortably on the edge of your bathtub, giving an elegant look.
Paired with the right fittings and color, they effortlessly blend with any bathroom style. Moreover, their opaque nature diffuses light in alluring ways, creating a tranquil bathing experience.
Vintage Inspired Fluted Glass Shower Enclosure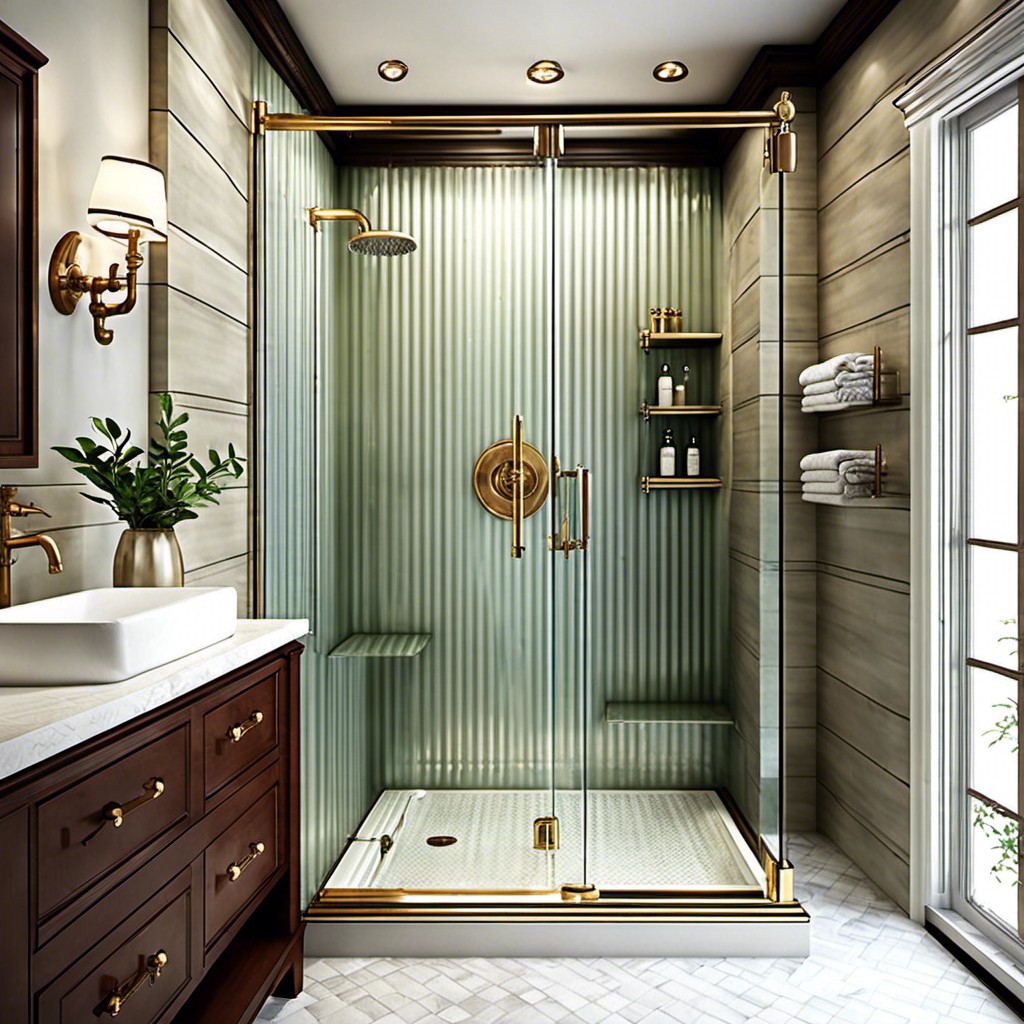 Drawing from a bygone era, this design serves as a quintessential example of blending the old with the new. Characterized by its distinctive ribbed texture, fluted glass brings a sense of depth and visual interest to any bathroom.
1. Sophistication: The vintage-style enclosure stays true to classic design principles, instantly infusing an air of sophistication and elegance.
2. Light reflection: The ridged pattern offers a unique light-reflective quality, enhancing natural light and creating intriguing shadows.
3. Privacy Balance: Its semi-transparent nature maintains an open feel while also offering a level of privacy.
4. Fit & Adaptability: Suitable for both compact and spacious bathrooms. It can adapt beautifully to different spatial layouts.
5. Matchability: Pairs well with vintage-inspired fixtures such as clawfoot tubs, brass hardware, and intricate tile patterns.
Investing in such a design ensures you not only receive a functional addition to your bathroom, but a remarkable feature that is sure to leave a lasting impression.
Art Deco-style Fluted Glass Shower Door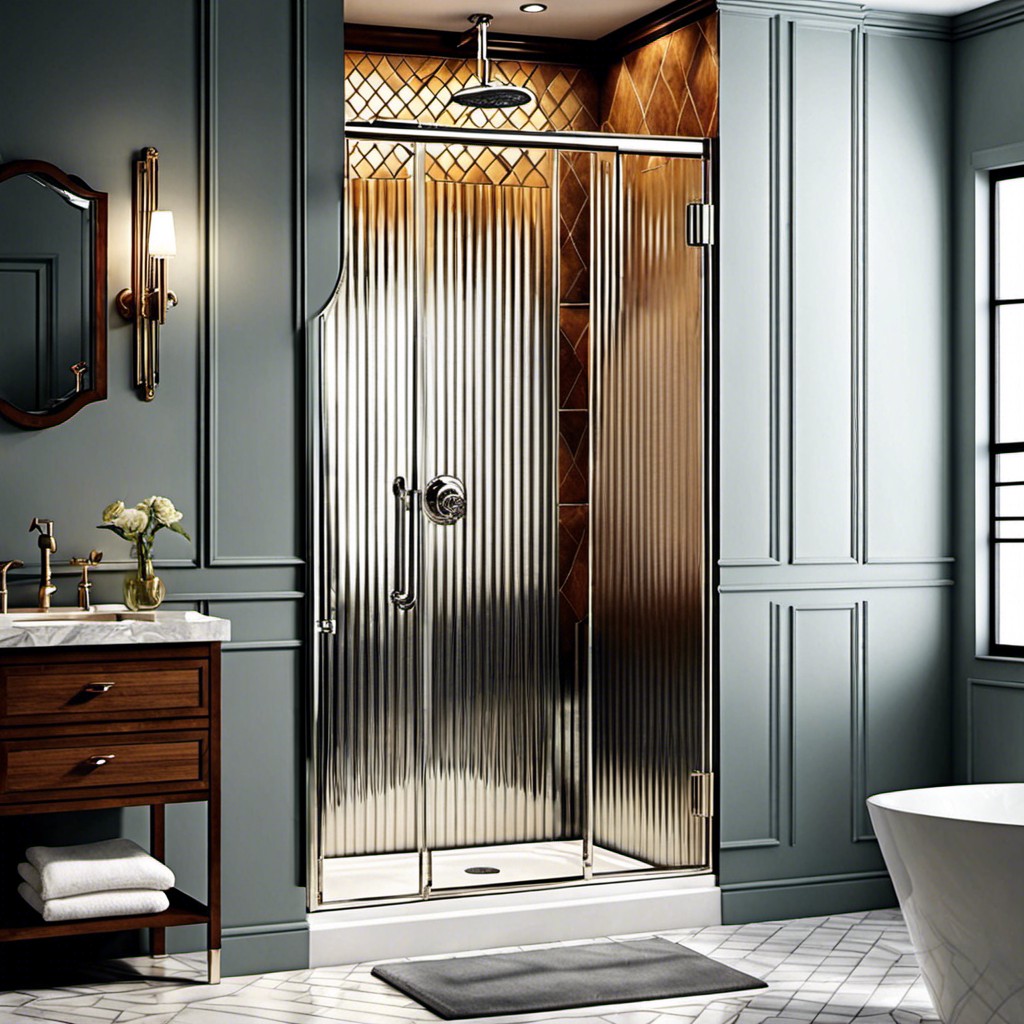 A nod to the roaring twenties, this aesthetic is all about luxury and glamour. Art Deco details in the bathroom can enhance sophistication and drive a timeless appeal.
Incorporating a fluted glass door with Art Deco elements can work well – think angular, symmetrical design patterns, perhaps etched onto the glass.
Opt for classic metallic finishes like brass or chrome for the shower door fixtures to uphold the style's luxe appeal.
For a refined look, complement the structure with vintage-style bathroom fittings, such as geometric tiles, ornate mirrors, or marble surfaces.
Minimalist modern accents can strike a balance, combining the best of both worlds.
This style, while retro, can fit seamlessly into many contemporary bathroom décor themes and provide an intriguing visual contrast.
Fluted Glass and Matte Black Shower Screen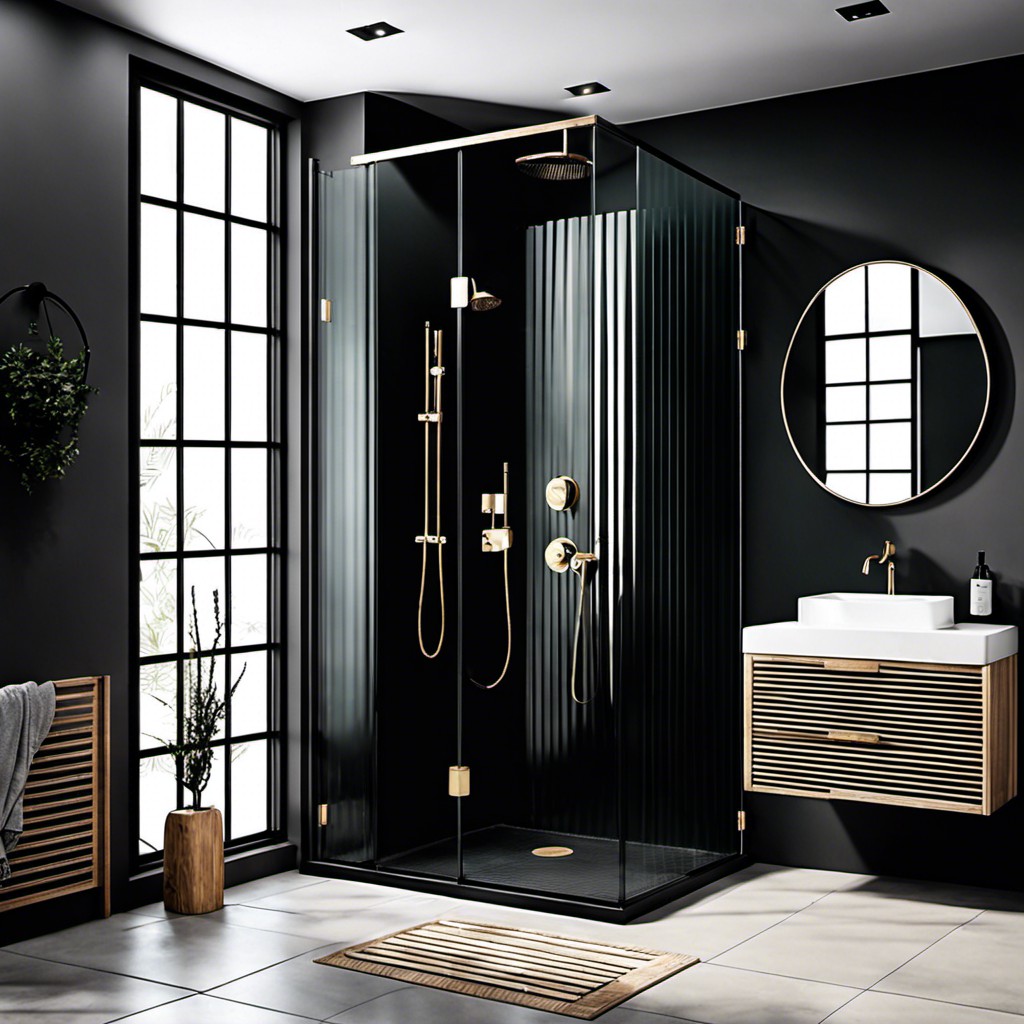 Matte black elements contrast beautifully against the textured look of fluted glass, creating a bold, modern aesthetic.
The streamlined design of a matte black frame anchors the shower screen and draws focus to the unique fluting. When paired with black bathroom fixtures such as faucets, shower heads, or even storage units, the effect is a cohesive, custom look.
Here are some points to keep in mind:
Choose a matte black finish for the fluted glass screen for its understated yet sophisticated appeal.
Match the matte black shower screen with other bathroom fittings to maintain a balanced theme.
Despite the texture, fluted glass allows sufficient light flow due to its translucent property, making your shower area bright.
To upkeep the elegance of matte black finish, consider bathroom accessories, like handlebars or overhead lights, in the same color.
Regular mild cleaning is needed to preserve both the fluted glass and the matte black frame's character.
Fluted Glass Shower With Gold Handles
Adding gold handles to your fluted glass shower adds an instant touch of elegance and luxury. This modification can really transform an otherwise simple fixture into a statement piece.
1. Styles Vary: You can choose from sleek, modern handles or opt for classic, ornate styles to give a vintage feel.
2. Gold Tone Options: The variety of gold shades available ensures there's a perfect match for every bathroom style. You might choose from rose gold, sunset gold, antique gold, or champagne gold.
3. Easy Installation: Replacing shower handles can be a straightforward, affordable way to elevate your shower effortlessly.
4. Maintenance: While gold shower handles can be exquisite, they may tarnish over time and require more frequent cleaning to maintain their brilliance compared to stainless steel counterparts.
5. Versatile Design: These gold handles provide an excellent complement to the fluted glass, enhancing its vintage appeal, yet sleek enough to accommodate a modern space.
6. Pairing Options: Match your gold handles with other gold fixtures in your bathroom to create a cohesive, luxurious aesthetic.
Frosted Fluted Glass Shower for Added Privacy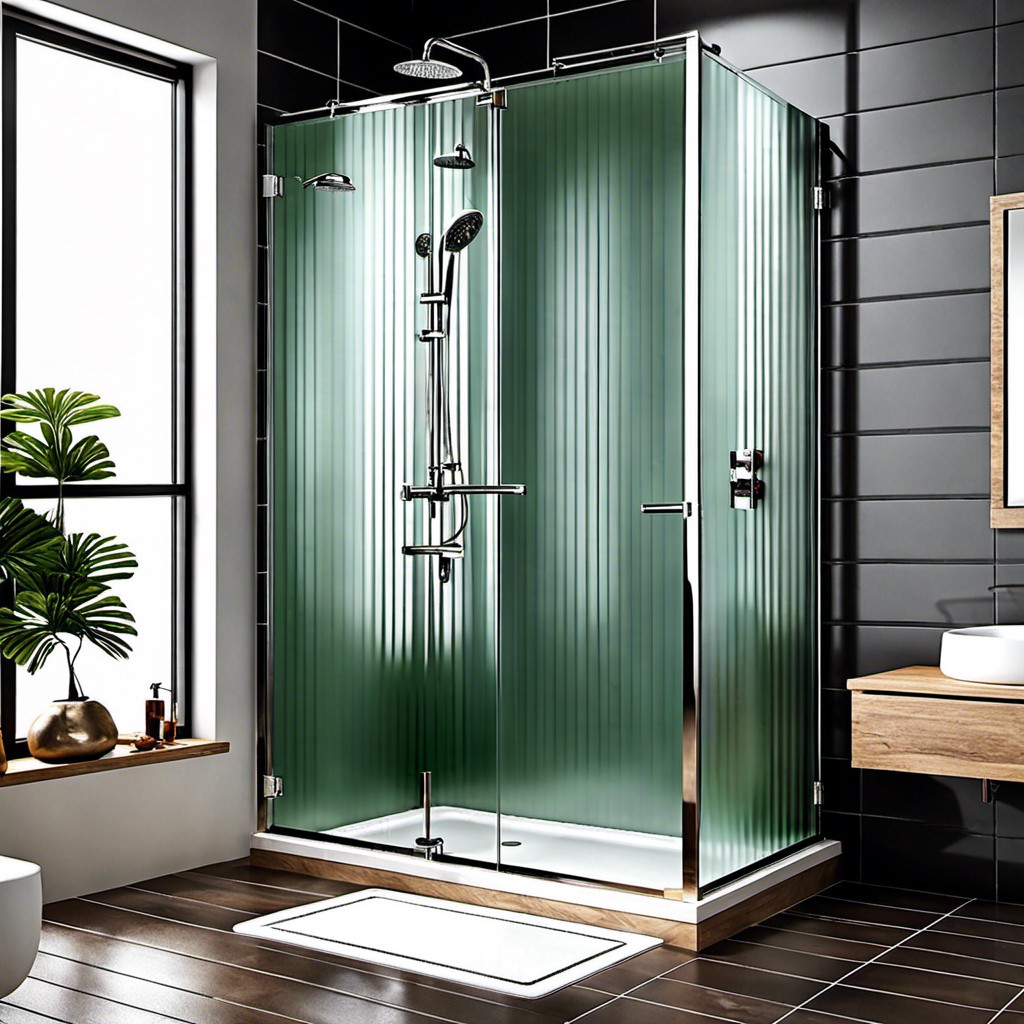 Frosted fluted glass is a fantastic choice for those seeking an optimal level of privacy without sacrificing style or light flow. This variant of fluted glass incorporates a delicate etching process that obscures visibility while maintaining its light-diffusing properties.
This design flourish brings to your bathroom:
Privacy: Ideal for shared bathrooms, the frosted variant ensures both modesty and comfort.
Aesthetic Appeal: Frosted fluted glass adds depth and visual interest, making your shower enclosure a focal point of your bathroom design.
Light Diffusing Properties: Even while ensuring privacy, frosted fluted glass naturally diffuses light, giving your shower area a soft, spa-like ambience.
Versatility: This material pairs beautifully with diverse range of finishes – from chrome to matte black to copper.
Always remember, though, while it adds a touch of elegance and privacy, regular maintenance is a must to prevent build-up of soap and keep it looking sparking clean.
Combination of Clear and Frosted Fluted Glass Shower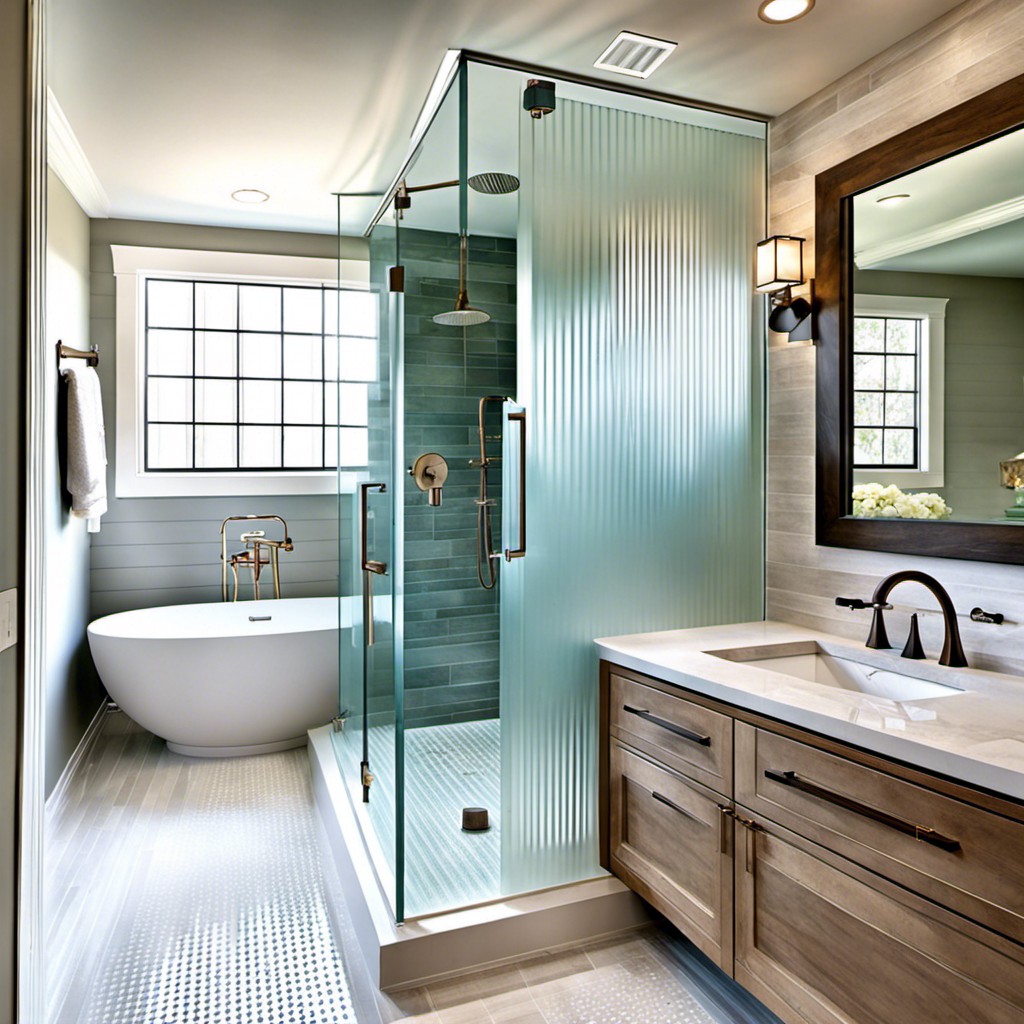 Pairing clear and frosted fluted glass offers a harmonious blend of visibility and privacy in your shower space. By incorporating both types, you'll achieve a balance where strategic areas are discretely concealed while others remain outwardly visible.
1. Zone Partitioning: Helps in differentiating the shower area distinctly. Frosted to obscure, clear for transparency.
2. Light Permeability: The clear glass provides ample light passage for a well-lit shower, while frosted glass diffuses light seamlessly.
3. Design Flexibility: The mixture caters to aesthetics offering diverse design options, from top-to-bottom or side-by-side placement.
4. Optimal Privacy: Frosted glass obscures the view, providing an excellent option for privacy, especially in high-traffic bathrooms.
5. Diverse Texture: The fluted texture of both varieties introduces a tactile element into your bathroom design, adding a touch of luxury.
Recap
Liked this article? Here's what you can read next: