Last updated on November 9, 2023
Uncover the captivating charm of low-cost rustic bathrooms because transforming your compact lavatory into a cozy retreat doesn't have to drain your wallet.
This article includes my original designs. Enjoy them for your inspiration!
Rustic charm doesn't always mean a hefty price tag; and when it comes to bathrooms, small can be splendid. Brimming with potential, these tiny spaces can break conventions and reflect your unique flair with the right ideas.
Drawing from the depths of less discovered design inspiration, this article promises to unveil fresh, distinctive, and budget-friendly rustic bathroom concepts. Venture out from the well-trodden path of popular online ideas, which will still receive their share of appreciation in our resource list at the end.
Let's open the doors to an enchanting realm of rustic aesthetics, perfectly suited to humble spaces and wallets. The journey starts now. Let's dive in!
Transform Wood Pallets Into Wall Features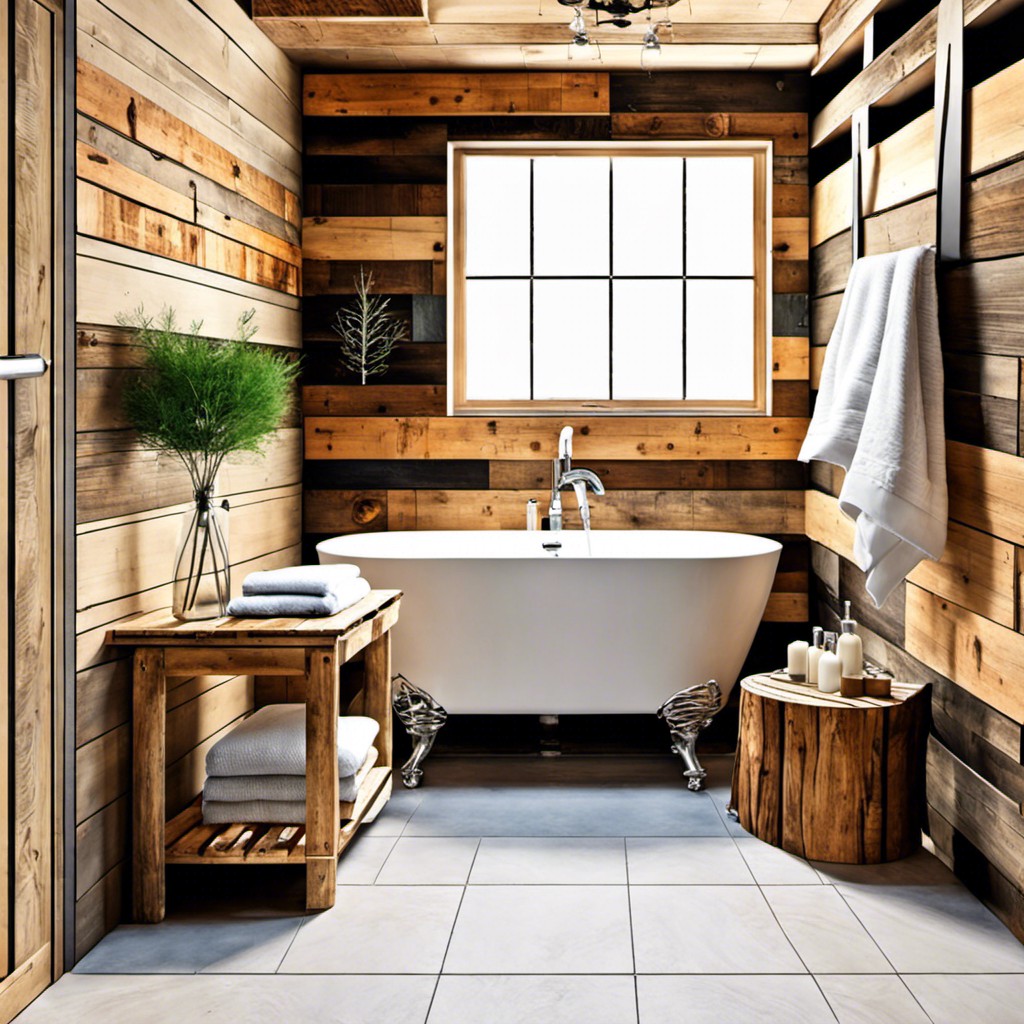 Start by sourcing wood pallets, often available for a minimal cost or even free from local businesses. Once you have sufficient pallets, dismantle them, retaining the wood planks and disposing of any damaged pieces. This is your chance to let your creativity shine—arrange these wooden planks in a design that suits your style. Consider a horizontal or vertical alignment, a herringbone pattern, or random placements for a unique feature wall.
Before proceeding to the installation phase, it's crucial to prepare and treat your wood. Sanding can create a smooth finish while a wood stain can highlight the natural grain and knots that add to the rustic feel. Using a clear matte finish varnish will protect the wood from moisture damage.
Installation involves attaching your wood planks directly to wall studs using suitable nails or screws. This simple process transforms an ordinary wall into an enchanting, conversation-starting focal point without breaking the bank. Always remember, safety comes first; hence, use appropriate protective gear during the installation process.
Lastly, dress up your new wall feature with a vintage sign or antique mirror to further enhance the rustic ambience. With careful planning and execution, you can achieve an awesome rustic bathroom vibe that's also budget-friendly!
Repurpose Canning Jars As Light Fixtures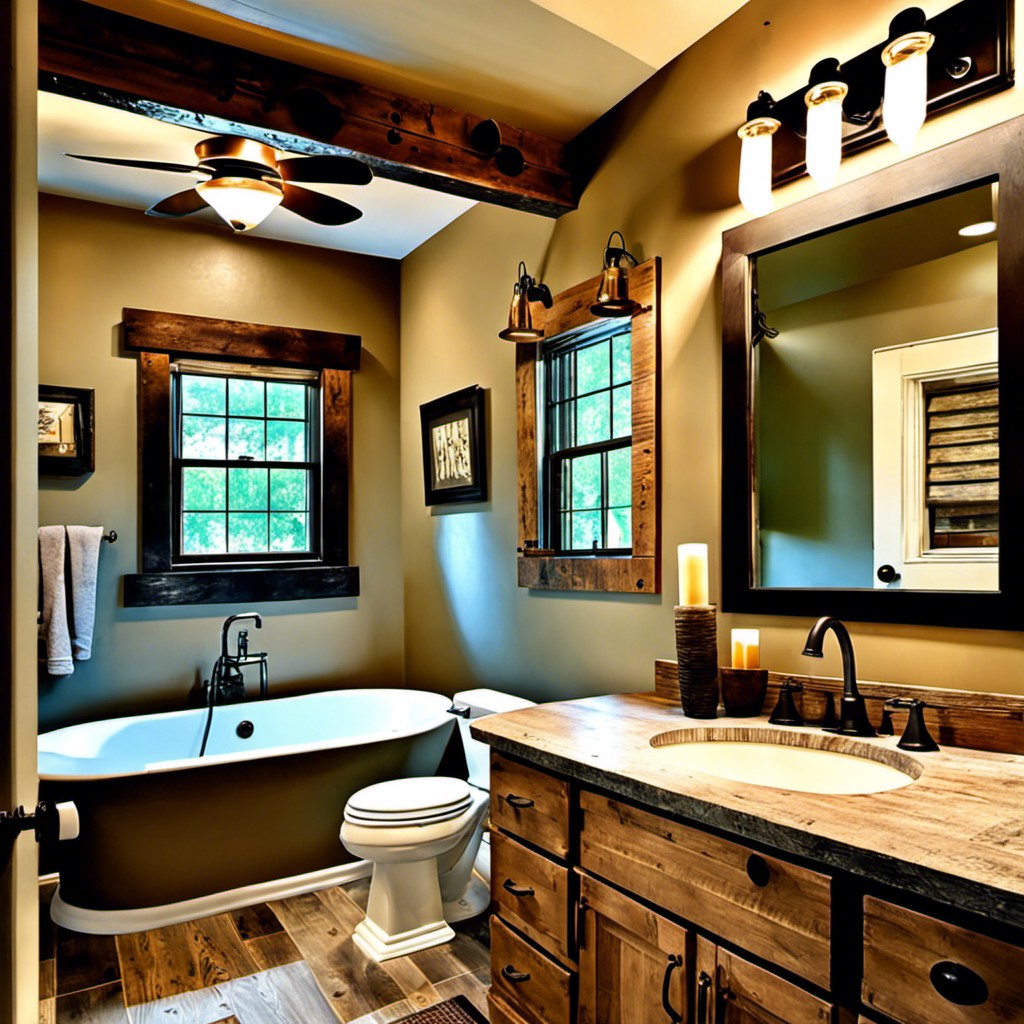 Employing canning jars as light fixtures can cast a warm, inviting glow in your bathroom, inducing a rustic charm. Execute this DIY project with an old, cleaned-out canning jar, a light bulb, some wire, and a ceiling hook.
1. Drill a hole at the center of the jar's lid, ensuring it's large enough for the light socket.
2. Fix the socket onto the lid, thread the wire through, and connect it to the light bulb and plug.
3. Use the ceiling hook to securely hang your new light fixture.
4. Opt for Edison-style bulbs for an added touch of vintage aesthetic.
Remember to exercise caution when dealing with electrical wiring. If you're unsure, it's advisable to seek professional help. The end result will be a striking light fixture that provides an ambient glow in your bathroom.
Use Wine Barrels As Sink Bases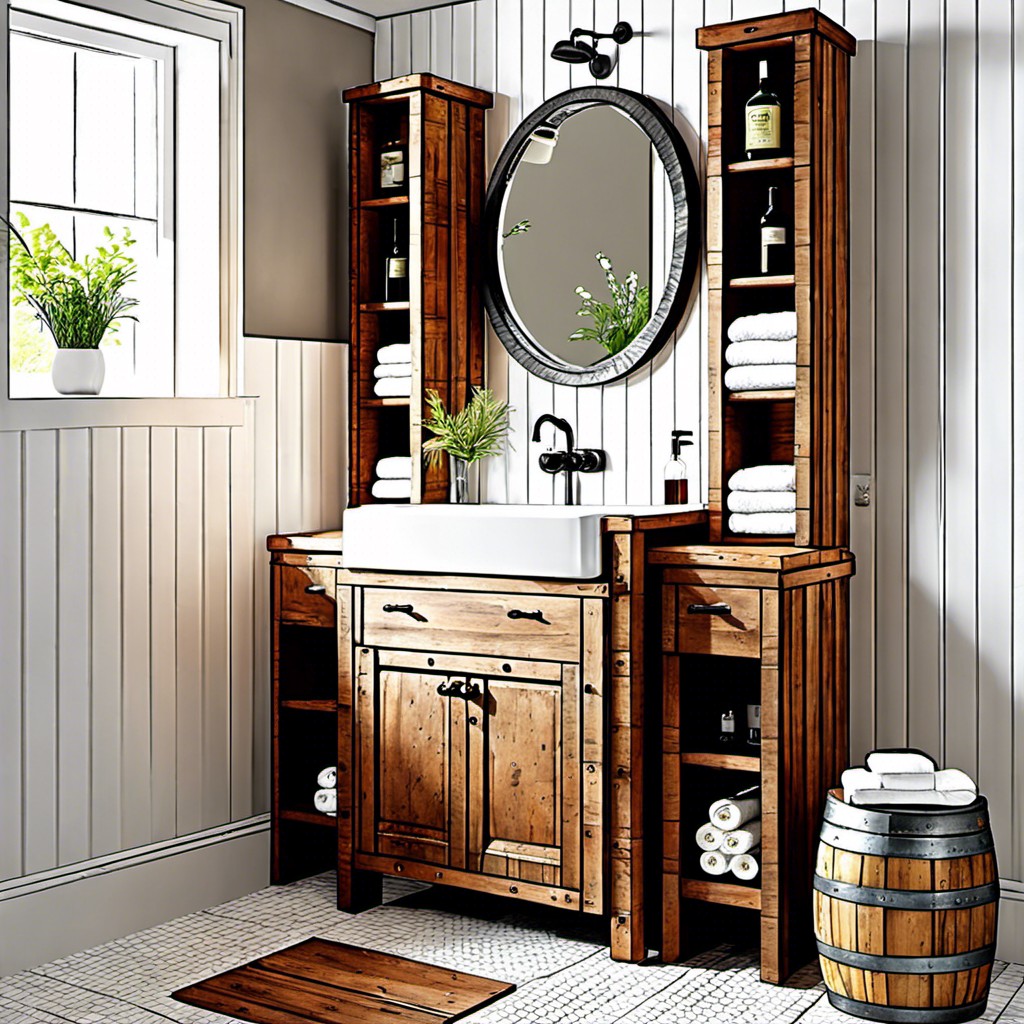 Incorporating a wine barrel as a sink base is an innovative, low-cost, and eco-friendly way to enhance the rustic aesthetic in your bathroom. Here's the surprising simplicity of this chic decor twist:
1. Select a Used Barrel: Choose a vintage or previously used wine barrel ensuring it's still sturdy and functional – the character marks and patina only add to the charm.
2. Making Cutouts: Engage a professional or DIY carefully to make necessary cutouts for the sink and plumbing.
3. Waterproofing: Implement important protective steps like polyurethane coating to make it waterproof and resist bathroom moisture for long-term usage.
4. Sink and Faucet: Opt for a countertop basin-style sink that meshes well with the wine barrel. Consider a vintage style faucet as well.
5. Optional Storage: You might opt for a door cut out on the barrel's side for extra storage.
6. Positioning: Position your new vanity strategically – it can be a wonderful focal point of your bathroom.
Remember, this repurposed wine barrel vanity isn't just a conversation piece – it's a statement about environmentally friendly and sustainable home decor.
Expose Original Brickwork for Rustic Charm
One of the most captivating ways to add character to your small bathroom is by highlighting any existing brickwork. It not only amplifies that desired rustic charm, but it also becomes a unique design element, standing out against otherwise standard bathroom fixtures.
If you're lucky enough to have original brick walls, leave them exposed for a true raw and rustic style. However, even faux brick panels can effectively deliver that old-world appeal. The red undertones of the brick add a warm, welcoming feel to the space.
To maintain the balance and prevent the bathroom from appearing too dark or small, contrast the rich, rough texture of the brick with sleeker elements. For instance, a polished, light wood vanity or white cabinetry can offset the brick's roughness. For the floor, opt for simple tiles in a lighter shade; this makes the room seem more spacious.
Proper lighting will ensure the brickwork doesn't make the room feel smaller or more cramped. Consider installing hidden LED lights that provide a soft glow to the brickwork surface, accentuating its texture and depth.
Also, remember that with brickwork, less is often more. Instead of covering every wall in brick, pick out a single wall to serve as the room's focal point. This will provide the rustic charm without overwhelming the limited space.
Remember to seal your brickwork with a quality sealant to protect it from moisture and prolong its life. With some savvy decision-making, your bathroom's brickwork can become the ultimate statement piece, elevating your rustic decor to new heights.
An Antique Mirror Adds a Rustic Touch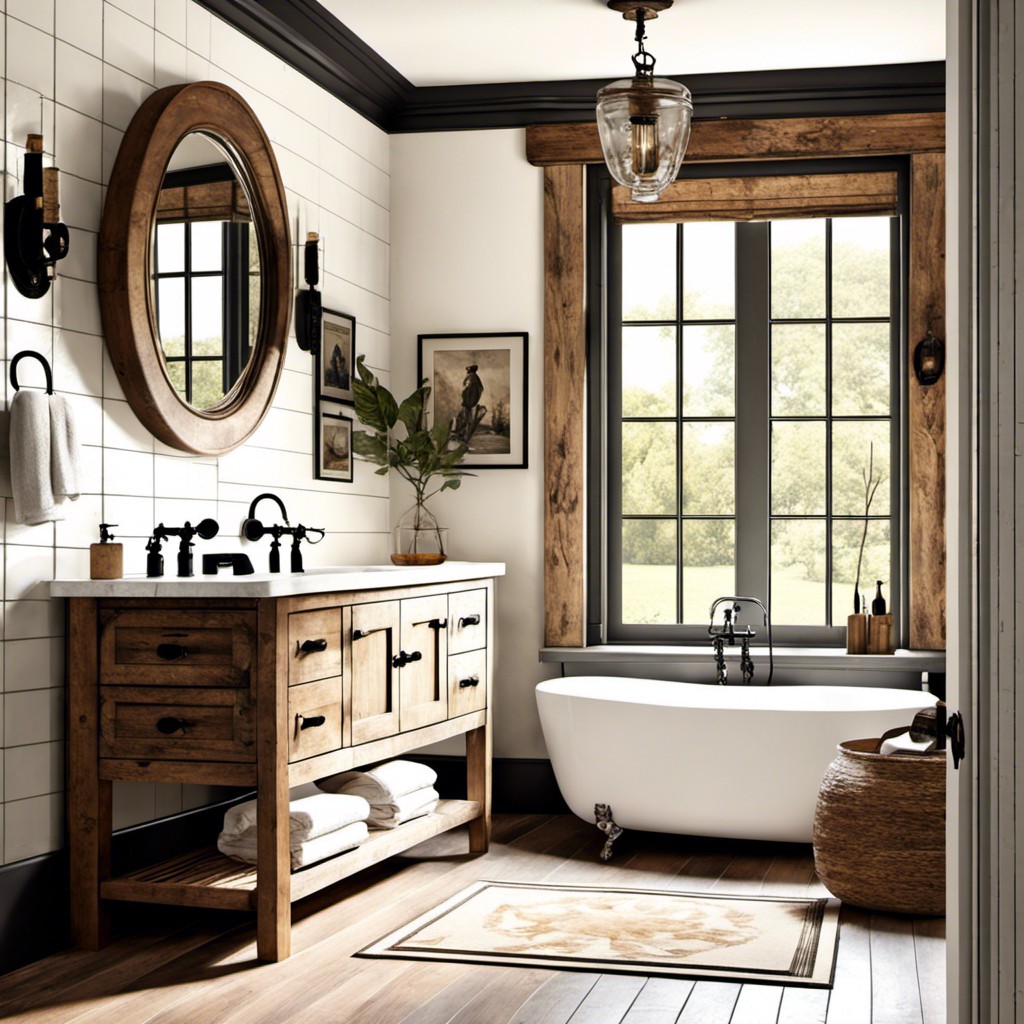 Continuing with our theme, one often ignored element that can drastically alter the ambiance is the mirror. This important fixture can transform from a simple reflection tool into a relic from a bygone era with the right details.
Forgo the modern frameless mirrors and search for one with a beautifully ornate, preferably distressed, frame. Flea markets, yard sales, or antique shops are treasure troves for items like this. A mirror with a chipped wooden frame enhances texture, while one with a tarnished gold-colored frame adds a hint of subtle sophistication along with the rustic look.
This simple switch not only provides a striking focal point but also adds depth to the space. Moreover, using antique items gives the bathroom a story, bringing undisputed charm and character seldom found in contemporary design.
Remember, you don't always have to purchase an antique mirror. You can refurbish an old one stashed in your attic or even create a distressed look on a budget mirror with a DIY project; the rustic charm comes from imperfections and age. The mirror itself, with its potential to magnify both light and space, will do its part in amplifying the overall rustic aesthetic.
Next, let's embark on a slightly more industrial path. Let's discuss the potential of galvanized metal…
Galvanized Metal for Industrial Rustic Vibes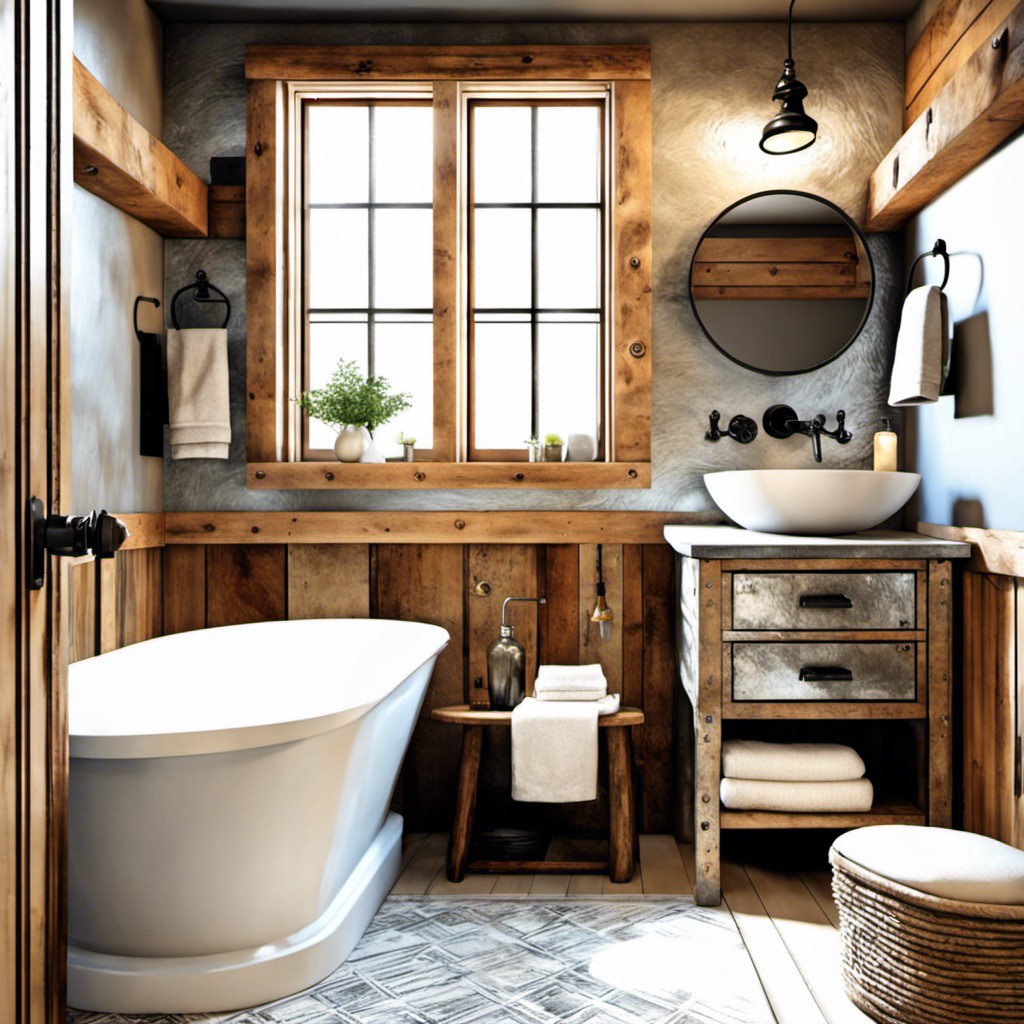 Adopting galvanized metal elements is a foolproof strategy to achieve industrial rustic décor. To start with, a metal bathtub, with its unique weathered texture, instantly becomes the spotlit hero of your bathroom. Similarly, a galvanized metal sink juxtaposed against a wooden vanity creates a complementary balance between unrefined and polished finishes.
Wish to push the envelope a bit? Opt for galvanized metal shower walls. They infuse an unparalleled ruggedness that's attractive and surprisingly cost-effective. And let's not forget about metal accessories – shower caddies, soap dispensers, storage buckets. These small touches can contribute significantly to the overall aesthetic.
Don't shy away from nail holes or scratches on your galvanized pieces. These marks tell a story of their past, amplifying their rustic appeal. Meanwhile, remember that balance is key; too much metal could run the risk of looking cold and unwelcoming. Pair it with softer elements like textiles and wood to create a warm, inviting space.
Create a Rustic Bathroom With Barn Door Accents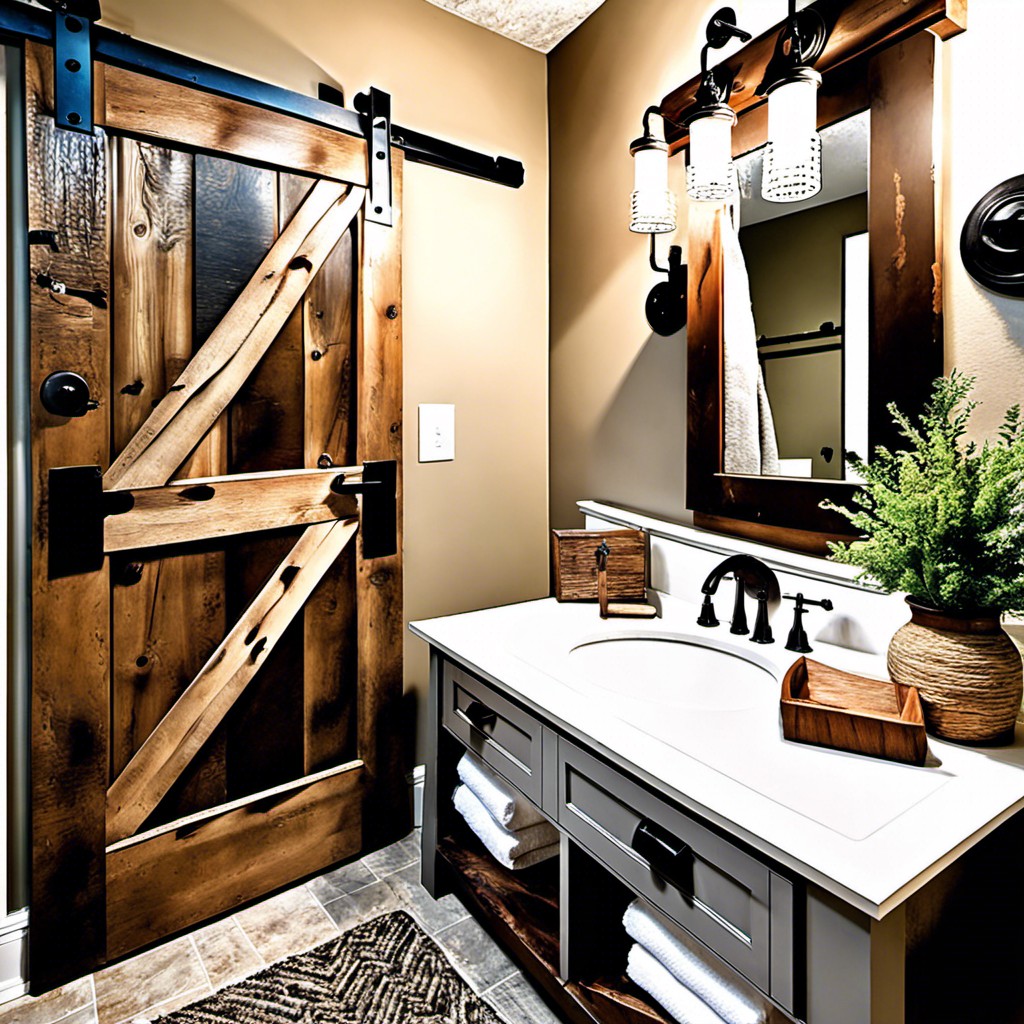 Barn doors aren't just for the outside. Incorporating them into your bathroom design can provide a breathtaking rustic appeal. Here's how:
1. Select a Barn Door: Not all barn doors need actual barns. Many home improvement stores carry rustic-looking, barn door-style options. Save money by seeking out reclaimed doors or building your own with distressed wood.
2. Choose The Right Hardware: Go for wrought iron or antiqued brass hardware. It adds to the farmhouse aesthetic while functioning as the door's moving parts.
3. Privacy Options: You may want to consider frosting or etching the door if it contains windows to keep your bathroom privacy intact.
4. Style with Symmetry: Try matching your barn door accents with other bathroom decor, like wooden shelves or a mirror frame, this keeps the continuity of your theme.
5. Install with Care: Ensuring correct installation is key. Barn doors slide rather than push open, so you'll want to make sure it fits correctly and leaves enough space for privacy.
Implementing these touches will help establish that rustic, homey vibe you're aiming for.
Incorporate Pressed Tin As Wall Art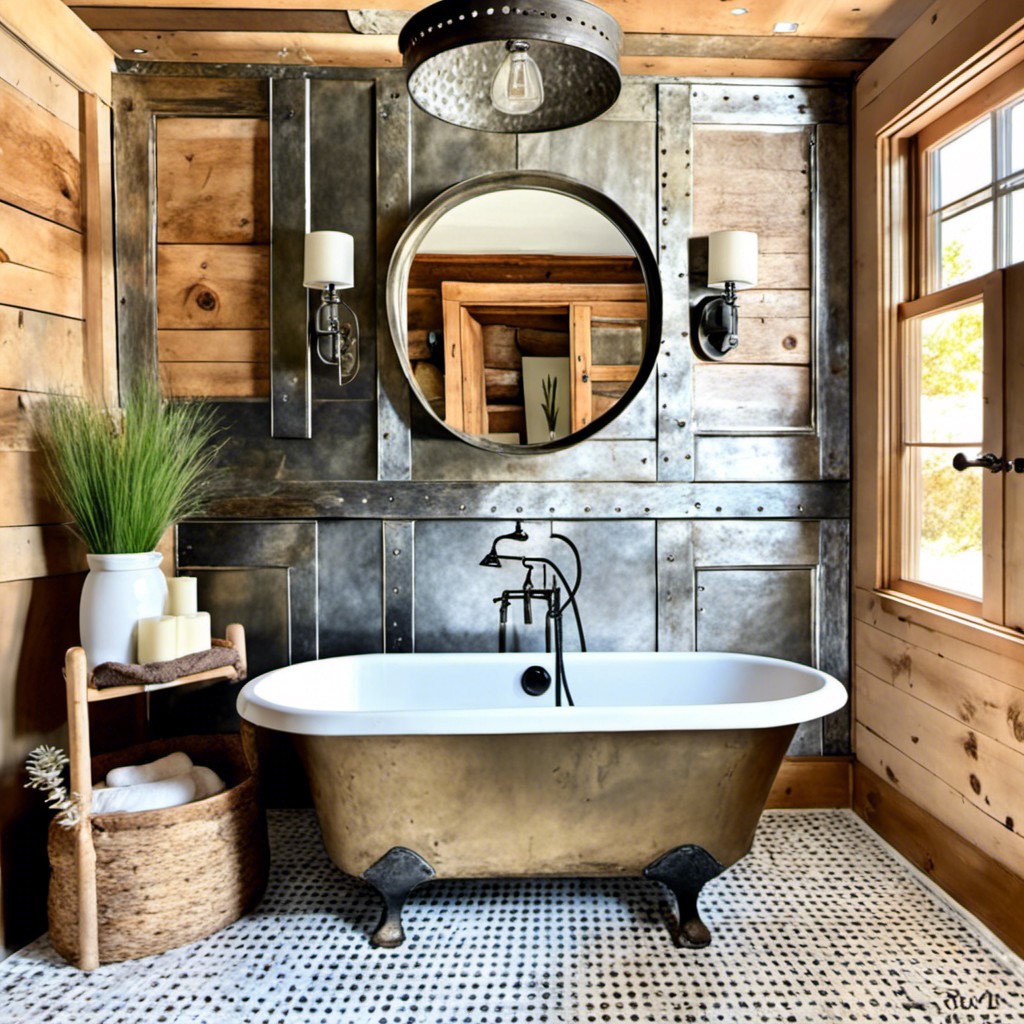 Pressed tin, often associated with vintage ceilings, can be a unique wall art for your bathroom. This material not only provides texture but also reflects light, adding brightness to smaller spaces.
You can save costs by sourcing second-hand pressed tin panels from flea markets, antique shops, or online marketplaces.
Make sure to protect the tin from moisture by sealing it with clear acrylic spray sealer. This will maintain its shine and prevent rusting.
Don't worry about the tin design matching perfectly; the variations can add charm. This cost-effective statement décor adds a level of detail that's sure to turn heads.
With some creativity, a piece of pressed tin can become a functional item too; it can be used to craft a magnetic board for holding essential notes or displaying artwork.
It's an effective way to reinforce a rustic theme while simultaneously adding a personalized and functional element. The possibilities are endless when incorporating pressed tin as wall art into your rustic bathroom.
Wooden Crates for Budget Storage Solutions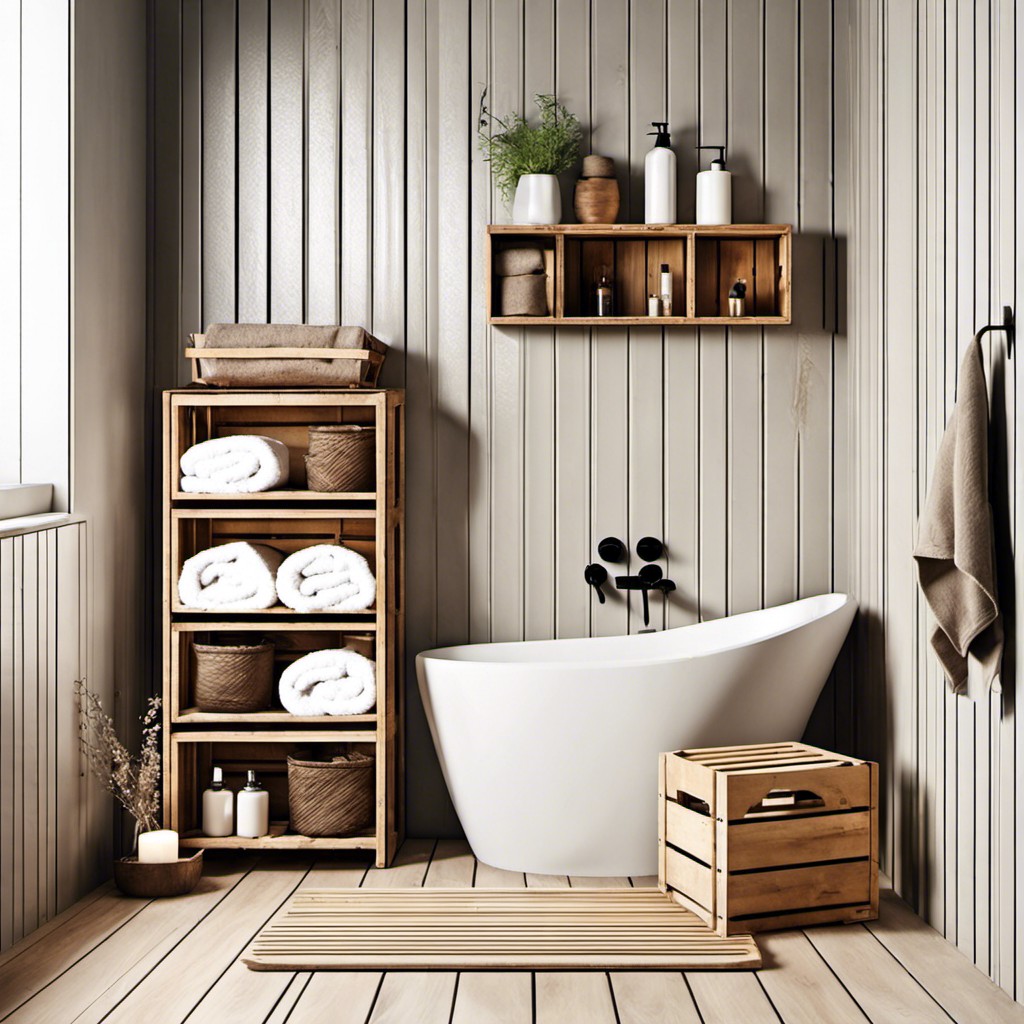 With their potential for versatility, wooden crates are a gem in budget decor. Often free or costing very little, they make for perfect, understated storage solutions that scream rustic chic.
Here's how you can incorporate them:
Mount them on walls: Use them as open-faced cabinets or shelves. Display toiletries or attractive trinkets.
Stack on the floor: Create an endearing corner storage unit. Perfect for towels, toilet paper, or even as a hamper.
Transform into a vanity: With a bit of tweaking, a sturdy wooden crate can support a tabletop sink.
Decorate with paint: Add extra charm by whitewashing, or apply earth-toned paints to complement rustic themes.
Take note, the older the crate, the better! Their well-worn look contributes to the overall rustic appeal. Be sure to sand down any rough edges before usage. By implementing these ideas, your bathroom can take on a rustic charm, without burning a hole in your pocket.
Whitewashed Bathroom Vanity for a Rustic Look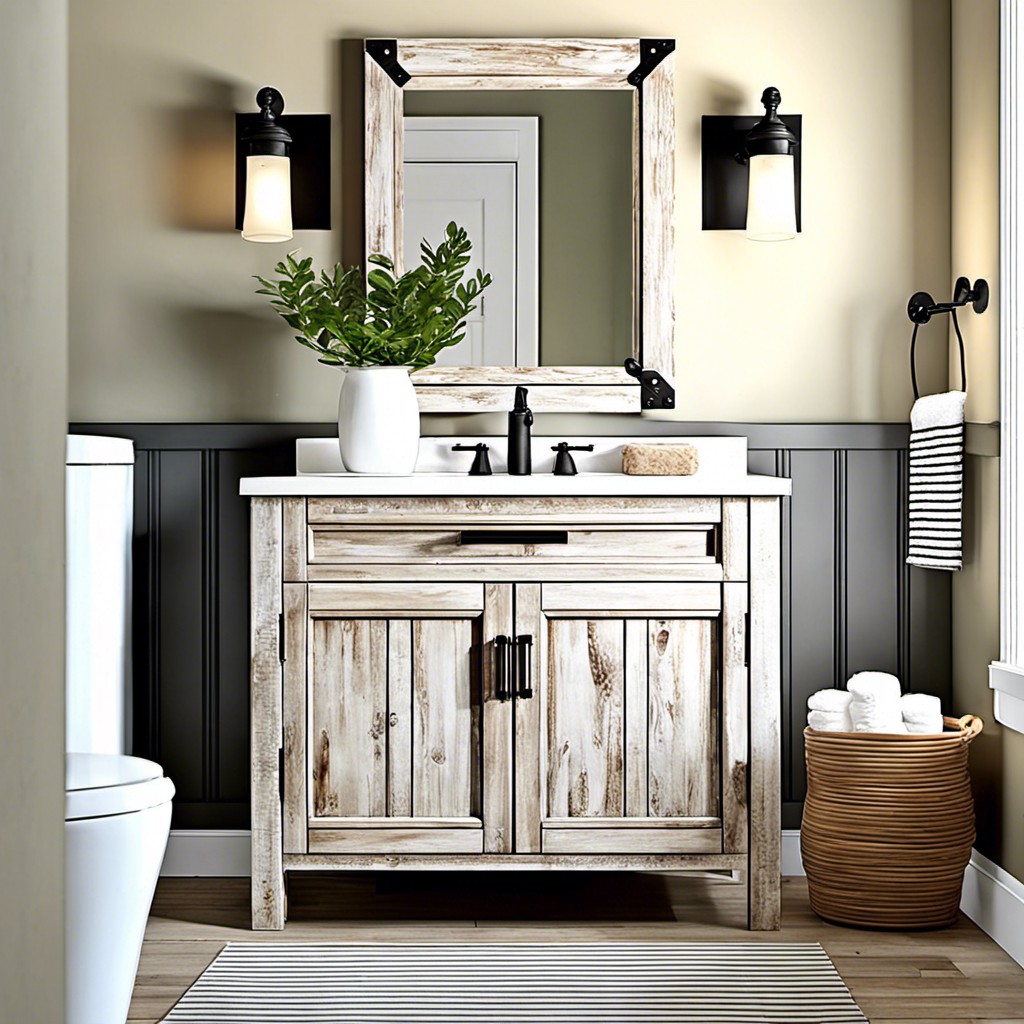 Whitewashing is the simple technique of applying diluted white paint to the surface of your vanity, allowing some of the wood grain and texture to show through. This gives an aged, weather-worn appearance – perfect for a rustic theme.
Choose a vanity made of natural wood for the best results. Here's a simple step-by-step guide:
1. Sand the surface lightly to make it rough for the paint to bond better.
2. Mix white paint and water in equal proportions.
3. Apply the mixture to the surface using a rag instead of a brush for a blended, uneven look.
4. Let dry and apply a sealer to protect your whitewash from the humidity in the bathroom.
Remember, you can distress the finish further by gently sanding the corners and edges. To enhance the rustic vibe, swap out any shiny hardware for bronze or iron options. Doing so provides a great contrast against the whitewashed surface.
Stencil Art On Bathroom Walls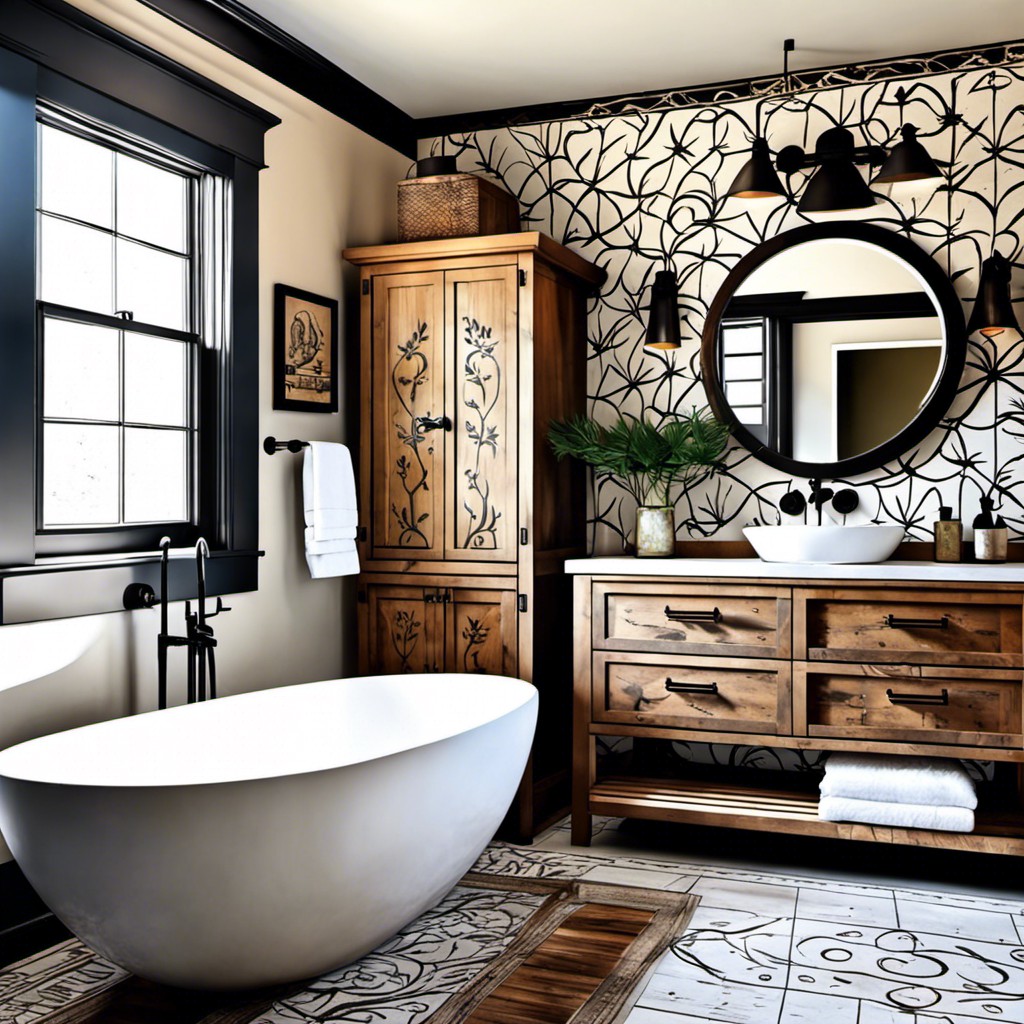 Wall stencils can dramatically uplift the aesthetic of your small rustic bathroom while being pocket-friendly. Select designs that are reminiscent of farm-life or nature, resonating with the rustic theme.
Let's delve into a few key considerations:
1. Choose a Design: Opt for florals, geometrics or perhaps animals. Try to harmonize the pattern with your bathroom's overall theme.
2. Prep the Wall: Ensure your wall is smooth as any texture or bumps can affect how well the stencil is adhered and may result in leakage.
3. Paint Selection: Acrylic paints or latex are ideal for this project. Depending on your décor, select matte or glossy finishes.
4. Stenciling Technique: Use a dense foam roller or a special stenciling brush for best results. Remember, not to overload the roller or brush with paint as it may seep under the stencil causing smudges.
5. Patience: It could be a laborious job depending on wall size and stencil intricacy. But rest assured, your patience will pay off.
This cost-effective décor element can be a game-changer, making your small space pack a decorative punch.
Remember, the key to good stencil art is practice. You might want to try on a spare piece of wood or cardboard first, to perfect your technique. Good luck!
Convert an Antique Dry Sink Into a Vanity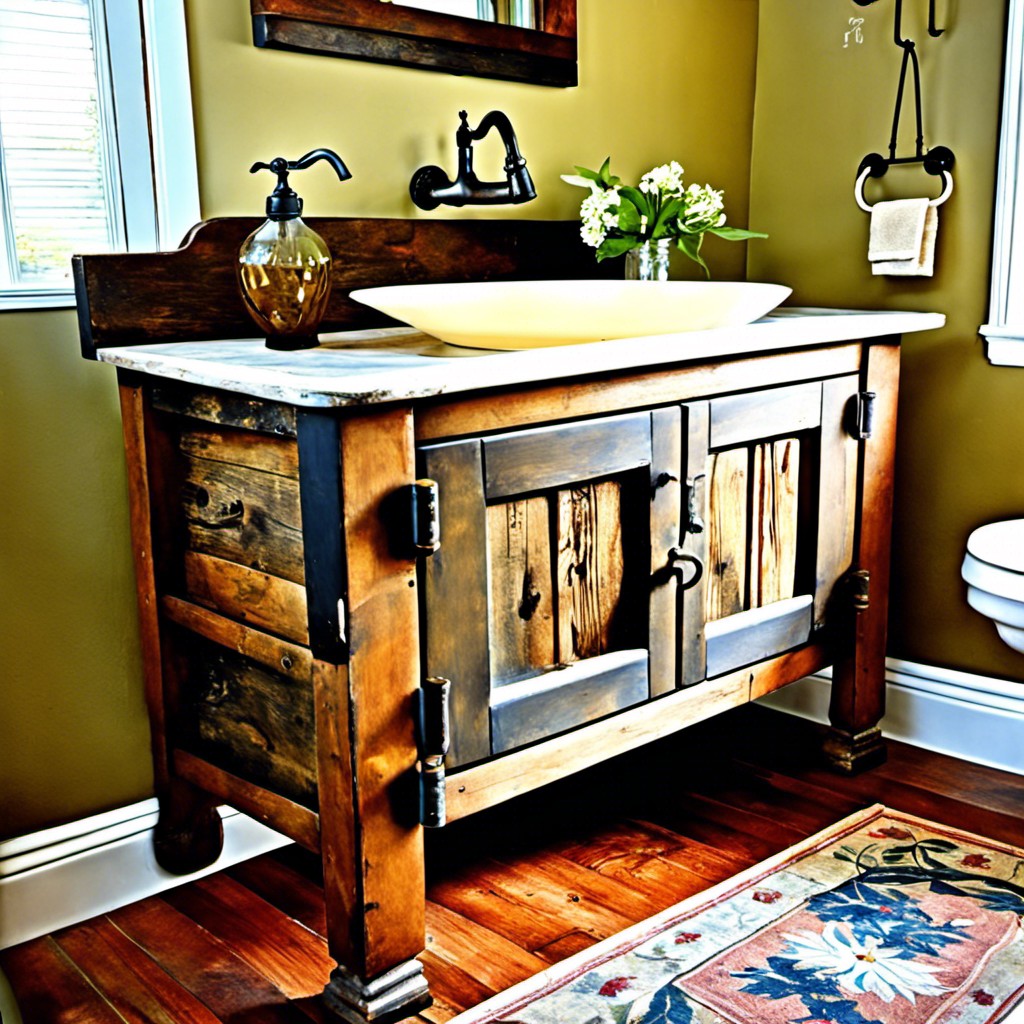 Finding the right antique dry sink can add an unparalleled rustic appeal to your bathroom. The key is to choose one that harmonizes with your space not only in size, but also in style. Once you have the perfect find, customize it to function as your vanity.
Start by sealing the wood to protect it from water damage. Select a countertop that matches the style, whether it's a slap of rough stone for a more rugged look, or a glossy marble for an elegant touch. The sink bowl can be dropped in or sit on the surface, depending on your preference.
Next, consider storage. If the dry sink has open storage below, you may want to install organization drawers. If not, strategic baskets can maintain the rustic vibe while providing necessary storage.
Lastly, choose a faucet that enhances the rustic appeal. Bronze or brushed nickel finishes often complement this style beautifully.
This transformation breathes new life into a classic piece, adding a unique focal point that is both functional and visually arresting. Remember, it's all about preserving the beauty of the past and adapting it to your modern needs in the most aesthetically pleasing way.
Stacked Stone Accent Walls for Rustic Charm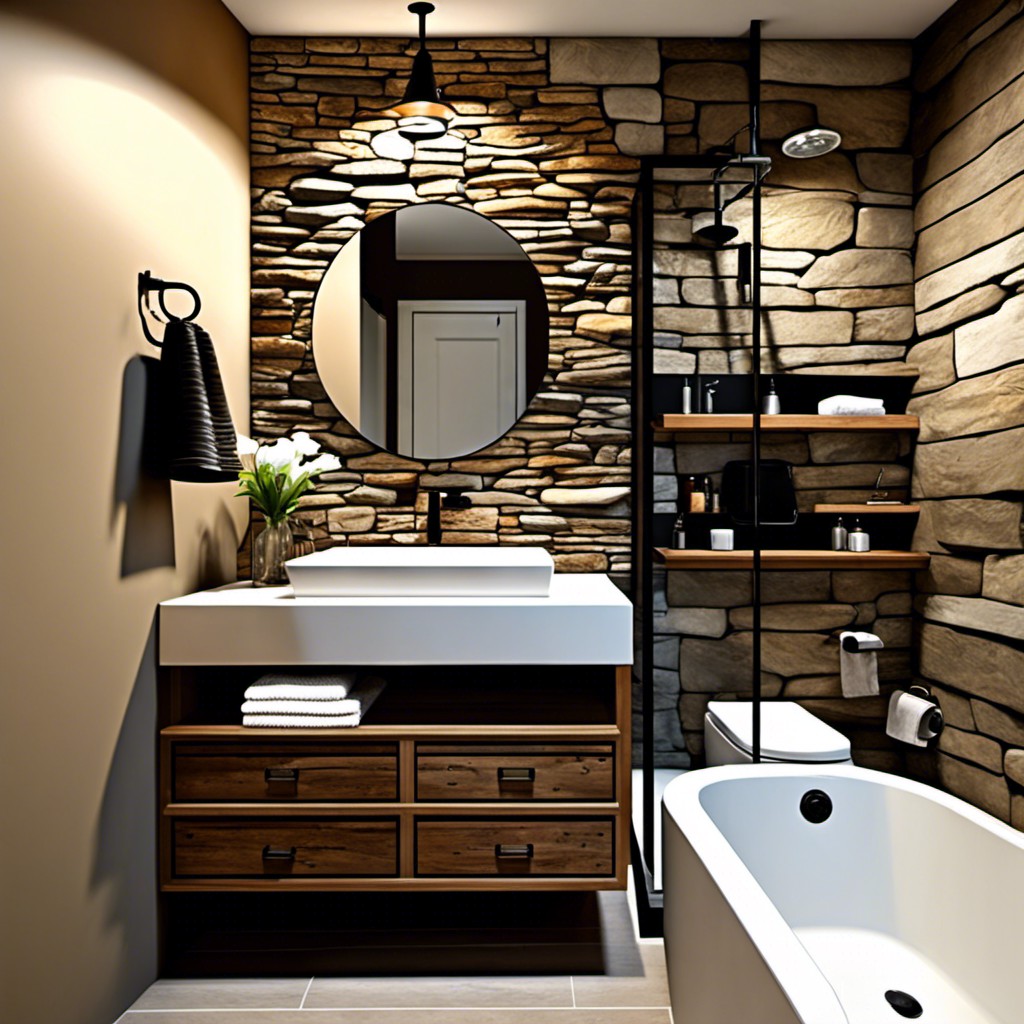 Choosing the right materials can completely transform an otherwise plain bathroom into a rustic haven. Stacked stone, for instance, can work miracles. It brings an element of nature indoors while offering a tactile appeal few other materials can.
To start, pick out stones that resonate with your chosen aesthetic – from brown and beige earth tones, to gray or even white hues. You can choose to cover an entire wall or just a section to create an accent wall.
While installation can be a bit more complicated than painting or wallpapering, many suppliers now offer lightweight, easy-to-install panels that mimic the look perfectly. These are often more budget-friendly and easier to handle and can be attached directly to existing tile or drywall with strong adhesive.
To maintain the look, there's little you need to do other than regular dusting and occasional wiping with a damp cloth. No need for any special products or treatments. Plus, stone is incredibly durable, so your new rustic bathroom will stand the test of time.
Remember, lighting plays an important role here too. Soft, indirect lighting will highlight the stones' texture, adding warmth and depth to the space. Choose LED lights for an energy-efficient option.
This simple addition can create an inviting, calming sanctuary that channels the ambience of a rustic cabin retreat, right in your own home.
Use Oversized Woven Baskets for Eye-Catching Storage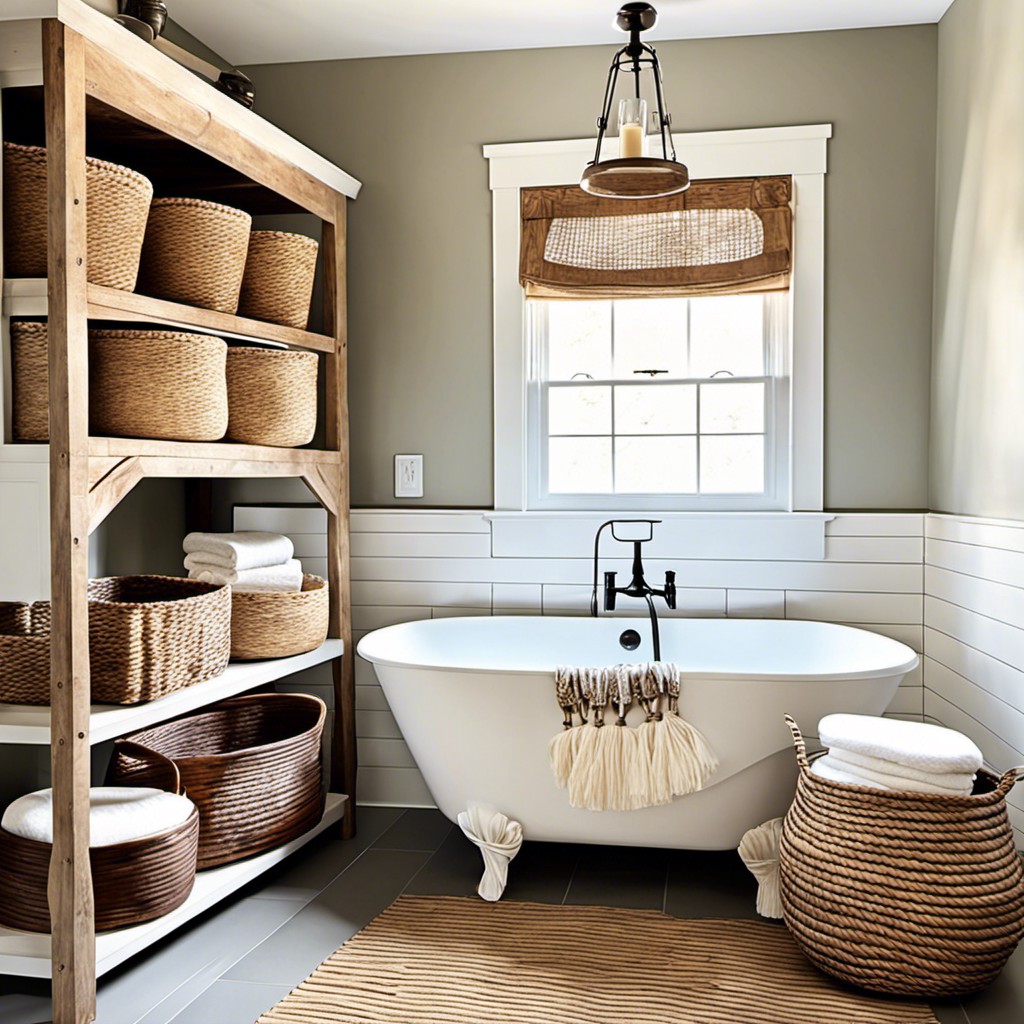 With their natural appeal, oversized woven baskets not only offer ample storage space but also add texture and dimension to your bathroom. They're a practical alternative to built-in cabinets, cutting down on remodel costs and adding personality to the space.
Try these tips to incorporate oversized baskets into your rustic bathroom:
Opt for baskets with lids: This provides concealed storage, keeping your room neat while hiding any visually cluttering items like additional toilet rolls or cleaning supplies.
Position strategically: Place the basket beneath the sink for instant drawer space, or in an open corner to make full use of your room's real estate.
Play with sizes: Introduce a variety of basket dimensions to fit different needs, from storing bath towels to holding cosmetics and toiletries.
Embrace texture: Go for hand-woven or chunky knit choices in natural fibers for an authentic rustic touch.
With the fusion of functionality and style, the use of oversized woven baskets will enhance your rustic bathroom decor while leaving room in your budget for other adventurous design choices.
A Rustic Bathroom Design With a Distressed Ladder Towel Rack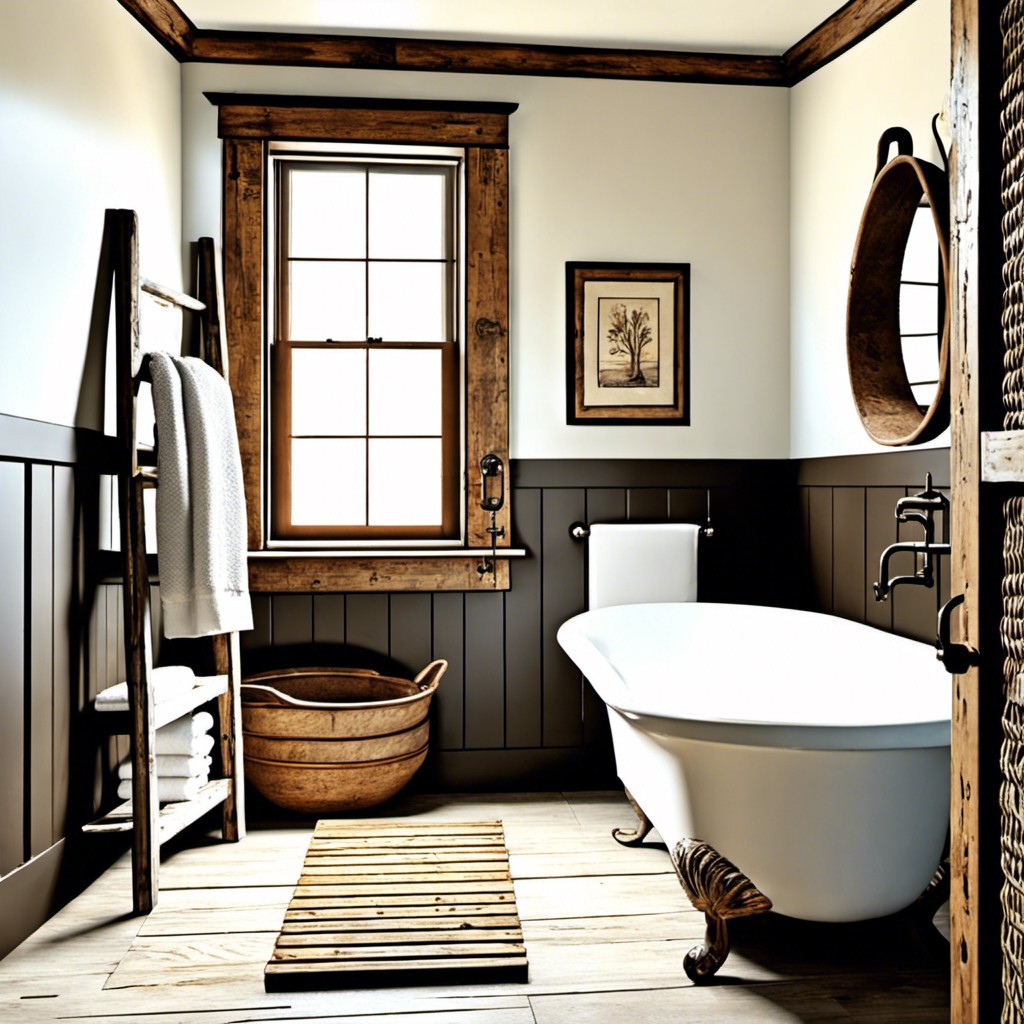 A distressed ladder towel rack lets you tap into the rustic charm while remaining functional. Start by sourcing an old wooden ladder. The more chipped paint and signs of wear, the better! You want something that tells a story, adding a hint of nostalgia to your bathroom.
If it needs some work, here are some quick tips to give it that distressed look: lightly sand the ladder to smooth out any rough spots, then apply a thin coat of paint and let it dry. Scrape or sand off some areas to create the desired worn-out effect for that vintage touch.
Once your ladder is ready for display, simply lean it against a wall and drape your towels over the rungs. It's a clever, cost-effective way of maxing out storage and enhancing your rustic decor theme. This feature offers a great return on investment, injecting character without straining your budget.
For a more personalized touch, you might add a flange and piping to the top of the ladder to steady it against the wall – a nod to the ever-popular industrial trend. And why not try weaving some fairy lights through the rungs for a cozy glow? A distressed ladder towel rack can be as simple or embellished as you like; creativity is key in this DIY project.
Reclaimed Window Frame As Bathroom Decor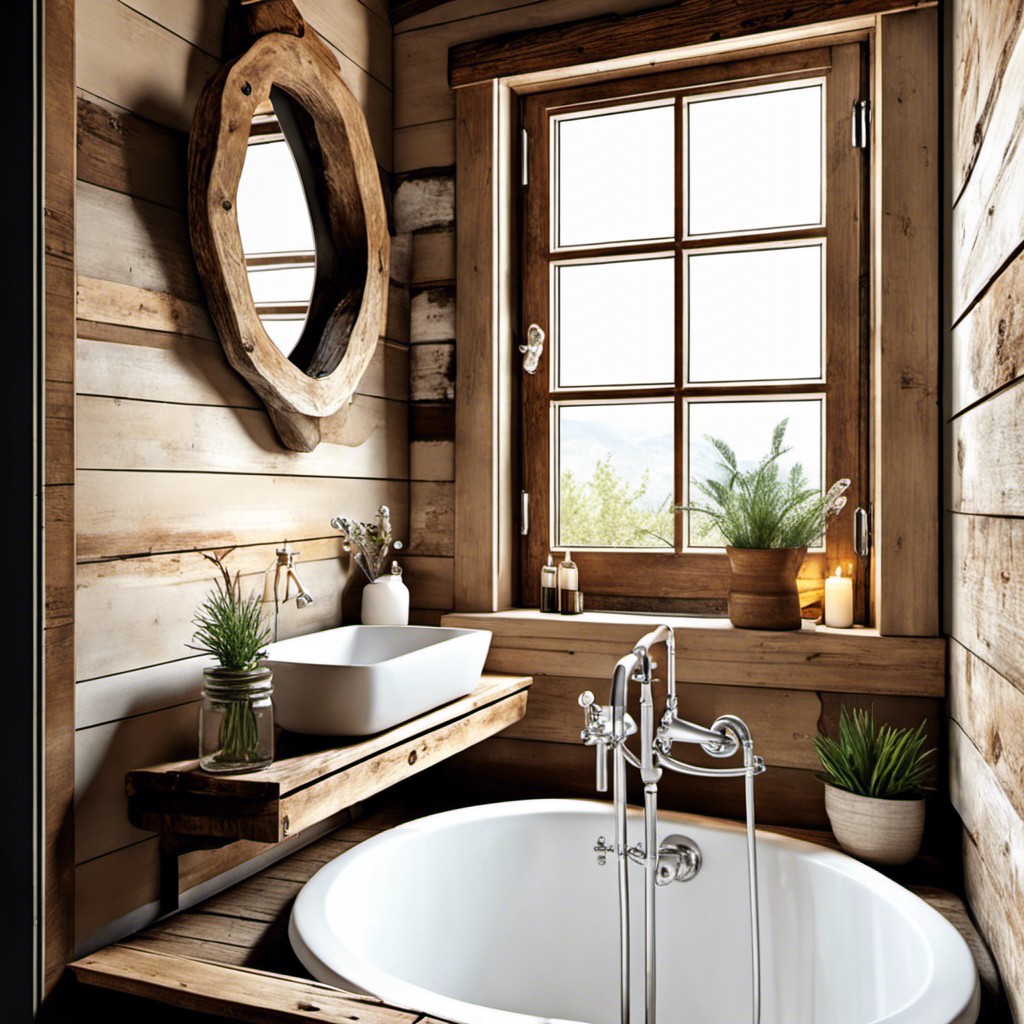 A touch of creativity and a simple building project can turn a vintage window frame into an appealing decorative element. Bring life to a blank wall by hanging the structure in its raw, weathered state for an authentic rustic feel.
As for the setup, consider adding frosted or stained glass, or even go for a mirror insert for practicality and aesthetic balance. Natural lighting will also enhance the colors and textures of the worn window fame, adding a unique character to your bathroom.
For a more personalized look, add some small potted succulents or trailing plants on the frame's sill – a lively contrast to the rugged appeal of the aged wood. Remember, imperfections will only add to the charm, so don't be too polished in your restoration.
Farmhouse Style Faucets On a Budget
Stepping into the realm of faucets, swapping to a farmhouse-style can drastically alter your bathroom's aesthetic appeal. This change often comes without a hefty price tag. Opt for a mix of functionality and style.
Vintage-inspired designs with modern mechanisms, like a gooseneck design, can give your sink an added rustic personality. Brushed nickel, oil rubbed bronze, and aged brass are popular choices for a farmhouse look. Consider cross-handle designs for an extra classic touch.
Online marketplaces such as eBay, second-hand stores, and even local yard sales can be a treasure trove for budget-friendly options. Remember, there's no need for an exact match with other fixtures; the charm of rustic decor lies in its imperfect synchrony.
Upcycled Wooden Tool Box for Bathroom Storage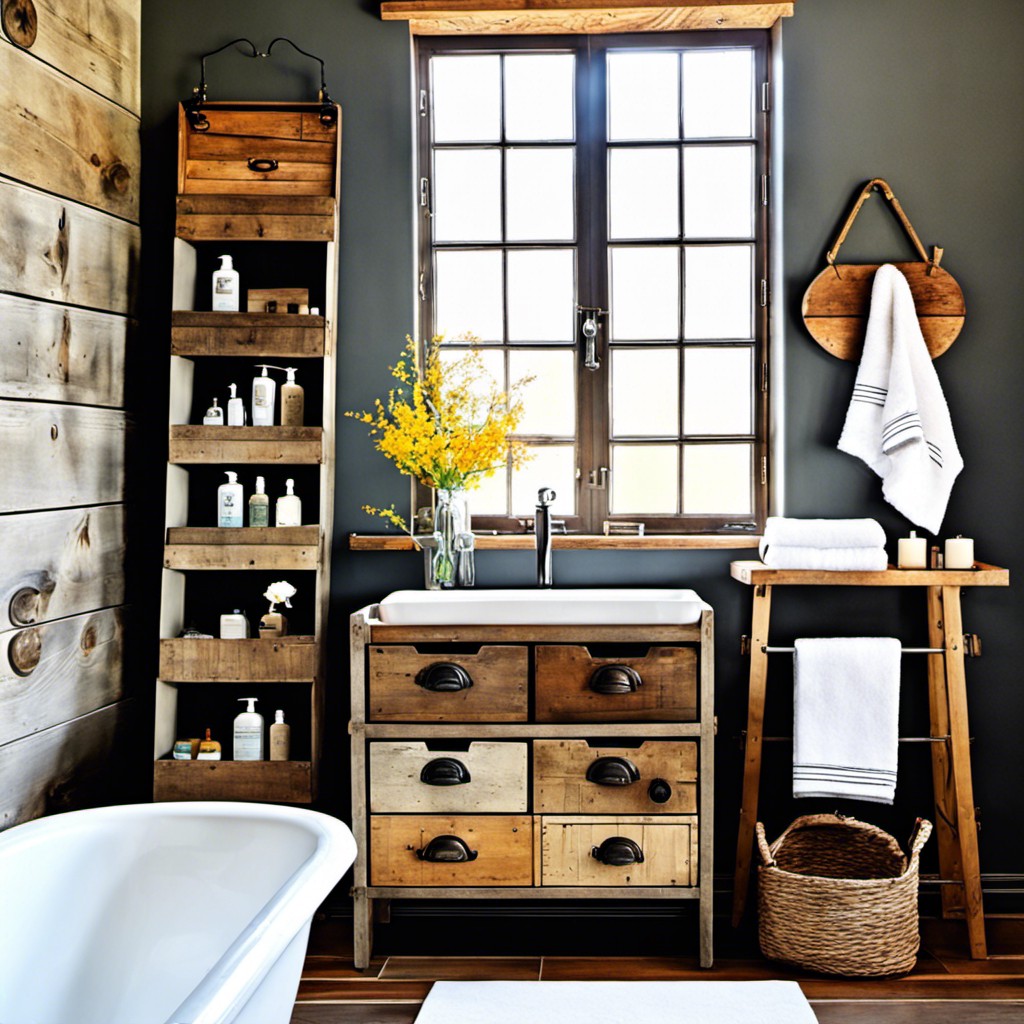 Venturing into the world of upcycling can lead to unique storage solutions. A wooden tool box serves as an ideal candidate. Its already sturdy construction ensures durability, while the worn-out look adds the much-needed rustic charm.
1. Versatility: This storage solution can fit almost any bathroom size. Whether you choose to place it on the countertop or mount it on the wall, it remains functional and aesthetic.
2. Storage capacity: The compartments designed to house tools work perfectly for storing toiletries, keeping your bathroom organized and free from clutter.
3. Customizability: Depending upon the original size and structure, these boxes can be repurposed just as they are or tailored to meet specific needs. The choice of refinishing, repainting, or retaining the original look falls entirely to you.
4. Money saving: Given that this solution involves reusing an old item, it's a highly cost-effective way of adding a rustic element to your bathroom.
Remember, this is but one of the many ways to inject character into a budget bathroom revamp. With a bit of creativity, you can find numerous everyday items that can be repurposed in similar ways.
DIY Rustic Wooden Bathroom Floor Mat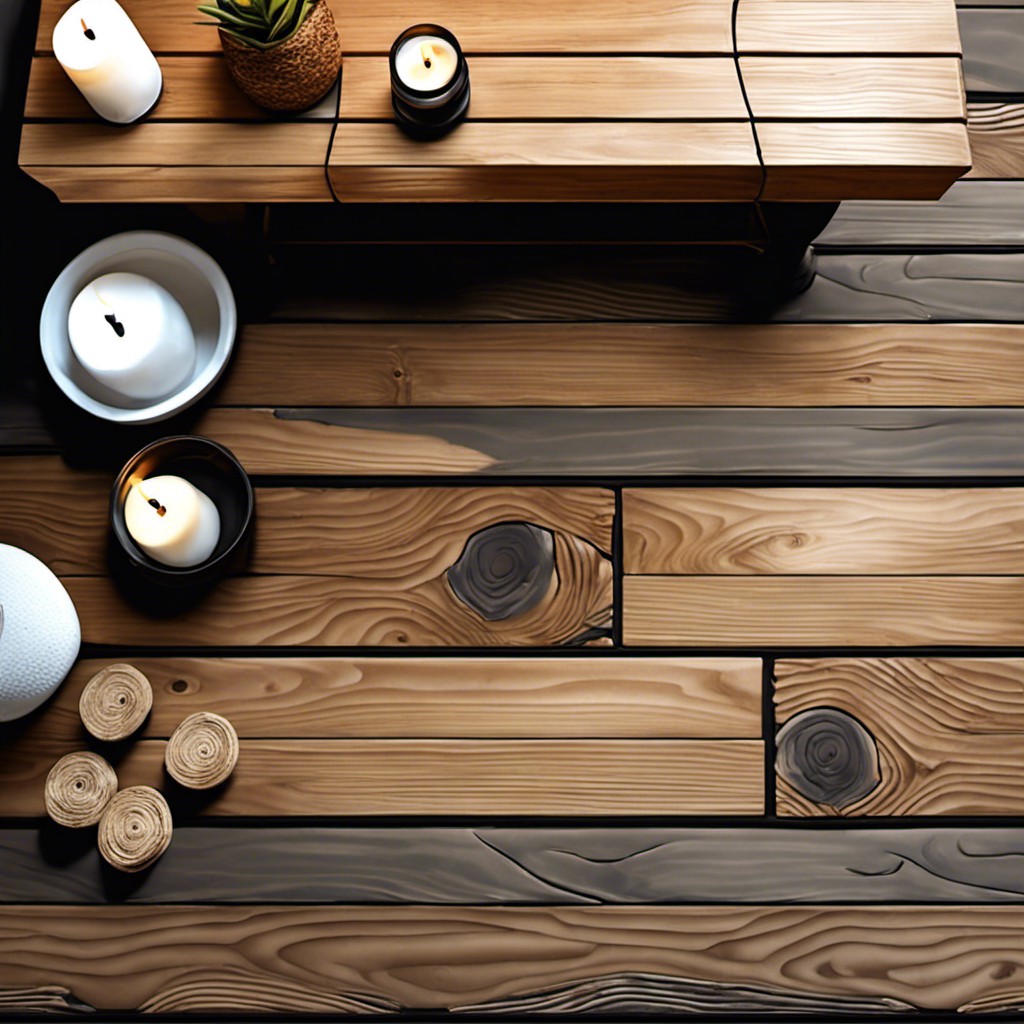 Bath mats aren't typically at the top of your decor list, but they certainly can add an unexpected rustic appeal to your bathroom. The durability and aesthetic of a wooden floor mat are undeniable. This DIY project is simpler than you might first assume.
Begin by gathering several wooden slats. Weathered or reclaimed wood is your best choice for a genuine rustic look. Measure, cut, sand, and finish them to your preferred size. Arrange these slats parallel to each other. The spacing between each slat should allow for water drainage – typically a half-inch will suffice.
Now, take two longer pieces of wood and fix them perpendicularly underneath your cut slats. This creates a 'ladder' like structure on which you've mounted your slats. Using rust-proof screws, secure each slat into these base pieces.
Remember to coat your finished mat with a water-resistant sealant. This final step not only protects your creation, but it also brings out the wood's distinctive rustic features. Moreover, it ensures your mat lasts under the typical wet conditions of a bathroom.
There you have it! A rustic wooden bathroom floor mat can add both functionality and a touch of rustic charm to your bathroom decor. And all within the constraints of a limited budget.
Paint an Accent Wall With Earthen Tones for a Rustic Look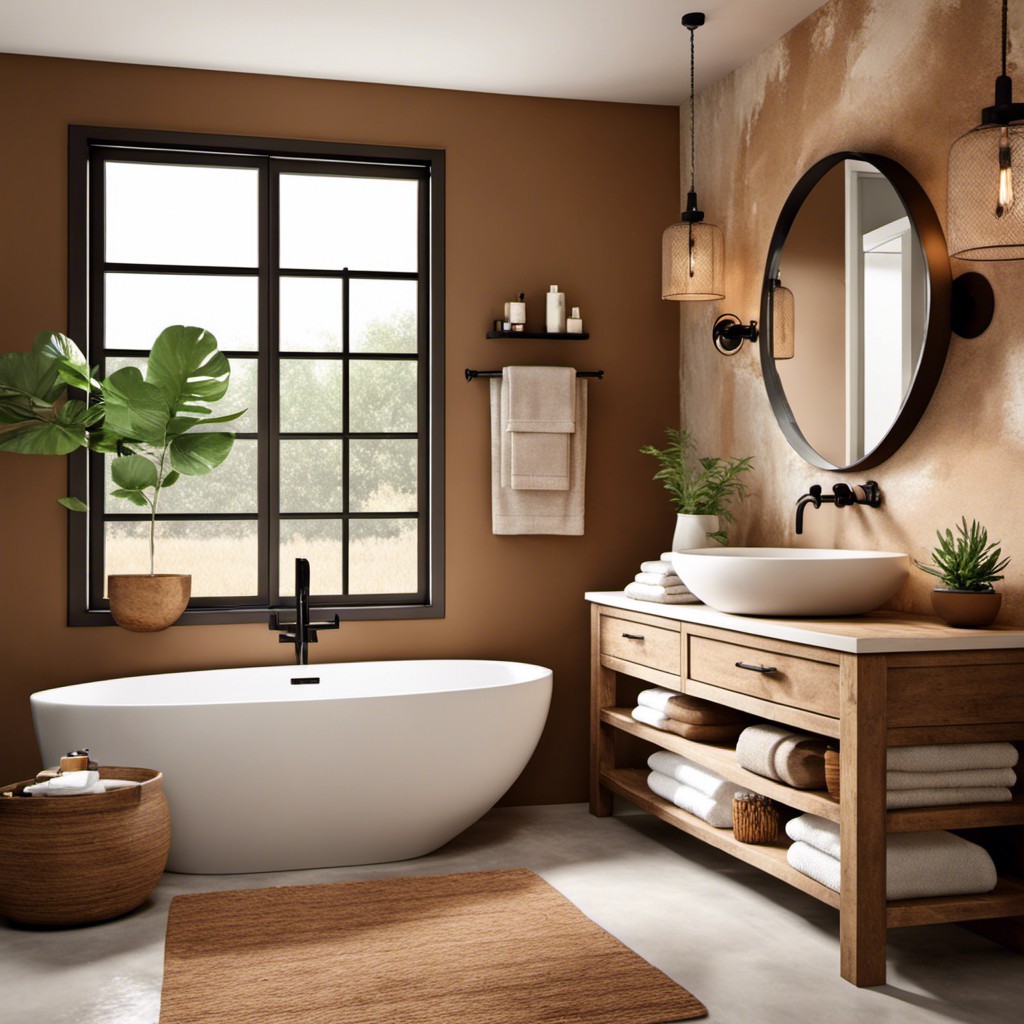 The beauty of earthen tones lies in the natural, warm ambiance they generate, making them ideal for a rustic bathroom design. Opt for colors that mimic the serenity of the outdoors – think sandy browns, mossy greens, and sky blues. Painting a single wall in such colors creates an adorable accent that's both striking yet not overwhelming.
To kickstart the process, choose a wall that serves as the bathroom's focal point, possibly where the mirror or sink is located. Use a high-quality primer to ensure a smooth paint application. Go for flat or eggshell finish for less reflective, more authentic rustic appeal.
Pair your freshly painted wall with neutral or white decor items. It contrasts beautifully with the vibrant wall, making it pop. Additionally, natural materials like woven baskets or wooden mirrors enrich the earthy flair.
Remember, it's one of the most cost-friendly actions to drastically uplift your bathroom. So, with a couple of paint cans and brushes, you're on your way to transform your bathroom space into a rustic haven.
Ideas Elsewhere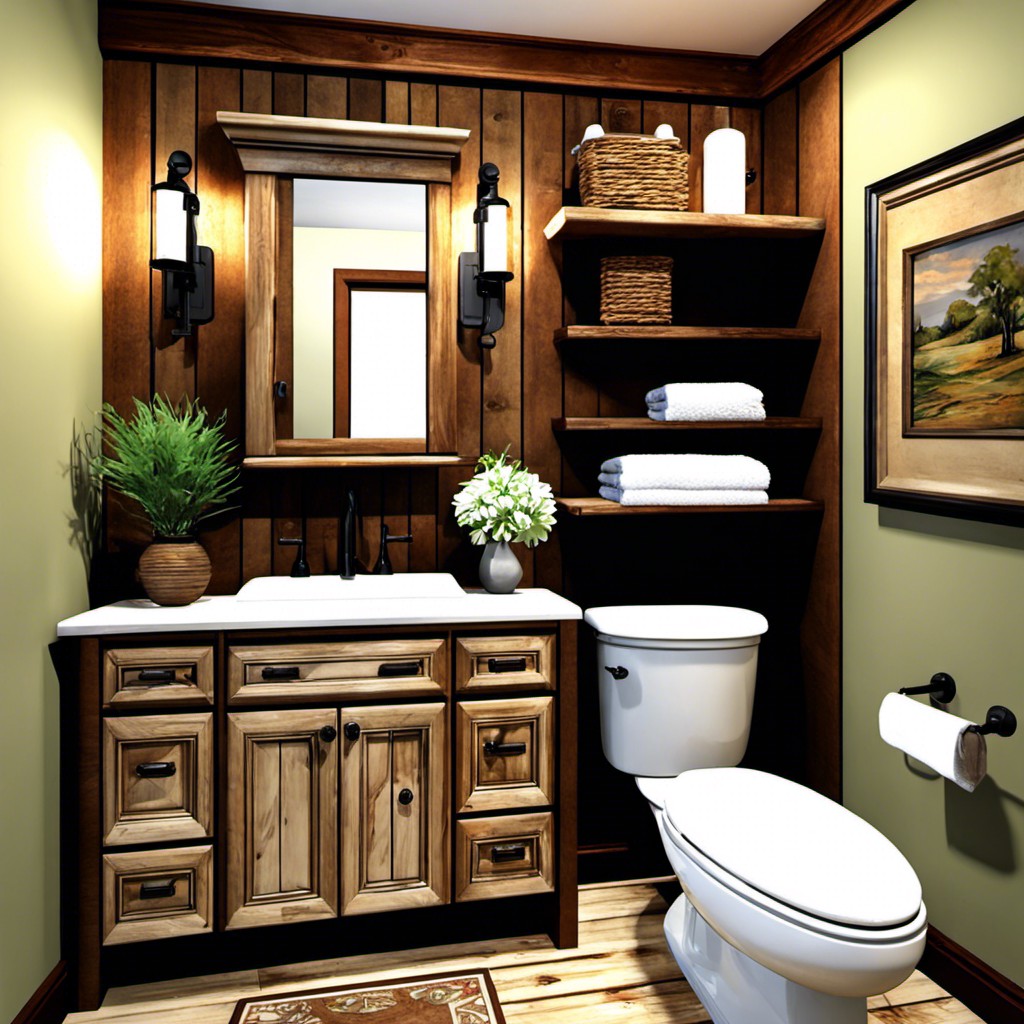 Recap
Liked this article? Here's what you can read next: