Last updated on November 12, 2022
Here are several ways how you can position your freestanding bathtub of any type in any bathroom. Read on!
Freestanding bathtubs, together with bathtubs that are claw-footed, have continued to be popular through the decades.
However, freestanding bathtubs, in particular, have been making a comeback. Today, you'll be able to find freestanding bathtubs in various styles, ranging from modern to unique designs.
It's also much easier to fit a freestanding bathtub into a smaller bathroom, which adds to its appeal. If you've got a smaller home, then a freestanding tub could be perfect for you.
Not only can you have a bathtub in your bathroom, but you'll also have more space in the bathroom that you can dedicate to other uses.
What Makes Freestanding Bathtubs So Popular?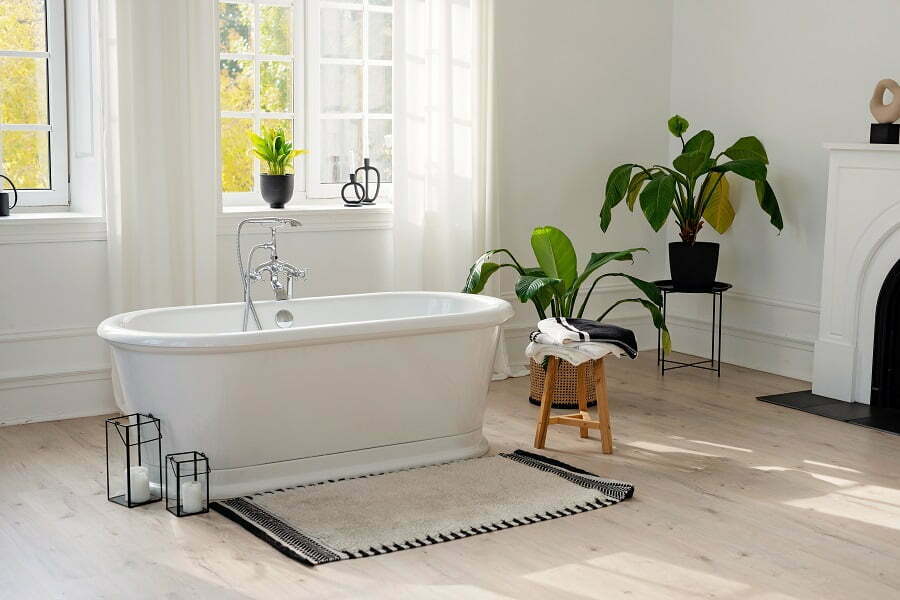 If you enjoy scrolling through social media or watching videos dedicated to bathroom remodeling, you may already have seen that many people are opting for freestanding bathtubs.
But what makes freestanding bathtubs so popular?
Viewed As a Statement Piece
If you want your bathtub to be a statement piece, then a freestanding tub is exactly what you're looking for. You can find freestanding tubs with intricate designs. When you go for a bathtub that is built-in, the number of options open to you is limited.
But when it comes to freestanding tubs, there's a broad range of styles that you can choose from.
Get the Spa Experience in Your Home
Homeowners today want to bring the experience that they get in a spa, to their homes. People find that soaking in freestanding tubs can feel luxurious, and enjoy having one in their homes.
Get More Space in the Bathroom
Freestanding tubs do need a lot of space in a bathroom, they also help the room look bigger. You'll also be able to free up space both around as well as under the tub. This makes the bathroom look less cramped.
Positioning a Freestanding Tub in a Smaller Bathroom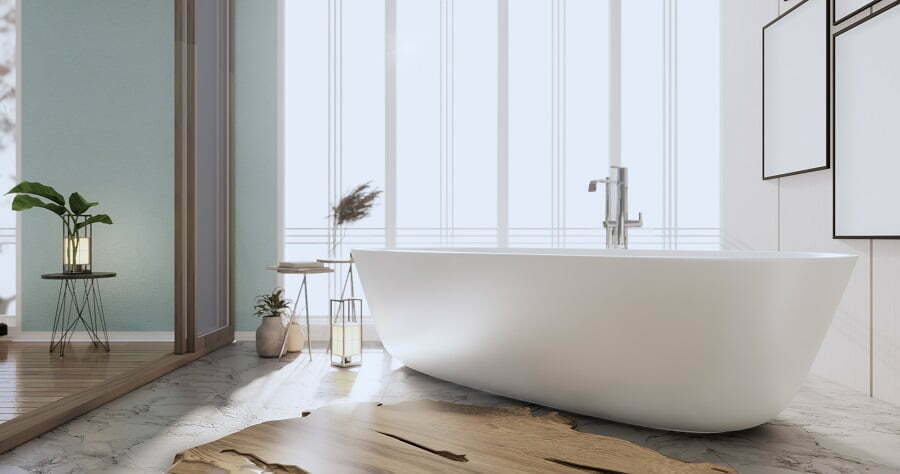 The Badeloft freestanding bathtubs are an example of some freestanding bathtubs that you can consider.
A freestanding bathtub can easily fit into smaller-sized bathrooms. Here are some ideas for placing a freestanding tub in a smaller bathroom.
Build a Kitty-Corner
When thinking about placing freestanding bathtubs, you can consider building a kitty corner. You can place your tub under the window in your bathroom, or against a particular wall. But when you're working with less space, consider building a kitty corner with your freestanding bathtub.
To create a kitty corner, simply place your freestanding bathtub at an angle, next to a window. This creates a nice flow in the room and the bathtub won't look like it was just shoved in a corner. You can add plants and other decorative items next to the bathtub, to make the area look more appealing.
Slipper Tubs
There are various kinds of tubs you can choose from. One of these is the slipper tub. A slipper tub is a kind of freestanding tub that's made to be higher either on one end or both ends.
The side portion of the tub reclined back. This means that you'll be able to sit in an inclined manner in these tubs. A slipper tub is also deeper, so you'll be able to submerge your body fully, but within a smaller space.
Pedestal Tubs
When picking the right tub for your home, you'll need to assess your needs first. Pedestal tubs can be found in smaller sizes, but they'll still be deep enough for you to submerge your body into. Pedestal tubs are a kind of freestanding tub that is easier to clean as well.
This is as your pedestal tub will sit on the ground, and you won't need to clean the area under it. When buying freestanding tubs, opting for pedestal tubs can be a good idea when you have limited space in your bathroom.
Install It in the Shower Area
You can also choose to have your freestanding tub installed in the shower area. You can have a glass wall installed that separates your shower and the tub from the rest of your bathroom. This way, you can easily accommodate your freestanding tub in a smaller bathroom.
The glass wall also helps the area look bright as well as more open.
Japanese Soaking Tub
You could also opt for a Japanese soaking tub, which is typically much deeper than usual bathtubs. In this kind of bathtub, you'll be able to sit up while being submerged in the water and have the water come up to your chin.
There are also soaking tubs that come with built-in seats. Not only will you be getting a deeper soak in this bathtub, but you'll also be using less water to do it.
The Takeaway
Freestanding tubs make great additions to smaller homes since they can easily be positioned in smaller bathrooms. Using the tips and tricks mentioned in this guide, you can accommodate your freestanding bathtub into your bathroom.
Recap
Liked this article? Here's what you can read next: