Last updated on March 16, 2021
Need a sleeper sofa or sofa bed to save space and accommodate sleepovers? Here's the top 10 list of the best sleeper sofas and sofa beds of 2021.
What's our choice for the #1 sofa bed? It's this sleeper with memory foam mattress.
Don't agree with our choice? Stay with us for more options and prove us wrong.
When you need more than a couch, you turn to sleeper sofas and sofa beds (there's a difference). They are great because they are multi-functional. And they are irreplaceable in small spaces. You can have visually appealing seating to accommodate guests, and at the same time, they can double as beds when you have overnight guests.
A sleeper sofa is a sofa that converts into a bed (that's why it's often also called a convertible sofa). It is basically a sofa dressed as a bed and is perfect for people who like to transform their living room into a bed-and-breakfast from time to time. Although there are many sleeper sofa styles, they all follow the same basic mechanism: a sofa that folds down into a bed. These are the most common styles:
The couch has a convertible backrest that can be adjusted to a vertical position to allow room for sleeping.
The bed is hidden inside the sofa when it is not in use. When it is time for a guest to sleep, the bed slides out from the sofa and is ready for use.
The sofa incorporates a makeshift bed frame that can be used with any traditional mattress.
All types of sofas can be sofa beds. That includes traditional couch, sectional, futon, loveseat, daybed. That means you have an endless choice of options.
Here's our top 10 list of the best sleeper sofas or sofa beds. When researching them, we made sure that they were not only well built, sturdy, and easy to use but attractive in their design too. Bringing one of them home you will not damage your decor, and you can choose the style to fit. We have updated this list for 2021, so you can be sure you're choosing from the latest options.
The shopping link included in this article earn us a commission. It doesn't cost you anything extra.
What's Inside?
Brittany Sleeper Sofa with Memory Foam Mattress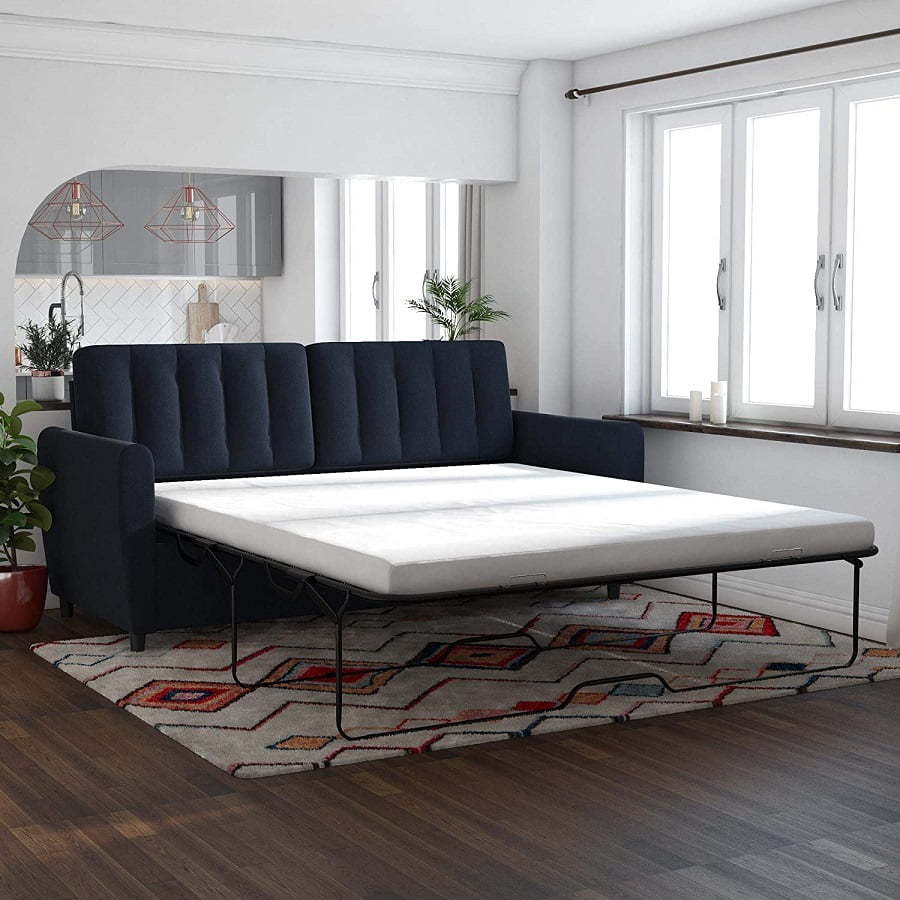 This cool sofa has a modern design with wide armrests, decorative stitching, and a tufted backrest that looks great. A memory foam mattress and independently encased spring coils will provide you with superior sleeper comfort. This sleeper sofa looks like a couch and feels so comfortable to sit on. It's sturdy (didn't think so?), durable, and quite easy to put together. A real fan favorite.
DHP Emily Convertible Linen Futon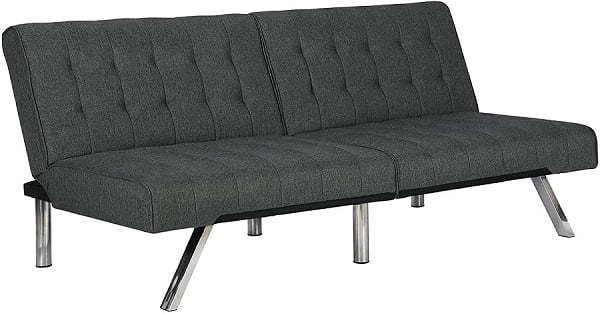 This sofa is one of the biggest bestsellers. It's a futon, but it has all the qualities of a good sleeper sofa. It will fit even the smallest living rooms and still provide plenty of seats and unfold into a roomy sleeper at night. The sleek modern design will fit your decor perfectly, especially if you're going for the minimalist look. It's also one of the most affordable options out there.
Derwyn Storage Sectional Sleeper Sofa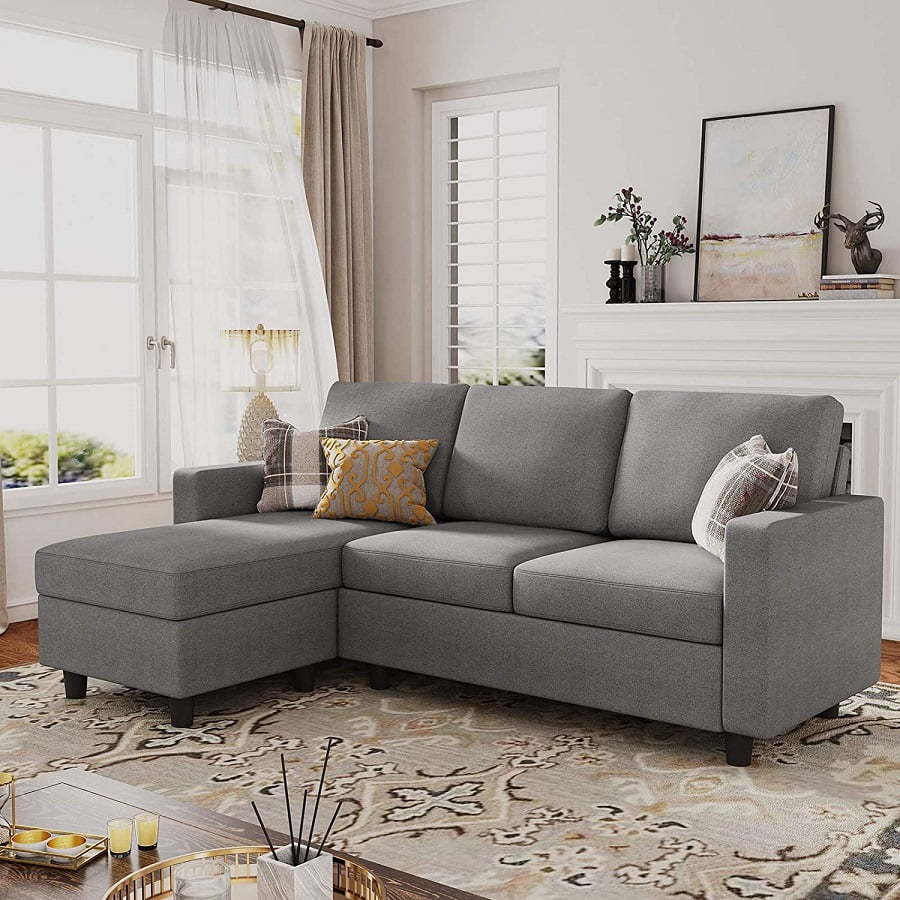 This sleeper sofa is as functional as they get. Not only it unfolds into a roomy sleeper, but it also has built-in storage and a chaise. It is quite compact and will take up reasonable space in a small room as a sectional sofa. The light linen fabric upholstery makes a neutral but attractive design that will blend in with your room's decor.
Tess Sectional Sofa for Corners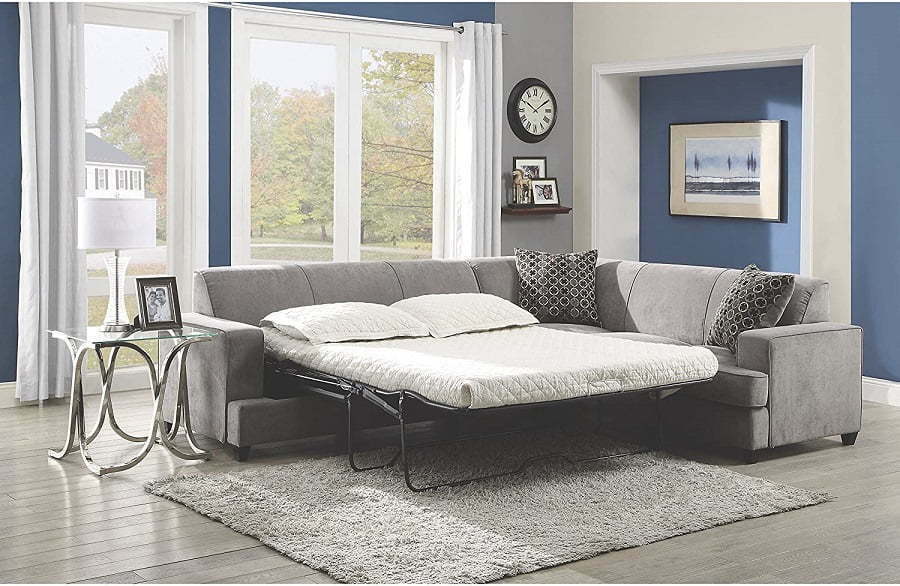 This sectional sofa is quite bulky so it may not be the best option for most small living rooms, but if you can afford the space, it's very well worth it. You can place it in a corner or in the middle of the room to divide the area. The sofa provides plenty of sitting space for quite a crowd to gather and it comes with a sleeper mattress that unfolds to a full-sized bed. It comes with three accent pillows and aims for a contemporary neutral design that will blend into your decor seamlessly.
Tufted Faux Leather Sleeper Sectional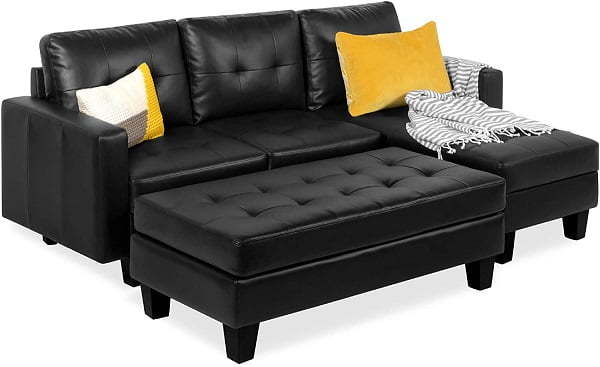 The tufted L-shaped sectional sofa bed goes for the more sophisticated look with its bulky design and imitation leather finish. It is quite bulky, requiring enough room space to spare, but its design is its key feature. It comes with a separate chaise lounge unit (that can be used as a coffee table or ottoman.) Putting the pieces together, it becomes like any sleeper sofa. Overall, it's not the most functional or practical sofa on the list, but if you're going for this look, you will love it.
American Furniture Classics Wild Horses Sleeper Sofa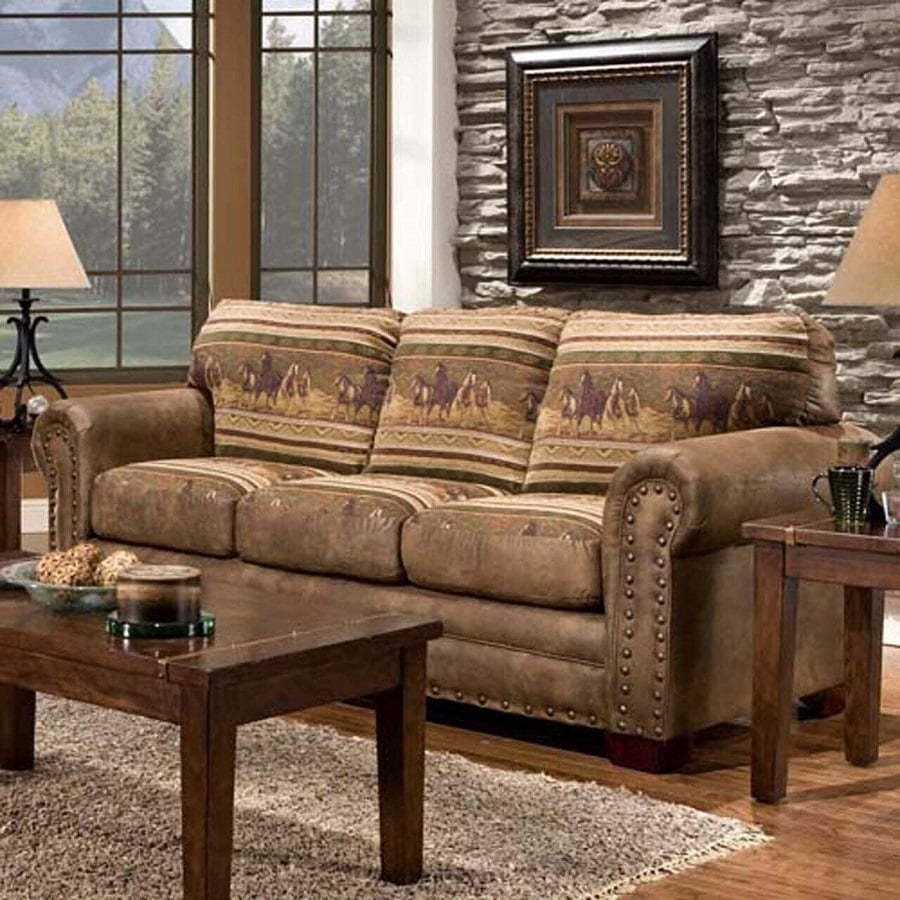 We always include something for those of you who like a unique design piece of furniture. It's is one of those times. This big bulky sofa is as comfy as it looks. And it looks unique, especially if you're going for a rustic or farmhouse style in your decor. The frame is made from solid wood, as are the legs, so it's as sturdy as visually appealing. It features microfiber leather-look upholstery with tapestry cushions and elegant nailhead trim.
Zipline Convertible Loveseat with 2 Ottoman Set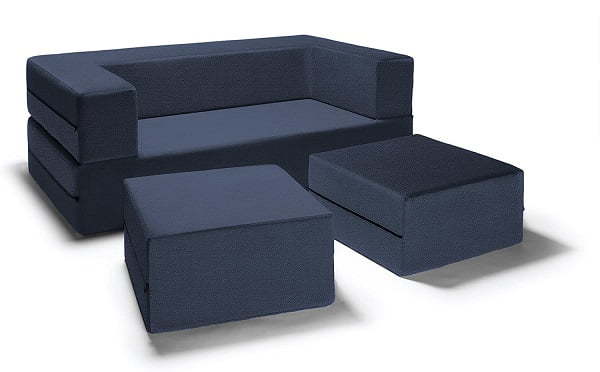 The Zipline convertible loveseat is one of our all-time favorites for many reasons. First of all, being so compact it is very functional and roomy. It doesn't take much space and fits even small rooms. The chic look and a choice of cover colors will make it work in almost any decor style. It unfolds into a full-size bed or a lounge day bed. We love this sofa bed for its versatility and style. There are many uses in different rooms of a house for it. It will work as a couch in a living room, in a playroom, or a teenager's room. Any doubts? It is quite low (4 inches lower than an average chair) and can be a bit too snug for a tall person. Other than that it's a great sleeper sofa for a reasonable price.
Mid-century Modern Sleeper Sofa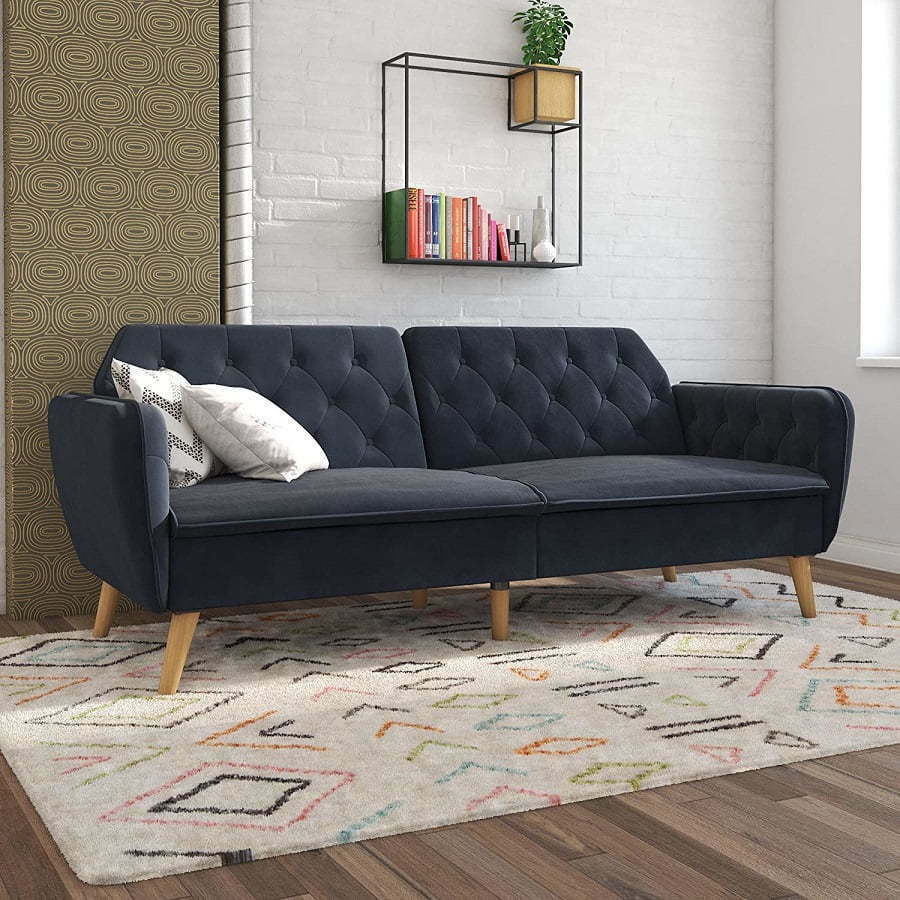 The mid-century style gives that airy look with the tapered elevated legs of this sofa, and it's perfect for a small living room. The design itself is attractive, with its subtle lines emphasized by a classic button-tufted upholstery. It is just as functional, unfolding into a sleeper easily and quickly. Stylish, affordable, and straightforward – often, that's all it takes.
Leather Memory Foam Sleeper Futon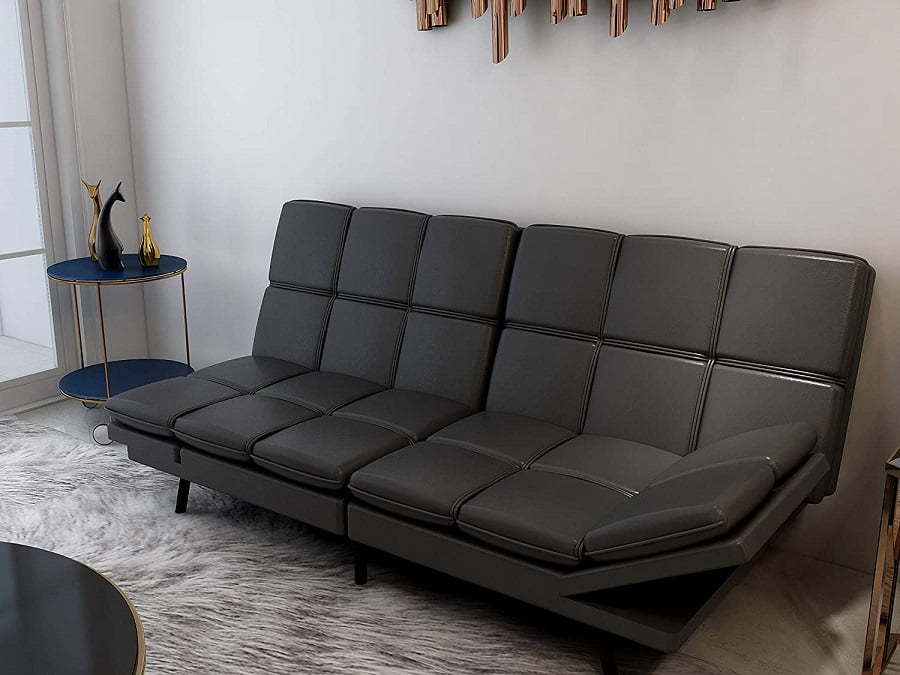 This sleeper sofa has a formal look to it, but it may be precisely what you want if you're looking for a sleek modern design. It is quite simple in its construction, but it does the job, and that's all you need from a decently affordable sofa that makes a great option if you're on a budget. It features elevated metallic legs, leather upholstery, memory foam padding, and of course a frame that converts into a bed—an additional feature of adjusting sides for lounging and sleeping.
Convertible Futon Sofa Bed with 2 Pillows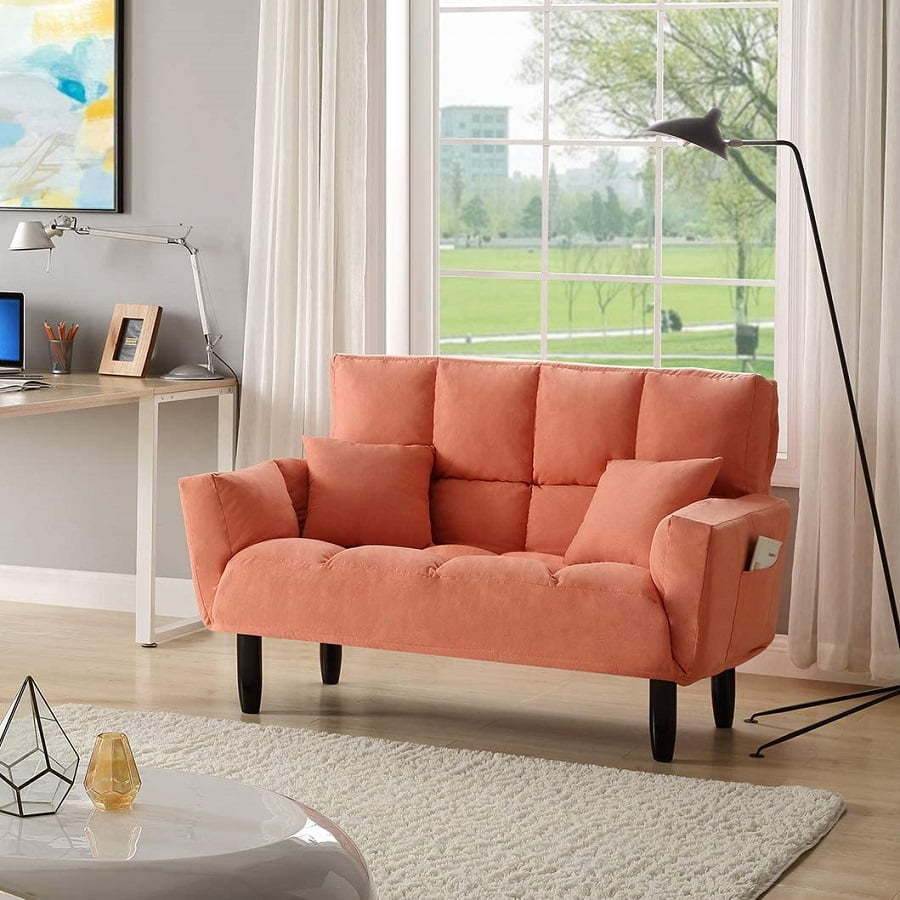 This futon sofa bed has a simple and stylish design with 2 soft pillows — it can fit into most home decor designs. Its round armrest is adjustable in 2 angles and creates a perfect modern solution to your small space. Use it in condos, apartments, dorms, and guest rooms. It is an excellent option for your home, office, and more. It comes in 7 distinct designs and colors.
FAQ
What is the most comfortable sleeper sofa?
Traditional sleeper sofas need to be comfortable. We are talking about sleeping on them, after all. The best comfort is provided by a mattress. So look for a sleeper that works with one.
Are sleeper sofas worth it?
If you want a functional piece of furniture above all, yes, they are worth it. Most traditional sleeper sofas (and many modern ones) will give you a functional couch and a bed all in one.
Why are sleeper sofas so uncomfortable?
Sofas that don't use a mattress will never be as comfortable as a bed. Some models simply unfold into a larger surface, but if it's only cushioned for seating, it will not be comfortable for sleeping.
Can you sleep on a sofa bed permanently?
Yes, especially if your sofa bed uses a memory foam mattress that makes it a genuine bed. You can find them as large as king sizes.
How can I make my sleeper couch more comfortable?
If you're not satisfied with your sleeper, consider using a mattress topper.
Liked this article? Here's what you can read next:
---
Disclosure: As an Amazon Associate we earn from qualifying purchases.