Last updated on November 26, 2020
Looking to print fine art on paper of wall art or to sell on Etsy? Here's the best paper for art prints, the 2021 edition.
► Our top choice: PPD Inkjet Art Paper
Does this sound familiar? You find a picture on your computer or phone, and you think it would make a nice piece of art on your wall. You print it on your printer, but it looks like something you'd found in the garbage and hung it on the wall. It's blurry, washed out, and plain ugly. What happened?
Many things went wrong, and the selection of paper is not the least important one.
If you know what Giclee is, you probably already have your favorite brand of art print paper (it's Hahnemühle, isn't it?) But if you don't know the difference between your regular 4-color inkjet printer and an archival pigment-based 12-color art printer, you'll definitely use this list.
Now, you don't necessarily need an art printer to print on this paper (though it certainly makes a difference, and you'd need it if you're going to sell your art on Etsy). But you need a good choice of paper to make at least look like, well, art.
You will also need to make sure you print a high-quality image (at least 300 dpi, better yet 1440 dpi) — it may look good on your phone, but that doesn't mean it will translate well into an art print.
Finally, though it may seem funny at first, you need to make sure you print on the right side of the paper. There's a difference, and you can get it wrong (guess how I know). The right side is usually indicated in the instructions albeit it may not be immediately obvious.
So here we've picked some of the best paper for art prints that you can use to produce your wall art. Shopping links are included (we get a commission for this at no extra cost to you).
What's Inside?
Velvet Paper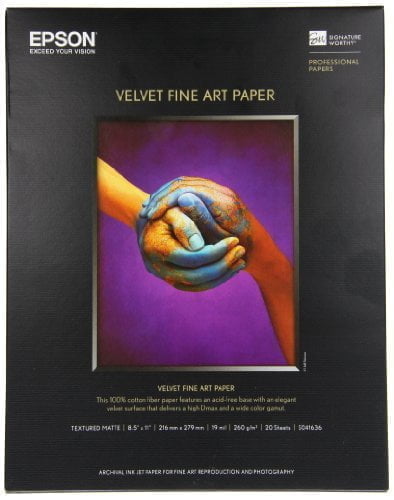 Get this paper for fine art prints that can range from light to black/dark tones. Note that it's important to use the right side of the paper when printing it with your printer. If it doesn't work right try to flip a fading print on the other side. That should do it. From the first look both sides of the paper don't seen so different, but please follow the directions to use the front side in the package sleeve. Depending on what you print, it can make a huge difference.
PPD Inkjet Art Paper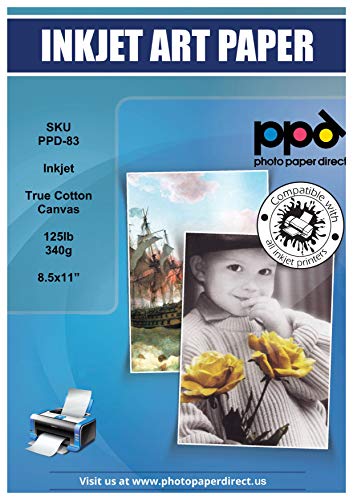 You don't have to be an artist nor have a high-end printer to produce art with this paper (that's why it's our top choice). It produces spectacular and vivid colors. There's nothing to compare it to the standard paper or photo paper. This paper will create a masterpiece even if you use it in a low resolution.
Read the instructions as the setting of the 1440 dpi resolution on your picture makes a big difference. The PPD Inkjet paper is 100% exactly what they promise. Moreover, it is easily packed and delivered.
Canon Luster Photo Paper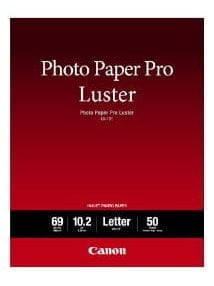 This paper is as high quality as Canon Semi-Gloss. The Canon's logo is not on all sides like other Canon paper. This is more consistent with higher-end artwork brand paper, such as Hahnemuehle, Ilford, Red River, Moab, Inkpress, Innova, and so on. Actually, this Canon Luster is actually created by Hahnemuehle.
Cannon Matte Photo Paper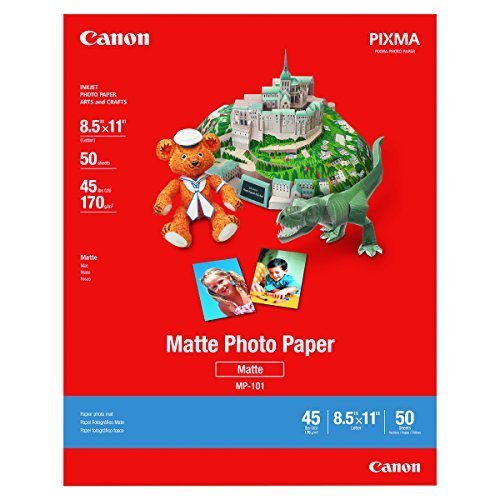 If you aren't too impressed with the first photo you print, submit the same piece back to the other side, and get it printed 10 times better. You can print a wide range of your images with the paper to produce wall art. You will be pleased with the quality because if you try do the same with ordinary paper you will end up with weird lines and dull colors.
You can even use it to print birthday cards. We do not believe that you can get anything better for home images or greeting cards at this price.
Epson Matte Presentation Paper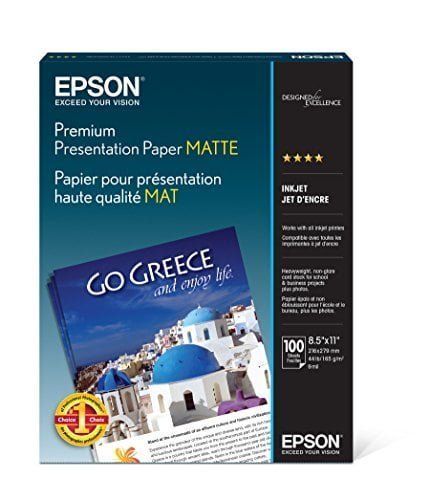 We recommend this paper to anyone who wants to print cards, or present art. This paper has a lovely crispness that we love and gives a nice surface to print cards on. Get this matte paper to print your works on it and to make greeting cards to sell in your Etsy store.
This paper also isn't double-sided. The printing quality will be average if you don't get the side right. Turn the paper around and print it that way, you'll find the results to be fantastic. Just make sure you print on the raw side of the page, not the smoother side. The smooth side appears somewhat yellow, while the non-smooth part is crisp white.
Arctic Inkjet Paper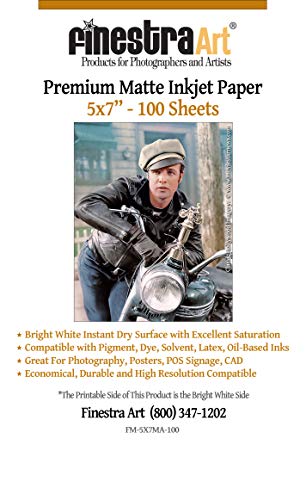 Recommended for art prints. Excellent consistency and matte. However, it is tough to find out which side you use. If you open the box with the seal on the paper being on the right, the way you take it out is how you use it. Or you can just evaluate the two sides. When writing on it, the right side would be more pigmented.
Hahnemühle Photo Rag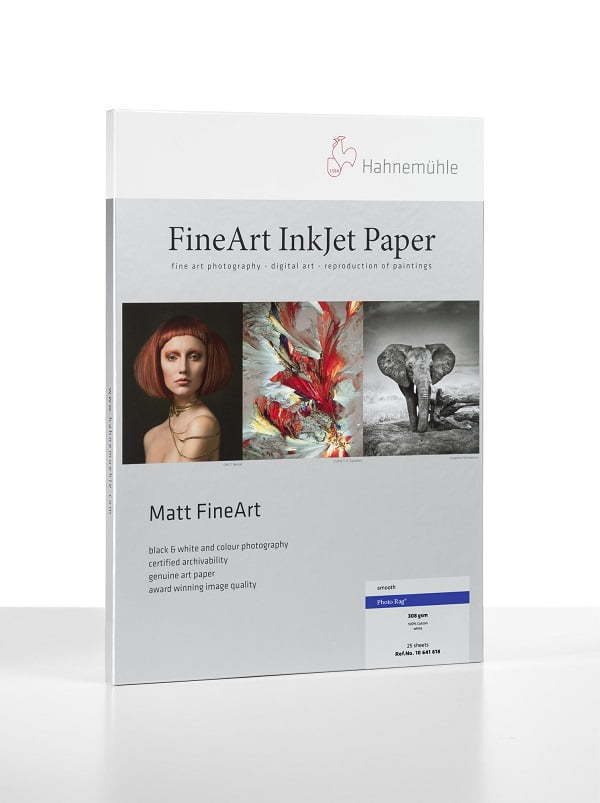 Hahnemuhle is the staple of fine art prints, albeit the most expensive option. You will love this fine art printing paper, though. If you do a lot of painting and sell prints on Etsy, you will find this paper invaluable. It's a really dense, good textured paper. Both images and sketches are printed on this paper look fine.
UltraPro Satin Paper
You must have UltraPro Satin in your paper inventory if you print fine art. It produces professional results and works with almost any picture. The UltraPro Satin looks like the photo laboratory satin — a surface with a light texture that breaks down reflections and reduces fingerprints. The medium-depth texture of UltraPro Satin is the right amount to boost your prints without distraction.
A brilliant, bold white, it's perfect for deep blacks to replicate and contrast. You can see a wider variety of colors and smooth tonal transitions. Your images in black and white will be neutral and crisp.
Hahnemuhle Museum Etching Paper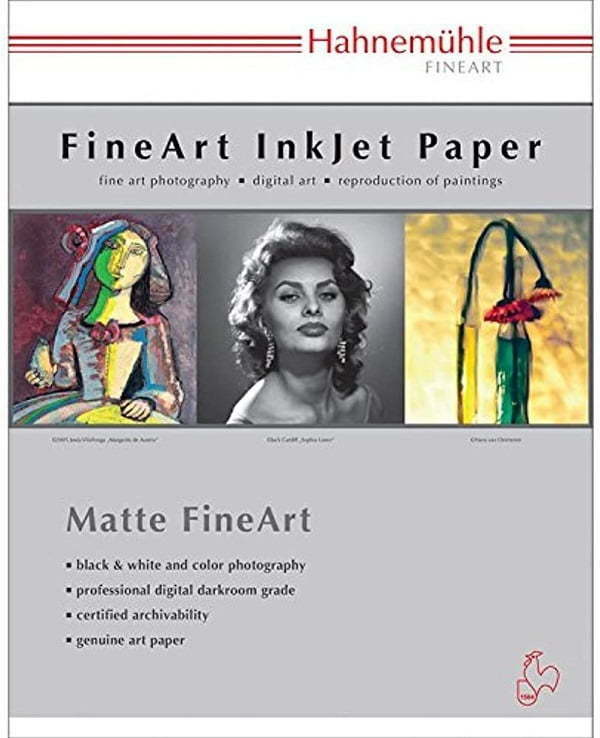 Another great paper for art prints from Hahnemuhle. It's 100% rag fine art paper with subtle surface texture. The natural white paper will make printed art stand out.
Moab Entrada Rag Paper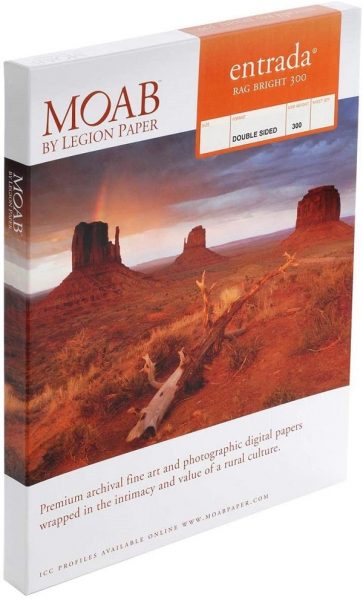 You can use this paper for printing aquarelle or acrylic paintings. The paper is the best option for this. It feels like a canvas, really dense. The texture is a little matte and sandy, nor too textured, so the printing ink is evenly made. The double-sided printing is simple to use. The colors are vivid and dynamic.
FAQ
Is cardstock good for art prints?
Yes, cardstock can be used for art prints for home use. But you won't use it professionally (to sell on Etsy). Its purpose is for postcard printing but the quality and contrast is good enough to print art as well.
What is archival matte paper for art prints?
Archival matter paper is an excellent option for art prints with a 12-color pigment-based inkjet art printers.
Should art prints be glossy or matte?
Matte is the popular choice as it doesn't have glare. Although you can use a glossy paper, especially if you want to print photography.
How can I get high quality art prints?
To get a high quality art print you will need a high quality art printer, paper for art prints, and a high quality image.
What's the difference between an art print and a poster?
A poster is mass-produced for widespread consumption. Meanwhile art prints are produced by artists in limited quantities which makes them much higher quality.
What is the difference between photo paper and fine art paper?
The main difference is the quality as photo paper doesn't need to be exquisite for mass consumption. Meanwhile fine art prints require much higher quality to produce high-contrast vibrant prints.
How thick are art prints?
Paper thickness varies. Generally, you want thicker paper for fine art prints which is usually in the range of 300 to 400 gsm. For comparison, the regular office paper is 90 to 120 gsm.
Liked this article? Here's what you can read next:
---
Disclosure: As an Amazon Associate we earn from qualifying purchases.