Last updated on February 8, 2022
Looking for the perfect floor sofa? Let us help you with that. We've made a list of the top 10 best-rated floor sofas in 2022 for you to choose from. Which one is the best of them all?
We've chosen this adjustable floor sofa as our editor's choice.
The first time I used a floor sofa was back in college. Actually, it wasn't even a real couch. We used old car back seats as a sofa for the poor bachelors that we were. If you think about it, it fits the description!
It just proves that floor sofas are cheap, easy to move around, and perfect when you need extra seating or sleeping space in small rooms and areas.
It's also a great lounge option to relax when watching TV or playing video games. Kids love to play on the floor too, so it's an excellent option for them to enjoy.
Let's not forget the decor value too. You don't want to mess it up with an odd piece of furniture. So your new floor sofa has to fit in your interior as well. That's one of the many criteria we've covered by picking the best sofas.
Although more popular options are at the top, our list is not ranked. We've tried to find and examine floor sofas for different needs so that you have something to choose from. Check it out.
As a note for transparency, we are compensated for purchases through clicks on links labeled #ad from our partners. This comes at no expense to you and doesn't influence our picks in any way.
So, which one of these will you move about your home?
Adjustable Modern Floor Sofa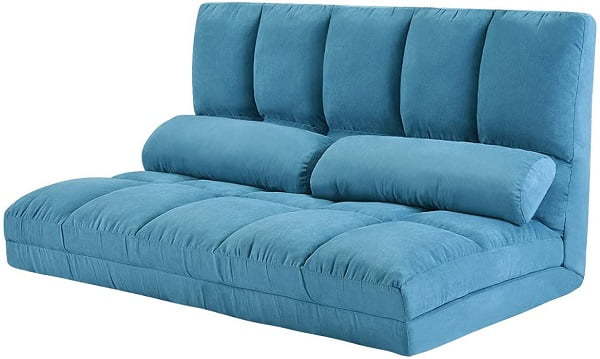 This small modern floor sofa fits many needs. If you have limited space where seating (or even a sleeping area) is needed, you've found an excellent affordable option. You can use it just about anywhere, from the living room to bedroom, to a dorm room or even a balcony. The sofa folds easily and has several setup options (5 levels).
The upholstering is made of soft fabric, which is comfortable and easy to clean. The adjustable design is slick modern, a great fit in any contemporary decor.
Giantex Leather Floor Sofa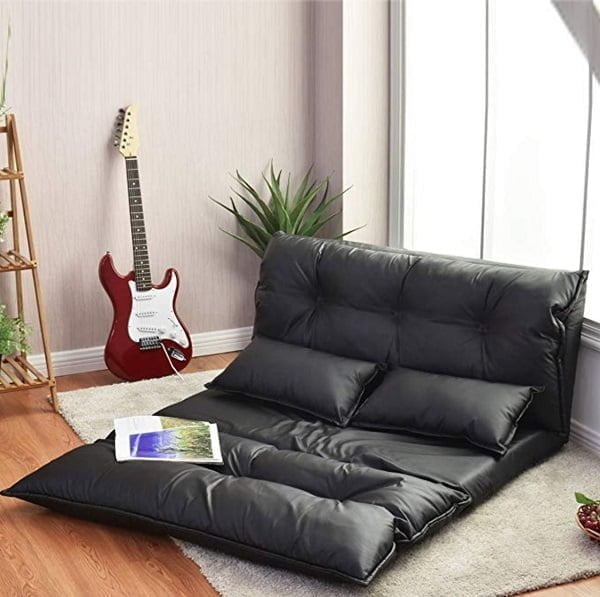 This floor sofa is excellent if you need something small but sturdy. You'll add extra seating to your living room, and the couch can also fold out into a sleeper. You can put it away when not used as it's very lightweight.
The sofa has an internal steel frame for durability. It's stuffed with foam and upholstered with PU leather, making it easy to clean. All in all, it's a very versatile piece of furniture perfect for small spaces.
It's a high-quality product fit for small spaces and big rooms. With great customer reviews, it's a sensible choice.
Giantex Adjustable Lazy Floor Sofa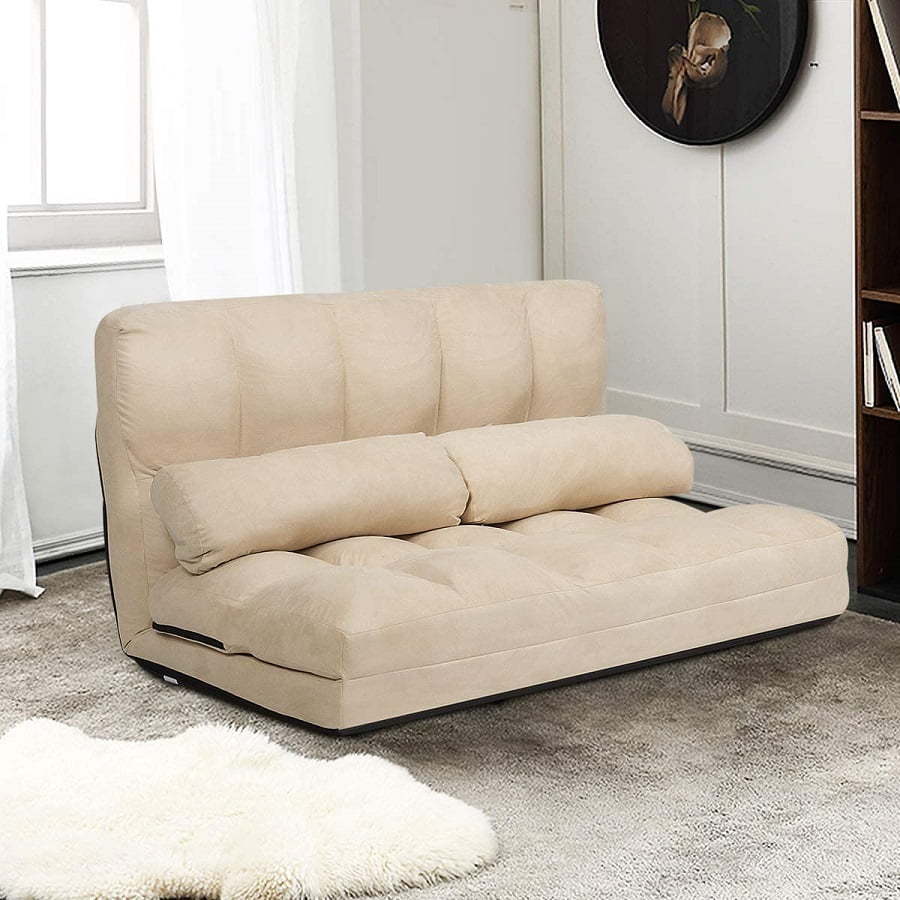 The Giantex's Lazy sofa will give your small living room a facelift as well as extra comfortable seating. It's a comfortable lounger with cushions that can be transformed into a sleeper when needed. It has six adjustable positions to work for all purposes, from watching tv to playing video games or just chilling out.
The soft suede fabric of this sofa is comfortable and easy to clean. However, you won't bring it outside unless temporarily during great weather. Otherwise, it's lightweight enough to be carried around the house.
The design style wins it. And the extra cushions are a nice icing on the cake.
Lazy Floor Futon Sofa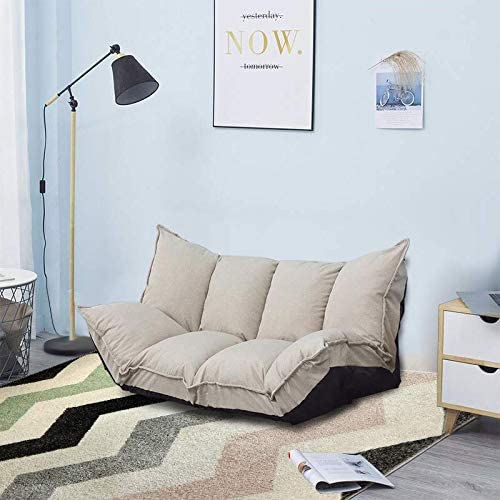 This is ideal if you need more seating for hosting friends and family, but you can't spare the room for long periods of time. You can neatly store it and pull it out as needed. It's also nice for a cute minimalist apartment — the color suits well with the sleek-looking decor.
You'll be shocked it stands on its own, which is a plus — you can put it anywhere to lounge. This would be so cool to have at the end of summer, where you'd watch movies outside and take this out.
It feels really nice and easy to sit on. It has excellent back support and does not lean over. Overall, this product is very light and good indoor and outdoor. It's effortless to clean too.
Folding Memory Foam Sofa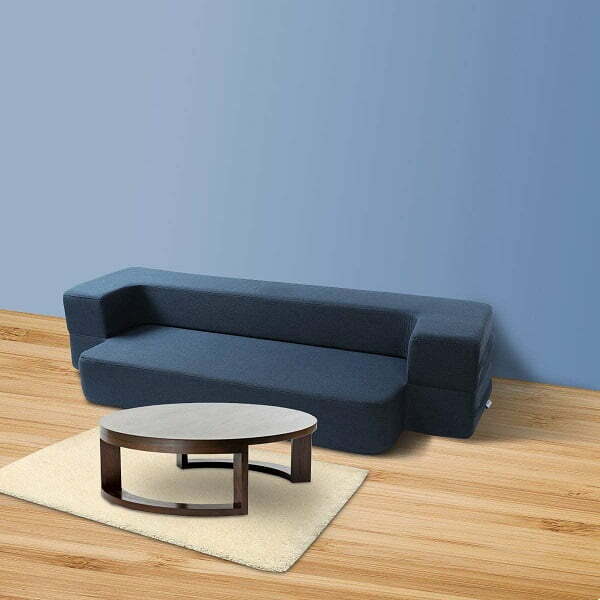 Looking for something modern and unique for your home decor? This floor sofa will undoubtedly make a great conversation piece. It's highly functional and visually attractive with its foldable design and rounded corners.
This floor sofa is made entirely of memory foam. So it is actually a giant mattress that folds into a sofa, a lounge chair, or a guest bed. Compared to other foldable mattresses, this one looks like a real sofa when folded. So it offers good visual value as well as multi-purpose.
One more big pro of this sofa is the machine-washable slipcover. Any spills and stains will wash away quickly, making it great for kids. It is lightweight, making it easy to transport, but it's also a drawback because it is too easy to push it around unwillingly.
Folding Mattress Floor Sofa Bed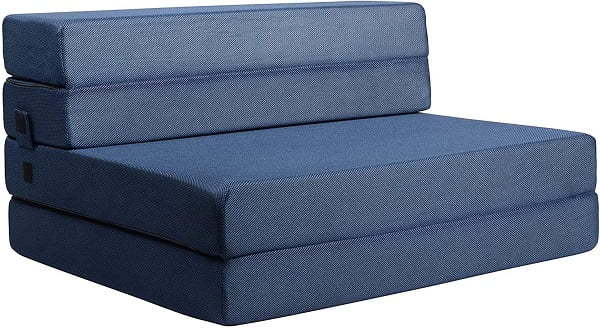 These tri-fold mattresses are by no means heavy. You can pick it up and move it around quickly. The cover is tough and sturdy, and the seat is well built. This is highly recommended for a den, loft, lounge, children's room, student room. The best part is that it folds out into a perfect bed.
The mattress is lightweight, easy to fold, and easy for trips (you can take them with you in a minivan). It has no support as a couch until you prop it against a wall, but it feels much more comfortable than a bean bag chair. It can be partially folded for various sizes or stored on a 4″ bottom when not in use. It does not replace a sofa but feels very comfortable with loungers and TV sets.
Japanese Style Small Floor Sofa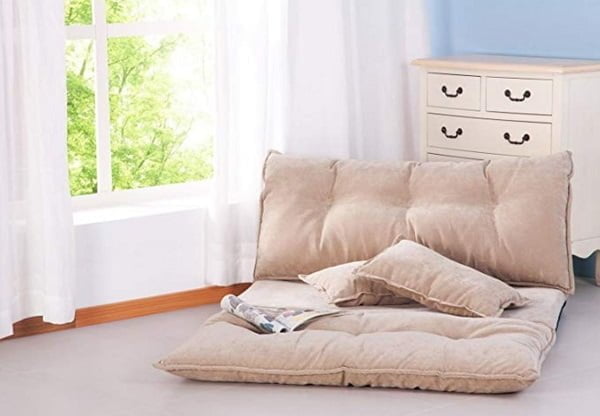 This small floor sofa is suitable for one adult, so it's more a lounger than an actual couch. But if you need just some space to chill out, read a book, or watch TV in minimal space. The comfortable minimalist design and style will make you fall in love with it.
We were looking for Japanese style floor sofas, which is one of the closest available options. Albeit it's tiny, the design makes up for it. The upholstery fabric is soft coral fleece, and the filling is very plush. The frame has five adjustable positions.
Why it's our pick? It's a great space saver in an attractive modern design. It has great customer reviews.
Faux Fur Floor Chair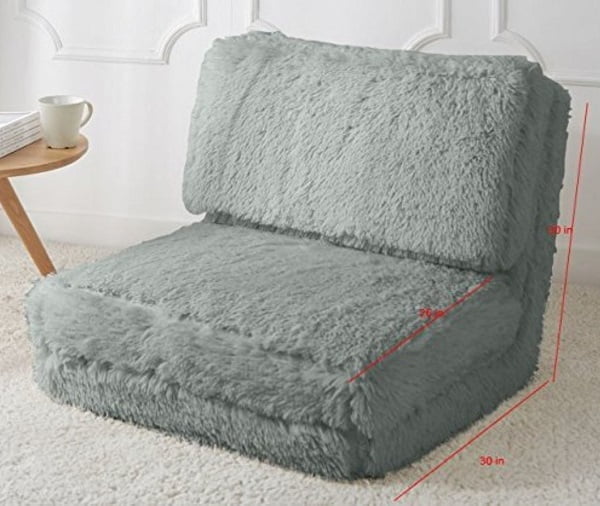 We realize that you may need more options for tiny spaces, so we've added another option that is more of a chair than a sofa. Since a small piece of furniture will fit one adult only, you may want to choose a lounger chair anyway.
The faux fur design is a lovely decorative accent. It's a well-designed product that's multi-functional, lightweight, and versatile. So you'll be able to place it or move it anywhere around the house.
Why it's our pick? We like to have different style choices for home decor. The faux fur look is a classy accent that your home may need.
Compact Adjustable Floor Lounger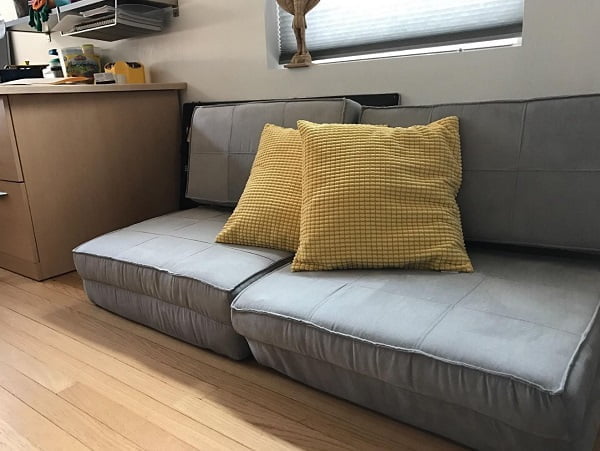 We wanted to add something very compact and mobile to this list. Something that you'd be able to take with you in a car, easily move it around, and use as seating or sleeping space anywhere you need. This floor lounger is that kind of product.
The only caveat is that the fabric is not waterproof, so you'll be able to use it outside only during good weather. Otherwise, it's a great mobile lounger, bed, sofa, chair, or workstation.
Why it's our pick? It's very compact and mobile—an excellent choice for someone on the move.
Large Bean Bag Floor Sofa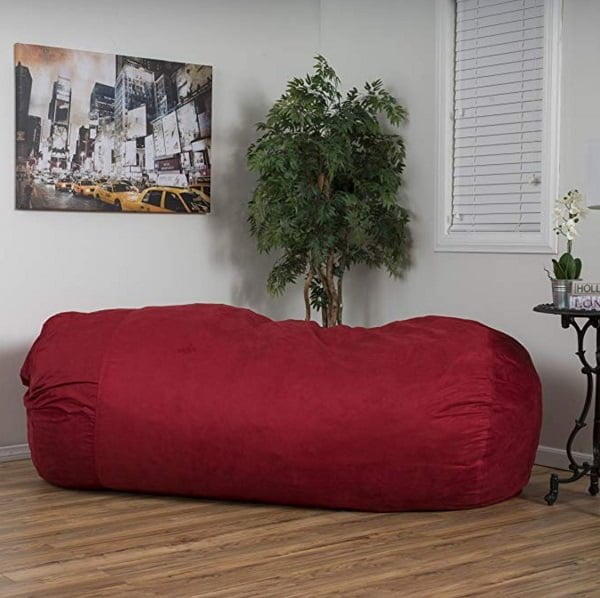 Anything floor seating-related has to include bean bags. They're perfect when you need something relaxed and don't mind much decor value, especially when you can get something as big as a floor sofa-sized bean bag.
So this is your regular bean bag that's large enough to work as a small sofa. It will give you some extra seating space and be comfortable enough to chill out in. Everything else is as much as you'd expect from this type of furniture.
Why it's our pick? It's a decent large bean bag with high customer ratings. And it works as a floor sofa.
Recap
---
Disclosure: As an Amazon Associate we earn from qualifying purchases.
Liked this article? Here's what you can read next: