Last updated on July 6, 2022
Here's what microcement is, its types, and its advantages in home renovation and construction. Read on!
Microcement has been on everyone's lips since several renowned architects began to use it in contemporary projects of international importance. Since that paradigm, its use has multiplied throughout the industry.
This style of cladding offers multiple advantages over other types of materials. Microcement is formed through a specific mixture of cement, certain resins, and some minerals that change the color of the application.
What's Inside?
Where Is Microceent Used?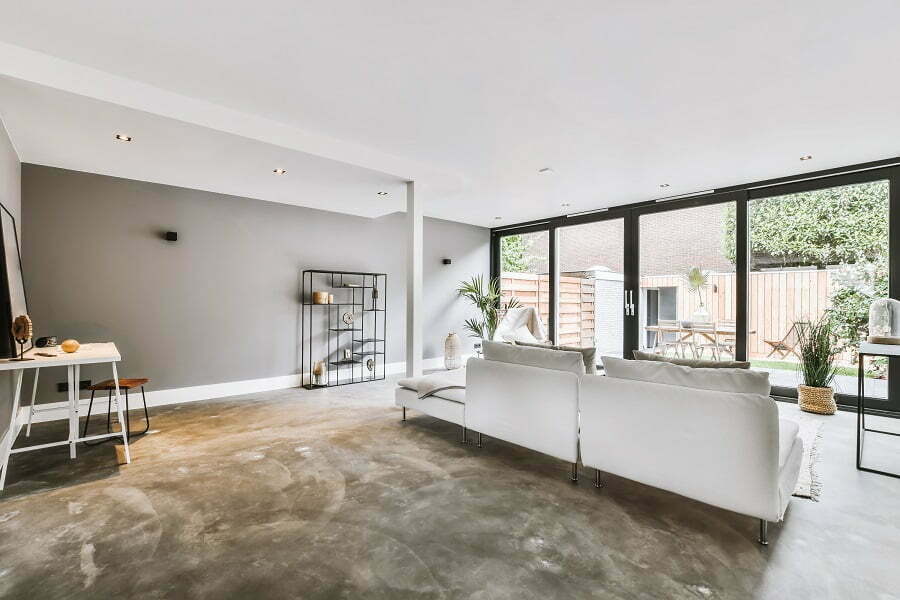 Because it is so volatile and dynamic, it allows its usefulness to be variable on walls, ceilings, or exteriors.
This material can be molded through different finishes, thicknesses, and colors. Precisely, its applications are unique and unrepeatable, which adds an important degree of value to its materialization.
The wide range of possibilities it offers has become a favorite of modern architects. The minimalism provided by its aesthetics collaborates with this format of new constructions that continue to appear in the main cities of the world.
Moreover, as it is a very resistant and malleable covering, it is used in renovations, as it is not necessary to remove the old to dress it with microcement. The polymers that are part of its formula allow it to be laid on damp surfaces without suffering consequences.
That is why it can be found in bathrooms, and swimming pools, and does not suffer setbacks due to rain or various storms.
Types of Microcement
At the same time, there are different types of microcements on the market. Depending on certain details, these types of coating solve different problems in each particular case.
That is why we recommend that you inform yourself before deciding which finish to choose.
Microfine
Classic microcement is also known as microfine. It is one of the least resistant, which is why its application is recommended in areas that do not suffer traffic, blows or heavy structures; especially for walls. Being smooth and soft, it replicates a design concept, more aesthetic than functional.
Microstone
Microstone is the microcement recommended for outdoor areas. It has an anti-slip and anti-humidity surface, which is vital for this type of environment. In addition, as it is textured, it represents a highly resistant friction, which does not depend on major maintenance to be maintained over time.
Micro-concrete
Another option that is emerging is the famous micro-concrete. This is used specifically for public pavements. As it depends on heavy traffic, it is the microcement with the greatest resistance. It has also begun to be used in premises or businesses that require this type of strength and firmness.
Last but not least, we can find aquaciment. This is one of the novelties on the market, and due to its resistance to chlorine and water, its use is specialized in surfaces that require this stability, such as swimming pools or washbasins.
Advantages of Microcements
Beyond its many styles and formations, the most important thing about microcements is still the great advantages that distinguish it from other types of materials.
Here we bring you the 7 most significant ones for its application.
Decorative design and aesthetic value: As it has no joints and is continuous, it is very clean and attractive to the eye.
Cleanliness: It is very easy to clean its surface. Whether with neutral liquids or cloths with water, extending the useful life of the elements that make up the microcement and its subsequent varnishing or waxing.
Colors: The great diversity of shades that can be generated, meet any of your expectations. Each finish is particular and hence its design 'look'.
Installation: It is easy to apply. It is also usually done quickly, but it is recommended that a professional do it, especially to handle the edges and finishes.
Waterproofing: As we said before, when we talk about microcement, it can be covered in bathrooms or kitchens. The aquacement enhances this quality to the maximum.
Price: In terms of economy, it represents a great option in terms of the quality/price ratio. Moreover, as it does not require extensive maintenance, it also saves money in the future.
Resistance for exteriors: It does not alter its composition and does not change the sight, either by scratches, blows, or the incidence of solar rays. In addition, it has a great anti-slip power thanks to its adherence, a necessary ability for this type of space. It is perfect for floors on patios, terraces, or other outdoor buildings.
Liked this article? Here's what you can read next: