Last updated on December 4, 2021
Looking to buy a new coffee table for your living room? Here are seven things to look for in choosing one online. Read on!
Coffee tables are available in various designs and sizes. When you shop for them, it helps if you know the size of the area where you plan to place them. There are a variety of shapes and styles: round, oval, square, rectangle, etc. The size and shape of the area should also be considered before buying one.
The color and material used to make the coffee table is another factor that needs to be taken into account, and it can be made from various materials like glass, wood, and marble. You can choose your preference as per your living room's theme or individual taste.
Style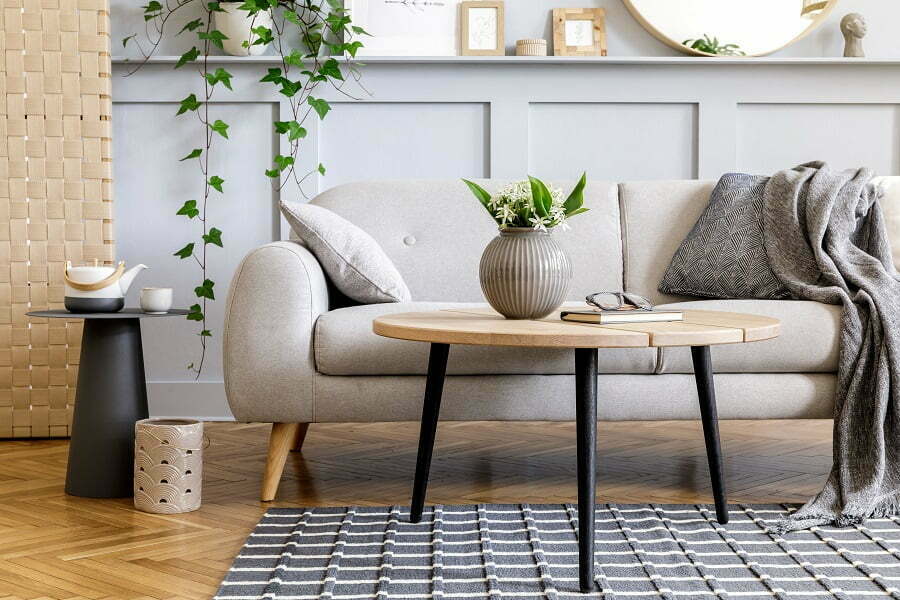 Your choice of the coffee table probably says as much about your decor as any other piece of furniture. And, if you're going for a trendy look, make sure it will stay current for years to come. Take this round coffee table as a great example of a style that works in nearly any room and any setting.
Size
How big is your living room? The size of the coffee table should reflect the scale of the room and provide an appropriate amount of surface area for drinks, snacks, etc., without dominating the space. A good rule of thumb is to have 10-12 inches between the arm of the sofa and the edge of the coffee table.
Material
Glass tops look elegant but also practical because they are non-porous and don't trap dust or debris at their surface or scratch easily when items are placed on them. Wood tables can be timeless and elegant or rustic and informal depending on your choice and often go well with leather chairs and vintage decor.
Harmony
Your coffee table should blend seamlessly with the rest of your home furniture. If you prefer contemporary designs, seek out pieces that have clean lines and simple shapes. For classic styles, look for pieces with at least one decorative element, such as turned legs or carved details. Also, make sure it will be resonating with your tv stands.
Design
Customers often think they have to choose between an ordinary coffee table and something crazy and off the wall. But with so many styles of coffee tables available today, you can find one that fits your taste while still being functional. For example, you might really like mid-century modern furniture, but buying an entire vintage-style set might not be practical if you live in a small apartment. Instead, look for just one piece with that style — maybe an end table or bookshelf — and use it with more common pieces.
Budget
Online shopping sites allow you to compare the price of different products from different sellers. You will be able to get the best deal on your selected item. You can use this advantage of comparing prices by finding stores offering the lowest price for the same product. If you find difficulty in making up your mind about which product you should buy, compare the prices for different types of the same product.
Does It Come Fully Assembled?
There are lots of great coffee tables that don't require any assembly at all. That's a big plus in our book, because who wants to spend their entire afternoon putting together furniture from IKEA when they could be doing something else? Make sure the coffee table you're looking at comes fully assembled before you buy it.
Recap
Liked this article? Here's what you can read next: