Last updated on October 8, 2023
The main difference between the steel and fiberglass exterior doors is that fiberglass is more visually appealing and energy-efficient while steel is more durable and secure. Here's a complete comparison.
Between the Welcome mat and the inside of your home stands the entry door, which protects you and your family from whatever is brewing outside. Choosing the right entry doors can provide you with security and improve the energy efficiency of your home.
If you asked a homeowner about the preferred material for entry doors 15 years ago, the answer likely would have been wood. The most common door choices tend to be wood, fiberglass, or steel. When choosing between wood or fiberglass doors, the decision is much easier because the inherent qualities are fairly obvious. However, the decision between steel and fiberglass is more nuanced. 
Both materials offer advantages and disadvantages. The question is which material does the best job of protecting your family, saving you money on energy bills, and boosting the visual appeal of your home?
Appearance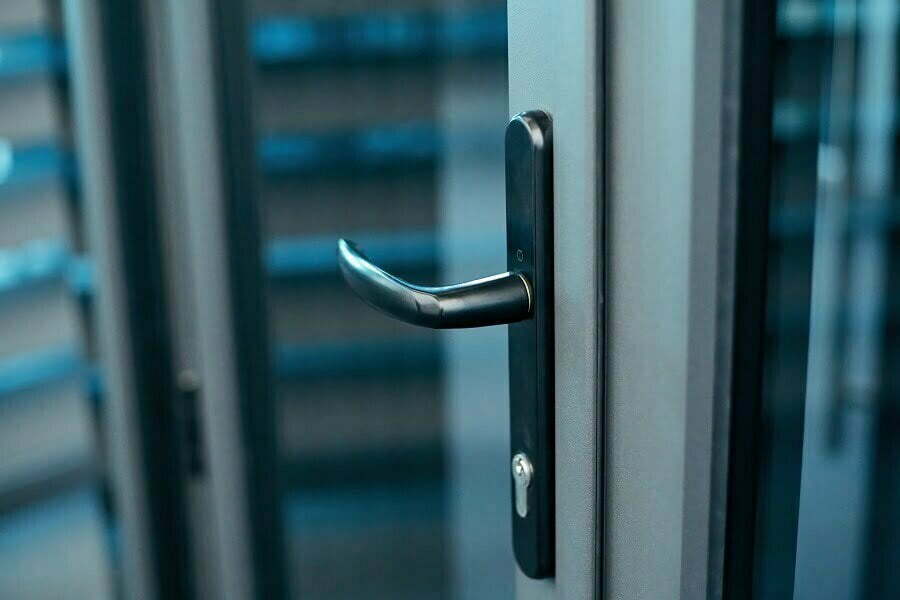 You can find fiberglass doors that come in many styles, colors, and grain designs. Fiberglass represents a popular choice for homeowners that want both security and visual appeal. For shoppers who prefer the look of wood doors, there are a plethora of wood-grained fiberglass doors that look incredibly authentic and will warm up an entryway's aesthetic.
You cannot paint steel doors to complement the exterior décor of your home. Steel entry doors offer fewer style options than the style options offered by fiberglass entry doors. The lack of customization and the inability to paint steel doors leads to one conclusion.
Advantage: Fiberglass
Security
Because steel provides more protection than fiberglass, it remains the preferred type of entry door for homeowners that put security above all other criteria. The thicker material can withstand strong impacts, as well as prolonged exposure to bad weather conditions. Fiberglass is much easier to manipulate, although the material does a good job of protecting the entrance to a home. However, the level of protection pales in comparison with steel entry doors.
Advantage: Steel
Energy Efficiency
Both steel and fiberglass offer more energy-efficient than wood. Because of the ability to repel extreme temperatures, fiberglass offers a more energy-efficient entry door than a steel entry door. The material expands and contracts, depending on the type of temperature swings. ETO Doors reports they have seen an uptick in inquiries from customers specifically focused on energy efficiency, and they recommend fiberglass in nearly every situation. 
Advantage: Fiberglass
Durability
Installing a new set of entry doors can put a dent in your home improvement budget. To get the most out of your new entry doors, you want to go with the most durable material.
Steel is more likely to dent and scratch than fiberglass because the outer layer of steel is thinner than the outer layer that covers a fiberglass entry door. However, a few dents and scratches only affect visual appeal, not the ability of steel to protect against hard impacts.
Although fiberglass does not dent and scratch as often as steel, it is more susceptible to developing strength-compromising cracks. If fiberglass receives a hard enough impact, the resulting crack or cracks can reduce the lifespan of the entry door.
Advantage: Steel
Installation
Since they are designed to be pre-hung, fiberglass entry doors are easier to install than steel entry doors. All you have to do is attach a fiberglass door to the hinges and ensure the door is tight against the frame. For a steel entry door, you have to cut the door to the specifications of the doorway measurements.
We suggest hiring a professional to install either type of door for both safety and aesthetic reasons. Because of our recommendation to hire a professional, the installation category does not have a clear winner.
Advantage: Even
Costs
The cost associated with steel and fiberglass entry doors depends on the size, style, and quality of the material. A quality fiberglass entry door typically costs between $800 and $1,000, while the finest fiberglass doors go for between $1,500 and $2,500. You have to consider the thickness of a steel entry door to determine the cost. The more steel used by the manufacturer, the higher the price for an entry door. Quality steel doors sell for close to $1,000.
You also have to consider the cost of installation, which is greater for steel doors. However, steel doors deliver a higher resale value.
Advantage: Depends on several factors.
Maintenance
Neither door requires much maintenance, although you can expect to perform minor maintenance tasks to prevent degradation of the materials.
You can paint, repaint, and wipe down fiberglass to enhance the visual appeal of the entry doors. Because they can rust, you should not wipe down a steel door unless you quickly dry the doors immediately after contact with moisture. You can power wash a fiberglass entry door, but put the setting on low to prevent denting the material.
Advantage: Even
The Bottom Line
If security and durability sit at the top of your criteria list for installing an entry door, then steel might be the right material for you. However, if you place more emphasis on energy efficiency and visual appeal, then you might decide to go with fiberglass. Since cost, installation, and maintenance present no clear-cut winner, it boils down to which of the criteria used to rate either entry door matters the most to you.
Recap
Liked this article? Here's what you can read next: