Last updated on September 8, 2022
Selling your home? Will you leave it empty or stage it? The short answer is that you should stage it — here's why.
You have decided to put your home on the market and want to close a sale as soon as possible. Selling a home involves making numerous decisions, including whether you should leave your home empty or stage it.
Sadly, no option is superior as each option has perks and drawbacks. So, you need to weigh your options and make a decision.
Here is everything you should know about both options.
Staging a Home: What It Is, Its Advantages, and Disadvantages
When searching for a house, did you ever walk through a home with a designed interior and everything placed right? That is a staged home.
Staging a home means filling it with well-styled and thought items that make it appealing to home buyers. It helps make a house feel like a home and allows buyers to conceptualize how they can fit their furniture in the space.
Advantages
It makes it easier to sell a home: A staged home is easier to sell because they influence what the buyer sees. Staging helps potential buyers see themselves in the house and how they can fit their belongings, prompting them to buy it.
Staging makes the house appear more appealing: The first impression is important. Staging gives a good impression on the first glimpse of your home. It also helps your house stand out among other listed homes.
Hides perks and shows use of every room: Some rooms in your house could have flaws, for instance, strange shapes. Staging helps show that every room has a value the buyer can leverage, no matter how small or unusually shaped it is.
Disadvantages
It is expensive and time-consuming: You need professional help to stage a home, which can be costly as you need to get the furniture, rugs, and other items. It can also take days to gather everything necessary and organize everything to stage the home perfectly.
Leaving Your Home Empty: Advantages and Disadvantages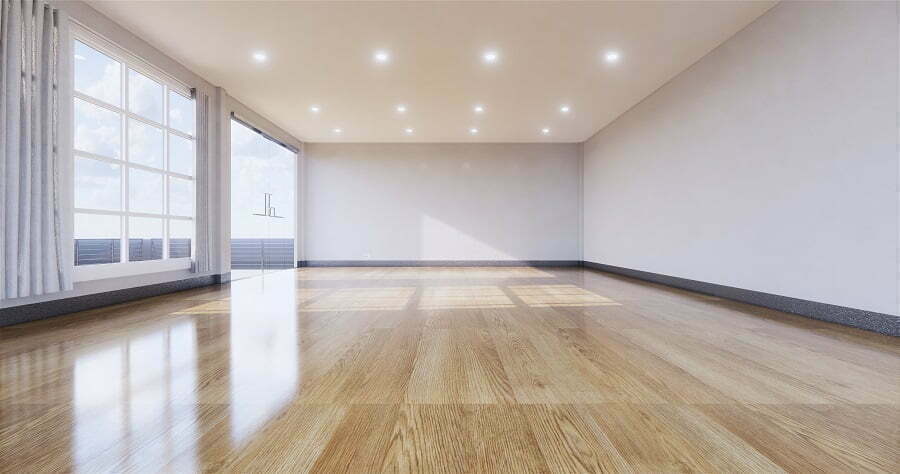 You also have the option to leave your home clean and empty and let buyers view the space. Some buyers find a vacant home easier to organize according to their preference. Here are the advantages and disadvantages of selling an empty home.
Advantages
It is easy to show: An empty house leaves more room for a potential buyer to inspect the home to their liking. An empty house also makes it convenient during appraisals.
Easier to clean: A vacant house is easier to maintain and clean since you don't need to clean rugs or keep the furniture sparkling clean.
Could attract more showings: Most real estate agents go down the path of least resistance. Since an empty home is easier to show, they are more likely to show your home more often.
Disadvantages
An empty home feels cold and unwelcoming: When selling a home, you need to give it a welcoming homely vibe, and an empty space might work against your efforts to deliver these emotions.
A house looks smaller when empty: Most buyers want a spacious house. Unfortunately, an empty house looks smaller, which could put your listed home at a disadvantage.
Benefits sell. You can't showcase the benefits of a home if it's empty. It's much more difficult to sell on features alone.
Which Is Better?
After going through the advantages and disadvantages of an empty and staged home, staging seems to be the best option.
If you have seen an empty house transition into a staged home, you will become a believer in the effectiveness of home staging.
Here are three compelling reasons to stage.
Leaving Your Home Empty Exposes Its Flaws
It is easy to notice flaws with few or no items in your home. You may have tried last-minute upgrades, renovations, and repairs to keep your home in the best shape and attract a buyer.
However, no room is perfect, and since each buyer has different expectations of their dream home, an empty room easily exposes its flaws.
A staged home is appealing when done by a professional, taking the focus off the flaws and refocusing it on the room's good sides. Staging brings out the best aspects of the room and makes it warm and ready for occupation.
Empty Rooms Feel Cold
A vacant home radiates a cold feel, an emotion that could drive potential buyers away. Thus, they are twice as hard to sell compared to selling a vacant home.
Staging makes the room lively, warm, and comfortable. During staging, the expert can add an emotional connection in the space to draw the right emotions from your buyers.
Staging can change what previously appears as a dreary room to a styled, comfortable home a buyer will be willing to bid on.
Staging a home offers numerous advantages, but that doesn't mean selling an empty home is bad if you are on a tight budget.
Besides, selling is more about having the right network to market your home and increase the number of viewings on your listing.
Whatever you decide, you can make your move easier by scheduling your moving needs with Bakersfield Movers.
Recap
Liked this article? Here's what you can read next: