Last updated on January 18, 2020
We're going crazy about these spectacular modern houses. And we are sure you will get excited too after seeing our top 20 list.
Modern houses are a pinnacle of residential architecture. The common trends we usually see in new developments include open concepts, harmony with nature, huge glass windows putting interiors on display, and adding traditional details for accents and charm. There's also a lot of attention to high-tech and sustainability.
And while trends come and go, good design is here to stay. There are many directions and styles in house building, but we can still pick the unique and inspiring examples to keep you on edge. There's a lot to love these residences for, both small and large. And there are designs for every taste.
So check out these 20 most amazing modern houses that we've had a lot of fun picking out.
Modern Getaway House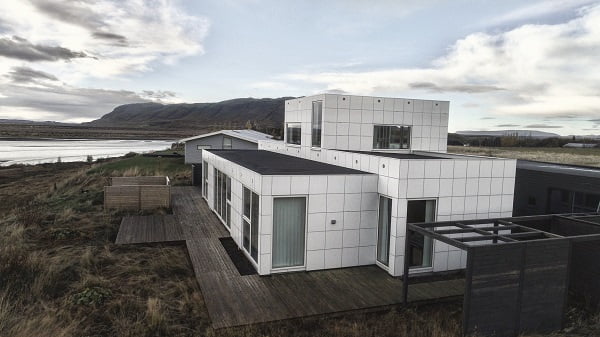 This modern getaway house in the middle of nowhere seems like it's out of place. The clean, contemporary architecture lines stand out to leave a lasting impression. It's a large residence in a functional minimalist design. Impressive and inspiring.
Modern Minimalist House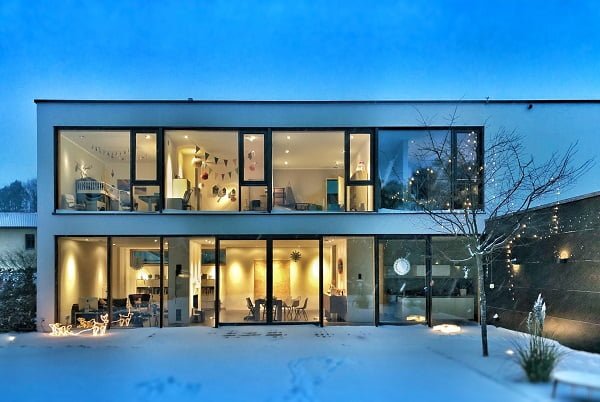 This minimalist house in modern design has everything to offer comfortable living. And even though it's cold as winter by its exterior design, the full-wall windows open the warm interiors that seem inviting. It's the perfect example of finding a family warmth in cold contemporary architecture.
Modern River House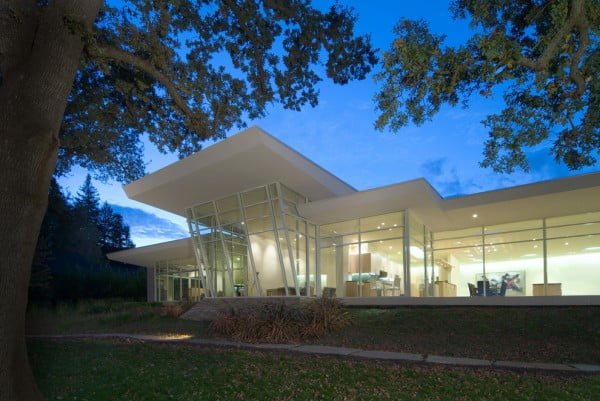 This all-white modern house with glass walls does everything to let nature inside. And at the same time, it boasts the contemporary interiors by putting them on display. It's a beautiful harmony between modern and natural.
Modern Inside-Outside House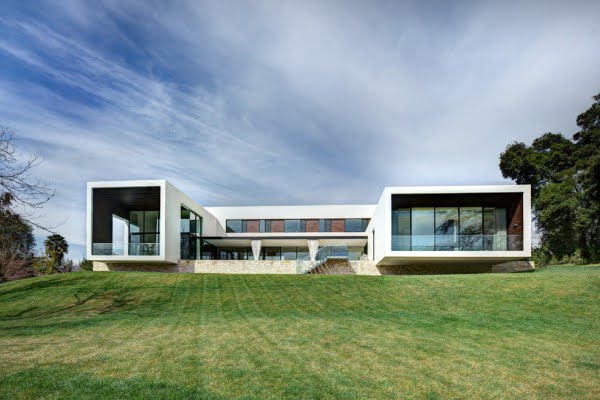 This modern house is another excellent example of featuring the interiors. The architects of this contemporary gem know very well that the work done inside should not be hidden away from the outside. The large house is the dream of contemporary living.
Linden Modern House
We can see a whole different direction in modern architecture with this house. It has all the qualities of contemporary design, but at the same time, we can look at the elements of traditional style. The black trimming of architectural detail help emphasize the point of combining two styles.
La Loggia Modern House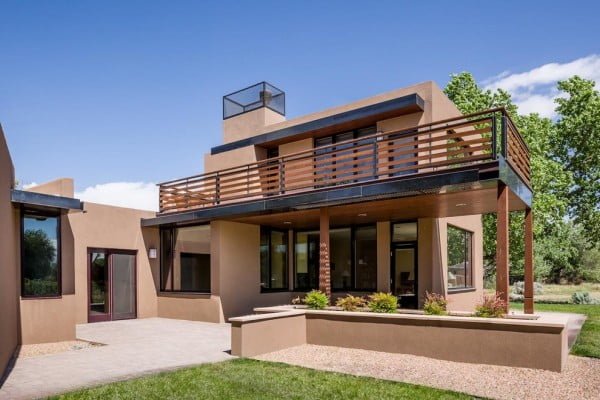 This stylish two-story beige home has a sleek modern look with a second story wrap-around deck for plenty of outdoor space. The natural color is ideally suited for this unique home.
Modern House Pool
When it comes to modern houses, this home is definitely at the top. The white two-story home features a gorgeous tile deck perfect for entertaining as well as a stunning rectangular lap pool.
Millcreek Modern House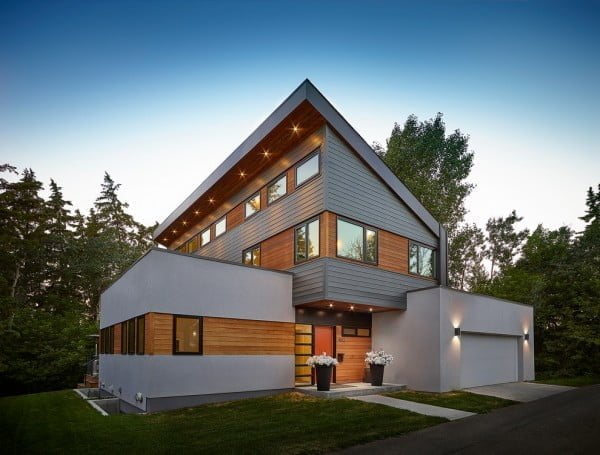 A very modern two-story home with eye-catching angles and unique stained wood and stucco exterior. Numerous windows let in plenty of light, and the open concept keeps the interior bright and airy.
Tiny Modern House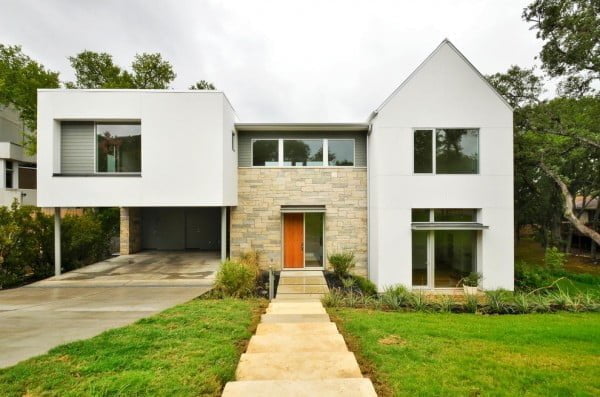 This white home features exciting touches, such as the light stonework on the front and a room that seems to float above the driveway. The combination of flat and peaked roof angles gives this home visual appeal.
Corn Hill Modern House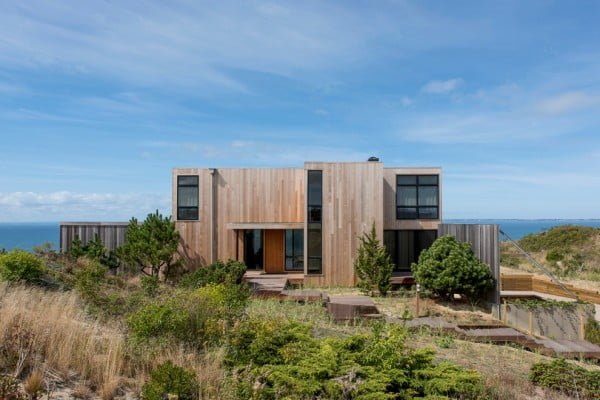 This is a lovely two-story, minimalist home. The exterior features a lovely multi-tone vertical wood siding, keeping the home neutral, so it blends nicely into the surrounding scenery.
Highview Modern House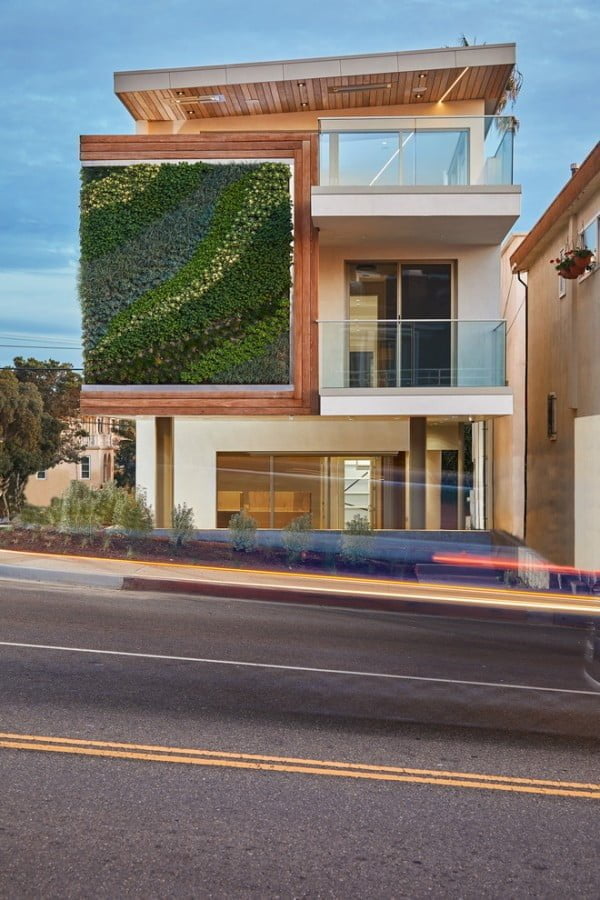 An amazing three-story home with a vast living wall that helps give this home its unique appeal. This lovely house has two large balconies overlooking the street providing plenty of outdoor space.
Dramatic Modern House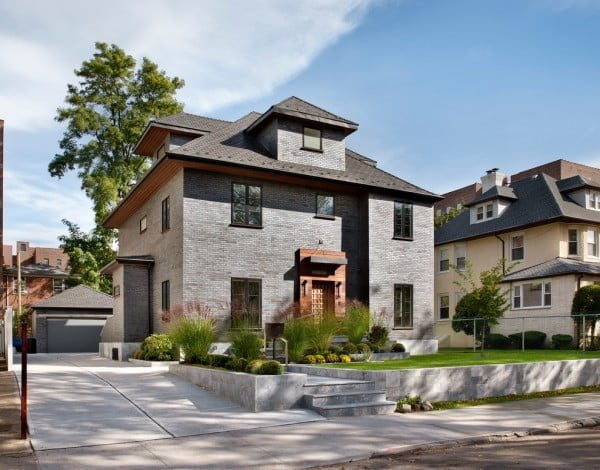 This sizeable contemporary house makes a flamboyant statement with gorgeous grey brick and a black roof. Wood accents help to soften the cool brick exterior, and the detached garage is a nice touch.
Wildewood Modern Log House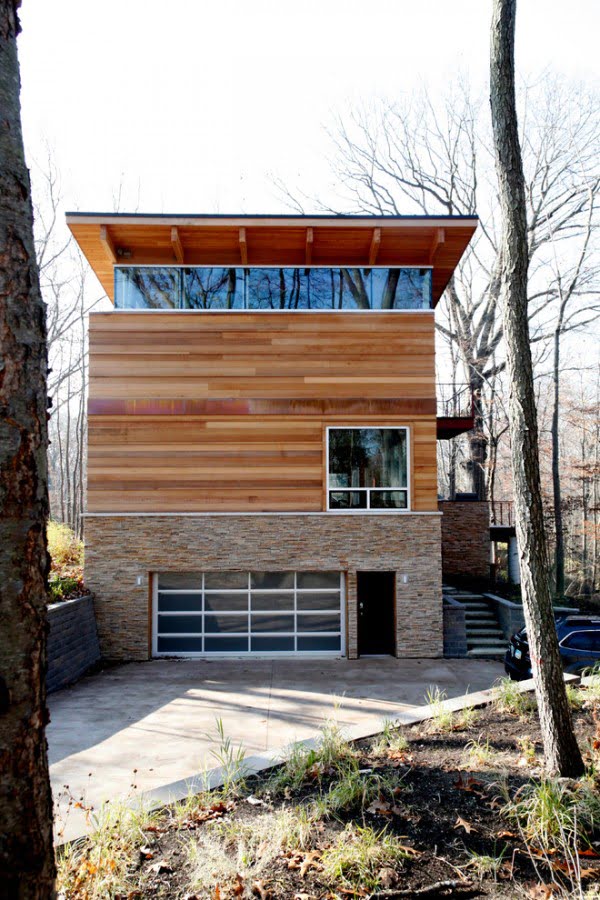 This house is large, but the minimalist design and wood and brick exterior help it to blend right into the natural setting that surrounds it. The lovely home features three stories, a flat roof, and decks for enjoying the scenery.
Crumpit Woods Oasis Modern House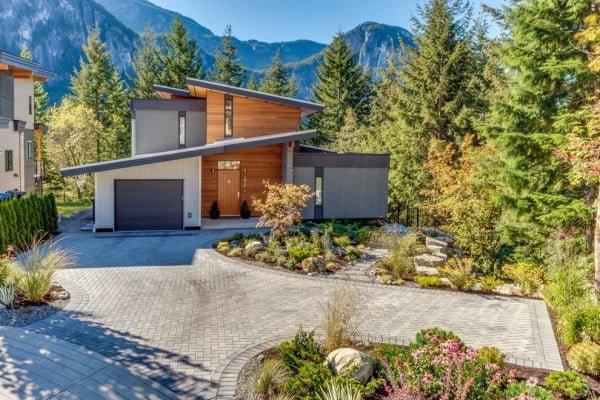 A beautiful minimalist home with gray stucco and warm wood exterior for a perfect blend of colors and textures. The flat roofs are set at exciting angles that add to the home's visual appeal.
Curvy Modern House
A modern white home that features plenty of floor to ceiling windows as well as beautiful curves and two large wrap-around balconies. This light and airy house are stunning in its simplicity.
Modern Brick House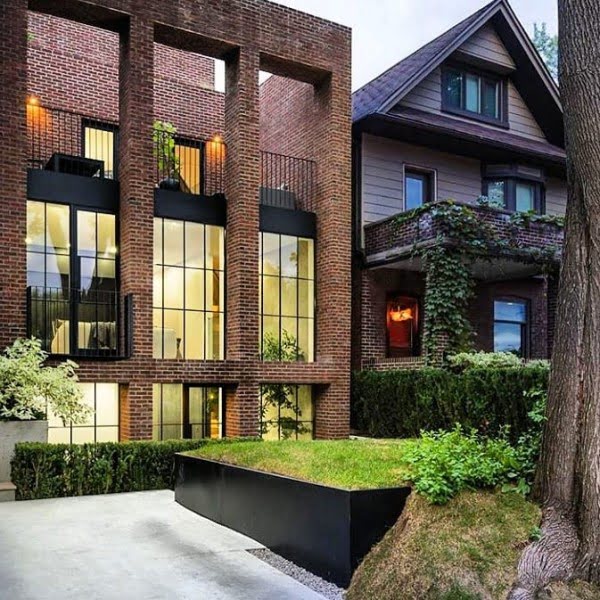 Beautiful brick home with contemporary styling. Gorgeous architectural features, such as the open top deck as well as numerous windows give this brick home a beautiful touch of style.
Sustainable Modern House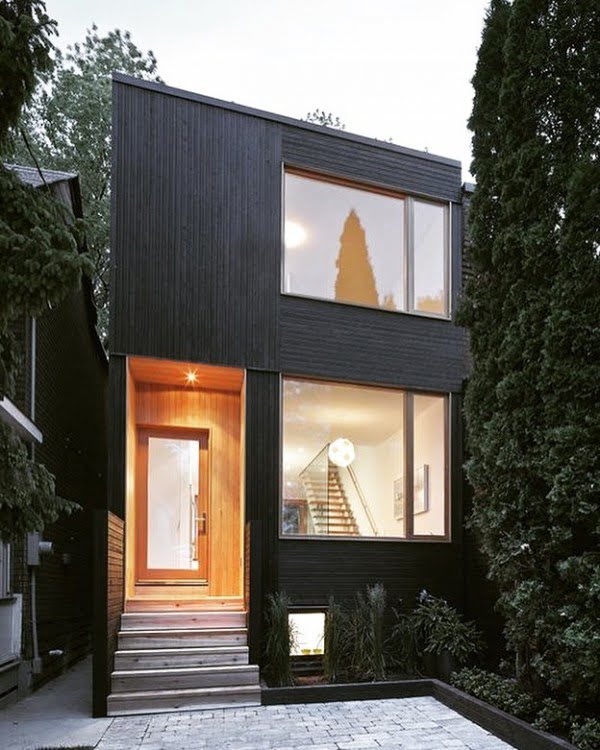 A unique home with very simple touches makes this home very attractive. It features a charcoal grey exterior in addition to large windows and a wood entry for a nice contrast.
Black Modern House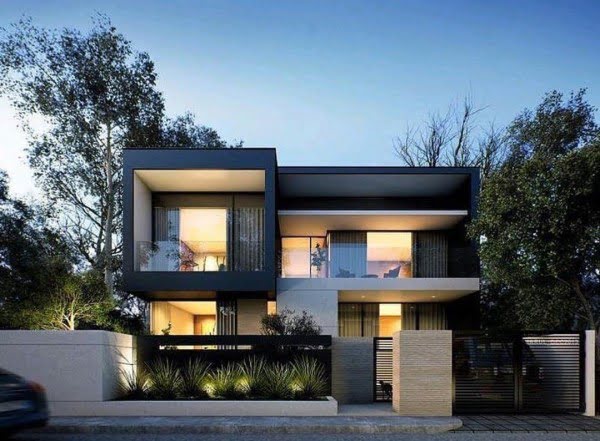 An exciting home with beautiful architectural details that make it anything but boring. The black and white exterior and large decks complement the natural setting.
Triangle Modern House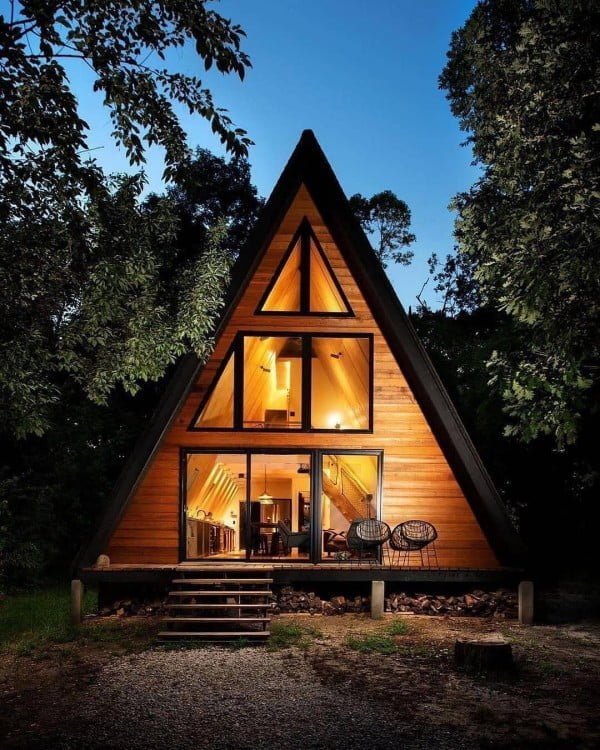 This unique triangular home features the inviting warmth of a wood exterior and large windows. An open staircase rises to a large open front porch and glass entry. Very beautiful.
Multi Exterior Modern House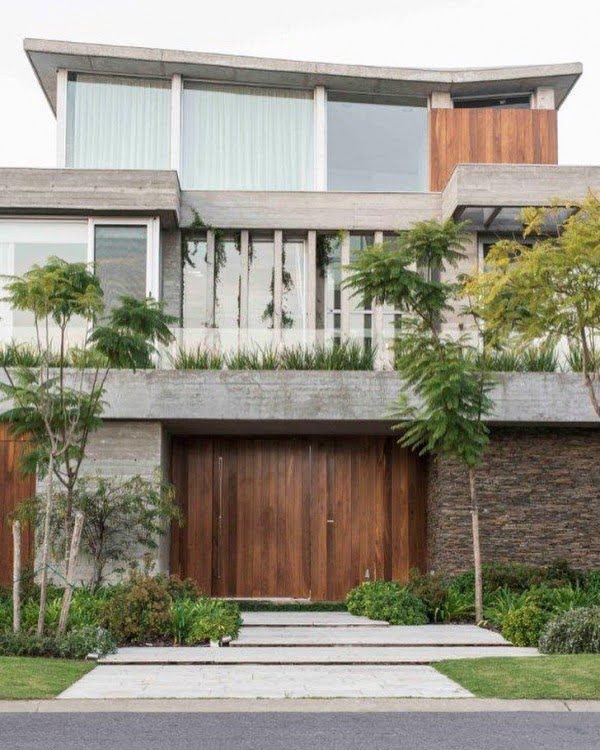 This is a large three-story home that features a lovely modern look. The variety of exterior surfaces also gives this home plenty of interest and style, and the beautiful wood entry makes it very warm and inviting.
Recap
Liked this article? Here's what you can read next: