Last updated on September 20, 2023
Looking for modern kitchen floor tile ideas to revamp your space? Here are 12 creative ideas and styles to get you started.
The kitchen offers vast scope for a lady to explore her creativity in cooking. It helps her earn satisfaction and smiles of the loved ones by serving them delicious food. As the kitchen is the most functional part of the house, which has both dry and wet sections, the design and flooring of a kitchen should be creative and durable.
Floor tiles remain a good option for kitchens because they come in various colors and materials. Kitchen tile materials include ceramic, porcelain, stone, slate, and marble. But be sure to explore the floor tile alternatives as well.
Kitchen floor tile ideas give your kitchen a fantastic style with different colors and shapes. The tile with differential is one of the most important design decisions. Tumbled natural stone Slate and tiles are also perfect for fitting in with any kitchen decor. There are millions of tile material options.
Tips for Choosing the Right Tile for Your Busy Kitchen
Creativity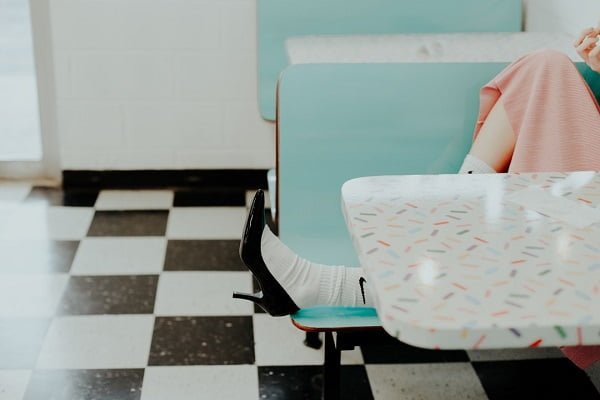 Floor tiles should complement the color and design of the kitchen. Go for neutral colors that look excellent with most wall colors, sizes, and patterns. It creates an illusion of more space in the small kitchens if you opt for big tiles creating fewer grout lines on the floor.
Material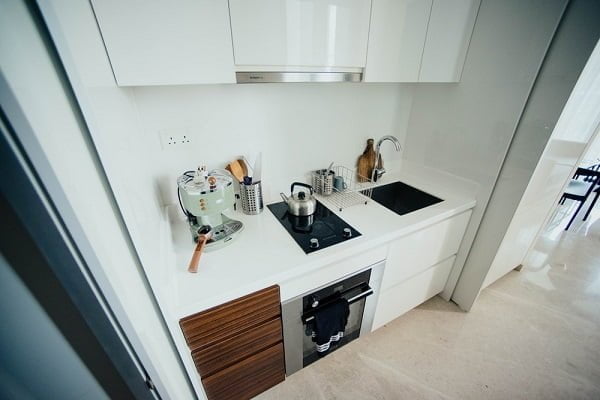 As the kitchen has to face many kinds of daily wear and tear, it is essential that the floor tiling be durable and sturdy to tackle any harsh conditions. Companies cater to you with ceramic and porcelain tiles in which porcelain is more sturdy and moisture resistant than ceramic. Kitchen tiles should have anti-skid properties, and easy-to-clean features as the kitchen floor quickly gets contaminated with water and oil.
Budget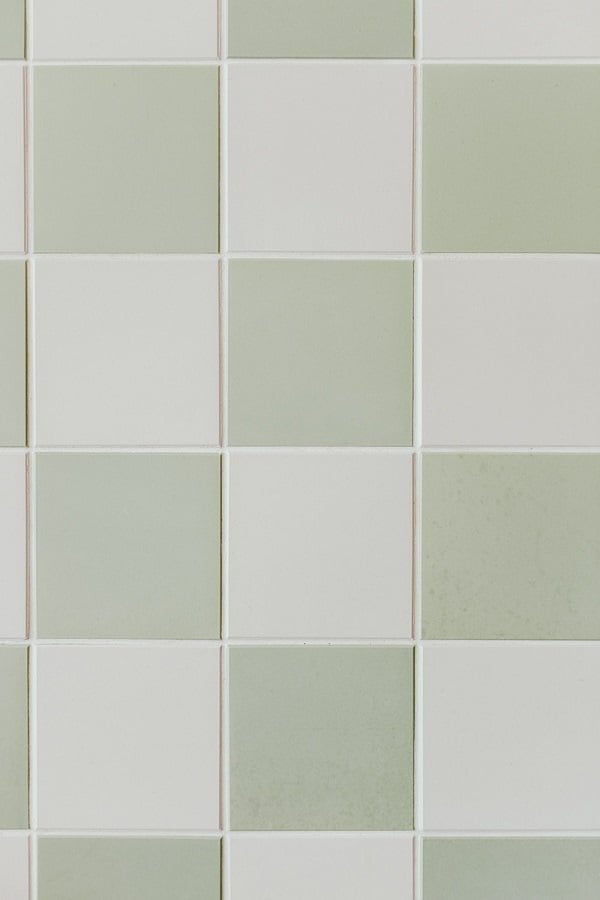 Over time flooring market gets revolutionized, which gives you the authority to choose from a wide range of kitchen tiles from low to high pricing.
Modern Kitchen Floor Tile Ideas That Beautify the Space
Floral Motif Tile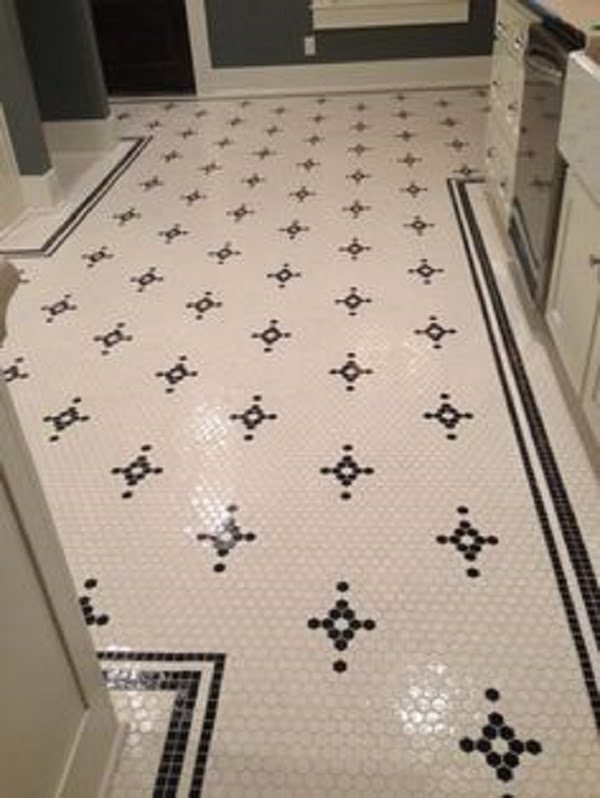 Amazingly crafted Blue Pottery tile with floral to give your area a traditional touch. It can be arranged in different designs to create uniqueness. It's like walking in a field of flowers.
Kitchen Floor Tile Matching Backsplash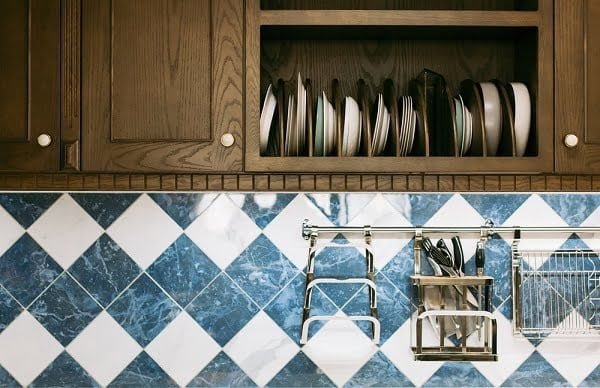 Upgrade and add life to your kitchen with a tile backsplash. It comes in any look that suits your kitchen's style. Backsplash tiles are as beautiful and varied as they are protective.
Kota Stone Kitchen Flooring Tile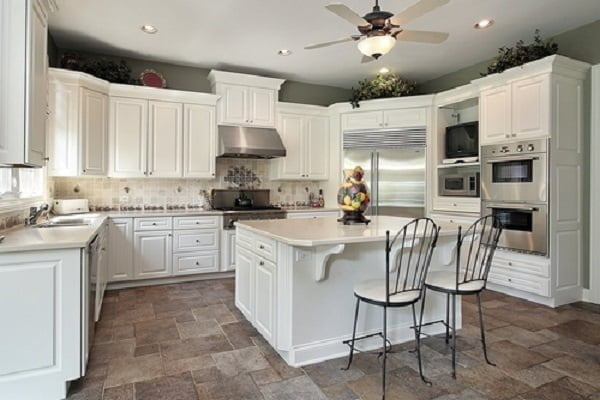 Kota stone flooring is a combination of magnificence and luxury giving used in. This type of tile is available in slabs and tile form and can be set in any flooring pattern.
Granite Kitchen Floor Tiles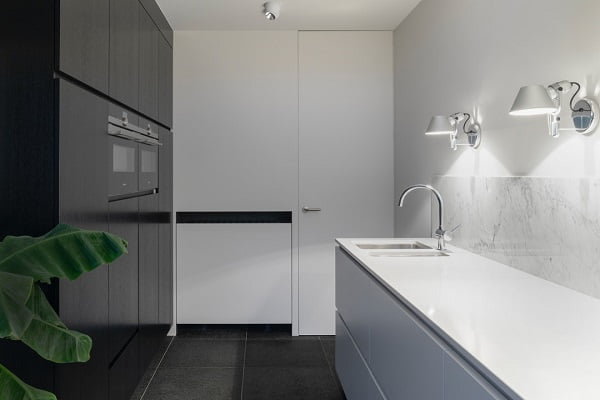 Granite tile is the best solution for your kitchen countertops. Like marble, it's a durable and versatile material that's suited for floor tile. It is also available as floor tile and is used in various rooms.
Kitchen Laminate Tile Flooring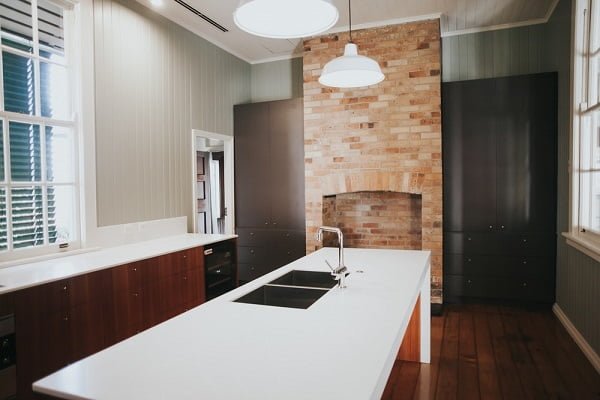 You'll love laminate flooring because it looks just like wood, Most kitchens get heavy use, so the flooring you choose must rise to the challenge. It delivers an authentic stone appearance to your home and can add a nice touch to your kitchen or other floors.
Black and White Kitchen Tiles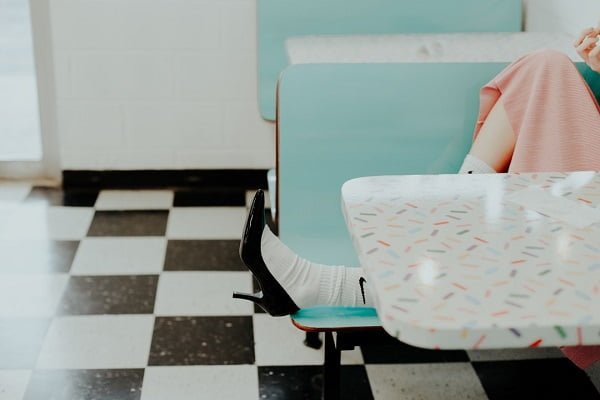 Black and white tiles are increasingly popular in today's design and can add real vibrancy to any setting. This type of tiles is a stylish color scheme for any modern kitchen you've got. They bring charm to your kitchen or bathroom flooring.
Stone Masonry Tiles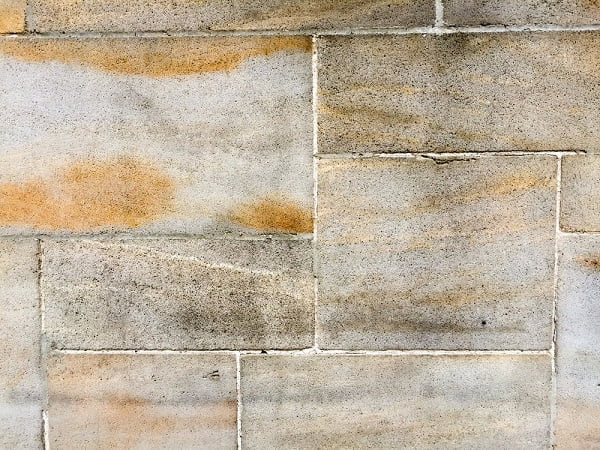 Natural stone tiles are the ultimate way to deliver a luxurious finish to your bathroom and kitchen. Create a contemporary look in your living space with a wide selection of brick, tile & stone effects.
Mosaic Kitchen Tiles Design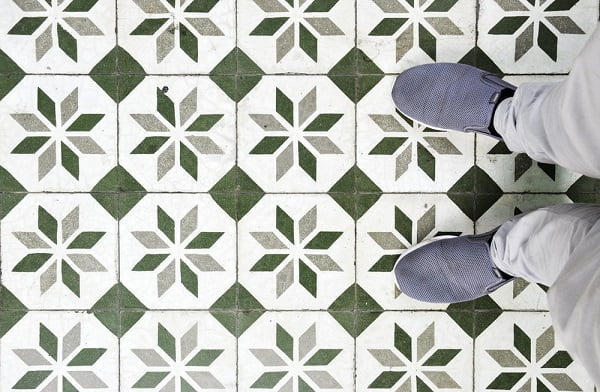 There are some of the latest kitchen tiles and floor tiles design options trending these days. Choose the beautiful glossy kitchen tiles design. Transform a dull and boring space with an extensive range of glossy mosaic tiles.
Super Glossy Ceramic Tiles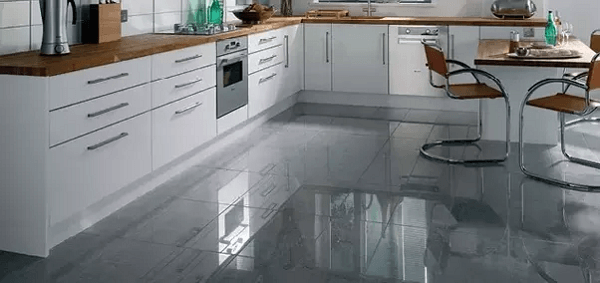 An easy and super trendy way to break the visual monotony of your kitchen, bathroom, or living area is by using Super glossy ceramic wall tiles. Glossy kitchen tiles look fabulous.
Concrete Love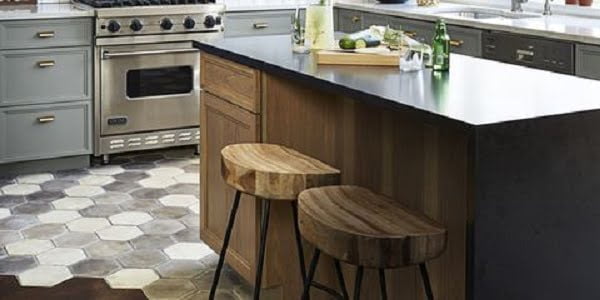 Are you passionate about the concrete look but not opting for concrete flooring because of its drawbacks? Then it's time to smile, as creative concrete tiles can fulfill your desire of giving a concrete appearance to your floor and also cater to you with the advanced anti-skid feature, which makes it ideal for use in the kitchen and wet areas. These are full-body homogenous tiles with a matte finish and are available in different sizes and colors.
Add a Natural Touch to Your Flooring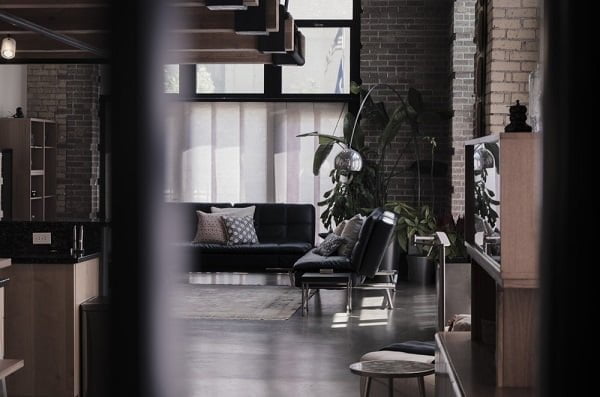 Give a rustic touch to your kitchen flooring with glazed porcelain-colored body tiles. They have the features of an ideal kitchen flooring tile like durability, water resistance, and are anti-skid.
The timber look tiles will make you feel close to nature. Available in white, beige, brown, and nut color with a matte finish, these tiles are perfect for residential flooring. They can be used in both dry and wet areas of your home.
Get a Textured Touch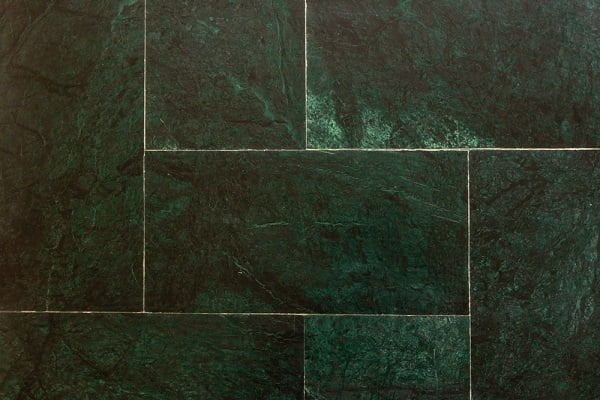 Add an exciting attitude and modern culture to your kitchen with textured tiles, which are high in trend. Made of glazed porcelain, these tiles feature a strong build and matte finish, making them suitable for kitchen flooring. Fabric look tiles and pattern tiles fall under the category of textured tiles. You can choose from white, grey, beige, black, and cream colors as per your taste.
Recap
Liked this article? Here's what you can read next: