Last updated on April 10, 2019
Want to make an easy DIY succulent terrarium? Here are 20 easy tutorials for you to follow and make one of these beautiful terrariums.
Succulent terrariums certainly make your home livelier, and they make exciting decor accents. They are very easy to maintain too. When it comes to living plants, succulents aren't needy at all and can go on for ages unwatered. So you don't have to have a green thumb to be able to enjoy a terrarium.
And because they are so easy to maintain, you can make them from lots of different materials in many shapes. You can add any embellishments without any harm to the plants. That means all the more decor value.
How to Make a Succulent Terrarium
Here are the basic steps to make a succulent terrarium:
Pick a container (usually an open top glass container);
Add a layer of gravel for drainage;
Create a layer of charcoal to absorb moisture;
Add planting soil;
Plant your succulents;
Add decorative embellishments.
Each step is explained in detail in all of the below tutorials. Check them out and choose the terrarium you like.
Tiny DIY Terrarium in a Lightbulb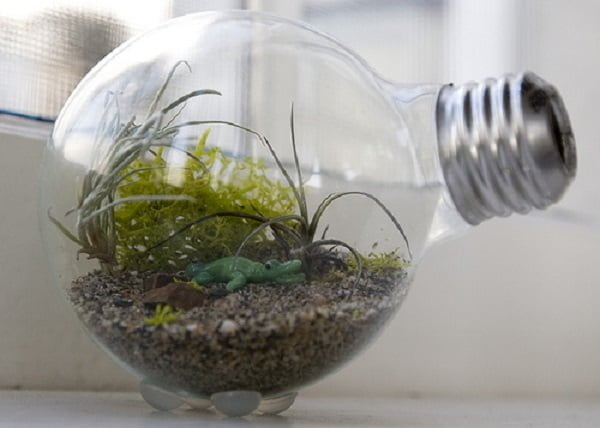 So someone once had an idea to make a small succulent terrarium in a lightbulb, and it has become a novelty. Today, you can get them as decor accessories anywhere. And you can DIY one too. That's what we recommend you to do following this tutorial.
DIY Succulent Sea Terrarium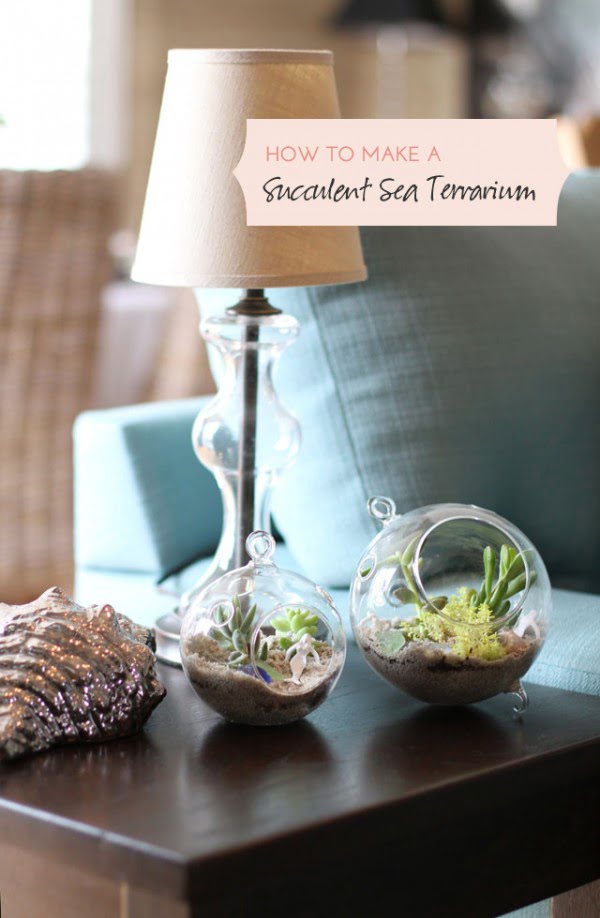 Want a pinch of the bottom of the sea in your home decor? You need this succulent sea terrarium idea at home. You will need a terrarium bowl (any will do), beach sand and succulents. This terrarium idea is so whimsical and adorable.
Hanging DIY Succulent Terrarium
You will need a geometric designer terrarium (or a similar lantern design) for this project. Don't be disappointed if you don't find the same container as in this image. It's the beautiful idea that counts.
DIY Terrarium Lamp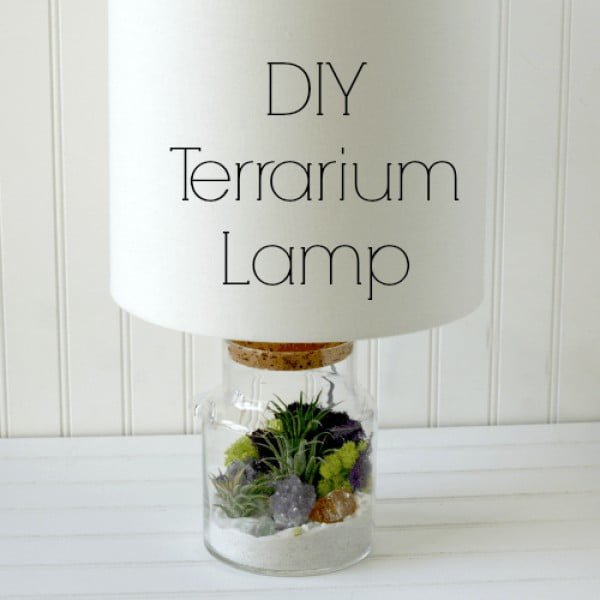 Your DIY terrarium can be functional if you want it to be. For example, it can be a lamp. It's whimsical and unique – exactly what a home decor accent needs. So get your DIY lamp kit, a glass jar, and succulents to craft this project.
DIY Hanging Succulent Terrarium Wall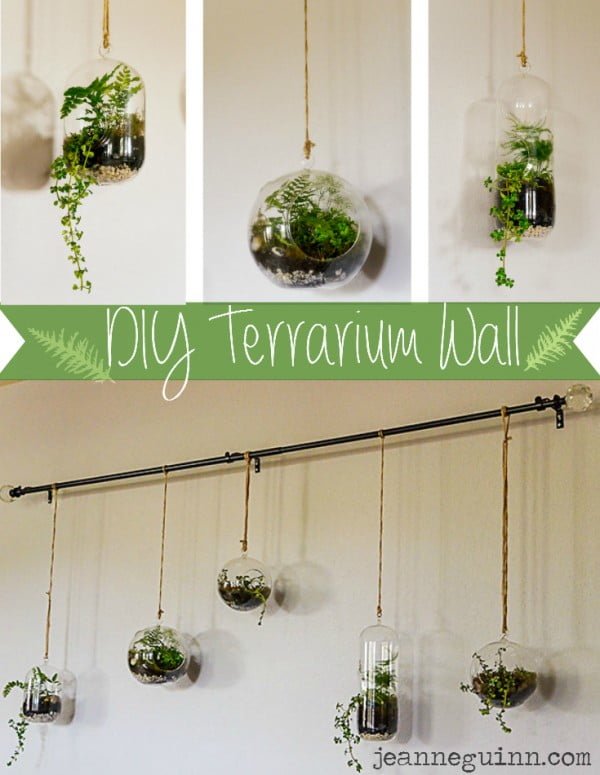 Here's how you can decorate your empty walls with hanging succulent terrariums. And you can make every one of them yourself. Choose different styles of glass jars and different succulents for the best decor value. It's a great accent decor to make.
Simple DIY Succulent Terrarium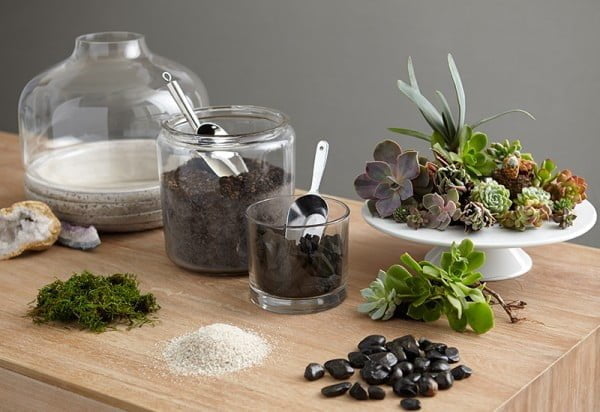 Put in some effort and save a few hundred dollars by making your DIY terrarium. If you have never done it before, use succulents like in this example to ensure longevity.
DIY Recycled Soda Bottle Succulent Terrarium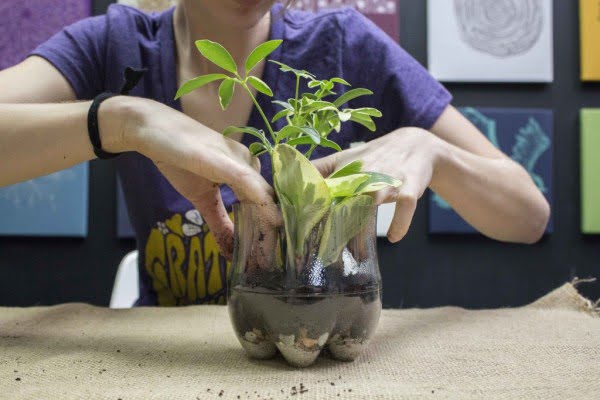 If you don't have the budget for a large glass jar, then use other transparent materials around the house. Recycle your soda bottles and turn the small containers into beautiful living room décor.
DIY Closed Glass Jar Succulent Terrarium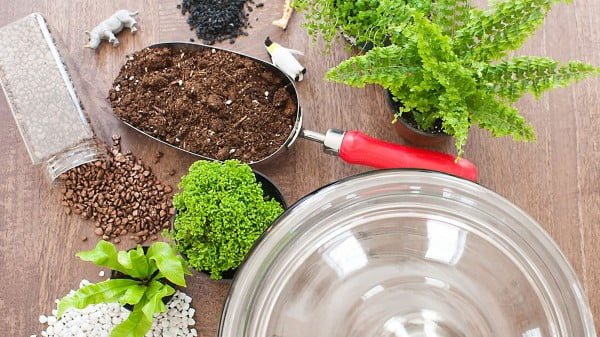 Improvise with materials from the pet store like colored pebbles, gravel, and charcoal. Layer them for visual appeal. Add plants that thrive in wet and humid conditions. Put your personal touches to make it fun.
DIY LED-Lit Succulent Terrarium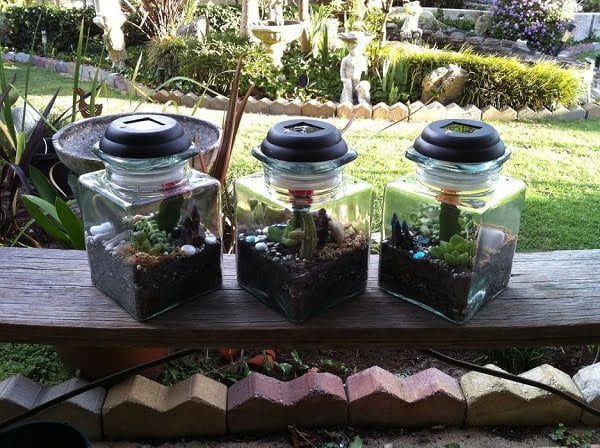 Fitting multiple plants in a small space can be tricky. Maintain order by using small shade-loving greens and arranging them according to height. The tallest ones should be at the back, so they don't block the shorter elements. This DIY terrarium makes it unique with LED lighting which you can add too.
DIY Patio Tabletop Succulent Terrarium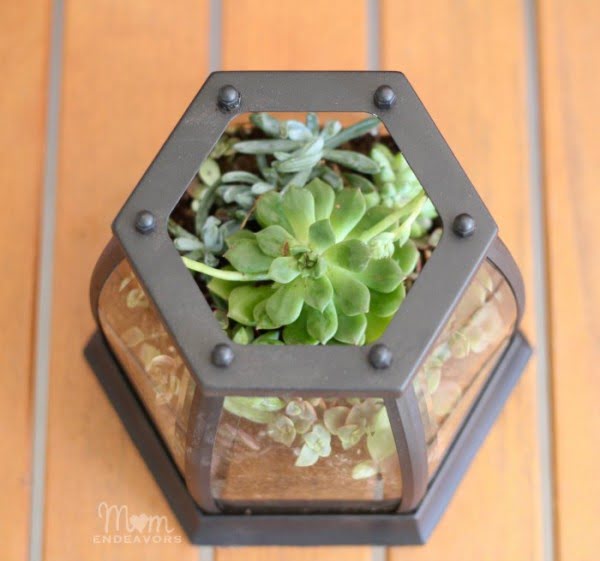 Big apothecary jars are beautiful, but they can be expensive. See if you have items that you can repurpose for this type of DIY project. In this example, a patio light fixture was turned into a succulent tabletop garden.
DIY Hanging Globe Succulent Terrarium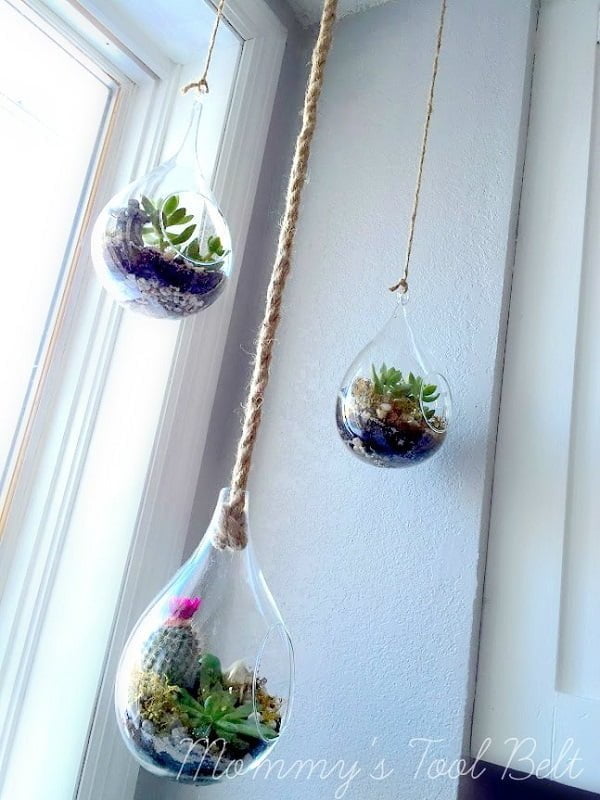 Containers come in all shapes and sizes. Some are large and geometric while others are small and curved. Once filled with plants, they can liven up a coffee table or hang on a rope near corner windows.
DIY Succulent Terrarium Table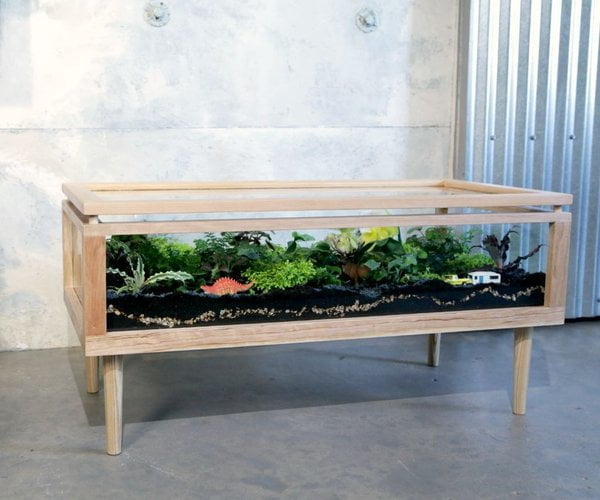 If container terrariums seem too easy, then why not create your terrarium table? This project shows how to do it from scratch. The complexity makes this suitable for advanced DIY enthusiasts.
DIY Glass Vase Succulent Terrarium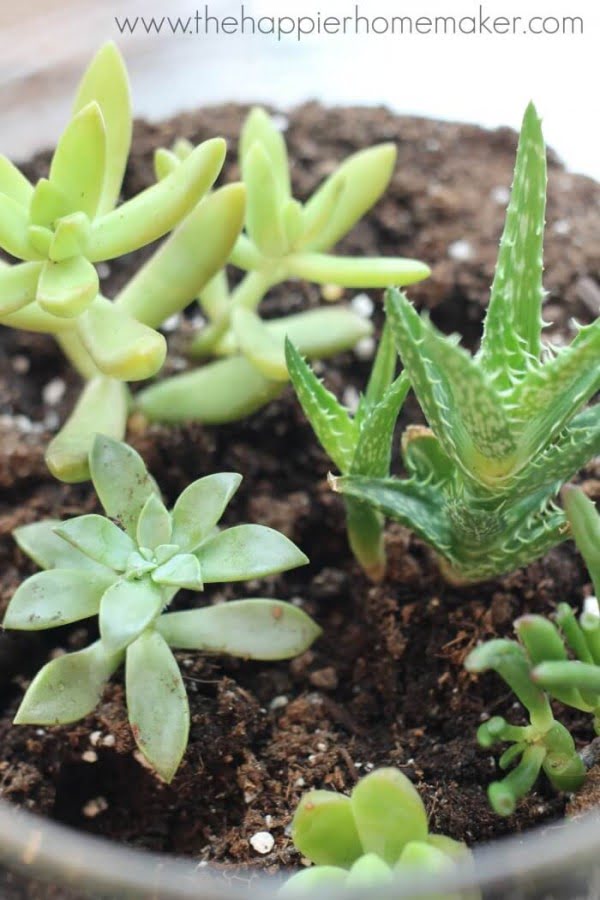 An old glass vase got turned into a no-fuss terrarium in a snap. Succulents were used for ease of maintenance. A layer of sphagnum moss prevents the soil from draining into the gaps among the pebbles.
DIY Spice Jar Succulent Terrariums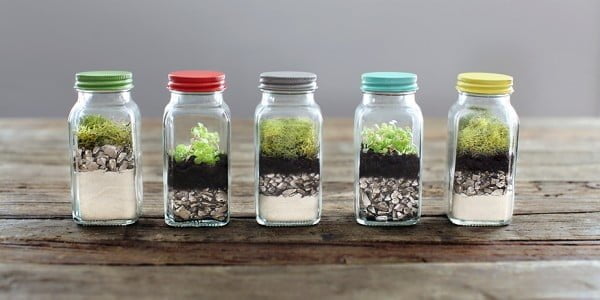 Anything that holds water and allows sunlight in can be converted into a terrarium. To prove this assertion, this project utilized narrow spice jars. They even made a mini soil compactor from a cork and skewer.
DIY Succulent Terrarium from a Fish Tank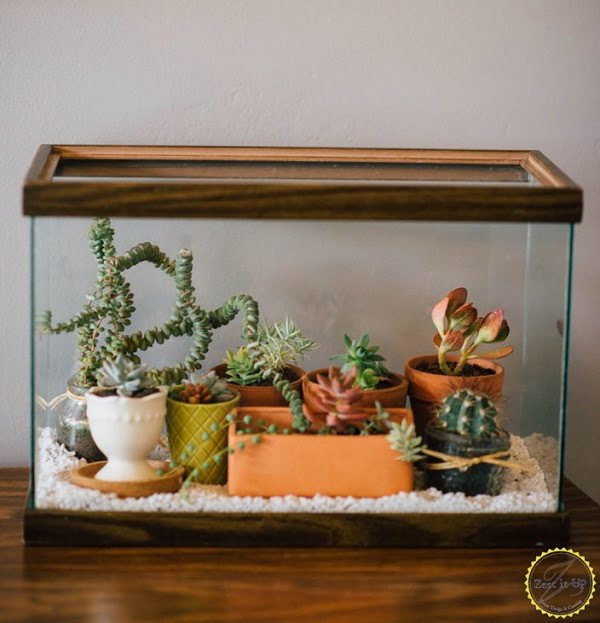 Fish aquariums have been used to create terrariums for the longest time. After all, it's perfect for holding water and has transparent walls. You don't have to buy a new one as an old unit can look perfectly fine with a bit of cleaning.
DIY Coffee Table Centerpiece Succulent Terrarium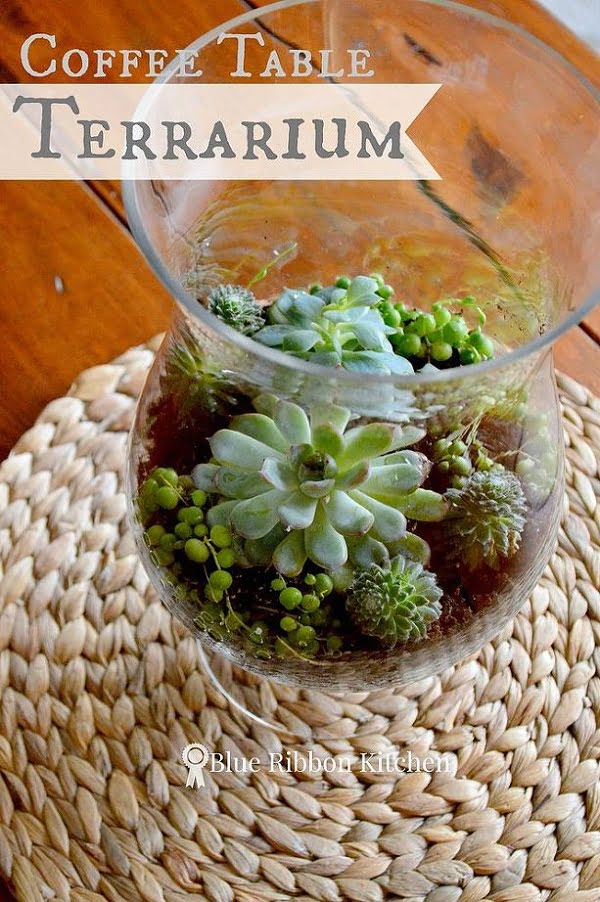 If you are looking for the perfect coffee table accent, then this might be it. Grab a glass jar from a thrift shop and follow the instructions to make your very own springtime décor.
DIY Geometric Succulent Terrarium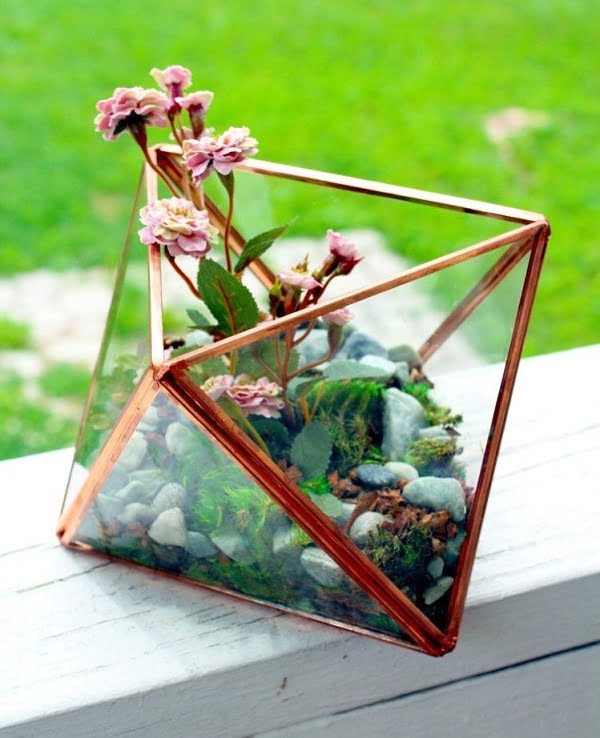 Geometric glass containers instantly attract attention thanks to their unusual shapes. While they are often used as lighting fixtures, there is no reason why they can't be turned into beautiful terrariums. This one even has pretty pink flowers.
DIY Embroidery Hoop Succulent Terrarium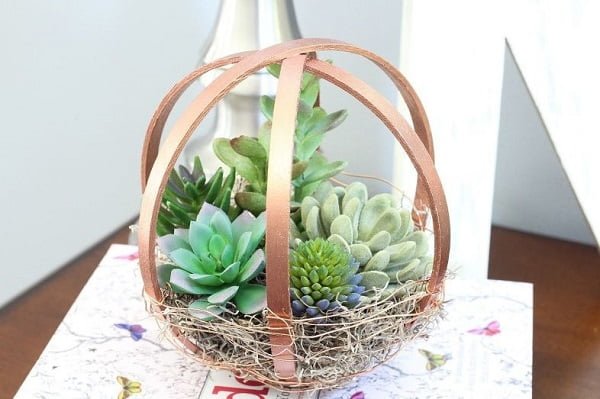 Who says that you need glass? This open-air terrarium cleverly uses embroidery hoops, copper wire, and Spanish moss as the base. This can be hung without worries about falling and breakage.
DIY Bottle Succulent Terrarium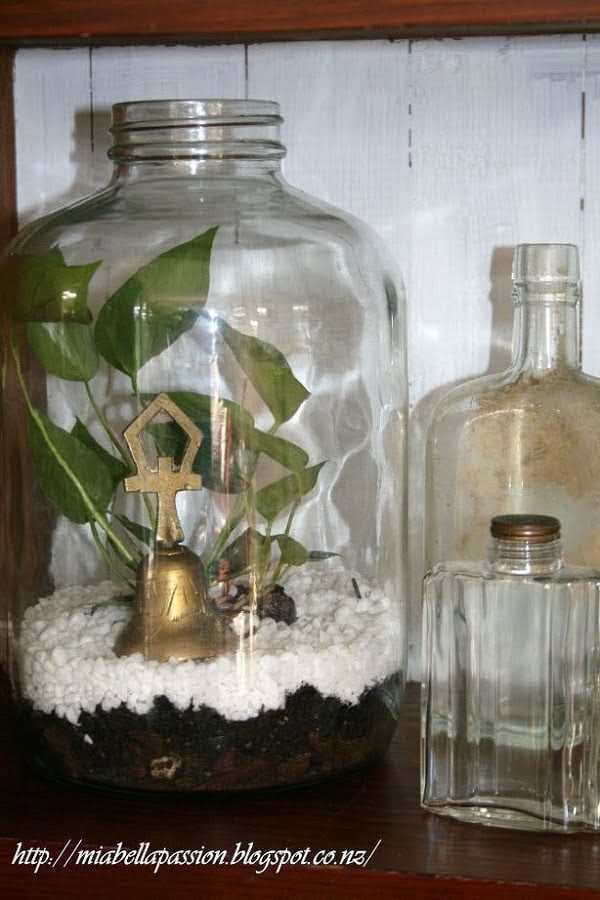 Large bottles with small mouths are good options if you have pets around the house. It will undoubtedly prevent cats from sticking their paws into your creations. Put these on shelves as alternative ornaments.
DIY Faux Succulent Terrarium from Picture Frames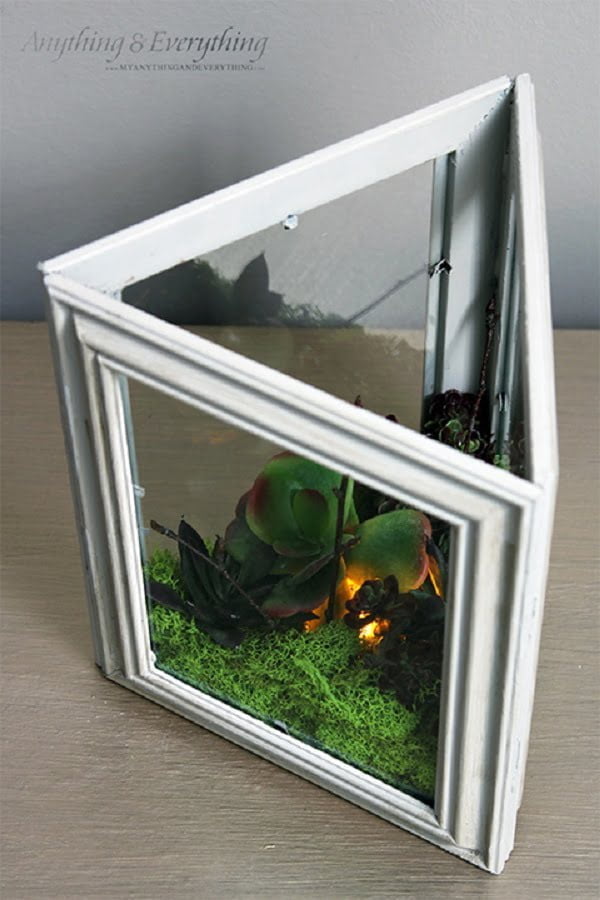 Here's a novel idea: if you don't have an old aquarium, then why not use picture frames instead for your indoor succulent garden? Get them in dollar stores, glue the sides together, and use white foam board as the base. Get amazing results.
Recap
Liked this article? Here's what you can read next: