Last updated on February 27, 2020
Looking for the best wall clock for your room? These are the most stylish and best-rated choices that will not disappoint in 2020.
There was a time when a wall clock was a must in every house and its room. It was the only way to tell time other than a wristwatch. Nowadays, every family has more smartphones than members and telling the time is not a problem. Wall clocks, on the other hand, are making a comeback as a piece of decor.
Indeed, most clocks bring that old-school retro look to a room. If there's one on the wall, it immediately brings its decor back a decade or two (in a good sense). It's a great and easy way to create a decor accent and make use of empty wall space.
So how do you choose the right wall clock?
Here's what you need to consider:
How big of a decor accent it needs to be.
Which room it will be in.
What purpose it will serve – purely decorative or functional.
Digital vs analog.
Now here's where we come in. We know what wall clock ideas are popular and we can tell what clocks can exactly fulfill specific needs. By using a data-driven research process and testing we have selected the top 10 best wall clocks by all criteria.
Which one is your favorite?
What's Inside?
Large Wall Clock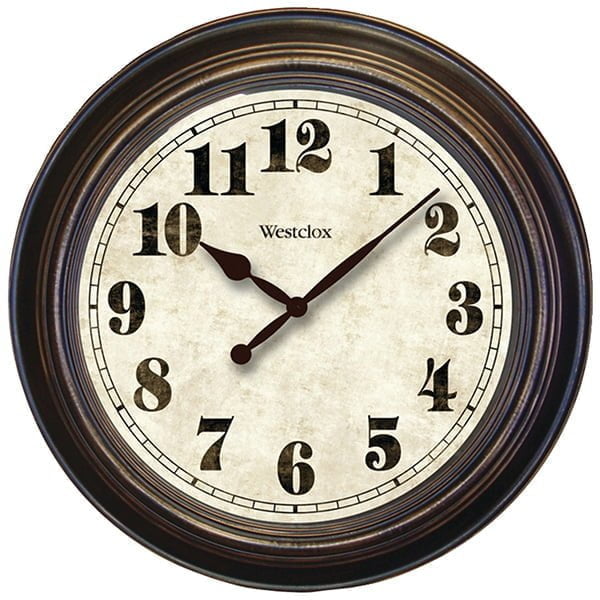 The Westclox Classic features a large, round face. At 24 inches in diameter (including the outside border) and with fairly big numerals, the clock is visible from several feet away, making it perfect for large rooms or spaces. The clock weighs a little over 5 lbs. and will require a sturdy wall anchor to keep it safely in place. Features an antiqued walnut brown case for a retro look and an aged parchment-style face. The classic look suits most interior designs, making this a perfect choice for every type of room.
Pros:
The antiqued look is a great choice for people who love the retro-style design.
The large face allows for easy visibility and readability.
Quiet operation; only a barely audible whirring of the moving hand can be heard.
Keeps accurate time.
Cons:
Made of plastic and paper, which makes this product vulnerable to scratches, cracks, and warping if exposed to extreme temperatures.
Runs on batteries, which are not included in the box. May not keep accurate time as the batteries run out of charge.
Recommended for use indoors only.
The hands and other metallic components may be susceptible to corrosion over time.
Digital Wall Clock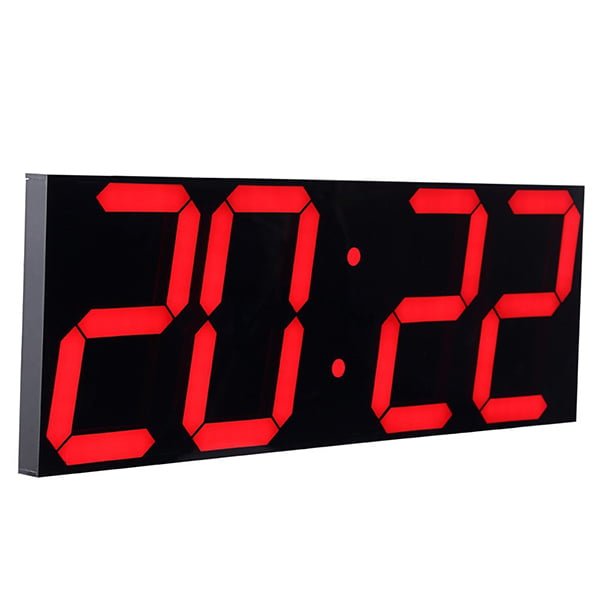 The Chkosda digital wall clock features a super-thin, frameless body that shows 6-inch tall bright red LED numbers. This wall clock offers a no-nonsense approach to timekeeping, making it an excellent choice for any home. The modern design also makes it suitable for commercial and industrial applications. This wall clock also functions as a countdown clock, alarm, and calendar.
Pros:
The 6-inch bright numbers are visible from a distance. With the black background, the numbers can be read even in bright lights.
The brightness of the LED numbers can be adjusted up to eight levels. The unit also comes with an auto dimmer that will self-adjust for day and night time.
Runs on AC power for better stability; has a DC power source using CR2032 button cell battery for backup in case of power interruptions.
Offers both 12- and 24-hour display formats.
Offers 16 groups of multiple alarms.
Can be set for a long countdown of one 365 days, hours, minutes, and seconds.
Cons:
The setup for countdowns and other functions may be a bit confusing for some users.
The button cell battery is not included in the product; the battery has to be checked and replaced periodically to ensure reliability.
Best Kitchen Wall Clock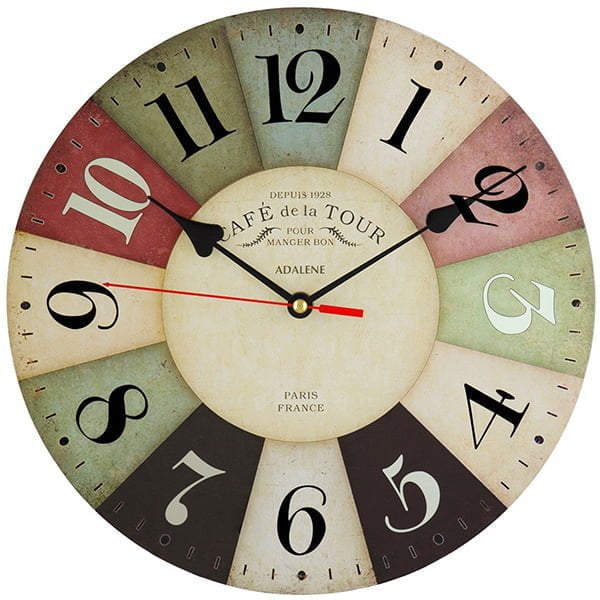 This is a fun, quirky addition for any kitchen. It captures the vintage look particularly well with its colorful face and large numerical display. This wall clock runs quietly – no ticking, whirring, or humming noises, making it the perfect choice for bedrooms and study rooms as well.
Pros:
Very affordable wall clock at just under $15.
Quiet operation – no ticking, whirring or humming.
Decorative; adds some flash of color to any room.
Cons:
The clock hands are too thin and flimsy.
The face is made of printed paper glued to the plastic back.
The colors may appear dull for some people due to the aged retro look.
Some units tend to become inaccurate over time.
The unit is made mostly of plastic which may make it vulnerable to cracks if mishandled.
Rolex Wall Clock (Inspired)
This wall clock resembles the beloved Rolex Explorer with a few modifications. It features an aluminum frame and clear glass cover, and a dark background. This is a simple yet classy wall clock with a modern yet classic appeal.
Pros:
Whisper-quiet operation – no whirs, hums, or tick-tocks.
Glass cover and metal frame add a solid and classy feel.
Stylish and contemporary look that fits most interior designs.
Comes with a working hygrometer and thermometer to help measure humidity levels and ambient temperature.
The clock face comes in different colors.
Cons:
Although it runs quietly initially, some units may begin producing a humming sound which some people may find annoying.
The size of the clock (around 10″) may be too small for large spaces.
The temperature and humidity gauges included with the wall clock may not be as accurate as separate units.
Unique Wall Clock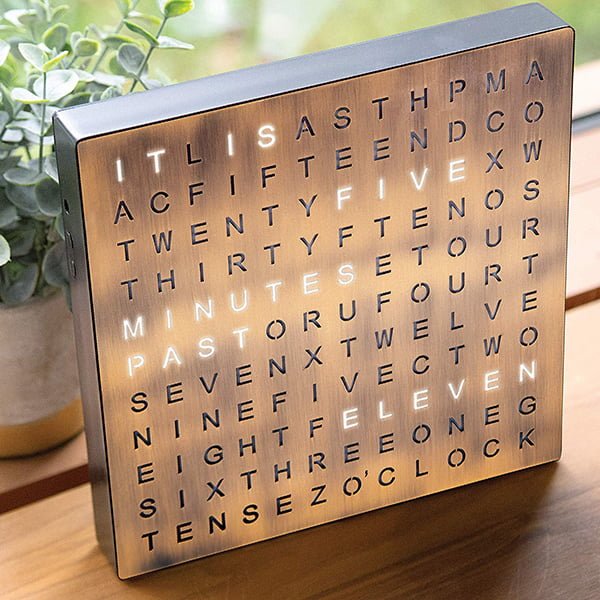 Instead of showing the numerals, this creative wall clock spells it out. Letters light up to tell the time in 5-minute increments in minutes past the hour (maximum 30 minutes) and minutes until the hour thereafter. Functional and decorative.
Pros:
Contemporary design is quite interesting and a great centerpiece for any room.
Unique design makes this wall clock look like a puzzle; once lighted, it tells the time.
Light-up letters make the clock visible at low light.
The solid monochromatic face gives it a sophisticated look.
Comes with a USB adapter and power cable.
Cons:
Tells the time only in five-minute intervals, which means accurate time-telling by the minute is not possible.
At 7.75″, the square face of this clock may be too small for use in larger rooms or for viewing at a distance.
Available only in two colors – black and copper.
Lighted letters may start to blink should the clock malfunction.
Seiko Wall Clock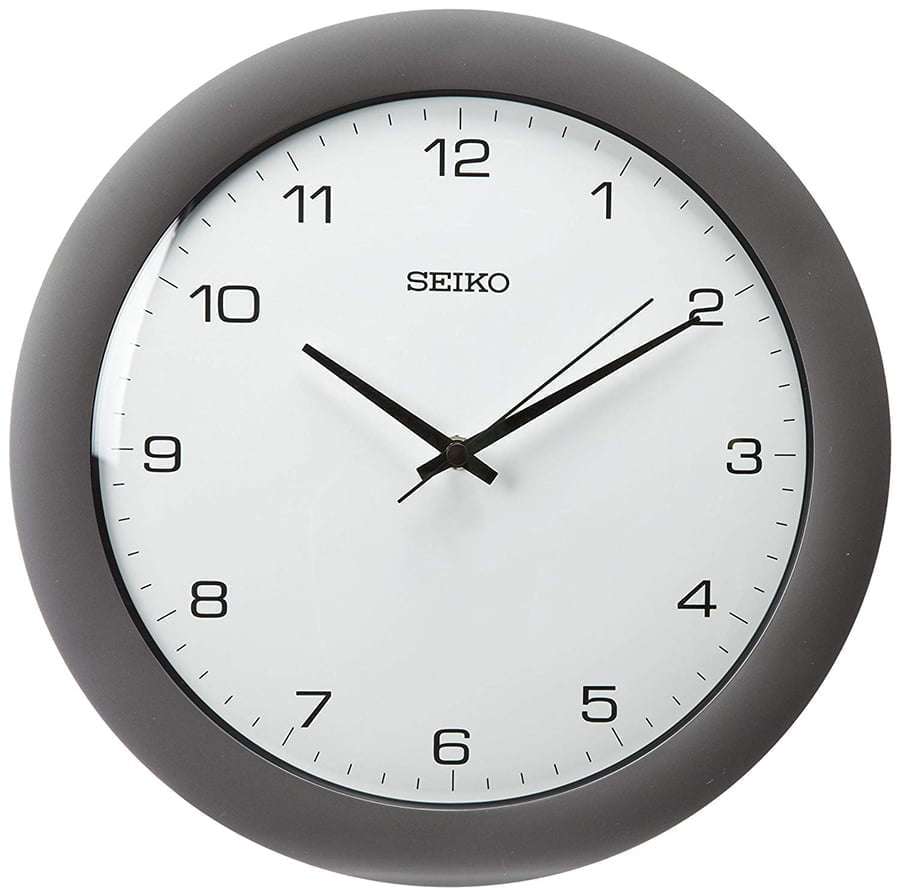 https://www.amazon.com/Seiko-Wall-Clock-Silver-Tone-Metallic/dp/B0027FGBEK/
A round wall clock that comes with a silver-toned frame, the Seiko Office wall clock has a classic yet contemporary design that will suit offices and residences alike. The glass crystal is curved over a monochrome face and features a sweeping seconds hand.
Pros:
Made by a brand known for producing quality timepieces.
Could last for many years with good care and regular battery replacement.
Simple and contemporary design.
Cons:
The curved glass cover is actually plastic and reflective, which can be a problem in low-light conditions.
Produces a ticking noise that may be very audible in very quiet rooms.
No battery cover.
Modern Wall Clock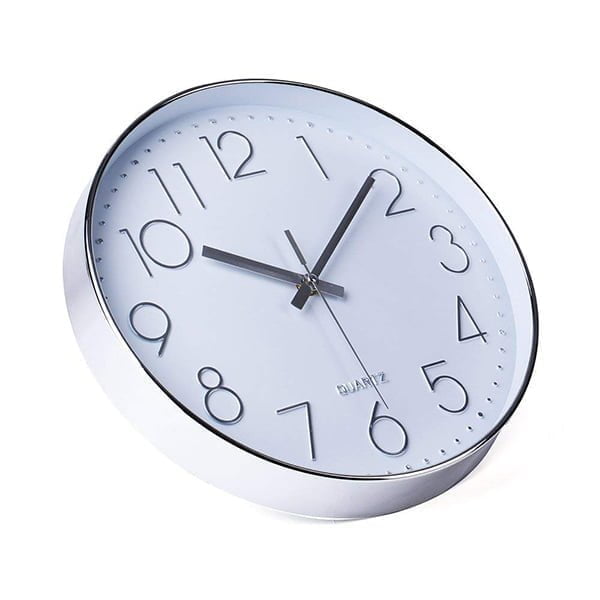 This wall clock is sleek and simple. Featuring large numbers that are easy to read, it is powered by a single AA battery that could keep the clock accurate for up to one year. The clock hands are made of metal painted silver and the body is made of a plastic frame and a glass cover.
Pros:
12-inch clock face makes it visible from a distance.
Simple and clean design; comes in different colors.
Quiet, non-ticking and non-whirring piece.
Lightweight and easy to mount.
Cons:
May begin to slow down over time and start showing inaccurate time.
The hanger part at the back may be too small, making it difficult to hang.
LED Wall Clock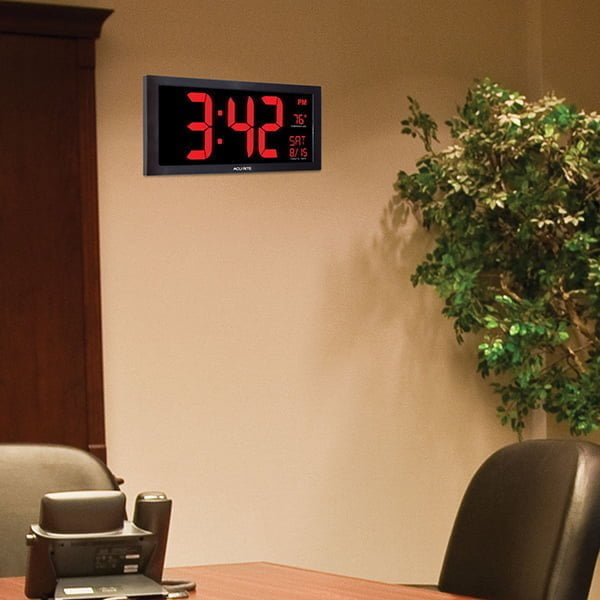 This wall clock provides a digital reading of the time in bright red LED numerals. The numerals are large enough to be viewed from 200 feet away. The clock also provides date, day, and indoor temperature reading.
Pros:
Number display is at 5.5″ for easy visibility.
Displays time, date, day of the week, and indoor temperature.
Runs on AC power with backup battery.
Comes in four different colors and three sizes of up to 18 inches.
May be hung or displayed on a table or shelf.
Cons:
Good for indoor use only.
Only the 10-inch (smallest) unit has a dimmer.
Tells time in 12-hour format; the 24-hour format is unavailable.
Screen is easily scratched.
Best Small Wall Clock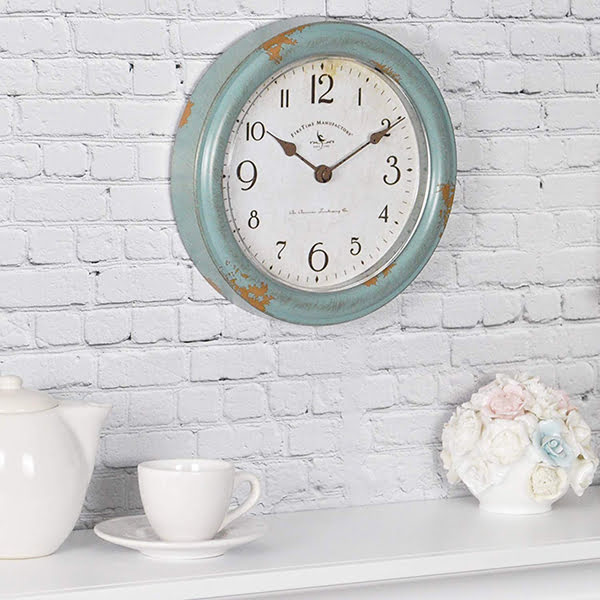 A wall clock built for small to mid-sized rooms and painted to appear aged. The patina wall clock has a plastic frame and glass cover and is designed to be hung.
Pros:
Compact-sized, will suit small rooms and narrow hallways.
It requires only one AA battery to run.
Great choice for Shabby Chic fans.
Cons:
The frame is made of plastic, which could crack, warp, or peel off over time.
May be too small to view from a distance.
Battery compartment has no cover.
The box does not include hanging hardware.
Best Silent Wall Clock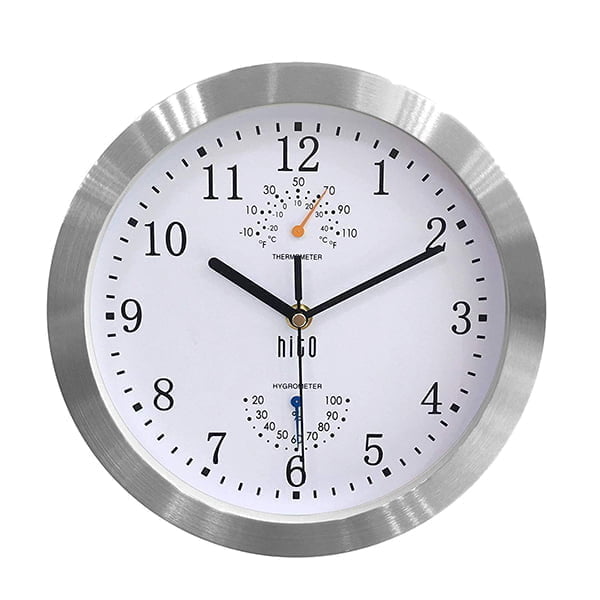 This wall clock has a lovely aluminum frame and a glass cover. It is a quiet wall clock that suits bedrooms, libraries, and study rooms. At 10″ in diameter and with large numbers and hands, this unit can be viewed from a distance without problems.
Pros:
Stylish, modern, and simple.
Quiet operation – no whirs, hums, or tick-tocks.
It requires only one AA battery to run.
Comes with temperature and humidity gauges.
Cons:
Inexpensive but may not be as sturdy as it looks.
The temperature and humidity gauges may not be accurate.
Liked this article? Here's what you can read next:
---
Disclosure: As an Amazon Associate we earn from qualifying purchases.