Last updated on January 3, 2021
Going for the classic tufted ottoman? Here are the top 10 best tufted ottomans in your desired shapes and designs.
So, which one is actually the best? Our choice is this small tufted ottoman.
Fun fact: tufting as we know it comes from the Victorian times. Talk about time tested design. That's why this type of furniture is seen as traditional and classic. And that's why you want it in your living room.
Aside from that, a tufted ottoman is an ottoman we've come to love. It's cozy, handy, and provides storage (if it does.) And even though it's often attributed to luxurious design, many ottomans of this type are by far affordable.
So, here we made a list of the top 10 best tufted ottomans to highlight the most distinctive features — classy design, comfort, function, and multi-purpose use. If you're looking for a piece of furniture to add to your classy decor, this list is for your attention.
As always, we have included shopping links for your convenience. We get a commission for them. It costs you nothing extra. You can freely enjoy them.
Do you agree with our top choice of the best tufted ottoman?
What's Inside?
Small Tufted Ottoman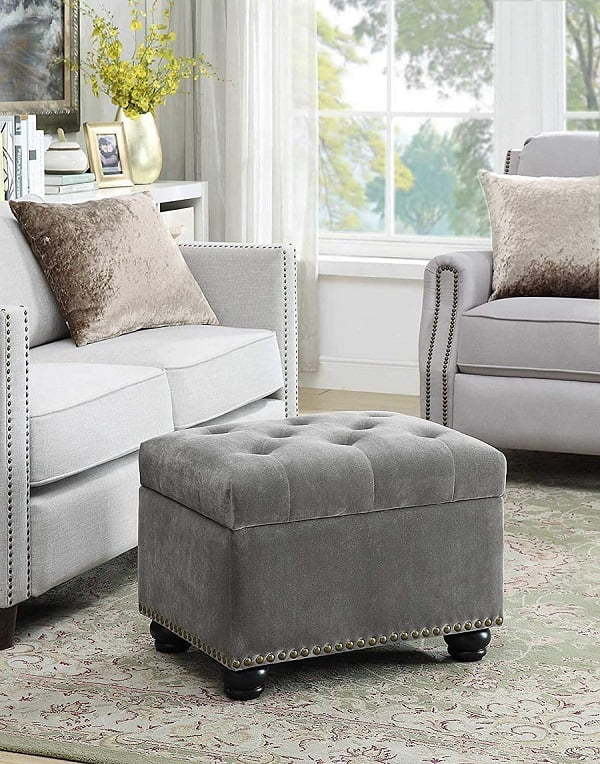 This is our editor's choice for its compact size, functional design, and a wealthy selection of upholstery options.
Most of us imagine a classic tufted ottoman as a large unit. But it doesn't have to be that way. A small ottoman can provide the comfort of the upholstery and even enable storage. Yet it will fit even in tiny living rooms.
This ottoman is it. This is a well-built and durable ottoman. There is not too much fidgeting of the legs while sitting on it. If you place the ottoman in a child's bedroom, the fact that the lid stays closed tightly when it's in use is important. The storage compartment is relatively roomy and could fit two or three blankets. The best part is that you can more than one of these small fellas.
Quick facts:
It's small (24 by 18 by 18 inches.)
You can choose from several colors and fabrics (including faux leather.)
The size and price allow you to get multiples units.
Roomy storage space for its size.
Button Tufted Ottoman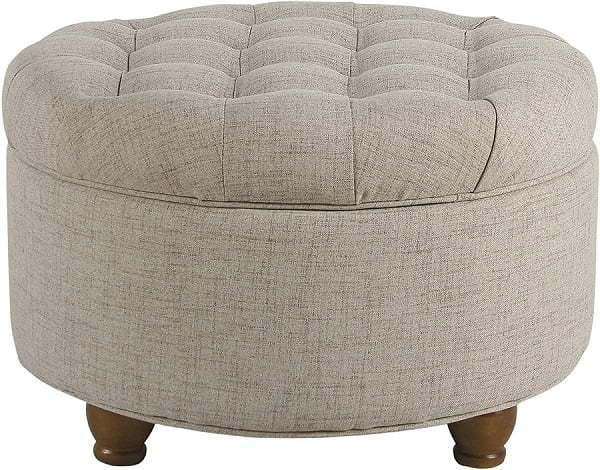 This unit is one of the best classic pieces. The bottom of the ottoman has no rough or jagged edges so you can slide it around quickly and comfortably without even putting the legs on (the bottom is sturdy enough.) The legs are aesthetically pleasing so you can choose to screw them on.
The unit has ample storage (big enough to hold pillows and blankets as well) when opened and the top lid does not come off when closed. It's sturdy enough to be comfortable for seating as well.
This round ottoman comes well packaged. It is assembled by simply screwing in the four wooden legs with captive bolts (if you choose to.) Tools are not needed. This thing takes just two minutes to set it up.
It's an all-around great classic round tufted ottoman that comes in several colors and fabric choices.
Quick facts:
Classic piece.
Ample storage.
Legs can be used or left out based on your preference.
Great choice of colors and fabrics.
Sized 25 by 25 by 15 inches.
Small Round Storage Ottoman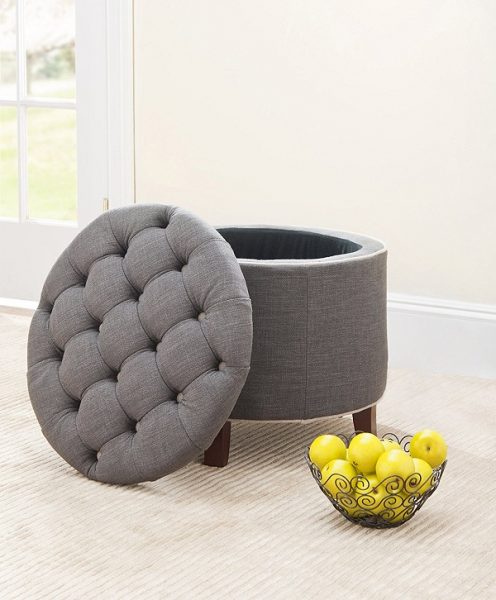 Another small unit for limited spaces. This is the perfect item for those who are looking for a tufted storage ottoman that will complement what they already have in their home. Because it comes in such a plethora of color options, you are certain to find one that will match up exactly with the piece or color theme you are looking to pair it up with. Unlike many other ottomans, which offer anywhere from 2 to 4 options, this one has a whopping 19 color choices to select from. Yes, you can find a match in there somewhere.
Quick facts:
A small unit at 22 by 22 by 21 inches.
Storage room.
A huge array of color choices — 19.
Birchwood frame.
Linen blend fabric.
Round Linen and Burlap Ottoman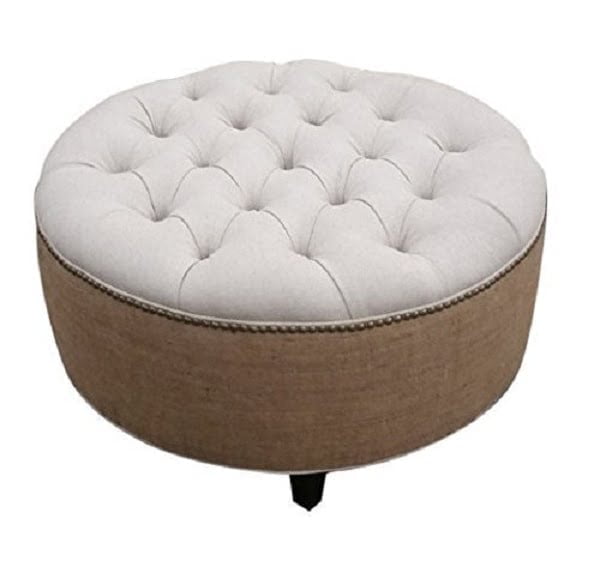 This large round tufted ottoman is handmade in North Carolina, so you know it will be as durable as it is beautiful. The contrasting shade differential between the ottoman's burlap body and its tasteful linen top makes for an exquisite, eye-catching, and yet understated piece that will provide majestic service in whatever room you choose to employ it. The brass nailhead trim also provides just that extra little bit of attention to detail that lets you know that you have made a wise investment.
Quick facts:
A blend of rustic and modern design.
Made in the USA.
Trusted furniture brand.
Oak frame and maple legs.
Sized 30" round by 17.5" tall.
Velvet Round Storage Ottoman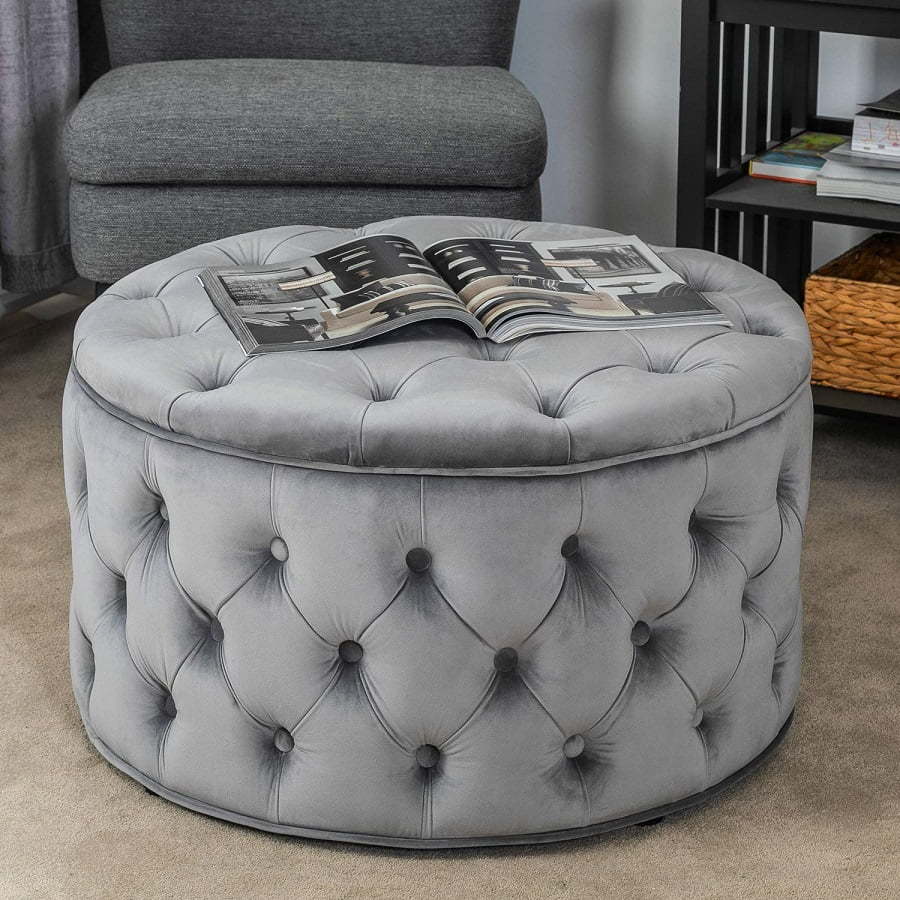 One of this unit's distinctive features is that it employs a taller body on very short legs, which gives it the look of a full pillbox with no visible space underneath. It is still the same approximate height as any other ottoman but has a very different, more modernistic appearance found in a traditional squat-legged one. Although listed as a Gray ottoman, this product also comes in Emerald Green, Coral, Teal, Brass, and Beige color.
Quick facts:
Short legs.
Fully tufted (top and body.)
Hidden storage.
Sturdy enough to sit on.
Choice of several colors.
Pleasant velvet upholstery.
Sized 29.5 by 29.5 by 17.3 inches.
Velvet Ottoman Bench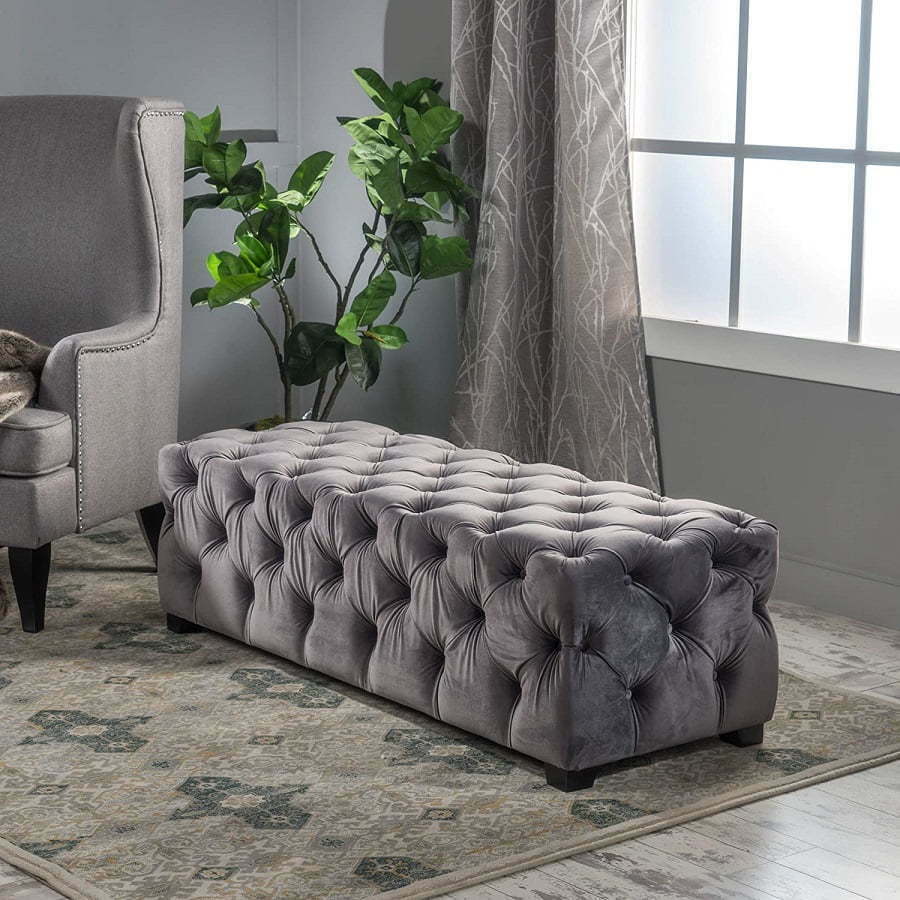 Rectangular ottomans are also in high demand this season. For those who are looking for something to place at the end of the bed, this piece would be an ideal candidate for inclusion. Its solid construction and lovely tufted velvet fabric come in 5 colors and square or circle shapes.
Even though it's not immediately obvious, this unit has hidden storage. The top doesn't open, but it has a zipper at the bottom and can store small things. The ottoman is hollow, so you have to be careful if you choose to sit on it.
Quick facts:
Excellent for the bedroom.
Very hidden storage.
Low legs.
Nice velvet fabric.
A choice of colors and design shapes.
Sized 50.75 by 18.75 by 15.75 inches.
Square Velvet Ottoman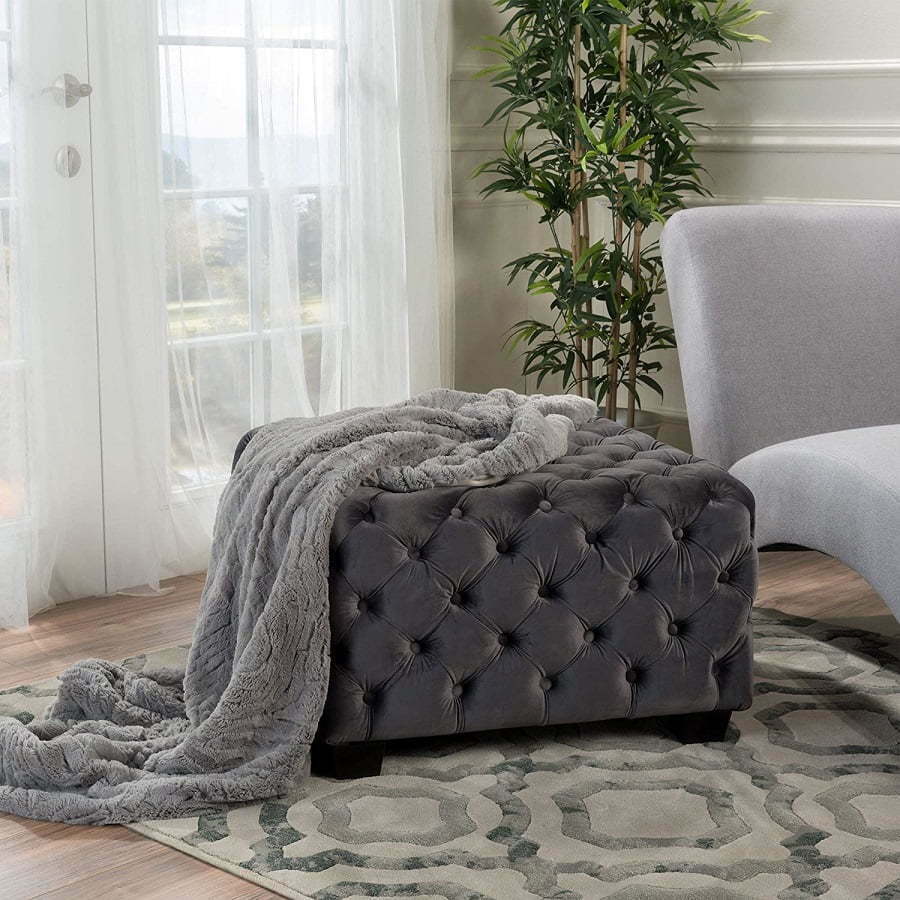 This lovely ottoman offers a generous dose of beautiful boudoir chic that will enhance the appearance of any room, not just the evening chamber of a princess. You can lounge at ease with this deliciously padded piece in the family room as well as offer it for display in your formal living room.
Just one look at it and you know that it is going to be a gorgeous and extremely comfortable addition to your room design. Available in both an elegant dark gray and an absolutely imperial-looking midnight blue, this tufted ottoman offers fine craftsmanship and high value for every home.
On top of its beautiful design, it contains a small hidden storage compartment sealed with a zipper at the bottom.
Quick facts:
Nice velvet upholstery.
Statement decor features.
Hidden storage.
Sturdy enough for seating.
Sized 29 by 29 by 18.5 inches.
Blue Velvet Tufted Ottoman Bench
Here is a full-sized bench ottoman that offers a wide range of possibilities for every room. Perhaps its best and the most distinctive feature is its set of metal cabriolet legs, which is a feature not seen on many other ottoman designs. What makes this so attractive is not only its visual pop but also its extremely practicality.
Cleaning underneath most ottomans requires you to physically move them. Since this bench ottoman also offers a large amount of storage space, that can mean extra weight if you needed to move it for cleaning — but you won't have to.
Quick facts:
Visually appealing decorative legs.
Lost of storage space.
Luxurious look at affordable price.
High legs — easy cleaning underneath.
Sized 45 by 19.5 by 7.8 inches.
Script Print Modern Tufted Ottoman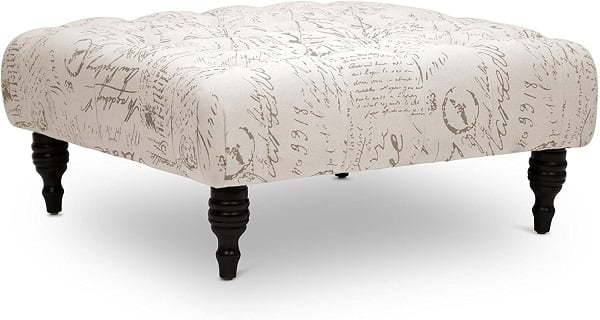 We love this fabric style that comes from a trusted furniture brand. As with most tufted ottomans, not much hard work is needed to assemble it — only putting the legs onto it. It's a creamy ivory color, as the description says. The script print adds a unique modern touch to a classic piece of furniture. The unit is complete with a small compartment underneath for storage (closed with a zipper.)
Quick facts:
Modern script pattern.
A blend of cotton, linen, and polyester fabric upholstery.
Hidden storage compartment.
Decorative legs.
Sized 35.25 by 35.25 by 15.75 inches.
Ottoman with Caster Wheels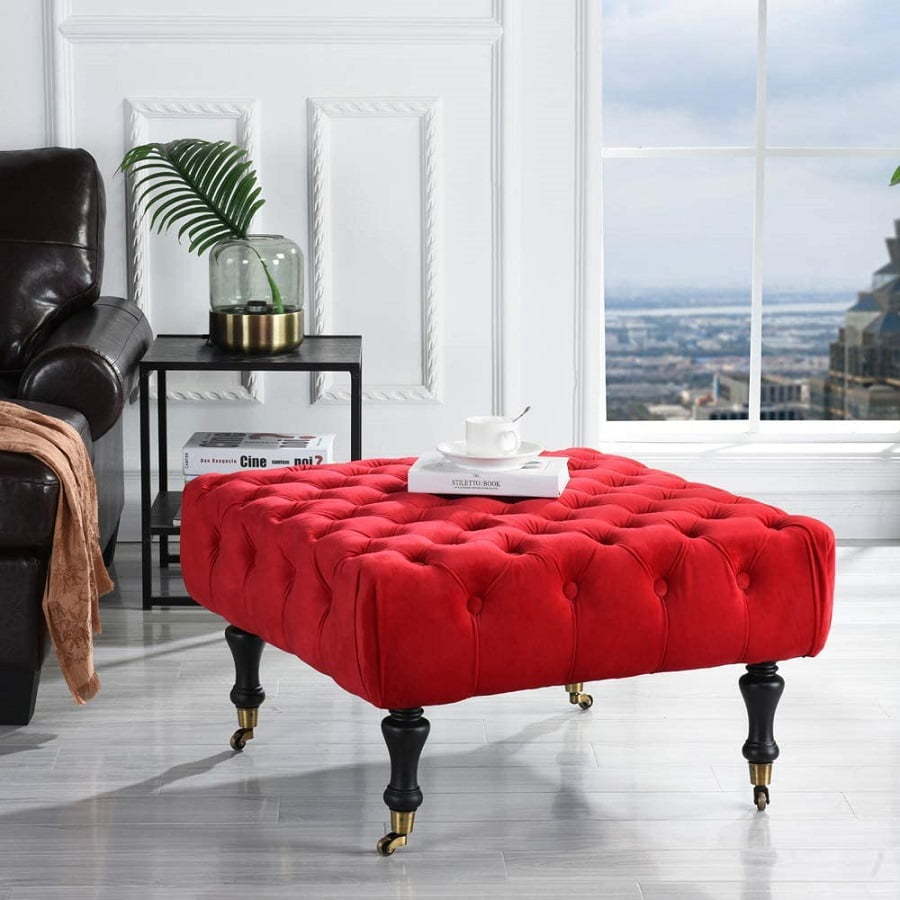 People do occasionally need or want to move their furniture around. When it comes time to do so, this large square tufted ottoman sits on four casters that are designed to roll smoothly both on carpeted surfaces as well as on wood and tile floors. Particularly when it comes time to entertain guests, that can prove to be a convenient little feature. The vibrant red fabric color is sure to make a statement.
Quick facts:
A classic piece in a vibrant statement color.
Caster wheels.
Velvet upholstery.
Sized 29.5 by 29.5 by 17.7 inches.
Liked this article? Here's what you can read next:
---
Disclosure: As an Amazon Associate we earn from qualifying purchases.