Last updated on November 8, 2020
Looking for the best through the wall air conditioner that will save you space and energy use? These are the top picks that tick all the boxes. Read on!
Through the wall air conditioners are installed by making a hole in the exterior wall of a house. It's a self-contained unit mount in a special wall sleeve, meaning there are no separate parts such as an external compressor. As such, this type of AC is very compact and efficient. The wall built-in look is very sleek and modern, it doesn't pose a risk to the room's decor.
Compared to the wall-mount units, the through the wall AC is more energy-efficient, less protruding, albeit it's typically less powerful. The units also usually come with a heater module, sometimes they might even have a humidifier/dehumidifier function. So the main reason why you'd want one is the functionality for a very compact unit.
How do you choose the through the wall air conditioner?
These are the considerations:
How big is the room? Check the BTU value you may need.
Is it going to be clearly visible? Consider what it will do to your decor and choose an attractive unit.
Consider the noise level requirement.
Do you need a heater also (and a dehumidifier)?
Consider energy efficiency and price.
These are very simple things to consider that will help you along the way. And now on to our top list that will cover all of the above points and more. These are the picks based on our research method, data, and our site usage statistics (what people search for). Note that we might be compensated for qualified purchases by Amazon (tagged #ad) at no expense to you.
Let's pick on of the following.
What's Inside?
Best Through The Wall Air Conditioner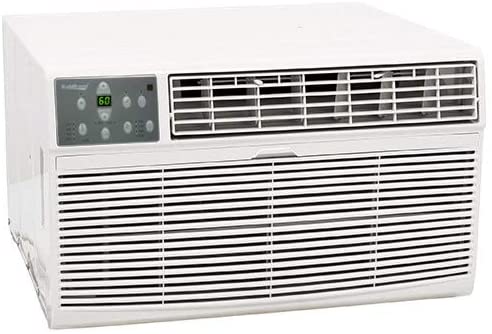 A pretty powerful (12,000 BTU) air conditioner that will be enough for a medium-sized room. It goes into a wall sleeve to take up minimal space.
Pros: 12,000 BTU cooling with a coverage area 450-550 square feet; it has an energy-saver feature; it is compatible with the Koldfront wall air conditioner sleeve (WTCSLV) which is sold separately.
Cons: every time you turn it on it goes to energy saver by default; quite loud.
In Wall Air Conditioner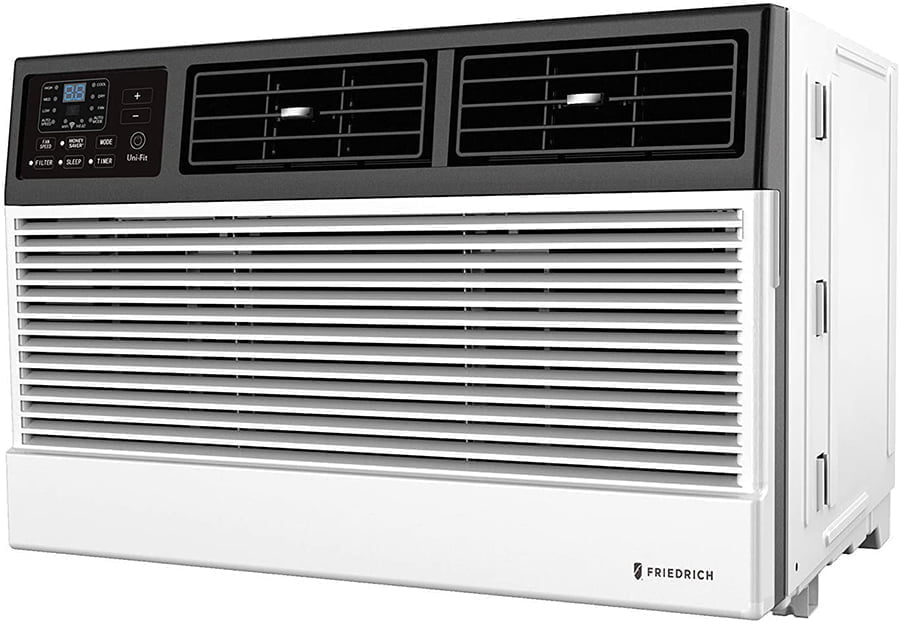 11,500 BTU that this conditioner provides is enough for a medium-sized room. And it disappears into the wall when built-in.
Pros: provides quiet, dependable performance that will outshine any other air conditioner; cools extremely fast and well; universal fit; this small unit is specifically designed to replace virtually any thru-the-wall air conditioner quickly and cost-effectively.
Cons: the remote control is a little tricky; a bit noisy.
Frigidaire Through The Wall Conditioner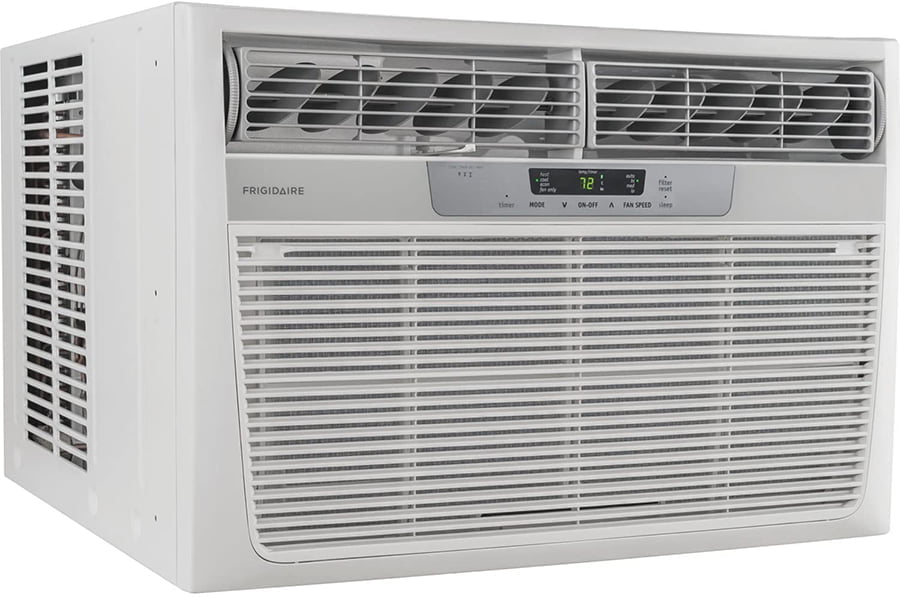 Frigidaire is known for their powerful conditioners so it's no wonder this unit is on the best-of list. It will maintain your climate (warm and cold) the way an AC should. It provides a whopping 18,500 BTU.
Pros: it has an auto cool mode which allows the fan to adjust speeds as the room temperature changes; quiet operation; energy efficient; slide-out chassis for either window or wall installation; the heater is very powerful.
Cons: installation is a bit tricky because of the size.
Wall Mounted AC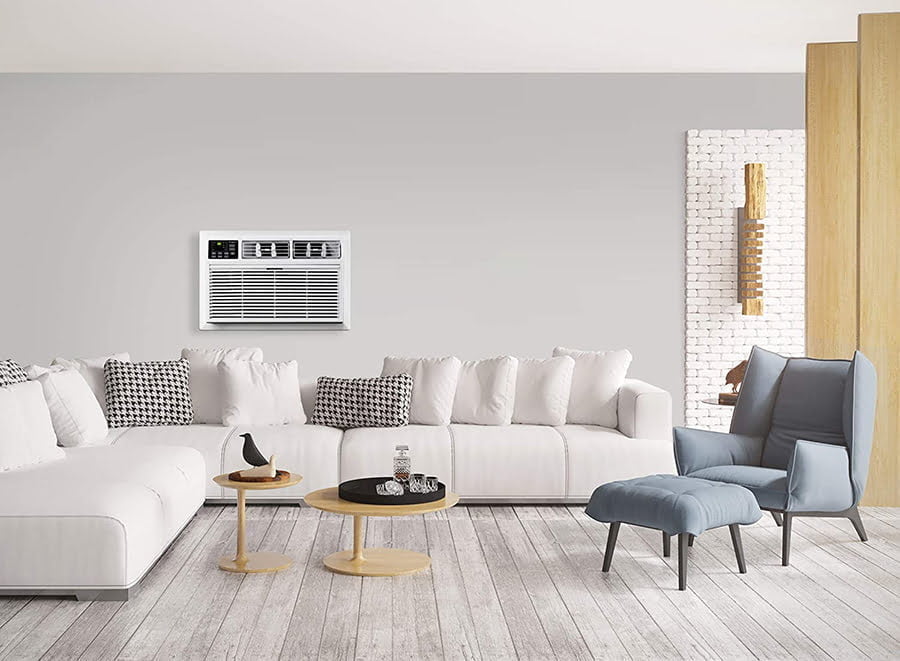 Whirpool has some neat units that not only look good but function well. This AC will actually look good enough installed at the eye level.
Pros: it quickly cools and dehumidifies a room up to 550 square feet; it has eco and sleep function which saves energy while keeping you cool; easily remove the filter; a universal fit size to your existing sleeve.
Cons: not suitable for window installation.
Koldfront WTC8001W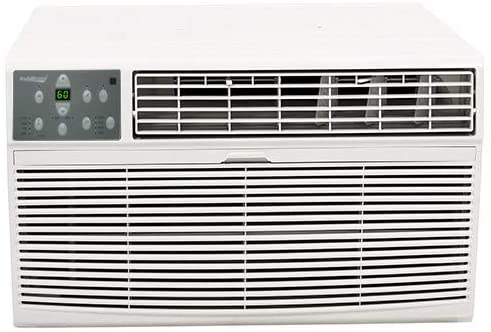 This particular model of Koldfront AC is not as powerful but it's very compact. So it's ideal for smaller spaces.
Pros: the unit cools up to 350 sq. ft.; has energy-saving mode; maintenance is easy; quiet operation and easy to install.
Cons: heat function is only intended to provide supplemental heating in addition to an existing heat source.
Best Wall Mounted Air Conditioner Heater Combo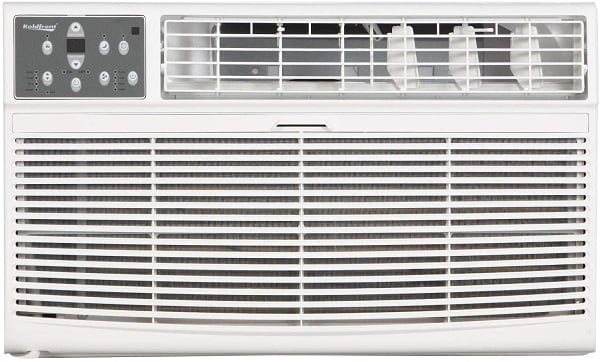 This model has AC (10,000 BTU) and heater (10,600 BTU) modules as well as a dehumidifier to boot. It's a very versatile Koldfront product albeit so small.
Pros: Has supplemental heater and dehumidifier; great value and very efficient; 450 square feet coverage which is a lot for such a small unit.
Cons: a bit noisy.
Friedrich Wall Air Conditioner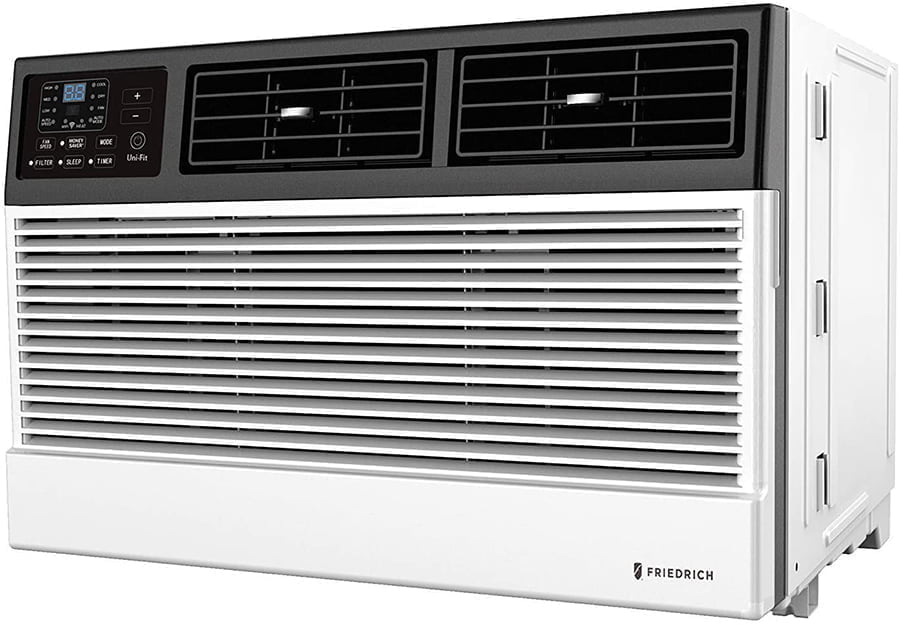 Friedrich makes smart and visually attractive AC units. No wonder it's such a popular and sought-for manufacturer. A must-have on any best-of list.
Pros: wi-fi enabled, Alexa & Google Home compatible; this thru-wall AC is Energy Star rated and designed for quieter operation; it cools extremely fast; and easy to install.
Cons: Remote control is a little tricky and a bit noisy
Quietest Air Conditioner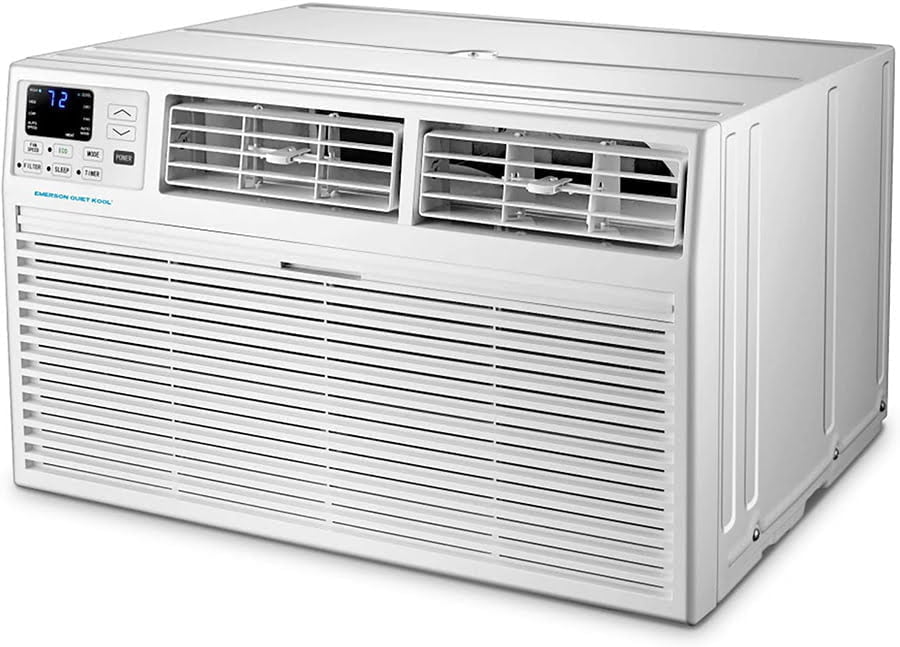 AC unit has to do many things but noise is not one of them. This model is extremely quiet while being very powerful (14,000 BTU).
Pros: it efficiently cools and heats up to 700 sq. ft; two air exhaust vents (instead of one); it has a programmable timer and sleep mode; the remote control for this unit is excellent.
Cons: the product is not suitable for window installation.
GE Wall Air Conditioner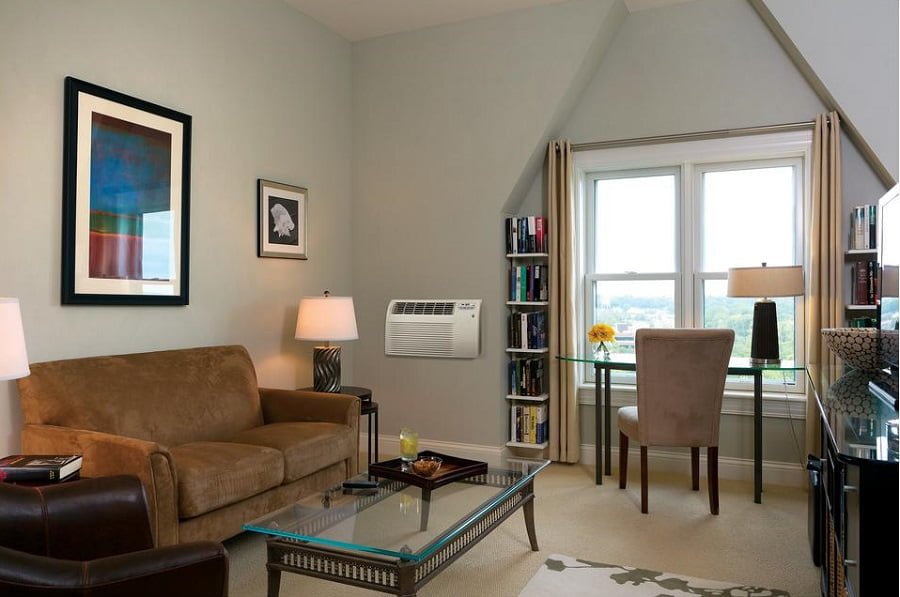 GE is one of the manufacturers that make attractive units. You can install it into the wall at eye level and it will not mess up your decor.
Pros: durable, high-performance filters are located at the front for easy access and cleaning; digital control; good size and weight; high quality and easy to install; has filter light reminder feature.
Cons: fan mode is a bit noisy; it does not heat well in very cold weather.
Best Energy Efficient Air Conditioner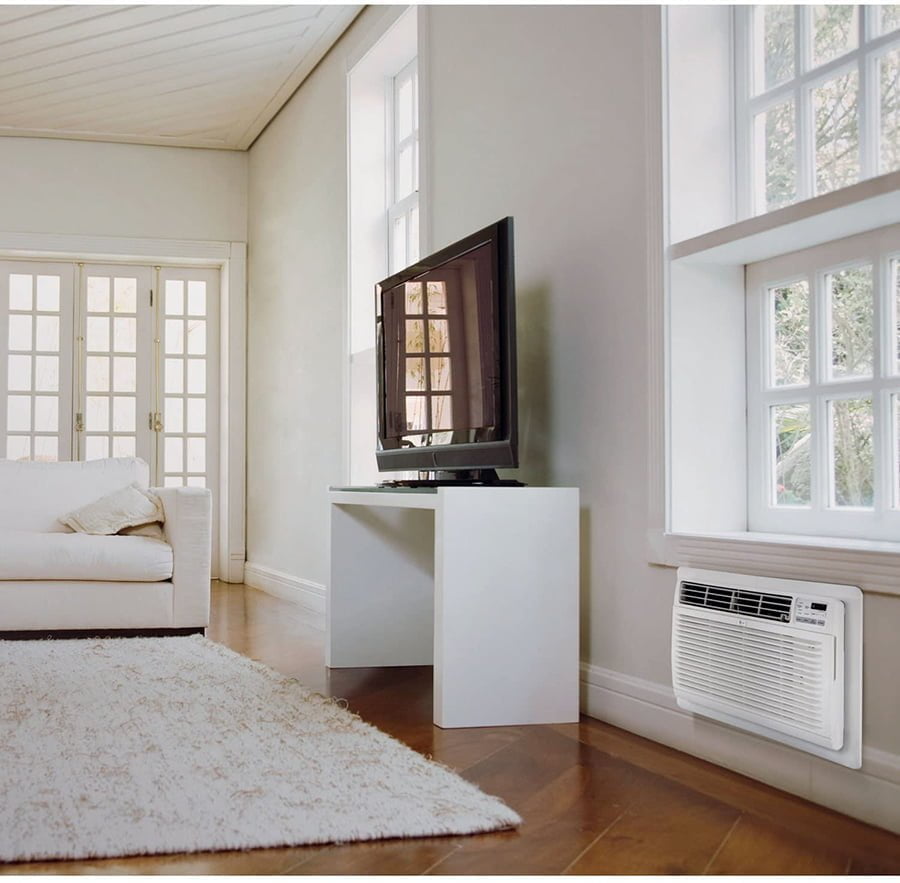 What LG does really well is make energy-efficient appliances. This through the wall AC is not an exclusion.
Pros: Gold Fin anti-corrosion coating provides a protective shield so the unit lasts longer; stylish and powerful unit; easy installation and great cool air output.
Cons: a loud compressor.
Liked this article? Here's what you can read next:
---
Disclosure: As an Amazon Associate we earn from qualifying purchases.