Last updated on May 31, 2022
The best rug pad for hardwood floors is a must-have if you have a slippery area rug and want to protect your beautiful floors. Here are our top picks.
And the best of them all: Veken Non-slip Rug Pad Gripper.
Area rugs that slide around on hardwood floors are a hazard to both your safety and your hardwood floor's finish. You can protect your floor and prevent accidents by placing a rug pad underneath your area rug. The best rug pads for hardwood floors are non-slip pads made of a durable material like rubber or polyester blended with felt (it provides padding and softness).
So, the best rug pad protects the finish of the wood while evenly distributing the weight of the rug across the floor. Pads are also helpful for keeping rugs in place and preventing them from slipping and bunching up. What pad you get depends on the type of flooring you have and the size and shape of the rug you want to put on it.
We've chosen the best rug pad for our hardwood floors. You may check it out or disagree with our choice (no one solution fits all). That's why we've picked 10 different options in all. You will find links (we earn a commission at no expense to you) to see them.
What's Inside?
Veken Non-slip Rug Pad Gripper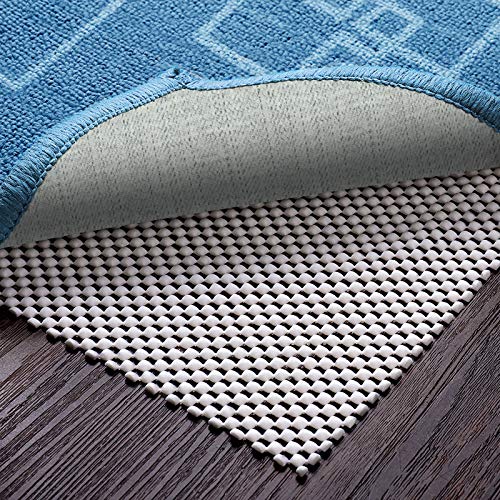 This is our editor's choice.
This non-slip rug pad is made of premium materials and is durable, just like its no-slip grip. You won't have to worry about your rug because it will stay flat thanks to this rug pad's high-quality, comfortable padding and the materials breathe. We would recommend this product to those with hardwood floors who care about protecting their floors from scratches while giving it a comfortable lap for those long days on the couch without the feeling of cold feet.
Its gripping material will maintain your rugs in their place and not allow them to bunch up or move around during any use. This carpet protection also provides that additional cushion for your feet and legs, which elevates your comfort for daily use. The installation process is as simple as cutting the rug pad down to suit your rug size.
Quick facts:
Made of durable materials.
Non-slip and breathable.
Easily removable.
You can cut it to size.
Mohawk Home All-Surface Felt Rug Pad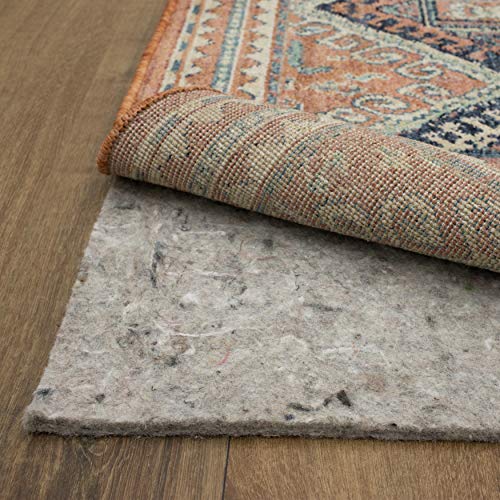 The rug pad for hardwood floors is made from 100% recycled felt that is green label certified; this means you are buying something efficient and sustainable. This rug pad is durable but not overkill. In other words, when buying this, you are not paying for a thick rug coaster that will never be able to do its job. The non-slip grip on the bottom of these pads provides better traction. The rug pad has no latex backing, will not stain or discolor your floors, is soft on bare feet, and can be trimmed to fit.
Quick facts:
Recycled felt pad.
You can cut it to size.
1/4" thick.
Cushioned.
Made in the US.
Aurrako Non-Slip Rug Pads for Hardwood Floors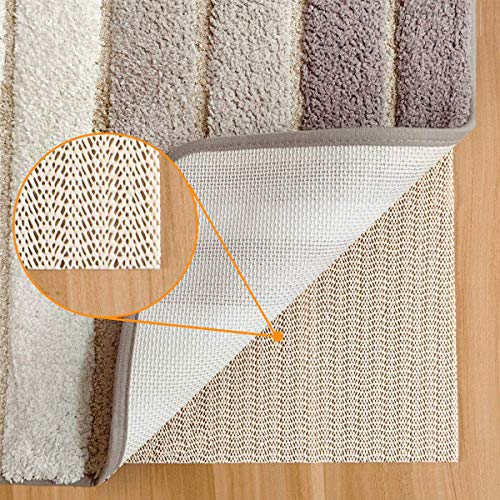 This item provides excellent protection and reinforced grip against sliding on hardwood floors. It can be trimmed for custom sizes if needed. Its open weave design doesn't tangle fibers and is suitable for all types of rugs.
Aurrako rug grippers are non-adhesive, lightweight rug pads for hardwood floors. Constructed of premium PVC materials for long-lasting quality to help keep rugs in place on your floors.
Quick facts:
Made of PVC.
Precut sizes.
Support and air circulation for rugs.
Gorilla Grip Original Felt and Rubber Rug Pad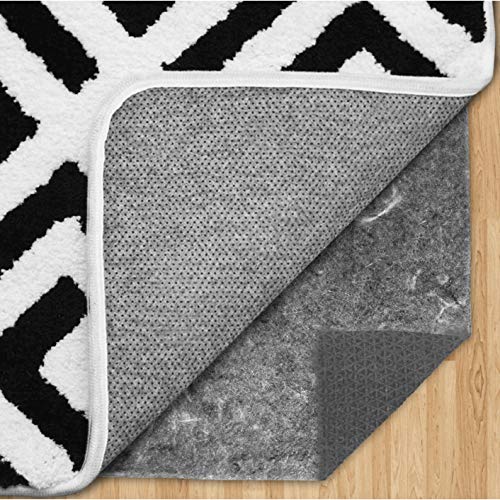 This rug pad is worth the cost, not only for hardwood floors but when you want to increase the lifespan of your rug. If, for example, you live in a condo and do not own the flooring, minimizing any damage is so important (isn't it in any case?) This particular pad has a natural rubber backing which provides a non-slip grip that prevents sliding. It also protects any expensive, newer carpet as well as any delicate furniture. The carpet feels wonderful underfoot because it offers a cushion.
Quick facts:
RugPadUSA Dual Surface Felt Pad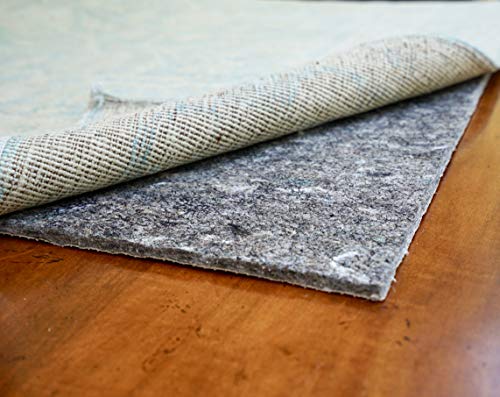 With a 22 oz felt per square yard, a natural rubber backing, and other sustainable fibers in the pad, it grips the floor firmly to prevent slipping, sliding, or wrinkle in high-traffic areas. The thickness is about 1/4″ for the pad and provides extra comfort without any extra bulk. This rug pad is heat-pressed felt to assure soundproofing and insulation while being gentle enough that it won't scratch up a floor like many other rug pads.
Rubber backing prevents slipping, scratching, and wrinkling in high traffic areas; it will not damage the flooring surface or leave a sticky residue on the floor like rug pads with rubber or glue backing. This natural rubber-based non-slip grip pad is very durable and will protect your floor surfaces from everyday wear and tear. The felt held down by heat pressing ensures a firm grip.
Quick facts:
Made of felt and rubber.
1/4" thick cushion.
Made in the US.
Home TechPro Rug Grippers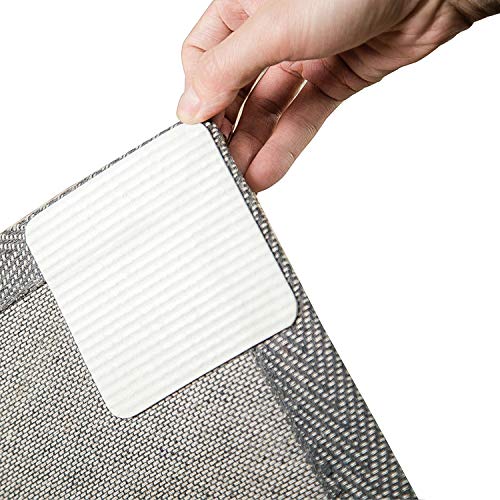 The perfect, affordable solution to slippery carpets. Put this rug pad under your area rug, and it grips to the floor even more for extra non-skid safety. Packaged under its own cover with built-in suction cups, this Grip Rug Pad is a customer favorite because of its high-density material that provides just enough padding while still looking classy. Not only does it prevent carpet curling and sagging, but it also helps prevent allergies from carpets when vacuuming.
This rug gripper is made of Vacuum Tech material that grips to all floors with a patented vacuum release when pressure is applied from one direction. It also is less than 1/10 inch thick so that it doesn't become noticeable for the benefits are being realized. Lastly, it is easy to install this rug gripper on your own and remove it when necessary.
Quick facts:
Corner grippers.
1/10 inch thick.
Easily removable.
Puroma Non-slip Area Rug Pad
This non-slip rug pad for hardwood floors is made of a breathable open weave that provides an important protective layer against most rugs' rough surfaces. The durability makes the rug pad long-lasting and of strong quality, which can extend your rug's life. The pads are constructed of premium materials so you can get a couple of years max use out of it before needing to buy replacements.
Quick facts:
Cushioned.
Non-adhesive.
Durable and breathable.
Ophanie Non-slip Rug Pad Gripper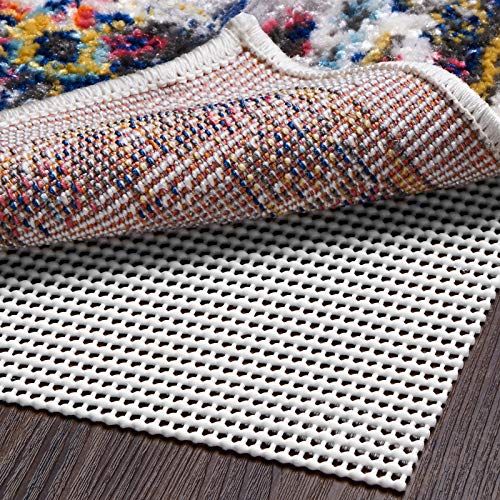 This non-slip rug pad is sturdy and won't shift. You have a worry-free environment with plenty of cushion on offer. The anti-slip rug pad will enhance your floor protection, keeping dirt and debris from getting trapped between your floorboards. With this quality piece of material, you do not need to pull off layers of the scratchy adhesive product or worry about wet rugs.
It also has an open grid construction (combining rubber and foam) for breathability and protection against scratches from furniture legs or electronics. Furthermore, this product is two times more durable than the industry standard due to its thickness and quality.
Quick facts:
Thick padding.
Cut to size.
Breathable.
Ninja Brand Gripper Rug Pad
This rug pad protects your floor from scratches and high pile carpets that may get in the cracks and wear out the floor even faster. Made with industrial-strength, nonslip grip, 1/4″ padding, it will protect your floors while also keeping your carpets in place. It is very easy to cut to size without wrinkles. The material is made up of rubberized materials that make these do an excellent job of staying in place, plus they resist all kinds of wear and tear.
If the rug is thin or small, this product is recommended for sure. The rug pad prevents the floor from becoming scratched and even keeps the rug looking new instead of starting to tear in places bare to the floor for a long period of time.
Quick facts:
Available in many size and it's easy to cut.
Non-adhesive.
Rug Pad USA Felt and Rubber Pad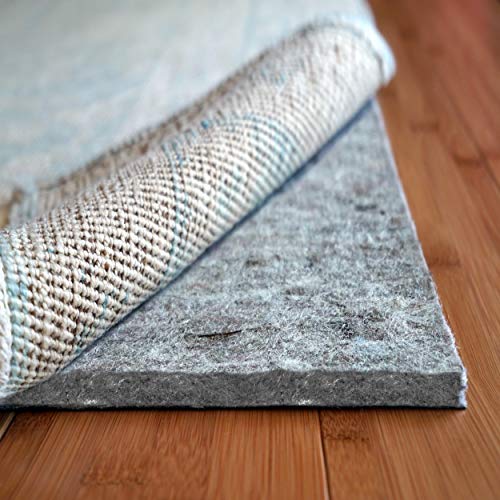 The rug pad has a fairly good non-skid grip with a knit backing that keeps it from skidding on the wood floors. It is also cushioned enough to provide comfort while standing on it all day long. This rug pad will keep your rug and floor safe from unnecessary scuffs, dents, and a beautiful non-slip surface. The non-duplicitous rubber backing is thick, enhancing for improved softness. You can experience a "lush" feeling surface that cleans up hair and dirt quickly as well as protect your area rugs from falls or scratches by providing them with a plush surface to lay on the top of.
Quick facts:
7/16" thick padding.
Made of felt and rubber.
Breathable needle-punched felt.
Safe with heated floors.
FAQ
What type of rug pad is best for wood floors?
It is important that the rug pad is made without latex, it's breathable, and it's not adhesive to prevent the hardwood from damage. Felt and rubber blend is one of the most popular options.
Do rug pads damage hardwood floors?
Rug pads don't damage hardwood floors if they are designed for them. These are breathable non-adhesive pads that don't leave residue and don't discolor the floor.
Should you use a rug pad on hardwood floors?
You should use a rug pad on hardwood floors to protect them from wear and tear and keep the area rug from slipping.
Are rubber backed rugs safe for hardwood floors?
Rubber alone may not be safe for hardwood finish and may cause discoloration over time. That's why a blend with felt is often used.
Should rug pad be same size as rug?
The rug pad is slightly smaller than the rug. It prevents the pad from being exposed, and the rug edges curling.
Which side of a rug pad goes up?
The flat side goes up to touch the bottom of the rug, while the soft side goes on the floor.
Liked this article? Here's what you can read next:
---
Disclosure: As an Amazon Associate we earn from qualifying purchases.