Last updated on January 3, 2021
A round ottoman is classic. If you've decided to get one, this is what we have to say to you: great choice! These are the top 10 picks to turn your decision into reality.
► Our top choice: this round button tufted storage ottoman.
I had a round ottoman, and I loved it. It was a small tufted ottoman, and it was round, and it had storage inside. I kept all the things in it that I didn't want to show on my coffee table. And even though it was small, it packed quite a bit (in fact, the stuff made it even sturdier.)
So I can tell you that to choose a round ottoman is not only a classic option. It's your only option if you have a small room. It's the most sensible option anyway.
Round ottomans are pretty specific, but you can use one in just about any decor style. Their main benefit is that a round design can be used even in tiny spaces, and they still provide a lot of room as a surface or storage.
It's not that there are no options to choose a round ottoman — there are plenty. But we are very specific when we choose only the top ten. Looks and comfort are our top priority with these little units. We realize that storage might not be mandatory in some cases (there are the best storage ottomans for that), so some of these ottomans lack it.
In any case, this is a lovely list. And we've fallen in love with every one of these little dudes (if you can call a piece of furniture that.) We hope you will enjoy this list too.
And if you find any of our shopping links useful, be aware that we may receive a commission at no expense to you.
What's Inside?
Button Tufted Storage Ottoman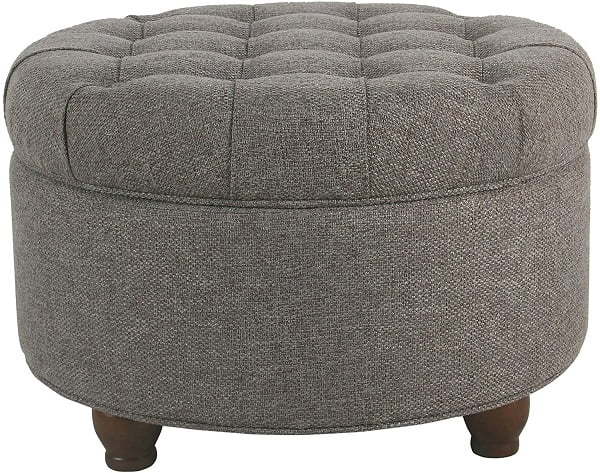 We have chosen this round ottoman as our editor's top pick. But why? It's a classic ottoman (with storage) that fits any decor style (thanks to its options). It's well-made at a bargain price, too.
Get this medium width (25 inches) and round tufted ottoman to add a touch of elegance to your living space. This beautiful piece comes with a classic look and will fit into many traditional decor schemes or as a statement addition to a modern home. You have a choice of several color and upholstery material options.
If you already have other pieces of tufted or decorative furniture, you may consider this ottoman to complement them. Use this to give your tired feet their deserved rest at the end of a day; or you may use it as an extra seating option; or for other purposes such as serving trays, to put books, magazines or the odd article on and so forth.
Faux Fur Ottoman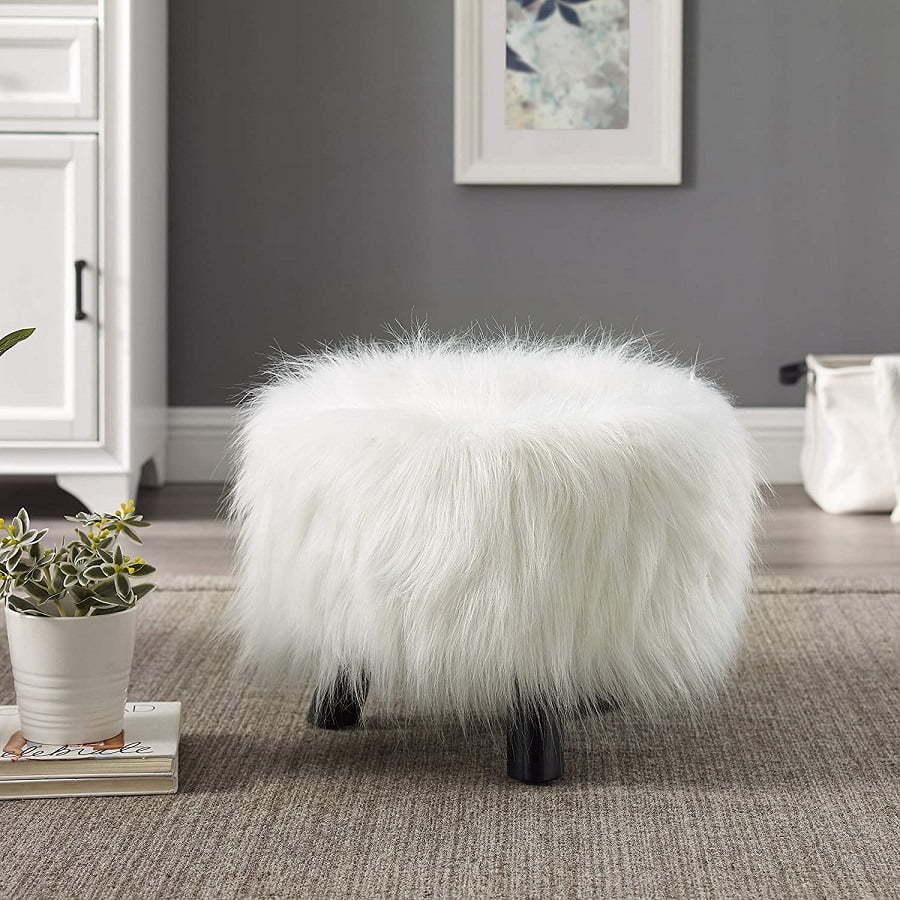 Jazz up your living room with this fun-looking faux fur covered round ottoman tool. This three-legged stool comes with wooden legs and an overall sturdy build, so have no fear in case you want to use it as a seating option as well (it's high enough to work as a stool.) In any case, no matter whether you use it to cradle your foot or for seating purposes, you will love the plush and squishy feel of the dense fur coating. And if you have kids around, you may bet they will love it even more.
Velvet Tufted Ottoman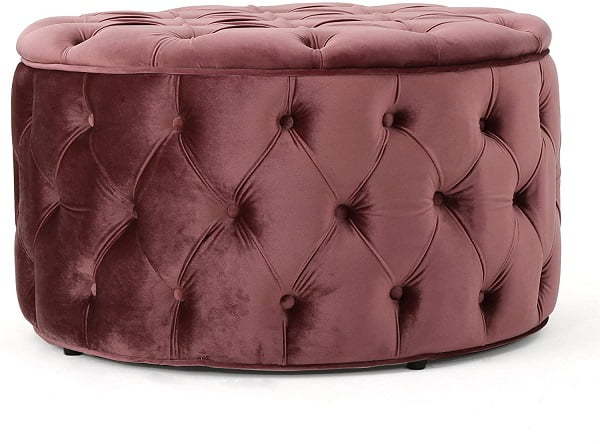 Want a stylish and functional addition to your furniture set? Consider this tufted velvet storage ottoman. It is homely in appearance with its soft-toned blush hue and the button tufting of both the lid and the base.
The lid is easily lifted, and there is ample storage space in the base that you can use to put clothes and other articles in, which will help keep your space organized. Just make sure to lightly brush or vacuum clean the lid cushion at least once a week to help retain its beautiful appearance.
Modern Tufted Ottoman with Nailhead Trim
Want a chic addition to your living area? Then consider one or a pair of this innovatively designed woven fabric ottoman. It will act as a versatile accent piece to any contemporary decor scheme. The frame is made of wood and can support up to 200 lbs of weight and the lid padding allows for all the comfort you can expect from an ottoman. So use this any way you want — as a small cocktail table, as a footrest, or as an additional seating option.
Faux Leather Ottoman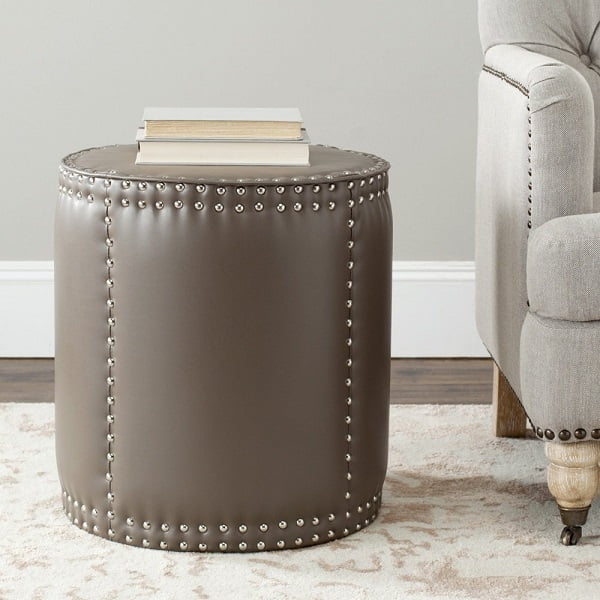 This tall drum-shaped leather ottoman is a blend of chic and classic design and will fit in nicely with all decor schemes. As with all Safavieh products, the piece rightfully boasts of high and exquisite workmanship. It will work great as a center table in your living room space.
There are three available designs in different colors with different upholstery materials used for each one. The clay model comes in a bicast leather upholstery while the more vintage-looking champagne and off-white models are upholstered in fabric materials. You may choose one that goes best with your existing décor and furniture set.
Knitted Pouf Ottoman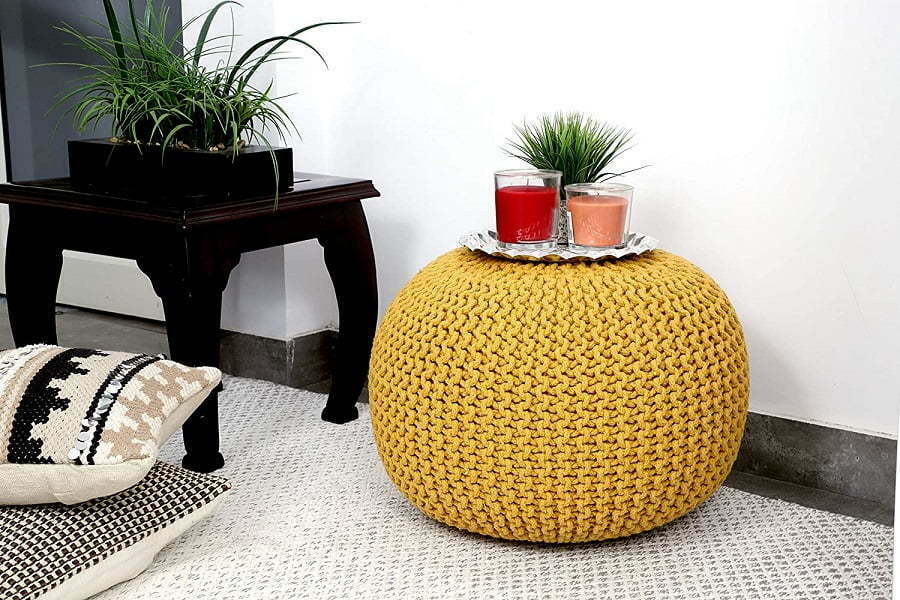 These hand-crafted cotton (with polyester beds) pouf ottomans come in a large variety, and you will have choices aplenty in terms of color, sizes, material (stuffed/unstuffed), and more. The cotton covering is welcoming to bare skin, and you will love sinking in there (in the case of giant ones) or just cradling your feet upon them. The vibrant colors will add a touch of mirth around your rooms, and these poufs are also ideal for kids' rooms.
This is a durable piece of furniture; although small in size, it is ideal for a footrest. The fabric is so luxurious and the coloring so attractive you won't stop staring at it in awe for several weeks. The low cost makes it an amazing bargain. We hope they would make more colors of the same velvet fabric in light deep color.
Moroccan Pouf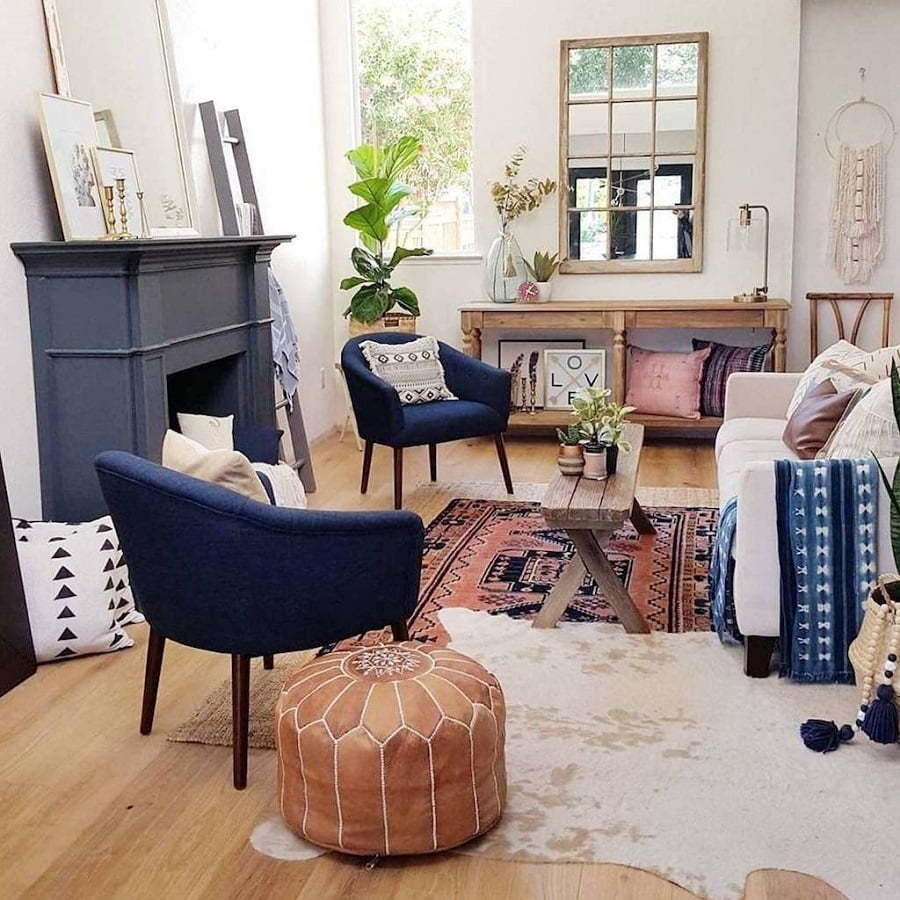 The natural leather is of high quality with no strong leather odor. You must smell it closely by putting a nose within two inches to feel it. The color of the product is so rich and so fine. The custom-made pouf is well-made.
The only complaint here is that consumers don't immediately realize that the pouf comes unstuffed — you have to get stuffing and stuff it yourself. Although it could use more stuffing, it is better to stuff the sides and then the middle of the pouf. The material quality that you will get for this price is good.
It is not too big nor too small for the size, and at the same time, it is a stool that you can use as an ottoman. The goat leather's quality to make these is outstanding, the zipper is perfect at the bottom, and the stitching is durable. Instead of filling the pillows with clothes or polyfill, use old shirts to stuff them (as a cheap alternative.)
Cocktail Ottoman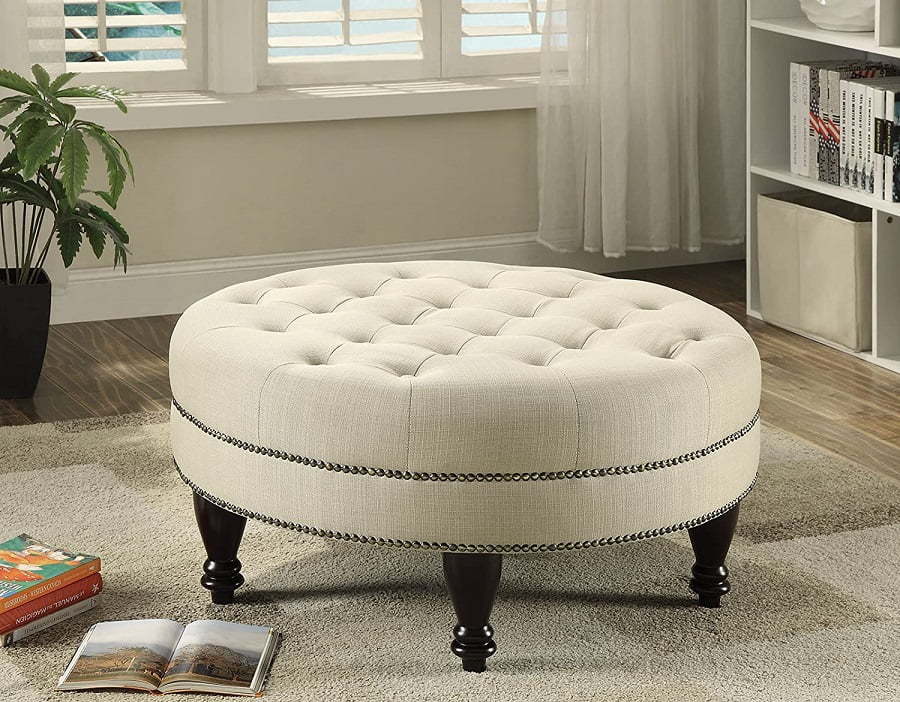 This ottoman is very easy to assemble — it takes only a few minutes to put it together. The matching oatmeal color and texture of the fabric are a great fit for neutral color schemes. This ottoman is of durable and sturdy structure and design. It has a sophisticated appearance — you can put it in your living room as well as your bedroom or bathroom. It is well presented (nice nailhead trim) and solid. The only caveat is that the unit has no storage space.
Decorative Ottoman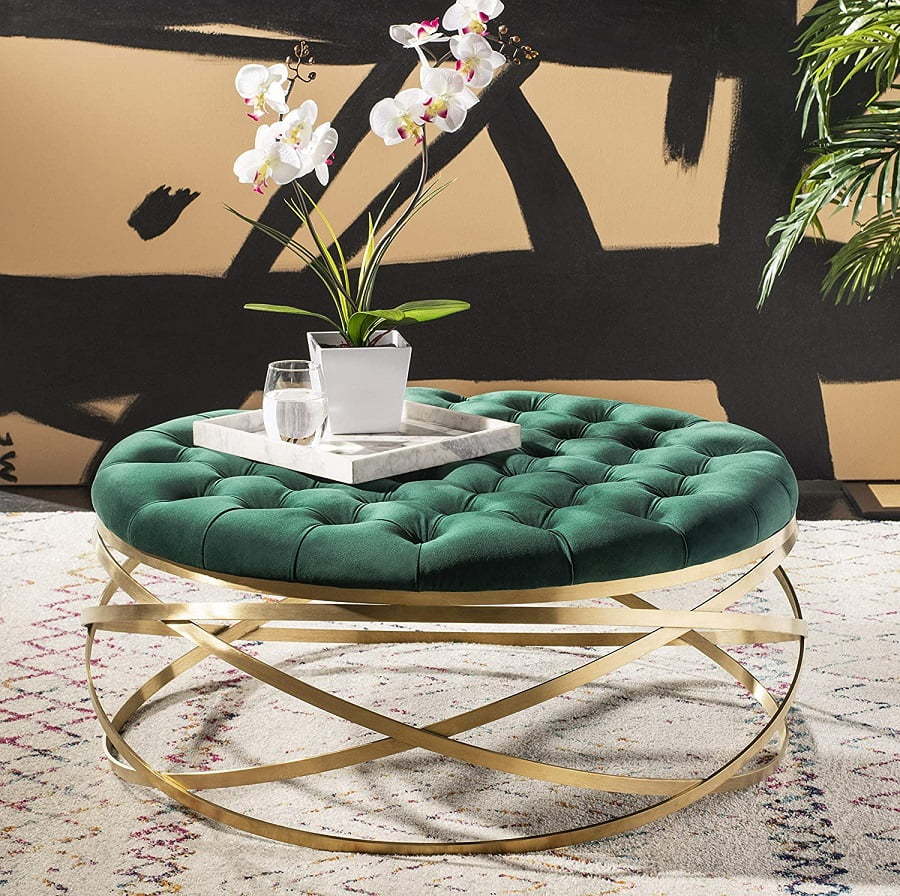 Decorative and elegant, this ottoman with a velvet upholstered top is also one of the widest pieces you will find in this category. It measures about 38 inches across, and this makes it ideal for use as a center table. The gilded stainless steel frame base has an art deco look to it, and this helps the piece to become a statement with pretty much all types of decor.
The price is slightly on the higher side, but this is understandable considering the piece uses high-quality materials. There is not much maintenance involved either.
Vegan Leather Ottoman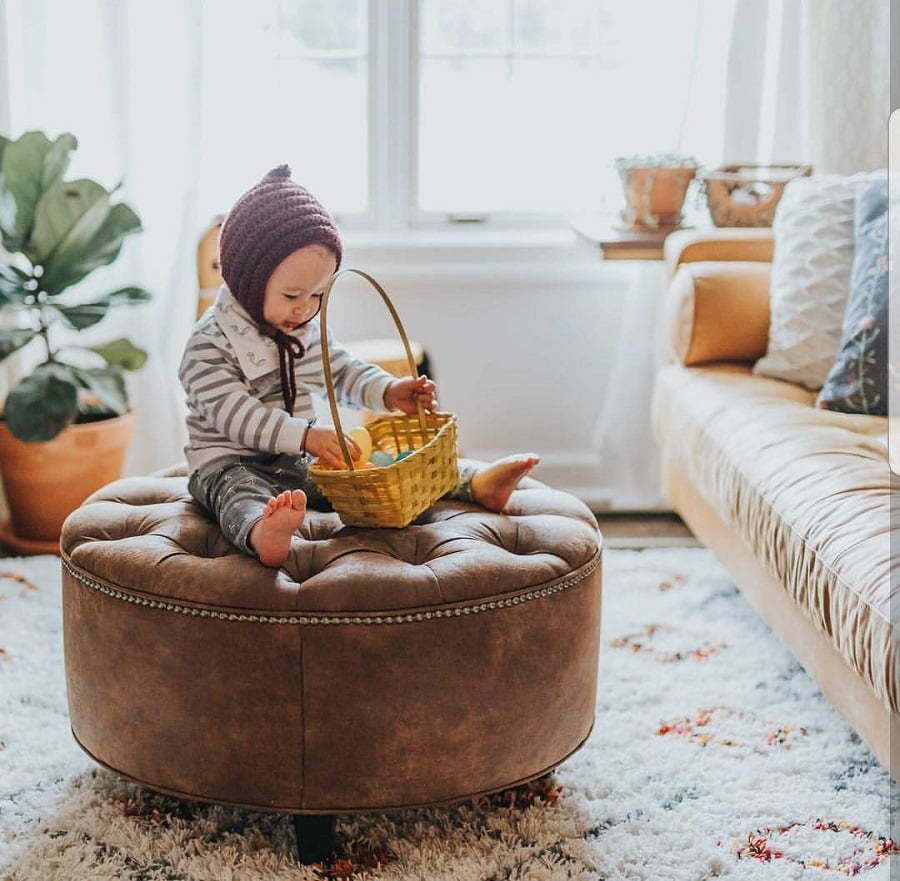 This ottoman is one of the best-made pieces. It has a high-quality finish, luxurious feel, quality leather, and makes it easy to clean.
All you needed to do is attach the legs (The legs fit securely.) Nothing is wiggly about this piece of furniture. One size fits all — you will feel very comfortable with it.
As far as the looks, this product is exactly as pictured. If you measure your space, look at the description (it's 30 inches) and pick this one, you will not go wrong. Nailheads are aligned accurately for a nice trim finish. The leather is in perfect condition. Two adults can sit on this piece of furniture. The only drawback is that it has no storage space.
Liked this article? Here's what you can read next:
---
Disclosure: As an Amazon Associate we earn from qualifying purchases.