Last updated on January 2, 2021
Finally, choose the best pouf ottoman for your home without stressing over a huge number of options available out there.
Our love at first sight: this handmade woven denim pouf.
Pouf. It even sounds all warm, cozy, and nice. Indeed, getting a pouf for your home is a sure way to make it cozy. Take a cold, minimalist apartment, add this type of ottoman, throw an oversize knit blanket over a couch, and you have yourself a welcoming home.
Indeed, in the day of Scandinavian decor, Hygge, and abundant fairy lights, it's the good old pouf that brings it down to earth in a heartwarming fashion.
How about a fluffy soft pouf ottoman to add more coziness to your home? If that's what you're looking for and you don't care for extra storage or a piece of furniture that can double as a table, a cute pouf is just what you need.
So, the pouf is not a demanding type of ottoman. It doesn't provide storage, it can hardly double as a coffee table, but it might be the best footrest or extra seat you've ever used.
As promised, this is our top list of the best poufs. We've already confessed which pouf took our hearts, and now it's time for you to do the same.
As usual, you'll notice the shopping links we've provided for your convenience. These result in a commission for us but not extra cost to you. It helps us grow. So let's grow together!
Handmade Woven Denim Pouf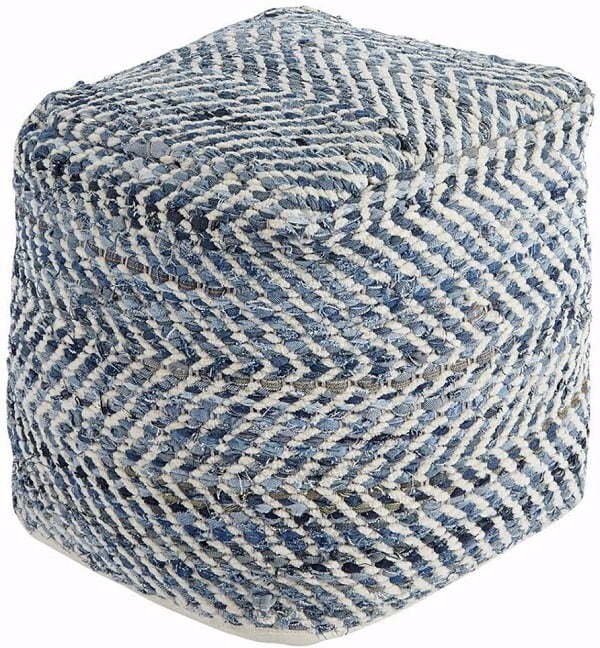 This is our editor's choice, and we've fallen in love with it the moment we've seen it. Further research has only confirmed it.
If you like the feel and the warmth of the natural materials, you will love this denim woven stuffed ottoman. The stuffed fabric bag is made of high-quality polystyrene beads. The covers come in several colors, so you can get multiple pieces and color coordinate them. The woven pattern looks beautiful, so apart from the comfort involved, these poufs will also act as nice accent pieces around your living space.
You can get a least two poufs for your family room to spread a little warmth around. This is a great combination since they will have different styles. The ottoman has sufficient height to keep the users seated comfortably. This is a durable item that looks great in person. We love how light these units are (even very young children can move them without difficulty.) With these poufs, you will be able to add a sense of casualness to your living room.
Floor Cushion Pouf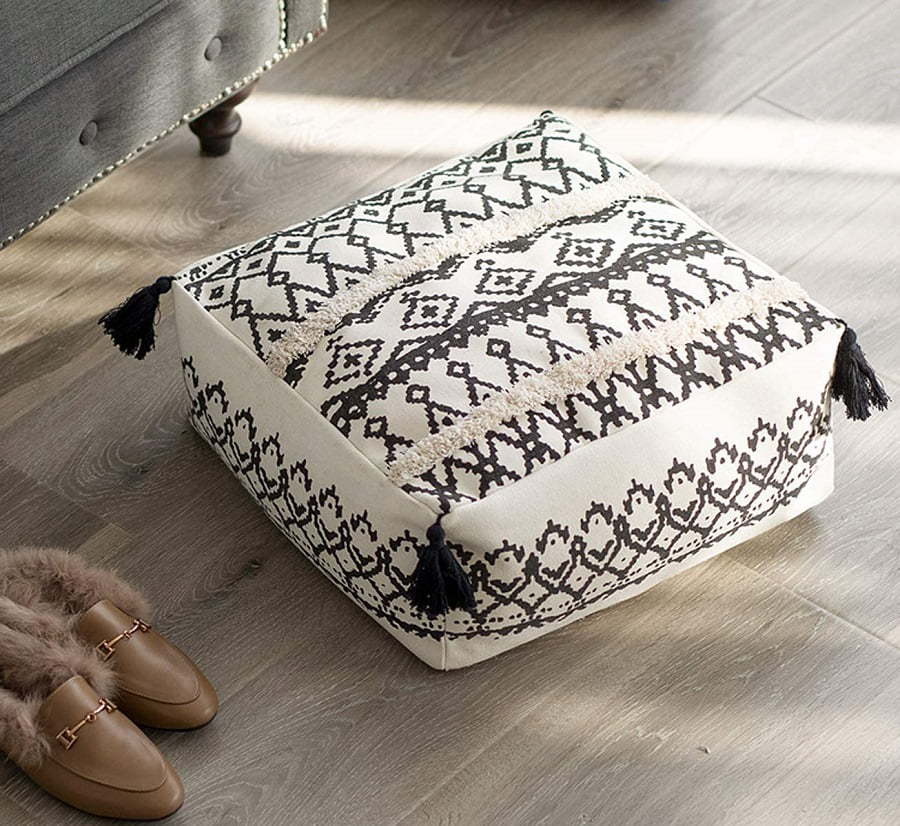 This floor cushion style wide pouf ottoman is crafted from a cotton and linen fabric. Note: it comes unstuffed, so you will have to get the stuffing separately. It can be used as a floor cushion or a low-height pouf. It works well as compact extra seating. It can be stored away when unneeded easily.
The boho accent of the cover fabric will work well in any contemporary interior design. It's like it was made specifically to break the cold, minimalist Scandinavian decor that's all the rage these days.
Knit Pouf Ottoman
These handmade pouf ottomans are made of cotton, which is highly durable and feels nice and pleasant to bare skin. The crotchet pattern has an attractive look to it, too, and one or more of these poufs will be a nice and welcome addition to your kids' room or your living room.
This is truly a useful item for many uses (from footrest to seating.) The rope is thick and strong and well sewn. Noticing the double fabric it's made of is difficult up close, and at a distance, everything matches.
You get a complete pouf with a nice handknit cover and bean bag filling. When sitting on it, it feels like it can hold the weight.
Handmade Leather Moroccan Pouf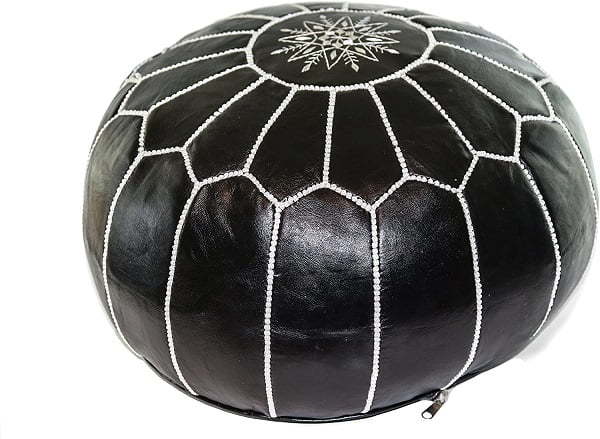 Use this beautiful genuine leather ottoman to give an oriental feel to your den. Simple and elegant, this decorative pouf's cover is fashioned of genuine black leather designed with hand-embroidered stitching. Use it as a coffee table, footrest, extra seating, etc. The product comes unstuffed, so you will need to get the stuffing separately. White and beige leather colors are available too, but we find black the most imposing.
Vintage Patchwork Indian Pouf Ottoman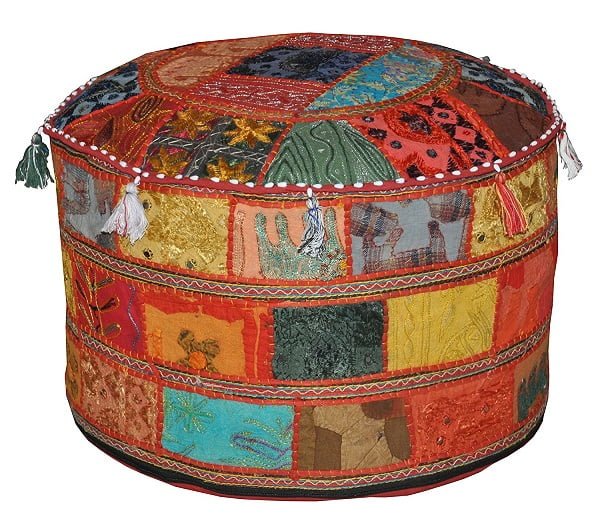 This beautiful Banjara style patchwork pouf cover gets our thumbs up. Just as the name suggests, the handmade patchwork is a wonderful and eclectic mix of a flurry of different patterns, designs, threads, and colors — and often spangled or sequined. We also adore the bead trim with the decorative tassels. This is the art of an old and, sadly, disappearing world. So, get it while you still can! Just keep in mind that this piece is the only cover, and there is no filler included.
Square Pouf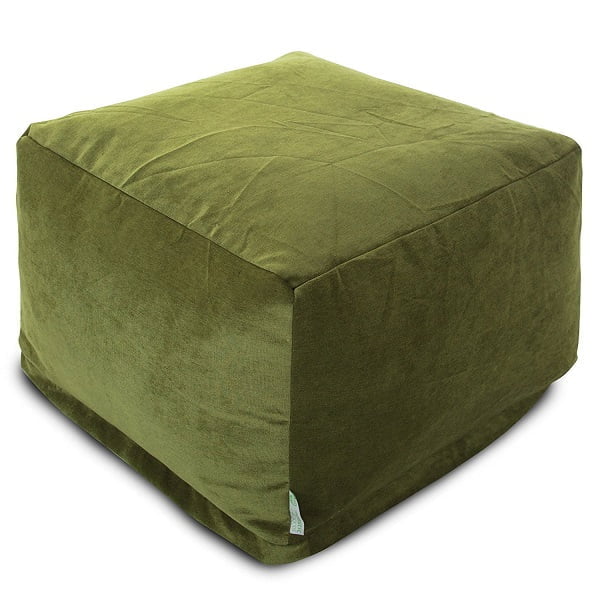 Get one or more of these square poufs with a velvety soft cover to add a decorative accent as well as some splash of color to your living room area. Perfect for use as footstools, poufs, serving places, or as extra seating, these zippered slipcovered (crafted with 100% polyester micro-velvet) ottomans enjoy highly favorable ratings across many different sellers' websites. Just make sure to add ample stuffing to keep the shape firm. These Villa Collection cubes come in multiple colors, Apple, Azure, and Fern among them.
Jute Kilim Pouf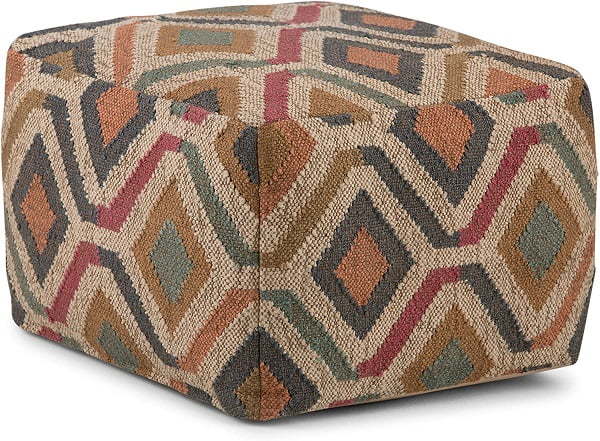 This medium-sized pouf ottoman with intricate hand weaved kilim patterns will add a nice exotic flavor to your family room or den. The durable and sturdy cover is made of a mixture of cotton and jute fibers. In conjunction with the kilim motifs of the design, the matte primary colors will add a nice rustic charm to your decor — all redolent of an ancient world. Also, the piece comes complete with generously stuffed high-quality foam bead filling.
Round Jute Pouf
This woven jute pouf comes in an attractive design and can be an ideal addition to your living room. Made of natural jute, this product is great value for money. The natural-colored simple design will blend effortlessly with a range of different decor schemes. However, keep in mind that the ottoman is about 20 inches long, but a smaller version is available to accommodate smaller spaces.
The pouf is highly durable. It can be used as a yoga mat for backbends and butterfly poses, feeling impressive with just enough give and just enough support. It is light in weight and easy to handle. The unit can be used as a footstool as well.
Best of all, if you have cats, they will stop scratching your expensive furniture. They will scratch this ottoman, while it will not get any damage to its color.
Bean Bag Cubes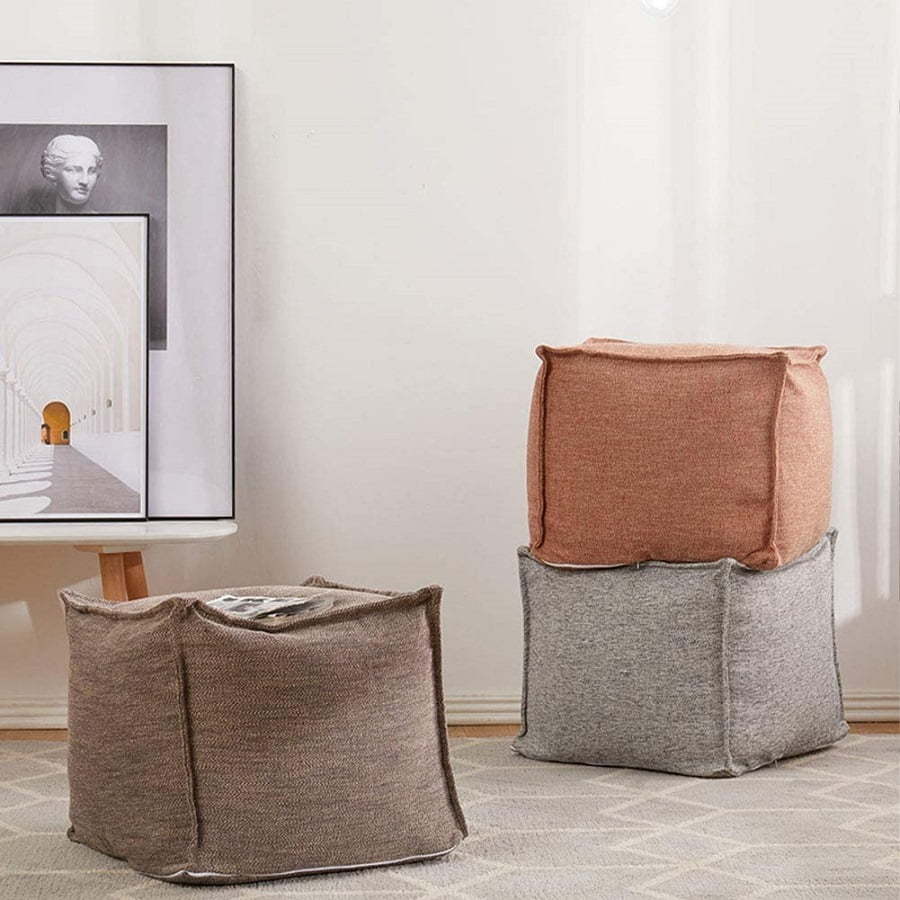 Looking to add a somewhat whimsical touch to your living room decor? Use this innovatively classic jute bag design pouf cube to wow your visitors. Well-made and durable, this pouf has a fashion-forward look to it. At the same time, you will appreciate the understated simplicity of the design, too. And when it comes to constriction and style, you cannot find much fault with this product, either. It comes unstuffed and bean bag filling is recommended.
Small Pouf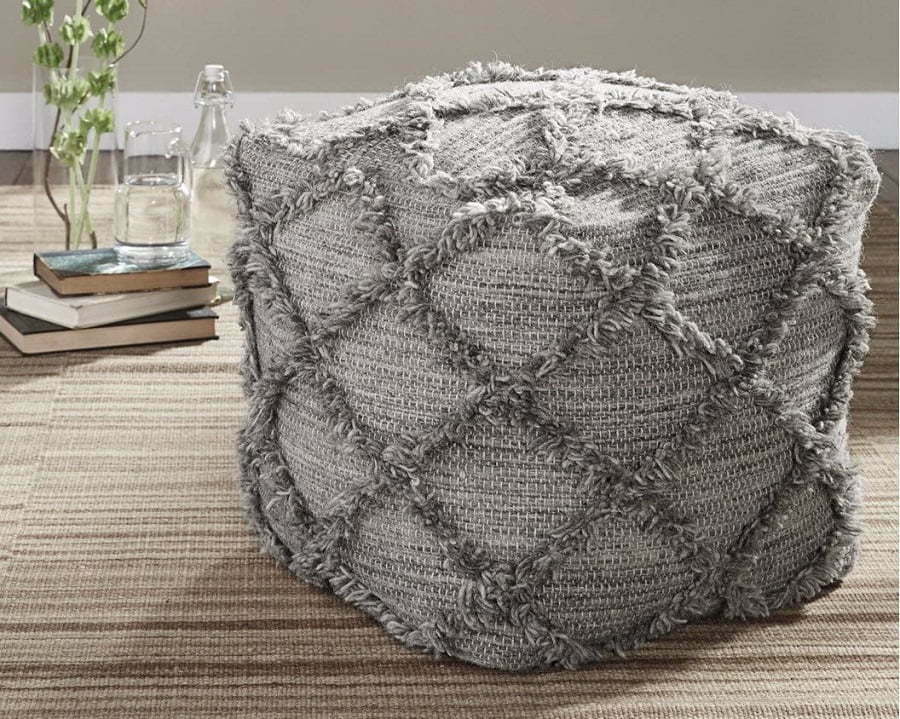 This small pouf is very durable and well-made — it's firm and holds the shape well. It can double as an ottoman or a stool. Or you could hold it up like a bean bag chair. The pouf will work in any modern decor by adding a cozy accent for its color and design. Overall, a great quality product.
FAQ
What is the best filling for a pouf?
Polyester beans is a cheap and good filler for pouf ottomans. It's easy to use and lasts long. Alternatively, you can even use old clothes to stuff a pouf with decent results.
Can you sit on a pouf ottoman?
Most poufs are firm enough to sit on them. They are ideal footrests as well.
Do people actually sit on poufs?
Yes, if that's the only seating option available. Because poufs are light and easy to store, you can stack up on them for guests.
What's the difference between an ottoman and a pouf?
An ottoman has a sturdy frame and sometimes legs, while the pouf can be seen as a firm floor pillow.
Where do you put pouf?
The most common place for a pouf is in the living room next to the coffee table (just like an ottoman.) But you can also find poufs in bedrooms, and even in bathrooms of some households.
Recap
---
Disclosure: As an Amazon Associate we earn from qualifying purchases.
Liked this article? Here's what you can read next: