Last updated on February 10, 2022
So you want to add some class to your decor. The best leather ottomans are here to help you achieve your goal. Here's our top 10.
In a hurry? Get this round storage ottoman, and you'll not go wrong.
I have a love-hate relationship with ottomans. On the one hand, I love this practical and beautiful piece of furniture. On the other hand, I hate it when it overwhelms other furniture or becomes a dominant part of the decor.
That's why I always preferred smaller ottomans, especially in limited space. They always provide just enough function and complement the interior.
Our choice for the best leather ottoman is then a smaller round ottoman, and it's no coincidence. But you are free to prove us wrong!
So, do you want to add some classy luxe to your interior design and decor? Choose an ottoman upholstered in natural leather (although we've included a couple of faux leather options too.) Choose from the following top ten units.
We have included shopping links as always. If you happen to purchase something, we might get a commission at no extra expense to you.
What's Inside?
Round Storage Ottoman with a Lid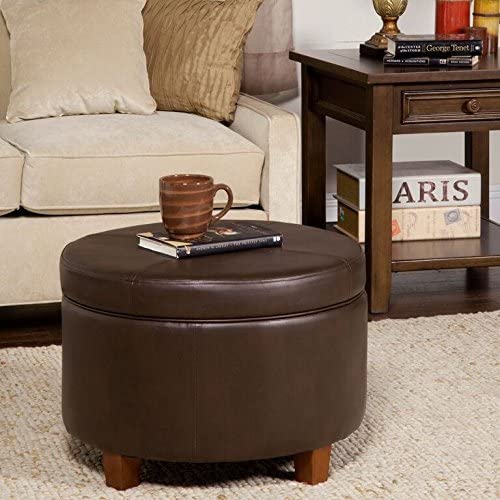 This is our editor's choice for the best leather ottoman. We love the compact design that adds the wanted accent with natural leather.
This ottoman is a bit unconventional in its design. The theme of this ottoman is mainly geometric. Beneath its chocolate saddle brown (other colors available) leather upholstery, there's a thick cushion that serves as not only a seat but as a serving tray in a pinch.
It's the perfect ottoman for living rooms and can be used to augment dining areas. The padding on this round storage ottoman is also relatively firm, making it ideal as a footrest. Due to its taller size, its storage abilities are perfect for taller items. 
So, it's just what you need for a small place where everything has to do double duty. This has seating, is suitable to sit on, firm enough to place things on as a coffee table, soft enough to rest your feet on, and it's pretty! The lid has some little stoppers to prevent it from moving.
Bonded Leather Storage Ottoman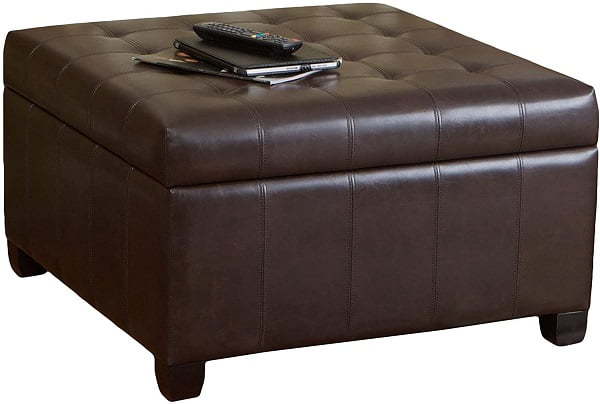 This bonded leather ottoman doubles as a storage space, coupling aesthetics with functionality. Coming in marbled brown color, the ottoman features a flip-up lid (the hydraulic hatch is very light to open and close) that opens up to reveal a hollow space for your storage needs. It fits two full sheets of blankets in there and two pillows.
The top is relatively firm and looks great as an ottoman, but it can also double as a coffee table. The dimensions are 31 inches wide, 31 inches long, with a height of 18 inches. The legs measure about three inches.

Square Leather Pouf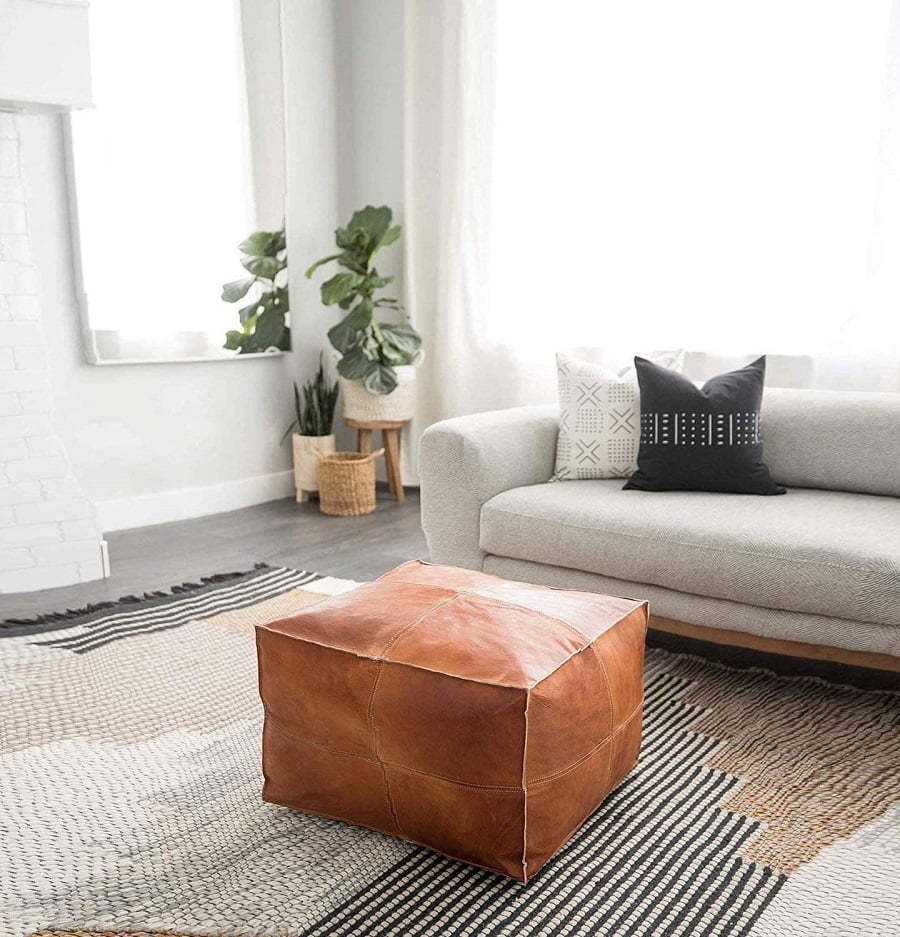 This ottoman is upholstered in natural leather, the same that's used to make high-quality handbags. The item is pretty large and, when stuffed, has dimensions of 18″ by 18″ by 14″. Its topstitching detail is made of durable cotton, and it's zippered for easy filling (it comes unstuffed.) The material used to cover is of faded light brown color.
You'll be happy with the soft leather. You can stuff this pouf with pillows that you have unused at home for better sitting and footrest. The perfect shapely ottoman that does the trick!
Oversize Ottoman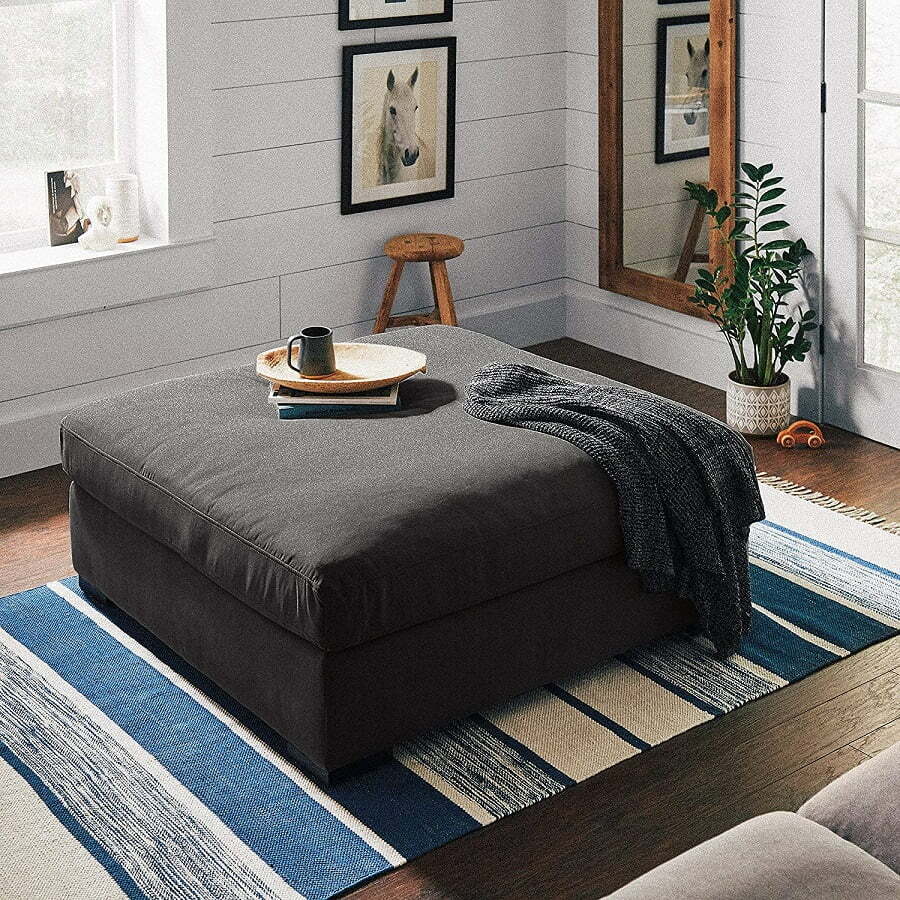 If you want to make a statement and have an ottoman that you can even perhaps lie down on, then look no further than this oversized unit. With a 46.5 by 46.5-inch size, this is one of the largest furniture pieces on the list. The ottoman's frame is made of hardwood, cushioned (down filling), and covered in natural leather.
You have seven colors to choose from to fit your interior. We have to emphasize this — it's a massive piece of furniture that needs ample space to function well (and still leave room to breathe.) Keep this in mind when purchasing it.
Bonded Leather Round Ottoman Coffee Table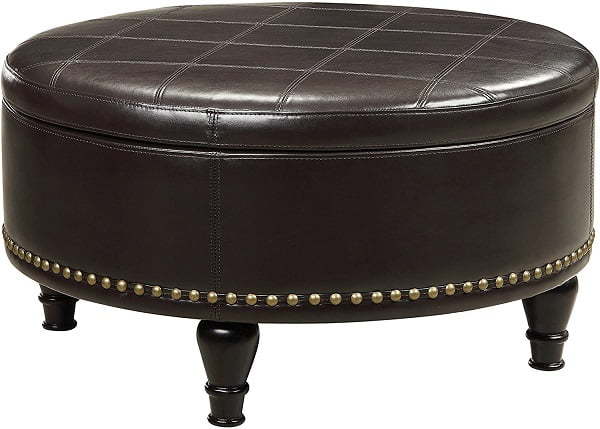 This is a very comfortable ottoman coffee table. You can flip the lid, and there's a tray to use as a table — very convenient. It's spacious enough without being obstructive. So you can use this unit as a coffee table in your living room that you can transform into a footrest or seating (or vice versa.)
The natural leather is dark brown, almost black. For storage, it's a well-organized container. Even though it is hollow, it is a big piece. This is classy and awesome for the entire house. It is not at all expensive, even though it looks like such.
Leather Ottoman Bench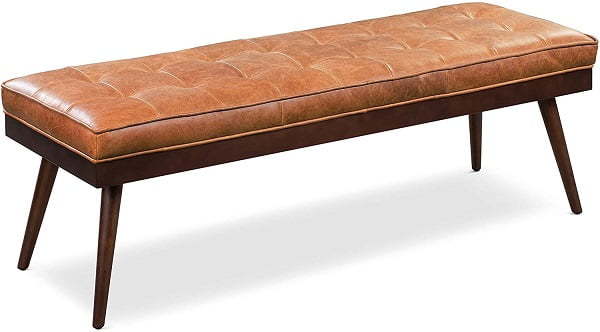 This is one of the more beautiful ottomans that will surely make a statement in your room. The cognac tan color (other colors are available) contrasted against the dark legs adds a contemporary style to any space. It's wide enough to be a footrest and a seat or serving space. The natural leather gives the piece an almost lux look and feel. It's also a very wide ottoman bench at about 55 inches, providing ample space for versatility.
Large Cylinder Ottoman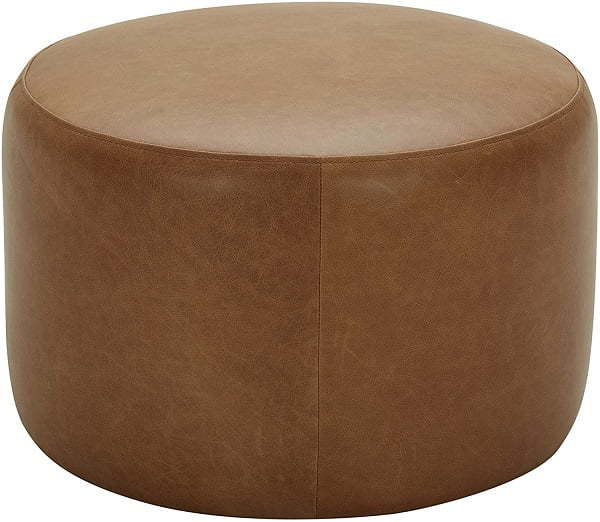 This natural leather ottoman does not come in the signature squares and rectangles that we're familiar with. It has a cylinder design, imparting a unique appearance. The unit isn't a pouf, so it has a hardwood frame.
As with any natural leather product, expect slight variations. But overall, there is firm quality control with this ottoman. This unit has a dated feel, so you may not find it in every living room or living space.
Handmade Morocco Pouf Ottoman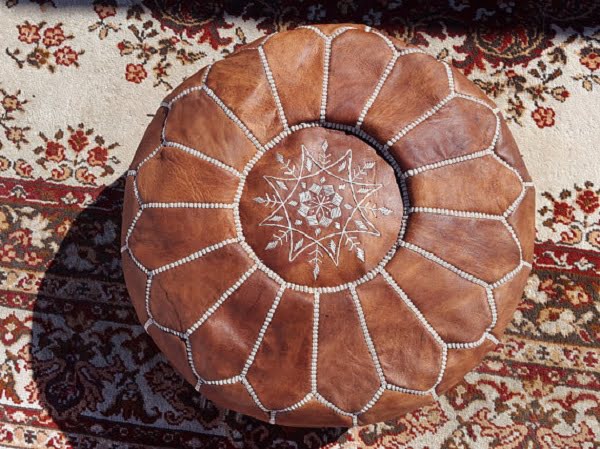 This ottoman almost has an ethnic, Mediterranean feel. The unit is handmade with genuine leather, imparting a natural tan color. Its design and aesthetics look fantastic backdropped by Arabic rugs, sandy tones, and a rustic setting.
Like other handmade poufs, this one is hand-stitched by skilled artisans, so expect slight variations compared to pictures. The leather in this one isn't dyed due to it being virgin leather. Since it is genuine goatskin leather, it's worth maintaining to prevent cracking or discoloration over time. This means using a sulfate-free leather cleaner to deodorize it and a leather moisturizer to ensure it doesn't dry and crack. 
Large Cube Ottoman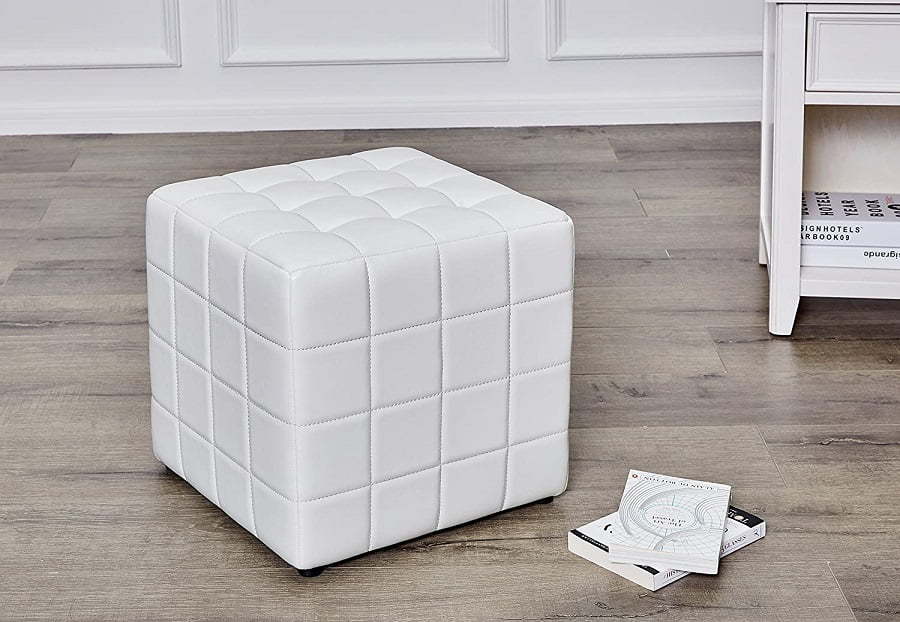 The leather is faux, but it offers a gorgeous modern look. It has a unique aesthetic, with cushioning providing comfort as a convenient footrest or accent piece in your living room. Never underestimate the relaxing power of putting up your feet after a long day working or doing chores around the house.
However, remember since it is a white color, remove your shoes to ensure that you do not stain the ottoman. To ensure that this white does not become discolored, wipe it regularly with a microfiber cloth. Besides the regular maintenance due to its light coloring, this unit is a crowd favorite. 
Distressed Vegan Leather Tufted Coffee Table Ottoman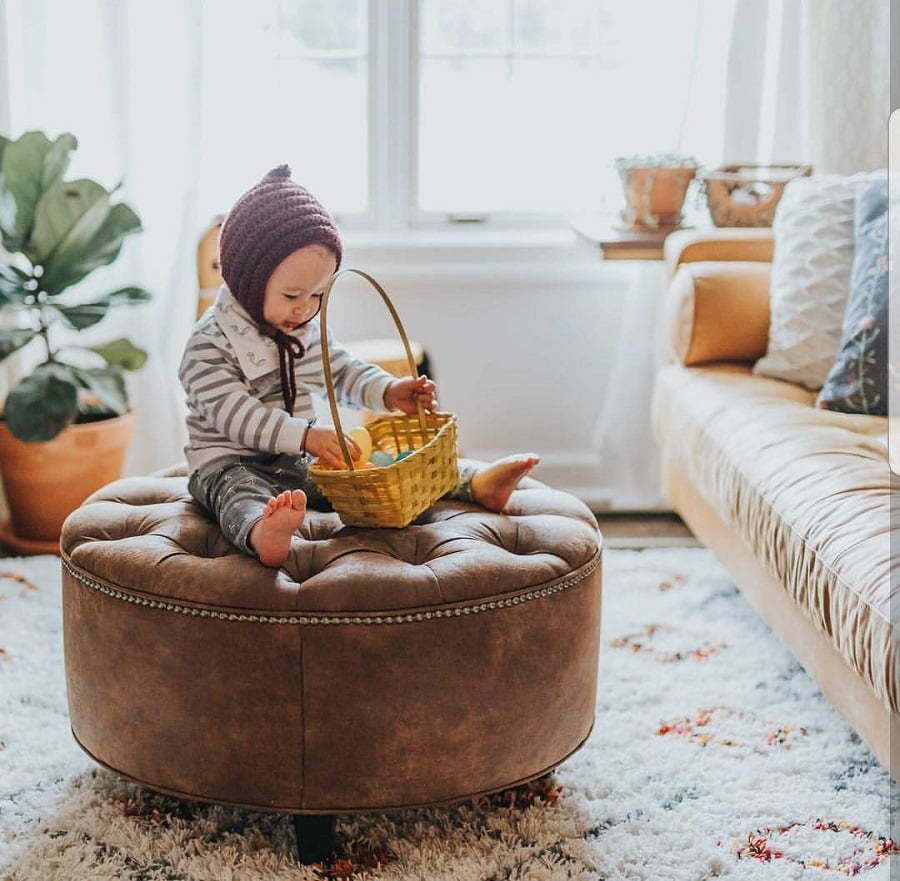 In today's world, where a sustainable lifestyle is significant, the materials you surround yourself with are essential. Vegan leather furniture is for those who like the look but are also mindful of their environment.
This cushion is so comfortable, and it's the perfect height for our sofa. It's easy to wash, so if someone spills milk all over the top of it, you can use a little dish soap and water to clean it off. The craftsmanship is fantastic. The seat is firm, but the leather seat is soft and comfortable.
Liked this article? Here's what you can read next:
---
Disclosure: As an Amazon Associate we earn from qualifying purchases.